iOS 17 Review: Is It Worth Upgrading? [Detail Guide]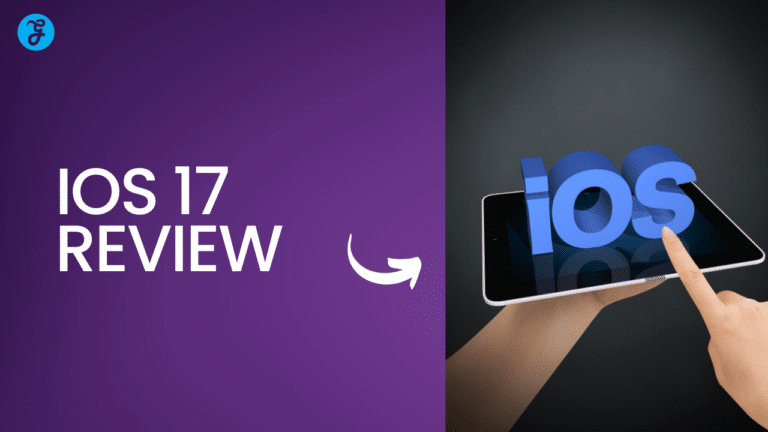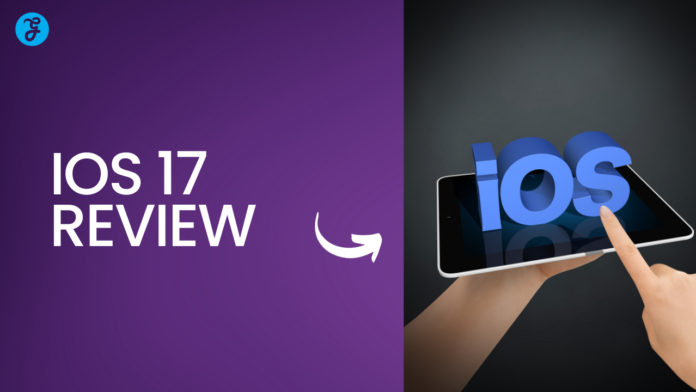 Are you one of those tech maniacs who is eager to know about the latest updates and iOS 17 reviews? On Monday, Apple plans on releasing new features and designs on its iPhone, iPad, and smartwatch.
This blog post will cover all essential details that you need to be aware of before downloading iOS 17, such as compatible devices, cost, key features for each type of device, Standout Features of the software upgrade, and more.
iOS 17 will be available to download by the end of 2023 and can be installed on compatible devices such as iPhone 15, iPhone 14, iPhone 13, iPhone 12, 11, XS Max, XS, XR and SE.
Features for iPhone include improved keyboard autocorrect with machine learning capabilities; Contact posters; video messages, live voicemail capabilities; and StandBy mode.
Enhancements for iPad with OS17 include customizing the lock screen with widgets; the Health app now available on iPad and Stage Manager multitasking improvements.
Updates to Apple Watch in iOS17 include revamped apps with interactive features like timers & step counts and widgets front & center on the watch face for dynamic updates across the day.
iOS 17 Review: Release and Availability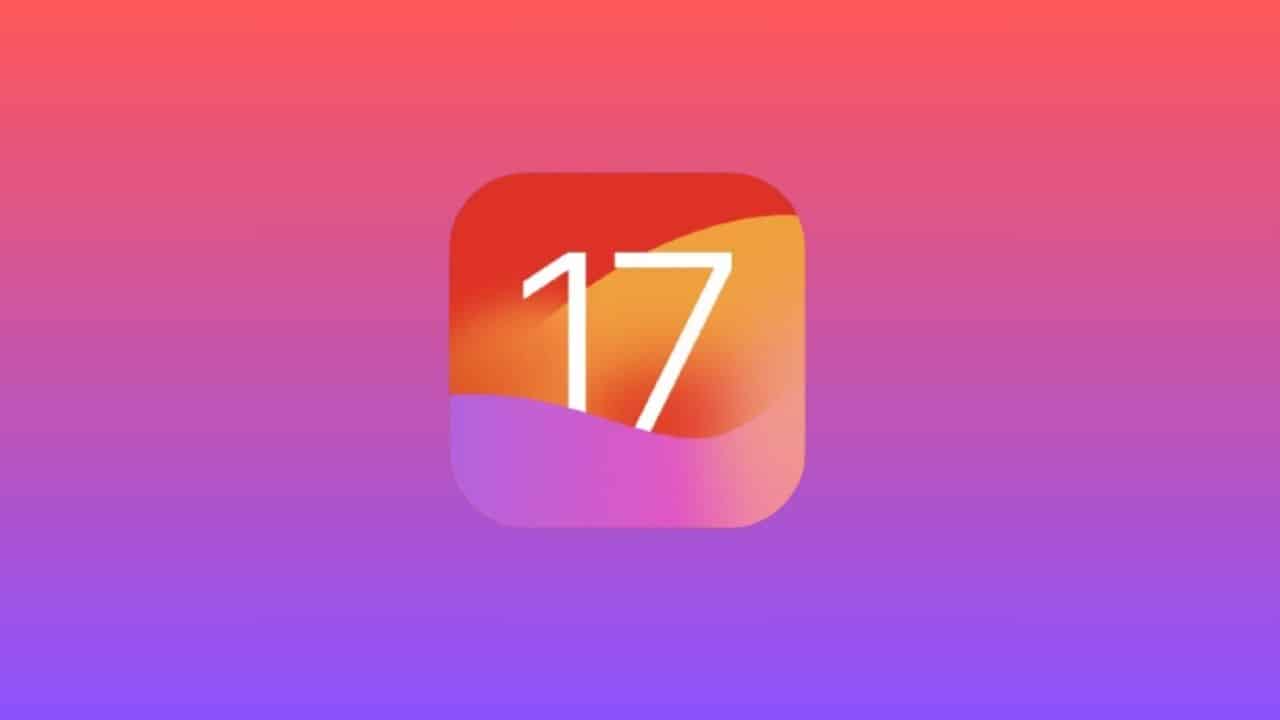 The highly anticipated iOS 17 update was rolled out to hundreds of millions of iPhones on Monday, September 18, 2023, marking a significant milestone for Apple users worldwide. With this latest release, Apple enthusiasts can enjoy a host of new features and enhancements designed to elevate their iOS experience further
When and How to Get iOS 17
To get iOS 17, users need to open the Settings app on their iPhones or iPads. Then, they should tap General and select Software Update. Apple typically notifies users when an update is available for download; however, if one isn't received automatically via notification, users can choose to check for any updates available on their device manually.
Ensure your iPhone/iPad model is compatible
Open the Settings app on the user's mobile devices
Tap "General" followed by selecting "Software Updates"
Users may receive notifications when an update is available for download but can also check manually using the same method above
Check available storage before beginning the download process – Some particularly large downloads may require freeing up extra space beforehand
The new OS takes approximately 10 minutes or less to complete its installation once downloaded
Devices Compatible With iOS 17
Apple enthusiasts, get ready for the next big thing in mobile operating systems – iOS 17! With a slew of exciting features and enhancements, iOS 17 promises to take your iPhone experience to new heights. But before you hit that "update" button, let's find out if your device is compatible. here is the iOS 17 Compatibility List:
1. iPhone 15 Series
iPhone 15 Plus
iPhone 15 Pro
2. iPhone 14 Series
iPhone 14
iPhone 14 Plus
iPhone 14 Pro
iPhone 14 Pro Max
3. iPhone 13 Series
iPhone 13
iPhone 13 mini
iPhone 13 Pro
iPhone 13 Pro Max
4. iPhone 12 Series
iPhone 12
iPhone 12 mini
iPhone 12 Pro
iPhone 12 Pro Max
5. iPhone 11 Series
iPhone 11
iPhone 11 Pro
iPhone 11 Pro Max
6. iPhone XS Series
7. iPhone XR
8. iPhone SE (2nd generation or later)
If your device is on this list, you're in luck! You'll be able to enjoy all the fantastic features and improvements that iOS 17 brings to the table. From enhanced security to exciting new widgets and app updates, iOS 17 is designed to make your iPhone experience even better.
Remember to back up your data before upgrading to ensure a smooth transition to iOS 17. So, mark your calendars and get ready to embrace the future of iOS with your compatible iPhone. Your device is about to become even more powerful and versatile than ever before!
Cost of iOS 17
For those wanting to upgrade their device with the newest features and enhancements, iOS 17 is completely free from Apple. This means users can get all the goodness it provides without any additional spend on buying or downloading an update.
With such updates, iPhone owners have access to some of the latest technology, including improved keyboard autocorrect, contact posters, video messages, StandBy mode, and more. iPad owners now have access to customizing lock screens with widgets along with a range of other improvements like Health app availability and multitasking Stage Manager upgrades for their tablets.
Beyond these devices, even Apple Watch gets its share of new features that include revamped apps as well as new watch faces with Cycling Power and Bluetooth accessories support included in the list too! The convenience of having these available at no extra cost is great news not only for tech enthusiasts but also for anyone else looking to simplify their lives by staying up-to-date without burning a hole in their pocket. If you are interested, then read on iOS 17 Available Today.
Key Features for iPhone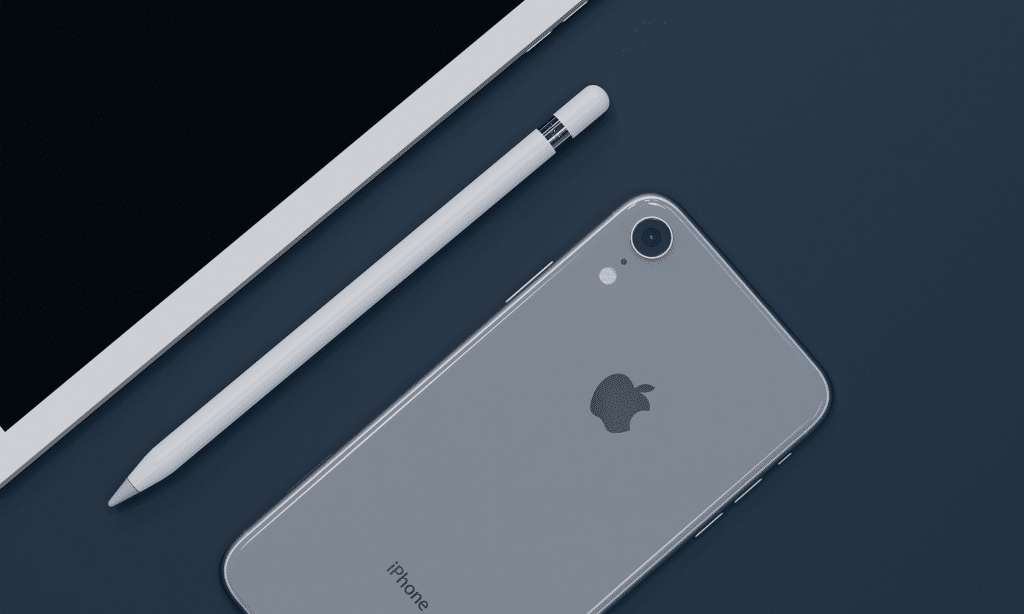 This section highlights the latest and improved keyboard autocorrect for iPhone users, unique contact posters, video messaging features, live voicemail capability, and StandBy mode capabilities.
Improved Keyboard Autocorrect
iOS 17 has made major strides in autocorrect technology, with users now enjoying a much more accurate and personal experience when typing thanks to sophisticated machine learning and transformer-based algorithms.
In the latest iOS update, Apple improved the accuracy of its autocorrect function by combining two powerful approaches – neural networks and deep natural language processing (NLP).
This combination makes it possible for users to get better suggestions as they type, as well as a wider range of grammatical error corrections that can provide more realistic sentence structures.
Contact Posters, Video Messages, and Live Voicemail
are new features that enable iPhone users to share content with their contacts in a more effective way. Contact posters appear on the top half of the device's screen and can be customized by the user for easy access to frequently contacted people.
Video messages allow users to easily communicate without having to make a phone call or send a text. Live voicemail allows users to view a real-time transcription of the message as the caller is leaving it, and there is now a voicemail button that gives faster access to messages. These features enhance communication and improve the user experience for making calls on an iPhone.
StandBy Mode, Siri, and Offline Apple Maps
are three of the key features available in iOS 17. With StandBy mode, users can now see glanceable information with their iPhone acting as a bedside clock when needed as it adapts to low light conditions. Additionally, two interactive widgets for easy access and navigation have been added, allowing more tasks at a glance. For Siri capabilities, there has been an upgrade making them even smarter than before through improved accuracy on user requests.
Lastly, Apple Maps also received an upgrade with offline navigation capability which provides turn-by-turn directions without any internet connection while being able to download chosen areas from maps all across the world. This feature is especially useful for those who tend to travel or go out frequently, ensuring they never miss their destination route and always stay safe within traffic guidelines anywhere around the globe!
Additionally, you can also read about Apple Releases iOS 17 and iPadOS 17.
Enhancements for iPad
With features such as customizing the lock screen with Widgets and the Health app now available, iPad users will find iOS 17 an attractive update.
Customizing the Lock Screen With Widgets
iOS 17 introduces extensive customization options to the iPad Lock Screen, allowing users to add widgets and place them on the left side with larger ones available. It also enables personalization of their display by adding photos or other content for a quick showcase on the screen.
These widgets can be used for practical purposes, such as checking what's next on a calendar or scheduling events, to more aesthetically pleasing ones, such as displaying beautiful images of nature.
The interaction between the user and these widgets is improved greatly; they get access to context-specific menus without having to make extra taps or dismiss notifications first — making it easier than ever before to remain productive and organized directly from this page.
Health App Now Available on iPad
The Health app on iPad in iOS 17 brings a much larger and richer experience to users. With the Health app, users can now enjoy a connected journey across devices for enhanced tracking of health data.
The larger display makes it easier to view detailed trends and analyses over time, all while protecting user data from any potential privacy or security risks. Highlights include Fitness Trends, which displays graphs with a clear summary of calories burned, minutes exercised, and distances traveled at one glance; Favorites provides visual insight into personal stats such as heart rate, height/weight records, and steps taken throughout each day; Analytics shows weekly changes in stats over time as well as vital signals like pacing indicators; Activity bassline track daily goals towards optimal performance.
This blockbuster update ensures that healthcare becomes accessible everywhere while also ensuring better care for our well-being using the iPadOS 17 platform.
Stage Manager Multitasking Improvements
With the introduction of iPadOS 17, users are now able to improve their multitasking capabilities with Stage Manager. This new feature is a great way for users to manage their tasks better while using their iPads.
Through this upgrade, users can more effectively switch between different apps and tasks while maintaining a seamless workflow. Additionally, they have access to improved task coordination which leads to better productivity and enhanced overall user experience.
Other improvements include redesigned app windows, easier task switching in split-view mode, improved drag & drop features, and much more that significantly enhances the multitasking capabilities of the iPad.
Updates for Apple Watch
Enjoy new watch faces, cycling power features, and Bluetooth accessory support with the revamped Apple Watch in iOS 17.
Revamped Apps
From incredible updates to your favorites like Phone, FaceTime, and Messages, iOS 17 offers users a more powerful, refined experience with their device. The revamped apps come packed with improved features designed to make day-to-day use better.
For example, the Phone comes with contact posters that can store messages from images sent by contacts as well as video messages. This allows users to quickly look through all their conversations with friends and family at once without having to scroll down long threads of conversation.
Additionally, for AirPods, there is adaptive audio which adjusts sound levels automatically depending on the noise around you. There are also useful additions such as Siri enhancements and Spotlight search capabilities making it easier than ever before for owners of Apple's wireless buds to access information quickly while on the go.
Widgets Front and Center
New to iOS 17 is the ability to customize your Apple Watch experience with widgets. These widgets are prominently displayed front and center on the watch face, offering dynamic updates throughout the day.
With a tap of your finger, users can access an expanded range of information without ever leaving their home screen, including interactive features such as timers, step counts, weather forecasts, and more.
Users have full control over which widgets they decide to add or remove—allowing them to tailor their experience like never before. Additionally, these real-time updates adjust based on time of day, user location, and how frequently you use the watch—giving you unique content that's just for you.
New Watch Faces
The latest version of iOS, iOS 17, comes with two new watch faces – the Palette face and the Astronomy watch face. The Palette watch face is completely customizable and allows users to choose colors from a dynamic palette.
Each color can be adjusted to different gloss levels so that it perfectly matches your mood or outfit. On top of this, there are multiple types of complications available such as alarms, timers, and more!
The Astronomy watch face has also been revamped for iOS 17, featuring real-time cloud coverage around the world. WatchOS 10 provides even more customization options, like being able to select your favorite landscape type (such as mountains or beaches) displayed behind the interactive data visualization tools that show you sunrise/sunset times anywhere in the world.
Furthermore, Apple significantly extended its offerings by introducing new features specifically designed for hikers and cyclists which provide users with additional metrics about their routes that can be customized accordingly based on preferences.
Cycling Power and Bluetooth Accessories
With the release of watchOS 10 and iOS 17, Apple added significant updates for cyclists using Apple Watch, enabling them to connect to Bluetooth-enabled accessories to track their performance. Cyclists could now measure their cadence, power metrics, and workout metrics during their cycling workouts with the help of these powered facilities. Moreover, the new Bluetooth connectivity in these accessories offered an enhanced user experience by allowing users to connect directly to other devices without any hassles.
Also Read: New Apple Watch Release Date in 2023.
Standout Features of iOS 17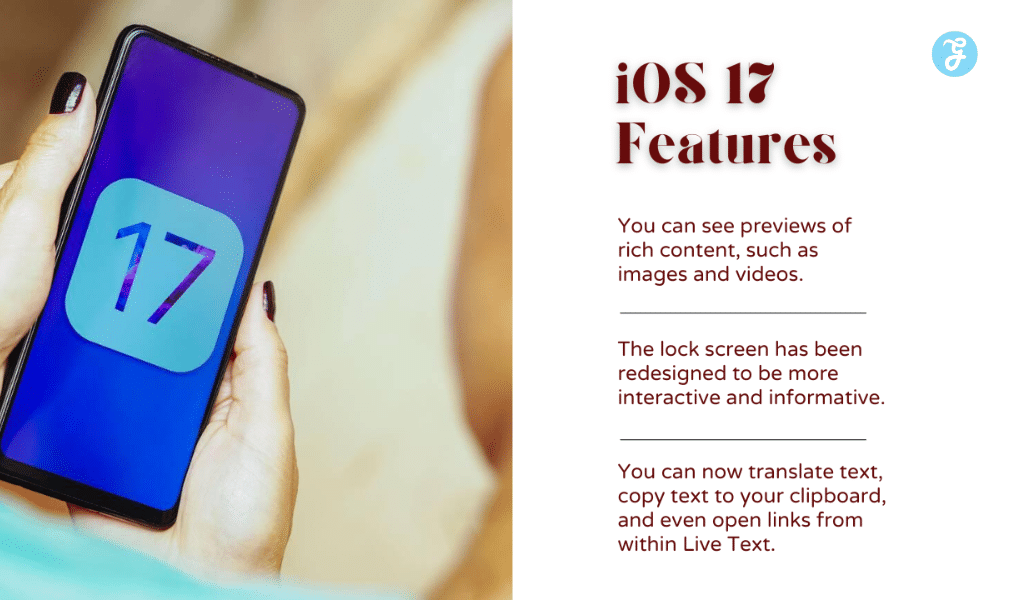 Experience improved communication, simplified sharing, and streamlined mobile usage with iOS 17's unrivaled feature set. Learn more to see what other awesome features await!
StandBy Mode
is an exciting new feature from iOS 17 that offers iPhone users greater convenience and a personalized experience. StandBy mode transforms the iPhone into a multifaceted hub with widgets, photos, and more, whether it's charging or not.
It turns your device into an all-in-one productivity powerhouse – so you can check emails and news updates, set reminders for upcoming tasks, and view traffic information on maps quickly – without having to unlock your phone every time.
StandBy mode can be activated in multiple ways, including when the iPhone is placed on its side while charging or when moving through a particular location, such as walking out of the office at night.
It also comes with two interactive widgets once it has been enabled – one widget displays current weather conditions, and another allows users to customize their lock screen look by adding text or images as desired.
Messages Upgrades
In iOS 17, Apple has given the Messages app a massive upgrade. From improved autocorrect to Contact Posters and video messaging, it's now easier than ever for iPhone users to communicate with each other in new ways.
With the new release of iOS 17, communication experience across Phones, FaceTime, and Messages has been greatly enhanced. The addition of custom stickers has made expressing oneself even more fun — from text messages to contact posters that combine photos or videos with music and message bubbles.
One of the standout features of iOS 17 is StandBy mode which turns your ordinary iPhone into a mini hub where you can receive calls, emails, or messages even when it's sleeping—without draining the battery making prolonged interactions much simpler for users.
Creating Custom Stickers
With the rollout of iOS 17, Apple has allowed users to create custom stickers associated with standout features. The Stickers drawer in Messages includes a Live Stickers tab where users can make their own meaningful and fun data-driven stickers based on text and other inputs like speed or temperature.
To turn a photo's subject into a sticker in Messages, users just need to tap the 'Live' button while selecting an image and then choose the proper part they would want to be featured as a sticker.
Different effects can be added via moving sliders. By exporting isolated photo subjects as stickers for use in Messages, people have been given more freedom to use their images however they wish without having to keep complete photos displayed publicly everywhere.
Automatic Deletion of Verification Code Messages
iOS 17 has introduced a revolutionary Clean Up Automatically feature that allows users to conveniently and securely delete two-factor authentication codes automatically as soon as they are received.
This includes messages sent through iMessage or Mail containing verification codes. Users can select the auto-delete option in the Passwords app under the Password Options section, and the incoming codes will be removed after expiration time, which is generally 30 seconds.
Removing manual deletion not only streamlines user experience but also bolsters privacy and security due to reduced human error considerations like forgetting to delete sensitive messages or losing authentication details on unsecured devices.
Shortcuts Improvements
With its release of iOS 17, Apple has introduced a wide array of cutting-edge features with the Shortcuts app. Whether users want to transcribe an audio file into text, delete more than one alarm at once, or scan documents – all this is now possible thanks to the customized actions and personal automation available in iOS17.
The improved interface makes it easier for users to customize their shortcuts with unique icons as well as rename them whatever they prefer for easier organization. This attention from Apple regarding improvements underlines their focus on making life much simpler by bringing key functionalities that are useful not only for everyday use but also for professional scenarios.
Thanks to these latest updates, savvy iPhone and iPad users can set up powerful automation workflows, including notifications, detailed data analysis tools, and scanning capabilities that ultimately allow us to save significant amounts of time and energy throughout our day-to-day lives!
Game-Changing Camera Level
The game-changing camera level in iOS 17 is a key feature that makes taking landscape shots easier and more accurate. The function works by adding a horizontal line on the screen to ensure a perfectly aligned shot when capturing landscapes or images with multiple elements.
This great new feature helps users avoid skewed photos due to their shaky hands, allowing them to capture stunning and smooth photos with ease. With the help of this modest addition, an amateur photographer can easily become professional simply by following the horizon line displayed on the screen as they take pictures – something that took years of practice just decades ago! It is a small but significant update for many iPhone owners around the world, and it's easy to use, making it even more useful for all levels of photographers out there.
Grocery Lists in Reminders
The Reminders app on iOS 17 now allows users to create grocery lists with built-in categorization for easy shopping. With this new feature, shoppers can add items to their list, and the app will automatically sort them into categories like dairy, vegetables, meats, and more.
Additionally, shoppers also have the option of creating custom categories to fit their particular needs without having to use the pre-generated ones. By using these tools in conjunction with each other, it is much easier for shoppers to get what they need from the store quickly and efficiently.
The ability to create grocery lists in Reminders makes grocery shopping simpler than ever before while still allowing customization options for those who want a tailored experience when completing weekly errands or monthly meal prep tasks.
iOS 17 Updates for AirPods
AirPods now feature adaptive audio, which automatically adjusts to background noise, as well as improved Siri and Spotlight enhancements for easier use when on the go.
Adaptive Audio
iOS 17 for AirPods Pro 2 employs Adaptive Audio to deliver a personalized and immersive listening experience. By combining both Active Noise Cancellation and Transparency into one mode, Adaptive audio dynamically blends existing noise cancellation technologies based on the user's environment.
Personalized Volume Control further enhances the audio by automatically adjusting and tailoring sound levels according to movement or ambient noise like wind rustling leaves. Additionally, Conversation Awareness optimizes settings so you can easily engage in conversations without taking off your earbuds, allowing you to hear more of what's being said while background noise is dimmed down.
With these new additions to AirPods Pro 2 delivering an unrivaled sound quality offset with useful features like Conversation Awareness and Automatic Volume Control, users of the latest iOS generation sure have a lot to look forward to when it comes to experiencing true convenience through hearing.
Siri and Spotlight Enhancements
In iOS 17, the introduction of Siri and Spotlight enhancements have revolutionized the way Apple users use their devices. By taking advantage of powerful touch-based search and voice commands, these features are designed to make it easier for iPhones, iPads, Macs, and Apple Watches users to find what they're looking for quickly – be it saved Notes or contacts in Messages.
What's more is that with improved visibility on full-screen notifications as well as incoming calls displayed in contact information format on screen, communication has never been hassle-free! Additionally, the personal assistant upgrades come with a host of expressive features like custom stickers that can be created when using iMessage, as well as automatic deletion of verification code messages after two minutes resulting in better privacy protection.
These new capabilities truly provide an intuitive interface by making data searching lightning fast while ensuring easy access to countless functionalities, such as creating reminder lists straight from Groceteria receipts.
EV Charging Station Improvements
In iOS 17, users can now view the real-time availability of EV charging stations and select a preferred charging network for their electric vehicle. This update is integrated into Apple's optimized mapping service to provide an easy-to-navigate experience that enables electric car drivers to find nearby charging stations with the simplicity of a single tap.
The improved accessibility helps ensure seamless utilization of available charging infrastructure across multiple networks, providing maximum convenience and efficiency for electric vehicle owners.
By streamlining navigation capabilities, iOS 17 offers powerful features for modernizing effective mobile energy management on the go.
Privacy and Security Features in iOS 17
iOS 17 introduces a range of privacy and security features that help protect user data and enhance device safety. Not only has Apple strengthened several existing tools like FileVault, they've also issued brand new comprehensive additions to Lockdown Mode, which allows users to block all notifications and limit communication with those not approved on the list for added privacy.
Alongside the revamped lockdown mode, Apple has implemented anti-web tracking across their browse servers in order to ensure better protection against outside sources attempting to gain access to private information stored within devices.
On top of these incredible enhancements lies an array of safety-related features, such as blocking unwanted nude photos sent via Messages or FaceTime calls and easy accessibility when it comes to reporting malicious applications or experiences found online.
iOS 17 further maximizes users' assurance by providing offline versions of Maps in order for individuals who are stuck without WiFi to easily find their way back home, as well as audibly informing people about critical software updates that need installing automatically from the iMessage app settings.
The sheer amount of improvements makes this newest version worth considering if you value your phone's data security above all else!
Frequently Asked Questions (FAQs)
Now let's learn about some common questions on this topic.
1. What are the standout features of iOS 17?
iOS 17 introduces several exciting features, including enhanced privacy settings, a redesigned Control Center, new widgets, improved Siri capabilities, and updates to native apps like Messages and Maps. It also focuses on performance improvements and security enhancements.
2. Is iOS 17 compatible with my current iPhone model?
iOS 17 is compatible with a range of iPhone models, but not all. It's important to check whether your iPhone is included in the list of compatible devices before attempting to upgrade. Typically, newer iPhones receive iOS updates, but older models may not support the latest version.
3. How do I update to iOS 17?
Updating to iOS 17 is a straightforward process. First, make sure your device is compatible. Then, go to "Settings" on your iPhone, tap on "General," and select "Software Update." If iOS 17 is available for your device, you'll see an option to download and install it. Ensure you have a stable Wi-Fi connection and sufficient battery life, or connect your device to a charger during the update.
4. What should I do before updating to iOS 17?
Before updating to iOS 17, it's essential to back up your device. You can do this via iCloud or by connecting your iPhone to a computer and using iTunes or Finder. This precaution ensures that your data is safe in case anything goes wrong during the update. Additionally, ensure that you have enough storage space on your device to accommodate the update, as major iOS updates can be quite large.