ICC World Cup 2023 Bangladesh Team Analysis [Key Players to Watch]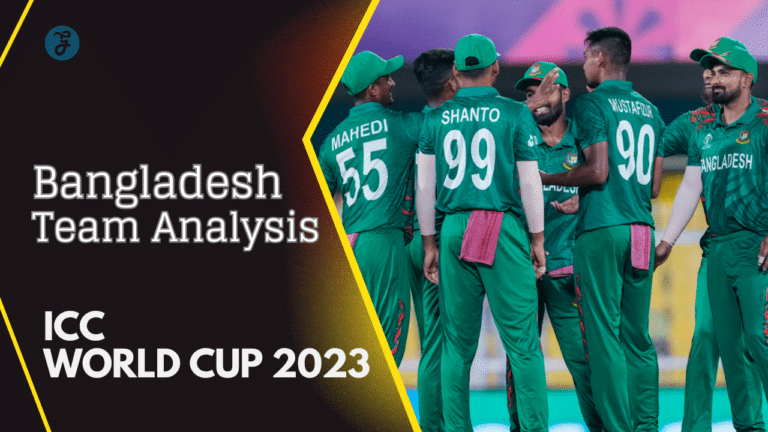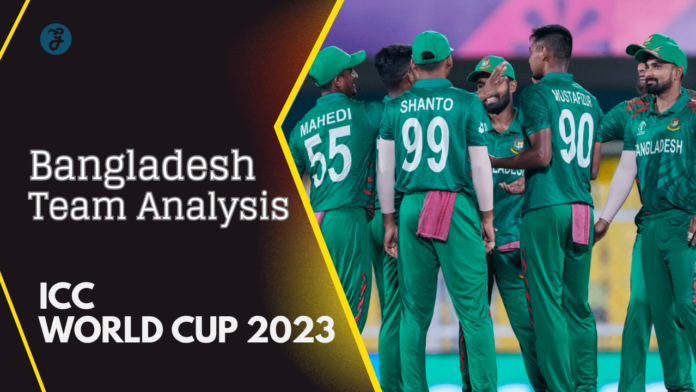 The Bangladesh Cricket Team has always been a force to reckon with in the international cricket arena. With 15 ODI victories out of 24 Super League matches, Bangladesh will look to make their mark on this unique World Cup format in the ICC Cricket World Cup 2023.
Leveraging their strengths and minimizing their weaknesses, if any, can turn out to be a great success for them at the tournament. In this blog post, we'll analyze how Bangladesh's preparations could shape its challenge at this global event and what part Shakib Al Hasan can play in his team's success.
So let's dive into the ICC Cricket World Cup 2023 Bangladesh Cricket Team Analysis!
Content Highlights
Bangladesh's spin attack is one of their major strengths heading into the ICC Cricket World Cup 2023 due to a variety of capable bowlers in their bowling lineup.
Experienced players like Shakib Al Hasan, Mushfiqur Rahim, and Mahmudullah Riyad have all made invaluable contributions in past tournaments, which can be beneficial for Bangladesh's potential success.
Tamim Iqbal & Ebadot Hossain are two senior members missing out from this side due to undisclosed reasons resulting in threats against the team while gaps had shown among the batting order and lack of pacer position, respectively.
ICC World Cup 2023 Bangladesh Team Analysis
A well-rounded and experienced Bangladesh squad is announced to compete for the prestigious trophy, full of potential and packed with quality all-rounders.
Bangladesh Batters For ICC World Cup 2023
The Bangladesh batting lineup is led by experienced veteran Mushfiqur Rahim, who has over 7400 runs in ODIs. He is joined by Litton Das, who is a dynamic and aggressive batsman.
Najmul Hossain Shanto is another promising young batsman who has been in good form in recent months. Towhid Hridoy is an exciting young talent who can bat anywhere in the order. Finally, Tanzid Hasan is the new addition to the squad and will provide depth to the batting.
| | | | |
| --- | --- | --- | --- |
| Player | Runs | Ave | SR |
| Mushfiqur Rahim | 7406 | 37.03 | 79.62 |
| Litton Das | 2250 | 32.6 | 87.61 |
| Najmul Hossain Shanto | 908 | 31.31 | 79.09 |
| Towhid Hridoy | 518 | 37 | 86.33 |
| Tanzid Hasan | 34 | 8.5 | 109.67 |
Bangladesh Batters for ICC World Cup 2023
Bangladesh All-Rounders For ICC World Cup 2023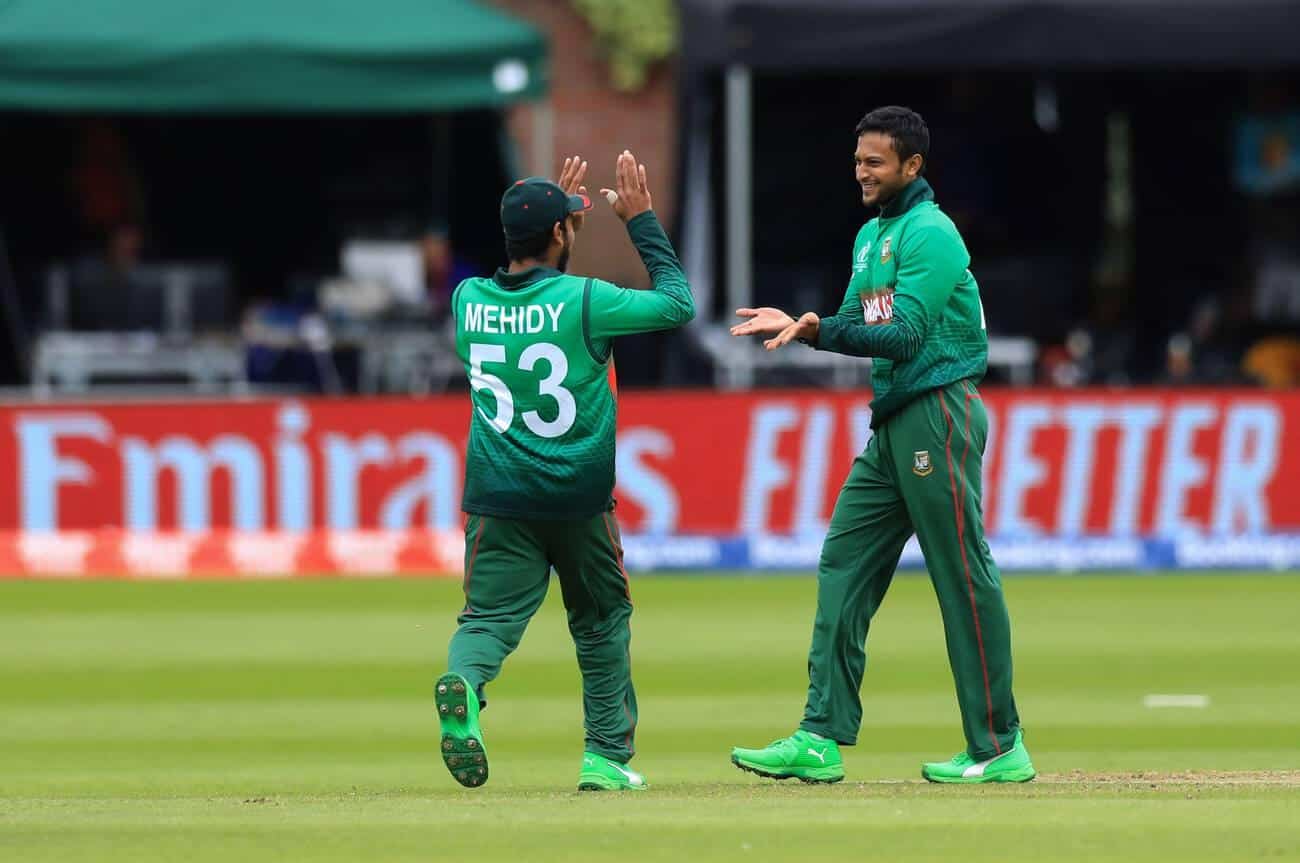 Bangladesh has a strong all-rounder contingent in Shakib Al Hasan, Mahmudullah, Mehidy Hasan Miraz, and Mahedi Hasan.
Shakib is one of the best all-rounders in the world and will be a key player for Bangladesh in the World Cup. Mahmudullah is a reliable batsman and bowler who can also captain the side. Mehidy and Mahedi are both useful all-rounders who can provide balance to the team.
| | | | | |
| --- | --- | --- | --- | --- |
| Player | Runs | Ave | Wkts | Econ |
| Shakib Al Hasan | 7384 | 37.67 | 308 | 4.44 |
| Mahmudullah | 5020 | 35.35 | 82 | 5.21 |
| Mehidy Hasan Miraz | 1046 | 23.24 | 91 | 4.73 |
| Mahedi Hasan | 89 | 14.83 | 8 | 4.48 |
Bangladesh All-rounders for ICC World Cup 2023
Bangladesh Bowlers For ICC World Cup 2023
The experienced duo of Taskin Ahmed and Mustafizur Rahman leads the Bangladesh bowling attack.
Hasan Mahmud is another important fast bowler in the squad. He is known for his ability to bowl consistently at a good pace. Shoriful Islam is a young fast bowler who has the potential to be a match-winner. He has a good yorker and can also generate good pace.
When it comes to spin attacks, Nasum Ahmed will be doing the job parallelly with Shakib Al Hasan and Mehidy Hasan Miraz.
| | | | | |
| --- | --- | --- | --- | --- |
| Player | Wkts | Ave | Econ | SR |
| Mustafizur Rahman | 156 | 24.27 | 5.07 | 28.67 |
| Taskin Ahmed | 90 | 29.24 | 5.41 | 32.42 |
| Shoriful Islam | 35 | 24.34 | 5.36 | 27.2 |
| Hasan Mahmud | 25 | 29.84 | 5.63 | 31.8 |
| Nasum Ahmed | 12 | 31.5 | 3.91 | 48.33 |
| Tanzim Hasan Sakib | 2 | 28.5 | 4.22 | 40.5 |
Bangladesh Bowlers for ICC World Cup 2023
Strengths and Weaknesses of Bangladesh Squad
Despite the instability at the top of the batting order, the Bangladesh Cricket Team for World Cup 2023 has a formidable squad featuring a plethora of capable players that can make a significant impact in the tournament. Let's delve into the strengths and weaknesses of the squad.
| | |
| --- | --- |
| Strengths | Weaknesses |
| Despite losing two key players, the Bangladesh cricket team possesses a strong and diverse squad | Instability at the top of the order in the batting lineup |
| Formidable players like Mushfiqur Rahim, Najmul Hossain Shanto, Litton Das, Taskin Ahmed, and Shakib Al Hasan bring power to the squad | The team often struggles to maintain confidence in high-pressure situations |
| There is a strong spin attack in the team, with players like Shakib Al Hasan and Mehidy Hasan Miraz | The Shakib Tamim Saga has created increased pressure on the team |
| The team possesses strength in the middle-order batting | The absence of Ebadot Hossain, a skilled player, can be a setback |
Swot Analysis of Bangladesh Team
Uncovering the team's hidden potential will help them have a good go in the ICC Cricket World Cup 2023.
Strengths of Bangladesh Team in The 2023 World Cup
Although Bangladesh hasn't won any major ICC tournament yet, they're a dangerous ODI side showcasing their strengths in this tournament.
Strengths in the Middle-Order Batting
The Bangladesh cricket team's middle order consists of talented and experienced players.
Shakib Al Hasan, the skipper, is still one of the most important batsmen in this batting lineup, with his consistent performances in recent matches being vital to their World Cup chances.
With an average of over 37 runs on an ODI level which includes nine centuries and 15 fifties him one of the few non-Indian batsmen to cross these numbers over a period. Alongside him comes another veteran player, Mushfiqur Rahim, who has been a pillar for Bangladesh's success even during its turbulent phases, recently exemplifying it with timely hundreds against West Indies and Pakistan, respectively, just last year.
Moreover, Mahmudullah Riyad remains another stalwart piece when it comes down to the middle order, having featured in 221 ODIs and already further dappling reliable chuckles down the order alongside Litton Das, featuring at the opener, sometimes clocking up modest but useful runs while under pressure.
Potential Newcomers
Towhid Hridoy, Shoriful Islam, Hasan Mahmud, and Tanzim Hasan are potential newcomers who can contribute to the ICC Cricket World Cup 2023 team. 
Towhid Hridoy is an exciting young talent who can bat anywhere in the order. 
Shoriful is another promising speedster coming through Bangladesh U19 ranks; he has raw pace and technique with the ball and hand-eye coordination behind the stumps, which will help him counter any situations that need control rather than aggression. 
Plethora of Spin Options
Bangladesh Cricket Team is a spin powerhouse ahead of the ICC Cricket World Cup 2023. Its strength in depth has been underlined with four spinners who can bowl their full quota of overs, which is proving to be a huge advantage for the team on spinning tracks.
Shakib Al Hasan, Bangladesh's captain himself, brings his own level of skill as both a reliable batter and resourceful spinner. Shakib Al Hasan leads with 308 wickets at an impressive average of 29.32, while Mehidy Hasan Miraz and Mahmudullah add depth to the bowling attack with 91 and 82 wickets, respectively. Nasum Ahmed and Mahedi Hasan contribute with their spin, adding variety to the team's arsenal with their left-arm and right-arm off-breaks, respectively.
| | | | | | |
| --- | --- | --- | --- | --- | --- |
| Player | Bowling Style | Wkts | Ave | Econ | SR |
| Shakib Al Hasan | Slow Left arm Orthodox | 308 | 29.32 | 4.44 | 39.61 |
| Mehidy Hasan Miraz | Right arm Offbreak | 91 | 33.65 | 4.73 | 42.69 |
| Mahmudullah | Right arm Offbreak | 82 | 45.82 | 5.21 | 52.68 |
| Nasum Ahmed | Slow Left arm Orthodox | 12 | 31.5 | 3.91 | 48.33 |
| Mahedi Hasan | Right arm Offbreak | 8 | 35.87 | 4.48 | 48 |
Their ability to use different techniques against the same batsman will be extremely important for the team's success. The spinners of Bangladesh provide them with depth and flexibility in their bowling unit, which other teams lack.
This could be the key element separating Bangladesh from other teams during this tournament, making all the difference in winning matches.
In addition, Bangladesh players have also proven their ability to adapt quickly and perform under pressure – something they can attribute mainly to having such an experienced spinning core at hand.
The spin-heavy culture in Bangladeshi cricket makes its spin resources even more valuable – these are not just run-of-the-mill tweakers but seasoned professionals who know how to work an inning with variation and guile while providing much-needed control on slow surfaces all throughout the five weeks of grueling cricket schedule come 2023.
Weakness in the Top Order
The Bangladesh cricket team's top order has been described as fragile. The instability at the top has been a crucial concern ahead of their participation in the 2023 ICC World Cup.
It is no secret that batting troubles have significantly impacted their performance, especially when facing high-pressure situations when chasing big totals and also defending smaller targets.
This is mainly caused by a lack of depth, which can be attributed to the absence of experienced senior players who previously were integral parts of their batting lineup, such as Tamim Iqbal and Imrul Kayes, just to name a few.
Furthermore, uncertainty over who will open alongside Litton Das further harms Bangladesh's potential prospects for success this summer.
Opportunities for Bangladesh in World Cup 2023
This is a great chance for Bangladesh to prove themselves in the ICC World Cup 2023 by capitalizing on their strengths and finding new ways of shutting out the noise surrounding them.
Shutting Out The Noise
The Bangladesh National Team is taking additional steps to ensure they are mentally and physically prepared for the much-anticipated ICC Cricket World Cup 2023. Part of this entails shutting out external noises and pressures, such as media criticism or public predictions, that have the potential to affect team performance in a detrimental way.
By avoiding distractions, the players can remain focused on their goal of winning a major tournament in 2023. It is, therefore, important that these factors be ignored and cannot divert attention away from the game plan.
Examples include opportunities for Bangladesh's top batter Tamim Iqbal missing out due to his persistent back injury or Shakib al Hasan's controversies which can wreak havoc on team morale but with successful strategies implemented along with confidence, Bangladesh cricket is optimistic about making it to the final 4 teams at least in this upcoming tournament.
Read Also: Can Shubman Gill Break Sachin Tendulkar's Unbreakable ODI Record?
Resetting The Pace-Battery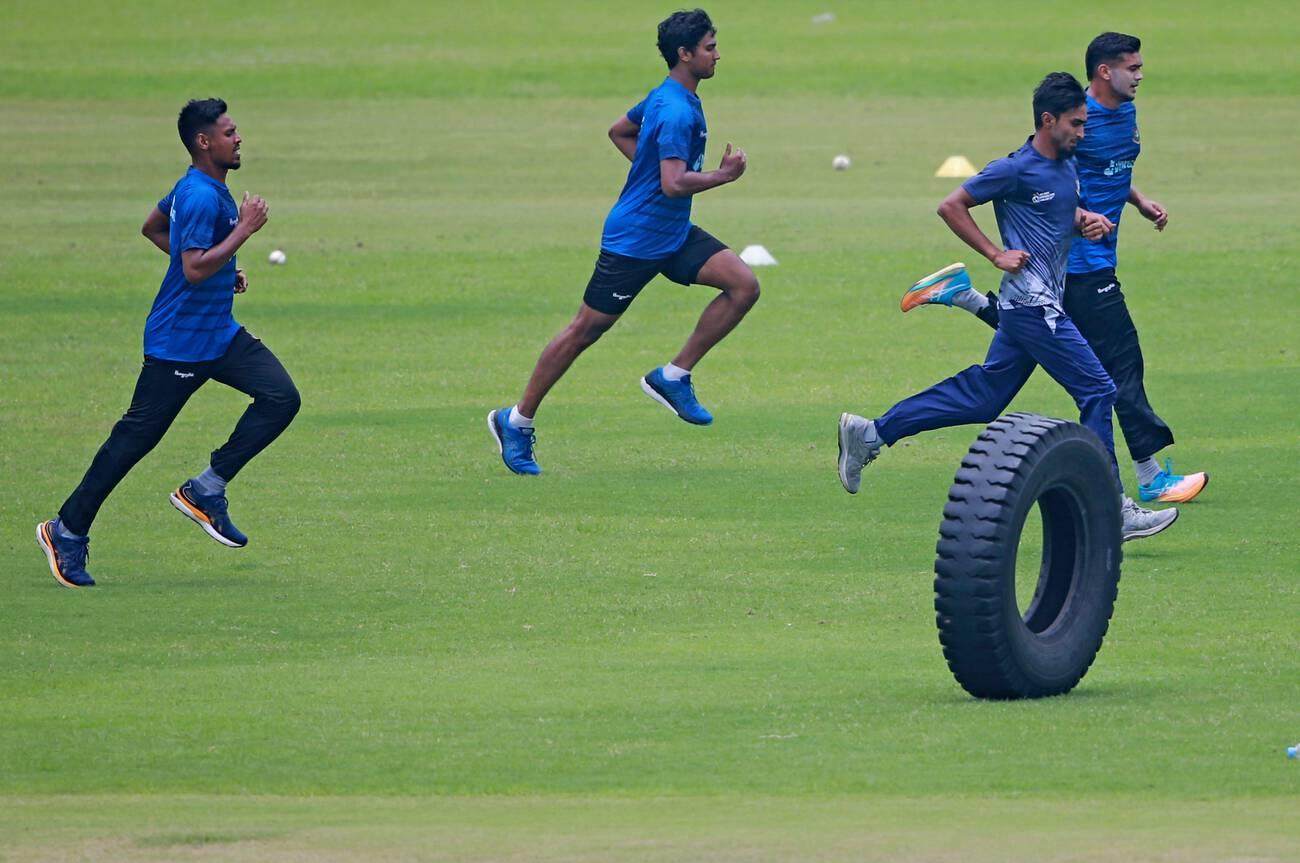 Bangladesh's performance in international cricket has drastically improved over the past few years. Their pace battery is expected to play a major role in the ICC Men's Cricket World Cup 2023.
Working under Coach Allan Donald, the energy of Bangladesh's fast bowling department has been revitalized as he has worked on individual techniques and skills of this unit. The core focus is on the intimidating intensity that works on taking wickets regularly throughout the tournament.
The management is also confident that with their familiarity with Indian conditions and pitches, they are perfectly positioned to reset the pace-battery for the competition at hand. Captain Shakib Al Hasan further expressed his faith in such abilities of these bowlers to perform against tough oppositions like India or South Africa.
Coming Out From the Drought of Winning a Major Trophy
Bangladesh Cricket Team is gearing up for an exciting ICC World Cup 2023 tournament with a powerful squad and hopes of emerging as the eventual champions. It has been heartbreaking for Bangladeshi cricket fans to see their team in every major tournament without having tasted top honors ever since entering the international stage more than two decades ago.
Bangladesh has frequently risen to the challenge of being tough competitors against strong opponents even though they've lost out on some crucial games due to momentary lapses that meant those moments remained notables, just leftover highlight compilations.
The team's impressive skillset at batting, fielding, and bowling make them contenders if they can find consistency across all departments in big matches, which certainly sets Bangladesh apart from many teams in the competition.
Read More: ODI World Cup 2023: ICC Announces Full List of Commentators
Threats for Bangladesh in World Cup 2023
Bangladesh may have to face certain difficulties, such as a lack of confidence in pressure situations, the Shakib-Tamim saga, and the absence of Ebadot Hossain.
Lack of Confidence in Pressure Situation
Bangladesh's team is in a state of decline, with senior players like Shakib Al Hasan missing out. The lack of confidence in pressure situations has raised concerns for the Tigers entering the ICC Cricket World Cup 2023.
A tendency to choke under pressure can be highly beneficial for opposition teams. Hence it is important that Bangladesh remain focused and compose themselves during big moments. This inability to come up through challenging times will be an obstacle as Bangladesh strives forward towards its ambitions of winning a major tournament on a global level.
Previous performances suggest stark evidence which demonstrates how internal anxieties could hamper their progress, such as when they lost 5 wickets within 15 runs against Afghanistan after requiring only 18 off three overs during Asia Cup 2018 or more recently when they buckled under the immense pressure of West Indies due to flat batting display in the very first game since commencement post lockdown restrictions last year.
Shakib Tamim Saga
The ongoing feud between Shakib al Hasan and Tamim Iqbal has caused major disruption to the Bangladesh cricket team ahead of the ICC Cricket World Cup 2023 – a tournament they are desperate to win.
With Tamim having suffered from a long-term back injury, he was controversially excluded from the final squad altogether, and in his place came Skakib as ODI skipper. This triggered an unwarranted war of words between the two athletes, not just within public forums but also on social media,. They had fans and onlookers equally worried about whether this would affect Bangladesh's chances in their pursuit of glory come 2023.
Now with recent peace talks indicating signs of potential reconciliation, Bangladesh can only hope that relationships have healed enough so that progress can be made if they are to make it out of their tricky group stage hurdle and into the semi-finals or even beyond.
Absence of Ebadot Hossain
The Bangladesh cricket team's hopes for the ICC Cricket World Cup 2023 have taken a hit with Ebadot Hossain's withdrawal due to a knee injury. The 28-year-old paceman was also ruled out of the Asia Cup squad, debilitating his side entering into possibly two major trophies in just one year.
Unfortunately, his knee injury has limited his ability to play and make an impact on the international stage.
Ebadot has been part of the Bangladesh setup since 2016 but hasn't seen much game time lately. He played 6 tests and 41 ODIs so far only in that span but injuries got increasingly worse recently, preventing him from taking part even in any kind of cricketing activities, including domestic matches.
Key Bangladeshi Players to Watch in the 2023 World Cup
Although the Bangladesh squad is quite balanced, and they have some vastly experienced players, here are some of the key players you need to watch out for.
Shakib Al Hasan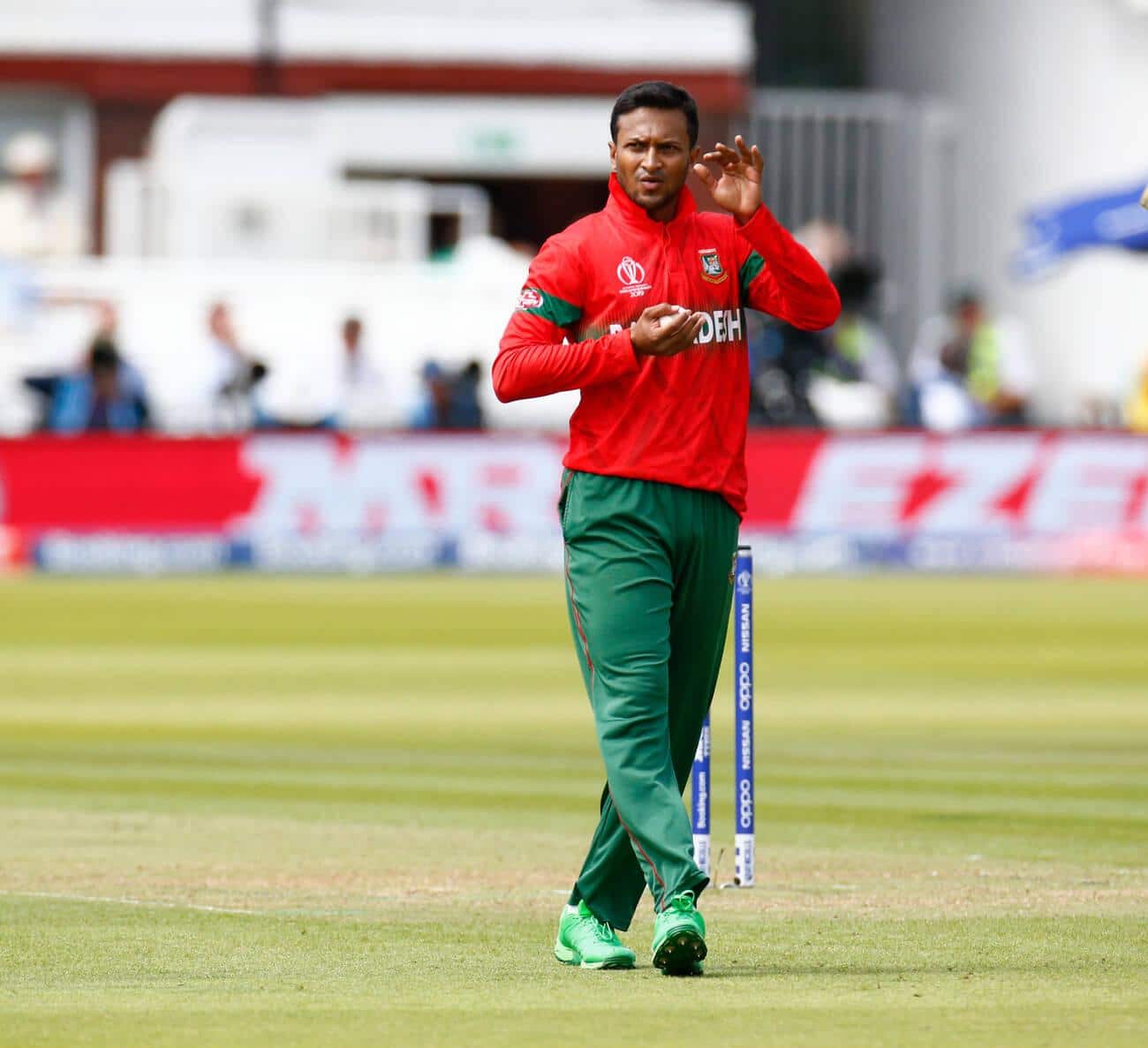 Shakib has been appointed as the captain of Bangladesh's Cricket Team for the 2023 World Cup, making him an invaluable part of the squad. His all-round ability and extensive international experience prove to be a major advantage to his team's success.
He is adept at swinging games in favor of his team, either through batting performance or crucial bowling spells. As such, he provides much-needed stability to Bangladesh in pressure situations and brings essential leadership qualities at the highest level of cricket.
Shakib Al Hasan recently suffered a minor injury while playing football, which could affect his preparation for the tournament; however, its effect can not be fully estimated until further notice is passed by BCB medical staff on this matter.
Taskin Ahmed
Taskin is a fast bowler from Bangladesh who is currently preparing for the upcoming Cricket World Cup 2023. He has been highlighted as one of the six players set to excel at the Asia Cup 2023 by ICC.
Despite receiving a county cricket offer from England, he opted to remain focused on the Bangladesh cricket team and continued his practice for the ODI World Cup.
Taskin Ahmed is a great prospect in Bangladesh cricket's future with bowling strength and confidence under pressure situations, ensuring tested performance every time he gets onto the field, making him an invaluable asset for his country, both morally and technically, as they enter into World Cup competition this year.
Mushfiqur Rahim
Mushfiqur Rahim, a senior player of the Bangladesh cricket team, is determined to continue his career until the ICC Men's Cricket World Cup 2023 in India.
Similarly, with Mushfiqur Rahim choosing to skip out on a Super Four match in the Asia Cup 2023 to spend time with his family during this pandemic-ridden year, we can understand how leaving such an important match wasn't easy for him at all.
He will take part in Bangladesh's World Cup squad providing strength and stability, especially regarding their punchless pace bowling attack.
His leadership qualities on the pitch are unrivaled as well, which was visible omnipresently in previous editions of international tournaments through winning countless matches against big teams because of powerplays set by captaincy abilities only he could have possessed throughout the Asian region.
Mahmudullah Riyad
Mahmudullah Riyad is finally in the squad for the ICC Cricket World Cup 2023, according to Bangladesh Cricket Board President Nazmul Hassan. He believes Mahmudullah could compete with three other middle-order players for a spot in the best XI.
The 37-year-old cricketer has served many successes and contenting performances for Bangladesh earlier, making him a key player in their predicted XI lineup of the World Cup 2023 squad.
Mehidy Hasan Miraz
Miraz is an extremely talented all-rounder who has greatly impacted Bangladesh. He has been selected in the 15-member squad for The 2023 ICC Men's Cricket World Cup.
Miraz boasts an impressive record against some of cricket's most formidable opponents, with his heroics against Afghanistan during the 2023 Asia Cup being stand out. His batting average is 23.24, while with the ball, he takes wickets at low economy rates of 4.73 consistently, thanks to his ability to rapidly adjust to varying pitches and weather conditions, which puts him ahead as one of Bangladesh's most promising prospects on the international stage.
Litton Das
Litton is a rising star of Bangladesh cricket and has been an indispensable member of the Bangladesh team in recent years. He is known for his aggressive batting style and provides ferocious starts to the team.
In particular, Litton Das had captained Bangladesh's side for five ODI matches due to Tamim Iqbal's absence and refused to shy away from leading despite being new in the international setup.
As Shakib Al Hasan said in a press conference, "Litton could be one of the best performers in this 2023 ICC World Cup".
Potential Newcomers to Watch Out
Young talents like Tanzid Hasan Tamim, Tanzim Shakib, and Shoriful Islam are bound to create a spark in the Bangladesh squad and push their team closer to winning major trophies.
Towhid Hridoy
A left-handed batsman who recently made news for his impressive performance against South Africa A side in 2021 has been selected as part of the ICC World Cup Bangladesh squad 2023 due to his tranquil temperament which will be key if things do not go the team's way while playing against tough opposition teams like India & Australia
Tanzid Hasan Tamim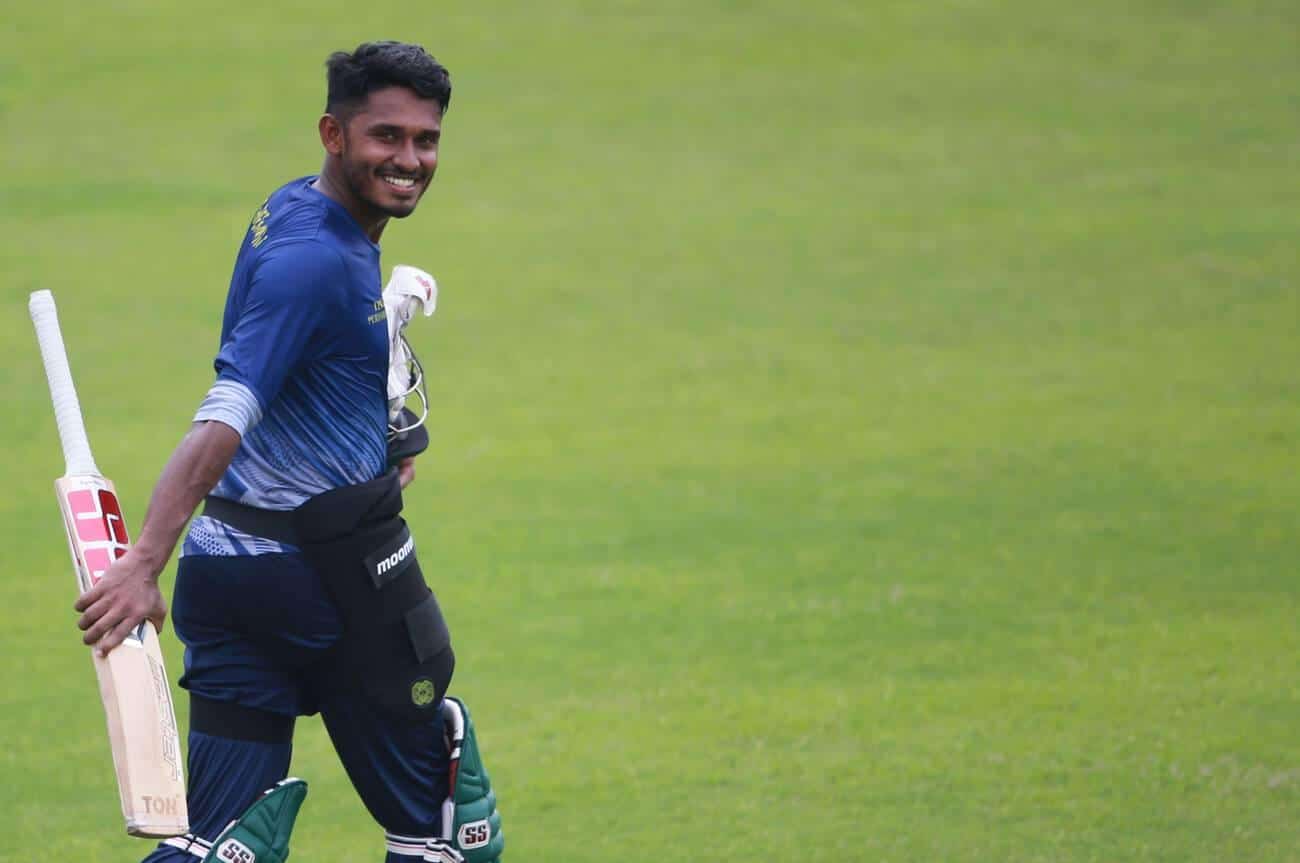 He is an exciting young talent who dreams of one day playing for the Bangladesh cricket team at the ICC Cricket World Cup. A successful Bangladesh Under-19 team member who won the World Cup, Tamim has been called up to the squad for this year's Asia Cup one-day international tournament.
His electrifying batting style and determination were clearly evident in his performances throughout qualifying rounds and earned him a spot on the roster. He is also well regarded for his ability to build innings by steadily accumulating runs with a minimal risk strategy allowing batsmen higher up in order to change gears closer to the end of their overs or run chase.
As part of his preparations for becoming a stronger contender for a spot in the final XI, he worked hard during training camp to adapt better against spin bowling, his traditional weakness against teams from India and Sri Lanka.
Tanzim Shakib
Tanzim is the latest youngster to join the Bangladesh cricket team and will be taking part in his first major tournament, the ICC Cricket World Cup 2023. He made an impressive debut against India, taking the wicket of captain Rohit Sharma at just his fourth delivery, and has gone on to play 12 first-class matches in a short senior career thus far.
Sylhet's energetic right-arm fast bowler is a treat for opposition batsmen as he boasts both pace and immense swing capability. He is scheduled to bring depth into Bangladesh's bowling attack, which already contains exciting spin prospects like Shakib al Hasan, Mehidy Hasan Miraz, and Taijul Islam.
Apart from this strength in slow bowlers, it remains unclear how effective Tamim Iqbal would be at the top, along with Shabbir Rahman's fitness uncertainties. Tanzim Sahakib will have an extraordinary opportunity during the upcoming cricket extravaganza as he can change the fortunes of his national game by swinging those yorkers thereabouts!
Shoriful Islam
Shoriful is a talented cricketer from Bangladesh who was part of the special U21 program organized by the Bangladesh Cricket Board (BCB). He achieved his career-best figures of four for 21 in a match against Afghanistan.
Shoriful has been consistent with performances while playing at domestic levels, but his most impressive performance would certainly be his show against Afghanistan. His ability to keep batsmen under check with accurate bowling helped Bangladesh win that match and showcased his prowess.
While it's too early to judge him for international cricket duty, he looks set to make quite an impact going into the World Cup 2023. With Shakib Al Hasan out starting in 2021, there is an opportunity for Shoriful Islam to emerge through such abysmal news, which could translate into international success down the line.
Latest Bangladesh Team Updates For World Cup 2023
Litton Das is expected to open the batting for Bangladesh, with Shakib Al Hasan and Mushfiqur Rahim likely to be promoted further up the order.
Litton Das As the Opener
Litton Das has been a crucial member of the Bangladesh cricket team since 2015. After making his debut in an international test match against Zimbabwe, Litton went on to cement his place at the heart of the Pakistani batting lineup.
The right-hander recently scored a half-century in the ICC Men's T20 World Cup 2022 against India, winning accolades from both media and coaches alike for his performance in such tricky conditions.
Unfortunately, Litton was ruled out of Bangladesh's Asia Cup 2023 campaign due to an undisclosed reason but showed great resilience by returning for the latter part of their schedule after missing it initially.
As an opener, he provides stability and flexibility with excellent aggression when needed as well as being able to shift gears if required while cooking up large partnerships like we saw during this year's Super Smash League competition, where he made two consecutive half-centuries along with Mushfiqur Rahim.
Senior Players Missing Out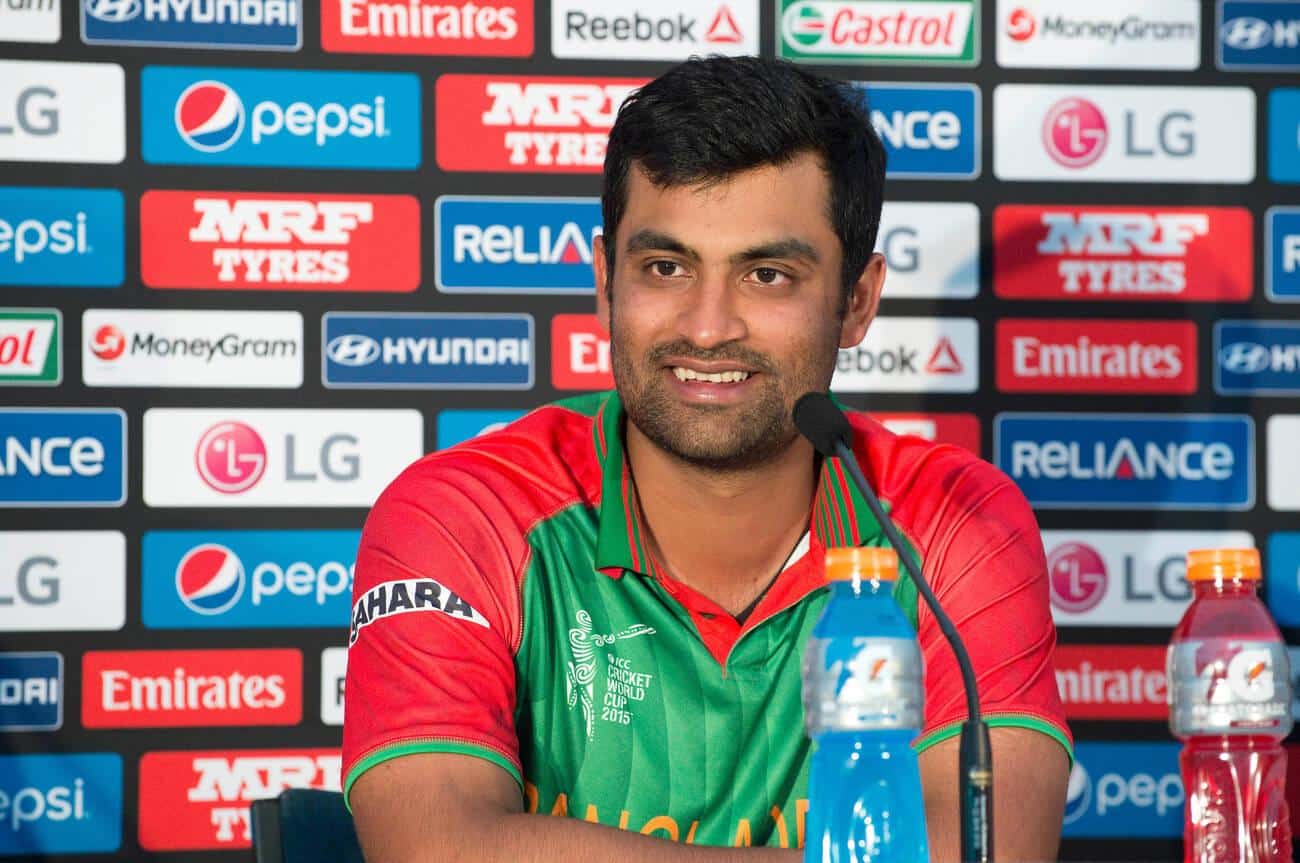 Tamim Iqbal, a senior player in the Bangladesh cricket team, has opted out of the 2023 ODI World Cup due to a dispute with the Bangladesh Cricket Board. This absence will be felt strongly amongst fans, as Tamim has been an integral part of the Bangladeshi side since making his debut in 2004.
He is well-known for scoring consistently and providing stability at the top order. His absence marks a major shift in the dynamics of this team, which could ultimately affect their chances of success in this tournament.
Furthermore, there may also be question marks against Ebadot Hossain's availability for the World Cup owing to his knee injury and lack of match fitness despite several good performances over some time now. Additionally, you can also read about- Prize Money for ICC Men's Cricket World Cup 2023: Winners to Receive USD 4 Million Prize Money
Final Words
The Bangladesh cricket team is looking strong for the 2023 World Cup with a squad full of experienced and young players from all corners of the country. Led by Shakib Al Hasan, who has established himself as one of the greatest cricket stars to emerge out of Bangladesh in recent years, this team has a chance to make history by lifting the trophy in its maiden ICC Men's Cricket World Cup appearance.
While their confidence and attitude have often been questioned on occasions, there have been glimpses of greatness from them on certain occasions that show that they can be true contenders at this tournament if they come together as a unit.
With spin bowling being their biggest strength and one which will weave magic under the Lankan sun, MVT or Mehidy Hasan Miraz appears primed to lead from the front along with Shakib Al Hassan and Tamim Iqbal missing out due to injury.
Players like Litton Das, Najmul Hossain Shanto, Tawhid Hridoy, and Tanzid Hasan Tamim boast plenty of best potential proving themselves as potential game changers through some impressive performances in domestic leagues.
If India is considered the favorite, then surely Bangladesh will follow up soon after in line with hosts Sri Lanka for being a surprising grabber at contesting for the title where any altercations between situations are assuredly facilitated task aspirations sprinted ahead fond demands.
Overall though it promises to be an exciting tournament with plenty of surprises still waiting for us!