Can Shubman Gill Break Sachin Tendulkar's Unbreakable ODI Record?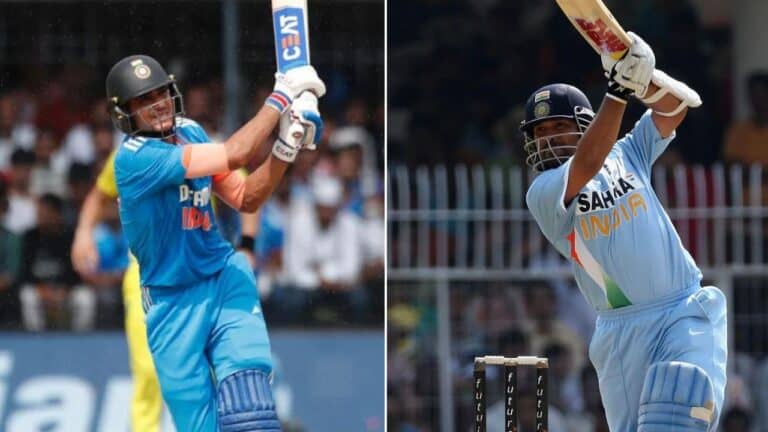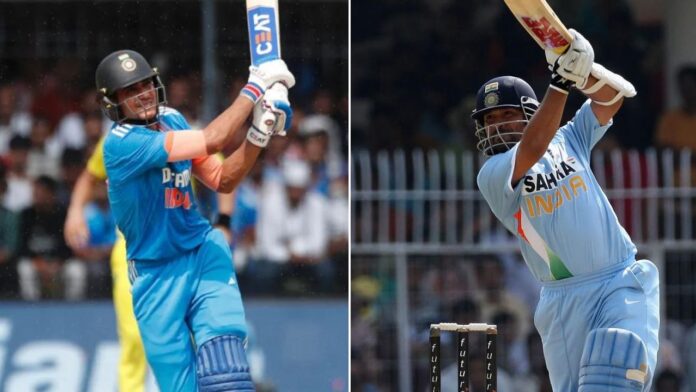 Shubman Gill is 665 runs short of beating Sachin Tendulkar's calendar-year world record of 1,894 runs. If he does not arrive, it is possible that no one will.
Shubman Gill has 1,230 runs at 72.35 with a strike rate of 105 in 2023. These are not your typical figures.
The next name on the 2023 runs ranking is Asif Khan of the UAE, who has 934 runs. Only Pathum Nissanka (819), a hitter from an ICC Full Member, has scored 750 runs.
Only Ricky Ponting (1,424 runs at 79.11 in 2007) and Virat Kohli (1,460 runs at 76.84 in 2017) have had more runs at a higher average in a single year, while only David Warner (1,388 runs at 105.4 in 2016) has had more runs at a faster rate. As can be seen, no one is shared by both sets.
All of this has made Gill a legitimate rival to Sachin Tendulkar's 1998 world record calendar year score of 1,894 runs.
India will play Australia again, followed by nine league games at the World Cup. There will be one or two additional games if they qualify for the knockout stages. They will also play three One-Day Internationals (ODIs) against South Africa.
If Gill stays fit, India does not rest him, and nothing unexpected happens, he will have at least 13 ODIs to surpass Sachin Tendulkar. To do so, he has to average slightly more than 51 runs per match, which is much lower than his current season average.
If Not Gill, Perhaps No One Will
Gill is the only batter after the global pandemic to score 1,000 runs in one calendar year.
There was not a single year between 1996 and 2019 when at least one hitter did not hit four figures. There have been 128 entries in these 24 years (some of them many times) – more than five per year.
Six men accomplished it in 2019, the most recent pre-pandemic year, with three over 1,300. Since then, the world has moved away from One-Day Internationals.
A T20 World Cup in each of the first two years after the outbreak moved the spotlight to Twenty20 cricket. Teams prepared for the World Cups by playing as many short formats as possible.
Simultaneously, the tremendous rise of franchise cricket contributed to a shift away from the two longer formats.
For example, in order to accommodate the SA20, South Africa were willing to skip the 2022/23 Australian trip, even if it meant foregoing a straight qualification chance for the ODI World Cup.
Read More: Sachin Tendulkar on ODI Cricket: 'It is getting Monotonous and Predictable without any Doubt
Boards made every effort to keep their finest players for the Tests. Even as two-match series became more regular, the World Test Championship may have played a part in keeping Test cricket relevant.
Many players still see the longest format as the "prestige format" in men's cricket. Perhaps they will continue to do so for a while.
ODIs began to lose relevance since they were squeezed between the two, especially with no World Cup or Champions Trophy to urge sides to play more bilateral series.
The lockdown was responsible for limiting the number of men's ODIs to 44 in 2020, but only 71 in 2021. In comparison, the count in 2019 was 150. The number increased to 161 in 2022, the second-highest in a calendar year after 191 in 2007, but that figure has to be scrutinized. Perhaps in an attempt to revitalize ODIs, the ICC ensured that more Associate nations participated in the format.
If the calendar-year counts are limited to matches involving at least one Full Member, the figures are 119 (2018), 128 (2019), 34 (2020), 51 (2021), and 93 (2022). The decrease is obvious.
With the World Cup approaching, there was bound to be a reversal of this trend in 2023, just as there would be another as countries prepare for the T20 World Cup in 2024. Due to time constraints, teams will prioritize the two limited-overs formats based on the upcoming global event. That is been done by the Asia Cup.
As a result, the only opportunity for a batter to duplicate Tendulkar or, if he breaks the mark, Gill will be in a year with a World Cup or, at best, a Champions Trophy.
It's a reasonable assumption, however the 2025 Champions Trophy is scheduled to take place in February 2025. And teams will only play ODIs after the T20 World Cup in June 2024.
They will still have seven months, but they will be spread out across two calendar years. In fact, teams will strive to play more One-Day Internationals (ODIs) in January and February.
The schedules for the 2027 World Cup and the subsequent global ODI tournament have not yet been released, but by the time they do, the focus will have shifted even further away from the format.
Gill has been outstanding in 2023, but India's schedule has allowed him to set more records. It remains to be seen whether any team can do so again.