Lionel Messi's Epic Birthday Bash: Celebrating 36 Years of Football Brilliance!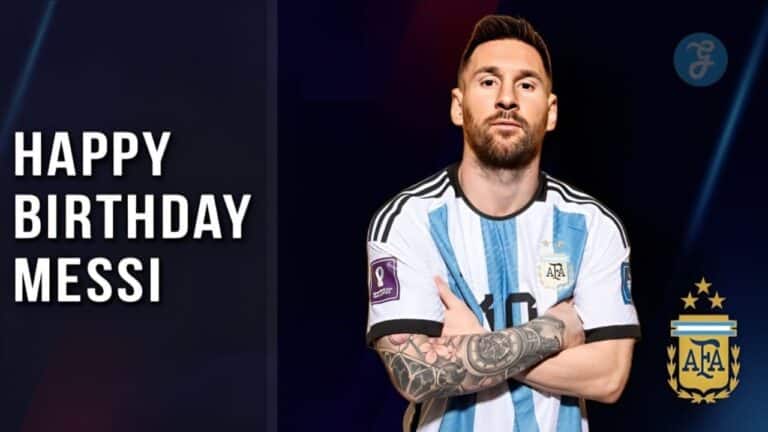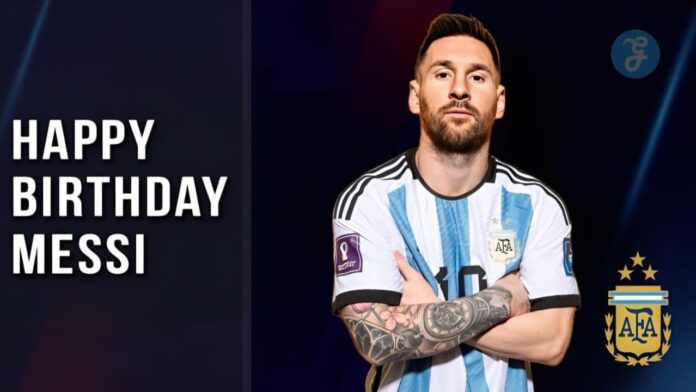 Listen to the Podcast:
Happy Birthday, Lionel Messi! After crossing 36 springs, Lionel Messi stepped into the 37th spring today!
Lionel Messi is celebrating his 36th birthday on June 24, 2023. The Argentinean football superstar is widely considered to be the greatest player of all time (GOAT), and he continues to break records and amaze fans around the world.
In the heart of Rosario, Argentina, on June 24, 1987, a child (Lionel Andrés Messi Cuccitini) was born who would redefine the contours of football. A boy named Lionel Messi, a name now immortalized in the annals of football history. This year, on June 24, 2023, as Messi celebrates his 36th birthday, we delve into his awe-inspiring career, highlighting his phenomenal triumph at the 2022 FIFA World Cup.
Club Football Career of Lionel Messi:
Messi began his professional career at the age of 10 with Newell's Old Boys in Argentina. Despite coming from a working-class family, Messi's passion and dedication caught the attention of Barcelona scouts when he was just 13 years old. Recognizing his potential, they offered him an opportunity to join their prestigious youth academy, La Masia. This decision would prove to be life-changing for Messi.
Under Barcelona's guidance, Messi flourished and progressed through the ranks rapidly. By the age of 17, he became Barcelona B's youngest-ever player and scored his first goal for the senior team shortly after.
With each match, Messi showcased his incredible dribbling ability, lightning-fast speed, and clinical finishing. Messi's rise to stardom was meteoric. He went on to break numerous records and win countless individual awards along the way. His unmatched agility and mesmerizing footwork earned him comparisons to legendary players such as Diego Maradona and Pelé.
But it wasn't just about individual accolades for Messi; he consistently showed that he possessed something even more valuable – an innate understanding of teamwork that allowed him to elevate those around him.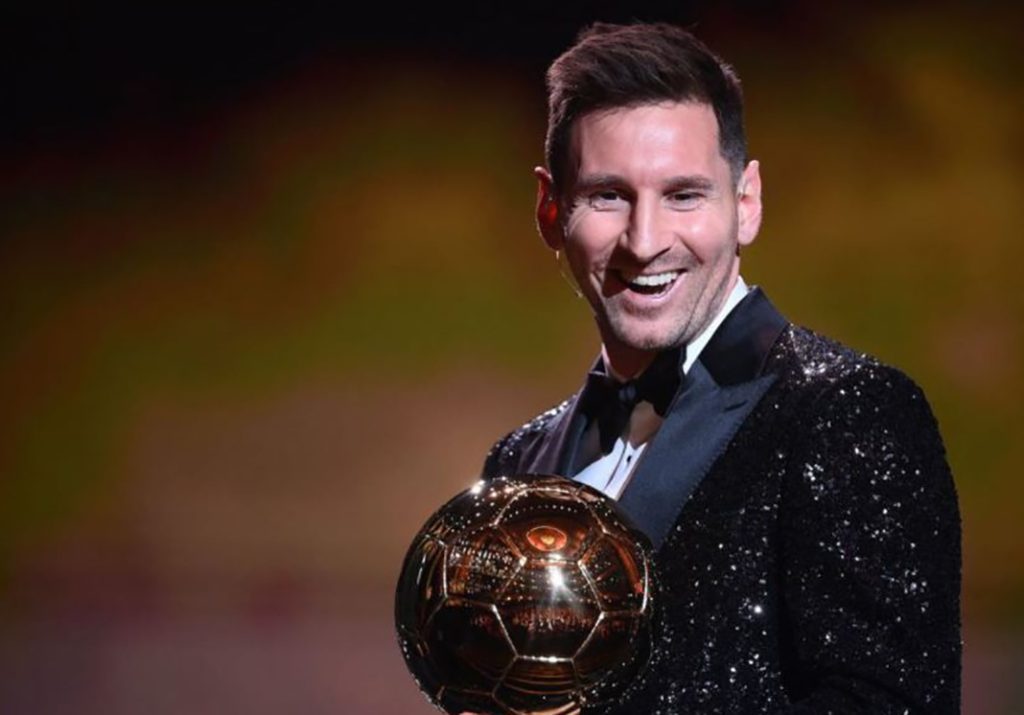 Achievements of Lionel Messi:
Lionel Messi has 43 trophies in total as of June 2023, while Cristiano Ronaldo has 34. Lionel Messi comes out on top. Messi has now won 3 trophies with PSG, 5 with Argentina and 35 with former club Barcelona. The only other player to have won 43 career trophies is Messi's ex-Barcelona teammate Dani Alves.
Messi rapidly filled the club's trophy cabinet with 10 La Liga and 4 UEFA Champions League titles. Messi's individual accolades, including 7 Ballon d'Or titles and numerous records like the most goals in a season or a calendar year (91 Goals, 2012) and most goals for a single club (672), place him on the highest pedestal of football greats.
In 2021, after a 21-year-long enchanting spell with Barcelona, Messi transferred to Paris Saint-Germain (PSG). Despite the seismic shift, Messi, donning the new jersey, continued to enthral the fans with his signature dribbles and goals, contributing significantly to PSG's triumphs in Ligue 1 and the Champions League.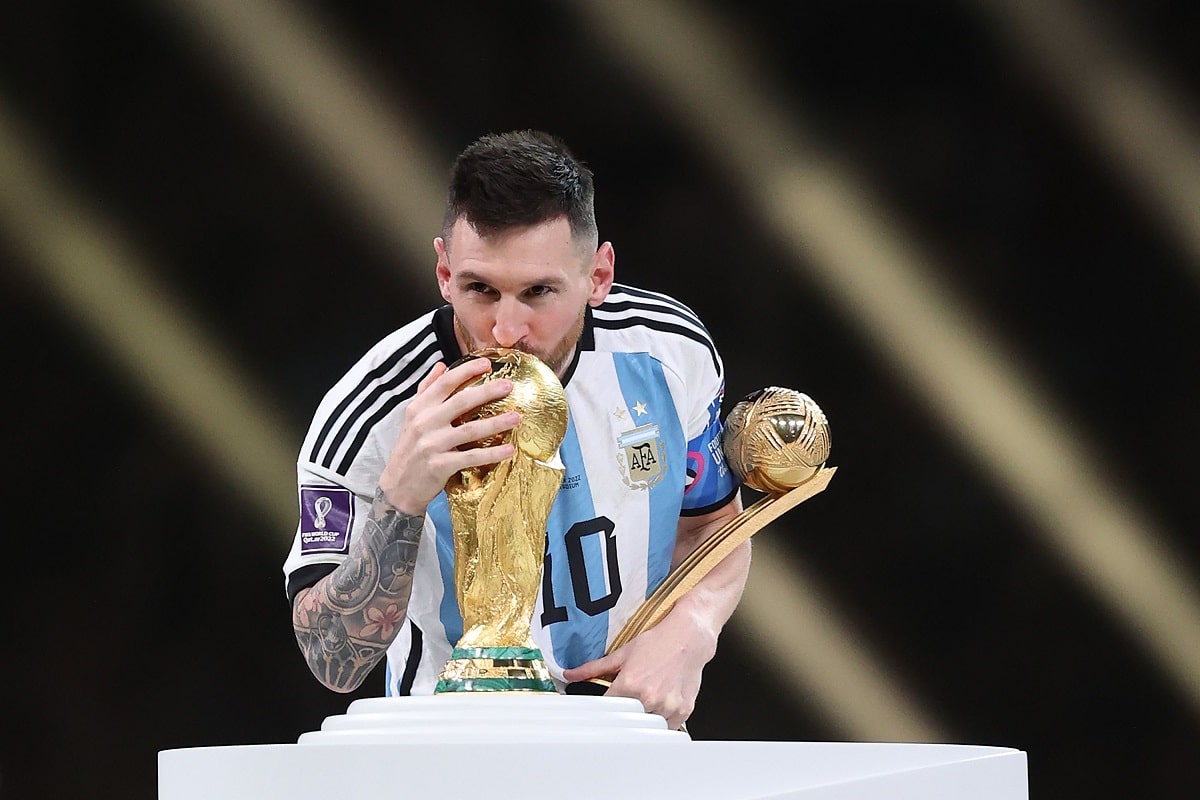 Lionel Messi for Argentina:
Parallel to his glittering club career, Messi's voyage with the Argentinian national team is a story of patience, persistence, and eventual glory. The long-awaited international success arrived when Messi led Argentina to victory in Copa America 2021, a title he had come close to but never lifted until then.
Then, the most significant feather in Messi's cap came in 2022 when he accomplished his lifelong dream – winning the FIFA World Cup. Messi's
magisterial performance throughout the tournament was a testament to his greatness, helping Argentina clinch their third World Cup title. The victory dissolved years of agony, as Messi finally held the coveted trophy, achieving what many deemed the missing piece in his illustrious career.
Messi's influence on football is incomparable. He is celebrated not just for his uncanny ability to find the back of the net or his wizardry in creating chances, but also for his character, sportsmanship, and humility off the pitch. At 36, Messi's skills show no signs of diminishing. His fervor for the game is still infectious, and his name continues to serve as a beacon of inspiration for football aspirants worldwide.
Here are some of Lionel Messi's most impressive achievements:
7 Ballon d'Or awards (Most in history)

FIFA World Cup 2022 Champion (Messi led Argentina)

2021 COPA America Champion (Messi led Argentina)

6 European Golden Shoes (Most in history)

35 trophies with Barcelona

1 Ligue 1 title with PSG

100+ International goals for Argentina

The Most Goals in La Liga – 474
The Most Hat-Trick in La Liga – 36

Olympic gold medal with Argentina in 2008
Records And Awards Achieved By Messi at a Glance: 
Lionel Messi, renowned as one of the greatest players of his generation, has an impressive collection of records and awards to his name. This testament to his skill and dedication is evidence of his standing among the greatest in the sport. Below is a detailed table outlining some of these notable achievements.
| | | |
| --- | --- | --- |
| Award/Record | Year | Description |
| Ballon d'Or | Multiple (7 Times) | This prestigious award is given to the world's best footballer every year. Messi has won it a record seven times. |
| Golden Ball at World Cup | 2014 & 2018 | Messi was recognized as the best player in the 2014 and 2018 FIFA World Cup, earning him the Golden Ball award in two times. |
| Champions League Titles with Barcelona | Multiple (4 Times) | Messi played a crucial role in leading Barcelona to four Champions League titles. |
| Career Clubs | N/A | Messi has played for two clubs in his career: FC Barcelona and Paris Saint-Germain till now. |

On this special day, we wish Lionel Messi a happy birthday, expressing gratitude for his extraordinary contribution to football. His career is not just a testament to his talent, but also to his resilience and love for the beautiful game.
Here's to Lionel Messi, the world champion, and one of the greatest athletes the world has ever seen – Happy Birthday, The Legend!
Subscribe to Our Latest Newsletter
To Read Our Exclusive Content, Sign up Now.
$5/Monthly, $50/Yearly