Discover the Top 30 Profitable Business Ideas for a Thriving 2023!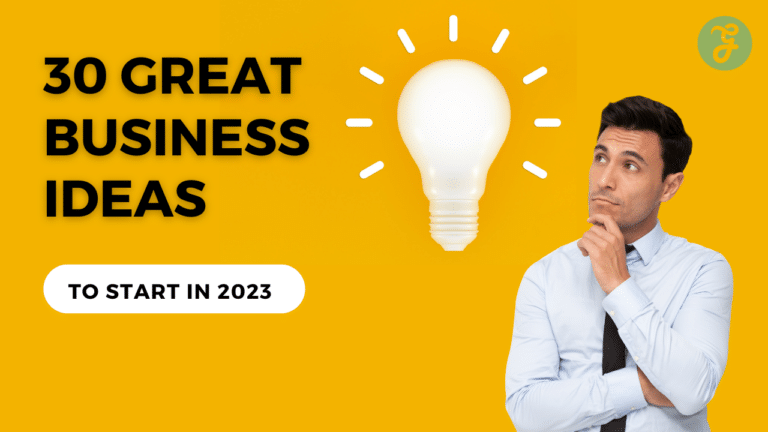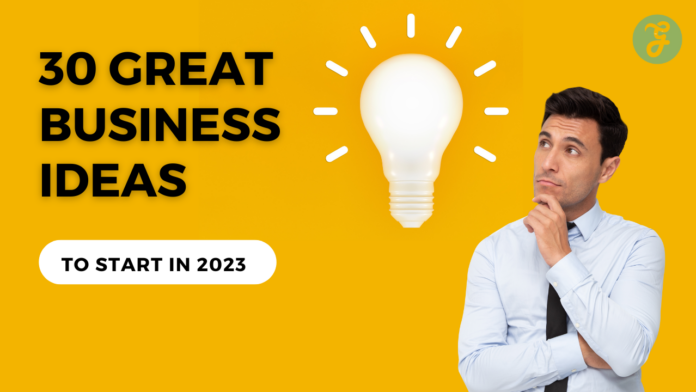 Listen to the Podcast:
Looking to become your own boss in 2023? The shift towards online business is growing more robust, with many profitable options available. This article explores 30 great business ideas you can launch in the coming year, from online reselling to launching a newsletter.
Curious? Keep reading and start envisioning your entrepreneurial future today!
Content Highlights
Online reselling is a promising business idea for 2023, offering the potential for substantial returns with minimal startup investment and the ability to tap into increasing demand for unique and affordable products.

Pet sitting presents a low-cost business idea with high potential returns in 2023, as busy pet owners seek dependable individuals who can provide top-notch care for their beloved animals when unavailable.

T-shirt printing is an attractive business opportunity in the e-commerce industry, with a growing market demand for custom apparel. Entrepreneurs can stand out by offering unique designs and high-quality printing services while leveraging online marketing techniques to promote their brands effectively.

Cleaning service is a lucrative venture that ranks among the top successful businesses to start in 2023. With various niches to explore within the industry, entrepreneurs can find flexibility and profitability while providing essential residential or commercial cleaning services.
26 Great Business Ideas to Start in 2023
In 2023, entrepreneurs will have many great business ideas to consider, including online reselling, pet sitting, T-shirt printing, cleaning service, online teaching, and more.
Online Reselling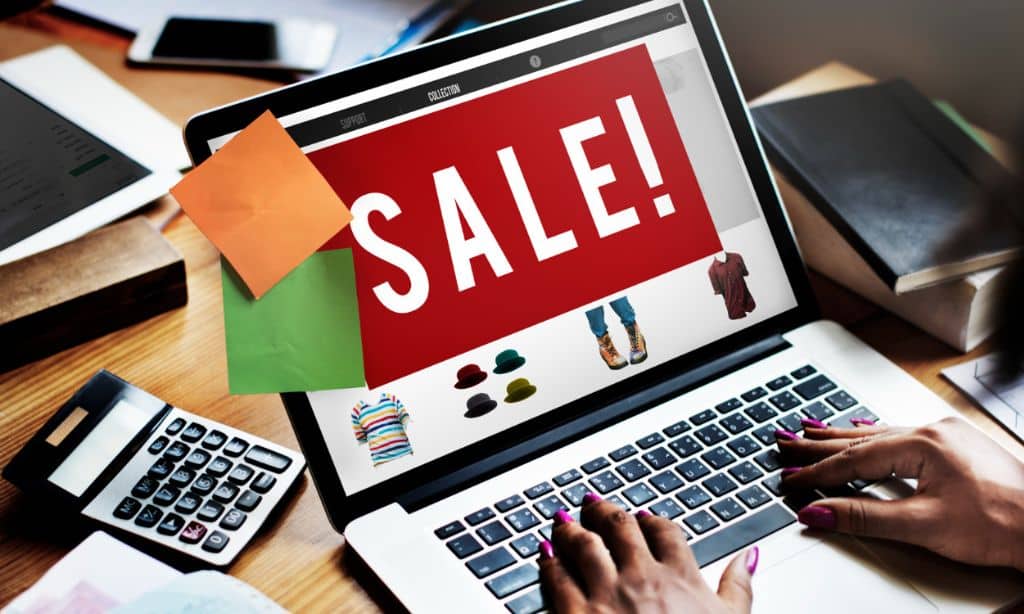 Online reselling represents a fantastic business opportunity for entrepreneurs in 2023. With increasing numbers of consumers opting to shop online, the demand for unique and affordable products is rising.
This innovative idea requires minimal startup investment but can quickly generate substantial returns if effectively managed. Whether you're passionate about clothing, tech gadgets, or vintage collectibles, there's potential to carve out a profitable niche in this burgeoning marketplace.
To thrive as an online reseller, staying ahead of trending products and consumer behaviors is essential while providing excellent customer service. Notably, online tools such as e-commerce platforms and social media offer significant advantages by simplifying tasks related to product listing, inventory management, sales tracking, and marketing outreach.
Pet Sitting
Emerging as one of the great business ideas to start in 2023, pet sitting has become a profitable venture for animal lovers everywhere. This business concept leverages people's profound affection for their pets, offering an essential service ensuring these beloved creatures receive top-notch care when owners are unavailable.
Interestingly, this isn't just about watching over dogs or cats; it also extends to other domesticated animals like birds and fish.
As society becomes busier and travel restrictions ease post-pandemic, the demand for dependable pet sitters is expected to rise significantly. Pet owners seek reliable individuals who can provide attention, exercise, and feeding services—not merely a person to check on them occasionally.
Starting this type of entrepreneurial endeavor requires little initial investment beyond time commitment and love for animals—making it one of the appealing, low-cost business ideas with high potential returns in 2023.
T-shirt Printing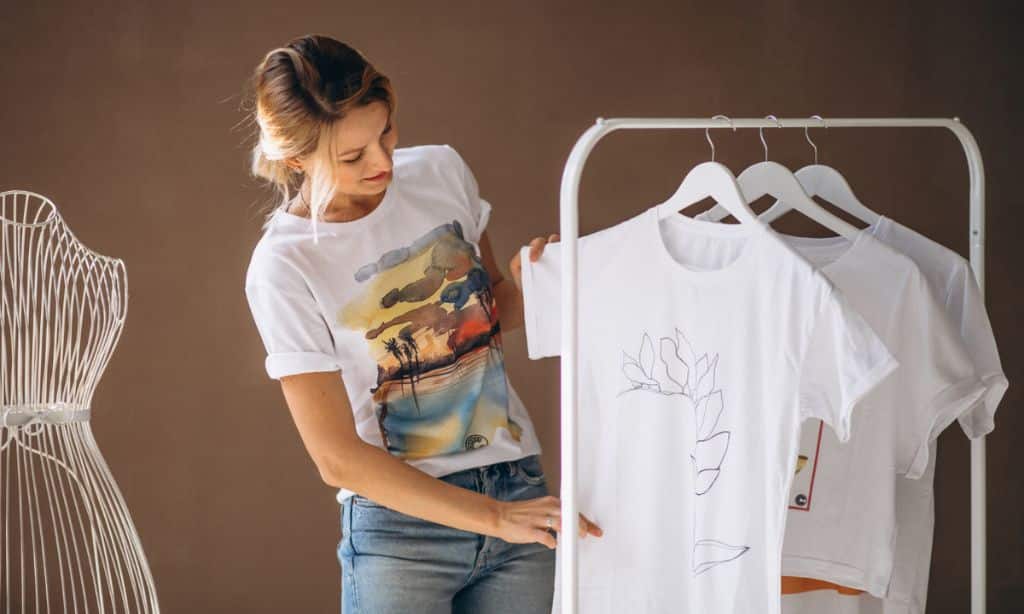 Tapping into the lucrative e-commerce industry, T-shirt printing presents an attractive business idea for aspiring entrepreneurs eyeing opportunities in 2023. The market demand for custom apparel, mainly T-shirts, has escalated significantly, offering a wide spectrum of potential customers – from individuals to businesses, schools, and events.
As an entrepreneur planning to carve out a niche in this thriving market sector, your primary tasks include offering unique designs and high-quality printing services to stand out in the competitive landscape.
With relatively low start-up costs compared to other ventures, financial barriers are minimal. This makes it ideal for those with limited capital but high aspirations. Leveraging online marketing techniques like social media advertising or influencer collaborations can be advantageous for promoting your brand and products effectively on various e-commerce platforms as part of this amazing business idea to start in 2023.
Cleaning Service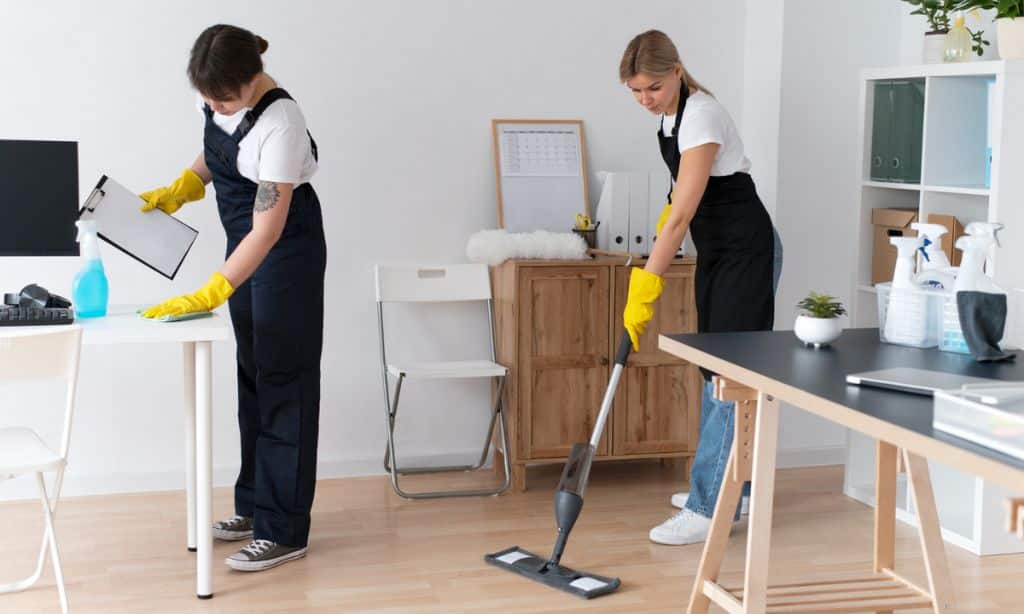 The cleaning service industry is a lucrative and in-demand business venture that aspiring entrepreneurs should consider starting in 2023. With unique cleaning business ideas, individuals can tap into the market's potential and find success.
Whether it's residential or commercial cleaning, the industry has various niches to explore. What sets cleaning services apart is their wide range of profitability and flexibility, making them a viable option for those on a limited budget.
The cleaning service industry ranks among the top 10 most successful businesses to start. So if you're looking for a life-changing opportunity with high growth potential, starting a cleaning service could be just what you need in 2023.
Online Teaching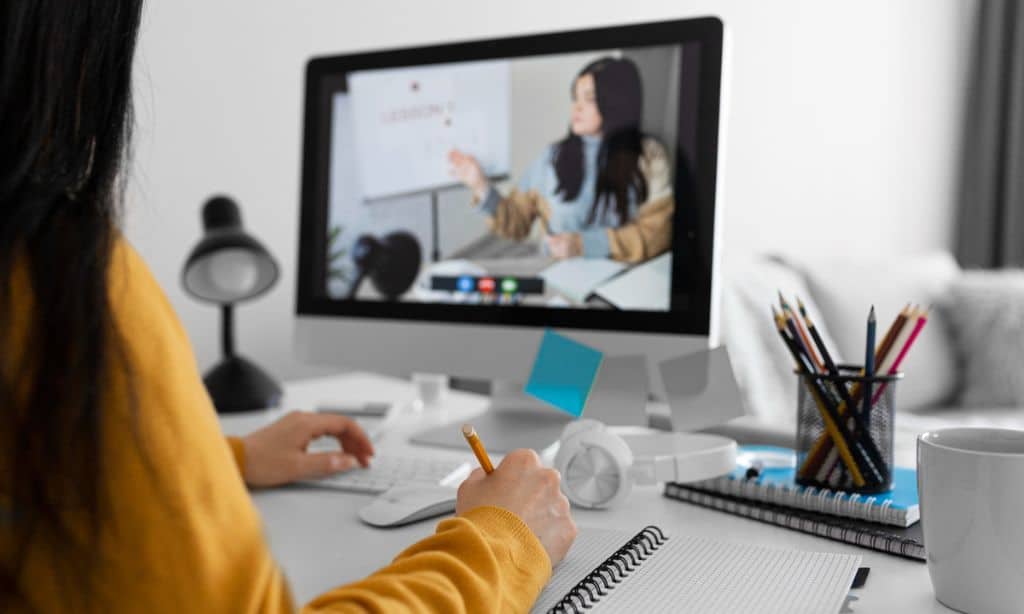 Online teaching is one of the top business ideas for entrepreneurs in 2023. With advancements in technology and the increasing popularity of remote learning, there is a growing demand for online educational services.
Whether it's tutoring, language lessons, or specialized courses, online teaching allows you to share your expertise with students worldwide. Not only does this business idea provide flexibility and convenience, but it also has the potential for significant earning potential.
According to industry experts, the global e-learning market is projected to reach $325 billion by 2025, making it an attractive opportunity for aspiring entrepreneurs looking to tap into this lucrative field.
Read Also: 5 Unique Business Ideas that Are Still Profitable in 2023
Online Bookkeeping
In the ever-evolving business world, online bookkeeping is quickly gaining traction as a promising venture for aspiring entrepreneurs in 2023. With its low startup costs and flexible work options, online bookkeeping allows individuals to enter the industry easily.
As part of our list of 26 great business ideas for entrepreneurs in 2023, online bookkeeping offers a cost-effective solution for those looking to provide essential financial services to businesses from the comfort of their homes.
Setting up an online bookkeeping service comes with several advantages. It eliminates the need for physical office space and expensive equipment and enables entrepreneurs to tap into a wide pool of clients through digital channels.
With proper training and expertise in accounting principles, anyone can launch their own virtual bookkeeping service and establish themselves as trusted financial advisors.
Consulting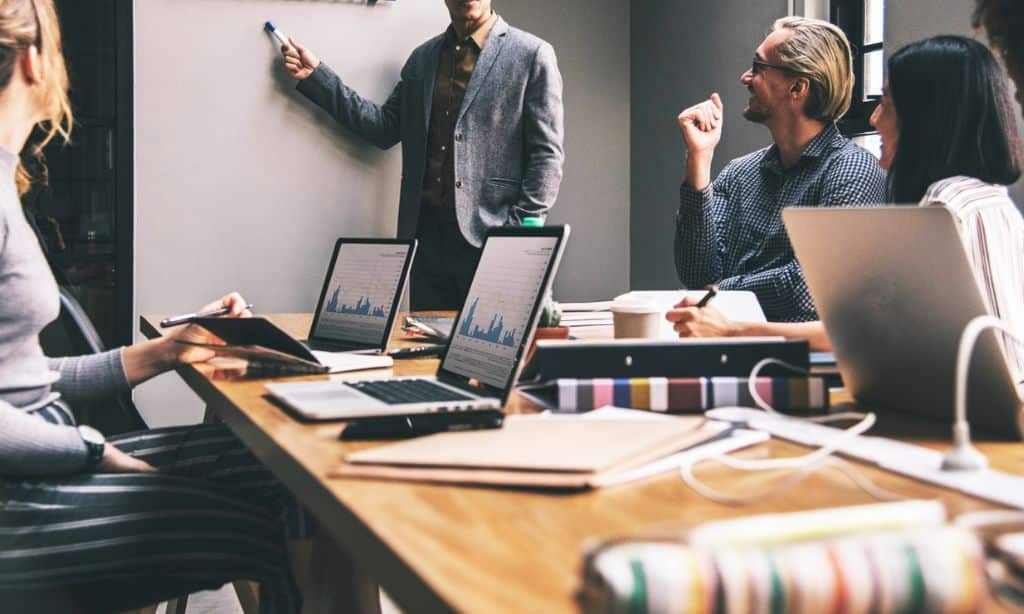 Consulting is a highly sought-after and profitable business idea for entrepreneurs in 2023. With the increasing complexity of today's business landscape, there is a growing demand for expert advice and guidance.
Whether it's marketing, PR, finance, or human resources, businesses constantly seek consultants who can provide valuable insights and solutions to their challenges. Online PR consulting has gained significant traction as more companies recognize the importance of building a strong online presence.
The best part is that starting your own consulting business doesn't require a large investment; many successful consultants have started with just their expertise and knowledge. So if you have specialized skills and industry know-how, consulting can be an excellent opportunity to turn your expertise into a thriving venture in 2023.
Medical Courier Service
A medical courier service is an excellent business idea for entrepreneurs in 2023. With the increasing demand for timely and secure transportation of healthcare-related items, such as lab samples, medical equipment, and prescription medications, a medical courier service can fill a vital need in the industry.
This type of service requires efficient logistics management to ensure prompt delivery while adhering to strict safety regulations. Entrepreneurs can capitalize on this growing market by providing reliable and professional medical courier services, prioritizing efficiency and confidentiality.
Offering specialized handling procedures for sensitive materials like blood samples or organ transplants can set your business apart from competitors and attract clients seeking trusted partners in the healthcare sector.
App Development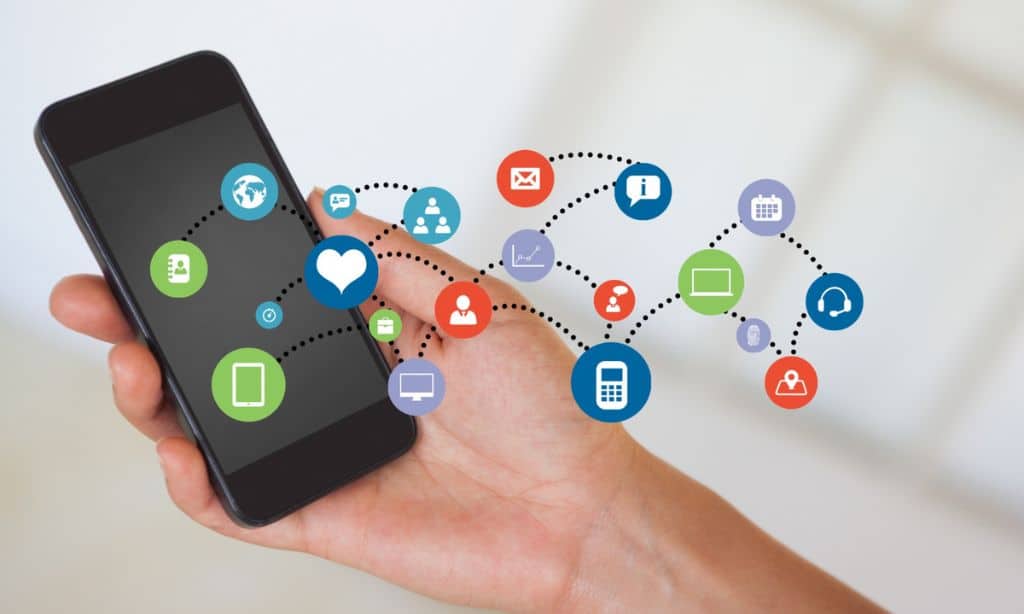 App development is a thriving business idea for aspiring entrepreneurs in 2023. With the increasing demand for mobile applications, there are immense opportunities to create innovative and user-friendly apps that cater to various needs.
Launching an app can be highly profitable and promising according to a list of brilliant app ideas for startups. Additionally, the article highlights app development as the top option on the list of 80 best startup ideas to make money in 2023.
This suggests the potential for success and profitability in this field. So if you have coding skills and creative ideas, venturing into app development could be a smart choice for your next entrepreneurial endeavor.
Transcription Service
The transcription service industry will be booming in 2023, presenting a great opportunity for entrepreneurs to start their own businesses. With minimal startup costs and overhead, this online business idea is attractive for aspiring business owners.
The demand for accurate transcription services continues to grow across various industries, such as legal, healthcare, media, and academics. Entrepreneurs with strong attention to detail and excellent language skills can excel in this field.
By providing remote services, entrepreneurs can reach customers globally and establish profitable venture.
Transcription services offer an efficient solution for individuals and businesses seeking accurate transcriptions at cost-effective rates. As part of a broader range of online business ideas, offering transcription services can be smart.
Not only does it provide young adults with the opportunity to earn money and gain entrepreneurial experience, but it also allows them to be part of the thriving online business sector.
Professional Organizing
One great business idea to consider in 2023 is professional organizing. With the rise of minimalism and decluttering trends, many individuals seek assistance organizing their spaces.
As a professional organizer, you can help clients transform their homes or offices into more efficient, clutter-free environments. Whether it's implementing storage solutions, creating personalized organizing systems, or helping with downsizing projects, there is a growing demand for this service.
According to articles on business ideas for entrepreneurs in 2023, professional organizers can offer high-value services that can significantly improve people's lives while providing a profitable venture.
Freelance Copywriting or Content Writing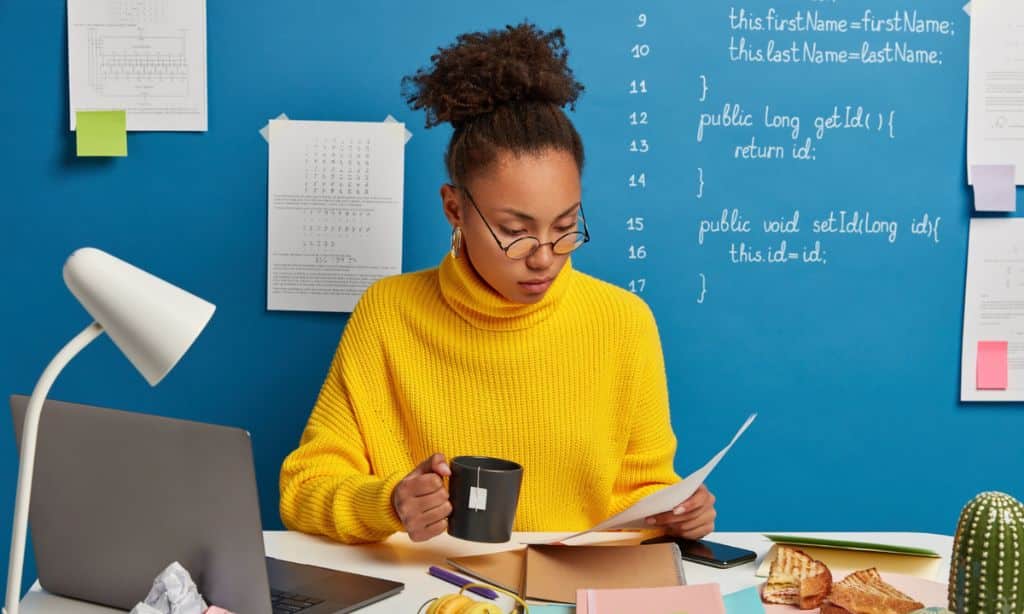 One of the great business ideas for entrepreneurs in 2023 is freelance copywriting or content writing. With the rise of digital marketing and online businesses, there is a growing demand for high-quality written content.
As a freelancer in this field, you can offer your services to businesses looking to enhance their online presence through engaging blog posts, website copy, social media content, and more.
The best part is that you can start with minimal investment by utilizing your writing skills and building a portfolio. This allows you to work from anywhere at flexible hours while earning a decent income based on your expertise.
Home Care Service
Home care service is a highly lucrative business idea for entrepreneurs in 2023. With the aging population and increased demand for personalized care, offering home care services can be rewarding and profitable.
Whether it's providing companionship, assistance with daily tasks, or specialized medical care, there is a growing need for reliable and compassionate professionals in this field. As mentioned in the article, starting a home care service requires little initial investment while having the potential to impact individuals' lives significantly.
By tapping into this market, entrepreneurs can create a successful business and contribute to enhancing the quality of life for those in need of extra support at home.
Translation Service
Translation service is a fantastic business idea to consider in 2023. With globalization continuing to drive the need for communication across languages, there is a growing demand for professional translation services.
Whether it's translating documents, websites, or even providing interpretation services, offering translation solutions can be highly lucrative.
The global language industry was valued at $53.6 billion in 2019 and is expected to reach $70 billion by 2025. This indicates a significant growth potential for individuals venturing into this field.
Moreover, technological advancements have made translation tools more accessible and efficient, allowing translators to produce high-quality work faster than ever before.
By starting a translation service business, you can tap into this expanding market and cater to diverse industries such as e-commerce, healthcare, finance, legal services, and more.
As businesses expand their operations internationally and target multicultural audiences, the need for accurate translations becomes increasingly critical.
Digital Marketing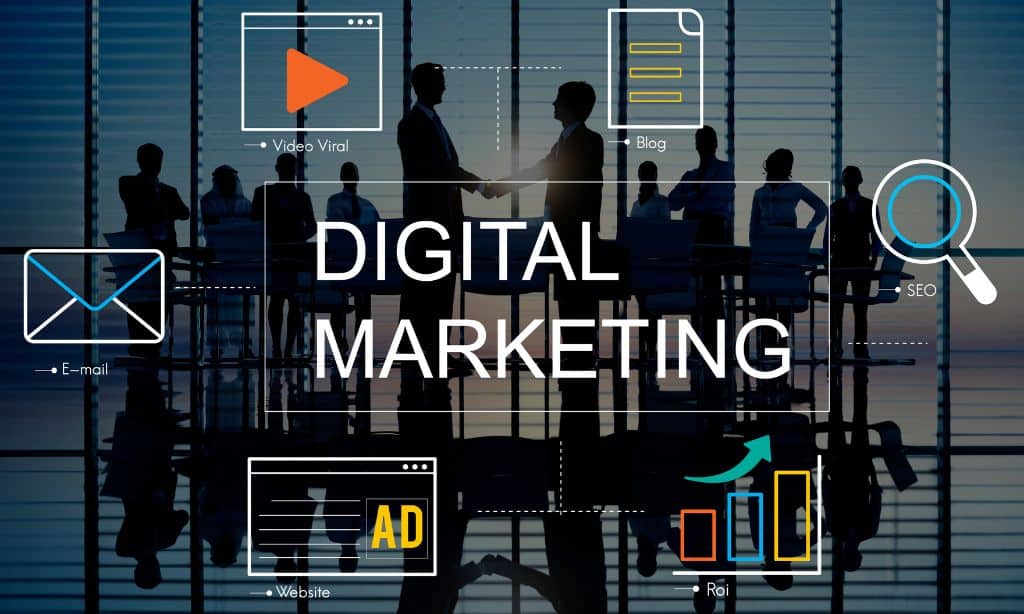 Digital marketing plays a crucial role in the success of any business idea, especially in today's highly competitive market. With the increasing reliance on technology and online platforms, entrepreneurs can leverage digital marketing techniques to reach a wider audience, generate leads, and increase sales.
By utilizing strategies such as email marketing, social media management and advertising, local marketing, and event planning, businesses can effectively promote their products or services to their target market.
The beauty of digital marketing is its versatility – it can be tailored to suit various budgets and goals. Whether starting an online business or a brick-and-mortar store, incorporating digital marketing into your business plan will give you a competitive edge in 2023.
Owning a Food Truck
Owning a food truck is an exciting and profitable business idea for entrepreneurs in 2023. With lower overhead and upkeep costs compared to traditional restaurants, starting a food truck allows you to serve meals on the go, offering flexibility and convenience for your customers.
The mobility of a food truck also opens up opportunities to participate in various events, festivals, and street markets, increasing your visibility and customer reach. Plus, with the rise of online food delivery platforms, you can also tap into the growing demand for delivery services.
By carefully planning your permits and licenses, finding suitable locations, and developing a unique branding strategy, you can create a thriving culinary experience that caters to different niche markets, such as vegan or gluten-free options.
Lawn Care Service
One great business idea for entrepreneurs in 2023 is starting a lawn care service. This is an ideal venture for individuals who appreciate nature and are passionate about outdoor design and maintenance.
A landscaping or lawn care business offers various services such as lawn mowing, tree trimming, and garden maintenance. It can be highly profitable and successful, especially with the increasing demand for well-kept outdoor spaces.
The comprehensive guide provided in this article will help aspiring entrepreneurs navigate the process of starting their own lawn care business with confidence and ease.
Rideshare driving is among the 26 great business ideas entrepreneurs can consider in 2023. With the global ridesharing market projected to reach a value of $185.1 billion by 2026, it's no wonder why this industry is seen as a profitable opportunity.
Around 26% of ridesharing app users utilize these services, indicating the potential for growth and success in this sector. Rideshare driving allows entrepreneurs to tap into this growing market and provide transportation services to those in need.
It offers a flexible schedule and freedom to be your own boss and presents a lucrative venture for individuals interested in the car industry. So if you have a reliable vehicle and enjoy meeting new people while providing convenient transport solutions, rideshare driving could be the perfect business idea for you in 2023.
Real Estate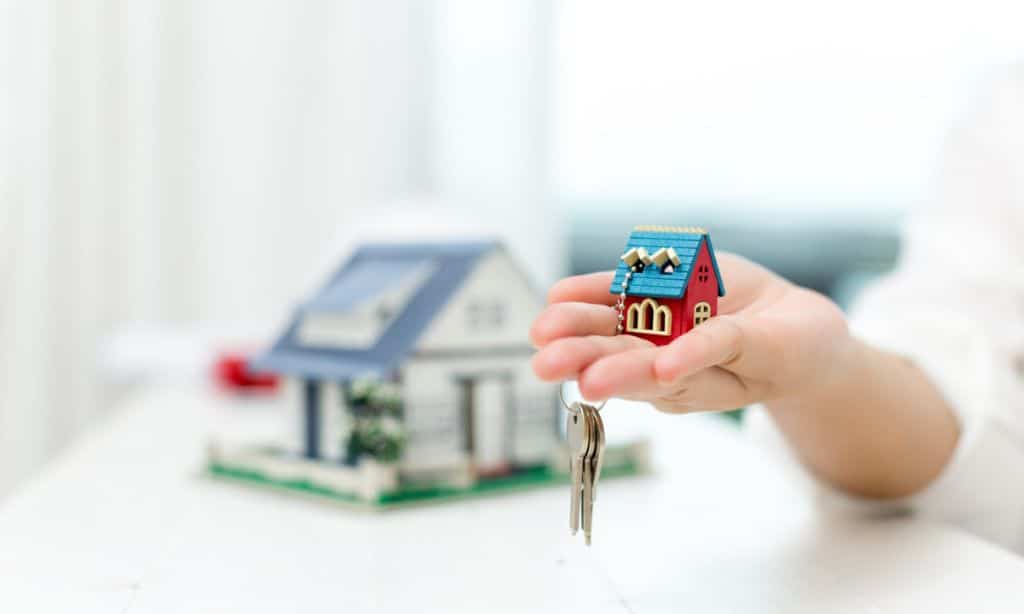 Real estate is undoubtedly one of the most promising business ideas to start in 2023. With the potential for significant profits and a wide range of opportunities, it's an attractive venture for entrepreneurs looking to make their mark.
Whether you specialize in residential properties, commercial spaces, or even real estate investments, this industry offers numerous avenues for success. Real estate is often highlighted alongside website design and cleaning services as one of the top business ideas for aspiring entrepreneurs.
So if you're considering starting a small business next year, exploring the world of real estate could be your ticket to financial growth and personal fulfillment.
Graphic Design
Graphic design is a creative and lucrative business idea that entrepreneurs can explore in 2023. With the increasing demand for visually appealing content in today's digital world, graphic designers are in high demand.
Whether designing logos, creating website layouts, or producing eye-catching social media graphics, there are endless opportunities to showcase your artistic skills and earn a good income.
The article lists graphic design as one of the top business ideas for creative individuals to consider this year. So if you have a passion for visual storytelling and an eye for aesthetics, starting a graphic design business could be your ticket to success.
Dropshipping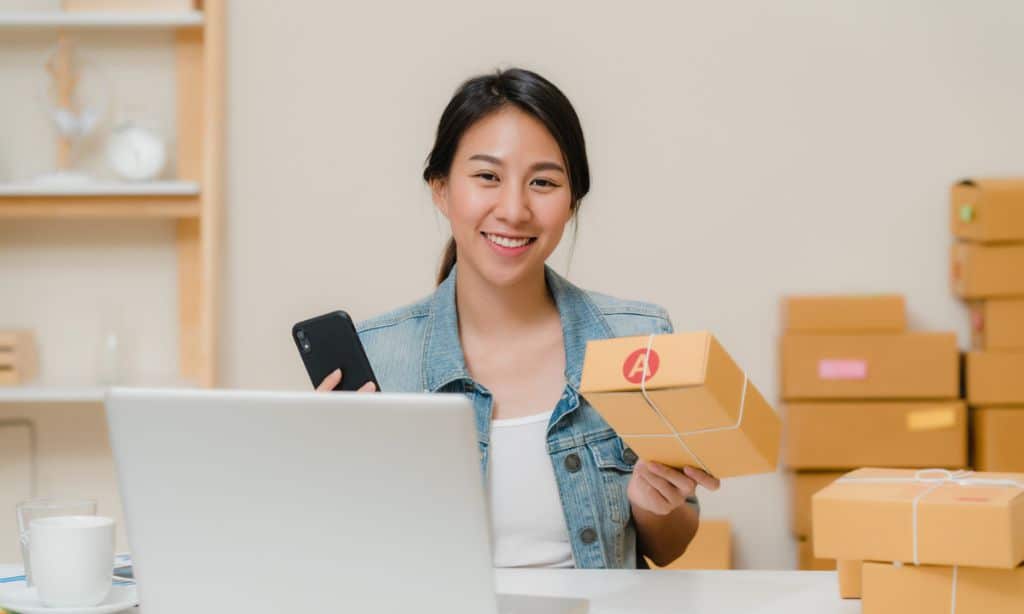 Dropshipping is a popular business idea that allows entrepreneurs to start selling products without the need for inventory or upfront costs. Drop shipping lets you partner with suppliers and list their products on your online store.
When a customer makes a purchase, the supplier handles the shipping and fulfillment, while you profit from the price difference. This business model offers flexibility and low risk as it eliminates the need for storage space or managing inventory.
It also provides access to thousands of products you can sell globally, allowing you to experiment with different niches and find profitable opportunities. Dropshipping has gained significant traction in recent years and is expected to grow in 2023 as entrepreneurs seek new ways to capitalize on e-commerce trends.
Personal Training
Personal training is a fantastic business idea for entrepreneurs in 2023. It offers a lucrative opportunity to help others achieve their fitness goals while also earning a profit. Personal trainers are in high demand due to increased interest in health and wellness.
The best part is that starting a personal training business doesn't require a large upfront investment. You can offer your services from the comfort of your home or at local gyms, making it convenient for you and your clients.
Plus, personal training can be incredibly fulfilling and financially rewarding if you have a passion for fitness and helping others live healthier lives. So why not consider this exciting venture as you explore great business ideas for the coming year?
Resume Writing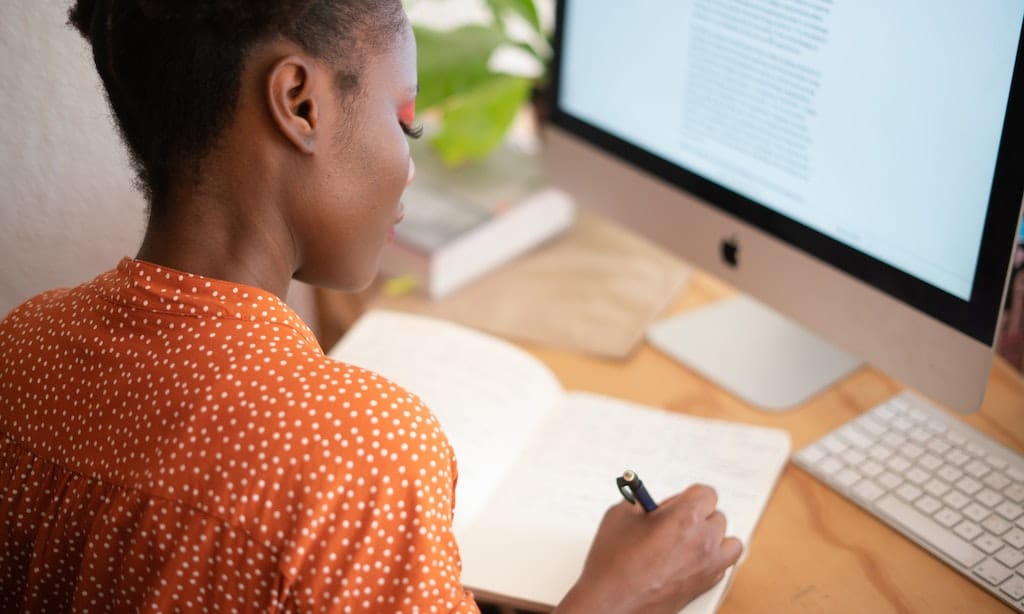 Resume writing is a highly sought-after service in today's job market, and it is also a great business idea to consider in 2023. With the increasing competition for jobs, individuals are constantly looking for ways to stand out from the crowd, including having a well-crafted resume that effectively highlights their skills and experiences.
You can provide this valuable service as a resume writer by creating tailored resumes that make job seekers shine. This business idea taps into the growing demand for professional assistance with resumes. It allows entrepreneurs to showcase their writing skills while helping others succeed in their career aspirations.
Host a Podcast
Hosting a podcast can be an exciting and lucrative business idea for entrepreneurs in 2023. With the increasing popularity of podcasts, it's a great way to share your knowledge and expertise in the business industry.
Whether you interview experts, offer advice, or discuss current trends, podcasting allows you to reach a wide audience and build your personal brand. You can combine podcasting with other business ideas like influencer marketing or freelance web design for even more opportunities.
Plus, starting a podcast requires minimal investment and provides endless possibilities for growth and monetization in the ever-evolving world of entrepreneurship. So why not dive into this dynamic medium and unlock new doors in your entrepreneurial journey?
Launch a Newsletter
Launching a newsletter is a fantastic business idea for 2023 that allows you to share valuable content with your audience and build a loyal following. With the rise of digital media, newsletters have become increasingly popular as they offer a more personal and direct way to connect with readers.
By curating exciting articles, tips, or insights in your niche, you can establish yourself as an expert and attract subscribers interested in what you say. Furthermore, newsletters can be monetized through advertising or offering premium content for paid subscribers.
Launching a newsletter with the right strategy and engaging content can be a lucrative venture that offers both creative expression and financial success. So why not consider starting your own newsletter in 2023?
Event Catering
Event catering is an exciting business idea for those with a passion for preparing delicious food and serving guests. With no shortage of people needing mouthwatering meals for their events, starting an event catering business can be a profitable venture in 2023.
Compared to opening a restaurant or diner, the startup costs are relatively lower, making it more accessible for aspiring entrepreneurs. This list of catering business ideas offers various options for individuals with culinary skills to find success in the industry.
Whether you have little or no investment, event catering lets you showcase your talent and make money by satisfying people's taste buds on special occasions.
Read More: 5 Top Business Ideas for Making Money Online
Tips for Choosing the Best Business Idea
Choose a niche to make marketing easier. Price your product or service based on more than just profit. Test, learn, and grow as you go.
Focusing on a Niche Makes Marketing Easier
Focusing on a niche can make marketing easier when searching for your next big business idea. By narrowing down your target audience and honing in on a specific industry or customer segment, you can tailor your marketing strategies to reach the right people more effectively.
This means less time and money wasted on broad advertising campaigns that may not resonate with your ideal customers. So, take the time to identify a niche that aligns with your passion, expertise, and market demand – it will significantly enhance your chances of success as an entrepreneur.
Pricing is About More than Profit
Setting the right price for your products or services is not just about maximizing profit. It goes beyond that. When determining pricing strategies, it's essential to consider factors such as production costs, value provided to customers, and market demand.
Conducting thorough market research and analyzing customer preferences can help you determine the optimal pricing strategy for your business idea. Understanding your target audience and competitors will also play a crucial role in setting competitive yet profitable prices.
Remember, pricing can affect how customers perceive the value of your offering and ultimately impact profitability. It's essential to strike the right balance and be willing to adapt and adjust your pricing strategies based on market feedback and changing customer needs.
Test, Learn, and Grow as You Go
As you embark on your journey of starting a new business in 2023, it's important to remember the mantra "Test, learn, and grow as you go." This approach emphasizes the need to be adaptable and open to evolving strategies based on real-world feedback.
Rather than spending excessive time planning and perfecting every detail upfront, leap and start testing your ideas in the marketplace.
Launching your business idea lets you gather valuable insights from actual customers and make necessary adjustments. This iterative process allows you to learn from successes and failures, enabling continuous growth and improvement.
Embrace experimentation as part of your entrepreneurial mindset; through trial and error, many successful businesses have found their winning formula.
As you navigate this path of entrepreneurship, remember that agility is critical. Be willing to pivot when needed, refine your offerings based on customer preferences or market trends, and stay attuned to emerging opportunities.
How to Start a Small Business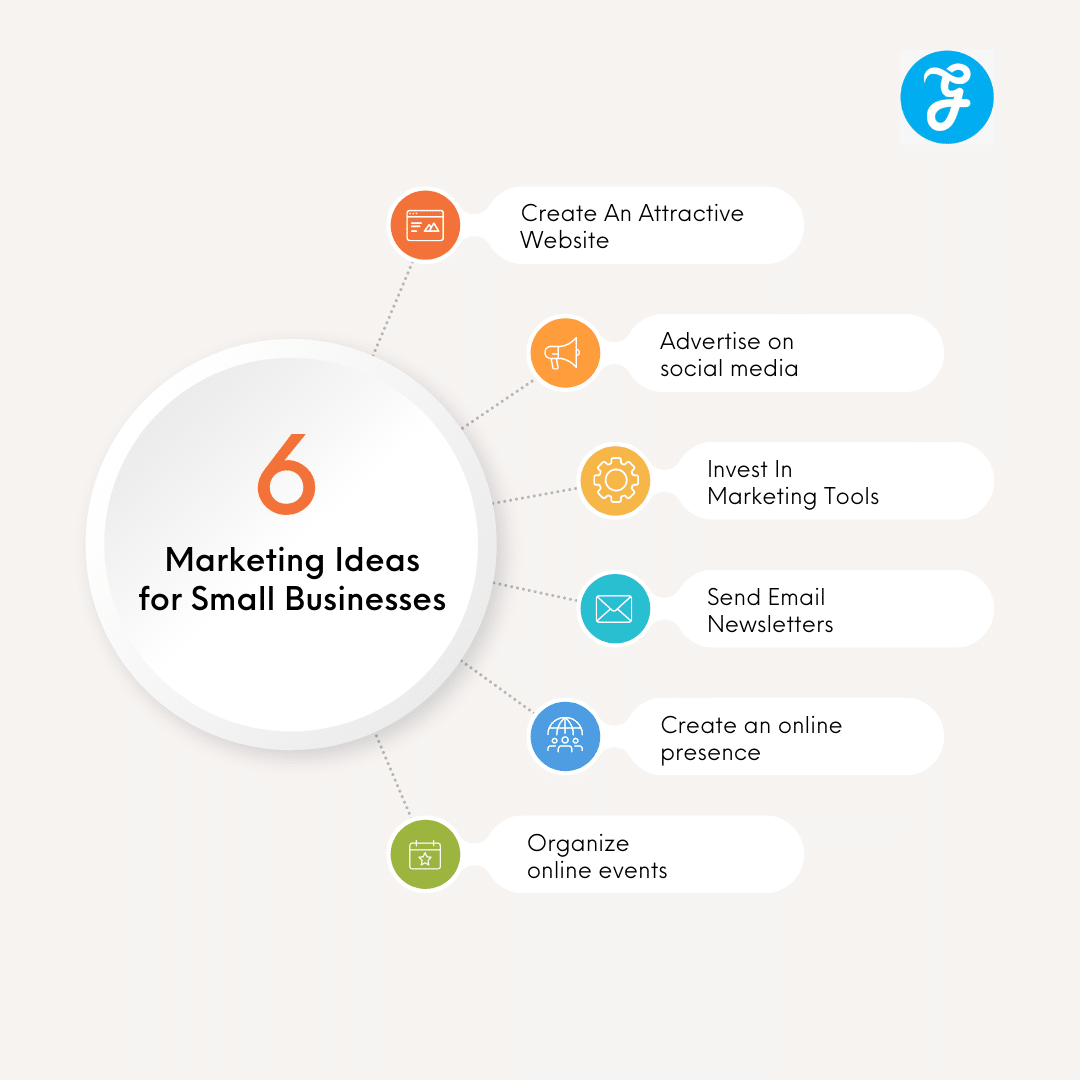 Starting a small business can be an exciting journey filled with potential and opportunities. If you're ready to take the leap and embark on this entrepreneurial path, here are some essential steps to get you started:
Conduct thorough market research: Before diving into any business venture, it's crucial to understand your target market, competition, and industry trends. This research will help you identify potential gaps in the market and determine the viability of your business idea.
Develop a solid business plan: A well-crafted business plan serves as a roadmap for your small business. It outlines your goals, strategies, financial projections, and marketing plans. A comprehensive plan will guide you and attract potential investors or lenders.
Determine your legal structure: Decide whether you want to register as a sole proprietorship, partnership, limited liability company (LLC), or corporation. Each legal structure has its own advantages and disadvantages concerning taxes, personal liability, and flexibility.
Register your business: Depending on your location and legal structure, you may need to register your business name with local government authorities. Additionally, consider obtaining any licenses or permits required for your specific industry.
Set up your finances: Open a separate bank account for your business transactions to maintain clear financial records. Consider working with an accountant or bookkeeper to track expenses, manage cash flow, and ensure compliance with tax regulations.
Establish an online presence: In today's digital age, having a strong online presence is vital for attracting customers. Create a professional website that showcases your products or services. Utilize social media platforms relevant to your target audience to promote your brand.
Build relationships and network: Networking is key to growing any small business. Attend industry events, join professional associations, and connect with like-minded individuals who can offer valuable insights or potential partnerships.
Test and refine: Once you launch your small business, continuously evaluate the effectiveness of different strategies and tactics. Be open to feedback and adapt your approach to ensure long-term success.
Coming up with Great Business Ideas
Start by identifying your passion and interests. What are you genuinely passionate about? What skills do you have that can be turned into a business idea?

Look for problems to solve. Consider the challenges or pain points that people face in their daily lives. Can you come up with a solution or service that addresses these problems?

Stay informed about market trends and opportunities. Keep an eye on emerging industries, technological advancements, and changing consumer behavior.

Conduct thorough market research. Understand your target audience, competition, and potential demand for your business idea.

Explore different business models and revenue streams. Think beyond traditional brick-and-mortar establishments and consider online businesses, subscription services, or even mobile apps.

Test out your ideas before committing fully. Consider starting with a small-scale pilot project or launching a minimum viable product (MVP) to gauge interest and gather feedback from potential customers.

Network with other entrepreneurs or industry experts for insights, advice, and inspiration.
Remember: A great business idea is born out of creativity, careful consideration of market needs, and diligent planning.
Protecting Good Small Business Ideas
Starting a small business is an exciting endeavor, but protecting your ideas and intellectual property along the way is essential. Here are some key ways to safeguard your good small business ideas:
Trademark your brand: Registering a trademark for your business name, logo, or slogan can help prevent others from using similar marks that may confuse the marketplace.
Patent your unique inventions: If you have developed a product or process that is truly innovative, consider filing for a patent to protect your intellectual property rights.
Use non-disclosure agreements (NDAs): When sharing sensitive information about your business idea with potential partners or investors, having them sign NDAs can help ensure they keep the information confidential.
Copyright original content: If you create original written works, artwork, music, software code, or other creative materials as part of your business, consider copyright protection to prevent unauthorized use or reproduction.
Keep trade secrets secure: Some aspects of your business may be considered trade secrets – valuable confidential information that gives you a competitive advantage. Restrict access and implement security measures to keep these secrets safe.
Legal Protections: It's worth noting that while legal protections can provide some level of security for your small business ideas, it's also essential to maintain confidentiality within your own operations.
Limiting access to sensitive documents: Limiting access to sensitive information and practicing discretion when discussing ideas with others can go a long way in safeguarding against theft or imitation.
Remember that protecting good small business ideas is an ongoing effort. Regularly review and update any necessary legal protections while remaining vigilant in guarding the uniqueness and innovation of your concepts.
Getting Funding for a Business Idea
Getting funding for a business idea is crucial for realizing your entrepreneurial dreams. Luckily, there are several options available to secure the necessary capital. One option is to procure a loan from a financial institution or online lender.
Many banks offer small business loans designed to assist entrepreneurs in starting their ventures. Additionally, various grant programs and funding opportunities are also accessible based on factors such as location or industry.
Entrepreneurs can explore these avenues and apply for grants that align with their business ideas. Another alternative is seeking out investors interested in supporting innovative startups.
These investors provide funds in exchange for equity ownership or repayment over time. Furthermore, crowdfunding platforms have gained popularity as an effective way to generate funds by showcasing your ideas to a broader audience willing to invest in promising concepts.
By leveraging these financing options, entrepreneurs can obtain the necessary resources to bring their business ideas to life and set themselves up for success.
Building an Audience You Can Monetize
Building an audience is a crucial step in the success and monetization of your small business. Whether you're launching an online store, offering consulting services, or starting a podcast, having a loyal following can significantly impact your profitability.
One popular way to build an audience is through online reselling, which allows you to sell products through platforms like eBay or Amazon. You can attract repeat buyers and expand your customer base by curating unique items and delivering excellent customer service.
Another effective strategy for building an audience is content creation. Whether writing informative blog posts, creating engaging videos, or hosting webinars, providing valuable information to your target market will position you as an expert in your industry and attract potential customers.
Additionally, social media marketing plays a vital role in audience building. Utilize platforms like Facebook, Instagram, and LinkedIn to connect with your target market directly by sharing engaging content and interacting with your followers.
This will help grow your audience and foster trust and loyalty among potential customers.
Remember that building an audience takes time and consistency. Continuously create high-quality content tailored to the needs of your target market and engage with them on various channels.
By doing so, you'll be well on your way to monetizing that dedicated fan base into sustainable profits for years to come.
Benefits of Starting a Charitable Business
Starting a charitable business offers numerous benefits for small business owners. Firstly, it allows entrepreneurs to give back to their communities and support causes that matter to them.
By aligning their business with a charitable cause, they can positively impact society and contribute to addressing social and environmental issues.
In addition to the sense of fulfillment and purpose of corporate giving, starting a charitable business can also enhance an entrepreneur's reputation and brand image. In today's socially-conscious world, consumers are increasingly drawn to businesses with a philanthropic solid focus.
By incorporating a charitable component into their business model, entrepreneurs have the opportunity to attract like-minded customers who want to support businesses making a difference.
Moreover, there are financial advantages associated with running a charitable business. Entrepreneurs can benefit from tax incentives and deductions for their philanthropic efforts.
This provides potential cost savings and helps create more resources available for supporting the chosen cause.
Furthermore, starting a charitable business goes beyond individual benefits; it also fosters relationships within the community. Engaging in philanthropy allows small businesses to establish strong connections with local organizations and showcase their commitment to community development.
Launching a charitable business presents opportunities for entrepreneurs to make meaningful contributions while building goodwill among customers, attracting talent passionate about social responsibility, creating unique marketing strategies, and ultimately working towards creating a more equitable and sustainable world.
Wrapping Up
In conclusion, 2023 offers entrepreneurs a wide range of exciting business opportunities. From online reselling and app development to pet sitting and professional organizing, there are countless options to explore.
Remember to focus on a niche, test and learn as you go, and build an audience you can monetize. With determination and creativity, the possibilities for starting a successful business in 2023 are endless.
Frequently Asked Questions (FAQs)
Here we have compiled some commonly asked questions on the related topic to serve your queries.
1. What are some unique business ideas to start in 2023?
Some unique business ideas for 2023 include personalized nutrition consulting, sustainable clothing rental services, virtual reality experiences, and eco-friendly home cleaning services.
2. How can I determine if a business idea is viable?
To determine the viability of a business idea, you should conduct market research to assess demand and competition, create a comprehensive business plan including financial projections and marketing strategies, and seek feedback from potential customers or experts in the industry.
3. Are there any low-cost businesses to start in 2023?
Several low-cost businesses can be started in 2023, such as dropshipping stores, online tutoring services, freelance writing or graphic design services, and homemade food delivery.
4. What factors should I consider when choosing a business idea for 2023?
When choosing a business idea for 2021, considerations may include identifying your passions and skills that align with the chosen industry, researching market trends and consumer demands/needs within target demographics (local/national/global), evaluating potential competition & determining entry barriers (e.g., regulatory requirements), calculating initial investment costs versus anticipated return on investment (ROI) over time frame projected progress goals set forth by yourself or investors who may provide funding/support depending upon circumstances involved.
Subscribe to Our Latest Newsletter
To Read Our Exclusive Content, Sign up Now.
$5/Monthly, $50/Yearly