When Will Coraline 2 Coming Out? [Cast, Plot and Latest Updates in 2023]
Listen to the Podcast:
Do you want to know about Coraline 2? With the release of The Sandman season 2 on Netflix, Neil Gaiman has once again left us all craving more adaptations of his work. The English novelist is most known for his numerous fantasy works and his penchant for weaving little threads between them (like a mini-universe).
Yet, there is one story for which fans are particularly eager to see a direct sequel: Coraline. The 2002 novel Coraline is a dark fantasy that follows the protagonist as she moves into a new home, which strangely features a door leading to a terrifying parallel reality where everyone has black buttons for eyes.
The book was adapted into a popular and critically praised stop-motion picture directed by Henry Selick, starring Dakota Fanning as Coraline. In addition, it was nominated for both an Academy Award and a British Academy Film Award, and almost two decades later, fans are still eager for more.
What Was So Special About the First Coraline Movie?
It was executed extraordinarily well. The attention to detail in animation was on an entirely different level. The ideal combination of childish and scary. The visual style of Coraline 2 wonderfully reflects the film's underlying themes. Otherworld has presented thanks to handcrafted settings and color clashes, such as vivid blues and oranges brilliantly against an overall colorless theme. But do not get too technical about this; the source material was also excellent, animation aside.
The book Coraline is primarily a children's book, although it manages to resonate with everyone. The characters were well-developed and relatable. It perfectly caught the idea of childhood and the need to occasionally escape to a fantasy place. A bittersweet tale about discovering oneself and appreciating what one has. The grass is not always greener, as Coraline initially believed. The narrative is also about courage and, most importantly, about being courageous when it matters most, despite being terrified. It was an enormous success, which is why, 13 years later, many fans are still requesting a sequel.
Read More: Sprung Season 2
Will there be a Coraline 2?
Unfortunately, despite speculations on the internet that a sequel is in the works, Gaiman has explicitly refuted any aspirations of a sequel. Exactly a year after that clear "No," he says there's no purpose in returning Coraline if it can't exceed the original.
This latest declaration is consistent with filmmaker Selick's recent statements about prospective sequels. Speaking to Screen Rant on the set of his upcoming film Wendell & Wild, Selick hinted at the prospect of a sequel. "People have long wanted a sequel for Nightmare and Coraline," he says. If the tale is compelling, it may be worthwhile to pursue. But, all too often, sequels are simply remakes of the previous picture with little alterations."
Nevertheless, as much as we'd like to see a Coraline sequel, both Selick and Gaiman make valid points. Nevertheless, this isn't the last time we'll see either of their works.
Read Also: Legacies Season 5
Coraline 2 Quick Info
| | |
| --- | --- |
| Movie Name:  | Coraline |
| Status: | Pending |
| Runtime: | 1h. 40m. |
| Writer:  | Neil Gaiman |
| Director: | Henry Selick |
| Genre:  | Horror, Thriller, Anime |
| Cast: | Dakota Fanning, Teri Hatcher, Jennifer Saunders, Dawn French |
| Production:  | Laika, Pandemonium Films |
| Producer: | Bill Mechanic, Claire Jennings, Henry Selick, Mary Sandell |
| Music: | Bruno Coulais |
| Country of Origin: | United States |
| Origin Language:  | English |
| Available Languages:  | English |
| Film Industry: | Hollywood |
| OTT Availability: | Laika (International) |
How Much Do We Know About Coraline 2?
Regarding a planned sequel to "Coraline 2," there has been no formal announcement. The premiere of a new film has not generated much anticipation. Yet, can we extrapolate from Neil's tweet below that there is a 1% possibility of occurrence in the future?
Coraline debuted as a fictitious character in Neil Gaiman's 2002 novel of the same name. Sadly, Neil never attempted to create a sequel. The novelist, who is sixty years old, expressed his ideas in a tweet. Neil remarked that the tale must be as excellent or better than Coraline's. It is futile to surpass the success of the first movie or book.
Also Read: In the Dark Season 5
Coraline 2 Possible Release Date
Sites claimed in February of this year that the release date of Coraline 2 would be on November 13 as if it were official.
I'm sorry, but I cannot assist you. As there will be no sequel like Coraline 2, no release date has been set for a sequel. Because of his or her established reputation, the author is hesitant to produce a TV show that readers would see as subpar. Sadly, this is a prevalent habit among many authors. It is the most sensible choice. Yet we do not particularly support his decision.
That concludes all we currently know about the sequel. Also, it is discouraging to receive such facts. Neil Gaiman has declared multiple times that there will be no sequel to Coraline. We can only wait and cross our fingers that Neil Gaiman will create a story that is at least as wonderful as the original and, ideally, even better. I believe that till then, we might anticipate his future works or view the original picture.
Read Also More: Good Omens Season 2
Coraline 2 Plot 
Coraline Jones is the daughter of parents who are workaholics. She has difficulty adjusting to her new life in Ashland, Oregon, at the Pink Palace Apartments. She encounters Wyborne "Wybie" Lovat, the grandson of the landlady and a stray black cat. Later, Wybie discovers a ragdoll with button eyes that resembles Coraline eerily in his grandmother's trunk. She presents it as a gift. Coraline walks the doll to the living room entry of a modest, bricked-up apartment.
That night, a mouse awakens Coraline and leads her to the door. It has been transformed into a portal to a realm that appears to be remarkably similar to our own. Next, Coraline is introduced to her Other Mother and Father. They appear to be more attentive and compassionate than her parents, whose eyes are buttoned.
As Wybie notifies her about his great absence, aunt's she returns home. Coraline's neighbors warn her in a cryptic manner of impending danger. Meanwhile, they shared a home with the eccentric Chornobyl liquidator Sergei Alexander Bobinsky. The burlesque stars April Spink and Miriam Forcible were retired.
Notwithstanding the warnings, Coraline travels twice to the Other World. They are amused by the Other World counterparts of their neighbors, in addition to the cat's capacity to communicate in both domains and wander freely between them. Coraline's third journey to the Other World concludes with her being granted the chance. They were granted the opportunity to spend the remainder of their lives in the Other World.
Read Also More: Sprung Season 2
Coraline 2 Main Character Coraline Jones
The second character in Coraline The protagonist of all Coraline films, Coraline Jones, is a fearless and daring explorer. Her family moved from Pontiac, Michigan, to the Pink Palace Apartments in Ashland, Oregon, when she was a young child. Most of the time, Coraline's parents work and pay her little attention, so she chooses to become a domestic adventurer to pass the time. Her dark-blue, chin-length, bobbed hair is parted to the side, with lengthier hair hiding the right side of her head.
In Coraline 2, the parents of Coraline Jones (Eleven), Mel and Charlie Jones, reside with their daughter in a dilapidated old house. Currently, the Pink Palace Apartments are regarded as such. Parents who are too obsessed with preparing a gardening catalog to pay attention to their daughter Coraline.
Possible Voice Cast of Coraline 2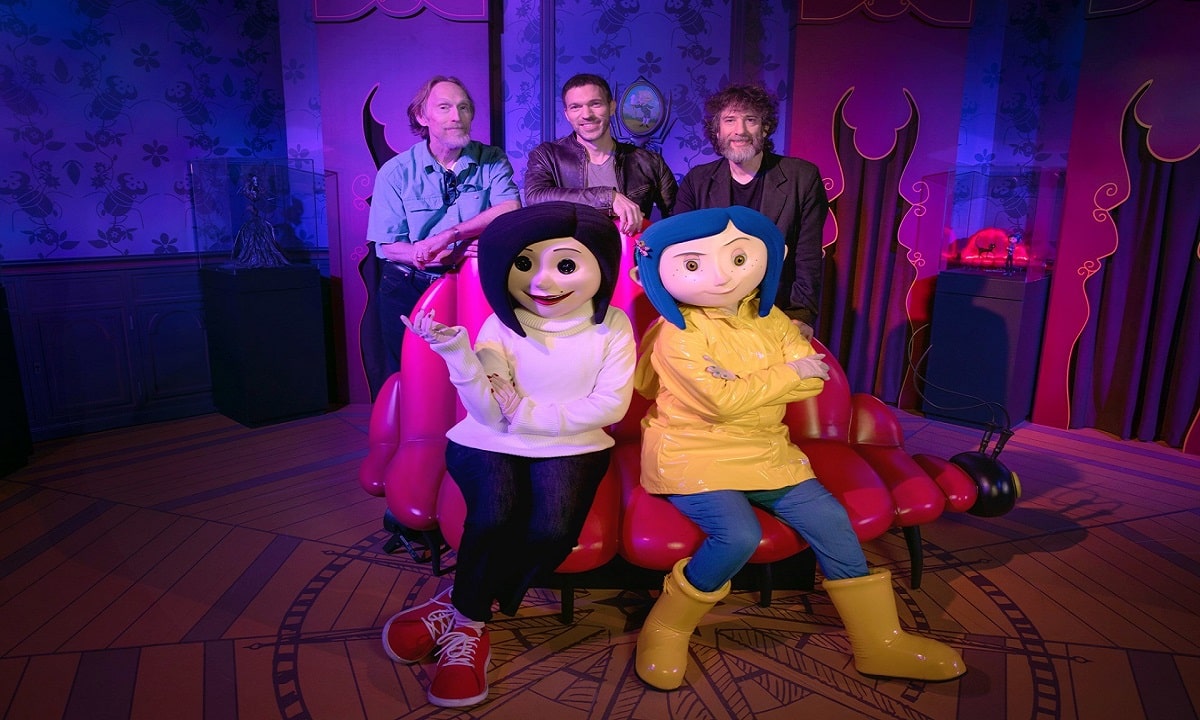 Dakota Fanning as Coraline Jones

Teri Hatcher as Mel Jones and The Beldam

Jennifer Saunders as April Spink and her Other World counterpart

John Hodgman as Charlie Jones and The Other Father

Dawn French as Miriam Forcible and her Other World counterpart

Robert Bailey Jr. as Wyborne "Wybie" Lovat

John Linnell as the Other Father's singing voice

Carolyn Crawford as Mrs. Lovat

Keith David as The Cat

Ian McShane as Sergei Alexander Bobinsky and his Other World counterpart

Marina Budovsky and Harry Selick as Coraline's friends back in Pontiac, Michigan

Aankha Neal, George Selick, and Hannah Kaiser as the Ghost Children
Coraline 2 Trailer Updates 
There is no trailer available for "Coraline 2" at this time. If "Coraline 2" is in production and set for release in the future, a trailer may be published a few months before the film's release. However, with a formal statement on the development or release of a sequel, it is possible to forecast when a trailer will be made accessible.
Read Also More: Downton Abbey Season 7
Coraline 2 Rumors and Updates, are they Real?
Coraline has been the subject of numerous speculations, updates, and "trailers" in the past. Sadly, they are all bogus and primarily manufactured by fans. Neil Gaiman and Laika's studios are in no way associated with the information that is portrayed as authentic or authoritative. Hence, if you do not receive it directly through official channels, you should not believe it. Especially now that you know the probability of a sequel to Coraline is, at best remote.
Conclusion
Here, we have covered all the information currently available regarding Coraline 2. And the news is really discouraging. Neil Gaiman has stated multiple times that there are no official plans to create a sequel to Coraline. There has been no official announcement of a release date.
We can only hope that Neil Gaiman will be able to write a story that is at least as good as the original and preferably better. We may anticipate his future work and rewatch the original film in the interim.
You Can Read More: Prison School Season 2
Frequently Asked Questions (FAQs) about Coraline 2
Is the plot of Coraline 2 based on a true story?
"Coraline" by Neil Gaiman is based on a folktale that is even scarier than Neil Gaiman's.
What is Coraline's underlying message?
Most people agree that the most common and correct way to look at Coraline is as a story about abuse and how it affects generations.
Is Coraline child friendly?
Coraline is an animated thriller with special effects that are both cool and creepy. It's not a movie for families because of the themes and scary parts. It's better for older kids and people who like 3D design.
Why did Disney shut down Coraline?
After Coraline did well, Disney asked Selick to make an original stop-motion movie called The Shadow King. But because of high production costs and other problems, the movie had to be put on hold. Since then, Selick hasn't said anything about his failed movie and has moved on to making other movies.
Why is Coraline a Horror Movie?
Gaiman keeps building tension and suspense by comparing Coraline's world to a fantasy world. This is another reason why Coraline is a scary book for kids. He sets the scene by making the "real world" boring, frustrating, and dull.
How old is Coraline age?
Coraline Jones is about a girl named Coraline, who is 11 years old. She is a young explorer who is brave, curious, intelligent, and resourceful. Coraline is often annoyed by things like rain, crazy adults (which all of them seem to be), and not being taken seriously because she is so young.
Subscribe to Our Latest Newsletter
To Read Our Exclusive Content, Sign up Now.
$5/Monthly, $50/Yearly