Why Business Plans Are So Important?
Ideas are cheap and plentiful. Some are very seductive and inspiring at first. That doesn't mean they really have the legs to become a great business and something you want to consider when you are reviewing a startup accelerator guide.
Often the real power, value, and potential of a business idea are only revealed in the business planning process. It is a great way to help prove and validate an idea.
Yes, you can run some tests. You should at some point. Though most tests cost money. It may be wiser to work through your idea and plan before committing more funds and time to test every idea that comes into your head. 
To Recruit Co-Founders & Business Partners
Before wanting to jump on board, potential cofounders or business partners are going to want to see the plan. They'll want to see your thinking, how you've arrived at your numbers, and that you are headed in the same direction. 
Even if you have banded together with some potential cofounders, this process can help you make sure you are aligned or identify differences. As well as identifying what roles and tasks needed to be divided up. 
This also applies to potential advisors and consultants too. The best will want to see your initial work to evaluate if this is something they want to be involved in, or if you have zero ideas what you are doing. 
Gain Clarity, Focus & Direction
The survival of early-stage businesses is directly related to their ability to focus. This has to be far more intense and laser-focused than the vast majority of new entrepreneurs realize. 
Creating a business plan will help you get real clarity on what you want and need, as well as the steps that need to be taken, and in which order. This will give you, your team, and your investors clarity and direction too.
Startup investors know how important this is, and will be watching this closely to make sure you know it too and can do it. 
Licensing
This is one of the reasons why you need a business plan that often goes overlooked until you run into it. Creating a business plan on the fly when you already have operations going is not something you want to have to do. Many types of licenses and licensing boards will want to see your business plan in order to grant you that license. If it is a competitive license with a tight timeline, then you could lose out if you are winging it overnight. Don't let this destroy your potential. 
Leasing & Property Financing
Property owners and commercial real estate lenders will often want to see your business plan too. This may be to see you as legitimate and to evaluate you compared to other potential borrowers and tenants.
Understanding Your Needs
Starting a new business can sound super simple at first. It is only once you go through the experience of building a business plan that you really unveil all of your needs to get to the goals you are setting. 
Establishing Commercial Viability
You'd be surprised at how many startups launch, and even run for years, even raising millions before they come to the realization that there is no real business. There is no business model, commercial viability, or unit economics just don't work. 
That's not a fun place to be once you've gotten people to trust you enough to give you their money, recommend others, or give up great jobs and careers to take a risk on you. 
Work through the steps now to lay that all out in advance.
Uncover What You Don't Know That You Don't Know
It's not what you know that gets you in business, it is what you don't know that you don't know. Some think that they can get away without a plan because they already know it all. That's a recipe for a disaster.  The whole purpose of this is to uncover those questions, the math, and other assumptions you may have, and get to know. 
It will help avoid an enormous amount of stress, heartache, financial loss, and wasted time and energy. 
Grow 30% Faster
According to bplans, studies show that companies that do business planning grow 30% faster. That's a lot. Don't miss out on all of that growth for the sake of skipping this simple and foundational step. That's some of the best ROI you can get as a startup, or business of any size for that matter. 
Minimize Risks
This process will help you both identify potential risks, and think about how you can work to minimize and offset those risks. Even if you don't know the answer yourself right away, it is a way to get others enrolled in helping you come up with solutions. 
Forecasting
At any stage of your company, a business plan is used to forecast the future. 
This can be seeing what you need to hit your goals, just realizing what's possible, and modeling different potential levels of performance and outcomes depending on various external factors. 
It will help you with realistic, competitive, and fact-based forecasting and modeling. 
To Establish Milestones
Business planning helps you identify the different stages of your business and the milestones that you can and will need to achieve and build on each other to hit your ultimate goals. 
These milestones will help you craft an action plan, stay focused, communicate well with investors, and find reasons to celebrate along the journey. 
Valuation Purposes
A business plan will help you understand what your business can and will be worth, and when. 
This may be inspiring for you. Yet, it is also important for planning your fundraising campaigns and evaluating exit potential in the future. 
Planning Your Exit
Building on the above, your business plan can be instrumental in not only securing an M&A deal, and timing the optimal moment for a financial buyer, but for maximizing value when selling the deal to a strategic buyer. 
Sales & Marketing Planning
90% of your success relies on your sales and marketing. Yet, many try to skate by without a sales and marketing plan until things are falling apart, and they are about to go bankrupt. 
This is one of the most important parts of your business plan. This is not the space for guessing or just filling in the blanks with what you see your competitors doing. Consider getting the help of a pro to plug in a customized sales and marketing plan now. 
It will give your entire business plan a lot more credibility and accuracy while going a long way with potential investors. 
Identifying The Best Branding & Positioning
Working through your market section, target market demographics, and other elements will help you pinpoint the best brand identity and positioning to make your company successful. 
Budgeting
As your plan comes together you will be able to craft a workable budget that covers all of your bases. 
Understand Your SWOT
This section of your business plan will help you understand your strengths, weaknesses, opportunities, and threats. It will help you nail it when it comes to your branding, marketing, focus, and hiring. 
Author Bio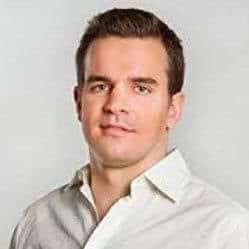 Alejandro Cremades is a serial entrepreneur and the author of The Art of Startup Fundraising. With a foreword by 'Shark Tank' star Barbara Corcoran, and published by John Wiley & Sons, the book was named one of the best books for entrepreneurs. The book offers a step-by-step guide to today's way of raising money for entrepreneurs. 
Most recently, Alejandro built and exited CoFoundersLab which is one of the largest communities of founders online. 
Prior to CoFoundersLab, Alejandro worked as a lawyer at King & Spalding where he was involved in one of the biggest investment arbitration cases in history ($113 billion at stake). 
Alejandro is an active speaker and has given guest lectures at the Wharton School of Business, Columbia Business School, and NYU Stern School of Business.