Want to Build a Soccer Field in Your Backyard? Keep These Things In Mind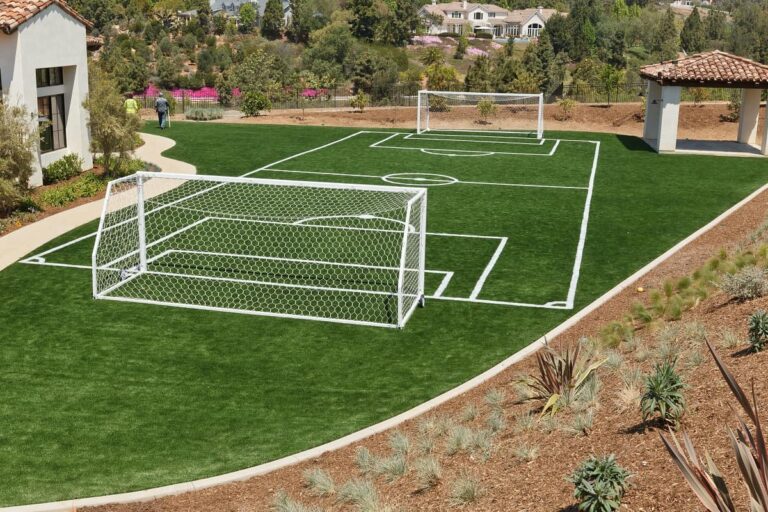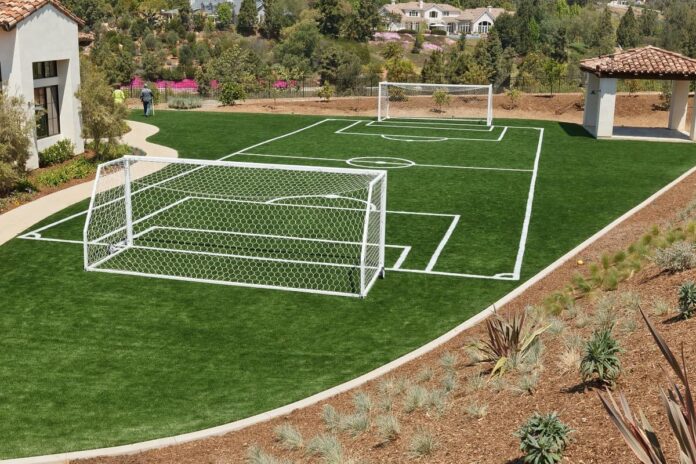 Listen to the Podcast:
For any kid, having a soccer field right in their backyard is a dream come true! Right after school, they can rush back home and have a short match with their buddies. They don't even need to search for an empty field.
Not just that, playing soccer regularly improves blood pressure by reducing it by nearly 6-13 mmHg.
However, actualizing this dream is a little tricky and strenuous. So, here are some sure-shot tips that will make your work much easier!
1. Size of the field
Generally, the size of a soccer field is about 75 yards wide and 120 yards long, but that's impossible when it comes to a homemade field. So depending on your dimensions, you'll have to space it out accordingly.
For example, if you have two kids and a couple more from the neighborhood wish to join them in a match, then the ideal size of the field would be 30 yards wide and 50 yards long.
If you need only one goal, the width must be about 1.25 times the length.
2. Surface of the field
Next, it's important to determine the kind of soil that your backyard has so that playing soccer doesn't land anyone in a mess.
Whether you wish to make a smaller version of the soccer field or just a half-field, it starts with choosing the turf's quality.
For example, remember to avoid patches in your yard where water doesn't drain well. It can lead to unnecessary puddles or damp ground and cause injuries. The field should receive ample amounts of sunlight and air too.
3. Cost of installing things
Fortunately, making a backyard field doesn't always have to cost an extravagant amount. If you're a little mindful about how much to spend, you can easily fit everything within your budget.
An average field can be done for just a few hundred dollars, while a luxury backyard field can go up to a few thousand dollars.
Don't forget to invest in good quality Sports Netting as it can prevent the ball from leaving the premises. Otherwise, your game might hurt a passerby or a neighbor!
4. Material of the turf
Any good soccer field needs to have proper grass. You can opt for natural grass growing in the yard or an artificial grass setting.
Needless to say, artificial grass will cost slightly more than maintaining natural grass.
While natural grass is much cheaper, about $0.05 per square foot of seed, it has several disadvantages. First, you'll need to loosen the soil and mow the lawn.
As for artificial grass turf, it costs about $2 per square foot but lasts much longer and is easier to maintain.
5. Permits and documents
Even though you wish to set up a field right behind your house, it's important to ensure the entire process is legal and safe.
If the field will be a permanent structure, then it's all the more reason to speak to your city or local council and obtain the required permits.
First, check with the zoning board and see if you have all the necessary documents, such as the layout and quality of the land. Next, discuss terms with the homeowner association if you have one.
6. Soccer equipment
Now comes the most important part. You can't let your children play unless they have the required soccer equipment. And this includes a goalpost, a good-quality soccer ball, and proper soccer gear.
When it comes to setting up the backyard, it'll be nearly impossible for you to do it all alone.
Alternatively, you should hire a design company specializing in renovating backyards and lawns. The professionals there will level out your land and tell you where to install which equipment.
7. Emergency protocols
No matter how safe your yard might be, there is always a chance that one of you might hit and injure your leg while playing.
Soccer-related injuries can range from something as mild as a scratch to a serious ligament injury.
Therefore, ensure an emergency kit is stored safely in a place close to the backyard. Ideally, it should have bandages, a pain relief spray, cotton swabs, and a list of nearby medical facilities' phone numbers.
Over to you…
Building a soccer field in the backyard may sound complicated. But following these tips, you can install everything necessary at the most affordable prices!