10 Budget-Friendly Ways to Improve Your Living Room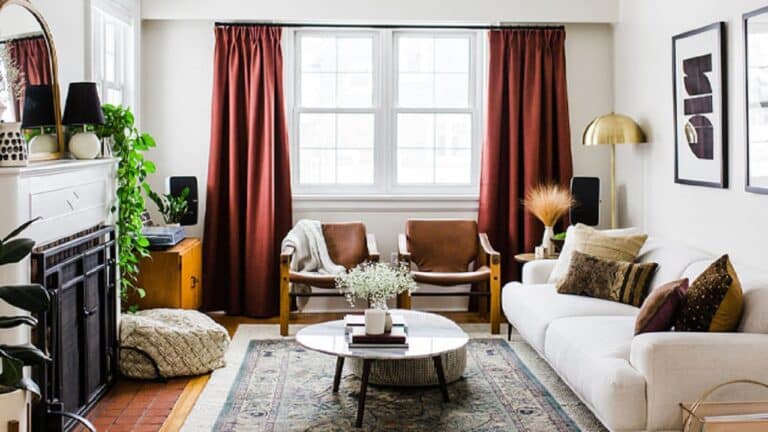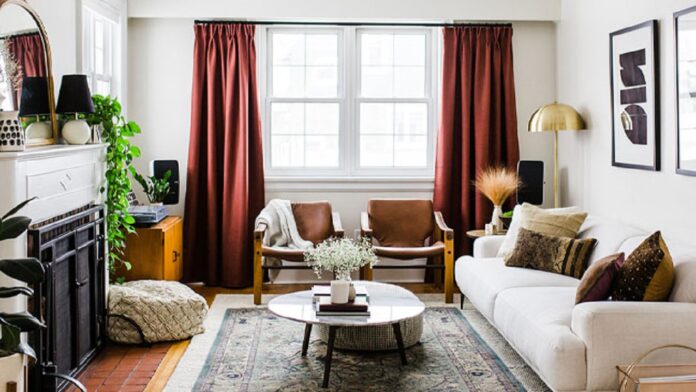 Living room furniture often comes with a high price tag, with sofas and couches alone costing more than $1,000. However, there are ways to transform the appearance of your room without the need to replace these expensive staple pieces.
GOBankingRates interviewed professional interior designers to gather their advice on how to upgrade your living room on a limited budget. Here are their tips on giving your space a fresh and distinct feel without straining your finances.
1. Add or Switch Out Your Area Rug
You can discover affordable rugs on websites like Wayfair and Overstock, and these pieces can have a significant impact on your space.
Lisa Modica, the owner of Cherry Tree Interior Design, emphasizes that a new area rug has the power to completely transform the appearance of your living room. "It's a great way to anchor a new color scheme or simply change the room's style." Just be sure to pick a rug that is large enough for the space — it should be large enough to accommodate at least the front legs of the furniture in your seating arrangement."
Modica stated that 9'x13′ rugs may be found for $200 to $300 and 10'x15′ rugs can be found for $300 to $400.
You can occasionally come across fantastic sales where you can save $50 to $100 off the original price," she explained. "If your floor is in poor condition, this will have a significant impact on your room."
2. Change Out Your Throw Pillows
According to Modica, throw pillows have a magical effect on the living room. By selecting pillows in colors and patterns that complement your room's color palette, you can easily enhance its appearance. Modica suggests using a minimum of six pillows for sofas, four for loveseats, and one or two for chairs.
She also recommends adding a well-placed throw blanket across the arm of a chair or sofa, not only for its aesthetic appeal but also for its practicality. This simple addition can add personality to a room that may feel dull or overly coordinated. Modica suggests checking out HomeGoods for budget-friendly pillows and throws, where you can find great pillows priced between $20 and $30 each, and blankets priced between $25 and $35.
3. Add an Accent Wall
Adding wallpaper can effortlessly alter the overall ambiance of your living room. According to Modica, wallpaper is experiencing a resurgence and serves as an excellent choice for creating an accent wall. He suggests that peel-and-stick wallpaper is particularly ideal, especially for individuals residing in rental properties. This type of wallpaper can have a significant impact on any room, particularly those that require a more dramatic transformation. The prices of wallpaper can vary greatly, but you can find quality peel-and-stick options priced at around $1.50 to $3 per square foot at Home Depot.
4. Add Slipcovers
You may update the look of your couches without having to replace them by getting bespoke slipcovers. Modica suggests the brand Bemz, which sells coverings designed specifically for IKEA furniture.
"Depending on the fabric, a three-seater sofa cover could cost between $279 and $500," she explained. Alternate legs for IKEA furniture are available at the online store Pretty Pegs if you want to make minor adjustments or add to your slipcover. These items are reasonably priced, usually ranging from $10 to $25 per leg."
5. Change Out the Light Fixtures
According to Modica, new light fixtures are excellent options for transforming the appearance of your room," she suggests. "If you have dull or insufficient lighting (a common issue), adding new and improved lighting fixtures will greatly enhance the ambiance of your space.
Modica recommends chandeliers or pendant lights for high ceilings. "Chandeliers and pendant lights are dramatic," she commented. "If you want a pendant but don't have the necessary hardwiring, you can find ones that plug in." Simply purchase some cord wrapping from Amazon for around $20."
Modica stated that floor lamps placed in dark corners or areas requiring task lighting, such as near chairs where people sit, will significantly brighten your entire room. This improvement can be quite literal," she added. "The cost of new lights can vary, ranging anywhere from $20 to $150, depending on the size and style. For affordable lighting options, I recommend IKEA and Wayfair.
6. Give It a Fresh Coat of Paint
"A fresh coat of paint can transform a room from dull to bright," said Marco Bizzley, a HouseGrail certified interior designer.
The cost varies depending on the size of the room, the type of paint used, and the number of gallons required, but according to Bizzley, this process can normally be completed for a few hundred dollars.
7. Add New Art and Decorative Items
"Art and accessories can be sourced anywhere — from Target to high-end boutiques — to fit your budget and style," Allison Smith of Allison Smith Design stated.
8. Shop For Thrifted Furniture
If you do need to replace some of the larger pieces of furniture in the room, buying used or thrifted goods can help you stay within your budget.
"There are a few things to keep in mind when shopping for used furniture," said Dan Wiener, creator of Homedude. "First and foremost, ensure that the furniture is in good shape. Second, ensure that the furniture is the correct size for your space. Third, be certain that the pricing is reasonable. Fourth, ensure that the furniture style complements your home's décor. Gently used furniture is frequently available for a fraction of the cost of new furniture."
9. Bring in Some Greenery
Adding houseplants or blossoms to your living room can immediately elevate its aesthetic value.
"Plants are an inexpensive way to upgrade your living spaces," said Stefan Bucur, the founder of The Rhythm of the Home. They contribute fresh vegetation and a vibrant presence.
Be sure to purchase fashionable planter containers as well.
"Upgrade the pots and stands from the plastic storage container," Bucur advised.
10. Declutter and Organize
"A cluttered area always looks less impressive than an organized area," said Bucur. "Having designated storage for items will make your residence appear more organized. "Baskets, fabric bins, and wooden chests are excellent, inexpensive storage options."
Subscribe to Our Latest Newsletter
To Read Our Exclusive Content, Sign up Now.
$5/Monthly, $50/Yearly