Happy Birthday, Editorialge!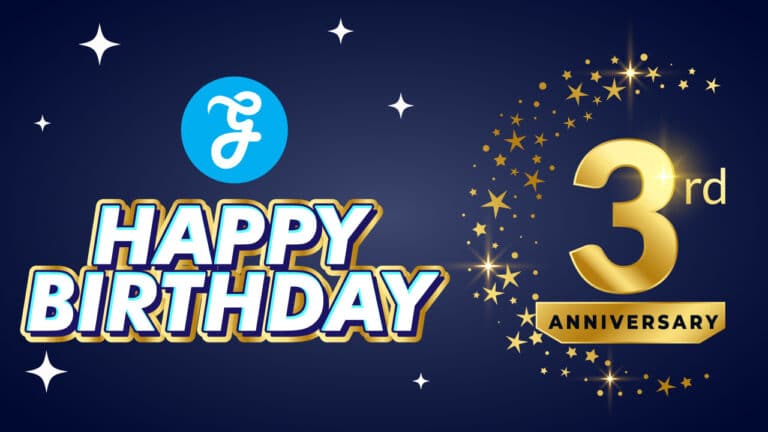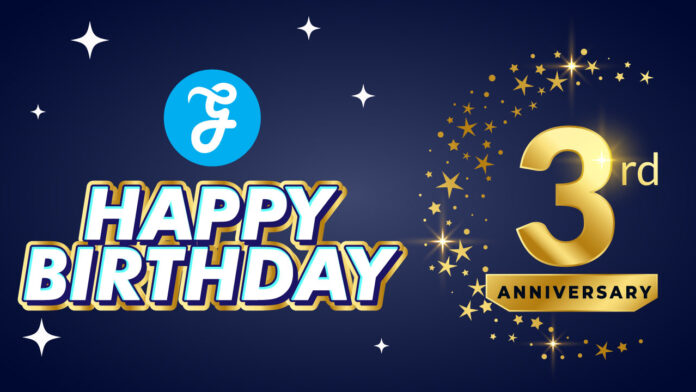 Congratulations!
Editorialge turns 3 today, 30 October, 2022. On the occasion of Editorialge's 3rd anniversary, we greet the honorable readers, viewers, advertisers, well-wishers, and people from all walks of life. We are very thankful to all who have extended their continuous cooperation to make our journey a success. We also express our gratitude to you for your inspiration and encouragement.
We would like to express our gratitude to the eminent personalities of different quarters, and officials, employees who have been cooperating with us in various ways.
On the way from three years to four, those who have worked tirelessly are members of our family — the great Editorialge team. This has become possible today because of your dedication to the work.
We hope you enjoy our authentic articles and news as much as we enjoy offering those to you. If you have any questions or comments, please don't hesitate to contact us.
On the occasion of its birthday, hundreds of dignitaries, guests, and invitees are expected to join the glorious ceremony that will begin on Sunday, October 30 at Green House Restaurant and Convention Hall in the Elephant Road area of Dhaka.
The gala event is scheduled to start at 2:00 PM on Sunday, October 30. This year, the authorities have arranged the celebration programme in one of its regional office in Dhaka, Bangladesh. All of our valued readers, friends, and staff are requested to attend the event.
How Did Editorialge Start its Journey?
Today is 30th October 2022. On the same day three years ago, Editorialge started its journey as an English language-based website. Editorialge was like a baby who learns to crawl and gradually becomes full of ideas one day. But at present, the Editorialge is on the path of enlightening people.
Editorialge is now experiencing the success that they had hoped for. With the slogan — Source of Impressive Creation – Editorialge inspires to develop its own ethical strategy and standpoint. Wish the online portal continued success!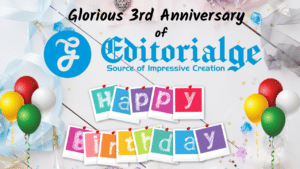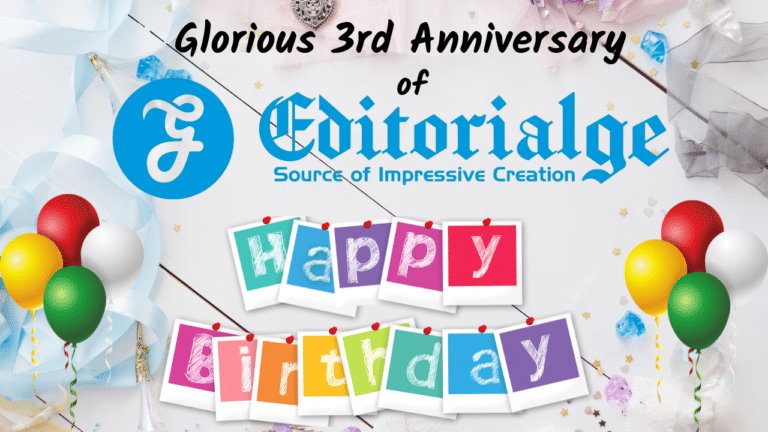 The Editorialge was founded by Sukanta Kundu Parthib on 30 October, 2019. It has come a long way from its humble beginning in Bangladesh, Singapore and Indian Sub-continent.
It was difficult for Sukanta Kundu, CEO, and Editor in Chief, to put the amazing dream into achievement when the journey began. From the very beginning, Editorialge has been trying to present resourceful contents on entertainment, tech, health, sports, travel, and current issues with authentic sources. Our team works vigorously and always tries to provide the truth objectively and accurately.
During its three-year journey, it has crossed the borders of the country and become very popular among the readers abroad. Stay tuned!
Achieving Impossible Goals
Congratulations to all for being with us for scoring impossible goals, which are very baffling, timely, and effective too. Editorialge has been serving its readers and admirers for the last three years. Surely we can hope to work together in the coming days. The dreams that we saw together came true today.
Greetings from Editorialge Founder and CEO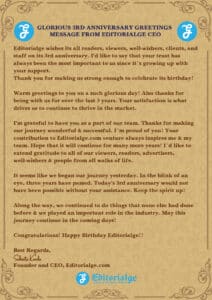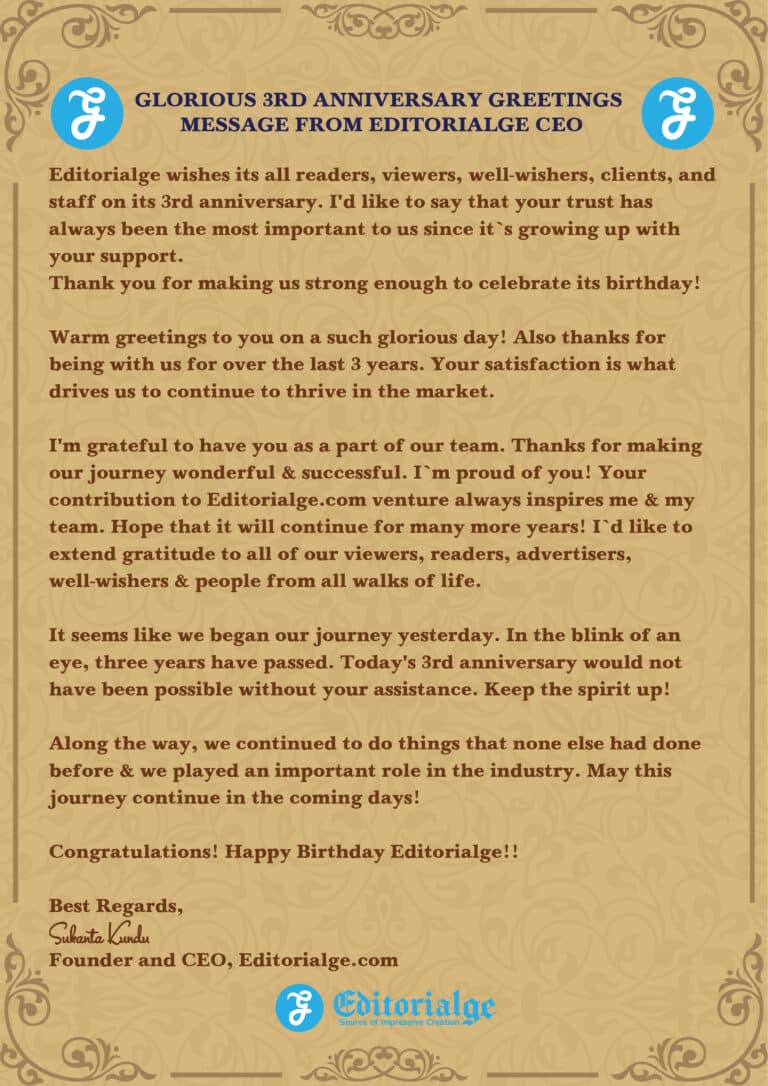 Editorialge wishes its all readers, viewers, well-wishers, clients, and staff on its 3rd anniversary. I'd like to say that your trust has always been the most important to us since it's growing up with your support.
Thank you for making us strong enough to celebrate its birthday!
Warm greetings to you on a such a glorious day! Also thanks for being with us for over the last 3 years. Your satisfaction is what drives us to continue to thrive in the market.
I'm grateful to have you as a part of our team. Thanks for making our journey wonderful and successful. I'm proud of you! Your contribution to Editorialge.com venture always inspires me and my team. Hope that it will continue for many more years! I'd like to extend gratitude to all of our viewers, readers, advertisers, well-wishers and people from all walks of life.
It seems like we began our journey yesterday. In the blink of an eye, three years have passed. Today's 3rd founding anniversary would not have been possible without your assistance. Keep the spirit up!
Along the way, we continued to do things that none else had done before and we played an important role in the industry. May this journey continue in the coming days!
Congratulations! Happy Birthday, Editorialge!!
Best Regards,
Sukanta Kundu Parthib
Founder and CEO, Editorialge.com
Subscribe to Our Latest Newsletter
To Read Our Exclusive Content, Sign up Now.
$5/Monthly, $50/Yearly