Discover Spain's Hidden Paradise: The Ultimate Family-Friendly Beaches!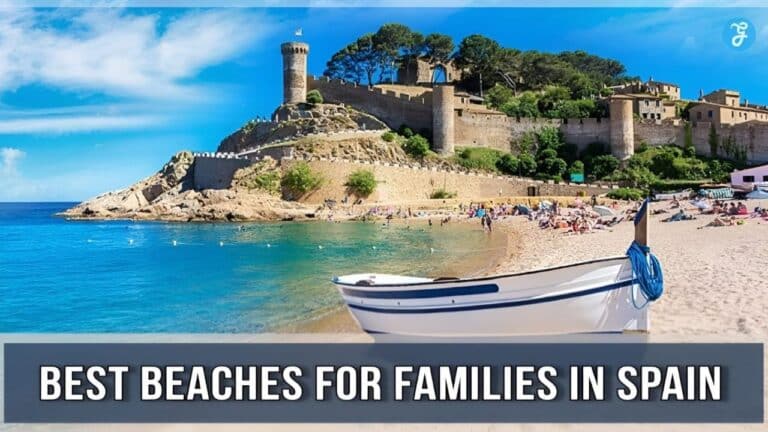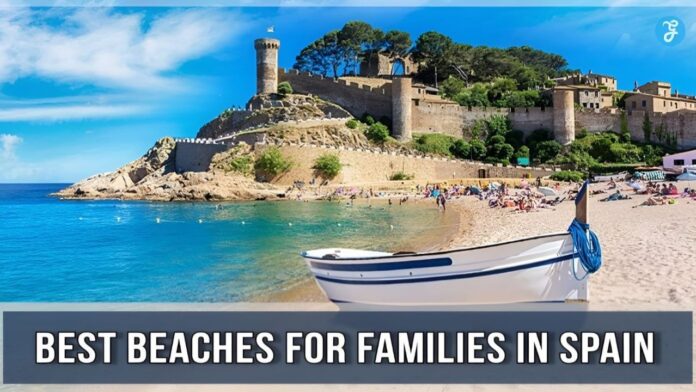 Listen to the Podcast:
Choosing the perfect beach destination for a family vacation in Spain can feel like searching for a pearl in an endless ocean. With more than 8,000 kilometers of coastline, Spain boasts some of Europe's best and most diverse beaches.
This blog offers a curated list of the best beaches for families in Spain, from secluded coves to bustling resorts with all amenities. Ready to catch some waves? Let's dive into the world of Spanish coastline bliss!
Content Highlights
Spain offers various family-friendly beaches, from secluded coves to bustling resorts with all amenities.

Some top picks for child-friendly beaches in Spain include Cala Mitjana in Menorca, Playa de Temperáns in Costa Galicia South, and Playa de Mónsul in Costa Almería.

When choosing the proper beach vacation in Spain with kids, consider factors such as shallow and clear waters, lifeguard services, nearby amenities, and attractions for children.

Playa de Roses in Costa Brava, Playa Paraiso in Murcia, and Playa Gran also offer safe and enjoyable experiences for families.
Best Family-Friendly Beaches in Spain
Cala Mitjana in Menorca, known for its crystal-clear turquoise waters and secluded cove, is a top choice for families seeking a tranquil beach getaway.
Cala Mitjana, Menorca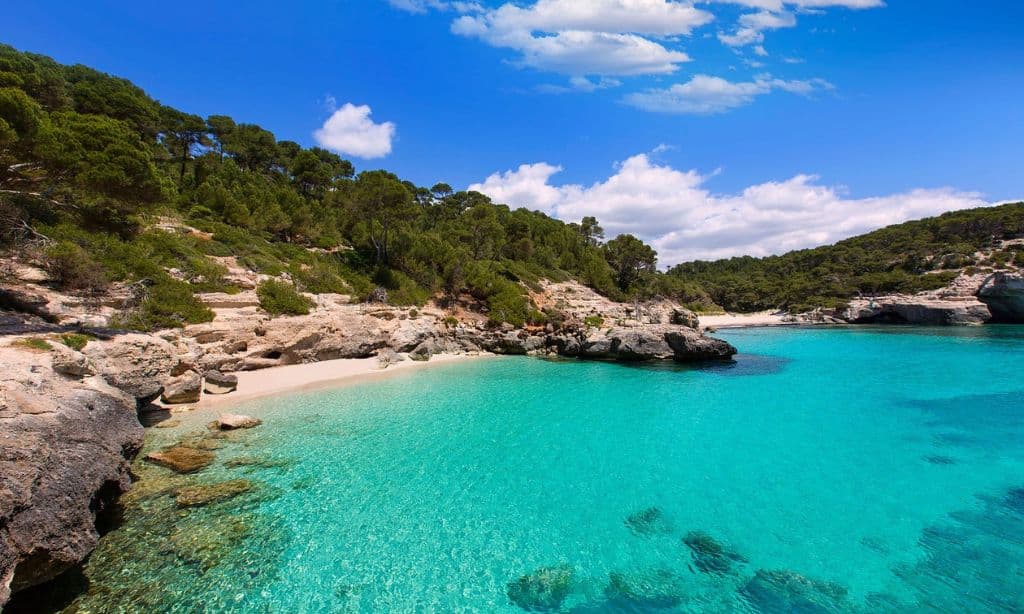 Cala Mitjana, nestled in the Balearic Island of Menorca, is a picturesque destination for family beach vacations. Imagine the Caribbean vibe on Spanish shores with fine white sands kissed by turquoise waters – this is what Cala Mitjana offers.
It's situated in a wide rocky inlet on Menorca's south coast and shares its splendid beauty with the nearby cove, Cala Mitjaneta. Families find a haven here thanks to an atmosphere that encourages activities like swimming, snorkeling, and cliff jumping while retaining an aura of tranquility often sought during holidays.
Despite its popularity among tourists during summer, it remains one of Spain's best family-friendly beaches. Those seeking more golden hues rather than white sandscapes can switch coasts towards another family hotspot – Cala Galdana, which complements its clear waters with rich golden sand making it ideal for snorkeling enthusiasts!
Playa de Temperáns, Costa Galicia South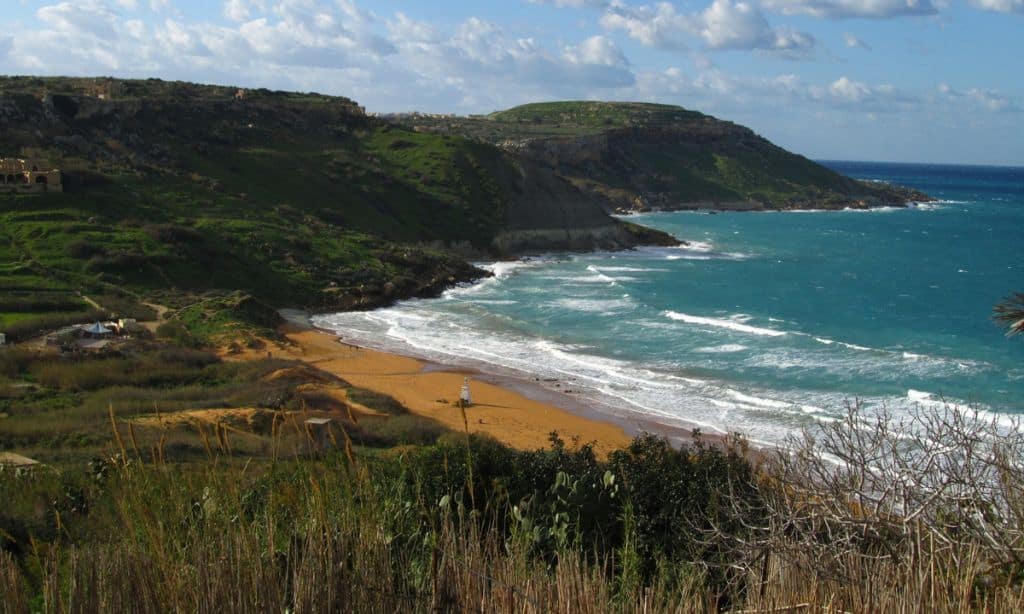 Playa de Temperáns, found on the Costa Galicia South, is famed for its stunning coastal vistas and pristine white sand. With 1,500km of captivating coastline to explore, this region hosts some of Europe's finest beaches, perfect for families.
Playa de Temperáns has emerged as one of the best beaches in Spain for families. The tranquil environment and clean and shallow water make it a haven for kids eager to swim or simply frolic by the shore.
Parents can rest easy knowing that safety measures are in place here, including lifeguard service and proximity to necessary amenities like showers. Those seeking more than natural splendor will appreciate nearby restaurants and shops providing essentials for beach outings.
This carefully balanced combination of recreational activities ranging from sunbathing to picnics, ensures everyone has an unforgettable experience at one of the best beaches for families in Spain – Playa de Temperáns.
Playa de Dique, Costa Galicia North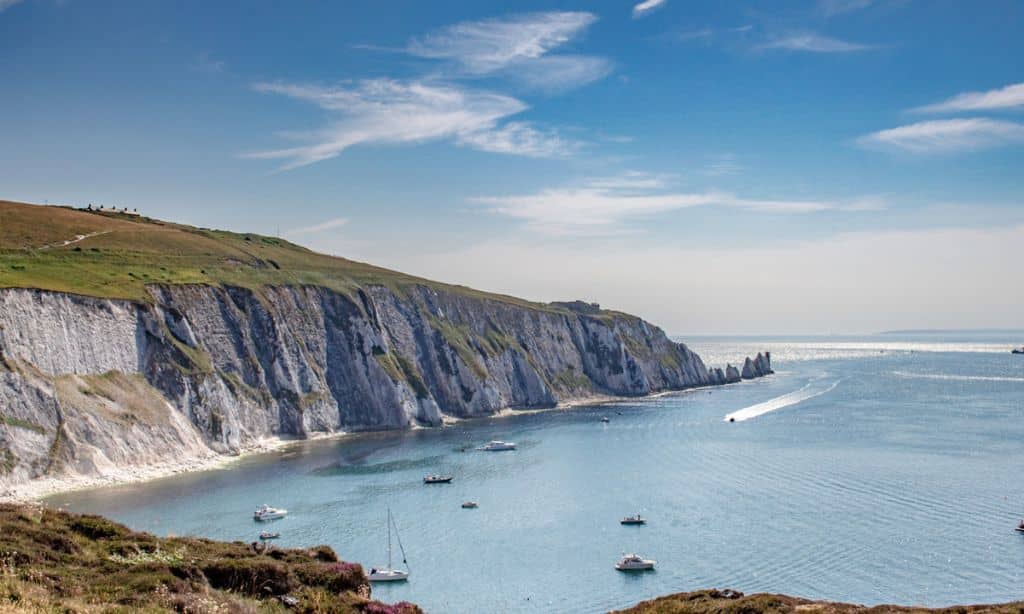 Nestled on the Northwestern coast of Spain, Playa de Dique truly earns its place as one of the best beaches for families in Spain. Its location within Costa Galicia North region offers a unique tranquility and natural beauty that's hard to match.
The sandy nook, shielded by headlands and pinewoods from the Atlantic winds, lures families with its calming atmosphere. This beach is admired for its crystal-clear waters – ideal for family fun water activities, contributing significantly to its being rated as among the top family-friendly beaches in Spain.
Apart from that, hiker-loving families will be delighted by scenic trails woven into this stunning coastal landscape of Costa Galicia North region. If you're dreaming about your next family outing on warm unflawed sand against a backdrop of lush greenery, Playa de Dique should certainly make your list! From excellent facilities to engaging amenities – every detail here ensures an unforgettable beach vacation experience for every family member.
Playa de Mónsul, Costa Almería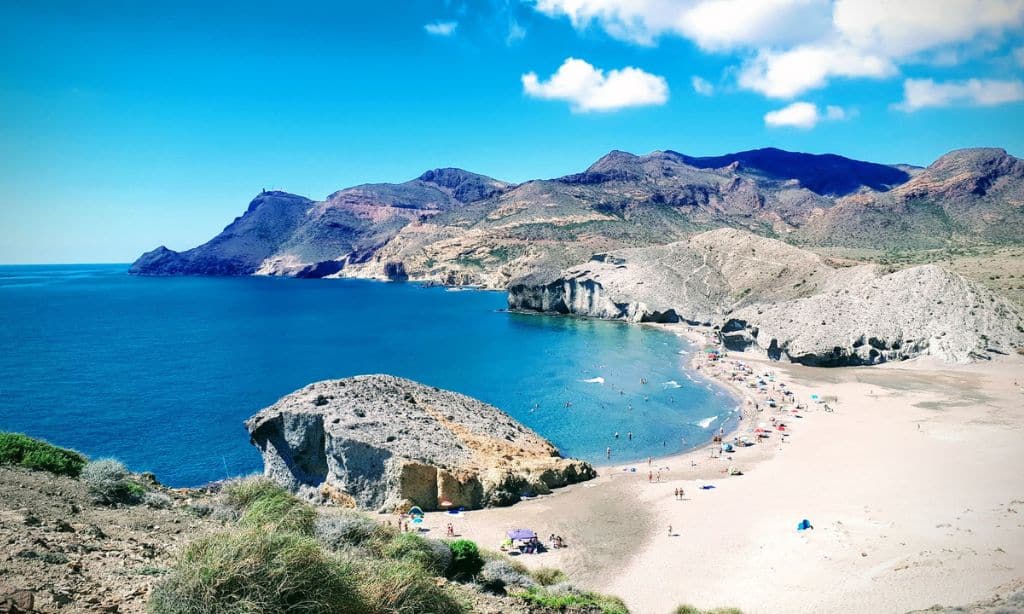 Playa de Mónsul, located in Costa Almería, is undoubtedly one of Spain's most stunning and family-friendly beaches. Its natural beauty is simply breathtaking, with crystal-clear waters and soft golden sand.
Situated within the Cabo de Gata-Níjar Natural Park, this protected area offers a serene and picturesque setting for families to enjoy. The beach boasts dramatic rocky cliffs that create a truly scenic backdrop for your day at the shore.
With convenient facilities and amenities nearby, Playa de Mónsul ensures a hassle-free experience for families with children. Accessible and just a short distance away from La Fabriquilla settlement, this renowned beach promises an unforgettable vacation for all who visit!
Caló es Caragol, Mallorca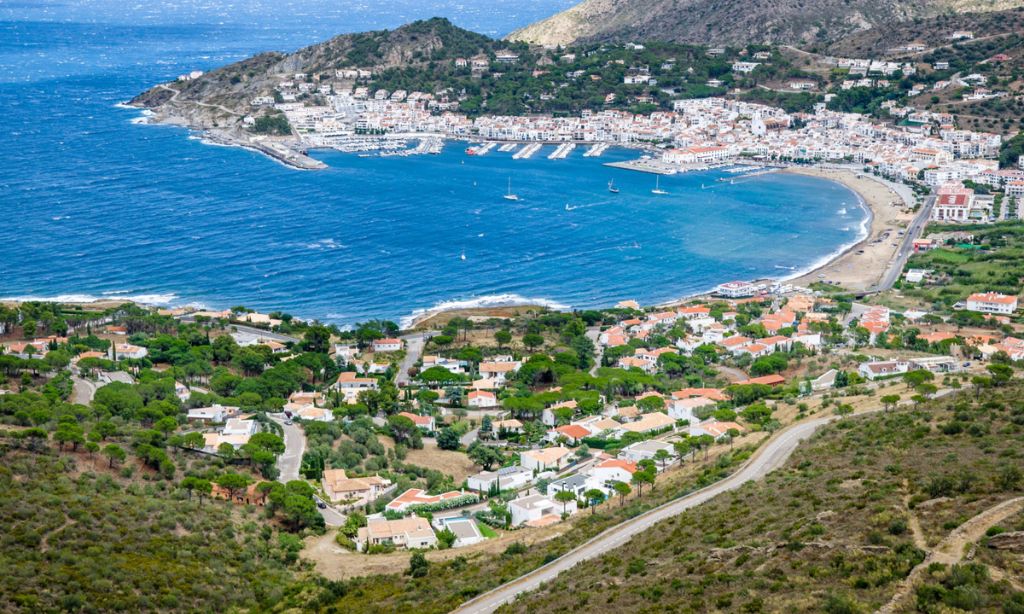 Caló es Caragol in Mallorca is often considered one of the best beaches for families in Spain. Its peaceful atmosphere and breathtaking turquoise sea provide a perfect getaway for those seeking tranquility.
Located near the Cap De Ses Salines lighthouse, a scenic 30-40 minute walk from the road can reach this natural beach. Caló es Caragol stands out for its untouched beauty and lack of amenities, making it ideal for nature lovers who want to escape the crowds.
The beach features soft white sand that stretches along its long coastline. Although unsuitable for swimming or water sports due to strong currents, if you're looking for a secluded and unspoiled beach experience with your family, Caló es Caragol is highly recommended as an exceptional destination in Mallorca, Spain's Balearic Islands.
Playa de Altafulla, Costa Dorado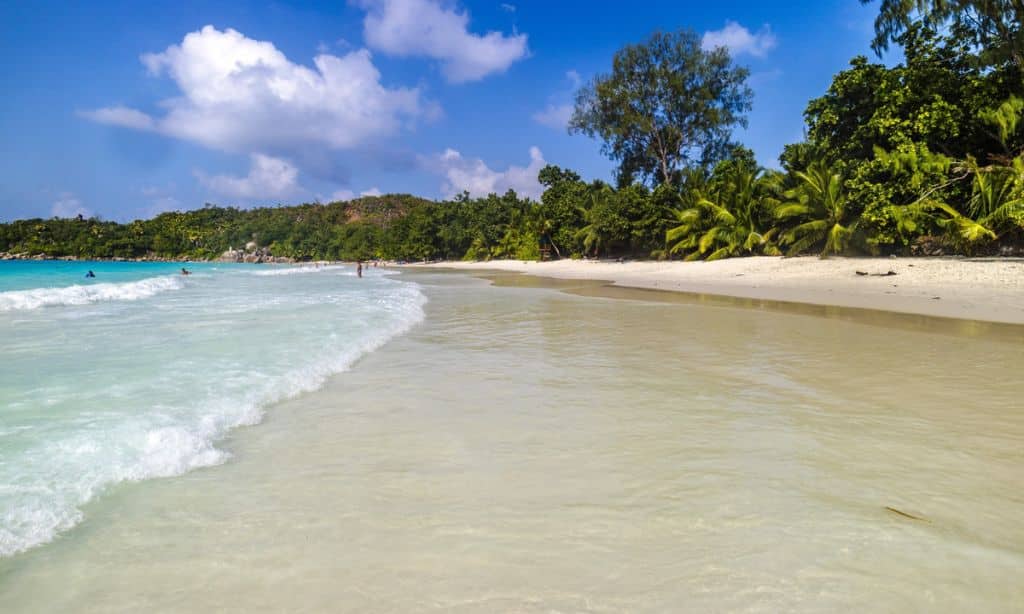 Located in Costa Dorada, Spain, Playa de Altafulla is a top choice for family-friendly beaches. This picturesque beach offers a 15km coastline filled with safe and suitable family options.
Playa de Altafulla has been recognized as one of the best beaches in Spain for families, making it an ideal destination for your next beach vacation. Situated near the charming town of Altafulla and close to Tamariu in Costa Brava, this beach boasts a sandy shore perfect for children to play and build sandcastles on.
With its well-maintained facilities and clean waters, Playa de Altafulla ensures a safe bathing experience so families can enjoy swimming together without any worries. Other beautiful sandy beaches nearby, like Altafulla Beach, Platja de Tamarit, Playa del Regueral, and Riumar Beach, cater to families looking for relaxation and fun under the sun.
Playa de Roses, Costa Brava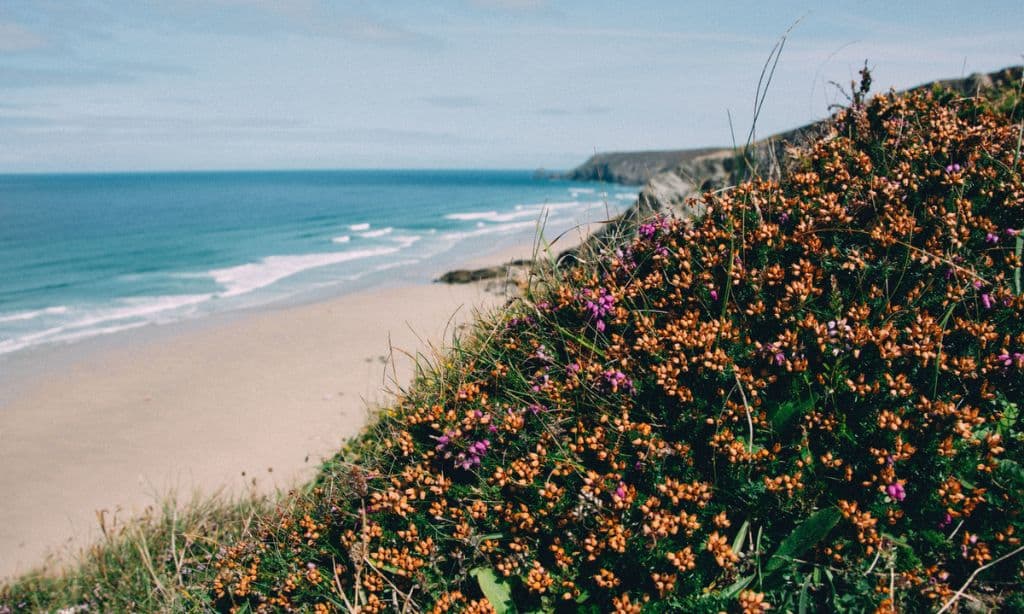 Playa de Roses, located on the Costa Brava in Catalonia, Spain, is a top-notch beach that families will love. Its long stretch of sandy shoreline and spacious layout offer plenty of room for relaxation and sun-soaked fun.
The beach boasts excellent facilities such as lifeguard services, beach bars, and restaurants to ensure a comfortable experience for families. Safety is also a priority here, with shallow swimming areas perfect for kids to splash around.
Playa de Roses is easily accessible with nearby parking and good public transport connections. Surrounded by breathtaking natural landscapes like scenic cliffs and mountains, this picturesque setting adds even more charm to your family beach outing.
Playa Paraiso, Murcia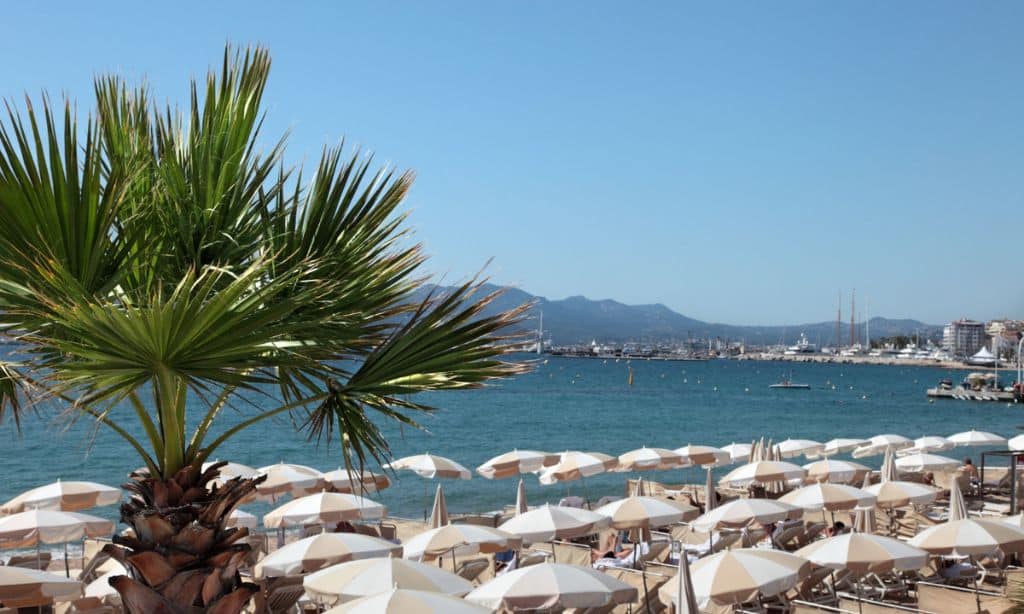 Located near La Manga del Mar Menor in the Region of Murcia, Playa Paraiso is often hailed as one of the best beaches in Cartagena, Spain. With its stunning stretch of golden sand and calm, shallow sea, it's no wonder that this family-friendly beach is a popular choice for vacationing with kids.
Surrounded by picturesque landscapes, including rocky headlands and pinewoods, Playa Paraiso offers a tranquil and relaxing atmosphere for families to enjoy. This beach has everything, whether you want to swim in crystal-clear waters or indulge in water activities.
Plus, with accommodations, attractions, and restaurants nearby, everything you need for an unforgettable family vacation can be found within reach. So pack your bags and get ready to experience the beauty and tranquility of Playa Paraiso in Spain's Costa Cálida region.
Read Also: 10 Best Beaches for Families in Portugal
Playa Gran, Costa Brava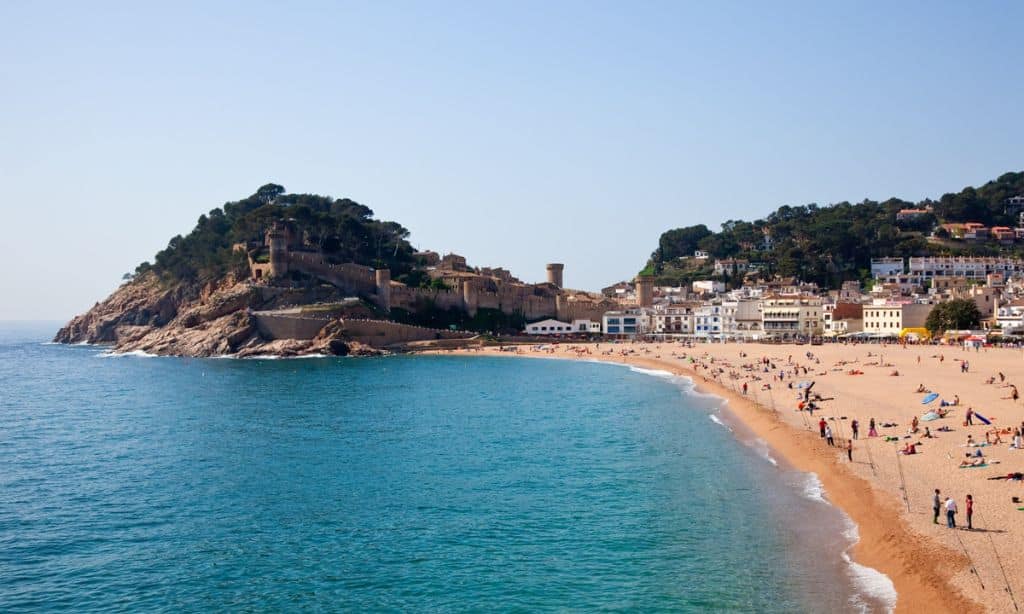 Playa Gran, located in Spain's stunning Costa Brava region, is truly a gem among family-friendly beaches. Its clear turquoise waters and soft golden sands create the perfect backdrop for unforgettable family memories.
As one of the best beaches in Spain for families, Playa Gran offers a safe and enjoyable environment where kids can splash around in the gentle waves while their parents relax on the shore. Situated in the heart of Costa Brava's 300-mile coastline, there are plenty of other beach options nearby to explore as well.
So pack your sunscreen and sandcastle-building tools because Playa Gran promises an amazing beach vacation that will leave both young and old smiling from ear to ear.
Playa de Xeraco, Valencia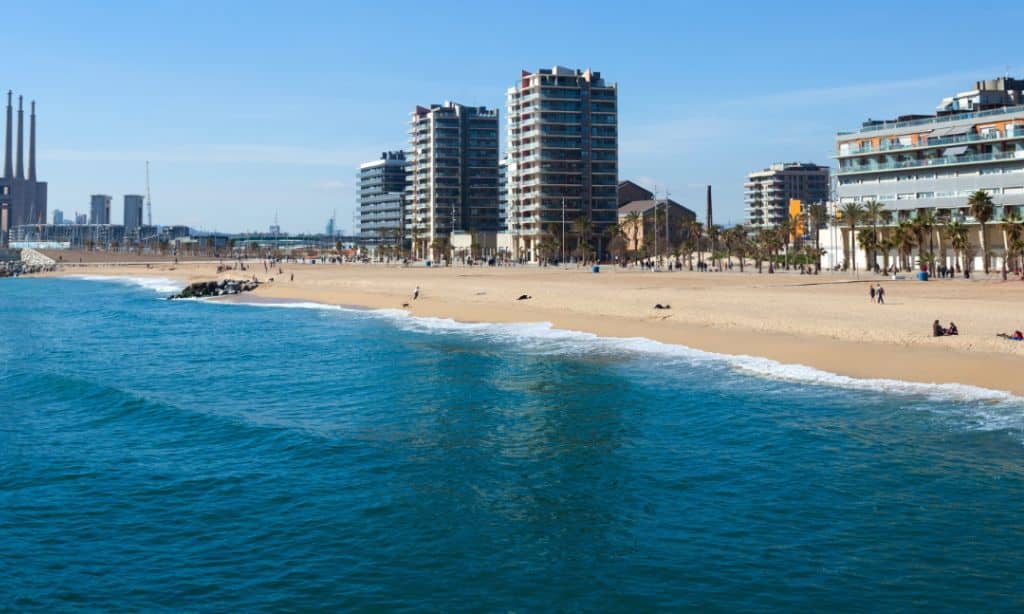 Playa de Xeraco, located on the Costa del Azahar in Valencia, is a top choice for families seeking a safe and enjoyable beach experience in Spain. Its shallow waters make it perfect for kids to swim without worry.
Although reaching deeper water requires walking out a bit further, this also means that the beach is often less crowded, offering a serene and peaceful atmosphere for families to relax and soak up the Spanish summer sun.
Nestled amidst picturesque sand dunes and boasting clear turquoise waters, Playa de Xeraco is truly an unspoiled gem on the orange-blossom coast. Along the beach, you can find various laid-back beach bars where you can enjoy refreshing drinks while taking in stunning coastline views.
Choosing the Right Beach Vacation in Spain with Kids
Spain offers many beach vacation options for families with kids, but choosing the right one can seem overwhelming. When planning your trip, consider your family's specific needs and preferences.
Look for beaches with shallow, clear waters perfect for little ones to splash around in. Additionally, wide stretches of sand provide ample space for building sandcastles and playing games.
Safety is paramount when traveling with children, so opt for beaches that offer lifeguard services and nearby shower facilities.
One great option is Cala Mitjana in Menorca. This picturesque beach boasts crystal-clear turquoise waters that are perfect for snorkeling or simply enjoying a leisurely swim. Playa de Dique in Costa Galicia North is another fantastic choice, offering calm waters ideal for paddling and exploring tidal pools teeming with fascinating marine life.
If you want to combine beach relaxation with fun water sports activities, head to Playa de Altafulla in Costa Dorado or Playa de Xeraco in Valencia.
Remember to check if any family-friendly amenities are available nearby, such as playgrounds or picnic areas. Also, keep an eye out for attractions within easy reach of the beach — Spain's coastal cities like Barcelona or Palma offer a range of cultural landmarks and family-friendly activities that can add excitement to your vacation by blending sun-soaked days on the beach with enriching experiences off it.
By considering these factors when choosing where to go on your beach vacation in Spain with kids, you'll be sure to find the perfect destination that caters to everyone's needs while creating lasting memories together as a family.
Read More: Italy's Best Beaches for Families!
Camping Options Near Family-Friendly Beaches in Spain
There are numerous camping options available near family-friendly beaches in Spain.

Camping Raco in Benidorm is a popular choice for families, offering a range of facilities such as swimming pools, children's playgrounds, and entertainment programs.

Cambrils Park Resort in Costa Dorada is another great option, boasting direct access to a sandy beach and amenities like water parks, sports facilities, and kids' clubs.

Camping Vendrell Platja in Tarragona is known for its proximity to the beach and offers spacious pitches, modern facilities, and activities for all ages.

If you're heading to the Costa Blanca region, Camping Internacional La Marina is worth considering. It features direct beach access and various services like restaurants, shops, and even a spa.

For families looking to explore the beautiful Costa Brava coast, Camping Resort Sangulí Salou provides excellent facilities, including swimming pools, a mini club for kids, and direct access to the beach.
Safety Tips for Beach Vacations with Kids in Spain
Choose beaches that have lifeguards on duty and are equipped with safety measures such as warning flags and signage.

Teach children about the importance of staying close to the shore and never swimming alone.

Make sure kids wear proper flotation devices, especially if they are not strong swimmers.

Apply sunscreen regularly to protect your child's skin from the strong Spanish sun, and encourage them to wear a hat and sunglasses for added protection.

Stay hydrated by bringing plenty of water or purchasing beverages from nearby vendors. Dehydration can be a serious concern, especially during hot summer days.
Enjoying Water Sports and Activities on Spain's Family Beaches
Spain's family beaches offer a wide variety of exciting water sports and activities for everyone to enjoy. Whether you're looking to try your hand at windsurfing, paddleboarding, or snorkeling, there's something for every level of adventure seeker.
One popular spot for these activities is Playa del Moro, where the crystal-clear waters provide the perfect setting for swimming and sunbathing. For those seeking a bit more adrenaline, jet skiing, and parasailing are also available options.
If you're traveling with younger children, don't worry – Spain's family beaches have plenty to offer. Many beaches have designated areas where kids can safely enjoy pedal boating or building sandcastles right by the shore.
Some destinations even offer banana boat rides, which are always a hit with little ones.
In addition to these thrilling water sports, families visiting Spain can explore the local marine life through guided snorkeling tours or participate in organized beach volleyball tournaments.
Regardless of your interests or skill levels, Spain's family beaches will ensure you never run out of fun things to do in the sun-soaked Mediterranean paradise.
You May Find Interest: Discover the 50 Best Beaches in Costa Rica
Exploring Local Attractions and Amenities near Family-Friendly Beaches
Regarding family beach vacations in Spain, there is so much more to explore than just the sandy shores. Many of the family-friendly beaches are located near exciting local attractions and amenities that can add a touch of adventure to your vacation.
For example, coastal cities like Barcelona and Valencia offer stunning architecture, landmarks, museums, and family-friendly attractions worth exploring.
In addition to city exploration, there are also opportunities for outdoor activities such as mountain hiking or cycling along scenic coastal paths. You can immerse yourself in the local culture by trying delicious Spanish cuisine at beachside restaurants or visiting nearby markets for fresh produce.
If you're looking for excitement on your beach vacation, consider participating in water sports and activities near these family-friendly beaches. From snorkeling and paddleboarding to jet skiing and kayaking, there's something for everyone to enjoy.
Don't forget about the convenience of having amenities close by too! Many of these beaches have restrooms, showers, picnic areas, and playgrounds nearby. This ensures you'll have everything you need for a comfortable day at the beach with your little ones.
So when planning your next family beach vacation in Spain, take advantage of all the attractions and amenities available near these beautiful coastlines. It's an opportunity not only to relax on pristine sandy shores but also to explore Spain's vibrant culture and natural beauty.
Best Time to Visit Spain's Family Beaches
Spain's family beaches are a popular destination for vacationers, but choosing the best time to visit can make your trip even more enjoyable. The summer months, from June to September, offer warm temperatures and plenty of sunshine, making it an ideal time for beach activities and water sports.
Families can take advantage of Spain's long coastline during this period and explore its beautiful sandy shores. However, it's worth noting that these months can be crowded with tourists. For those looking for a quieter experience with fewer crowds, consider visiting during the shoulder seasons of spring (April-May) or fall (October-November).
The weather is still pleasant during these times, making it perfect for relaxing on the beach while avoiding large crowds. Planning your trip to Spain's family beaches during these periods gives you a better chance of enjoying a peaceful and memorable vacation without feeling overwhelmed by too many people.
When planning your next family beach vacation in Spain, timing is everything! To enjoy the best experience on Spain's family-friendly beaches while avoiding excessive crowds and scorching heat waves when things can get overcrowded, consider visiting during the shoulder months of spring or fall – April through May or October through November.
During these off-peak seasons, you'll find slightly cooler temperatures and pleasant weather conditions perfect for outdoor activities like building sandcastles or taking leisurely walks along the shoreline with your loved ones.
Plus! You won't have to worry about jostling for space on crowded beaches as fewer tourists flock to these coastal areas than peak tourist season between June and September.
So whether you prefer basking under the warm Spanish sun amidst smaller crowds or want to beat the rush altogether while enjoying quality time together as a family, plan your visit accordingly – either spring or fall – when you'll have ample opportunities to soak up all that Spain's picturesque family-friendly beaches have to offer without feeling overwhelmed by crowds of people.
Related Read: The Most Stunning Beaches Around the World
Packing Essentials for a Family Beach Vacation in Spain
When planning a family beach vacation in Spain, it's important to pack the essentials to ensure a comfortable and enjoyable trip. Here are the must-have items for your packing list:
Swimsuits: Pack enough swimsuits for each family member to enjoy the beautiful beaches in Spain.
Sun protection: Bring reef-safe sunscreen, hats, and sunglasses to protect your family from the intense sun rays.
Quick-dry towels: These lightweight towels are perfect for drying off after a swim or lounging on the beach.
Beach and/or water shoes: Protect your feet from sharp rocks or hot sand with comfortable beach or water shoes.
Floaties: If you have young children, don't forget to bring floaties or inflatable toys for them to enjoy in the water.
Final Words
Spain offers many family-friendly beaches perfect for a memorable vacation with your loved ones. From Cala Mitjana in Menorca to Playa de Altafulla in Costa Dorado, there is no shortage of beautiful coastal destinations to explore.
Spain has it all, whether you prefer calm and clear waters or vibrant beach towns with plenty of amenities. So pack your sunscreen and beach toys, and get ready for an unforgettable family adventure on the stunning beaches of Spain.
Frequently Asked Questions (FAQs)
check some commonly asked questions on the best beaches for families in Spain.
1. Are the beaches in Spain family-friendly?
Yes, many of the beaches in Spain are family-friendly and offer amenities such as lifeguards, shallow waters, playgrounds, and beachside restaurants. These features make them ideal for families with children.
2. Which Spanish beaches are particularly well-suited for families?
Some of the best beaches for families in Spain include Playa de las Cucharas in Lanzarote, Levante Beach in Benidorm, La Concha Beach in San Sebastian, and Maspalomas Beach in Gran Canaria. These beaches have calm waters and a range of facilities catering to families.
3. Are there activities available for children at these family-friendly beaches?
Yes, the family-friendly beaches in Spain often have various activities available for children, such as water sports rentals like kayaks or paddleboards, beach volleyball courts, and organized kids' clubs with supervised games and entertainment options.
4. Is it safe to swim at these Spanish family-oriented beaches?
Generally speaking, swimming at family-oriented beaches is safe as most of them have designated swimming areas protected by lifeguards who maintain safety measures throughout the day. However, you should always follow local safety guidelines and be aware of any potential dangers, such as strong currents or sudden drop-offs.
Subscribe to Our Latest Newsletter
To Read Our Exclusive Content, Sign up Now.
$5/Monthly, $50/Yearly