Uncover Portugal's Hidden Gems: 10 Best Beaches for Families in Portugal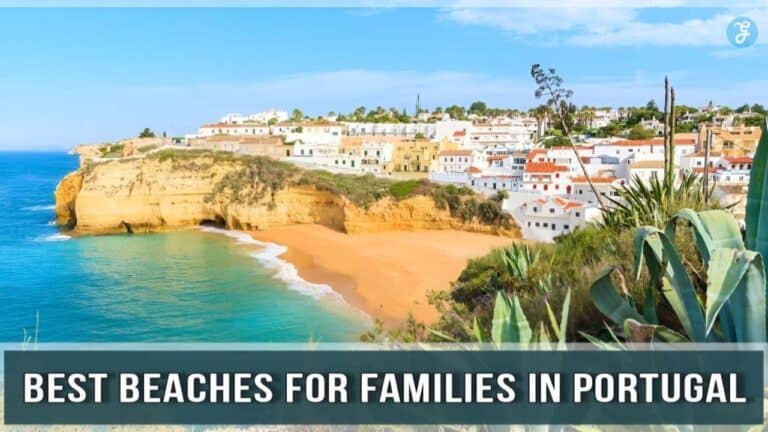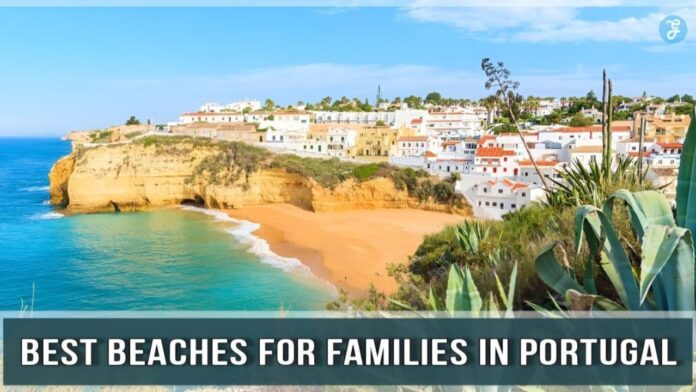 Listen to the Podcast:
Are you Planning a family vacation in Portugal and unsure where to catch those beautiful waves? This European gem is home to some of the most stunning coastlines, such as Praia da Falésia, touted as one of the finest family-friendly beaches.
Our detailed guide explores a curated list of the best beaches for families in Portugal, packed with information on locations that offer shallow waters, warm sands, and engaging activities. Ready to discover your next ultimate beach getaway? Dive in!
Content Highlights
Portugal is home to some of the best beaches for families, such as Praia do Camilo in Lagos, known for its stunning views and adventure activities like exploring hidden caves.

Praia da Falésia in Vilamoura offers miles of golden sands, stunning red cliffs, and a less crowded atmosphere perfect for relaxation and sunbathing. It was ranked as Portugal's top beach in 2018.

Praia de Ilha de Tavira in Eastern Algarve is a beach with crystal-clear waters, soft golden sand, and various water sports activities suitable for the whole family. It is easily accessible by ferry from Tavira town.
Praia do Camilo, Lagos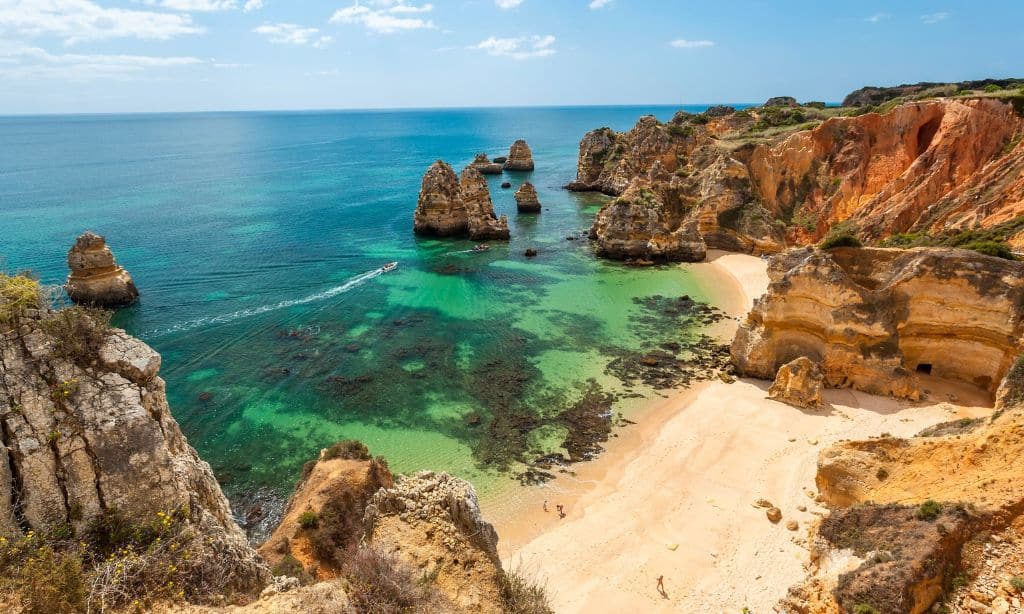 Nestled near Lagos, Portugal, Praia do Camilo secures its spot as one of the best beaches for families in Portugal. It's a genuinely esteemed beachfront haven renowned for its breathtaking views and characteristic beauty.
The striking golden cliffs surrounding it give the locale an almost ethereal charm. This secluded piece of paradise offers crystal clear waters ideal for various water activities and exploration of spectacular rock formations and hidden caves – making it a hotspot for relaxation and adventure.
But there's more to Praia do Camilo than its eye-catching scenery. Its calm waters and wide sandy shore make it particularly family-friendly, allowing children to play safely while adults bask in the serene atmosphere.
The beach is conveniently accessible from Lagos town, amplifying its appeal among locals and tourists alike—the proof evident in high recommendations by both groups on TripAdvisor who compare this idyllic gem favorably with other Algarvian beaches like Praia Dona Ana, adding yet another feather to the cap of some of the best beaches in Portugal already crowning Praia Do Camilo.
Praia da Falésia, Vilamoura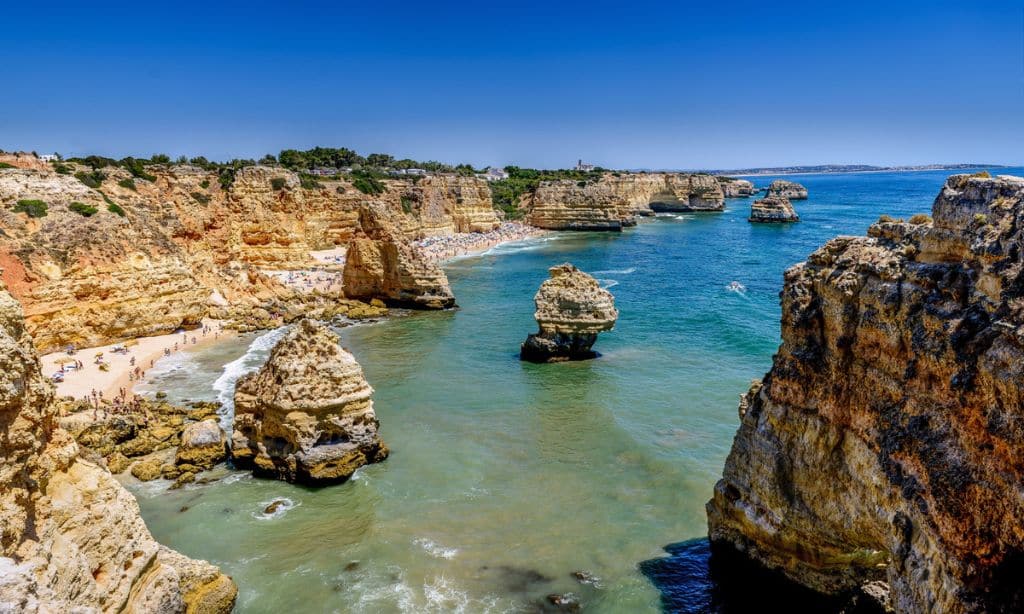 The Algarve region of Portugal is home to the stunning Praia da Falésia, a beach known for its beautiful red cliffs and miles upon miles of golden sands. This beach offers a tranquil respite from busier destinations in the vicinity, making it an ideal setting for families seeking peace or solitude.
Unlike neighboring Vilamoura's bustling main beach, you'll find a less crowded atmosphere perfect for sunbathing, swimming, and even surfing.
Ranked as Portugal's top beach in 2018, Praia da Falésia isn't just popular among locals and garnered third place in Europe and twelfth worldwide. The scene-stealing cliffscapes add dramatic allure and a striking backdrop against the azure waters lapping gently at the shore.
For those craving activities beyond sand and surf, nearby attractions include Vilamoura's marina and golf courses.
Although Praia da Falésia may pose accessibility challenges to people with disabilities, it has plenty to offer hiking enthusiasts. The proximity of Seven Hanging Valleys Trail presents an excellent opportunity for trekkers looking to explore more than just the spectacular shoreline.
After a day spent basking in nature's beauty or pursuing adventurous exploits on trails and waves alike, visitors can unwind at any number of hotels or enjoy local cuisine at several nearby restaurants dotted around this scenic coastal gem known as one of the best beaches for families in Portugal.
Praia de Odeceixe, Sudoeste Alentejano e Costa Vicentina Natural Park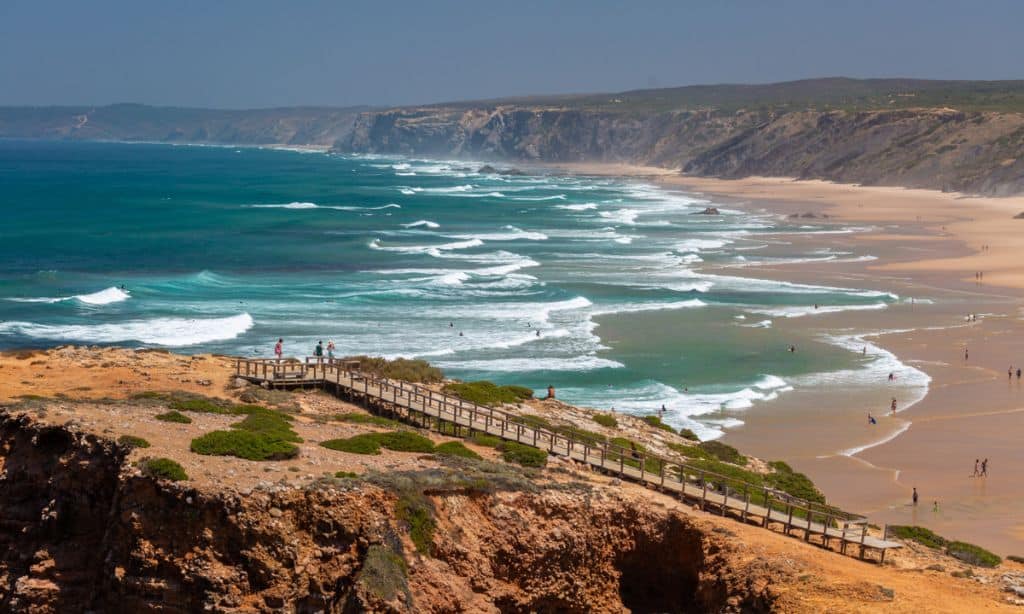 Nestled in the striking Algarve region, specifically in Aljezur province, Praia de Odeceixe is a picturesque, family-friendly spot. It's one of Portugal's best beaches for families, given its sheltered environment formed by a sandbank and calm, warm waters.
The scenic backdrop of cliffs further adds to its charm while offering kids plenty of space for play on the vast sandy expanse.
The beach sits within the Sudoeste Alentejano e Costa Vicentina Natural Park – renowned for its untouched coastline and gorgeous Atlantic stretches. This unique location provides access to authentic villages, hidden beaches, and numerous activities families can enjoy together, such as hiking or exploring the park.
Moreover, it gives this destination a less crowded appeal compared to other well-known tourist areas making Praia de Odeceixe an ideal choice if you're seeking tranquillity alongside natural beauty when deciding among the best beaches for families.
Read Also: 25 Most Beautiful Beaches in Europe
Praia de Ilha de Tavira, Eastern Algarve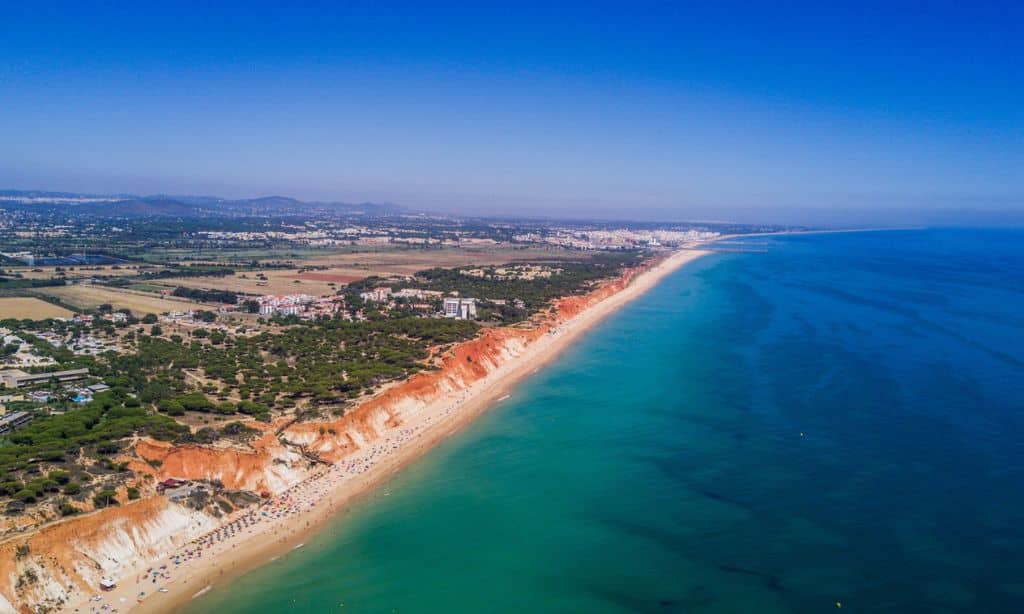 Praia de Ilha de Tavira, located in the Eastern Algarve region of Portugal, is a beach that offers something for the whole family. Situated on the eastern side of Tavira Island, this stunning beach is known for its pristine and unspoiled beauty.
It's perfect for swimming and sunbathing with crystal-clear waters and soft golden sand.
But there's more to Praia de Ilha de Tavira than just relaxation. Families can enjoy various water sports activities here, such as snorkeling and kayaking. The beach is easily accessible by a ferry service from the town of Tavira, adding to its convenience for families.
Surrounded by the breathtaking Ria Formosa natural park, Praia de Ilha de Tavira offers natural beauty and diverse wildlife. It's an ideal destination if you want to explore nature with your family while enjoying all that a beautiful beach offers.
Furthermore, Praia de Ilha de Tavira provides ample facilities and amenities to cater to families needs. From restaurants serving delicious local cuisine to cafes offering refreshing drinks, everything you need for a day at the beach is readily available.
Plus, there are restrooms conveniently located nearby.
With its family-friendly atmosphere and stunning natural surroundings, Praia de Ilha de Tavira should be on your list when looking for the best beaches in Portugal. Whether you're seeking relaxation or adventure with your loved ones, this beach has covered everything!
Praia das Furnas Milfontes, Alentejo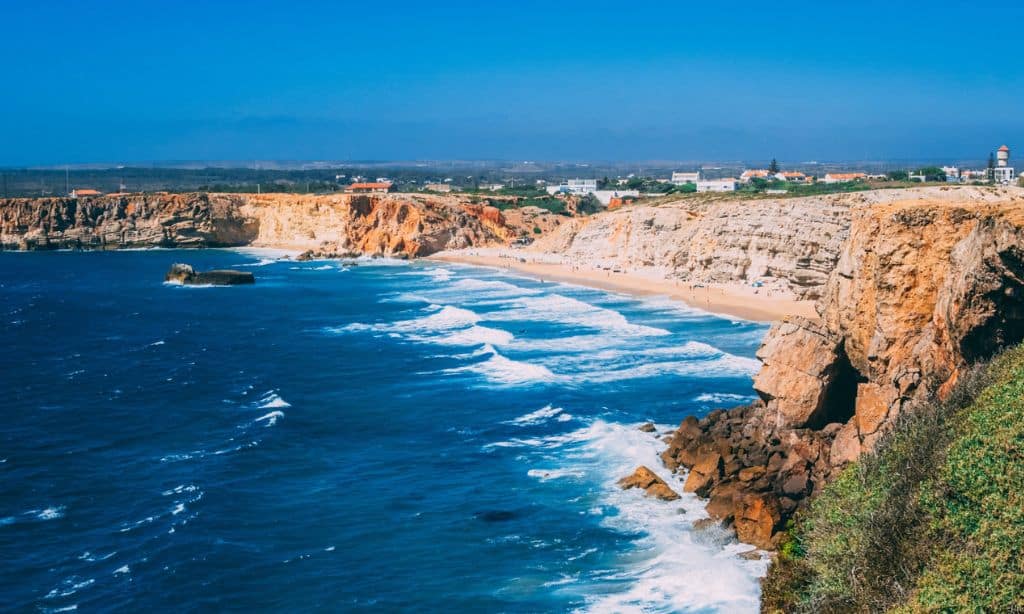 Praia das Furnas in Vila Nova de Milfontes, Alentejo is a must-visit beach for families in Portugal. Located just 1.1 km from the town center, this urban beach offers easy access and convenience for families looking to spend a day by the sea.
Surrounded by stunning cliffs, Praia das Furnas provides a picturesque backdrop that adds charm. Its calm and sheltered waters make it ideal for families with young children who want a safe and enjoyable beach experience.
One of the highlights of this beach is the rock outcrop that becomes visible during low tide. It enhances the natural beauty and creates an exciting spot for exploration. Additionally, occasional shade near the cliffs provides relief from the sun's heat, ensuring everyone stays comfortable throughout their visit.
For those seeking even more fun activities, there is a beautiful lagoon with a sandbar where kids can play to their heart's content at low tide. This feature alone makes Praia das Furnas perfect for families wanting to build sandcastles or engage in water games.
Vila Nova de Milfontes boasts four sandy beaches, offering plenty of options to explore during your stay. So if you're planning a family trip to Portugal, don't miss out on Praia das Furnas – it will indeed create beautiful memories for both young and old alike!
Praia Grande, Porto Covo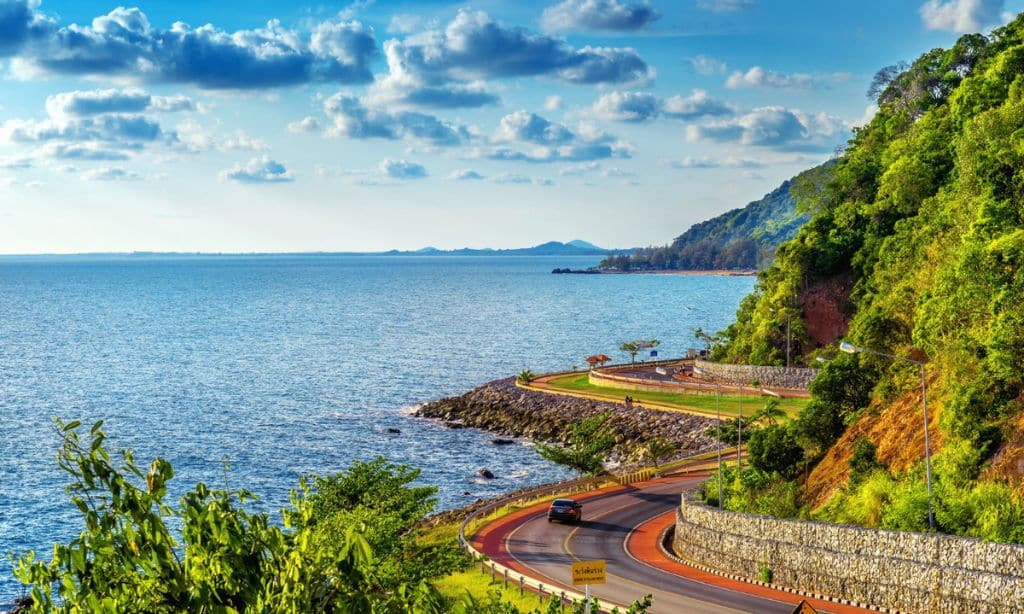 Praia Grande in Porto Covo, Portugal, is a stunning beach surrounded by majestic cliffs. Its unique location between these towering yellow cliffs protects it from the elements and creates a picturesque setting for families to enjoy.
With its fine golden sand, Praia Grande offers the perfect spot for children to build sandcastles and play games.
What makes Praia Grande particularly appealing for families is the kid-friendly environment it offers. Children can have a blast exploring the area between rocks with fishnets, creating endless adventures and memories.
The beach's charm extends beyond its sandy shores – Porto Covo is a captivating village in Alentejo that adds to the overall experience.
Known as one of the best beach destinations in Portugal, Praia Grande lives up to its reputation with its beauty and family-friendly atmosphere. This beach was awarded the Blue Flag along with 41 other beaches on the Alentejo coast in 2023, highlighting its commitment to cleanliness and safety.
Visiting Praia Grande couldn't be easier either; it's easily accessible from Porto Covo village, allowing families to spend quality time together exploring natural wonders and charming local surroundings.
Don't miss out on experiencing this hidden gem while vacationing with your loved ones in Portugal!
Read More: Discover the 50 Best Beaches in Costa Rica
Costa Caparica, Lisbon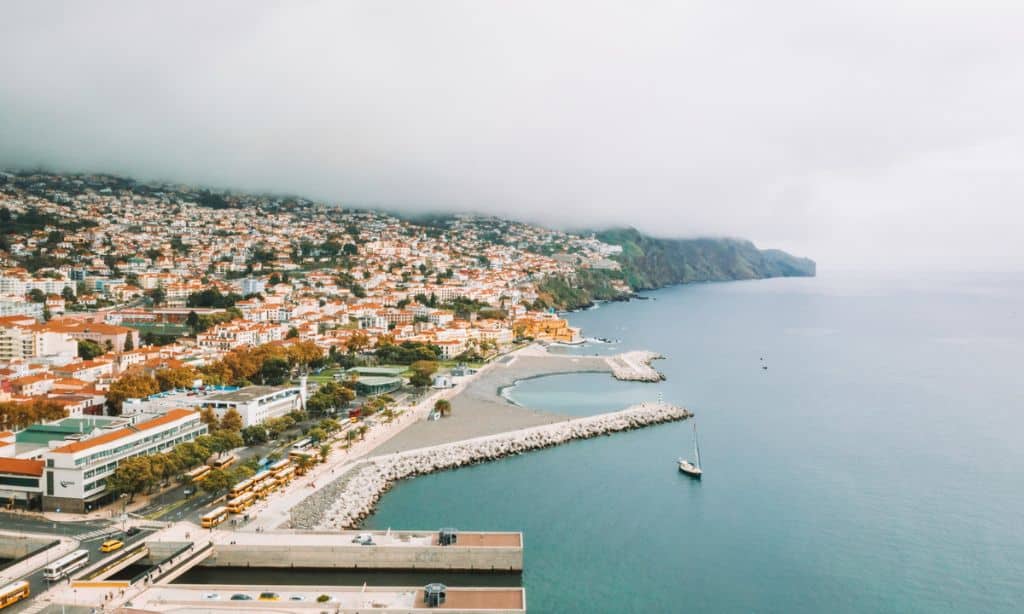 Located near Lisbon, Costa Caparica is a top destination for families seeking beautiful beaches in Portugal. This coastline offers a range of stunning options suitable for all ages and interests.
The long stretches of sand provide ample space for families to relax and enjoy the sun, while the average temperature of 17 degrees Celsius ensures comfortable beach days throughout the year.
What sets Costa Caparica apart is its accessibility and convenience. Being just a short distance from Lisbon, families can easily make day trips or plan longer stays without hassle. In addition to its gorgeous beaches, Costa Caparica boasts amenities such as surf shops, restaurants, and vibrant nightlife options.
For those with older children looking for adventure, this area is known for its excellent surfing opportunities.
Beyond the beaches, Costa Caparica has much more to offer visitors. Families can explore nearby areas like Caparica town or visit other attractions in Lisbon during their stay.
With plenty of accommodation options right by the beach, families can ensure they have everything within reach during their relaxing vacation on Costa Caparica's shores.
Read More: Best Nude Beaches for Pure Relaxation
Praia do Portinho, Serra da Arrabida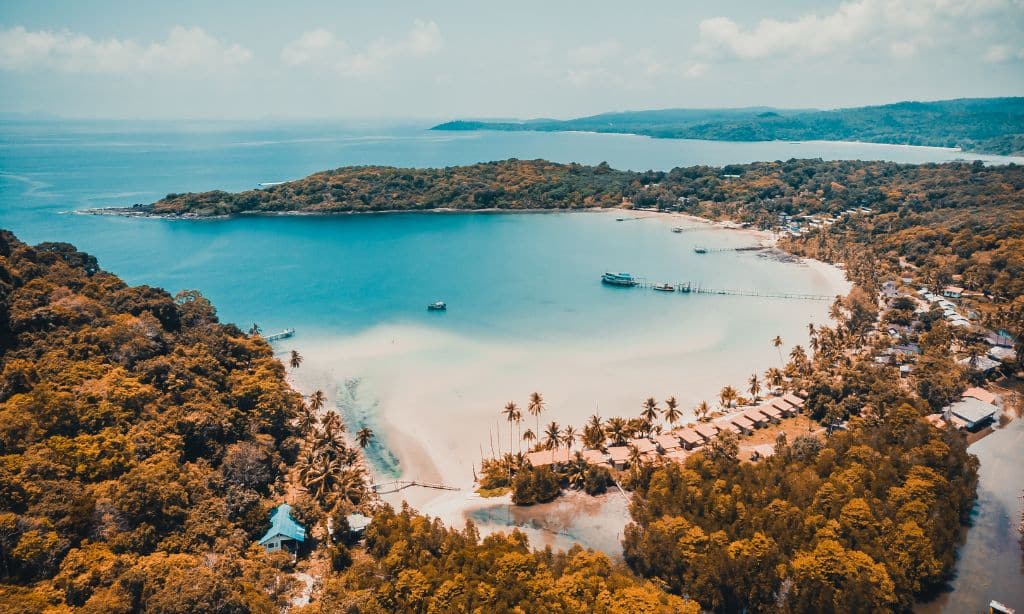 Praia do Portinho, located in Serra da Arrabida, is truly a hidden gem among the best beaches for families in Portugal. Nestled within the breathtaking Arrábida Natural Park, this beach offers an idyllic setting for a memorable family day out.
With its crystal-clear turquoise waters and soft white sand, it's no wonder why Praia do Portinho, is considered one of the most beautiful beaches in Portugal.
The beach's calm waves make it perfect for families with children who want to splash around and enjoy the water safely. And if you want to explore below the surface, Praia do Portinho offers excellent scuba diving opportunities.
The clear waters teem with unique flora and fauna waiting to be discovered.
But it's not just the beach that makes Praia do Portinho special. The village of Portinho da Arrábida, where the beach is located, offers a charming atmosphere surrounded by lush greenery and natural beauty.
As part of your visit to Praia do Portinho, take some time to explore this hidden treasure within Arrábida National Park.
Accessible from Lisbon, Praia do Portinho also makes for a fantastic day trip destination for families visiting Portugal's capital. It provides a peaceful and relaxing escape from city life while still being easily reachable.
Overall, when finding a beautiful and family-friendly beach experience in Portugal's Arrábida Natural Park, look no further than Praia do Portinho in Serra da Arrabida. Its stunning scenery and range of activities make it an ideal choice for families seeking unforgettable memories by the sea.
Praia Baleal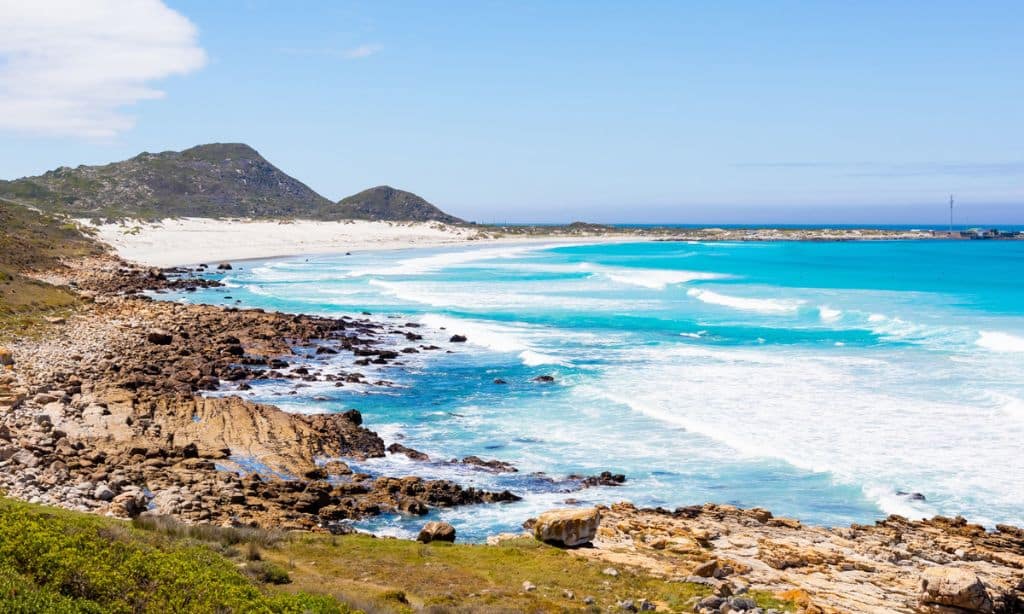 Praia Baleal is an absolute gem when it comes to the best beaches in Portugal for families. Located just 11 minutes from Peniche, this stunning beach offers plenty of space, making it perfect for families with little ones.
But that's not all! Praia Baleal is known for its fantastic surfing conditions, attracting both beginners and experienced surfers alike. The constant waves and fine sand create an ideal spot for catching gnarly waves.
But it's not just about the water sports – there are also numerous pubs and restaurants nearby where you can relax and grab a delicious meal after a day of fun in the sun. And speaking of relaxation, Praia Baleal features a mix of sandy areas and rocks that add to its natural beauty.
It's no wonder why this clean beach is so popular among families and surfers alike.
The wide bay of Baleal stretches approximately 4km long, offering ample swimming opportunities both to the north and south of Praia Baleal. Whether you're looking to catch some waves or enjoy a refreshing dip in crystal-clear waters, Praia Baleal has got you covered.
So pack up your beach gear and head to this fantastic destination for a family-friendly adventure on one of Portugal's finest beaches.
Praia do Cabedelo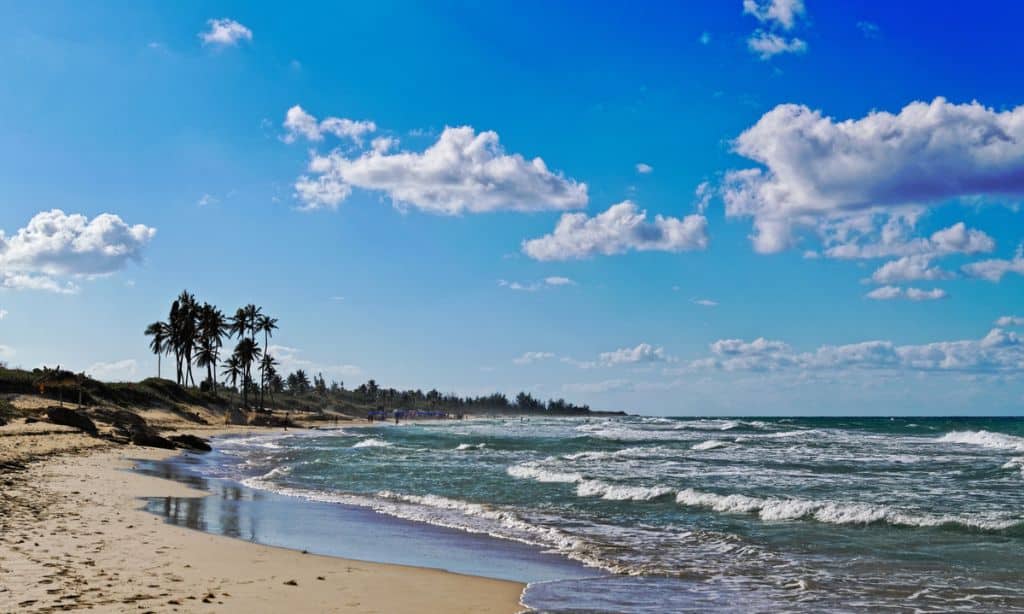 Praia do Cabedelo, located in Viana do Castelo just across the river Lima from the vibrant city, is one of Portugal's best beaches for families. This picturesque destination offers stunning white sands and lush dunes, creating a beautiful backdrop for sunbathing and swimming.
It's not just about relaxation, though – Praia do Cabedelo is known for its fantastic range of family-friendly activities.
Whether you're traveling with little ones or teenagers, everyone can find something to enjoy at this beach. Praia do Cabedelo offers excellent surf spots for those seeking adventure that attracts enthusiasts of all ages.
And if you're a food lover, you won't be disappointed either – this beach is renowned for its culinary offerings.
Easily accessible and with detailed characteristics available on BeachSearcher, including photos and reviews, Praia do Cabedelo makes planning your visit a breeze. Plus, it's conveniently located near other famous beaches in Northern Portugal, making it an ideal choice for families exploring the region.
Read More: The Most Stunning Beaches Around the World
Final Words
In conclusion, Portugal offers many beautiful, family-friendly beaches catering to every need. There is something for everyone, from Praia de Odeceixe with its shallow waters to Praia da Falésia, known for its scenic beauty.
Portugal's beaches have it all, whether you want to relax or engage in water activities like snorkeling. So pack your bags and prepare for an unforgettable family beach vacation in this stunning country!
Frequently Asked Questions (FAQs)
Check some commonly asked questions on the best beaches for families in Portugal.
1. What are some of the best family-friendly beaches in Portugal?
Some of the best family-friendly beaches in Portugal include Praia da Rocha in Portimão, Meia Praia in Lagos, and Falesia Beach in Albufeira.
2. Are there any beaches with lifeguards on duty for added safety?
Yes, many of the popular family beaches in Portugal have lifeguards on duty during peak tourist seasons to ensure the safety of beachgoers, especially children.
3. Are there facilities available at these family-friendly beaches?
Yes, most family-friendly beaches in Portugal provide facilities such as restrooms, showers, sunbed rentals, and beachside cafes or restaurants to cater to the needs of families visiting with children.
4. Can I engage in water sports activities at these family-oriented beaches?
Some family-friendly beaches offer water sports activities suitable for all ages such as paddleboarding, kayaking, and snorkeling. However, it is always recommended to check specific beach regulations and safety guidelines before engaging in any activities.
Subscribe to Our Latest Newsletter
To Read Our Exclusive Content, Sign up Now.
$5/Monthly, $50/Yearly