Discover the 50 Best Beaches in Costa Rica: A Tropical Paradise Awaits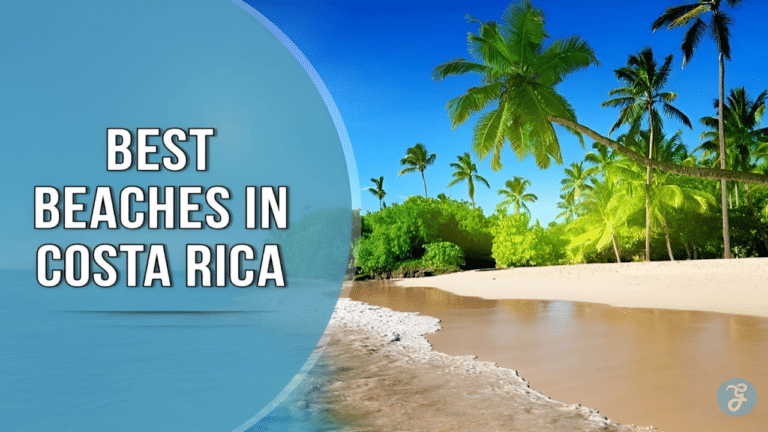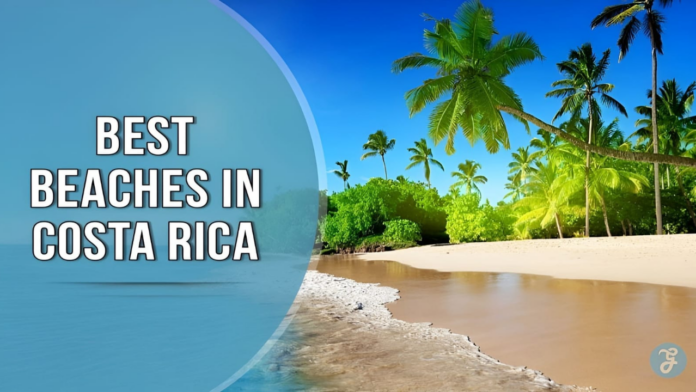 Listen to the Podcast:
Costa Rica, a tropical haven between the Caribbean Sea and the Pacific Ocean, is renowned for its stunning beaches and abundant natural beauty. However, you'll find both unsatisfactory and satisfactory beaches if you check. 
You must not want an unpleasant visit. So, you're looking for the best beaches in Costa Rica.
For swimming, Playa Punta Uva and Playa Hermosa are the best. But for surfing, Pavones Dominical and Tamarindo are the best. However, overall, Manuel Antonio and Conchal Beach are the best.
There is much to know; we've gathered everything in this article. Just keep on reading and learn everything about it.
Best Beaches in Costa Rica: At a Glance
Let's start by learning about all the beaches from a table view. 
| | | |
| --- | --- | --- |
| Beach Name | Location | Key Features |
| Manuel Antonio | Manuel Antonio National Park | Scenic hikes, wildlife sightings, coral-rich seas |
| Tamarindo | Guanacaste | Ideal surf breaks, vibrant atmosphere |
| Conchal | Guanacaste | White sand, seashell adornment, vibrant coral reefs |
| Costa Ballena | South Pacific | Whale-watching, coral reefs, snorkeling, kayaking |
| Dominical | South Pacific | Exceptional surf breaks, beachfront restaurants |
| Nacascolo | Papagayo Peninsula | Secluded, calm waters, water activities |
| Samara | Nicoya Peninsula | Family-friendly, calm bay, kayaking, snorkeling |
| Montezuma | Nicoya Peninsula | Serene escape, rocky coastline, mesmerizing tide pools |
| Santa Teresa | Nicoya Peninsula | Soft sands, surf, secluded getaway |
| Nosara | Nicoya Peninsula | Surf and wellness scene, multiple beaches |
| Manzanillo | Southern Caribbean Coast | Unspoiled beauty, turquoise waters, vibrant reefs |
| San Juanillo | Nicoya Peninsula | Peaceful atmosphere, clear waters, sandy point |
| Ostional | Nicoya Peninsula | Volcanic black sand, sea turtle nesting phenomenon |
| Punta Uva | Southern Caribbean Coast | Serene Haven, snorkeling, wildlife sightings |
| Flamingo | Guanacaste | Pinkish-white sands, breathtaking views, stunning sunsets |
| Pavones | Golfito | Legendary surf breaks, pristine coastline |
| Playa Hermosa | Guanacaste | Dark sand, crystal-clear waters, Blue Flag recognition |
| Playa Cocles | Southern Caribbean Coast | Soft sandy shores, seasonal surfing waves |
| Tortuga Island | Nicoya Peninsula | Boat-accessible, white sand, excellent snorkeling |
| Playa Biesanz | Manuel Antonio | Secluded, requires hiking, tranquil environment |
Best Beaches in Costa Rica Map
Now we've come up with 20 suggestions for you on the best beaches in Costa Rica. So, let's dig in.
1. Manuel Antonio Beach, Manuel Antonio National Park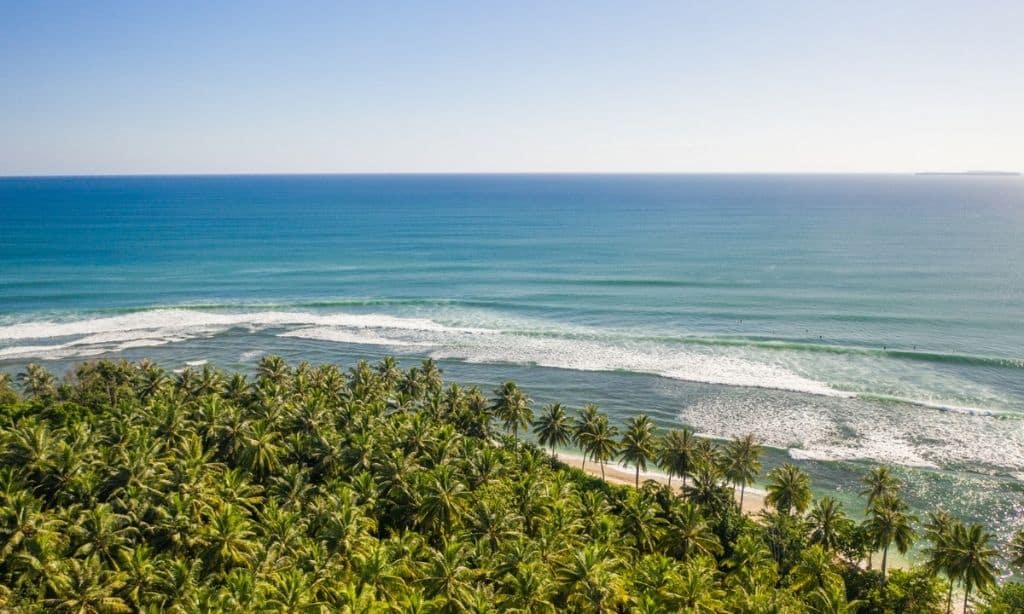 Located near the captivating Manuel Antonio National Park, Manuel Antonio Beach stands out as one of the country's most popular destinations. Accessible by a scenic 30-minute hike through the coastal rainforest, this beach offers a unique combination of wildlife sightings, lush scenery, and coral-rich seas perfect for snorkeling.
2. Tamarindo Beach, Guanacaste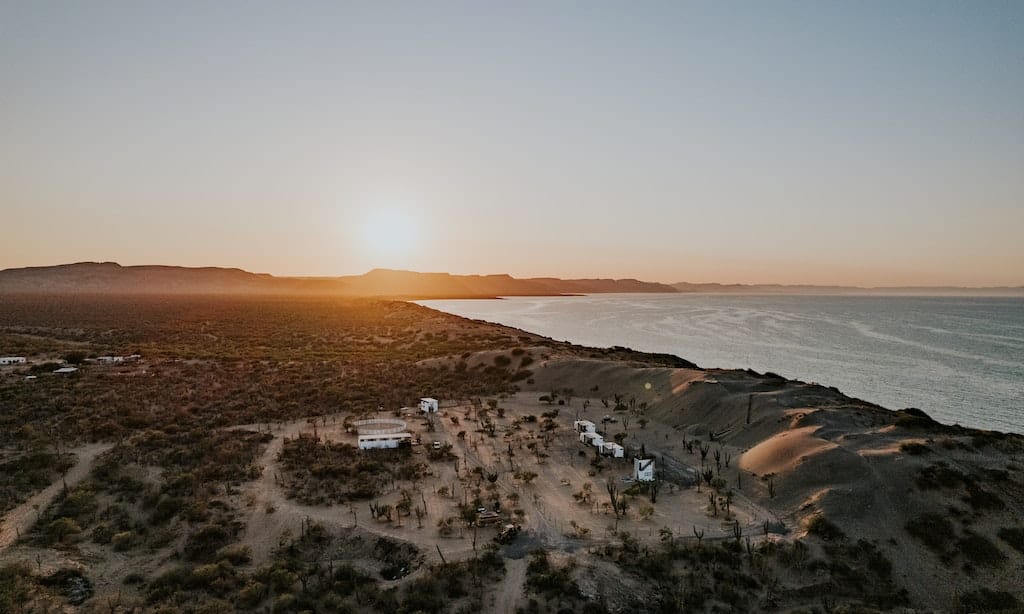 Tamarindo Beach, situated in the vibrant surf town of Tamarindo, is a surfer's paradise. Known for its ideal proper breaks, this beach caters to beginners and experienced surfers. With a wide range of accommodations and a lively atmosphere, Tamarindo Beach offers the perfect blend of adventure and relaxation.
3. Conchal Beach, Guanacaste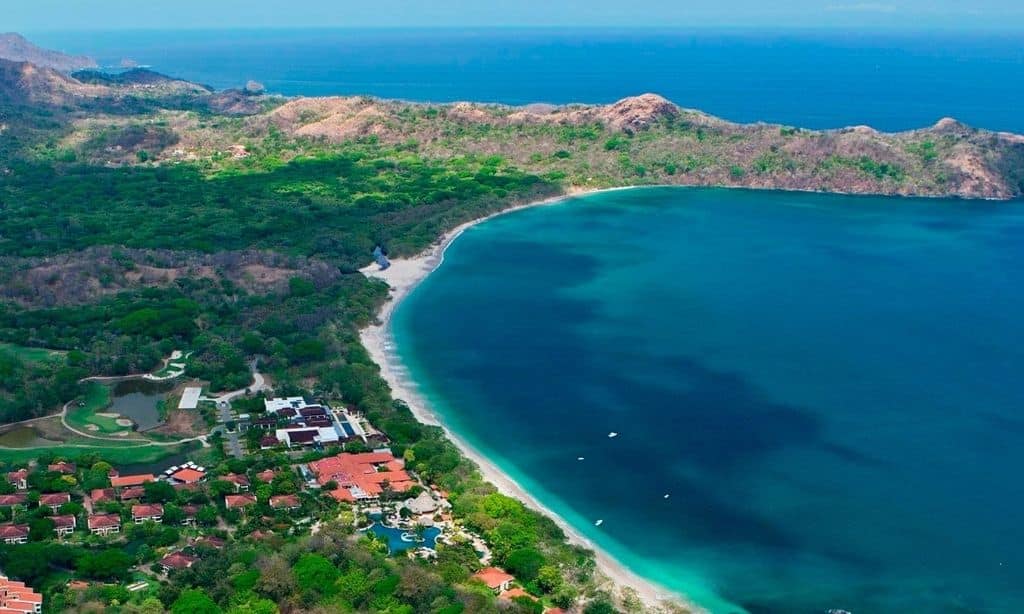 Nestled along Guanacaste's coastline, Conchal Beach is a hidden gem adorned with white sand and delicate seashells. Snorkeling enthusiasts will delight in exploring the vibrant coral reefs found here. Adjacent to the all-inclusive Westin Playa Conchal Resort, this beach promises a tranquil and secluded experience.
Read More: The Most Stunning Beaches Around the World
4. Costa Ballena (Whale Coast), South Pacific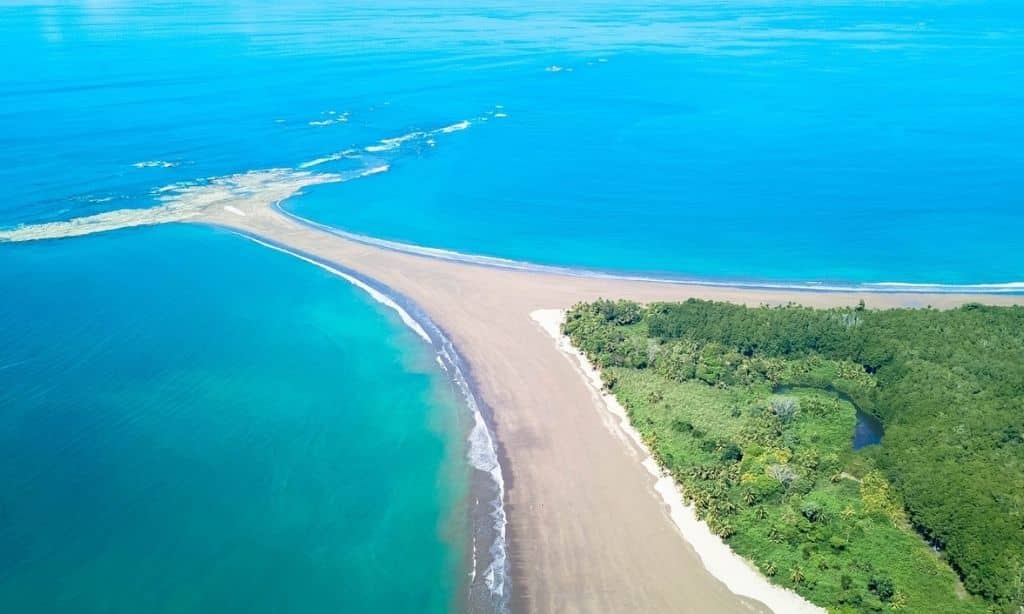 The picturesque Uvita Beach and Hermosa Beach grace the stunning Costa Ballena region, home to the famous "Whale's Tail" at Punta Uvita within Marino Ballena National Park. Besides witnessing humpback whales breaching from August to October and December to April, visitors can explore the expansive coral reef and indulge in snorkeling, kayaking, or stand-up paddleboarding.
5. Dominical Beach, South Pacific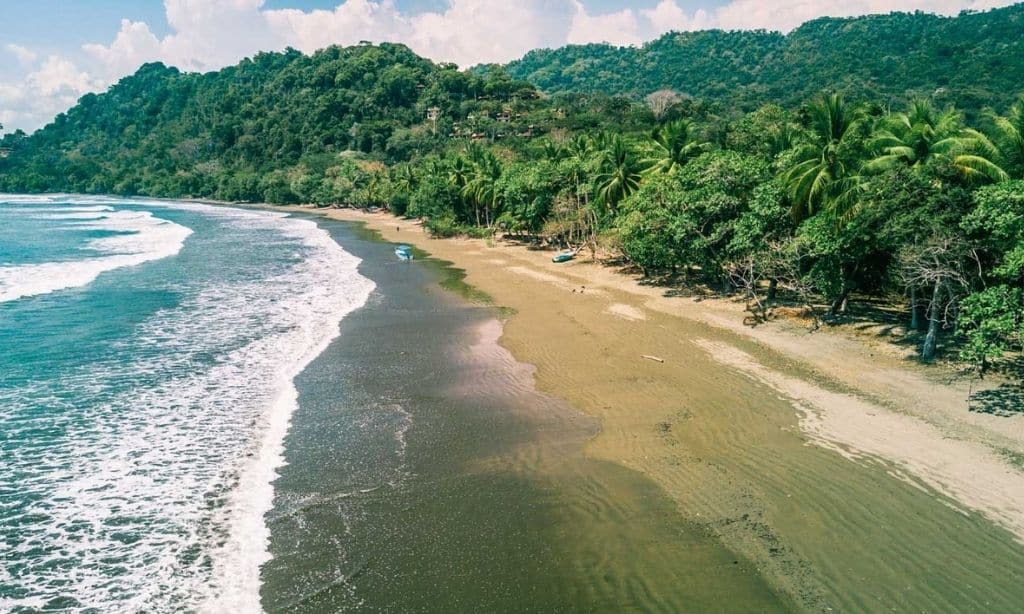 Dominical Beach on the South Pacific coast is a must-visit destination for surf aficionados and food enthusiasts. Renowned for its exceptional surf breaks, it also offers a charming beachfront with excellent restaurants. Dominical is the only beach in Costa Rica with a year-round lifeguard program, ensuring safety while enjoying the waves.
6. Nacascolo Beach, Papagayo Peninsula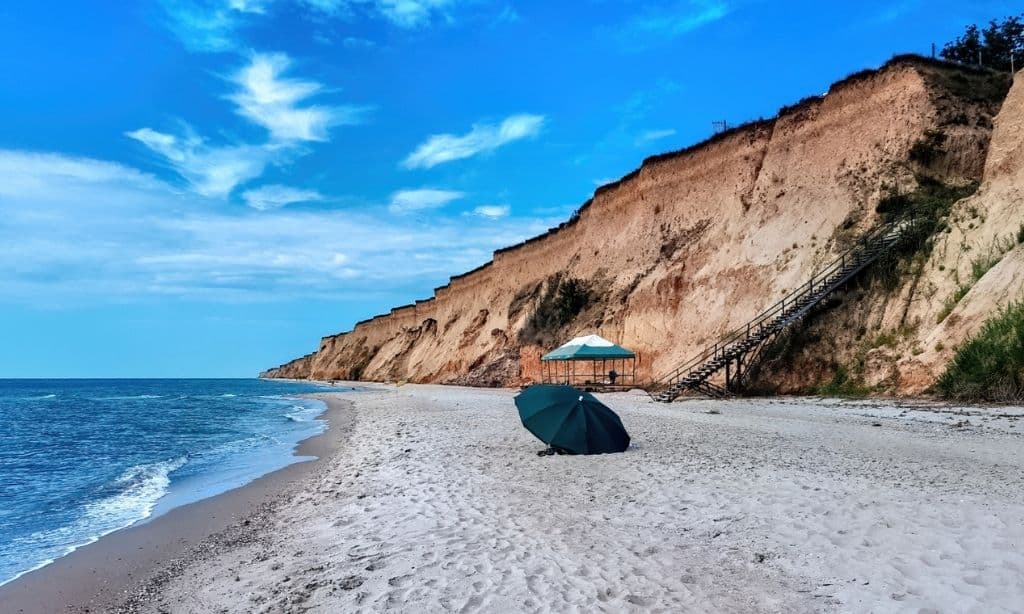 Tucked away on the exclusive Papagayo Peninsula, Nacascolo Beach offers a secluded golden oasis between the Four Seasons Resort and the Andaz Papagayo Resort. With calm and protected waters, this beach is ideal for swimming, stand-up paddleboarding, kayaking, and snorkeling.
7. Samara Beach, Nicoya Peninsula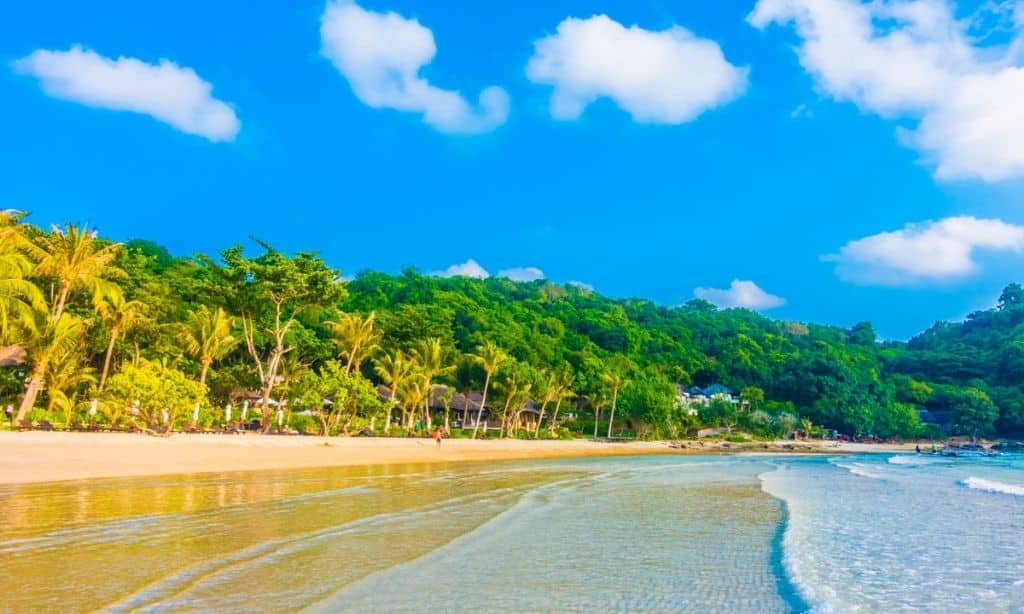 Protected by an island, Samara Beach on the Nicoya Peninsula is a family-friendly destination. The horseshoe-shaped bay and calm waters make it ideal for kayaking, snorkeling, scuba diving, and sport fishing. Enjoy the serene ambiance and disperse the crowds that gather on weekends.
8. Montezuma Beach, Nicoya Peninsula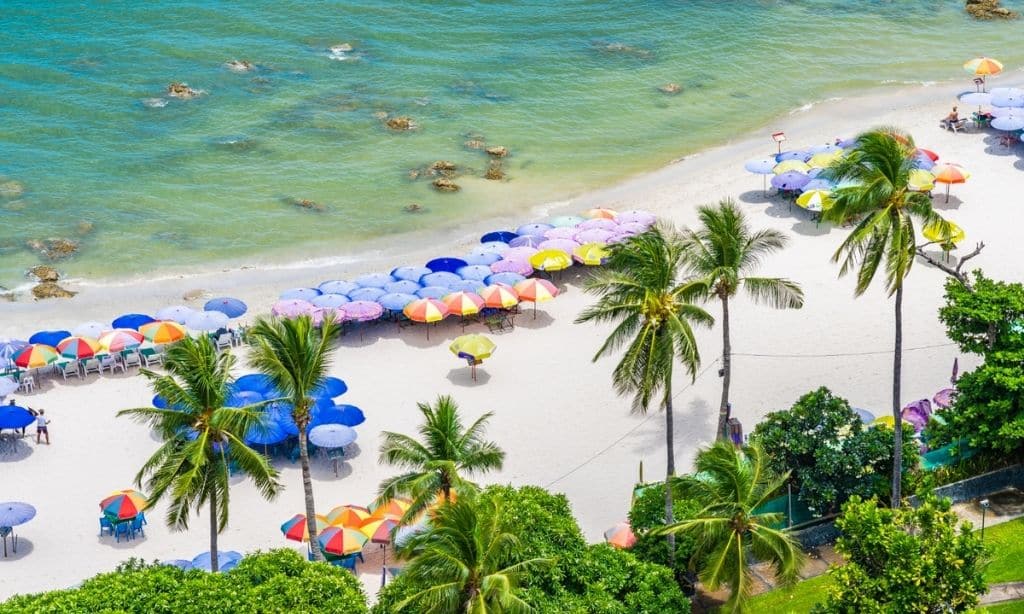 Located near the southern tip of the Nicoya Peninsula, Montezuma Beach offers a serene escape surrounded by lush jungle. While the rocky coastline challenges swimmers, low tides reveal mesmerizing tide pools to explore.
9. Santa Teresa & Malpais Beach, Nicoya Peninsula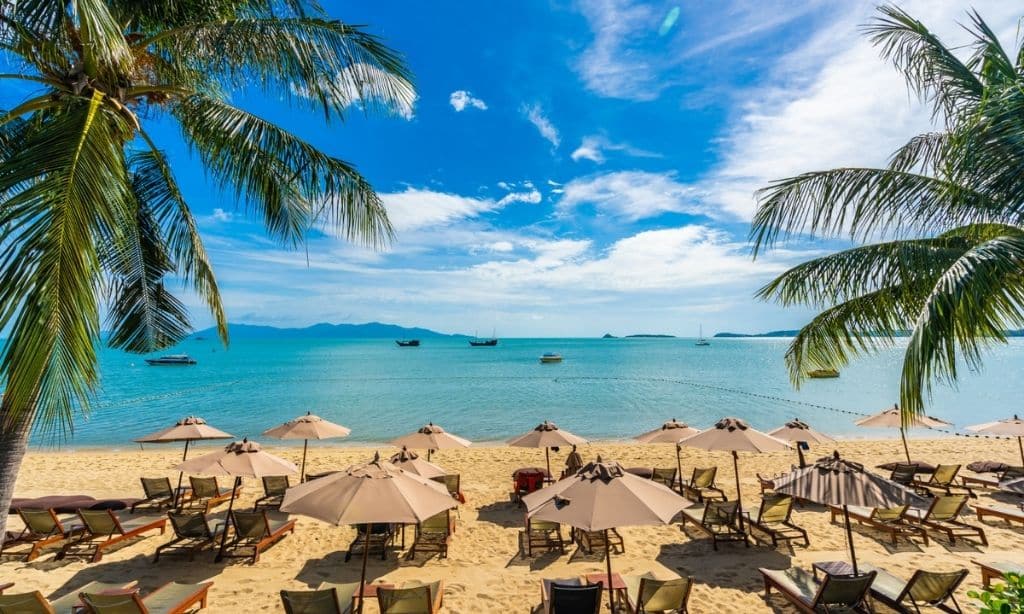 South of Guanacaste, the beaches of Santa Teresa, Malpais, Carmen, Hermosa, and Manzanillo adorn the shores of the Nicoya Peninsula. Santa Teresa Beach provides a secluded getaway with its soft sand and great surf. Malpais Beach, further south, offers stretches of white sand and rocky tidal pools, perfect for a tranquil beach experience.
10. Nosara Beach, Nicoya Peninsula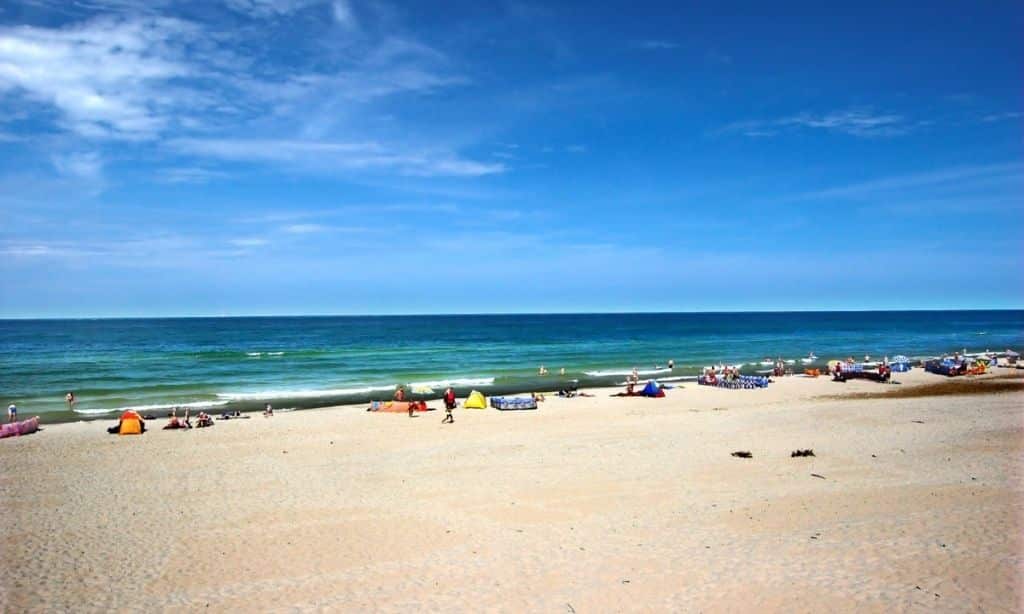 Known for its surf and wellness scene, the coastal town of Nosara on the Nicoya Peninsula offers a trio of stunning beaches: Garza Beach, Guiones Beach, and Pelada Beach. Guiones Beach, a popular surf spot, provides consistent waves throughout the year, while Pelada Beach offers a small, rocky cove for swimming.
11. Manzanillo Beach, Southern Caribbean Coast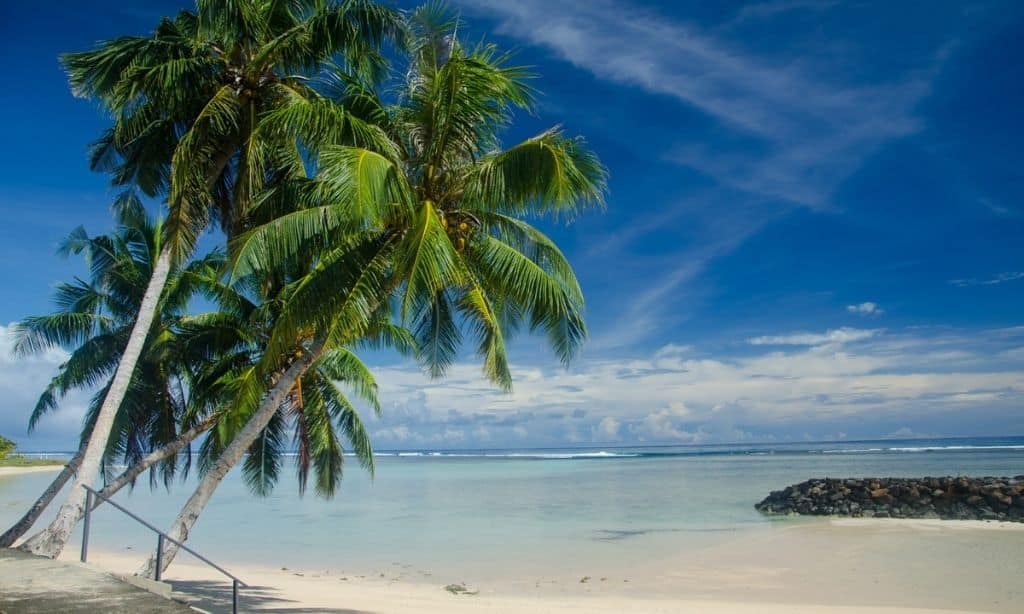 Escape to the small and laid-back beach town of Manzanillo to experience the unspoiled beauty of the Southern Caribbean Coast. Enjoy the turquoise waters, pristine white sands, and vibrant coral reefs. Dive, snorkel, or embark on a kayak adventure to immerse yourself in the natural wonders of this coastal paradise.
12. San Juanillo Beach, Nicoya Peninsula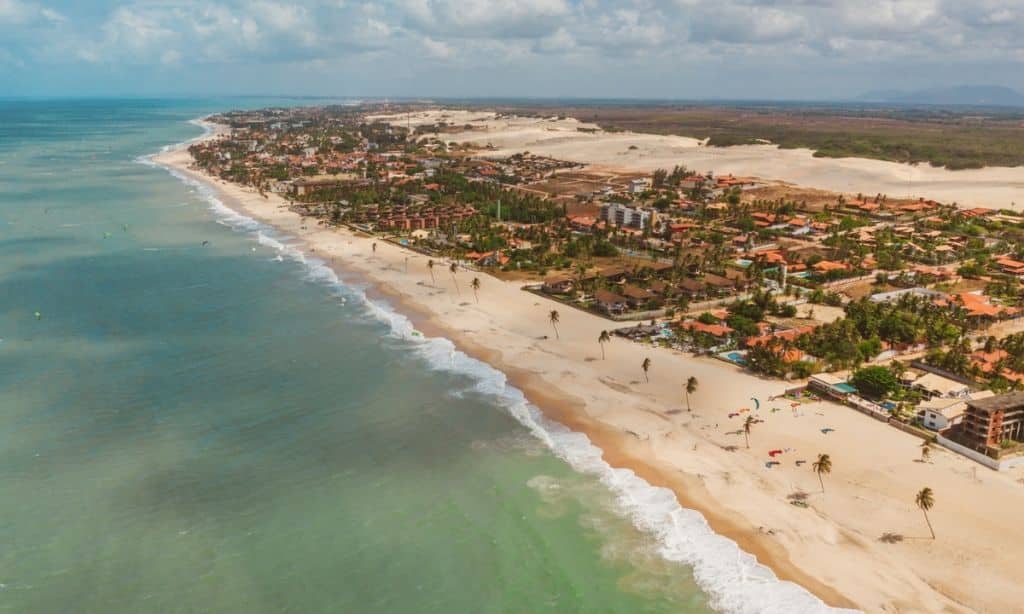 Just north of Nosara, San Juanillo Beach beckons with its peaceful atmosphere and fewer tourists. Comprising two converging beaches leading to a sandy point, this hidden gem provides clear and calm waters, perfect for swimming and relaxation.
13. Ostional Beach, Nicoya Peninsula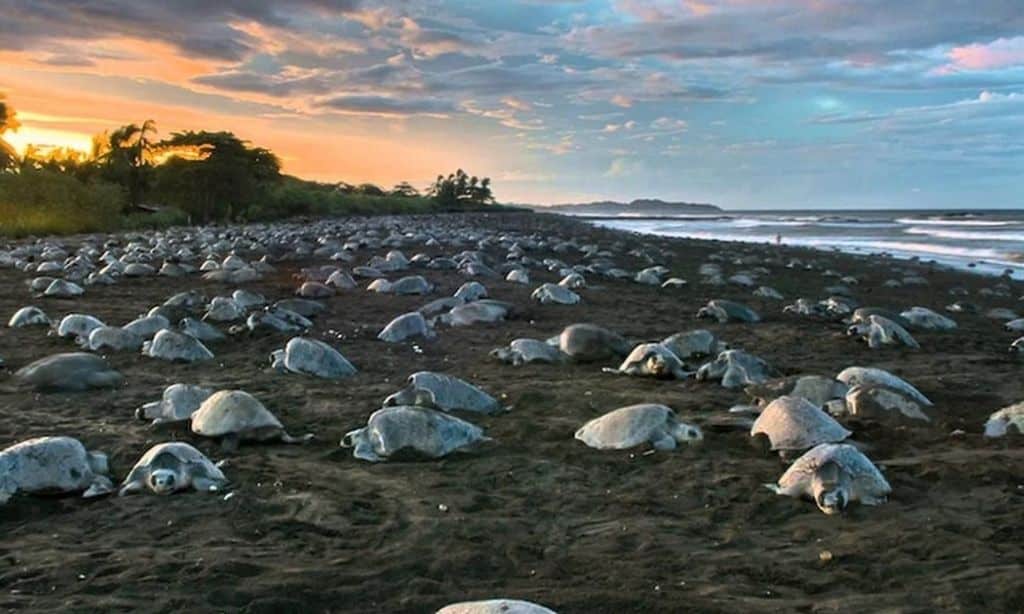 Located within the National Wildlife Refuge, Ostional Beach is famous for its volcanic black sand and its association with sea turtles. Visitors can witness the awe-inspiring arribada, the mass nesting of olive ridley sea turtles between July and October. A night tour to Ostional during this period offers a chance to witness this breathtaking natural phenomenon.
14. Punta Uva Beach, Southern Caribbean Coast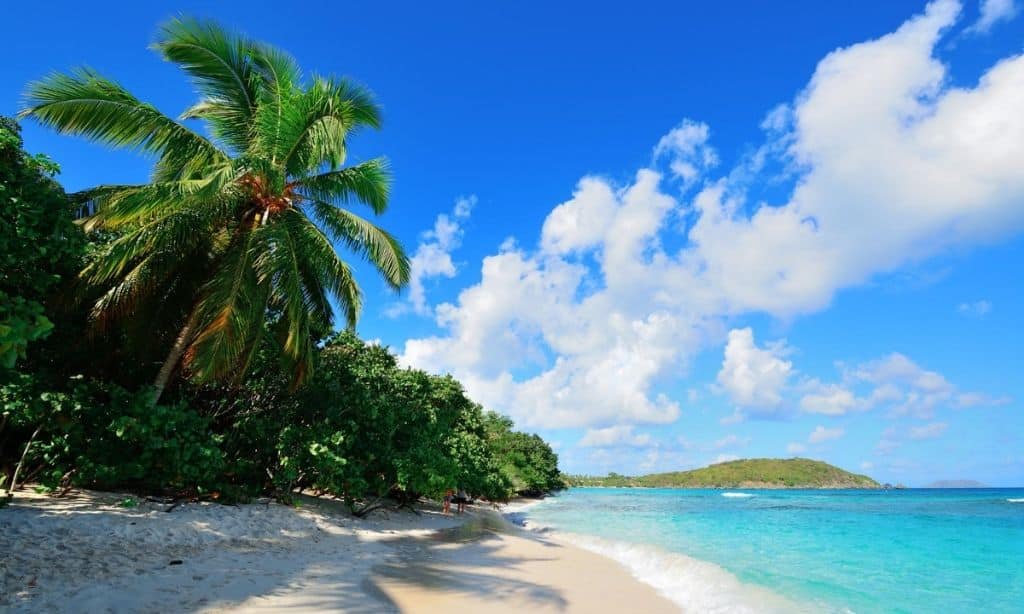 Punta Uva Beach is a serene haven on the tranquil Southern Caribbean Coast, featuring soft white sands and calm waters. Backed by a lush jungle, this beach offers excellent snorkeling opportunities with a vibrant coral reef just offshore. Wildlife enthusiasts can spot monkeys, sloths, and various bird species in the surrounding area.
15. Flamingo Beach, Guanacaste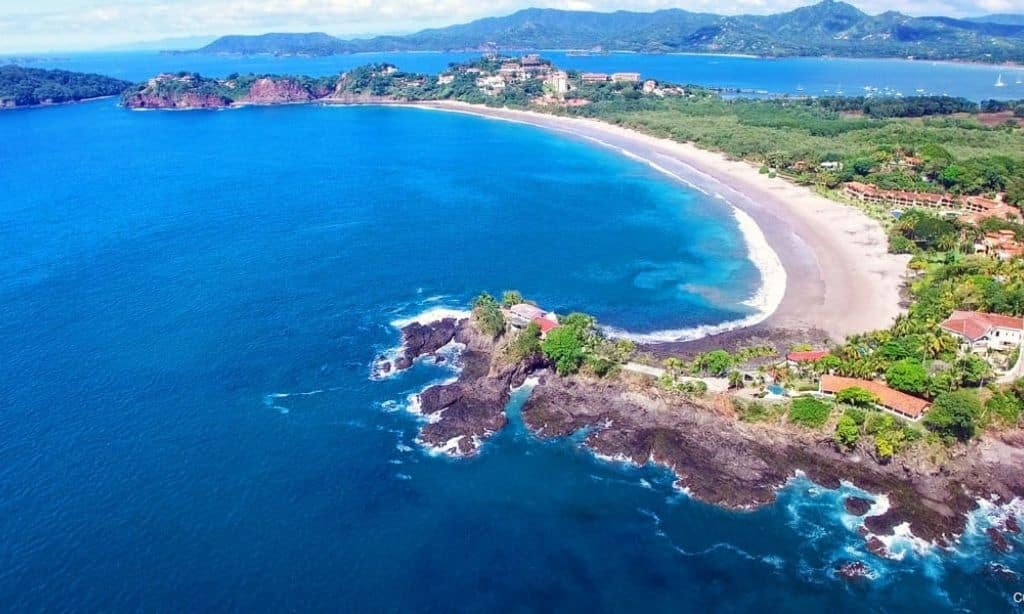 Situated in the Guanacaste region, Flamingo Beach captivates visitors with its pinkish-white sands and breathtaking views of the Pacific. Perched on a cliffside, the hotels overlooking the beach offer unparalleled vistas. Be sure to witness the mesmerizing sunsets while relishing the tranquil ambiance.
16. Pavones Beach, Golfito: A Surfer's Paradise in Costa Rica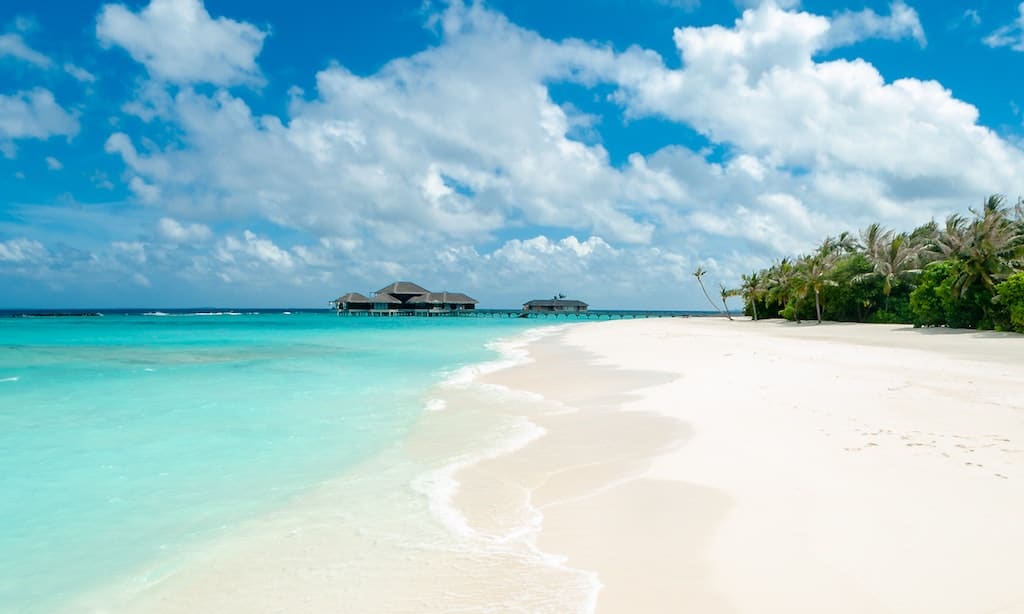 Nestled in the picturesque town of Golfito, Pavones Beach is a legendary destination renowned for its exceptional surf breaks and captivating natural beauty. This hidden gem on Costa Rica's Pacific coast has gained international acclaim as one of the longest left-hand surf breaks in the world, attracting avid surfers from far and wide.
Surrounded by lush rainforests and a pristine coastline, Pavones Beach offers an idyllic setting for both experienced surfers and those eager to catch their first wave. The consistent swells and long rides make it a dream come true for wave enthusiasts seeking an unforgettable surfing experience.
Related Read: 25 Best Beach Umbrellas for Sunseekers
17. Playa Hermosa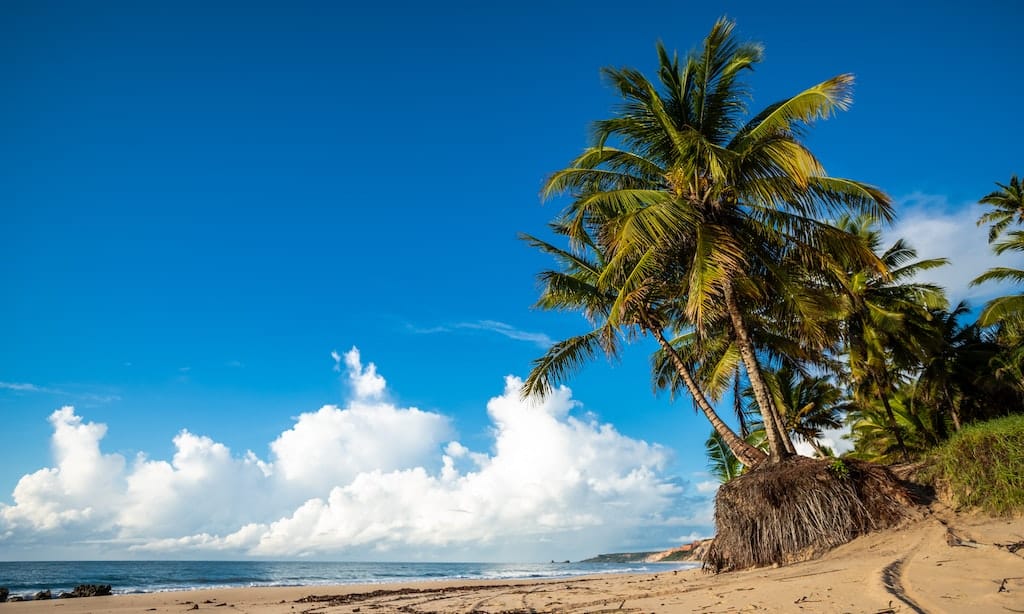 Nestled within the scenic Gulf of Papagayo in Costa Rica's Guanacaste province, Playa Hermosa, meaning "beautiful beach" in Spanish, stands out among the region's stunning coastal destinations. With its dark sand and crystal-clear, azure waters, this beach offers a mesmerizing setting for visitors.
Recognized with a prestigious Blue Flag award, Playa Hermosa is renowned for its suitability for swimming, snorkeling, and scuba diving. Moreover, the captivating early sunrises and picturesque sunsets provide an awe-inspiring experience for all who visit.
18. Playa Cocles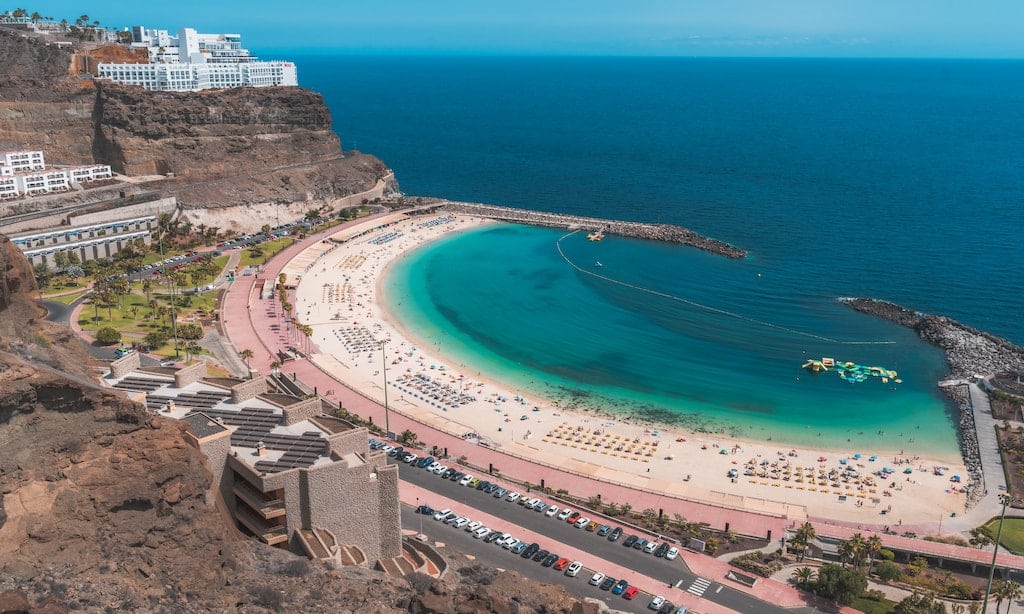 Located on Costa Rica's captivating Southern Caribbean Coast, Playa Cocles emerges as an irresistible destination for beach enthusiasts. Situated just 4 kilometers from Puerto Viejo, this hidden gem showcases the natural beauty of the Caribbean coast. With its soft sandy shores, palm tree-lined landscape, and seasonal surfing waves, Playa Cocles ranks among the top beaches in Costa Rica.
While it can sometimes get crowded, visitors can find solace by strolling to the south end, where the river meets the sea, allowing them to discover their secluded spot away from the bustling crowds.
19. Tortuga Island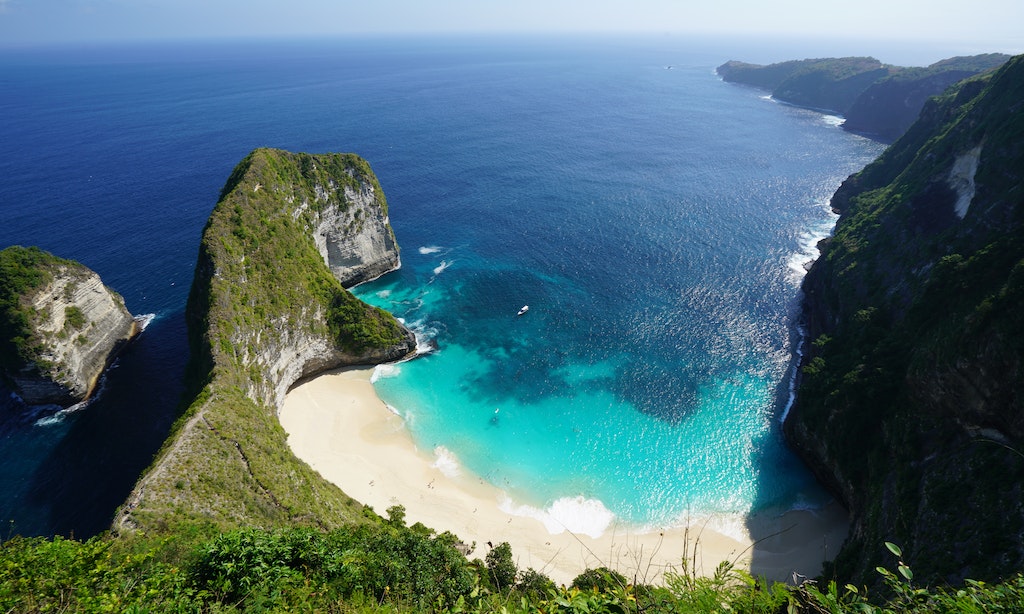 Tucked away in the scenic Nicoya Peninsula, Tortuga Island beckons as an idyllic getaway only accessible by boat. This hidden gem boasts a mesmerizing white sand beach that meets clear turquoise waters, creating a postcard-perfect setting for visitors. Snorkeling enthusiasts will be delighted by the excellent underwater visibility and diverse marine life.
The popular option to experience this tropical haven is to embark on the Tortuga Island one-day cruise, which takes you on a scenic journey through the Gulf of Nicoya. Spend five blissful hours on the island's beach, relishing in its beauty, before cruising back under a captivating sunset. This day trip from San Jose and Jaco promises unforgettable memories and an authentic taste of Costa Rica's best beaches.
20. Playa Biesanz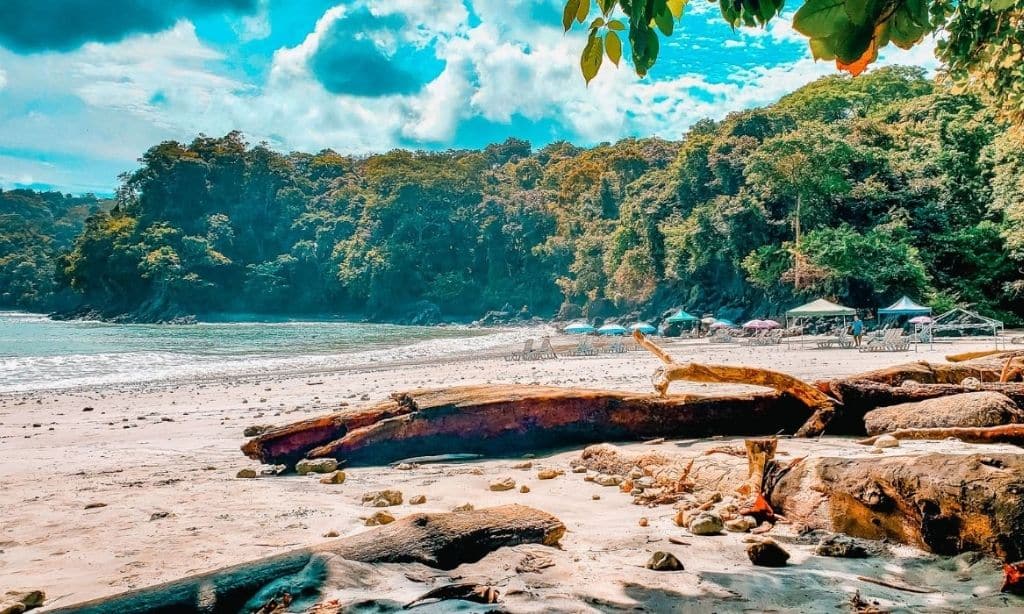 Nestled after a trail that begins near Parador Resort & Spa and winds through lush jungle, Playa Biesanz in Manuel Antonio presents as a beach that requires a bit of effort to reach. The dense vegetation, hilly terrain, and pebbly ground demand sure-footedness and determination, but the reward is well worth it.
Upon arrival, you'll be greeted by a tranquil and seemingly "secret" beach, where the morning sun illuminates the surroundings and afternoon shade invites blissful naps. Playa Biesanz's secluded nature and the sense of adventure it entails only add to the sweetness of the experience, making it a true hidden gem awaiting discovery in the enchanting realm of Manuel Antonio's jungle.
You May Find Interest: Exploring the Underwater Wonders of Bali
5 Best Beaches for Swimming in Costa Rica
Costa Rica boasts an array of stunning beaches that offer ideal conditions for swimming, making it a haven for water enthusiasts. Here are some of the best swimming beaches in the country:
1. Playa Punta Uva
Situated on the Caribbean coast, Playa Punta Uva is a popular choice for those seeking a good beach for swimming. Its calm waters, beautiful white sand, and thriving coral reef provide a perfect setting for snorkeling and spotting marine life. Families with children often favor this beach due to its gentle waves and serene atmosphere.
2. Playa Hermosa (Guanacaste)
Playa Hermosa is located in Guanacaste and mesmerizes visitors with its calm waters, peaceful ambiance, and soft black sand. Though it lacks bars and nightclubs, it compensates with its serene atmosphere and breathtaking scenery. If you're looking for one of the best swimming beaches in Costa Rica, this one must be a great option. For those seeking a vibrant nightlife, nearby Playas del Coco offers a lively atmosphere after a relaxing day at Playa Hermosa.
3. Playa Samara
Nestled along the southern Pacific Ocean coast in the Nicoya Peninsula, Playa Samara is renowned for its safe swimming conditions. Surrounded by lush hills and teeming with exotic plants and animals, this beach offers a picturesque backdrop. The nearby town of Samara provides convenient amenities, including restaurants and shops, adding to its appeal.
4. Pavones Beach, Golfito
Renowned among surfers, Pavones Beach in Golfito is a paradise for wave enthusiasts. Its legendary left-hand surf break attracts experienced surfers from around the world. Besides its impressive waves, Pavones Beach captivates visitors with its untouched beauty and tranquil surroundings, making it a must-visit for beach lovers.
5. Manuel Antonio Beach
Located within Manuel Antonio National Park, Manuel Antonio Beach offers a unique swimming experience amidst its protected natural surroundings. Accessible via a scenic hike, this secluded beach allows relaxing, swimming, and snorkeling in pristine waters. Wildlife enthusiasts will delight in the chance to spot monkeys, sloths, and various birds in the park.
5 Best Beaches in Costa Rica for Families
Unwind and embrace tranquility at the blissful beaches of the Nicoya Peninsula, where relaxation takes center stage. Discover these idyllic coastal retreats, perfect for families seeking a rejuvenating getaway:
1. Santa Teresa Beach
Nestled on the Nicoya Peninsula, Santa Teresa Beach embodies the essence of relaxation. Sink your toes into the soft sand, bask in the gentle ocean breeze, and let the rhythmic waves soothe your soul. This laid-back haven offers a serene ambiance that caters to relaxation seekers and adventurous spirits.
2. Samara Beach
Embrace the family-friendly atmosphere of Samara Beach, a gem on the Nicoya Peninsula. Immerse yourself in its tranquil waters, perfect for swimming, and let your little ones frolic in the gentle surf. The expansive shoreline invites long walks, sandcastle building, and leisurely picnics, creating cherished moments for the whole family.
3. Playa Carrillo
Escape to Playa Carrillo, a pristine beach renowned for its tranquil and family-friendly atmosphere. Encircled by lush greenery, this crescent-shaped beach offers calm waters ideal for swimming and splashing around with loved ones. Unwind on its soft golden sands and immerse yourself in the laid-back vibes of this hidden coastal gem.
4. San Juanillo Beach
Find solace at San Juanillo Beach, a hidden gem that embodies peace and serenity. With its pristine white sand and inviting turquoise waters, this secluded haven offers a relaxing sanctuary. Take leisurely strolls along the shoreline, indulge in sunbathing, and embrace the captivating beauty of the surrounding nature.
5. Manzanillo Beach
Venture to the Southern Caribbean Coast and discover the unspoiled beauty of Manzanillo Beach. Known for its powdery white sand and dazzling turquoise waters, this coastal paradise provides a serene retreat for families. Let the kids splash in the calm, clear waters, explore the vibrant coral reefs or bask in the sun while relishing the tranquility.
Read Also: 25 Most Beautiful Beaches in Europe
5 Best Beaches in Costa Rica for Surfing
Costa Rica is a surfer's paradise, offering many beaches catering to all skill levels. Whether you're a beginner seeking gentle waves or an experienced surfer craving a thrilling challenge, these top surf spots won't disappoint:
1. Tamarindo Beach, Guanacaste
Tamarindo is a haven for beginners, offering ideal conditions for learning to ride the waves. The vibrant town of Tamarindo adds to the allure with its lively atmosphere and abundant amenities.
2. Dominical Beach, South Pacific
Renowned worldwide for its exceptional surf, Dominical Beach attracts surfers from far and wide. Its powerful waves and consistent breaks make it a thrilling destination for experienced riders seeking an adrenaline rush.
3. Pavones Beach, Golfito
Located in the Golfito region, Pavones Beach is renowned for its long left-hand point break. It offers one of the longest waves in the world, attracting advanced surfers looking for an epic ride and the opportunity to conquer its legendary breaks.
4. Santa Teresa Beach, Nicoya Peninsula
Tucked away on the secluded Nicoya Peninsula, Santa Teresa Beach is a hidden gem surf enthusiasts cherish. With its pristine coastline and excellent surf breaks, this beach offers an idyllic setting for those seeking solitude and incredible waves.
5. Playa Hermosa, Guanacaste
Situated near Jaco, Playa Hermosa lives up to its name with its beautiful scenery and impressive surf. It's a favorite spot for experienced surfers, thanks to its powerful waves and challenging conditions that push their skills to the limit.
Best Beaches in Costa Rica for Snorkeling
Costa Rica boasts a range of stunning beaches perfect for snorkeling enthusiasts. While organized diving and snorkeling tours are readily available, you can also embark on a self-guided snorkeling adventure at any of these picturesque coastal destinations:
1. Conchal Beach, Guanacaste
With its vibrant coral reefs, Conchal Beach is a snorkeler's paradise. Dive into the crystal-clear waters and immerse yourself in the colorful marine ecosystem, where you'll encounter a diverse array of tropical fish and fascinating underwater landscapes.
2. Playa Ventanas, Osa Peninsula
Discover the enchanting underwater world of Playa Ventanas. Known for its unique sea caves, this beach offers a captivating snorkeling experience. Venture through the caverns and witness the mesmerizing interplay of light and water as you encounter a variety of marine species.
3. Nacascolo Beach, Papagayo Peninsula
Seek tranquility and excellent snorkeling conditions at Nacascolo Beach. Its calm and protected waters provide an ideal environment for both swimming and snorkeling. Delight in the underwater wonders as you explore the vibrant marine life beneath the surface.
4. Punta Uva Beach, Southern Caribbean Coast
Nestled within the Gandoca-Manzanillo Wildlife Refuge, Punta Uva Beach offers an extraordinary snorkeling experience. Dive into the turquoise waters and witness the region's rich biodiversity, both in and out of the water. Get up close to exotic wildlife and marvel at the vibrant coral reefs.
5. Manuel Antonio Beach, Manuel Antonio National Park
Adjacent to the renowned Manuel Antonio National Park, Manuel Antonio Beach is a haven for snorkelers. Explore the coastal rainforest's interconnected hiking trails, leading to other secluded beaches within the park. Dive into the coral seascape and encounter abundant marine life, including playful monkeys.
5 Best Beaches in Costa Rica on the Caribbean Side
Costa Rica's Caribbean coast is renowned for its stunning beaches, vibrant turquoise waters, and thriving coral reefs. Whether you're seeking a tranquil getaway or an adventurous snorkeling and diving experience, the Caribbean side of Costa Rica offers something for everyone. Here are some of the best beaches on the country's Caribbean coast:
1. Cahuita
Playa Blanca & Playa Vargas – Cahuita National Park is home to two of the finest Caribbean beaches in Costa Rica. Playa Blanca stretches south from Kelly Creek Entrance Station to the peninsula's tip, offering pristine white sand and a surrounding coral reef perfect for snorkeling. Playa Vargas, located on the other side of the peninsula, boasts similar beauty with fewer crowds. Take a leisurely stroll through the adjacent rainforest and watch for monkeys and sloths.
2. Puerto Viejo
Located near Cahuita, Puerto Viejo is a lively town known for its relaxed atmosphere, Rasta-infused nightlife, and captivating Caribbean beaches. The downtown area is surrounded by beautiful beaches where you can soak up the sun and enjoy the vibrant turquoise waters. Don't miss the opportunity to savor the local cuisine, including dishes like Beans and Rice cooked in fresh coconut milk, Patty (a spicy meat pastry), and Rondón (a savory seafood stew).
3. Punta Uva
South of Puerto Viejo, Punta Uva is a breathtaking destination renowned for its two spectacular beaches separated by a lush promontory. With golden sand, crystal-clear waters, and thriving coral reefs, Punta Uva offers a picturesque setting for beach lovers. Keep an eye out for the magnificent great green macaws reintroduced to the area as part of a conservation program.
4. Playa Cocles
Just east of Puerto Viejo, Playa Cocles is a famous beach frequented by backpackers, surfers, and those looking to unwind. This crescent-shaped beach offers ample space to relax and enjoy the sun. Towards the western end of Playa Cocles, you'll find Pirripli Key, a small island associated with a local legend of buried pirate treasure.
5. Playa Chiquita
Playa Chiquita is a hidden gem for those seeking a more secluded and less crowded beach experience. This relatively small beach features exposed coral reefs formed during a powerful earthquake in 1991. You can lounge in the protected tide pools created by these reefs and enjoy the tranquil surroundings.
Read More: 5 Fun Activities for an Unforgettable Beach Day
5 Best Beaches in Costa Rica with white sand
Costa Rica has numerous stunning white sand beaches, each offering unique charm and natural beauty. Here are some of the best white sand beaches in Costa Rica:
1. Gulf of Papagayo, Guanacaste
The Gulf of Papagayo boasts several white sand beaches, including Playa Bonita, Playa Jicaro, Playa Penca, Playa Blanca, and Virador. These beaches offer calm waters, excellent snorkeling opportunities, and a tranquil atmosphere. While some beaches require boat access, others can be reached by land, making them accessible to all visitors.
2. Playa San Juanillo
Located on the way to Ostional, Playa San Juanillo is a local favorite. This unique beach is formed by two beaches merging together, creating a visually stunning coastline. While it requires a 4×4 vehicle to access, the journey is worth it for the pristine white sands and breathtaking views.
3. Playa Cabuyal, Gulf of Papagayo
Playa Cabuyal is a lesser-known white sand beach in the Gulf of Papagayo. Its calm waves and picturesque setting provide a perfect spot for a peaceful getaway. It is advisable to have a high-clearance vehicle to reach this remote beach.
4. Playa Conchal, Guanacaste
Playa Conchal is renowned for its beauty and unique features—the shore is composed of small white shell fragments, giving it an extraordinary appearance. This beach is ideal for snorkeling; you can rent beach chairs and umbrellas to relax and enjoy the scenery.
5. Playa Flamingo, Guanacaste
Just a short drive from Playa Conchal, Playa Flamingo is another magnificent white sand beach. It is famous for fishing, scuba diving, and its marina. During certain times of the year, the sand takes on a light pink hue, lending a magical touch to the beach.
Bonus: 12 Fun Activities you can Enjoy at the Beach
So before I finish this article, I am adding a bonus part for you. Don't forget to read it. 
Host a Picnic: Gather your family and friends for a cheerful beach picnic. Play games, enjoy meals together, and capture memorable moments.
Try Watersports:

Take advantage of the sea and try exciting water sports such as parasailing, scuba diving, snorkeling, water surfing, kayaking, and swimming.

Indulge in Seafood:

After water adventures, satisfy your hunger by trying delicious seafood from food stalls near the beach.

Look for Dolphins

: Some beaches offer the opportunity to spot dolphins in their natural habitat. You can also participate in dolphin swimming activities arranged by organizations.

Take a Sunbath:

Relax and rejuvenate by basking in the sun's warmth. Lie down on the sandy beach, wear sunglasses, and enjoy the soothing beach atmosphere.

Watch Sunrise and Sunset:

Experience the mesmerizing beauty of a beach sunrise and sunset. Witness the sun's radiant colors as it rises or sets on the horizon, and capture stunning photographs to cherish the moment.

Play Outdoor Games:

Utilize the vast beach space to play outdoor games like frisbee, volleyball, badminton, freeze tag, or hopscotch. It's a refreshing experience for both kids and adults.

Make Sandcastles:

Unleash your creativity by building sandcastles. Start with smaller ones and gradually create bigger and more intricate designs. Encourage kids to join in and boost their creativity and imagination.

Beach Photography:

Take advantage of the picturesque beach surroundings and capture beautiful photographs. Experiment with different angles and subjects to create lovely memories.

Relax and Unwind:

Enjoy the peaceful ambiance of the beach. Read a book, listen to music, or take a leisurely stroll along the shoreline. Let the calming sounds of the waves soothe your mind and body.

Beach Bonfire:

If permitted and safe, organize a beach bonfire with your friends and family. Roast marshmallows, share stories, and enjoy the warmth of the fire as you gaze at the starry night sky.

Beach Yoga or Meditation:

Find tranquility by practicing yoga or meditation on the beach. The serene environment and the sound of the waves create a perfect setting for relaxation and inner peace.
Wrapping Up
Costa Rica is a tropical paradise brimming with exquisite beaches catering to all types of travelers. From the adventure-packed shores of Tamarindo to the secluded tranquility of Nacascolo, this diverse country offers a beach experience for every preference.
And we've mentioned all the 50 best beaches in Costa Rica. Hopefully, after reading this article, you'll get a complete suggestion.
Subscribe to Our Latest Newsletter
To Read Our Exclusive Content, Sign up Now.
$5/Monthly, $50/Yearly