Apple TV October 2023 Schedule: The Must-Watch Shows and Movies!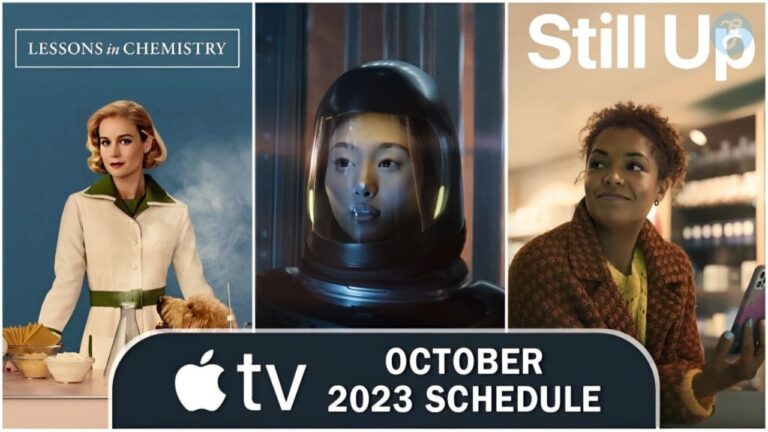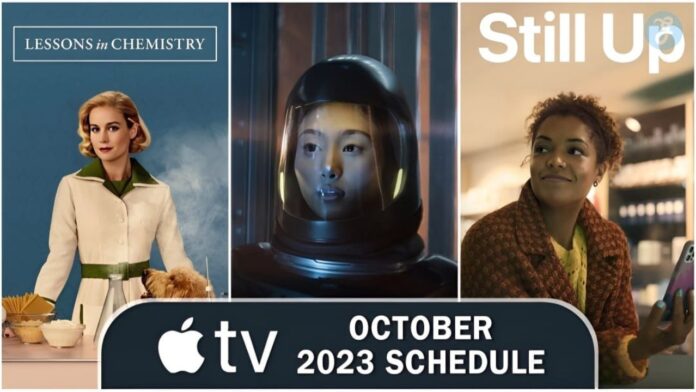 Welcome to your go-to guide for staying updated with the latest news and releases of Apple TV's October 2023 schedule. Are you wondering when your favorite movie or series will be released? Or what new content is coming soon?
This comprehensive guide provides an overview of everything related to Apple TV+'s October lineup in 2023 – from trailers to debuts, the newest available features, and all relevant updates! Keep reading to stay ahead of the curve on this dynamic platform, and watch your favorite shows stress-free.
Get ready; this blog post is packed full of must-know information about upcoming timeslots, channel openings, and more!
Content Highlights
Apple TV+ will premiere five new shows in October 2023, including, The Super Models, Still Up, and Lessons in Chemistry.
Apple TV+ October 2023 Lineup: Five new series, including "Fingernails" and "The Buccaneers."
In addition to these releases, Apple TV+ is developing several other noteworthy projects like Monarch; Legacy of Monsters, an untitled documentary on Lionel Messi, and La Maison television series, among others.
Apple TV October 2023 Schedule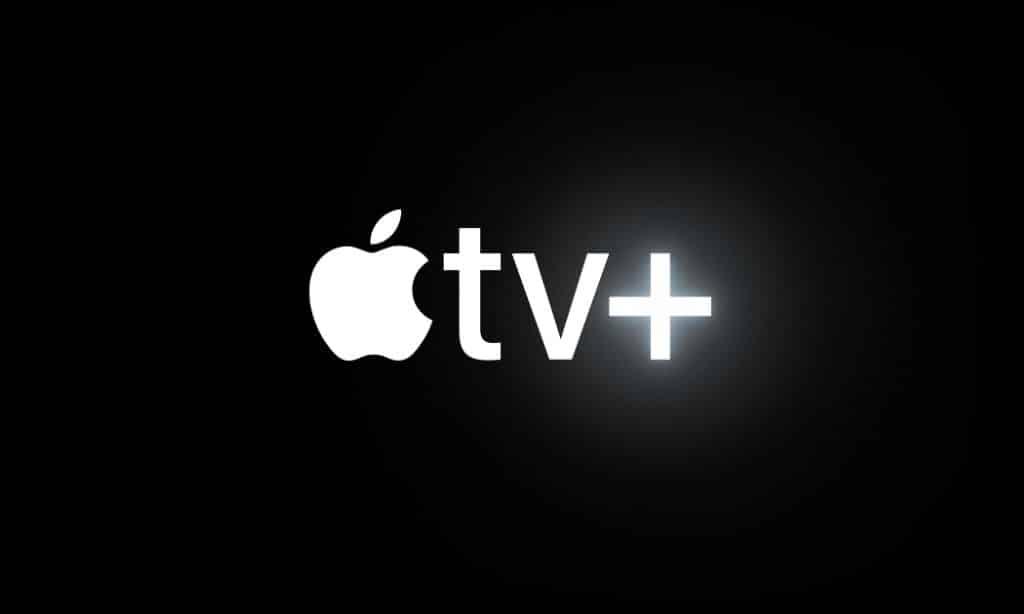 Apple TV+ will premiere five new shows, including the second season of Invasion, The Super Models, and Still Up.
Killers of the Flower Moon
Will this upcoming film be included in Apple TV+'s lineup scheduled for October 20, 2023? Directed by the legendary filmmaker Martin Scorsese, this marks his first venture into the Western genre and is based on a true story revolving around Osage Indian Murders in the 1920s.
Academy Award-winning actor Leonardo DiCaprio will portray Ernest Burkhart, while Lily Gladstone has been cast to play Mollie Kyle in this movie which promises to offer compelling characters and a dramatic storyline.
Unlike previous Western films that ventured into different historical periods, "Killers of the Flower Moon" draws closer to its source material, promising a more immersive experience for viewers when it premieres on October 20th, 2023.
Read More: Hulu September 2023 Schedule
The Pigeon Tunnel
Apple TV+ is adding an extraordinary new documentary to its October 2023 lineup: "The Pigeon Tunnel." Directed by Errol Morris, the Academy Award-winning director behind films like The Fog of War, this elaborate look into the storied career of spy novelist John le Carré has cost over $10 million to make.
Viewers can expect a unique perspective on le Carré's life and work, along with an unprecedented look at his process and creative motivations courtesy of Apple Original Films distributing rights.
Prepare yourself for the upcoming release of 'The Pigeon Tunnel' on October 20th, 2023.
The Enfield Poltergeist
A four-part documentary series recounting the captivating story of the most famous poltergeist in history. The documentary series is going to be released on October 27, 2023. It combines over 250 hours of audio footage, a meticulous (and unsettling) reenactment of the events, and interviews with those impacted by the case. This series is an ambitious, genre-defying narrative that explores humanity's fascination with the unexplained and its profound impact on those who encounter it.
Still Up
An eagerly awaited original comedy series is scheduled to debut on Apple TV+ in October 2023. Starring Antonia Thomas ("Misfits," "The Good Doctor"), the show follows the everyday escapades of a group of friends whose night-time pleasure-seeking has consequences during their respective daytime hours.
The fourth set is scheduled to debut on September 29, with the finale slated for October 27, making Still Up part of Apple TV+'s expanding slate of new and returning original shows premiering globally through spring 2023.
Audiences can look forward to laughter-induced drama as this unique group navigates relationships and work opportunities and discovers themselves for better or worse in an ever-changing world.
The Morning Show: Season 3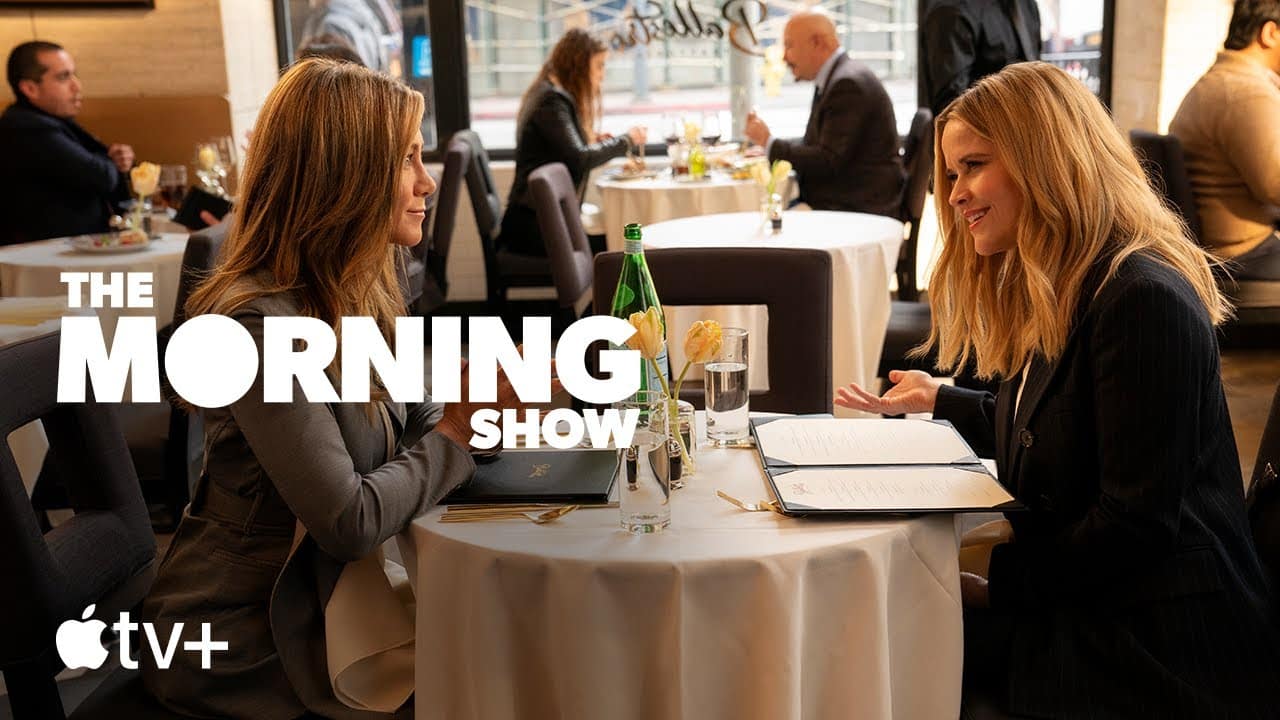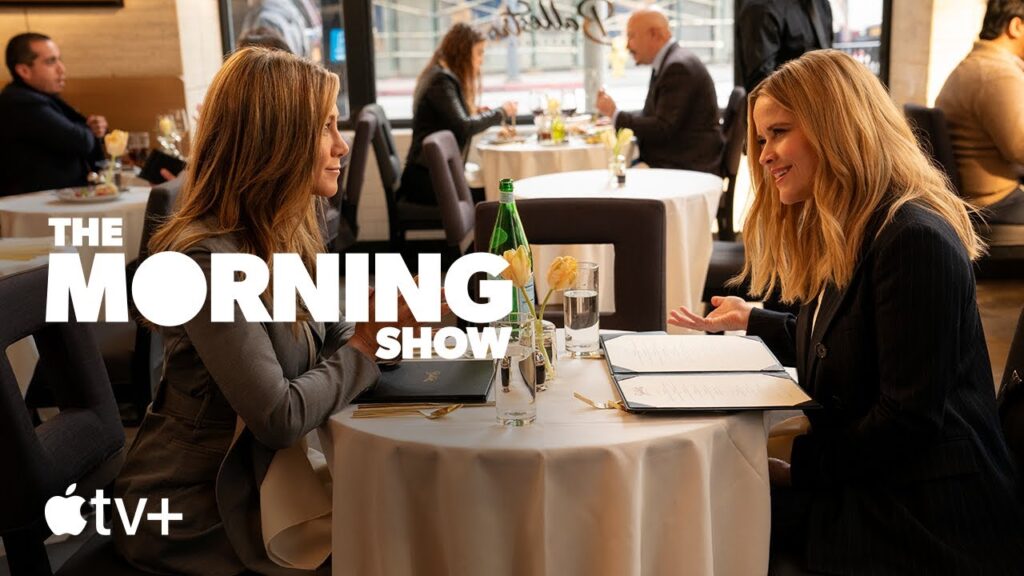 Highly anticipated by fans of the series and Apple TV+ viewers alike, Season 3 of "The Morning Show" premieres in October 2023. Starring Jennifer Aniston and Reese Witherspoon, also serving as executive producers on the show, this Emmy Award-winning drama series is one of Apple's earliest flagship shows.
After a two-year hiatus – partially due to COVID-related production delays – much excitement surrounds its return, with adjustments made for safety protocols during filming. While some remain anxious to discover what happened between Bradley Jackson (Aniston) and Alex Levy (Witherspoon), others anticipate an emotional story that speaks deeply to relationships across all generations or professions when faced with challenges, both personal and professional.
Read More: Apple TV September 2023 Schedule: From New Shows to Returning Favorites
Lessons in Chemistry
This is an upcoming limited drama series on Apple TV+ premiering in October 2023. Starring Brie Larson, who is also executive producing the show, it already has viewers buzzing with excitement.
Alongside Larson are additional cast members, Lewis Pullman and Aja Naomi King. The two-episode debut of "Lessons in Chemistry" will drop on October 13th, followed by new episodes released weekly until November 24th.
With star power behind its production and a noteworthy cast accompanying it, "Lessons in Chemistry" promises to be one of the most anticipated shows this fall season on Apple TV+.
Apple TV+ Shows Coming Soon And Previous TV Shows
Get ready for an exciting month ahead; Apple TV+ airs five thrilling new series in October 2023, including  "Fingernails" and "The Buccaneers." 
The Super Models
This groundbreaking documentary series is set to have its global premiere on Apple TV+ on October 20, 2023. It has quickly become one of the most anticipated shows in part of the fall TV lineup.
The Super Models follows five skaters, their lives, and their emotional journey as they hone their craft and try to leave an indelible mark in professional skateboarding at all different ages.
Each episode captures them striving towards success against external obstacles — ageism within skate culture and larger societal concerns like sexism and racism. This remarkable show looks to make history not just for these individuals but also for future generations looking up to today's successful female pros in the skate world.
The Buccaneers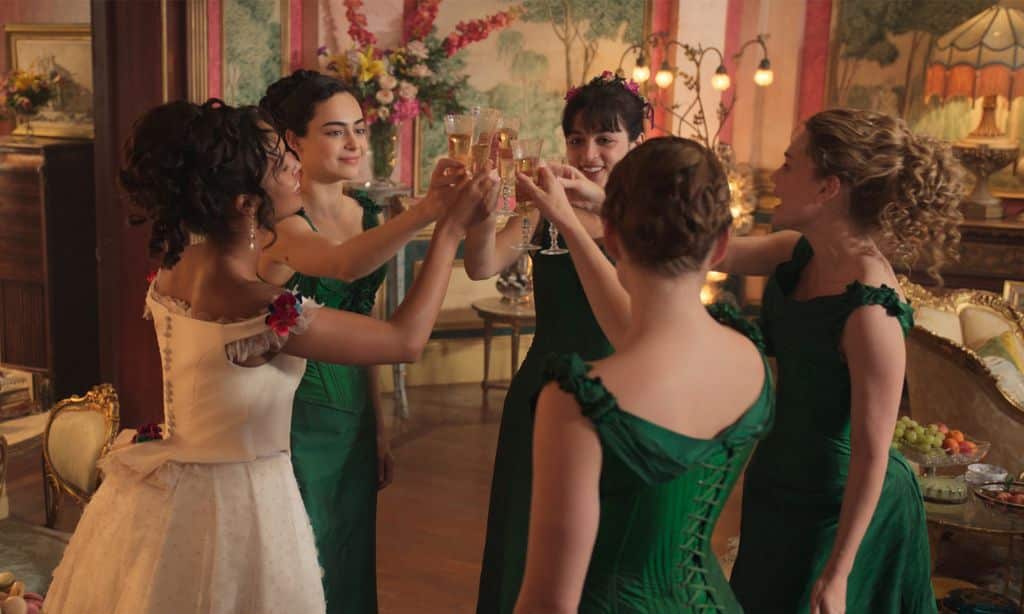 The Buccaneers is an upcoming series on Apple TV+ based on Edith Wharton's unfinished novel of the same name. Written by Katherine Jakeways, this British period drama will consist of eight episodes set to release on October 18, 2023.
Telling the story of a group of young and ambitious American women in search of old money and societal acceptance in England during the late 19th century, The Buccaneers looks to be an extravagant tale highlighting gentile society as well as ideas about class structure and social construction.
With three episodes premiering upon launch day and a spectacular cast headed up by Francesca Annis (notable for her roles in Dune and Jane Eyre) and line producer Alison Owen (who previously worked with FOX Searchlight's Little Women), it's no surprise that many critics are eagerly anticipating this series premiere.
Additional Apple TV+ Shows in Development
Apple TV+ is developing a slate of exciting projects such as "Monarch: Legacy of Monsters," an untitled documentary on Lionel Messi, the drama series "La Maison," the psychological thriller "Carême" and the comedy-drama series "The Savant."
Monarch: Legacy of Monsters
Monarch is an upcoming Apple TV+ series set in a city destroyed by the destructive events caused by legendary creatures like Godzilla and the Titans. This highly anticipated sci-fi drama follows the aftermath of these destructive events, exploring the consequences that survivors must face and the challenges they must overcome.
Part of Apple TV+'s lineup related to the Monsterverse, "Monarch: Legacy of Monsters," premieres on Friday, November 17th,2023 – viewers can look forward to watching this thrilling yet potentially devastating story unfold before their eyes.
Untitled Lionel Messi documentary
Apple TV+ is giving soccer fans an exclusive look into the life of Lionel Messi with their upcoming documentary series. This untitled project will provide behind-the-scenes footage of one of the world's greatest athletes.
The six-part documentary series will explore Messi's career from his childhood in Argentina to becoming a worldwide phenomenon – as well as his journey with Inter Miami, his new team in MLS.
Fans can also expect an interesting look at how he juggles playing time for Barcelona while managing his personal life and commitments outside sports. With unprecedented access and authentic stories, this gripping documentary will surely be a fan favorite when it reaches our screens later this year!
La Maison
Apple TV+ has announced the addition of the new high fashion series, La Maison. French for "The House," this groundbreaking show follows a newly formed couture house as they make their mark on the world of luxury ready-to-wear in Paris.
Divided into eight episodes, viewers will follow characters from around the globe who have come to the city to pursue their dreams and compete in demanding challenges, all against jaw-dropping backdrops.
Alongside these up-and-coming stars is an impressive cast that includes actresses Eva Longoria and Sofia Boutella alongside executive producer Gael Garcia Bernal. With its unique storyline and stellar cast making waves across both international scenes, La Maison should not be missed when it premieres this October 2023 on Apple TV+.
Carême
This upcoming Apple TV+ original series explores the world's first celebrity chef, Antonin Carême. His legacy as a French culinarian left an indelible mark on the culinary culture of France and abroad.
Set to premiere globally this October 13, 2023, "Carême" will bring viewers deep into his life story in Paris at the turn of the 19th century, revealing his inventive cuisine that has come to define some of our timeless traditions in cooking.
Being part of Apple TV+'s lineup of premium originals, this series captures France's history and encourages audiences worldwide to appreciate their roots by sinking deeper into local delicacies while reconnecting with cultural heritage.
Read Also: Disney Plus New Shows in September 2023
The Savant
Apple TV+ is teaming up with Academy Award-winning actor Jessica Chastain for the upcoming drama series "The Savant." This premium show will be part of Apple's vast slate of both new and returning shows in 2023, although there has not yet been a specified release date.
However, it is expected to join their lineup soon as an exclusive available only on an Apple TV+ subscription. The story follows a tech-savvy genius who operates within the modern intelligence environment while encountering dangerous missions that challenge her ethics and force her to make difficult decisions about how far she is willing to go for truth and justice.
With acclaimed talent behind this project, fans can look forward to true emotional intensity powered by superior production value in what could be one of the best offerings from Apple TV+ yet!
Notable Features and Updates on Apple TV+
Apple TV+ enables users to access features such as Apple Wallet integration, press contacts, and assets for a seamless experience.
Apple TV 4K (2022, 3rd Gen.) 128GB WiFi + Ethernet
Apple TV 4K is the top-of-the-line streaming device from Apple. With 128GB of storage, this model provides ample space to store all your favorite content and lets you access it wirelessly, thanks to Wi-Fi or Ethernet connection possibilities.
Powered by the A15 Bionic chip, users can enjoy lightning-fast performance for unbeatable gaming experiences as well as enhanced visuals for incredible picture quality. Additionally, HDR10+ and Dolby Vision support further enhance one's viewing experience with true colors and lifelike textures.
The Siri remote also comes with a USB port so you can easily charge it when necessary, adding even more convenience to this powerful device. Buyers have several options when considering purchasing an Apple TV 4K (2022, 3rd Gen.), including online and offline methods such as through Apple's official website or Amazon – whichever they prefer!
Apple Wallet Integration
Apple TV+ now offers the added convenience of Apple Wallet integration. This feature allows users to store their payment and subscription information within their digital wallet, ensuring easy access to content on demand.
With Apple Wallet integration, users can pay for movies or series episodes with the tap of a button, eliminating the need to enter payment details every time they purchase something from Apple TV+.
Additionally, customers who have subscribed to an annual plan for Apple TV+ will find it easier than ever before to manage and renew their payments with this smart new feature. Furthermore, this useful integration also means that parents can easily control what shows and movies their family members are watching by setting up parental controls in Apple Wallet too!
Press contacts and Assets
Apple TV+ provides access to a wide range of helpful resources for journalists and media outlets, including press contacts and assets. Such materials include trailers, key art, images, press materials about shows and movies, as well as information regarding the cast and crew associated with these projects.
All of these can be located on the official Press page through the Apple TV+ website. Additionally, notable news updates can also be found on their official Newsroom webpage providing details about upcoming series or film premieres, trailers or teasers released for certain titles, productions that have recently wrapped filming, etc. These resources are essential in helping media outlets get an understanding of what is coming up next from Apple TV+ so they can provide thorough reviews to readership/audiences prior to episodes being available for streaming.
Support and Helpful Topics
Apple TV+ offers customer support for all their users. For troubleshooting and technical queries, one can visit the Apple Support Website to find answers in the form of helpful guides and articles.
The website also has a dedicated forum where customers can seek advice from experts or other members of the community regarding any issues they may be facing with their Apple devices and software updates.
Additionally, users may connect directly with an official Apple representative over social media such as Twitter or Facebook if needed. Another useful resource is a press contact list for journalists who need more information about upcoming shows on Apple TV+.
Apple TV+ Press Releases
Apple TV+ uses press releases to showcase upcoming shows, make announcements about new and returning series, as well as provide updates on filming and production of original content.
Press contacts can easily follow the happenings of Apple TV+ through these comprehensive press releases that often include additional assets such as trailers or teasers, helpful topics, and resources for customers utilizing Apple TV+, support lines, release dates for series or films, photos, and recaps of recent noteworthy works from the streaming service among many other pieces of important information.
Issuing press releases featuring all this noteworthy news regarding their content library and schedule skirts away any worry of falling out-of-date with audience engagement for potential viewers coming across a show they may find interesting.
Recap of Recent Noteworthy Apple TV+ Series and Films
Apple TV+ offers a variety of series and films, including CURSES! from DreamWorks Animation, the Search for WondLa, Damien Chazelle's drama series, Brie Larson's CIA biography series, and Losing Earth.
CURSES! From DreamWorks Animation
CURSES is an all-new spooky adventure series from DreamWorks Animation that follows a family's quest to lift a generations-long curse by returning stolen artifacts. This CG-animated, spooky adventure-comedy series aims to captivate kids as they embark on this exciting journey of twists and turns through the mysterious world of cursed artifacts.
Premiering globally on October 27 exclusively on Apple TV+, the show is part of Apple TV+'s fall kids slate and promises thrilling entertainment with features such as CG animation (Computer Generated Imagery), a beautiful soundtrack, and fast pacing to keep viewers enthralled and wanting more! Get ready for this magical adventure – CURSES! from Dream Works Animation premieres soon only on Apple TV+.
The Search for WondLa
This animated TV series premiered on Apple TV+ in October 2023 and was produced by Skydance Animation. Based on Tony DiTerlizzi's book series, this adventurous coming-of-age fantasy follows 16-year-old Eva Nine as she embarks on a journey with her robot caretaker and a blue alien.
Directed by Steve Ahn of The Legend of Korra fame, the two-season show takes the audience through numerous thrilling encounters, including exploration of vast landscapes, fights against giant seven-eyed creatures, capturing magical powers from otherworldly objects, and more.
The Search for WondLa offers an inspiring look into self-discovery, which viewers are sure to enjoy during its Apple TV+ debut next month!
Damien Chazelle Drama Series
Apple TV+ is set to air the highly-anticipated straight-to-series drama from Oscar-winning writer and director Damien Chazelle. This marks Chazelle's first entry into television, yet his acclaimed legacy boasts a strong resume of renowned films like La La Land, Whiplash, and First Man – making his venture onto Apple TV+ an exciting development for audiences.
As the sole creator of this series, he will act as both writer and director for all episodes meaning that viewers can expect exceptional content with elements of his signature style across all aspects.
Despite having no title or release date announced yet, this move is expected to take the streaming service by storm when it eventually debuts on Apple TV+. The project has also been backed by well-known production companies such as A24, who have previously produced fan favorites such as Moonlight and Hereditary, which earned critical acclaim globally.
Brie Larson CIA biography series
Brie Larson is set to star in the highly-anticipated Apple TV+ original series Lessons in Chemistry. Elisabeth Fies will direct and executive produces this limited drama series, with Larson taking on both the role of star as well as executive producer.
The true story behind this series follows a real-life female scientist from the CIA in early 1960s America whose discoveries revolutionized chemistry and other sciences. Audiences can now stream this captivating story of triumph over adversity on Apple TV+.
Starring an Academy Award-winning actress and based on a very personal real-life experience, viewers are sure to be drawn into every carefully crafted scene while they watch one woman's fight to have her voice heard despite significant odds against her success.
Read Also: Apple TV August 2023 Schedule
Losing Earth
Losing Earth is an Apple TV+ project focused on addressing climate change and environmental issues. Originating from a 2019 New York Times Magazine story written by Nathaniel Rich, "Losing Earth" explores the decade where efforts to stop climate change fell short.
The project likely will be turned into a series on Apple TV++ and will explore topics such as conservation, global warming, environmental activism, climate crisis, carbon emissions, renewable energy sustainability, greenhouse gases, climate action, and environmental policy.
Latest News on Apple TV+ Shows and Series

Keep up to date with the latest premieres, trailers, updates, and production news from Apple TV+'s extensive catalog of original shows.
Premiere Dates and Announcements
Apple is providing an exciting lineup of shows and films for October 2023, with many scheduled premieres from both original and acquired content. "Truth Be Told" season three set to debut on January 20, will be available to stream that month as well, along with other titles such as "Shape Island," "Shrinking," "Dear Edward," "Hello Tomorrow!," and "Liaison." Along with the previously announced content, including The Changeling (starring Lakeith Stanfield, Clark Backo & Adina Potter), Apple will also feature news series, including Flora and Son, during this period.
With each new show or movie added to its streaming network, Apple updates its contact list with press releases regarding the latest information surrounding these premieres. As anticipation builds amongst viewers for these upcoming shows & films, the conversation continues around Apple TV+'s matchless lineup of soon-to-debut series featuring noteworthy cast members such as Brie Larson in her CIA biography series or Damien Chazelle's drama up next entitled CURSES!
Updates on Filming and Production
This has been plentiful as Apple TV+ continues its mission to provide its viewers with the most up-to-date content. In October 2023, many of Apple TV+'s projects will be released or are currently in production.
Invasion Season 2 and The Super Models will both premiere on October 8th, while Still Up and the third season of The Morning Show are also slated for release that month. Other widely anticipated titles such as Lessons in Chemistry, Flora & Son, Killers of the Flower Moon, The Pigeon Tunnel, and Fingernails are all due for release at a later date.
Several additional upcoming shows like Monarch: Legacy Of Monsters, Untitled Lionel Messi documentary La Maison, and Carême have also been announced, showcasing some exciting new filmmaking developments from AppleTV+.
Notable Cast and Crew Members
Apple TV+ has assembled an impressive collection of award-winning artists and creatives to bring you the best content. From Academy Award winners like Brie Larson starring in "Lessons in Chemistry" and Josh Schwartz and Stephanie Savage's series "The O.C.," to Jane Goodall in the upcoming family film, "The Search for WondLa," each show or movie is brought to life with a rich cast of characters.
Writers such as David West Read created plays like Fingernails, while "Defending Jacob" was inspired by works from William Landay. Damien Chazelle (known for La La Land) has collaborated with Apple TV+ on his new limited series.
With these notable creators come well-known actors — Robert De Niro starring in Josh Ostrovsky comedy special; Emma Thompson appearing in Anderson Cooper In Conversation Series; Sacha Baron Cohen will be shown alongside Will Ferrell on stories from their uncensored lives; Yara Shahidi and Daveed Diggs in Hulu's Bloodlines; Halle Berry playing Storm/Ororo Munroe collaborations with Disney+.
Trending Apple TV+ Content and Audience Reception
Apple TV+ has proven to be an unexpected success in the streaming wars, with its slate of original content and partnerships delivering outstanding results. The platform has become a hub for fan favorites like "Invasion" as well as critically acclaimed shows such as Brie Larson's CIA biography series.
Movie lovers have been won over by Apple TV+ films like Search for WondLa while the Damien Chazelle drama series proved popular amongst viewers around the world.
Despite launching later than most other streaming services, Apple TV+ has had some impressive breakthroughs due to its unique features, such as using Apple Wallet integration and press contacts & assets, which helps give their shows more visibility.
This is all on top of their ever-expanding list of new shows that feature notable names from Hollywood, including Danny Boyle's Fingernails and Flora & Son from Bob Odenkirk and directed by Leslye Headland.
All these factors combined are certainly aiding in helping make Apple TV+ one of the world's favorite streaming platforms today!
Apple TV+ Partnerships and Collaborations
Apple TV+ has established several noteworthy partnerships and collaborations with content creators and studios to produce its original shows, films, and series. These include DreamWorks Animation (CURSES!), the Damien Chazelle drama series (The Search for WondLa), Brie Larson's CIA biography series Killers of the Flower Moon, as well as upcoming releases such as Flora and Son starring Blake Lively.
Through these partnerships, Apple is able to consistently deliver high-quality content to viewers around the world both through its streaming service and via scheduled television broadcasts.
The schedule for October 2023 includes new releases from these partners, such as Invasions Season 2 starring Jaden Smith alongside an eclectic mix of other exciting titles like The Super Models, helmed by director Joe Wright, Still Up from rapper Lil Wayne, Lessons in Chemistry directed by actress Emma Roberts Exhibitionisto featuring comedic actor Will Ferrell plus many more.
With so much quality entertainment pouring out at a steady pace each month, thanks to all their hard work behind closed doors, it looks set that Apple will remain firmly on top in terms of innovative content delivery until 2024 at least!
Frequently Asked Questions (FAQs)
Now, let's explore some common frequently asked questions about this subject.
1. What can I watch on Apple TV in October 2023?
In October of 2023, you can watch various movies and TV shows available on the Apple TV platform, including original content from Apple TV+.
2. Are there new releases coming up for October 2023?
Yes, there are several upcoming releases that month on AppleTV+, including 'The Morning Show Season 2 and the movie 'Greyhound.'
3. Is parental control available when watching media with Apple TV?
Yes, parents have the option of setting controls such as account restrictions for purchasing items, viewing rating limitations, or choosing what content their kids can access through AppleTV's Parental Control feature.
4. Does Apple issue monthly updates about its streaming schedule?
Yes, Apple regularly issues updates about its streaming schedule each month, along with recommendations for users based on their preferences.
Final Words
In October 2023, Apple TV+ will debut and continue several exciting new series episodes and season premieres. With Invasion: Season 2 premiering globally on October 1st, followed by The Super Models a week later, fan favorites such as The Morning Show returning for its third season and the timely Lessons in Chemistry set to hit screens on the 13th of the month – there is a lot to look forward to from Apple TV+ this fall.
Additionally, Apple's lineup of upcoming shows includes Flora & Son, Killers Of The Flower Moon, and more! Notable features from the latest software update come with improved HDR+, additional Apple Wallet integration, and full contact info with media contacts & assets available directly through their website.
New updates for future events are also accessible via press releases, where you can stay up-to-date with further release news. With so many great offerings at your fingertips on the cutting-edge platform that is Apple TV +, it's definitely worth more than just an occasional glance!