All of Us are Dead Season 2 Release Date, Episodes, Cast, and Updates
Listen to the Podcast:
Since Squid Game blew up the world, All of Us Are Dead has been the most popular Korean drama on Netflix. Fans have wondered for a few months if there would be an All of us are Dead Season 2.
We know there will be a second season thanks to Netflix's Geeked Week. We're also hearing that the zombie horror show has started pre-production.
So far, here's what we know. All of Us Are Dead is a South Korean Netflix Original zombie horror show written by Chun Sung-il and based on the webcomic Now at Our School by Joo Dong-Geun. Lee Jae Gyoo, known for his work on Trap, King2Hearts, and Intimate Strangers, was in charge of the show. Kim Jong-Hak Production and Film Monster was the company that made the show.
When a zombie virus spreads through their school, a small group of students is trapped inside and must fight to stay alive against the crowd of flesh-eaters outside. Get ready to dive into the new season with us as we share our thoughts and theories on what could be in store for the next chapter.
What is All of Us Are Dead About?
The South Korean show is about a zombie apocalypse in the present day. It focuses on the students of Hyosan High School, where the outbreak starts. As the virus spreads through the school, the students must fight to stay alive against an army of vicious zombies who used to be their classmates and teachers.
Mr. Lee, a science teacher, is behind this terrible zombie invasion. He saw his son picked on at school, so he did some crazy science experiments to strengthen him. Unfortunately, what happened instead was that his son turned into a zombie. The school then became the center of the outbreak. However, Mr. Lee may have a way to stop the virus on his school laptop, which was hidden away. Can the students get out of school without getting eaten by zombies? Can the authorities return Mr. Lee's laptop to stop this terrible outbreak?
Read More: Fear the Walking Dead Season 8
Is All of Us Are Dead Season 2 Confirmed?
Certainly! On Twitter on June 6, 2022, Netflix announced that All of Us Are Dead would return for a second season. The streamer also released a video about Season 2 that showed some of the cast. The announcement's description says, "The students of Hyosan High School may have survived their first zombie outbreak, but the nightmare is far from over."
Hypebae has already said that the show's director, Lee Jaekyu, said that "the story was written with a second season in mind." He thought the story should continue, and Netflix is making that happen. The director is said to have said in the past, "It would be great if we could do a second season," and teased that "if that happened, there would be more interesting stories." Lee's second season could be more about "zombie survival," which would make sense. But… let's not talk about that yet. Let's do a quick review.
All of us are Dead Season 2 Quick Info
| | |
| --- | --- |
| Season:  | All of us are Dead |
| No. of Seasons: | 1 |
| No Of Episode: | 12 (season 1) |
| Status: | Season 2 (upcoming) |
| Script Writer:  | Chun Sung-il |
| Director: | Lee Jae-kyoo and Kim Nam-su |
| Genre:  | Action, Drama, Fantasy, Horror, Science Fiction, Thriller |
| Cast: | Park Ji Hoo, Yoon Chan Young, Jo Yi Hyun, Lomon |
| Production:  | Film Monster Co.; Kimjonghak Production Co. |
| Country of Origin: | South Korea |
| Origin Language:  | Korean (Hangul) |
| Available Languages:  | Korean, English |
| Next Season Release Date: | Not Yet Confirmed |
| Available On: | Netflix |
All of Us Are Dead Season 2 Updates as of March 2023
So far, there isn't much new about All of Us Are Dead season 2. The show was getting ready for its second season when we last heard about it. There are rumors that the show is filming its second season.
We probably won't see season 2 of All of Us Are Dead in 2023, especially since it's still unclear if the show has even started filming. Also, the first season had 12 episodes, and almost all of them were about an hour long.
Because of the zombies, this show probably takes longer than shorter Netflix shows. It also has special effects and prosthetics. There's a good chance we won't be able to watch season 2 of All of Us Are Dead until 2024.
Read Also: Paper Girls Season 2 
Possible Spoilers for All of Us Are Dead Season 2
As mentioned in the previous blog section, All of Us Are Dead ends on a major cliffhanger. Fans are eager to find out how the zombie virus will be resolved in season two and what other plot points will be explored. While there are no official spoilers for season two of All of Us Are Dead, it is safe to assume that the characters will continue to be in danger of the zombie virus and fight for survival. 
It is also likely that the show will explore more of Nam-ra's backstory and the implications of her being a halfbies. With so much anticipation building around All of Us Are Dead season two, fans must wait until its release date to discover all of the juicy spoilers that come with it.
All of Us are Dead Season 2 Release Date
All of Us Are Dead was one of Netflix's biggest hits of early 2022, topping the streaming service's charts worldwide. Many fans who watched the whole season in one sitting soon after it came out on Jan. 28 are now wondering when Season 2 will come out.
Small Screen said All of Us Are Dead has been quietly renewed and will be available on Netflix in 2023. The news outlet says a Netflix insider told them that the streaming giant wants "Season 2" to come out in 2023. But let's not put too much stock in this rumor until Netflix confirms that Season 2 is coming.
But let's not forget that production on the show's first season was temporarily stopped in August 2020 because of the COVID-19 pandemic, so let's hope there won't be any delays that could push the release date of a possible Season 2 back.
All of Us Are Dead Season 2 will probably come out sometime in 2023 or 2024; we won't know until Netflix gives us an official date. Photos shared on social media show that filming for the second season of All of Us Are Dead has already begun.
All of Us Are Dead Season 2 Plot
As we said, the second season of All of Us Is Dead is one of the most-watched Korean shows on Netflix. And the main reason that so many people like it is the story. If you haven't seen season one yet, you can get a summary of what happens. It will make you look forward to the next season even more.
The story starts with an attack on Hyosin, the capital city. Because of that, a group of students had to leave school quickly. Here, the main characters have to fight to get to the tents for quarantine. But in the zombie area, they lost some of their friends.
Ultimately, they left the area and made it to the camp. So many clues about season 2 were dropped in the last episode of this show. Even though the story is over, there will be much to look forward to in the next season. Cheong-san can show up as well.
All of Us are Dead Season 2 Full Cast
When you watch a show for the first time, you should look at the list of actors and actresses. The casting was one reason the first season of All of Us Are Dead was so famous.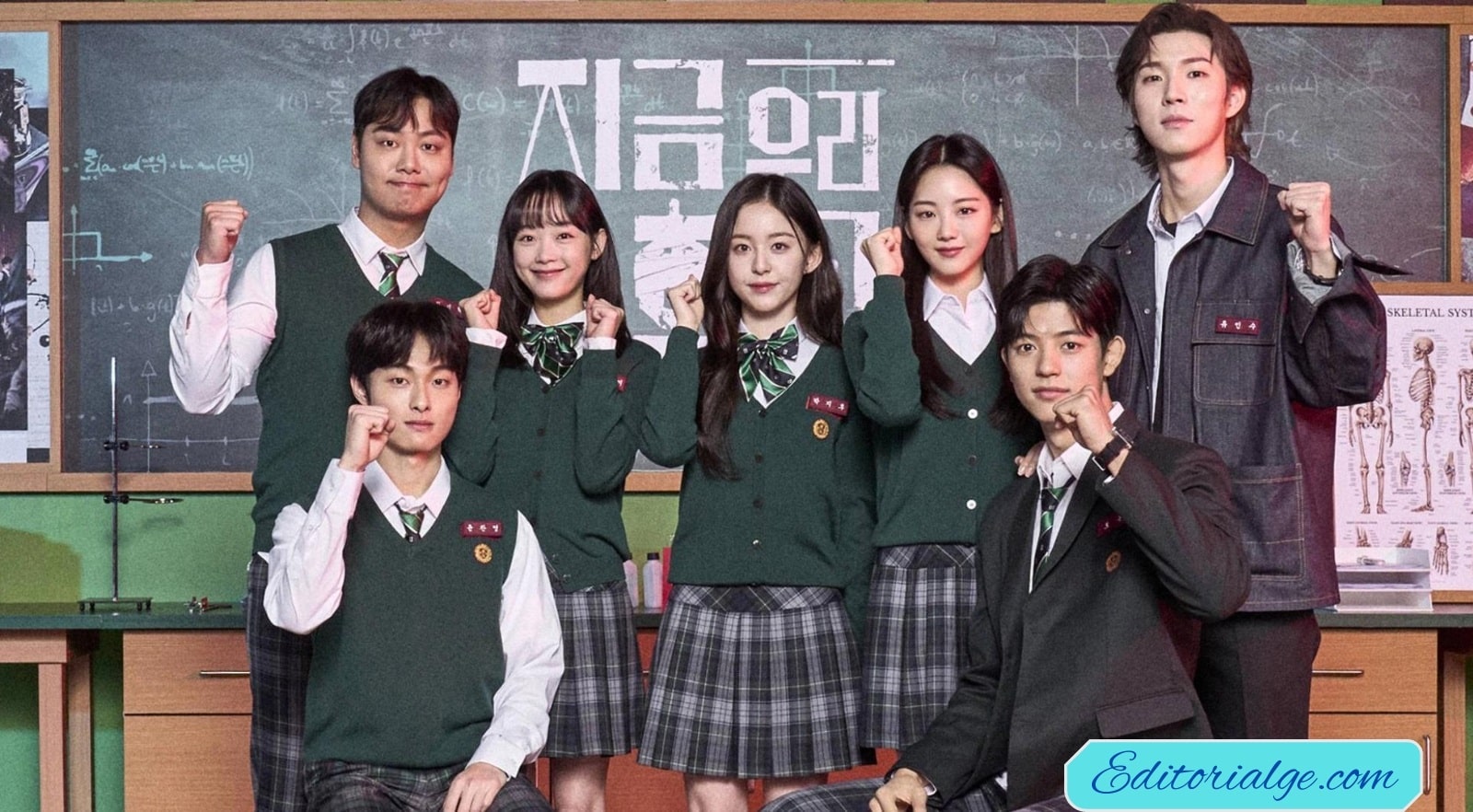 We don't know who will be in season 2 yet. But, according to sources, it will stay the same. In the list below, we'll show you all of season 1's actors and actresses. Let's find out:
Park Ji-hu as Nam On-jo

Cho Yi-Hyun as Choi Nam-Ra

Lomon

as Lee Su-hyeok

Yoon Chan-young as Cheong-san

Kim Byung-Chul as lee Byeong chanLee

Jeon Bae-soo

as Nam soju

Kyu-hyung as Song Jae-ik

Yoo in-soo as Yoon Gwi-nam

Lee Yoo-me as Lee Na-Yeon

Ahn Seung-gyun as oh-Joon-Yeong

Kim Bo-Yoon as Seo-Hyo-ryung

Im Jae-hyuk as Yang Dae-su

Ham Sung-gyun as Han Gyeong-su

Ha Seung-ri as Jang Ha-ri

Lee Eun-saem

as Park Mi-jin

Jin Ho-eun as Jung Min-Jae

Kim Joo-ah as Yoon I-sak

Son Sang – Yeon as Jang Woo-jin

Kim Jin-young

as Kim Ji-min
Themes and Messages in All of Us Are Dead
The themes and messages in All of Us Are Dead are powerful and thought-provoking. The show delves into bullying, cyberbullying, social media, and the backlash against refugees. It also explores the idea of Nam-ra's impossible choice between her human friends and the halfbies. 
Each of these topics is explored meaningfully and raises essential questions about how we view each other as individuals and interact with one another. The show also offers commentary on the COVID-19 pandemic and its societal impact. These themes are explored meaningfully, encouraging viewers to think critically about their beliefs and actions.
Behind-the-Scenes Sneak Peek of All of Us Are Dead Season 2
Fans of All Of Us Are Dead have much to look forward to in Season 2. According to a behind-the-scenes sneak peek, the show's production team has gone all out to ensure the new season is even more action-packed and suspenseful than the previous one. Kim Jong-Hak Production and Film Monster will return as the production company for the series, bringing their expertise and resources to the table. We've also been promised a more extensive cast, stunt work, and special effects to make viewers feel right in the middle of the action. With all this in store for fans, it's no wonder so many people eagerly await the return of All Of Us Are Dead.
Why Fans Are Excited for All of Us Are Dead Season 2?
Fans of All of Us Are Dead eagerly await the second season's release. After the show's massive success, many are excited to see how the story will continue and what new obstacles will be presented. With a stellar cast, intense action, and thought-provoking themes, viewers have been highly anticipating the next installment of this zombie apocalypse series. With its gripping plot and characters, viewers hope for an even more intense and thrilling ride for season two. And with a mid-2023 debut date, fans have something to look forward to in the coming months.
Is There Any News All of Us Are Dead Season 2 Trailer?
All of Us Are Dead Season 2 doesn't have a trailer. This is an Unofficial Trailer. This concept mashup trailer depicts my idea for the Season 2 teaser: All of us are dead. But we will keep adding new information about the upcoming All of Us Are Dead to our website, so be sure to check back often.
If it's out there, you can see it on our page. You can watch the All of Us Are Dead season 2 promo while you wait for the season 2 trailer.
How to Watch All of Us Are Dead
All of Us Are Dead Season 2 is available to watch on Netflix. You can purchase a Netflix gift card to watch the series. You can also access the show through subscription services like Amazon Prime Video and Hulu. With so many options available, you can find a way to stream your favorite zombie horror K-drama. Don't forget to check out the behind-the-scenes sneak peek of All Of Us Are Dead Season 2 and explore the themes and messages in the show before diving into all its zombie-filled glory.
All of Us Are Dead Season 1 Recap 
In the movie All of Us Are Dead, a zombie virus spreads through Hyosan High School and the surrounding area, and a group of students fights to stay alive. The show is based on Now at Our School, a digital comic by Joo Donggeun that came out in 2009 and was first published on Webtoon with the same name as the Korean title of the show.
All of Us Are Dead is full of cultural references and allegories about current events, even though, at first glance, it may look like a typical zombie apocalypse thriller with some coming-of-age elements.
All of Us Are Dead Season 2 Rating & Reviews
Rating
Everyone judges a show by how many stars it has. Most of the time, the ratings are the best way to tell if a show will stay on the air. The higher the ratings, the more likely you will live. The show has a good rating of 7.5/10 on IMDb and an average audience rating of 78% on Rottentomatoes.
Reviews
Both the characters and what they do in this show are good. But it doesn't work because it doesn't make sense. Some characters do things that don't make sense, like taking risks they don't need to or not helping other characters they care about.
Also, the show spends too much time on people who don't add much to the plot. One character took over two hours of screen time in the first season. Before leaving, this character opened a door for the main cast.
This makes it seem like any character could die, but it also makes it seem like only the main characters are essential, and the rest of the cast will vanish or die.
Not to mention that there is a character who could easily handle many of the leading group's problems but… doesn't? Maybe they'll explain why this girl doesn't use her unique skills more often at some point, but it seems like most problems would be easy to solve if she helped the group.
In the end, there are a lot of logical problems that take away from the issues they have to solve, but zombie fans will still find the zombie content entertaining.
Conclusion
In conclusion, All of Us Are Dead Season 2 has fans on the edge of their seats waiting for the next installment. With its gripping storyline and themes of survival, All of Us Are Dead has become a must-watch show for zombie fans and those looking for a thrilling drama. We don't yet know what to expect from Season 2, but it's sure to be full of surprises. Keep an eye out for news on the cast, release date, and plot points as we eagerly await the next season of this hit Netflix series!
Frequently Asked Questions (FAQs) about All of us are Dead Season 2
Is All of Us Are Dead Season 2 coming out?
Yes, All of Us Are Dead will return for a second season.
Why 'All of Us Are Dead' Is 18+?
All of Us Are Dead is a Korean action/horror show about a high school full of zombies. Parents should know this. The series has blood, violence, some body horror, and battle scenes.
What is the release date for All of Us Are Dead season 2?  
As of now, there is no official date for the season's return, but it's likely to happen either at the end of 2023 or the beginning of 2024.
How many episodes does All of Us Are Dead have?
Currently, there are 12 episodes of All of Us Are Dead. Each is just under or over an hour long, for 728 minutes. (We're sure you'll want to see the rest immediately after you watch the first episode.)
Where is All of Us Are Dead filmed?
Some sources say that most of All of Us Are Dead was shot in Seoul. A short scene was shot in the city of Andong, which is about 249 km from Seoul.
Who will direct season 2?
NME says that director Lee Jae-kyoo planned for a second season when he made the popular show. In an interview with The Korean Herald, Lee said, "Many directions, settings, and scenes were made on purpose to make the story last for another season, including the addition of new zombie races." He added, "If the first season was about how people stay alive, then the next season can be about how zombies stay alive. I hope to give people another season to watch."
Is All of Us Are Dead on Netflix?
Yes. All of Us Are Dead is available on Netflix. It's in the section for thrillers.
Subscribe to Our Latest Newsletter
To Read Our Exclusive Content, Sign up Now.
$5/Monthly, $50/Yearly