MyFlixer – Streaming New Movies and TV Series Online for Free
Listen to the Podcast:
There are numerous choices for streaming films and television shows at home. As the demand for content rises, however, hackers grasp the chance to defraud innocent individuals. This is exemplified by the website MyFlixer.
MyFlixer claims a vast list of available films. Unfortunately, the vast majority are illegal. Nevertheless, arguably the worst aspect of the website is that it is a massive bait-and-switch. In addition to providing illegal content, it is not as harmless as it may appear.
I'm sure you have quite a few questions. This article will answer some of your questions, such as what MyFlixer is. Is MyFlixer safe for Mac? Read on for the answers to these questions and more.
What is MyFlixer?
MyFlixer is a website that streams movies and television shows. It even allows you to download files for later viewing—everything for nothing. In contrast to reputable streaming sites, including free ones like Freevee, virtually all of the content on My Flixer is pirated.
In addition to possibly violating copyright laws in your country, by watching MyFlixer streams, you may also endanger yourself and your Mac.
MyFlixer, like many other piracy sites, is prohibited and blocked in many regions. Hence it has multiple mirror or proxy sites. This means that it is hosted in a variety of locations with various web addresses, such as myflixer.com, myflixer.site, myflixer.to, etc. This guide's recommendations are applicable to all of them.
How to Watch MyFlixer on Windows
Before streaming on this site, don't forget to turn on or connect your VPN.
Start any browser on your computer, PC, or Windows. We're going to use Google for this one.

In the search box, type myflixer.ru and click Go to Home Page.

Your Windows computer can now stream on MyFlixer.
How to Stream MyFlixer Using iOS Device
Before you stream from this site, make sure you have a VPN running on your device.
Start your iOS device's Safari browser.

Type myflixer.ru and press the Go button.

Select "Go to Home Page."

With MyFlixer, you can now stream movies on your iPhone or iPad.
Read More: Tips to Improve iPhone Privacy
Is MyFlixer Dangerous?
Any website offering illicit downloads poses a threat to your PC. My Flixer asserts that it is virus-free; however, there is no way to verify this claim. In addition, these sites frequently employ dubious advertising networks that might cause serious issues on your Mac.
MyFlixer and its malicious advertisements are hazardous in numerous ways, including:
You may encounter a pop-up prompting you to enable push notifications. If you approve this, you will likely be inundated with suspicious advertisements.

Certain My Flixer sites have an Android application, which you may install using an.apk file. Obviously, this is probably dangerous and should be avoided.

False virus alerts can deceive you into installing phony protection applications or browser extensions that are actually malware.

You may be duped into installing other malicious software, such as viruses and ransomware.

MyFlixer and comparable websites may install browser hijackers such as the Bing redirect virus.

It is possible that My Flixer sites and their marketers are taking your personal information. Any email addresses or passwords you use to log into the website could be used to compromise your other accounts.
These are only a handful of the ways in which My Flixer might be hazardous. Because it is an open door for hackers and data thieves, there is no valid reason to trust it.
How to Remove MyFlixer from Mac
Visits to MyFlixer may also result in the installation of potentially unwanted applications (PUPs) on a Mac. You may also encounter unexpected login elements that load upon PC startup. Here is how to get rid of them:
Start by going to Applications > Utilities and clicking on Activity Monitor.

Look for anything that looks odd or has something to do with MyFlixer. Choose it, and then press the X button.

Click Force Quit

Now, open the Applications folder and get rid of any apps you don't know. Make sure to take out your trash.

Next, click the Apple icon in the top left corner of your screen and choose System Settings.

Click on General > Login Items.

Under Open at Login, click the minus button next to anything that looks suspicious.
Get Rid of MyFlixer Ads in Web Browser on Mac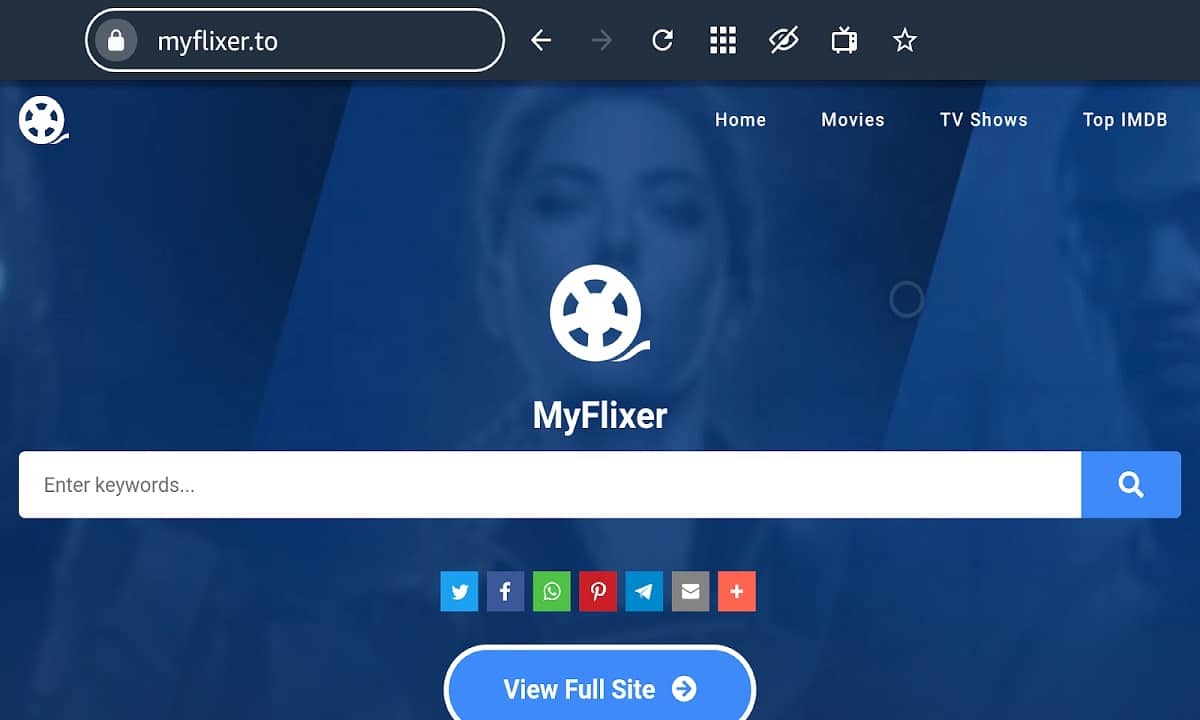 Follow these steps to remove My Flixer advertisements from the three most popular Mac browsers:
Safari
Open Safari.
Click on Safari > Preferences > Extensions.
Select the MyFlixer extension or anything else that looks fishy, and click Uninstall.
Now, click Safari > Quit Safari, and then open it again.
Chrome
Open Google Chrome.

Click Chrome > Preferences > Extensions.

Find the MyFlixer extension, then click Remove.

Restart Chrome.
Firefox
Open Firefox.

Click the button with the three lines > Add-ons and themes > Extensions.

Scroll down to the MyFlixer extension.

Next to the extension, click …> Remove.

Finally, restart Firefox.
Read Also: Movie Streaming Sites
Is it Legal to Use MyFlixer?
Similar to other well-known services that allow users to watch free movies, My Flixer may, in certain instances, border on illegality. This is due to the fact that the site sources content from nations and regions with varied copyright regulations. Occasionally, My Flixer violates these rules in various locations, with a few exceptions authorizing strictly personal use.
Several big streaming services, including Amazon Prime, Netflix, and Disney+, have legal permission to publish and host the content on their websites. Nevertheless, My Flixer lacks the majority of legal rights and relationships that would allow it to host and deliver the content it provides.
Before using websites such as MyFlixer, it is advisable to determine your location's policy regarding the consumption of pirated, copyrighted content.
Can a VPN Keep Me Safe on MyFlixer?
When utilizing services like My Flixer, which contains numerous safe and unsafe mirrors, users must emphasize safety and privacy. A VPN is the best option for using My Flixer securely. A VPN service modifies your IP address, preventing data leaks and blocking annoying advertisements.
Even if MyFlixer is prohibited in your country, a VPN will allow you to access it. In addition, with a new IP (ideally one outside your location), the VPN ensures that firewall restrictions that might normally prevent you from accessing a website do not display.
If security is your primary concern, a VPN meets all of your needs. It can shield your web traffic from your ISP, minimizing the likelihood of monitoring and connection speed limiting. Your connection to My Flixer is, therefore, unrestricted, secure, confidential, and lightning-fast.
A Quick Guide to Accessing MyFlixer Safely
Since the use of My Flixer is illegal in the majority of locations, you should attempt to access it from locations where it is permitted. However, even in these jurisdictions where using MyFlixer is lawful, you should still adhere to the My Flixer streaming security best practices.
These are the steps to visit MyFlixer using a VPN securely:
Use a paid VPN like ExpressVPN, which we recommend.

Install a strong antivirus program. Norton360 is a good choice.

Last, open your VPN and connect to it.

Next, make sure the antivirus works well with the VPN. If the antivirus sees the VPN as a threat, add it to the safelist.

Now, search Google for "MyFlixer" or "MyFlixer mirrors." This may give you multiple results or the right one right away.

Once you find a safe mirror, you can stream on My Flixer without interruption, in safety, and in private.
Also Read: Project Free TV 
How to Prevent Malware such as MyFlixer from Getting in
The safest method for avoiding MyFlixer-related viruses is to avoid My Flixer. Here are some more precautions you may take to safeguard your Mac:
Adhere to legal material streaming providers such as Netflix, Amazon Prime, and Disney Plus.

Use mackeeper's real-time antivirus to maintain a virus-free system and run regular scans on your desktop or laptop. Learn more about how to scan a Mac for viruses by reading our tutorial.

The Adware cleanup and StopAd capabilities of MacKeeper can also keep your browser clear of unwanted advertisements and trackers.

Avoid clicking on pop-up advertisements, especially those claiming that your Mac is contaminated.

If you don't trust a site, don't let it give you notifications.

Never provide your email address to websites you do not completely trust, and never reuse passwords.

If websites like MyFlixer require you to install plugins to view their content, you should not comply.
Frequently Asked Questions (FAQs) about Myflixer
Is MyFlixer a virus?
In a strict sense, no, it's not. It is a website that has many mirrors, and any of them could have viruses, browser hijackers, malicious ads, web trackers, and other possible threats.
Why is MyFlixer the best streaming website in the USA?
MyFlixer is one of the best places to stream movies and TV shows from different genres, like Action, Comedy, Adventure, Thriller, and many more. Every day, new things are added to it.
Does MyFixer hack you?
Possibly. When you go to a MyFlixer site, you really don't know who runs it or what their goals are. Some might just show ads to make money, but others might be set up to steal your personal information.
Can I download movies from MyFlixer?
Yes, there is a way to download movies on My Flixer. Start a stream to use it, and a download button will show up on the bottom of the player.