Lionel Messi's Milestones: His Record-Breaking Football Journey!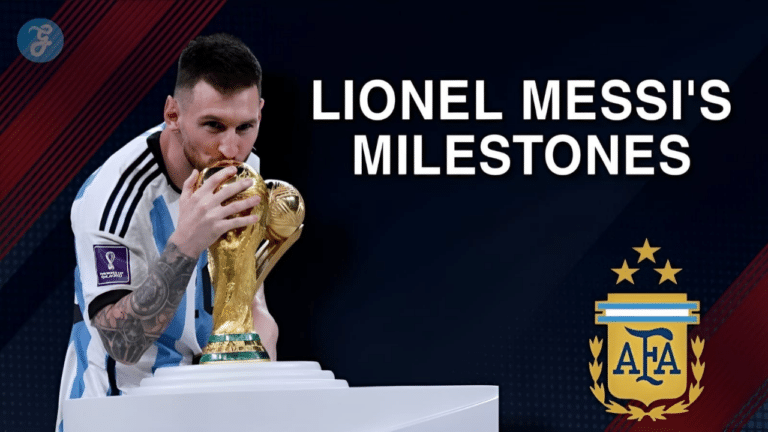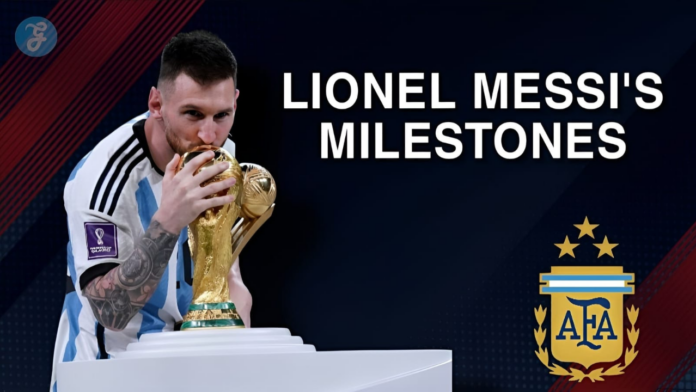 Listen to the Podcast:
From humble beginnings to becoming an undisputed football legend, Lionel Messi's illustrious career boasts numerous jaw-dropping milestones that continue to amaze fans and pundits alike. Right now, Messi's Milestones are just incredible.
As the Argentine maestro rewrites history time and again with his unparalleled skillset, one can't help but marvel at the long list of records he has shattered over the years, firmly cementing his status among football's all-time greats.
This comprehensive blog post delves into Messi's record-breaking journey – from his early days in La Masia to claiming seven Ballon d'Or titles.
Key Takeaways
Lionel Messi's football journey began at a young age when he joined Barcelona's famed La Masia academy, where he honed his skills and talent.

Throughout his career, Messi broke numerous records, including the most league goals scored for FC Barcelona and becoming Argentina's all-time leading goal scorer.

Some notable milestones in Messi's career include winning four UEFA Champions League titles, seven Ballon d'Or awards, scoring more than 800 total career goals for club and country, and breaking all-time La Liga goalscoring and UCL goalscoring records.
Messi's Early Life And Football Career
Born in Rosario, Argentina, Messi grew up in a modest family and showed an early interest in football talent.
Childhood And Family Background
Lionel Messi was born in Rosario, Argentina, on June 24, 1987, into a hardworking and humble family. His father, Jorge Messi, worked as a steel factory worker to support the family, while his mother, Celia Cuccittini, contributed by working as a cleaner.
Although resources were limited during Messi's early years, his parents went above and beyond to ensure their son had everything he needed to pursue his dreams of becoming a professional footballer.
As early as four years old, Lionel displayed remarkable talent while playing with older kids at Grandoli Football Club—where his maternal grandmother would accompany him religiously until she passed away when he was just ten years old.
Joining La Masia And Signing With Barcelona
Lionel Messi's journey to becoming one of the greatest footballers of all time began when he joined Barcelona's famed youth academy, La Masia, at the tender age of 13. Recognizing his immense talent and potential, the Catalan club offered him a chance to train with their best coaches and players despite his young age.
While at La Masia, Messi honed his skills alongside future stars like Gerard Piqué and Cesc Fàbregas. Upon turning 18 in 2004, he inked a contract that would solidify his commitment to FC Barcelona until 2010.
With relentless hard work under the tutelage of many esteemed coaches such as Frank Rijkaard and Pep Guardiola—and fueled by an unyielding passion for football—Messi rapidly ascended through Barça's ranks before making history on countless occasions as part of their senior team.
Breakout Season
Lionel Messi's breakout season came in 2005-06 when he started making waves in Spain and on the international stage. Then just like a teenager, his unmatched skills and agility soon caught the attention of fans, critics, and football experts alike.
During this pivotal season, Messi scored six goals in seventeen appearances with the first team while still playing regularly for Barcelona B. During these formative games, he showcased his extraordinary dribbling ability and impressive pace as a winger/striker.
This incredible potential earned him comparisons to legendary Argentine player Diego Maradona at an early age.
Messi's Record-Breaking Milestones
Messi has broken several records in his career, including the most league goals scored (breaking César Rodríguez's record), the most scored in a single La Liga season, and becoming Argentina's all-time leading goalscorer.
Breaking César Rodríguez's Record For Most League Goals
Lionel Messi broke the record for FC Barcelona's league goals in 2014, previously held by César Rodríguez with 232 goals. He surpassed that milestone by scoring his 234th goal for the club during a match against Granada.
With this historic feat, Messi cemented his place as one of history's greatest footballers and scorers. His incredible ability to weave past defenders and find gaps to score goals is unmatched, and he continues to inspire young players around the world.
Breaking La Liga Record For Most Goals Scored In A Single Season
In the 2011-12 La Liga season, Lionel Messi broke a record that stood for almost four decades by scoring an incredible 50 goals in just 37 games. This feat shattered the previous record of 38 goals held by Telmo Zarra since the 1950-51 season and established Messi as a player with unmatched scoring prowess in Spanish football.
He surpassed Zarra's record and became the first player ever to score against every team in La Liga during a single campaign. Messi's goal-scoring form was phenomenal throughout that season, averaging over one goal per game and leading Barcelona to another league title while amassing individual glory for himself along the way.
Winning Four UEFA Champions League Titles
Lionel Messi's football journey has been incredible, and one of his most impressive achievements is winning four UEFA Champions League titles. Messi played a pivotal role in each victory, helping Barcelona dominate opponents with his incredible dribbling skills, clinical finishing abilities, and tactical intelligence.
During the 2008-09 season, Messi helped lead Barcelona to their third Champions League title in Rome against Manchester United. He then scored two goals in Wembley as Barca defeated Man United again to win their fourth title three years later.
Becoming Argentina's All-Time Leading Goalscorer
Lionel Messi is widely considered one of the greatest footballers to come out of Argentina and for a good reason. In 2016, he became Argentina's all-time leading goalscorer with his 55th international goal in a game against the United States in the Copa America.
This feat cemented Messi's place in Argentine football history and showcased his incredible talent on an international stage. Messi holds the national record for appearances with Argentina and has helped lead them to numerous tournament finals, including a runner-up finish at the 2014 World Cup and most recently winning the Copa America in 2021 and World Cup 2022.
Breaking All-Time La Liga Goalscoring Record
Lionel Messi is one of the greatest football players ever, and his achievements speak for themselves. In 2021, he broke yet another record by surpassing Telmo Zarra's all-time La Liga goalscoring record of 251 goals.
Messi achieved this feat in just 289 games, while Zarra played over 350 matches to achieve his tally. This accomplishment highlights Messi's incredible scoring ability, consistency, and longevity at the top level of football.
Breaking All-Time UCL Goalscoring Record
Lionel Messi is not just a record-breaker but also a history-maker who continues astounding football fans worldwide. One of his many accomplishments was breaking the all-time UEFA Champions League goalscoring record by surpassing Raul's 71 goals in 2014.
He went on to set an even higher benchmark for future generations with a total of 120 UCL goals as of today, establishing himself as one of the greatest footballers ever.
Messi consistently showcased his superior skills and talent with Barcelona, scoring crucial goals against some of Europe's top clubs, including Manchester United, Real Madrid, and Bayern Munich.
Winning Seven Ballon d'Or Awards
Lionel Messi has won the Ballon d'Or a record-breaking seven times, cementing his status as one of the greatest football players ever. The award given to the best player in the world each year was first awarded in 1956.
Messi's first victory came in 2009 after he helped Barcelona win six titles that year. He went on to win it again in 2010, 2011, 2012, and 2015 before taking home two more awards in 2019 and, most recently, in 2021.
His seven wins make him stand out among other football legends, such as Cristiano Ronaldo, who have won five times or less. However, now if you're interested, check this – Will Messi win his 2nd Super Ballon d'Or 
Scoring 800 Total Career Goals For Club And Country
Lionel Messi's recent achievement of scoring 800 total career goals for club and country is truly remarkable. This milestone places him in an elite group of footballers who have wowed the world with their skill, tenacity, and unrelenting passion for the sport.
Messi scored his first-ever goal at age 17 against Albacete Balompié in 2005, and since then, he has gone on to break multiple records and set new milestones.
His latest feat underscores his exceptional ability as a goal scorer who can create moments of magic that leave fans breathless.
Messi's achievement is a testament to his dedication, hard work, and unwavering commitment to excellence. He has dominated La Liga defenses for over a decade while capturing the hearts of millions worldwide with his sublime skills on the pitch. Aside from this, you can also check – Messi made his fastest goal record.
Messi's Milestones Individual Awards And Trophies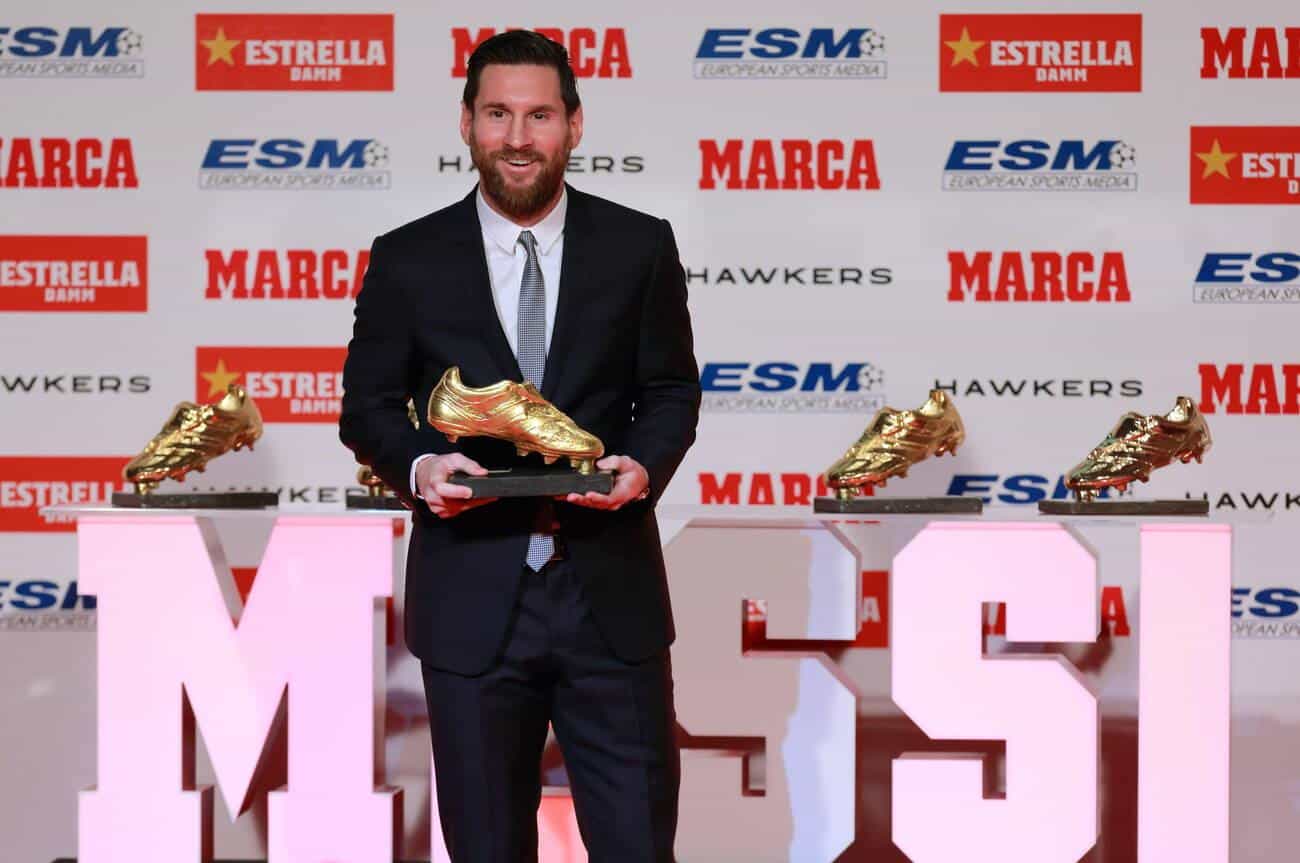 Messi has also received numerous individual awards and trophies, including the Copa America Golden Boot and Player of the Tournament, Golden Foot Award, and Golden Boy Award.
Lionel Messi's impressive career boasts numerous individual awards, and his recent triumph at the Copa America tournament added to his extensive list. In the 2021 edition of this prestigious South American competition, Messi secured both the Golden Boot and Player of the Tournament accolades.
The Golden Boot is awarded to the tournament's top scorer, Lionel Messi, with four goals and five assists in seven matches.
He also received the Player of the Tournament award for leading Argentina to victory in their first major trophy since 1993.
Golden Foot Award
One of the most prestigious football awards, the Golden Foot, has eluded Lionel Messi despite his numerous achievements. The award is given to players who have excelled in their careers and made significant contributions to their teams.
It is considered one of a player's highest honors in their career. The award was created by renowned jeweler Ginza Tanaka from Japan and is priced at a whopping $5.3 million for the 24-carat foot trophy. Some previous winners include Roberto Baggio, Ronaldinho, Francesco Totti, Zlatan Ibrahimovic, Didier Drogba, and Cristiano Ronaldo.
Golden Boy Award
The Golden Boy Award is an annual recognition given to Europe's most promising young footballer under 21.
Lionel Messi holds the record for the most Golden Boy awards, with three total awards. He won his first award in 2005 and then went on to win it consecutively in 2006 and 2007, highlighting his exceptional talent at a very young age.
The award has since been won by numerous talented players such as Kylian Mbappe, Raheem Sterling, and João Félix.
Messi's Team Achievements With Barcelona
During his time with FC Barcelona, Messi helped lead the team to an impressive ten La Liga titles, seven Copa del Rey trophies, and four UEFA Champions League trophies – read on to discover more about his incredible football journey!
Ten La Liga Titles
Lionel Messi's legacy at FC Barcelona is defined by his team's successes, including winning ten La Liga titles. He was pivotal in leading the Blaugrana to eight consecutive league triumphs from 2010-11 to 2017-18.
During this time, Messi formed a devastating partnership with Andres Iniesta and Xavi Hernandez, known as the "Holy Trinity", which saw them dominate Spanish football for years.
Seven Copa Del Rey Trophies
Lionel Messi's team achievements with Barcelona are impressive, including his seven Copa del Rey trophies. These accolades showcase his ability to lead and contribute to a talented team.
Winning seven Copa del Rey titles is no small feat and highlights the sustained success that Messi has helped bring to Barcelona over the years. His ability to perform under pressure in these high-stakes matches is a testament to his skill as a footballer and leader on the pitch.
Four UEFA Champions League Trophies
Lionel Messi was vital in leading Barcelona to four UEFA Champions League trophies. His incredible skills helped the team win 2006, 2009, 2011, and 2015 titles.
In these victories, Messi scored many vital goals that secured wins for Barcelona, including scoring twice in the final against Manchester United in 2009.
Three FIFA Club World Cup Trophies
Lionel Messi's impressive list includes winning three FIFA Club World Cup Trophies with his team Barcelona. This tournament involves the champion clubs from each continent competing for the world champion title.
Messi's performance in these tournaments was exceptional, earning him two Adidas Golden Balls as the best player in the competition. These trophies are just one example of how Messi's individual success has contributed to his team's overall success.
Messi's Milestones in PSG
Lionel Messi's time at PSG has been relatively short, spanning only two seasons, but he has already added three more trophies to his illustrious career. His contributions have led PSG to secure two consecutive Ligue 1 titles, emerging as the dominant force in the French league during the 2021/22 and 2022/23 seasons.
Additionally, Messi helped the team clinch the Trophee des Champions, the French Super Cup, in 2022. However, despite these successes, the ultimate goal for PSG remains winning the coveted Champions League title, and they had hoped that Messi's arrival would provide the necessary boost to achieve that feat.
Messi's International Career
In the 2014 World Cup, Messi led Argentina to a runner-up finish and was awarded the Golden Ball award for the best player of the tournament, while in 2021, he finally won his first Copa America title with Argentina. And in 2022, Messi won the World Cup.
Runner-up Finish In the 2014 World Cup
In 2014, Messi led Argentina to the final of the FIFA World Cup in Brazil, marking his most significant contribution to his country's international success.
Although he didn't manage to lift the trophy, Messi was instrumental in getting Argentina that far and was named Player of the Tournament for his efforts.
He scored four goals in seven games and assisted on a few others while showcasing a stunning display of ball control and creativity.
Despite amplifying fan support within and outside Argentina, Messi missed an opportunity to join legends such as Diego Maradona by winning the world cup single-handedly for their nation.
Copa America Win In 2021
In 2021, Lionel Messi finally lifted his first major international trophy as Argentina won the Copa America. The tournament was highly anticipated for the 34-year-old, who had come close to winning with his country in previous editions.
With Messi leading from the front, Argentina was unbeaten throughout the tournament and faced Brazil in a tense final.
Messi played a pivotal role throughout the competition, scoring four goals and recording five assists – earning him Golden Boot and Player of the Tournament honors.
His performances highlighted why he is considered one of the greatest footballers of all time, and also showed how much this win meant to him after years of disappointment with his national team.
World Cup Win in 2022
On 18 December, in the highly anticipated 2022 FIFA World Cup final at Lusail Stadium, Lionel Messi showcased his brilliance again. It was his record-breaking 26th World Cup match appearance, and he made history by scoring in every round of a single World Cup edition since the introduction of the last-16 stage in 1986. Messi opened the scoring for Argentina with a penalty, and despite France's Kylian Mbappé's quick-fire brace, Messi found the net again in extra time to put Argentina ahead.
Mbappé equalized, and the thrilling match ended 3-3 after extra time, leading to a penalty shoot-out. Messi calmly converted his penalty, and Argentina emerged victorious with a 4-2 win, ending the nation's 36-year-long wait for the coveted trophy.
Messi's exceptional performances earned him the Golden Ball for the second time as the tournament's best player. With seven goals, he finished just one goal behind Mbappé in the Golden Boot race. Messi also surpassed Lothar Matthäus as the player with the most World Cup appearances (26) and Pelé with the most direct goal contributions (21 – 13 goals and 8 assists).
The championship game between Argentina and France was widely celebrated as one of the greatest matches in history, with the media emphasizing the captivating duel between Messi and Mbappé. After the triumph, Messi confirmed his intention to continue playing for the national team, expressing his desire to compete as a champion.
Messi's Playing Style And Skills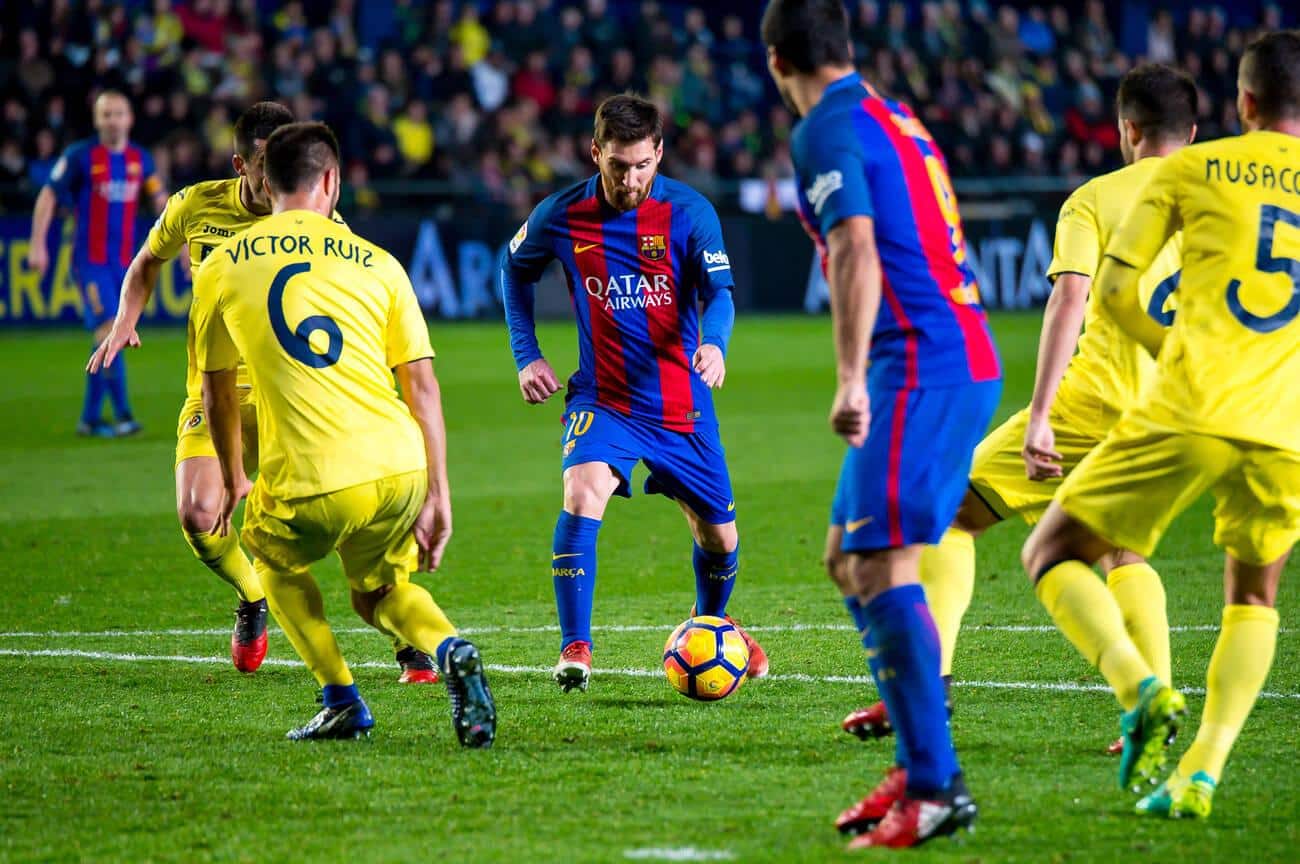 Messi's playing style and skills are unparalleled, combining explosive speed, expert ball control, creative vision, and clinical finishing, making him one of the most feared players in football history.
Dribbling And Ball Control
Lionel Messi's dribbling skills and ball control are some of his most distinguishable and celebrated attributes. His close control lets him weave past defenders easily, leaving a trail of bewildered opponents in his wake.
Messi honed his creative dribbling style under coach Pep Guardiola's possession-based system at Barcelona. With the freedom to roam the pitch and express himself, he developed a unique playing style that many have compared to Diego Maradona's legendary runs.
Shooting And Finishing
Lionel Messi's incredible shooting and finishing skills are crucial to his success on the football pitch. His quick decision-making, precision, and accuracy make him one of the most lethal finishers in modern football.
Whether scoring with his left or right foot, from inside or outside the box, Messi has consistently demonstrated exceptional shooting abilities throughout his career.
One outstanding example was during the 2014-15 La Liga season when he recorded a fantastic goal-scoring run, scoring consecutive goals against every team in La Liga straight for eight games.
This feat highlighted just how dominant he was in front of the goal. It demonstrated how few players can find the back of the net so regularly at this level of competition.
Passing And Vision
Lionel Messi's passing and vision are two of his most exceptional qualities on the field. His playmaking skills allow him to spot gaps in defenses that other players cannot see, making him an expert at threading through balls and creating chances for his teammates.
Messi is also known for changing direction quickly while maintaining ball control. He often uses this trait to evade defenders before delivering a precise pass or shot on goal.
These skills have helped him create numerous scoring opportunities throughout his career and cemented his place as one of football's greatest-ever players.
Tactical Intelligence And Positioning
Lionel Messi's tactical intelligence and positioning on the football pitch are some of his most outstanding skills. His ability to read the game and anticipate opponents' moves gives him a significant advantage in creating space for himself or teammates, making timely runs into dangerous positions, and taking advantage of opportunities when they arise.
Messi uses his exceptional dribbling abilities to draw defenders out of position, then exploits gaps left behind by them. He also has a keen sense of when to make attacking runs or stay back defensively, depending on the situation in the match.
Leadership And Mentality
Lionel Messi's leadership qualities and mentality are apparent aspects of his success on the pitch. He is a player who leads by example, constantly pushing himself to perform at his best and never giving up.
Messi's mental strength has allowed him to overcome challenges in his career, from his early struggles with growth hormone deficiency to setbacks on the field.
He maintains focus through pressure moments, displaying tactical intelligence and positioning that makes him one of the most influential players in the game.
Messi's Impact On The Sport Of Football
Messi's impact on football is immeasurable, as his unique playing style and incredible skill set have inspired future generations of players and left an indelible mark on the game.
Influence On Playing Style
One of Lionel Messi's most significant contributions to football is his influence on playing style. His mastery of dribbling, control, and spatial awareness has inspired countless young players worldwide to emulate his approach.
He has popularized a style of play that emphasizes short passes, quick changes in direction, and deceptive movements.
Messi has been compared with legendary Argentine footballer Diego Maradona for their similar play styles. Like Maradona, Messi is known for creating chances out of nothing and navigating through tight spaces with ease.
But Messi's impact extends beyond Argentina; he has revolutionized football tactics worldwide by showcasing how a small player with exceptional skills can dominate matches against larger opponents.
Effect On Future Generations Of Players
Lionel Messi's impact on football extends beyond his record-breaking achievements. His unique style and approach to the game has inspired future generations of players.
Messi's success has raised the bar for other players as well. His passion for excellence has made him constantly push himself beyond limits on and off the field.
Moreover, Messi's influence on new-generation footballers can be seen in their changing attitudes toward teamwork and leadership roles on the pitch.
In conclusion, Lionel Messi is more than just a legend; he is also an inspiration that will continue impacting football for years through younger generations that seek challenges similar to those faced by one of its greatest icons ever!
Comparison With Other Football Legends
Lionel Messi's incredible football journey has placed him among other legendary players. One of his most frequently compared rivals was Cristiano Ronaldo, who also dominated the sport during a similar time period.
While comparing their statistics can seem like splitting hairs, it is clear that Messi stands out for his achievements on and off the field. For instance, he has won seven Ballon d'Or awards to Ronaldo's five, indicating an outstanding level of consistently excellent performance over multiple seasons.
Additionally, Messi's style of play emphasizes creativity and technical skill rather than brute strength or athleticism. This approach has profoundly influenced how modern footballers design their training routines and match strategies to maximize their potential in these areas.
Messi's Legacy
Messi's remarkable achievements on the pitch have earned him a place in football history as one of the greatest players of all time, leaving a legacy that will be remembered for generations.
His Impact On FC Barcelona
One of the most significant aspects of Lionel Messi's football journey has been his impact on FC Barcelona, the club he joined as a young boy. Throughout his illustrious career with Barca, Messi played an instrumental role in shaping and leading the team to numerous victories and accolades.
He was a crucial player in some of the club's most successful seasons, including their treble-winning campaign in 2014-2015, when he scored an incredible 38 goals in all competitions.
Not only did Messi help raise the bar for performance at Barcelona, and fostered a culture of excellence that inspired his teammates to strive for greatness.
Messi's influence on FC Barcelona extended beyond just his playing ability; he also embodied many qualities that made him an exemplary leader both on and off the pitch.
Although arguably one of football's biggest stars, Messi remained humble and grounded throughout his time at Barca. He set an example for younger players by always putting in maximum effort during training sessions and matches while encouraging others to do the same.
Cementing His Place In Football History
Lionel Messi's impact on football is undeniable. He has shattered records, won countless awards, and inspired future generations of players.
Messi's achievements have earned him a place in football history books. He holds numerous records, including the most goals scored in La Liga, and he is Barcelona's all-time leading scorer.
At just 34 years old, his career total stands at an astonishing 800 goals across club and international competition. His consistency over the years and his incredible skill have cemented his status as a legend of the sport.
Messi's Personal Life, Philanthropy, And Social Responsibility Initiatives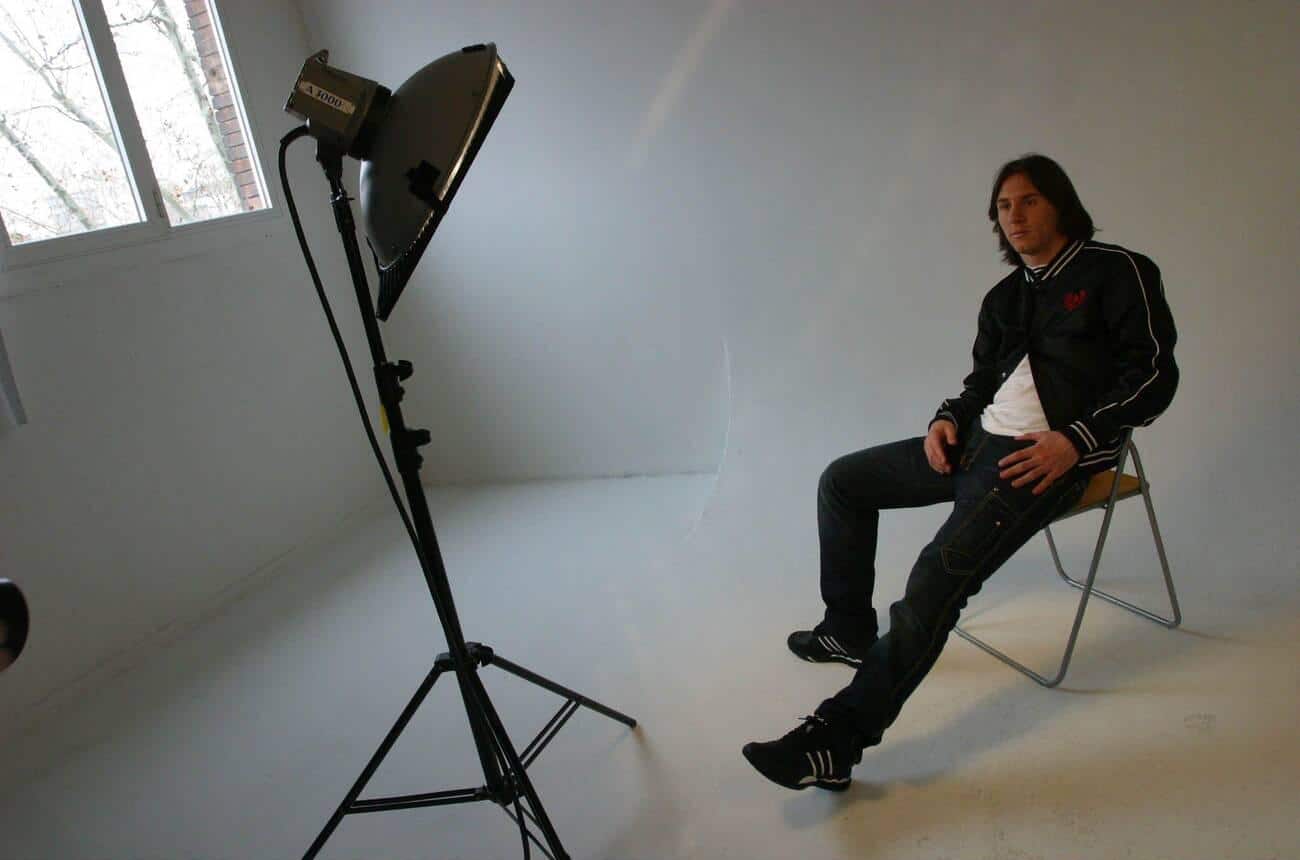 Messi is married to Antonella Roccuzzo, and they have three children together. He founded the Leo Messi Foundation to help vulnerable children worldwide, and he supports several charities focused on health and education.
Personal Life And Family
While Lionel Messi is known primarily for his impressive soccer career, it's worth noting that the athlete has always been a family man first. Born and raised in Rosario, Argentina, Messi grew up in a close-knit household with his parents and three siblings.
Despite living a largely private life outside of soccer, Messi has spoken openly about the importance of family throughout his career. The athlete regularly shares photos on social media featuring himself with his wife, Antonella Roccuzzo, and their three children, Thiago, Mateo, and Ciro.
Social Responsibility Initiatives
Lionel Messi is a fantastic footballer and a compassionate human being. He acknowledges the fame and fortune he has received and uses it for good causes through his Leo Messi Foundation.
The foundation supports several charitable causes, focusing mainly on health care, education, and sports for children.
In 2010, Lionel Messi went one step further in his social responsibility initiatives by becoming a UNICEF ambassador to promote children's rights worldwide. Messi has been involved with UNICEF since 2004, when he first became their Goodwill Ambassador for Argentina.
Frequently Asked Questions (FAQs):
It's time to discuss some common faqs related to Messi's Milestones
What are some of Lionel Messi's biggest milestones in his football career?
Lionel Messi has achieved numerous milestones throughout his illustrious football career, including breaking the record for most goals in a single European club season and becoming the youngest player to score 500 goals for one club.
How many Ballon d'Or awards has Lionel Messi won?
Lionel Messi has won seven Ballon d'Or awards, making him one of the most decorated players in football history.
What is Lionel Messi's playing style like on the field?
Lionel Messi is known for his incredible speed, agility, and ball control. His playing style typically involves dribbling through defenders and creating scoring opportunities for himself or his teammates with precise passes and shots on goal.
What impact has Lionel Messi had on modern-day football?
Lionel Messi's record-breaking achievements have cemented him as one of the greatest players of all time and have inspired future generations of young footballers to strive for excellence both on and off the field. Additionally, he has helped shift popular perception around small-statured players being too weak or ill-suited for professional competition by proving that skill and determination can outweigh physicality in sports.
Final Words
Lionel Messi is undoubtedly one of the greatest footballers of all time. His journey has been filled with record-breaking milestones, individual achievements, and team success at Barcelona and Paris Saint-Germain.
With his exceptional dribbling skills, tactical intelligence, vision on the pitch, and incredible scoring ability, he has influenced a generation of players worldwide.
Messi's feats are remarkable, from breaking César Rodríguez's record for most league goals to becoming Argentina's all-time leading goal scorer and winning seven Ballon d'Or awards.
Subscribe to Our Latest Newsletter
To Read Our Exclusive Content, Sign up Now.
$5/Monthly, $50/Yearly