Mens 90s Outfits: How to Dress Like a Total '90s Heartthrob in 2023!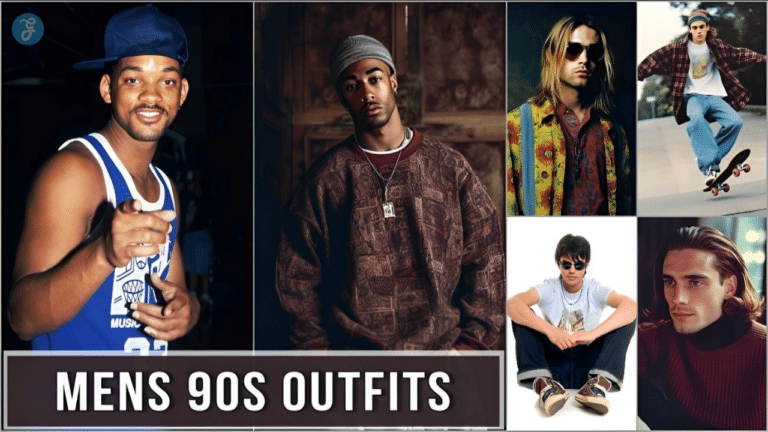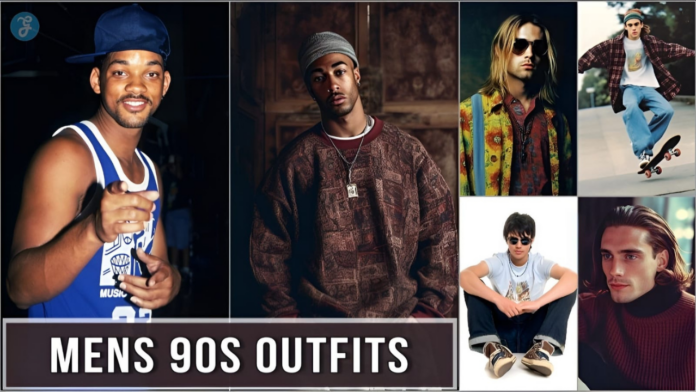 As you may have noticed, nostalgia for the 90s is sweeping the fashion world. The decade was known for its unique and sometimes outrageous styles coming back in 2023, including everything from grunge-inspired looks to vibrant neon colors.
This article will serve as your guide, taking you on a journey through the best and worst of mens 90s outfits and offering tips on modernizing these iconic outfits for today's fashion scene.
Stick with us if you're ready to add retro flair to your wardrobe!
Content Highlights
Neon multicolor windbreaker jackets are a must-have 90s fashion trend in 2023. They offer versatility and can be styled in various ways.

Denim overalls are a timeless choice that never truly goes out of style. They are now experiencing a resurgence in popularity, with different variations available for all styles.

Varsity baseball jackets have made a strong comeback from the 90s and are a timeless choice for those looking to add retro flair to their outfits.

Turtlenecks are making a comeback as one of the popular '90s fashion trends. They offer versatility and warmth during colder seasons.
Best 90s Men's Fashion Trends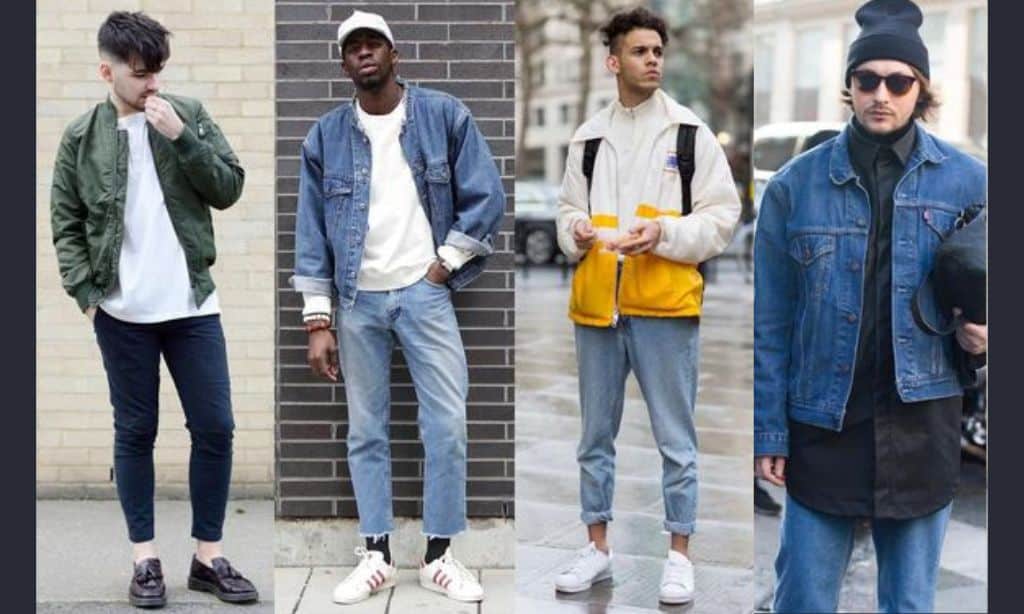 Leather jackets, high-top sneakers, tracksuits, combat boots, and turtlenecks were some of the best 90s men's fashion trends.
Leather Jackets
Leather jackets, specifically biker versions, took center stage in the 90s men's fashion scene. They served as a bold anti-fashion statement that disrupted traditional norms. Key figures in pop culture sported these edgy pieces regularly – celebrities, supermodels, and fashion icons all played a role in their popularity surge during this decade.
Today, despite the passing of time, leather jackets remain an enduring wardrobe essential. Their timeless appeal lies in their ability to transform any outfit instantly with an added layer of style and sophistication.
High-Top Sneakers
High-top sneakers dominated the footwear scene in the 90s, becoming a symbol of style and status. Brands like Reebok and Air Jordan propelled this fashion trend-forward; their designs were immediately recognized as icons from that era.
Today, mens 90s outfits wouldn't be complete without these shoes making a statement.
From hip-hop culture to everyday street style, high-top sneakers took center stage and offered versatility in pairing with different outfit styles. Whether mid-wash denim or loose blazers, these shoes fit seamlessly into various looks.
The enduring appeal of high-tops is evident even today, as they continue to hold a firm place in men's wardrobes worldwide – proof that this sneaker style transcends trends and time alike.
Tracksuits
Tracksuits gained major popularity during the 90s, becoming a go-to choice for comfort and style in men's fashion. The trend resurfaced recently, as seen in celebrities like Drake, Snoop Dogg, and Prince Harry.
Known for their distinctive two-piece design featuring jackets with matching trousers, usually made from comfortable materials like cotton or polyester. Tracksuits blend sporty aesthetics with street-style appeal perfectly.
Their rise to fame in the 90s was tied to men's increasing love for athleisure, marking this decade as one of the sports-inspired fashion trends. These mens 90s outfits are making a notable comeback in 2023; most noticeably, sweatshirts and joggers emanating from the tracksuit lineage continue to dominate current trends.
Combat Boots
Combat boots were a popular footwear choice in the 90s for men who wanted to channel their inner grunge. These heavy-duty and lace-up boots, like the iconic designs from Dr. Martens, added a tough and gritty touch to any outfit.
Pair them with jeans or chinos and a casual button-down for a cool and edgy look. Combat boots were stylish and versatile, making them suitable for casual and formal occasions.
Embracing combat boots as part of your 90s-inspired outfit will give you an instant dose of style and sexiness.
Turtleneck
The turtleneck was a popular fashion trend for men in the 90s. Paired with leather jackets, it created a stylish and edgy look. Considered a classic and sophisticated choice, men of all ages embraced the turtleneck during this era.
Even today, turtlenecks remain versatile and timeless fashion staples for men, making them an essential addition to any wardrobe.
Worst 90s Men's Fashion Trends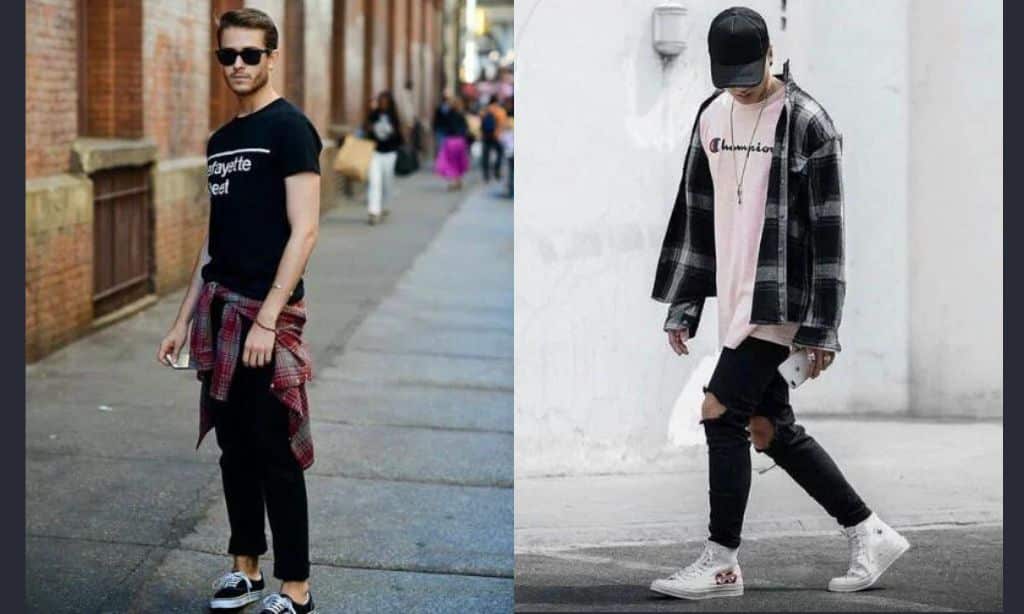 Baggy jeans were a denim overdose, colorful windbreakers were a fashion disaster, dog tags were overused and cliché, Uggs were questionable footwear choices, and rompers were a fashion flop.
Baggy Jeans: The Denim Overdose
Baggy jeans were a fashion faux pas in the 90s, lacking style and considered an eyesore for many. However, in 2023, they experienced a surprising comeback with the resurgence of Y2K era trends and their undeniable comfort and versatility.
The modern version of baggy jeans features wide legs, cargo-style pockets, and distressed details for a more contemporary look. Although baggy jeans in the 90s may have devoured shoes and left some unimpressed, the updated versions offer a fresh take on this denim overdose trend.
Colorful Windbreakers
Colorful windbreakers were a popular trend in the 90s, but they are often considered one of the worst fashion choices from that era. These jackets featured loud and bright designs, with block patterns and flashy colors that were not particularly attractive.
Neon windbreakers, in particular, received criticism for their unappealing appearance. Despite their past reputation, colorful windbreakers have returned in recent seasons, proving that fashion trends can come full circle.
Read More: The Y2K Fashion Trends that are Still Going Strong in 2023!
Dog Tags
Dog tags were a must-have accessory in the 90s, adding an edgy touch to men's fashion. These metal identification plates were often worn around the neck and could be customized or engraved for a personal touch.
Though their popularity soared during this era, the reasons behind their appeal remain a mystery. Whether you wanted to emulate your favorite musician or add some rugged charm to your outfit, dog tags were essential to 90s style.
Uggs
Uggs were one of the worst fashion trends for men in the 90s. They were often paired with shabby-looking clothes and oversized, baggy jeans. These fuzzy boots became popular among celebrities then but are generally considered unfashionable now.
It's safe to say that Uggs should never make a comeback in 2023 or any other time.
Rompers
Rompers were all the rage in the 90s, with men and women embracing this denim jumpsuit trend. Celebrities like Will Smith and Tupac often rocked rompers during this era.
However, in 2023, rompers are considered one of the worst fashion trends from the 90s for men. It's safe to say that certain fashion trends, including rompers, should never make a comeback – not in 2023 or ever.
90s Fashion Trends Making a Comeback in 2023
90s fashion trends are making a comeback in 2023, with vibrant neon windbreakers, denim overalls, varsity baseball jackets, and oversized striped sweaters being popular choices.
Neon Multicolor Windbreaker Jacket
The neon multicolor windbreaker jacket is a must-have 90s fashion trend that is coming back in 2023. This jacket has become everyone's new favorite fashion item due to its versatile nature and ability to be styled in various ways.
InStyle has highlighted the neon windbreaker jacket as one of the best 90s trends to wear this year. One example of an on-trend neon windbreaker jacket is the neon orange one from MSGM.
So, if you want to add some vibrant nostalgia to your wardrobe, don't forget to grab a neon multicolor windbreaker jacket!
Denim Overalls
Denim overalls have never truly gone out of style. These versatile garments were particularly popular in the '90s and are now coming back in 2023. From pastel tweed variations to slouchy loungewear versions, a wide range of options are available for those looking to rock this iconic trend.
One example of denim overalls currently in style is the Gap 1969 Denim Short Overalls. Whether you're going for a casual look or want to dress them up with heels, denim overalls are a timeless choice that can be easily incorporated into your wardrobe.
So why not give them a try and embrace the nostalgia of '90s fashion?
Varsity Baseball Jackets
Varsity baseball jackets have a rich history from 1865, when Harvard baseball players originally wore them. These iconic jackets are expected to be popular in 2023 as they return from the 90s.
Varsity jackets were an essential part of 90s hip-hop fashion and perfectly embodied the style of the times. They remain one of the best 90s fashion trends that are still strong today.
With throwback silhouettes being updated with inspiration from the decade, varsity jackets remain a timeless choice for those looking to add retro flair to their outfits.
Denim Skirt For Women
Denim skirts have made a strong comeback in 2023 and are now considered a stylish and versatile addition to any woman's wardrobe. These skirts can be paired with various tops, including polos, designer tops, oversized t-shirts, blouses, and more.
Whether you prefer a mini denim skirt or a longer one, the latest trends prove that denim skirts never go out of style. Their enduring appeal and versatility make them a fashion staple that can be dressed up or down for any occasion.
So why not add a denim skirt to your collection and embrace this timeless trend?.
Bike Shorts
Bike shorts are back in style for 2023, making them one of the key takeaways in the article about 90s fashion trends. These shorts were popular in the past and are now set to make a comeback alongside other iconic 90s elements like bucket hats and spaghetti straps.
Bike shorts are mentioned alongside graphic tees, ripped jeans, leather jackets, and slip dresses as part of the overall trend. So if you want to stay on-trend this year, don't forget to add a pair of bike shorts to your wardrobe!
Oversized Striped Sweaters
Oversized striped sweaters are a key trend from the 90s coming back in 2023. These sweaters have an oversized fit, which adds a relaxed and comfortable element to any outfit.
The combination of the oversized silhouette with classic stripes creates a fashionable statement. Men's 90s outfits embrace this trend by incorporating oversized striped sweaters for a throwback aesthetic.
The fashion industry offers a range of options, allowing individuals to find the perfect fit, color, and style that suits their personal tastes. So if you want to stay on-trend in 2023, add an oversized striped sweater to your wardrobe!
Turtlenecks
Turtlenecks are making a comeback in 2023 as one of the popular '90s fashion trends. This versatile piece can be paired with other retro-inspired items to create a stylish outfit for men.
For a cool '90s look, try wearing a turtleneck with a biker jacket. Turtlenecks are versatile and can be styled in various ways to achieve different looks. Not only do they add style, but they also provide warmth during colder seasons.
So if you're looking to embrace the '90s vibe, don't forget to include a turtleneck in your wardrobe.
Flannel Shirt
Flannel shirts were a popular fashion choice for grunge-loving individuals in the '90s. They can be worn differently, tied around the waist, or left open. Flannel shirts come in various styles, ranging from tight-fitting to loose-fitting.
For a classic '90s look, pairing a flannel shirt with a white t-shirt underneath is the way to go. Celebrities like Kurt Cobain played a big role in popularizing flannel shirts during that era.
Long Shoulder Blazer
The long-shoulder blazer is returning in 2023 as a key fashion trend. Known for its iconic design and association with power dressing, this forgotten 90s trend is a must-have in any 90s-inspired wardrobe.
As part of the resurgence of 90s fashion trends, the long-shoulder blazer adds sophistication and style to any outfit. So if you want to channel some vintage vibes, don't forget to include the long-shoulder blazer in your fashion arsenal this year.
8 Ball Leather Jacket
Despite its previous reputation as a risky fashion choice, the 8 Ball Leather Jacket is making a comeback in 2023. This iconic jacket features the distinctive design of an eight ball on the back, which adds a touch of edginess to any outfit.
Made from high-quality leather, this jacket exudes style and durability. Whether you're going for a classic 90s look or adding a retro flair to your modern wardrobe, the 8 Ball Leather Jacket is a must-have piece that will make heads turn wherever you go.
How to Incorporate 90s Fashion Trends in 2023
Incorporate 90s fashion trends into your wardrobe with bucket hats, high-waisted pants, oversized sunglasses, and more. Read on to discover how to rock these nostalgic styles modernly.
Bucket Hats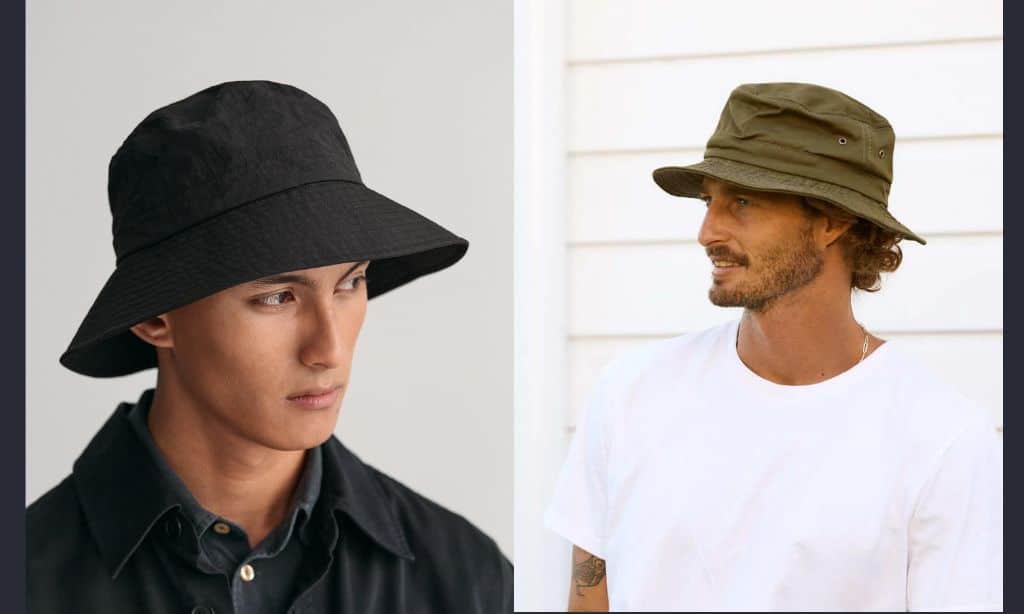 Bucket hats have evolved over the years and have become a trendy accessory in 2023. These hats, often associated with 90s fashion trends, are dividing opinions but are undeniably popular now.
They work brilliantly with streetwear outfits, adding a cool and casual vibe to any look. Whether you're going for a retro-inspired outfit or a modern twist on this classic style, bucket hats are an excellent choice to complete your ensemble.
So why not embrace this revived trend and rock a bucket hat with confidence?.
High Waisted Pants
High-waisted pants are an essential component when it comes to incorporating 90s fashion trends into men's outfits in 2023. InStyle has recognized them as one of the best '90s fashion trends to wear this year.
The popularity of the grunge aesthetic from the 90s, characterized by oversized flannels and baggy jeans, has made high-waisted pants a go-to choice for many. Additionally, Gen Z is embracing flare pants, influenced by the vintage vibe of the 70s and their flattering waistlines.
Cargo pants and classic denim are also recommended options for men's pants in 2023.
Trilby Hats
Trilby hats are a popular accessory for men's 90s outfits in 2023. These hats are made from tweed or straw materials and have a smaller brim than fedoras. Trilby hats often get confused with fedoras in pop culture, but they have their own distinct style.
They can be paired with various 90s fashion pieces such as leather blazers, baby tees, slip dresses, overalls, and mom jeans. In fact, trilby hats are trending this year and are favored by fashion enthusiasts looking to add a touch of vintage flair to their looks.
Oversized Sunglasses
Oversized sunglasses were a popular accessory in the 90s and continue to be fashionable in 2023. InStyle has even listed them as one of the best 90s fashion trends to wear this year.
These large, statement-making shades are a great way to incorporate the 90s vibe into your men's outfits. Whether for classic black frames or bold colors and patterns, oversized sunglasses add a cool retro touch to any look.
So don't forget to grab a pair of these stylish sunnies and step up your fashion game with some 90s flair.
Flannel Shirts
Flannel shirts were a popular fashion choice during the grunge era in the 90s. They became synonymous with the effortlessly cool and laid-back style of that time. Often paired with slip dresses, florals, and frayed jeans, flannel shirts added a touch of ruggedness to any outfit.
And now, we can expect them to make a comeback in men's fashion in 2023. One classic casual look for men is wearing a flannel shirt over a hoodie – it exudes an effortless style while keeping you warm and comfortable.
Another throwback trend from the 90s was tying flannel shirts around the waist, adding an extra layer of versatility to your outfit. So get ready to embrace this timeless piece again as it becomes a staple in your wardrobe for years to come!
Distressed Denim
Distressed denim is a key element in incorporating 90s fashion trends into outfits for men in 2023. The distressed details on denim clothing give an edgy and worn-in look reminiscent of the grunge aesthetic popular in the 90s.
This trend has made a comeback, reflecting the era's nostalgia while also allowing individuals to rock past trends. Pairing distressed denim with other 90s-inspired fashion pieces creates a stylish and authentic throwback look that is trendy and timeless.
Knitted Beanies
Knitted beanies are key accessories for incorporating 90s fashion trends in 2023 for men's outfits. These hats provide warmth and add a touch of style and nostalgia to any look.
Whether you're going for a grunge-inspired ensemble or just want to stay cozy during the colder months, knitted beanies are a must-have wardrobe essential. With their versatile designs and range of colors, they can effortlessly elevate your outfit and complete that '90s vibe you're aiming for.
So don't forget to grab a knitted beanie before stepping out this season!
Remember, hats like knitted beanies serve multiple purposes beyond just being fashionable accessories. They offer protection from the weather elements and help keep your head warm on those chilly days.
Denim Vests
Denim vests were a popular fashion trend in the 90s, and they are making a comeback in 2023 as part of the resurgence of 90s fashion trends. These vests were often associated with the grunge aesthetic of the time and were commonly worn by biker gangs and rockers, who would pair them with leather biker jackets for an edgier look.
If you want to incorporate denim vests into your 90s-inspired outfit, they can add a nostalgic touch while keeping you trendy.
Read Also: How To Express Yourself Using Fashion
Overalls
Overalls were a staple in 90s fashion and are a stylish choice today. These one-piece garments, often made of denim, were popular among people of all ages and income levels.
Celebrities and musicians helped fuel the trend by frequently sporting baggy overalls. Nowadays, overalls have gotten an upgrade with options like pastel tweed or slouchy loungewear versions.
Incorporating overalls into your outfit can give you a nostalgic and fashionable, comfortable and versatile look.
Graphic Tees
Graphic tees are set to make a major comeback in 2023 as part of the 90s fashion trend. With their bold and eye-catching designs, these iconic shirts were a staple in every wardrobe during that era.
From oversized basketball jerseys to vintage band tees, graphic tees were about expressing personal style and making a statement. The demand for original graphic tees from the 1990s has skyrocketed, with some pieces fetching high prices, upwards of $100.
For those who want to stay on-trend with this revival, plenty of t-shirt design trends for 2023 provide inspiration for creating new graphic tee designs. So get ready to rock your favorite graphics and show your individuality in true '90s style!
Styling Tips for Modernizing 90s Fashion
To modernize your 90s fashion, try these styling tips:
Mix Patterns: Experiment with patterned overshirts and graphic tees to add a contemporary touch to your outfit.
Embrace Baggy Jeans: Incorporate the popular trend of baggy jeans into your modern outfits for a nostalgic look.
Opt for Sportswear: Sportswear was a major trend in the 90s and continues to be popular today. Choose tracksuits or athletic-inspired pieces for a stylish and comfortable look.
Add Grunge-Inspired Elements: Embrace the grunge aesthetic by incorporating flannel shirts and distressed denim into your wardrobe.
Play with Neon Colors: Vibrant neon colors are coming back in 2023, so don't be afraid to experiment with bold shades in your outfits.
Accessorize Wisely: Finish off your look with accessories like knitted beanies, trilby hats, oversized sunglasses, and denim vests to complete the 90s vibe.
90s Fashion Influencers to Follow for Inspiration
Looking for some style inspiration from the 90s? Check out these fashion influencers who bring retro vibes to their modern looks:
@90sThrowbackStyle: This influencer specializes in recreating iconic 90s outfits, from grunge to preppy styles.
@VintageFashionista: Follow her for a curated feed of vintage-inspired clothing and accessories focusing on 90s trends.
@TheGrungeKid: Get your dose of edgy grunge fashion with this influencer's unique take on 90s alternative style.
@NostalgicVibes: This influencer's wardrobe embraces the best 90s fashion from baggy jeans to oversized sweaters.
@ClassicChic: For those who prefer a more polished look, this influencer showcases how to incorporate elegant 90s pieces into your daily outfits.
@StreetStyleIcons: Discover urban streetwear looks influenced by the 90s hip-hop scene, featuring bold colors and eye-catching accessories.
@RetroRevival: Dive into nostalgia with this influencer's throwback outfits that capture the essence of 90s pop culture.
Where to Shop for 90s-Inspired Fashion
Looking to rock some 90s-inspired fashion? Here are some places where you can find the perfect pieces:
Vintage Stores: Check out local thrift shops and vintage boutiques for authentic 90s clothing.
Online Retailers: Websites like ASOS, Urban Outfitters, and Etsy offer a wide selection of new and vintage 90s fashion.
Nostalgic Brands: Some brands from the 90s have made a comeback. Look for iconic labels like Tommy Hilfiger, FUBU, and Champion.
Streetwear Shops: Urban streetwear stores often carry 90s-inspired styles. Explore shops like Supreme, Kith, or Bape.
Secondhand Apps: Utilize online marketplaces such as Depop or Poshmark to browse through pre-loved items from the 90s.
Remember to watch for key trends mentioned in this article when shopping for your new outfit!
Also Read: The Ultimate Guide to Women's 80s Outfits in 2023!
Fashion Dos and Don'ts for Wearing 90s Outfits
To rock your 90s outfits with style, here are some fashion dos and don'ts to keep in mind:
Do embrace the oversized trend by pairing baggy jeans or pants with a fitted top.

Don't go overboard with prints and patterns. Stick to one statement piece and keep the rest of your outfit simple.

Do incorporate bold colors into your outfits for a true 90s vibe. Think neon shades or vibrant patterns.

Don't forget to accessorize with statement pieces like chunky necklaces or bucket hats to complete your look.

Do mix and match different textures, such as leather jackets with denim or velvet pants with a silk shirt.

Don't be afraid to experiment with layering, but make sure each layer adds something to your overall outfit.

Do opt for high-waisted bottoms, whether it's jeans, shorts, or skirts, as they were a popular trend in the 90s.

Don't shy away from incorporating iconic 90s accessories like chokers, scrunchies, or platform sneakers into your look.

Do have fun and express your personal style when wearing 90s outfits.
Frequently Asked Questions (FAQs)
Check some commonly asked questions on Men's 90s outfits and styles.
1. What are the key elements of a 90s-inspired men's outfit in 2023?
Key elements of a 90s-inspired men's outfit in 2023 may include baggy jeans or cargo pants, oversized graphic t-shirts, flannel shirts, bucket hats, chunky sneakers, and accessories like chain necklaces or beaded bracelets.
2. Are there any specific fashion trends from the 90s that have returned in recent years?
Yes, several fashion trends from the 90s have returned in recent years. Some examples include denim-on-denim looks, neon colors, fanny packs worn across the chest instead of around the waist, bandanas as headbands or neck accessories, and tie-dye patterns.
3. How can I incorporate a modern twist into my 90s-inspired outfit for 2023?
To incorporate a modern twist into your 90s-inspired outfit for 2023, you can mix vintage pieces with contemporary ones, such as pairing high-waisted mom jeans with a trendy crop top or layering an oversized plaid shirt over a sleek fitted t-shirt.
4. Where can I find affordable clothing to create my men's 90s outfits?
There are various options for finding affordable clothing to create men's 90s outfits. Thrift stores and vintage shops often offer unique pieces at lower prices. Online marketplaces and websites also provide access to affordable retro-style clothing, or you can try DIY projects to customize existing items according to your desired look.
Subscribe to Our Latest Newsletter
To Read Our Exclusive Content, Sign up Now.
$5/Monthly, $50/Yearly