Add A Touch of Glitz To Any Look With A Magnificent Mangalsutra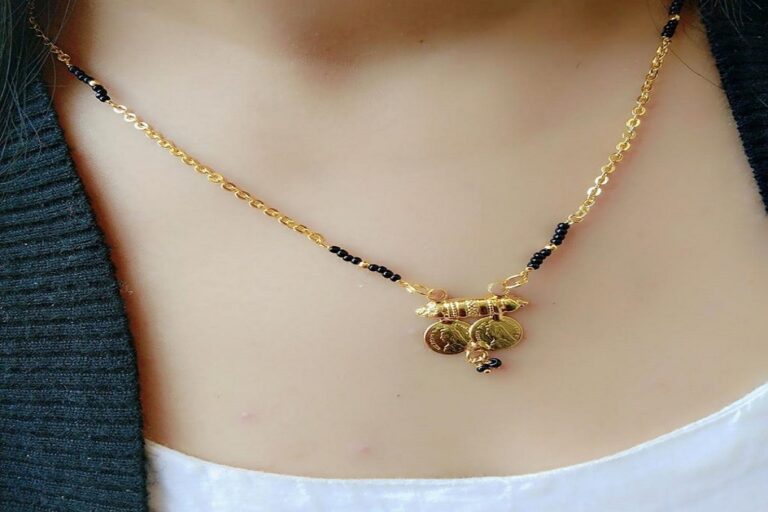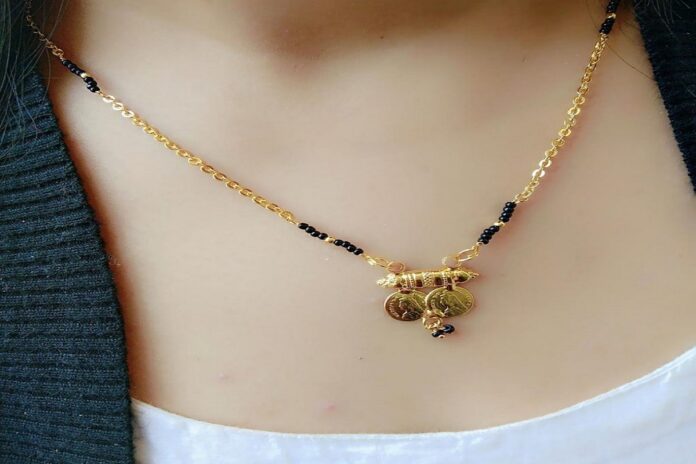 In addition to being the pride of a married lady, a tastefully designed mangalsutra is chosen over a conventional hefty one in terms of weight. As well as having historical importance, the mangalsutra has become a fashion statement gem for modern-day brides. There are many design options available, ranging from custom-made to diamond-studded pieces and conventional gold patterns.
The Mangalsutra Bracelet, the most recent fashion trend, is a great choice for the millennial bride. Wearing exquisite minimalistic designs studded with diamonds and pure gold pendants in various metals has recently become increasingly popular among women. In addition, geometric patterns, floral motifs, solitaires, and alphabets are now popular clothing design elements.
Mangalsutra in gold with a stylized design
A mangalsutra that precisely symbolizes your relationship with your soulmate while also making a fashion statement is what you're looking for. This beauty right here will perform flawlessly in both roles!
Magnificent mangalsutra made of rose gold
Made in rose gold with a glossy finish, this piece of jewellery will add a touch of elegance to your everyday ensemble. When you wear this gorgeous rose gold mangalsutra, you will add subtle individuality to your outfits.
Mangalsutra with Floral Design
Choose this gem and let it shine brightly on your path! In the same way, you are, this jewellery is supposed to be effortlessly lovely and completely timeless. The beauty of this masterpiece is enhanced by the use of pure gold around the flower design, which makes it a beautiful gesture of love.
The Mangalsutra with Two globes is a timeless piece of jewellery
This is similar to two souls joining together and commemorates the link formed by two souls in marriage. Wearing this classic piece of jewellery will highlight your natural attractiveness when paired with a vintage ensemble.
Mangalsutra Bracelet with a Modern Twist
Mangalsutra made of gold In addition to being a fashionable alternative to the classic necklace, bracelets are also becoming more popular. It is a fashionable but classic item that ladies complement various outfits and substitute for jewellery. In recent years, the attire worn by celebrities and movie stars has piqued many people's interest in current fashion trends.
Bracelet with diamonds in the shape of the mangalsutra
The design of the Mangalsutra Bracelet is sleek and elegant, and it is set in yellow gold. It is encrusted with diamonds. This beautifully ageless bracelet is the best way to commemorate your marriage. This gold bracelet will add a touch of elegance to any outfit. It is adjustable.
Bracelet with a teardrop pendant made of mangalsutra
With Teardrop and Leaf Motifs, this gold and diamond Mangalsutra Bracelet is stunning. Brides of the modern era, rejoice! The following mangalsutra is a suitable match for your needs. The elegant design and attractive teardrop motif will go with any of your outfits! This is ideal for everyday use and looks best when paired with a pendant combination of necklace and earrings.
With the Mangalsutra Bracelet, we can now pay homage to our traditions and customs in completely new and innovative ways. Wrist adornments reinterpret the classic mangalsutra's timeless and exquisite black bead and gold chain and breathe new life into them. In addition, designs for mangalsutra hand bracelets suitable for everyday use are ready to amaze the bride-to-be on her wedding day, following the minimalist fashion trend.
As a result, if you are an adventurous person, these Mangalsutra Bracelets are an excellent match for you and your bold and outgoing nature. These Mangalsutra Bracelets, a beautiful combination of metal, stone, and bead, are the next step in updating the nuptial ceremony and tailoring it to your requirements.
Now you can add your touch to the clothing, decorations, and ensembles of your big day and the essential element of the ceremony when you wear the ethereal Mangalsutra necklace.