Google Pixel 8 Pro Hands-on Review: Better Camera and Brighter Display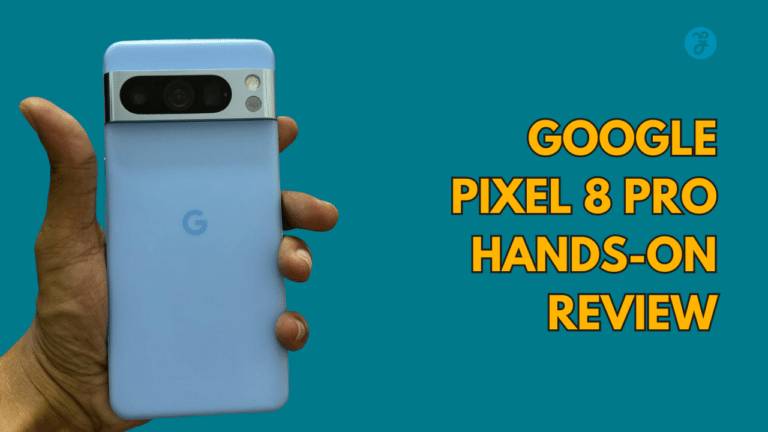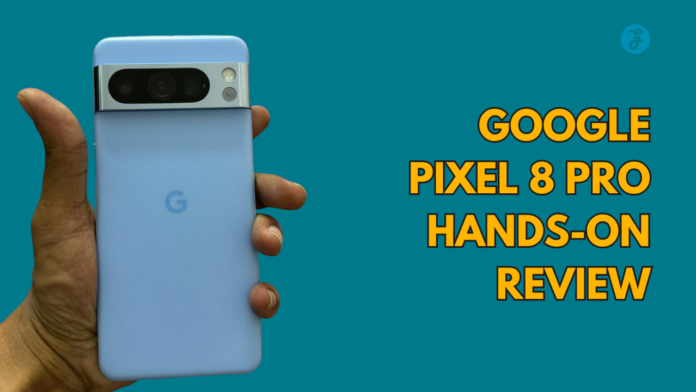 Are you curious about the Google Pixel 8 Pro Hands-on review and wondering how it stacks up against its competitors? Do you want a comprehensive hands-on review of its features, performance, design, and more? We've used the powerful new Google Pixel 8 Pro phone ourselves for a week and conducted in-depth research to offer an impartial overview.
In this blog post, you'll find all that plus unbiased reviews from top tech reviewers as we take an exhaustive look at Google's newest smartphone: The Pixel 8 Pro.
Get ready to learn why the latest Google flagship offering is a significant leap forward in AI technology! 
Content Highlights
The Google Pixel 8 Pro has a fantastic 6.7-inch Quad HD+ OLED screen that's super smooth with a 120 Hz refresh rate. It's really smart, thanks to its AI skills, and it's built tough with a rating that says it can handle being in the water.
It has some impressive vision skills. It can spot things fast, translate signs accurately, read restaurant menus with ease, and even see your face and gestures in the dark, all thanks to the improved HDR+ tech in the Android 14 OS.
It's costly and might have software problems affecting its availability. For regular folks, it's better to look at cheaper and more reliable alternatives instead of risking money now or later.
Google Pixel 8 Pro: Complete Overview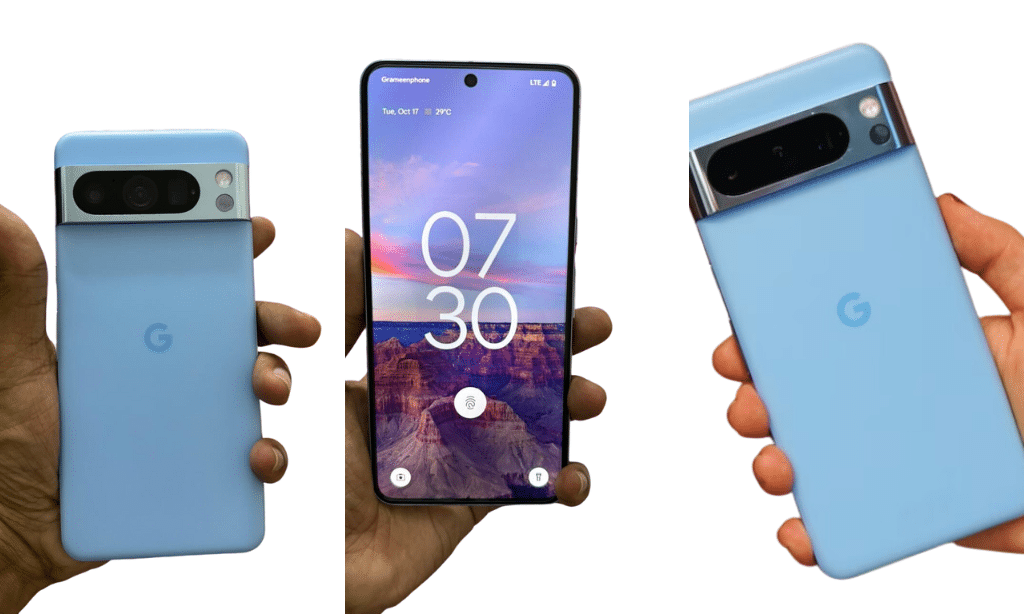 | Feature | Google Pixel 8 Pro |
| --- | --- |
| Display | 6.7-inch OLED |
| Resolution | 3,120×1,440 pixels |
| Refresh Rate | 1-120Hz adaptive |
| Pixel Density | 489 ppi |
| Dimensions (inches) | 6.4x3x0.3 inches |
| Dimensions (millimeters) | 162.6×76.5×8.8mm |
| Weight (grams, ounces) | 213 grams (7.5 ounces) |
| Mobile Software | Android 14 |
| Camera | 50MP (wide), 48MP (ultrawide), 48MP (telephoto) |
| Front-facing Camera | 10.5MP |
| Processor | Google Tensor G3 |
| Storage and RAM | 12GB RAM + 128GB, 256GB, 512GB, 1TB |
| Battery | 5,050 mAh |
| Connector | USB-C |
| US Price (Off-contract) | $999 (128GB) |
| UK Price | Converts to £825 (128GB) |
In the table, we've shown a glance overview of the features. Now it's time to discuss them in proper detail.
Display and Body
The newly released Google Pixel 8 Pro is an impressively designed flagship smartphone that delivers an exceptional overall user experience. At the core of its appeal is the stunning 6.7-inch OLED display, which provides an expansive and immersive visual platform and enables remarkable clarity and vivid colors with its high 1440p resolution. A highlight of the display is its variable refresh rate, ranging from a battery-conserving 1Hz to a silky smooth 120Hz, intelligently adapting to your usage for optimal fluidity and responsiveness.
Encasing this visual centerpiece is a thoughtfully crafted physical design that feels both sleek and comfortable in your hand. Measuring 6.4 inches tall, 3 inches wide, and 0.3 inches thin, the Pixel 8 Pro strikes a fine balance between compact portability and ample display real estate. Even with its generously sized battery, it weighs in at a travel-friendly 7.5 ounces. The elegant aesthetics and ergonomic curves make it easy to use the phone for extended periods without fatigue.
Processor and Memory
But the Pixel 8 Pro is far more than eye candy – it delivers outstanding performance and versatility driven by its cutting-edge Google Tensor G3 processor and plentiful 12GB of RAM. Apps launch instantly, web pages load in the blink of an eye, and demanding 3D games run smoothly without a hitch. Whether you're browsing, working, gaming, or anything in between, the Pixel 8 Pro's hardware provides snappy responsiveness and seamless multitasking capabilities.
Camera
Catering to the modern multimedia enthusiast, the Pixel 8 Pro comes equipped with a highly advanced triple camera array. A massive 50-megapixel wide-angle lens captures breathtakingly detailed shots. A 48MP ultrawide lens provides expansive framing capabilities. And a 48MP telephoto with 5x optical zoom lets you capture crystal clear distant subjects. Any scene you point it at is rendered in stunning high-fidelity, day or night. Even selfies shine thanks to the 10.5MP front-facing camera.
With storage options ranging from 128GB to a cavernous 1TB, you'll never have to worry about running out of space for apps, media files, or anything else. The versatile USB-C connector and WiFi 6 compatibility facilitate fast wired and wireless transfers. And with its robust 5050mAh battery, the Pixel 8 Pro keeps you powered through even the busiest days.
Starting at just $999, the feature-packed Pixel 8 Pro provides exceptional value for buyers looking for a best-in-class Android flagship phone. Its unique blend of beauty, performance, and Google software smarts make it a standout option.
The Good in Google Pixel 8 Pro
The Google Pixel 8 Pro offers its users an incredibly sharp buttery smooth display, a powerful camera with AI features, robust construction, and an IP68 rating, making it one of the best devices out there.
Brilliantly Bright and Best Smooth Display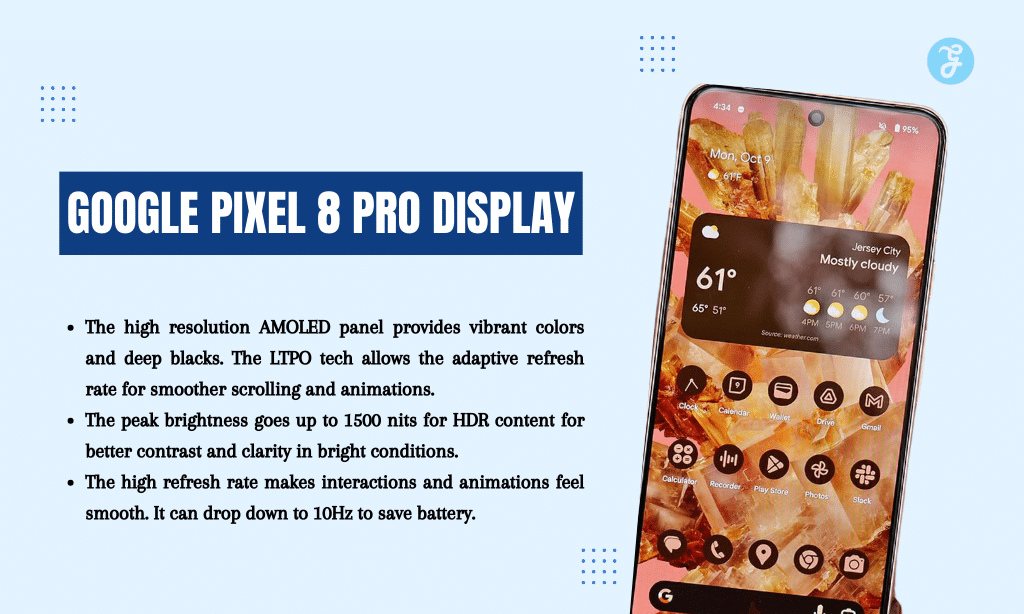 The Google Pixel 8 Pro features a brilliant buttery smooth 6.7-inch OLED display (3,120×1,440 pixels), 42% brighter than its predecessor, the Google Pixel 7. The Pixel 8 and Pixel 8 Pro come with colorful, sharp displays with a maximum refresh rate of 120 Hz for superior immersive experiences.
With Actua and Super Actua displays, colors seem to leap from the screen, while text is razor-sharp. Furthermore, an enhanced AI feature on board makes photos look stunningly real even in low lighting and vibrant in bright light conditions.
The combination of these technologies makes viewing photos much more enjoyable on the Google Pixel 8 Pro compared to any other mobile device currently available.
Solid Construction
The Google Pixel 8 Pro is engineered with a solid construction that ensures its premium look and feel. Its premium materials, including the Gorilla Glass 6 combined with a metal frame, add to this device's design, making it extremely durable and reliable for everyday use.
With an IP68 rating, this phone can resist water up to 1.5 meters deep for up to 30 minutes, ensuring that your precious memories are safe even when accidents happen in pools or at beaches.
The engineering of the Pixel 8 Pro combines durability with sleek style, making it an ideal choice for those who want a resilient yet fashionable device. Its vibrant 6-inch display, paired with a smooth 90Hz refresh rate, offers an exceptional visual experience, perfect for both enjoying content and creating stunning visuals.
It excels in performance metrics, from battery life to GPU processing power. Regular software updates from Google and AI-powered features, like automated OS optimization, simplify day-to-day usage, ensuring data security and a seamless user experience.
IP68 Rating
The Google Pixel 8 Pro is rated IP68, making it water-resistant and protected against water damage. This rating ensures that the phone can withstand spills of any kind as well as splashes from the rain or a pool.
It has been tested to be waterproof down to 1.5 meters – enough for swimming pools with reasonable depth. The solid construction of the phone's hardware and its IP68 rating make it notably durable and less susceptible to water damage than phones without this feature, such as previous Pixel models like the 7 & 7 XL and other flagship smartphone brands.
Even if you drop your phone in a puddle or take calls while out in bad weather, you know that your Google Pixel 8 Pro will stay safe from moisture-related malfunctions or loss of data.
The Bad in Google Pixel 8 Pro
One of the downsides to the Google Pixel 8 Pro is its costly price point, making it out of reach for certain customers. Additionally, availability currently seems limited as retailers try to keep up with demand.
Expensive Price Point
| Variant | USA | UK | Aus | Canada | UAE | France | India | China |
| --- | --- | --- | --- | --- | --- | --- | --- | --- |
| 128GB | $799 | £699 | $999 AUD | $999 CAD | AED 2,899 | €749 | ₹59,999 | ¥4,999 |
| 256GB | $899 | £799 | $1099 AUD | $1099 CAD | AED 3,199 | €849 | ₹64,999 | ¥5,49 |
Table 1: Google Pixel 8 Pro Country-Specific Prices
| Variant | Japan | Singapore | Russia | Germany | Brazil | Jamaica |
| --- | --- | --- | --- | --- | --- | --- |
| 128GB | ¥99,800 | S$1,049 | ₽59,990 | €749 | R$3,999 | JMD$119,990 |
| 256GB | ¥109,800 | S$1,199 | ₽64,990 | €849 | R$4,499 | JMD$129,990 |
Table 2: Google Pixel 8 Pro Country-Specific Prices
The Google Pixel 8 Pro is an impressive smartphone but comes at a high price point. At $999, it's one of the most expensive devices on the market – especially when compared to its predecessor, which also climbs in cost by $100.
These costs can be justified by some key features and technologies that are unique to this latest offering from Google. The Pixel 8 Pro boasts the best set of cameras available on any device. Its "Most Forgiving" feature combines AI technology for better low-light shots and a sharpener mode designed specifically to enhance blurry images.
It also has many "future-proof" tech specs like support for 5G networks and improved memory performance over other 2019 flagship phones such as Samsung Galaxy S20 or Huawei P40 series devices.
Limited Availability
The Google Pixel 8 Pro is currently available in limited quantities due to its potential issues. While the release of this highly anticipated model was met with mixed reviews and discussions regarding its issue, it has also been underreported on why exactly there is a limited availability for this device.
Its limited supply mainly includes its reported hardware problems and pricey price points. Reports suggest the Pixel 8 Pro might face technical difficulties ranging from camera overheating to some display anomalies as well as touch response performance irregularities.
Furthermore, many customers may find it difficult to spend their hard-earned money on an expensive flagship with these types of troubles hanging on them like a dark cloud looming over them (or rather coming along).
What's New About the Pixel 8 Pro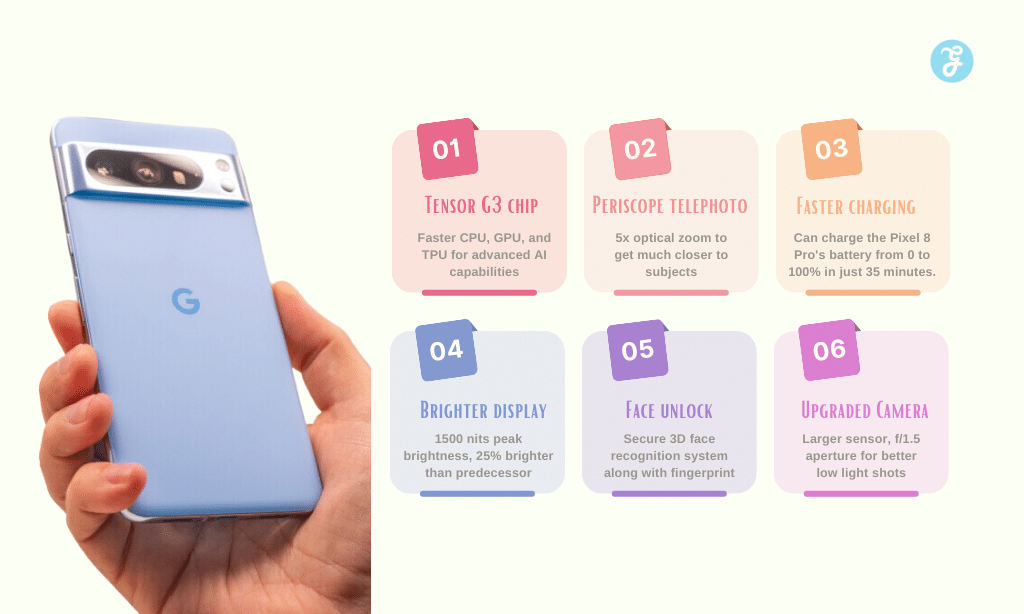 The Pixel 8 Pro is equipped with the latest AI-driven features, such as improved smart battery management and constrained image processing for enhanced color accuracy. It also runs on Android 14 – Google's most recent OS version, offering optimized performance and greater security.
Improved AI Features
The Google Pixel 8 Pro comes with a host of AI features that provide an enhanced user experience. These features can analyze your actions and activities and learn from personal habits, context, and history to take the best action for you in real-time.
It has advanced vision capabilities wherein it can recognize objects more accurately, translate signs into different languages quickly, and identify restaurant menus as well as users' faces and gestures.
The improved AI also offers voice assistance through Google Assistant to answer questions or complete tasks quickly and effectively. Moreover, the AI feature in the Pixel 8 Pro allows users to access their most used apps faster.
It does come with some trade-offs, such as additional battery drain due to continuous processing by these features, which may result in lower average battery life compared to other devices without this functionality on board.
The Latest Android Version 14
On the surface, Android 14 brings a series of new features and changes that will benefit any Pixel user. This version of Android offers faster bootup times, improved battery life, more control over notifications, and an optimized AI-powered Google Assistant.
Furthermore, updated security permissions are also included to keep your device more secure than ever before. What's more, this version not only looks better but performs faster too.
It takes less time for apps to start up and run, making multitasking on the Google Pixel 8 Pro effortless. Additionally, its streamlined UI enables users to easily access their favorite apps and quickly switch from one app to another without lagging or crashing errors.
The latest generation also has improved AI capabilities,, including advanced facial recognition software where a phone can mimic human gestures, allowing quicker conversations between devices and people.
What Are the Pixel 8 Pro's Best Features?
The Google Pixel 8 Pro has some of the best features available in a modern smartphone. The phone's camera system is one of its biggest advantages, offering impressive photo and video quality thanks to an updated sensor array and improved software capabilities.
It also has newly added AI-based algorithms that further enhance image clarity and low-light performance. Additionally, the phone is beautifully designed with a 6.7" display that offers 3,120 x 1,440 resolution — providing stunning visuals for streaming media and gaming needs.
Other notable features include the Google Tensor G3, which brings even more intelligence to some creative effects like portrait shots or lighting adjustments while shooting videos. Last but not least is powerful editing tools ranging from simple filters via Best Take to Magic Editor, allowing users to produce content at a professional quality level quickly and easily.
Google Assistant and AI
The Google Pixel 8 Pro pushes the boundaries of AI technology forward. Featuring the latest and most advanced version of Google Assistant, this phone is capable of performing various tasks today – and in the future.
With a smarter Google Assistant on board, users can enjoy enhanced voice commands over their devices, allowing them to control media playback or activate different features quickly with just their voice – something perfect for our multitasking world.
In addition to that, by utilizing machine learning algorithms and artificial intelligence (AI), the Pixel 8 Pro allows incredibly powerful photo editing options– all while being easy enough to use by any user.
Google Pixel 8 Pro: Unboxing and Design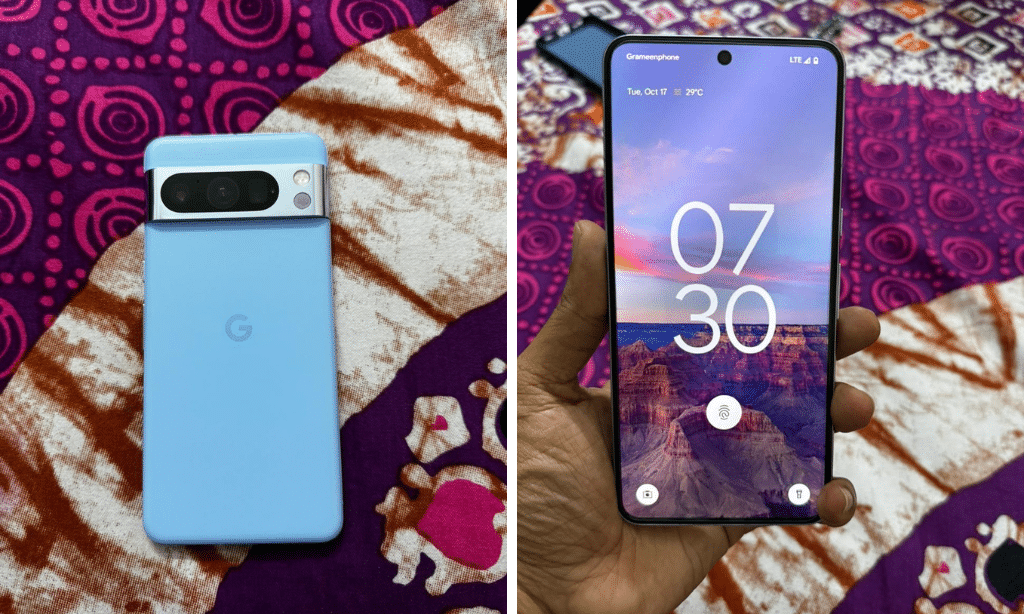 Unboxing the Google Pixel 8 Pro is an experience unlike any other, with its myriad of design and color choices. Stay tuned for more detailed insights into this remarkable device!
Unboxing Experience
The Google Pixel 8 Pro is the highly anticipated newest member of the Google family. Nearly every aspect of its features and design has been leaked ahead of its official launch, including unboxing videos that have become a popular topic in tech circles.
The detailed images and information about the box contents have energized tech enthusiasts even prior to its release.
Firstly, when unboxing, there are certainly interesting elements that reveal why many users will believe this phone – it comes with an amazing 5G chipset and innovative Artificial Intelligence tools installed right from the setup process for customized user experience.
Furthermore, luxurious additions such as wireless earphones also come standard in this package, adding a nice touch to unboxers who prefer convenience without having to shop around for accessories separately.
Design and Color Options
The Google Pixel 8 Pro is a sleek, modern-looking device with a range of color options to choose from. It has an all-metal body in 3 striking colors: Obsidian, Porcelain, and Bay.
Each option sports different accents – like copper on the black variant or cyan on the blue one – which gives it a unique aesthetic appeal. The home button also shines brightly when you press it.
Google Pixel 8 Pro: Performance and Battery Life
The Pixel 8 Pro packs in Google Tensor G3 (4 nm) chipset, delivering great performance, smooth multitasking, and gaming experience. A Li-Ion 5050 mAh offers an impressive battery life for users to enjoy their day-long usage easily.
Performance Benchmarks and a Thermometer Feature
Performance benchmarks and Thermometers are two essential features used to assess the performance of a device like the Google Pixel 8 Pro. Performance benchmarking allows comparison of a device's speed, efficiency, and overall performance with other devices in its category.
It helps by providing an overview of how this particular device fares against competing models in terms of speed, battery life, etc., as well as letting users know if they are getting good value for their money or not.
Unfortunately, with the Google Pixel 8 Pro, it was revealed that while there was no specific data regarding these features released during testing phases, Geekbench 6 – which is one of the most popular benchmarking tools on the market – wasn't installed either.
However, despite this lack of information, it was reported that the phone still achieved over five-and-a-half hours of screen time, including some gaming tests conducted during reviews.
Nona-Core Design
The Google Pixel 8 Pro makes use of the revolutionary nona-core design, offering superior performance and efficiency compared to traditional processors. This nine-core chip architecture developed by Google has been optimized for multitasking, gaming, and artificial intelligence (AI) tasks, amongst other applications.
As opposed to conventional CPUs, which have only multiple cores packed into a single assembly unit like Qualcomm Snapdragon chipsets or Outriders SoCs, the nona-core design instead groups the nine core clusters in modular form with multiple combinations allowing for maximum task allocation utilization in each cluster level.
Combined with the improved ARM CPU and GPU architectures featured inside the device, it provides extraordinary multithreading capabilities and speeds as well as rich visuals while maintaining power efficiency.
The expected result is a higher-than-expected performance with minimum battery usage without compromising on visual fidelity throughout gameplay or processor-intensive activities for professional users such as editors & innovators focusing more on enterprise-grade solutions.
AI algorithms play a central role in the Pixel 8 Pro, working in tandem with dedicated AI cores to expedite tasks like bill payments and online security verifications. This reduces the strain on the device's system resources, making research and execution processes notably smoother.
As a result, it enhances hardware performance and brings about software improvements, optimizing the overall user experience.
Battery Life
The Google Pixel 8 Pro is equipped with a 5,050 mAh capacity battery that offers up to two days of battery life on a single charge. The device boasts fast charging support, making it perfect for those who need power in a hurry – the phone can reach 50% in 30 minutes alone.
The Pixel 8 Pro also supports wireless charging and reverse wireless charging features. What's even better is its adaptive battery feature that learns your usage habits and adjusts accordingly, extending the total lifespan of your device by trimming down any non-essential activities when needed.
All these features taken together make the Google Pixel 8 Pro one of the best smartphones for long battery life in today's market.
GPU Performance
The Google Pixel 8 Pro features a unique GPU called Immortalis-G715s MC10, enabling enhanced gaming performance with smooth graphics. This GPU's powerful and most efficient design allows the phone to deliver an outstanding user experience, allowing users to enjoy games without lag.
Moreover, the Innovative multi-layered Cooling System ensures that all applications can run at optimal temperatures for longer durations by mitigating heat build-up to ensure improved performance even during demanding tasks like 4K video streaming or intensive gaming sessions.
Not only that, but its immortality feature also contributes significantly when it comes to battery life, meaning you don't need to worry about draining your Phillip's precious juice quickly as this amazing piece of technology conserves energy every step of the way for an extended period of time while still delivering great computing power.
Google Pixel 8 Pro: Comparison with Competitors
To help you decide if the Pixel 8 Pro is a better option than its competitors, we compare it to Samsung's Galaxy S23 Ultra and Google's own Foldable device. We will also discuss how Apple's iPhone 15 Pro Max stacks up against the Pixel 8 Pro.
Best Alternative: Samsung Galaxy S23 Ultra
The Samsung Galaxy S23 Ultra is a top choice for those wanting the best Google Pixel 8 Pro alternative. Its large 6.8-inch OLED display offers a greater visual experience than the Pixel 8 Pro's 6.7-inch display.
Its faster charging capabilities are also unbeatable, with up to 45 watts of wired charging versus just 30 watts offered by the Pixel 8 Pro. In terms of performance too, its octa-core Qualcomm Snapdragon 8 Gen 2 processor puts it leagues ahead of Google's offering that houses merely eight Kryo 680 cores, making the former undoubtedly more powerful under duress.
On top of this, Samsung's industrial design somehow manages to stand out when put next to the somewhat average aesthetics of Google, offering users an unparalleled smartphone experience with its cutting-edge look and feel.
iPhone 15 Pro Max: Is It the Best Competitor?
The iPhone 15 Pro Max is a Google Pixel 8's main competitor. Likewise, its performance in synthetic benchmark tests is generally above average for flagship Android devices. And Apple's video stabilization always produces superior footage to that produced on any other smartphone camera – including those in the Pixel series.
In a comparison of camera setups and editing capabilities, the Pixel 8 Pro stands out with its advanced features that offer maximum manipulation with exceptional ease. Features like "Man Up Shot" for subject highlighting and "Chic Hairline Set" for precise angle adjustments are noteworthy.
In contrast, the iPhone 15 Pro Max offers fewer photo manipulation options. The Pixel 8 Pro's camera and editing features provide users with more creative control and flexibility.
Frequently Asked Questions (FAQs)
Now, we'll explore some questions people often ask about the Google Pixel 8 Pro hands-on review.
1. What is a Google Pixel 8 Pro hands-on review?
A Google Pixel 8 Pro hands-on review is an in-depth analysis of the features and capabilities of the phone, typically based on first-hand experience with it.
2. What does a comprehensive Google Pixel 8 Pro review cover?
A comprehensive Google Pixel 8 Pro hands-on review covers a wide range of topics, including design and build quality, performance specs, camera quality, battery life, and security features.
3. Who would benefit from reading this type of review?
This type of detailed evaluation can be helpful to anyone considering buying the new flagship device but wants to get all the facts before deciding whether it's right for them.
4. What are some unique aspects I should consider about this phone when considering its purchase?
When evaluating the unique features of the Google Pixel 8 Pro, consider its Dual Front Camera system with 4K video recording capability and its advanced AI technologies, such as Google Assistant and Motion Sense gestures, for quickly accessing apps and services without manually unlocking your device.
Takeaway
With its great display, fantastic cameras, long battery life, and solid construction, the Google Pixel 8 Pro has proven itself as an excellent flagship device. Although it is expensive, considering the host of features offered along with the latest Android version 14 and improved AI tools that propelled it to be a future-proof phone, this an attractive purchase for both mainstream users and Pro mobile photographers.