Dhaka Elevated Expressway Toll Rate: How Much Will It Cost You? [Detail Guide]
Driving in Dhaka can be a nightmare due to the increasing traffic congestion. The government has implemented a new project known as the Dhaka Elevated Expressway, which aims to address this problem and provide relief for city dwellers. This guide will help you understand all the details regarding Dhaka Elevated Expressway Toll Rate.
With our comprehensive guide, you will make informed decisions when traveling through the Dhaka Elevated Expressway – making it easier for you to navigate your way in and around the city!
Content Highlights
The Dhaka Elevated Expressway is a 46 km long highway designed to improve connectivity and reduce traffic congestion in urban areas.
Toll rates range from Tk80 to Tk400, depending on the type of vehicle, time of day, and distance traveled.
With this expressway, commuters will benefit from reduced travel times, improved road conditions, and increased safety measures around key industrial regions.
Contractors involved have experience in building transportation projects with efficient designs while mitigating environmental impacts such as reducing pollution & emissions along the route.
Overview of Dhaka Elevated Expressway
The 34.2 km long Dhaka Elevated Expressway is a transportation project designed to increase connectivity and reduce traffic congestion in Dhaka, Bangladesh. However the first part of the Dhaka Elevated Expressway, which connects the Airport to Farmgate, was launched on Saturday, September 2nd, 2023. The grand inauguration of this massive project took place with Bangladesh's Prime Minister, Sheikh Hasina, leading the event at the historic Trade Fair grounds in Dhaka.
Route Map and Length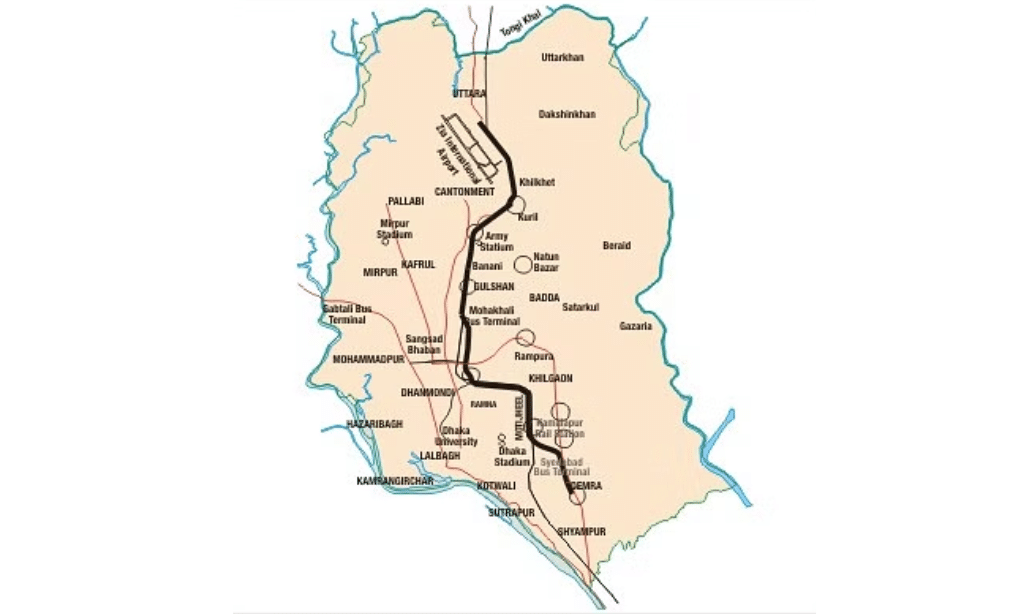 The Dhaka Elevated Expressway is a 46.73 km (29.04 mi) long highway stretching from Hazrat Shahjalal International Airport to Kutubkhali in the South, traversing through 9 major suburbs of Dhaka: Uttara, Dakshinkhan, Ashulia, Savar, Tongi Jahangirabad and Savermari.
Paying more attention to the Dhaka Elevated Expressway route map you'll find it passes through 6 key industrial regions: Nabinagar-Durbaria-Tongi Bypass Road; Sadu Road Bridge at Kanchpur Junction; Barua and Kamarpara Bridge at Chandra Junction; Karnatoli Oneway Flyover pathway; Rampura Brahman Para Under Pass and Dagdair area in Darussalam zone.
The 19.7 km long second part of this expressway – the Dhaka Ashulia Elevated Expressway is currently under construction to provide commuters with quicker access from the capital's district boarder – Madhyapara Fateh Khan– all the way up until Shurrabayat on eastern side of Bangladesh Railway Line 2 (BR2).
Purpose and Benefits
The Dhaka Elevated Expressway is an infrastructure development project designed to reduce traffic congestion and improve connectivity in densely populated urban areas.
This expressway will extend from the Shahjalal International Airport to Kumar Bazar via Mohakhali, providing a much-needed direct route for commuters seeking to reach their destinations faster.
It passes over major roads, level crossings, flyovers/elevated roads and foot overpasses as it connects these important crossing points.
The project will divert traffic away from city centers, reducing pressure on existing roads while improving safety conditions on the streets.
Additional benefits include reduced travel time, improved road conditions, increased convenience for commuters, and enhanced opportunities for economic growth through job creation and potential development projects.
Key Features of the Expressway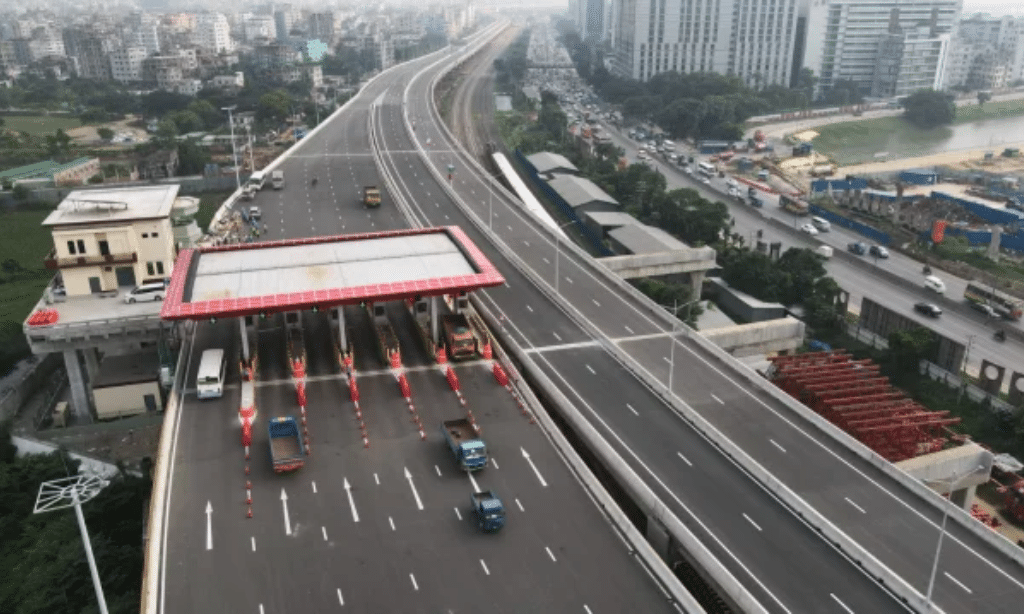 Dhaka Elevated Expressway is Bangladesh's first elevated expressway project, connecting Shahjalal Airport with Kutubkhali through Mohakhali.
The design of the expressway includes the unique use of ramps and a main structure built directly adjacent to the road, forming a complete flyover system.
The highway boasts an 8-lane road with two dedicated bus lanes, 4 general traffic lanes, and 2 emergency bypass lanes.
The toll rate for the expressway varies from Tk80 to Tk400, depending on the distance traveled, time of day, and type of vehicle used by someone driving through it.
This highway connects directly to the Dhaka Ashulia Elevated Expressway at all access points, making it easily accessible for both private cars and motorbikes for those living in or near Dhaka City and beyond.
The purpose of this project is to alleviate traffic congestion in Dhaka City, make transportation more efficient, and connect different areas within the city faster.
It encourages roadway expansion while also improving traffic flow along routes that are already congested due to urban growth and development projects over time.
Furthermore, environmental considerations such as mitigation of pollution and emissions, as well as sustainability measures are also taken into account throughout the expressway's construction process.
Dhaka Elevated Expressway Toll Rate
Learn about how the toll rate varies and its impact on traffic congestion in Dhaka city.
| | | |
| --- | --- | --- |
| Category | Vehicle Type | Toll Rate |
| 1 | Cars, jeeps. taxis, SUVs, (with fewer than 16 seats), and light trucks (under three tons) | Tk80 |
| 2 | All types of buses with 16 seats or more | Tk160 |
| 3 | Medium-sized trucks (up to six wheels) | Tk320 |
| 4 | Trucks with more than six wheels | Tk400 |
Variation of toll rates (Tk80 to Tk400)
The Dhaka Elevated Expressway toll rates play a crucial role in regulating traffic congestion within the bustling city of Dhaka. To ensure a fair and efficient system, toll rates vary based on the category of vehicles. In Category 1, which includes cars, jeeps, taxis, SUVs with fewer than 16 seats, and light trucks weighing under three tons, the toll rate stands at Tk80.
For larger vehicles like buses with 16 seats or more, categorized under Category 2, the toll rate is Tk160. Medium-sized trucks, those with up to six wheels, fall under Category 3, with a toll rate of Tk320.
Finally, Category 4 encompasses trucks with more than six wheels, where the toll rate is Tk400. Understanding these toll rates is not only essential for managing travel expenses but also for contributing to the smoother flow of traffic on the Dhaka Elevated Expressway, ultimately making commuting in Dhaka more efficient and hassle-free.
Impact on Traffic Congestion
The toll rates for the Dhaka Elevated Expressway play an important role in controlling and reducing traffic congestion within the city of Dhaka. The higher fee charged encourages traffic diversion to other routes, providing space on the expressway while allowing its users to access their destinations faster and with minimal disruption from heavy traffic congestion.
Additionally, it provides information so commuters can plan an optimal route when traveling around the city—contributing further to reduced travel times. There are a variety of different toll rates which allow customers to select options that fit best with their needs; ensuring that everyone is given adequate access at fair prices.
This information has become paramount in managing road resources efficiently and effectively, as well as improving critical urban transportation infrastructure in Dhaka.
Impact on Surrounding Communities
Evaluating the potential impact of this expressway on communities surrounding it is essential to ensure an equitable distribution of resources and sustainable management of the infrastructure.
Environmental Considerations
During the planning and construction of the Dhaka Elevated Expressway, environmental considerations were taken seriously to reduce adverse impacts. An Environmental Impact Assessment (EIA) was conducted to identify potential threats posed by its operation, with regard for air quality improvements and sustainability.
To mitigate air pollution in the area, measures such as using hybrid building materials have been implemented – replacing traditional concrete structures with one made from composite materials.
Additionally, emission reduction strategies will be deployed that use alternative fuels such as CNG-run vehicles on-site during operations, and green technologies such as solar energy applications for lighting along the route.
Mitigation of Pollution and Emissions
The primary objective of the Dhaka Elevated Expressway project is to reduce air pollution in surrounding communities by mitigating pollution and emissions resulting from traffic.
An environmental impact assessment was conducted prior to the implementation of the expressway, which identified potential social and environmental impacts.
To address these impacts, the project team has implemented various mitigation measures. These include reducing vehicle emissions through traffic diversion, as well as establishing a baseline for air quality within the area.
The successful completion of the expressway is expected to reduce congestion on roads leading into Dhaka and provide surrounding communities with improved air quality due to decreased vehicle emissions.
The project team has also taken other steps to ensure sustainability such as ensuring adherence to safety standards and providing emergency services in case of accidents or incidents on the expressway.
Measures for Sustainability
Implementation of environmental impact assessments (EIAs) to evaluate the potential effects of the project on surrounding areas before and during development.
Introducing fuel efficiency standards through public transport fleets seeking emission reduction and air quality improvements.
Designing new roadways, entry-exit points, and pedestrian crossings with good building practices for safe and secure mobility.
Installation of smart traffic lights and green pathways for efficient movement of vehicles and pedestrians.
Provision of clean technologies targeting pollution reduction such as car-sharing systems, bike lanes, and/or walkways with landscaping features.
Replacement of existing bus fleets with low-emission vehicles to reduce air pollution aggravation from transportation sources in the city.
Ensuring waste management protocols are met to reduce air, water, and noise pollution around expressway worksites as well as educating construction personnel on safety regulations implemented for hazardous materials handling
Economic Impact and Job Creation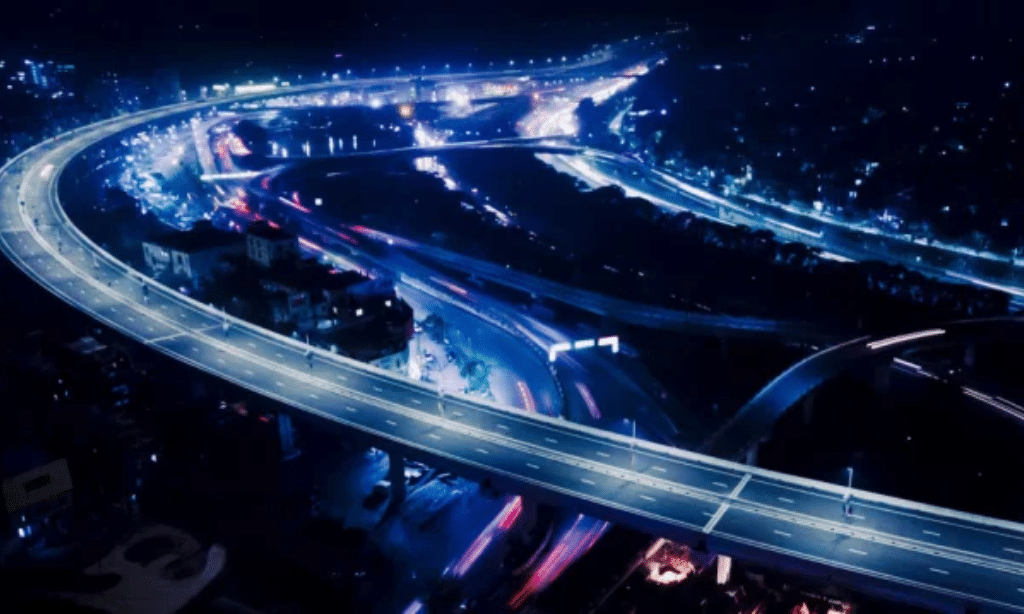 Constructing the Dhaka Elevated Expressway can create significant economic impact and job opportunities for locals, by boosting the local economy and providing necessary funds for development projects.
Boost to Local Economy
The opening of the Dhaka Elevated Expressway is expected to provide a major economic stimulus to the city. It will enhance connectivity between different parts of the city and reduce travel time which in turn will benefit local businesses, create job opportunities, and bring about overall economic growth.
Survey respondents have noted that traffic congestion is a significant issue for many commuters in Dhaka, however, with the expressway reducing their journey times they are likely to spend less on fuel and more money at local stores thus stimulating spending within their communities.
Additionally, connecting Kutubkhali with Savar's industrial hub is likely to result in improved access to export-oriented industries driving regional trade. The results from this survey suggest that these benefits could be substantial, making an investment into this project worthwhile both socially and economically.
Creation of Jobs
The Dhaka Elevated Expressway project is set to revolutionize the Bangladeshi transportation landscape with its establishment of a reliable expressway, ensuring reduced travel time and improved road conditions.
The construction of this infrastructure will not only bring relief to the city's traffic woes but also have a positive overall impact on the economy by creating job opportunities for both skilled and unskilled workers.
Moreover, it is expected to create 150 direct jobs in addition to auxiliary industry jobs which could provide further employment opportunities.
Finally, construction activity throughout this long-lasting project could potentially spur poverty alleviation as more people would be employed due to increased spending within local businesses near communities located close proximity to the elevated expressway route.
This makes it possible by providing customers with a smoother travel experience combined with reasonable toll fee rates that provide economic incentives for commuters and a smooth flow of transport services alongside community development plans catering towards existing employment management systems alongside effective safety measures implementation coupled with risk mitigation strategy.
Potential for Future Development
The Dhaka Elevated Expressway project is expected to bring an array of economic benefits, with potential for future development and job creation. This could have a positive knock-on effect on the surrounding communities by boosting the local economy and providing new employment opportunities.
The construction of this expressway is likely to improve transportation options in intermediate areas, creating more efficient goods and passenger transportation. Furthermore, its successful completion has the potential to open up industrial expansion within those locations – driving productivity growth in Bangladesh as a whole.
With efficient road conditions, shorter travel times, and enhanced connectivity between cities, businesses can reach their customers quicker than before while also being able to access new markets faster. If you are interested about Padma Bridge check out the linked artilce
Safety Measures and Emergency Services
The expressway is equipped with road signage and markings to improve the safety of drivers and passengers, while also being integrated with existing safety systems in Dhaka such as emergency services.
Road Signage and Markings
Road signage and markings are essential to ensure the safety of drivers and passengers on the Dhaka Elevated Expressway. Signs, pavement markings, guard rails, stop signs, and other "street furniture" all play a vital role in ensuring roads are navigable with minimal risk.
These features create an "action landscape" that gives drivers an overall sense of how traffic should flow safely along specific portions of the roadway. Additionally, ramps facilitate smoother transitions from elevated sections of the expressway to lower areas which would otherwise be difficult for vehicles due to steep gradients or topography effects.
The formulation and implementation of urban transport policies can also leverage these safety layouts by dictating regulations such as speed limits or dedicated turn lanes at intersections where warranted to maximize road capacity while minimizing risks.
Integration With Existing Safety Systems
The Dhaka Elevated Expressway has improved the safety of commuters through its integration with existing safety systems. Every precautionary measure is taken to ensure the safe and secure journey of city dwellers on this route, including the implementation of a systematic traffic management system.
Various sensors are used throughout the expressway, monitoring road conditions at any given time and alerting drivers when necessary. This technology allows for more accurate toll rate calculations and smoother navigation for all users on this route.
Additionally, disaster preparedness and emergency management systems have been put in place to prepare drivers in case of an unforeseen accident or emergency situation. All responders have been provided with the necessary training and provisions required for efficiently handling any incidents that may arise during the commute along the Dhaka Elevated Expressway.
Further integration with existing safety systems ensures protection for users against potential hazards while driving along this route such as ensuring proper lane markings, visibility-boosting reflectors on roadsides, implementing a strict zero-tolerance policy towards reckless driving by vehicles carrying overloaded passengers, etc., following sets of rules prescribed by civil engineers involved in building infrastructure projects like highways which are ultimately responsible for providing effective suggestions based on relevant expertise related to traffic engineer reforms & amendments needed within scope boundaries governed by motor vehicle regulation acts passed recently by Prime Minister Sheikh Hasina's Government since 2009 onwards.
Emergency Services and Response
Emergency services and response has become an important consideration when planning new projects such as the Dhaka Elevated Expressway. To ensure the safety of commuters, several measures have been put in place for emergency scenarios.
Dedicated phone lines are available for any emergency incidents that occur on the expressway.
Safety protocols are instilled and regularly updated by professionals to ensure proper procedures are implemented in any situation.
Response teams operated through a control room are ready to act swiftly to address all types of emergencies, ranging from fires, accidents, or medical cases.
Emergency preparedness drills conducted frequently check each team's ability to respond in an urgent situation.
In place, evacuation plans and emergency communication measures ensure no time is wasted when dealing with an emergency.
An emergency hotline is also provided for commuters in case of an unexpected event.
In addition, support vehicles such as fire trucks and ambulances patrol the expressway regularly. and can provide immediate response when necessary.
Challenges and Concerns
[Video Credits @EKHONTV]
Potential roadblocks include the cost and financing, disruption during construction, and maintenance and upkeep considerations.
Cost and Financing
The Dhaka Elevated Expressway project is estimated to cost ৳122 billion, with the government allocating Tk4,885 crore for land acquisition and compensation. The toll rates on the expressway vary depending on vehicle category – ranging from a minimum of Tk80 to a maximum of Tk400.
In order to finance the project, funds have been provided in three categories: loan-based financing; sale of properties; and budget reallocation at the local level. Contractors involved in adhering to safety standards are subject to strict financial scrutiny and have agreed upon licensing payments that will contribute towards repaying loan investments as part of repayment terms.
Additionally, various contributing organizations such as international banks and bilateral agencies can be found around Dhaka assisting with costs by providing funds for purchasing materials used during construction or through support programs covering associated costs such as route mapping feasibility studies or traffic monitoring systems.
Disruption During Construction
During the construction phase of the Dhaka Elevated Expressway, city dwellers and surrounding communities may face a range of issues. These include increased road traffic congestion, noise pollution from heavy machinery onsite, as well as potential inconvenience due to temporary closures or diversions during peak hours.
In addition, labor sheds are often located close to residential areas with the potential for sanitation and solid waste issues if proper facilities aren't provided. Proper planning and communication between contractors and local stakeholders is essential in order to minimize disruption and ensure that it does not impact negatively on people's day-to-day lives.
Adequate measures must therefore be taken over safety standards as well as emergency services while the project is ongoing. Neighborhood watch groups can also help monitor worksites while providing a source of complaint should anything occur that creates distress among local residents.
Maintenance and Upkeep
The maintenance and upkeep of the Dhaka Elevated Expressway is a critical part of ensuring its performance and safety. To ensure that traffic flow along the expressway remains unfettered, government initiatives include preventive maintenance measures such as road signage and markers, timely repair works to minimize disruptions, transportation infrastructure improvements, traffic management strategies such as lane markings on roadsides, and integration with existing safety systems.
Toll revenue collected from the expressway can also be used for regular maintenance and upkeep activities. Environmental considerations need to be taken into account with proper mitigation plans being executed in order to revive surrounding communities suffering from pollution caused by heavy construction activity.
These steps taken together promise enhanced connectivity, improved road conditions, and reduced travel time which ultimately boosts the local economy through job creation opportunities thereby enabling prosperity in cities. Additionally, you can check out another article on Dhaka Metro Rail
Takeaway
In conclusion, the Dhaka Elevated Expressway is an important project for the improvement of transportation infrastructure in Dhaka. The toll rates have been carefully determined to ensure smooth traffic flow and provide relief to city dwellers.
The expressway will reduce travel time and benefit commuters with improved road conditions, reduced traffic congestion, better connectivity, and increased safety measures. It also has a significant economic impact by boosting local economies through job creation and offering potential for future development.
Furthermore, provisions have been made for sustainability such as mitigation of pollution and emissions along with environmental considerations throughout construction. All these factors demonstrate why this project is highly beneficial to those living in Dhaka city.