Dhaka Elevated Expressway Route Map: Where to Take off and Where to Get on?
Are you curious about how to get on and off the Dhaka Elevated Expressway, Bangladesh's first elevated expressway project? This project is now complete by the expressway will provide relief from traffic congestion in Dhaka. But before that, it's essential to learn the Dhaka Elevated Expressway route map.
In this blog post, we'll take a look at the guidelines for using the Dhaka Elevated Expressway, areas of entry and exit points, tips for getting on and off safely as well as potential benefits.
So don't wait any longer – let's find out where to take off and where to get off!
Content Highlights
The Dhaka Elevated Expressway is a four-lane highway providing quick access to coastal areas near Gulshan, Banani, and Baridhara.
It has specific guidelines that prohibit three wheelers, bicycles, pedestrians and motorbikes from accessing the expressway.
Commuters are able to enter or exit from Banani Kamal Atartuk Avenue, Mohakhali Bus Terminal or Tejgaon area which links travelers with prominent landmarks such as Hazrat Shahjalal International Airport and Kutubkhali via the expressway.
Key Points for getting on and off the Dhaka ExpressWay include an awareness of accessible routes & landmarks, timing & traffic considerations in order to get around efficiently avoiding congestion outside peak hours.
Guidelines and Restrictions for the Dhaka Elevated Expressway
Three-wheelers, bicycles, pedestrians, and motorbikes are not permitted on the Dhaka Elevated Expressway.
Prohibited Vehicles (Three-Wheelers, Bicycles, Pedestrians, and Motorbikes)
The Dhaka Elevated Expressway has specific guidelines and restrictions related to the prohibition of three-wheelers, bicycles, pedestrians, and motorbikes. The expressway was built with a focus on safety and efficiency, so for these reasons, access is restricted to only four-wheeled vehicles. This ensures that those traveling on the expressway will have an uninterrupted journey with no distractions or impediments.
No Photo taking or Stopping on the Expressway
Photo taking and stopping on the Dhaka Elevated Expressway is prohibited for safety reasons. Taking photographs of life outside of your vehicle while standing in the expressway can cause distractions, leading to hazardous driving conditions.
Stopping on the highway can make traffic significantly worse, as drivers who are not familiar with the area may have difficulty finding a place to turn around or re-enter the flow of traffic.
Additionally, passengers dismounting from their vehicles would also represent a risk by blocking traffic or running across multiple lanes in order to access a safer place where they could disembark; these two behaviors can lead to dangerous collisions that endanger both passengers and other motorists alike.
Areas for Entry and Exit on the Expressway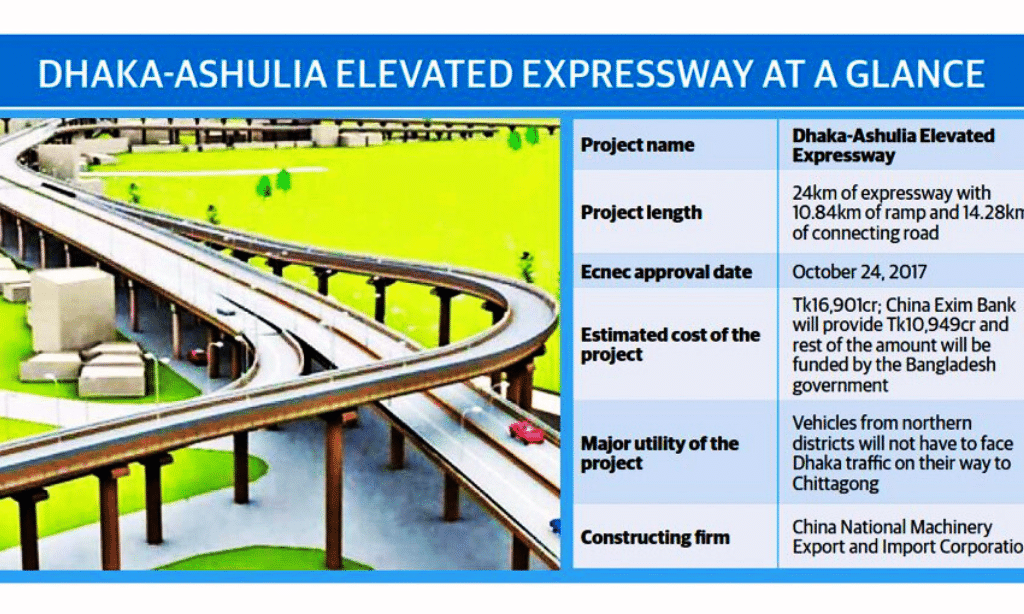 Drivers can enter or exit the Dhaka Elevated Expressway at different points. Below Let's check them out.
Southbound Transportation Pick Up Locations
South of Hazrat Shahjalal International Airport in Kawla.
Army Golf Club on Pragati Sarani and Airport Road.
Southbound Transportation Drop Off Locations
Banani Kamal Ataturk Avenue.
In front of Mohakhali Bus Terminal.
Near Indira Road in the Farmgate area.
Northbound Transportation Pick Up Locations
Overpass on Bijoy Sarani, both north and south lanes.
In front of Banani Railway Station.
Northbound Transportation Drop Off Locations:
In front of Mohakhali Bus Terminal.
In front of Banani Kamal Ataturk Avenue, near the Airport Road.
Kuril Biswaroad.
In front of the third terminal of the Airport.
Key Points for Getting on and off the Expressway
Accessible routes and landmarks should be taken into account to ensure efficient entry or exit on the expressway while keeping timing and traffic in mind.
[Video Credits @Dlight]
Accessible Routes and Landmarks
To make commuting even more convenient on the Dhaka Elevated Expressway, entry and exit points have been identified in areas such as Banani Kamal Atartuk Avenue, Mohakhali Bus Terminal, and the Tejgaon area.
These locations are marked by prominent landmarks that provide commuters with key points of reference when getting on and off the expressway. Entries to the expressway are marked by roadside signages featuring yellow stripes for greater visibility. For commuters coming from outside Dhaka, access is possible through the Kanchpur Bridge in Narayanganj or the Munshiganj Bridge at Shankarpur.
Additionally, important intersections like Bashundhara Connector Interchange in Uttara can be used as entry or exit points into the expressway. All of these access routes feature committed entrance-exit lanes that would ensure a smooth flow of traffic and minimize congestion.
Timing and Traffic Considerations
When commuting on the Dhaka Elevated Expressway, it is important to take both peak hours and traffic patterns into account. A rush hour during the morning and evening can cause extended travel times due to an increase in congestion; alternative routes should be considered when possible.
Additionally, vehicles are not allowed on the expressway during curfews – typically after 10:00 p.m. – or when attending certain public events. Every trip must begin and end at approved entry/exit points such as Banani Kamal Atartuk Avenue, Mohakhali Bus Terminal, Tejgaon area, etc., otherwise, fines may apply.
To make full use of this corridor for fast transit links between the Mirpur and Shahajadpur areas it is advisable to plan journeys well in advance with consideration of any potential delays due to high volumes of traffic outside peak hours or unexpected hold-ups from road closures and diversions.
Benefits of the Dhaka Elevated Expressway
The Dhaka Expressway offers improved connectivity and transportation efficiency, as it helps reduce traffic congestion and shorten travel times along busy routes.
Reduced Congestion and Travel Time
The Dhaka Elevated Expressway is expected to bring a dramatic reduction in traffic congestion and commuting times for residents of Dhaka. The expressway aims to connect the bustling areas of Banani, Mohakhali, and Tejgaon with a 46.73 km four-lane highway connecting these important locations.
By providing a faster alternative route, commuters are able to avoid the congested surface roads that makeup Dhaka's existing road infrastructure. As an elevated expressway, this project also helps ease traffic pressure on ground-level city streets by diverting cars, trucks, and other vehicles away from specific routes during peak hours.
This is especially beneficial to those who need access through the center parts of the city or living in suburbs who would otherwise get stuck in an extended rush hour journey due to heavy vehicle numbers on existing roads. 
Improved Connectivity and Transportation Efficiency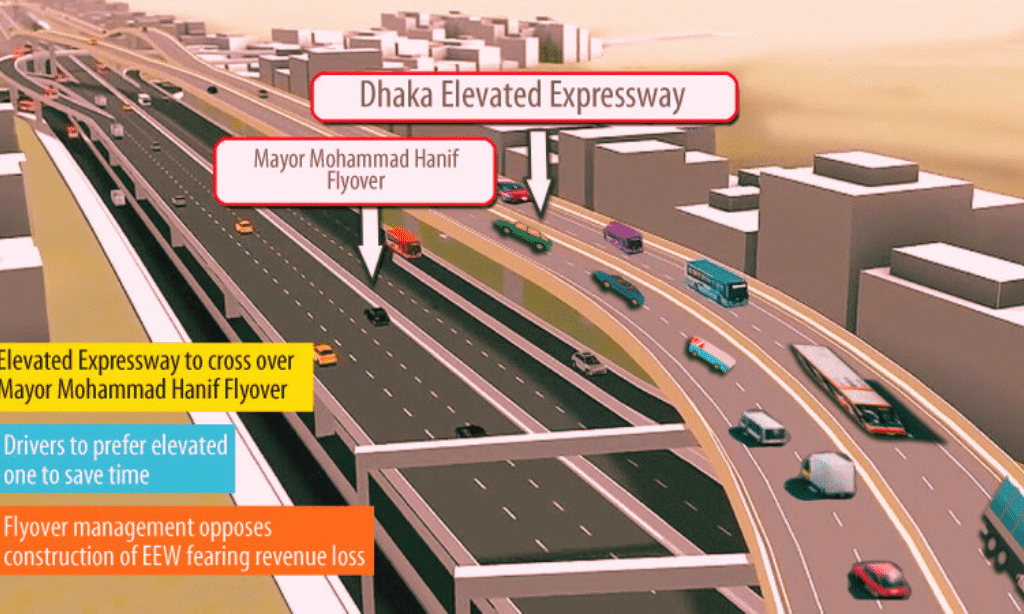 The Dhaka Elevated Expressway helps to improve connectivity and transportation efficiency in Dhaka. This massive infrastructural project is designed to divert traffic within the city, reducing congestion in urban areas.
Additionally, it will enable private cars and motorbikes to travel more smoothly from north to south through the expressway.
In building this elevated highway, the Government of Bangladesh aims to alleviate road traffic congestion and ultimately reduce delays, journey times, fuel consumption as well and air pollution for safe travel throughout the city.
In comparison with passing conventional highways or roads congested with rickshaws etc., drivers can access their desired destination quickly by utilizing a route that allows them uninterrupted driving on an exclusive lane that stretches around 30 kilometers (19 miles). If you're willing to read about Dhaka Metro Rail then click the link
Frequently Asked Questions (FAQs)
To know more about the Dhaka elevated expressway, check the answers below.
1. What is the Dhaka Elevated Expressway?
The Dhaka Elevated Expressway is a highway constructed in Bangladesh circles around the capital city of Dhaka. It provides an efficient and convenient way for commuters to travel around the city.
2. Where do I take off when using the Dhaka Elevated Expressway?
To use the expressway, you need to take off from one of its designated entry points which are located at various locations throughout Dhaka.
3. How do I know where to get off from the expressway?
There are several notice boards on each section of the elevated expressway which will indicate your destination or preferred exit point for getting off safely.
4. Are there any other transportation options available besides taking off and getting off?
Yes, there are various public transportation systems in Bangladesh, and most of them can be accessed throughout Dhaka city such as mini busses, auto-rickshaws, and cycles.
Takeaway
The Dhaka Elevated Expressway project is an integral part of the goal to ease traffic congestion in Bangladesh's capital. The expressway, slated to be completed by June 2026, will provide a much-needed alternative for people who travel regularly between Shahjalal Airport and Kutubkhali through Banani Kamal Atartuk Avenue and opposite Mohakhali Bus Terminal.
It is expected to reduce traveling time significantly while improving connectivity and transportation efficiency with its unique ramps and main structure built adjacent to the road.
This landmark project will officially open on September 2nd, 2023 at Sher-e-Bangla Nagar. By providing improved transport links, it promises greater convenience for residents of Dhaka city looking to get around quickly without being hampered by long delays caused by heavy traffic congestions.