20 Best Mobile Gaming Controllers in 2023 [Buying Guide]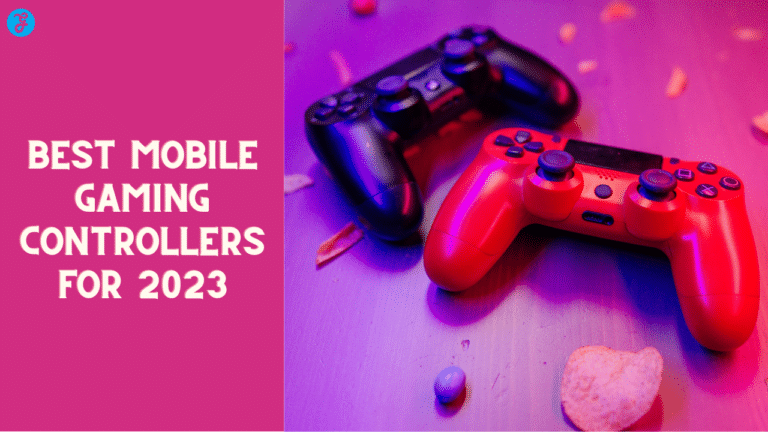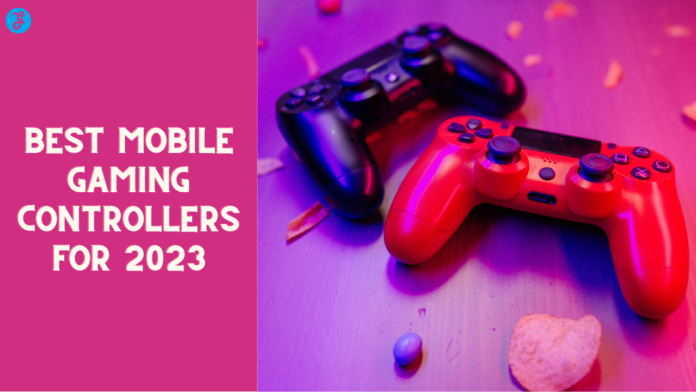 Ready for an elevated gaming experience? The best Mobile Gaming controllers for 2023 are a great way to take your playing skills up a notch. In 2023, there will be various exceptional mobile game controllers available on the market.
In this blog post, we provide a comprehensive guide to help you choose the best mobile game controller for your needs and budget. From Razer Kishi V2 to Backbone One, read on as we explore all the top contenders that can match any Android or iOS device perfectly.
Make sure you ace any battle royale with these ultimate gaming accessories!
Content Highlights
Many gaming controllers are available on the market for phones and tablets, including Backbone One, SteelSeries Stratus++, Razer Kishi V2, and more.
Mobile gaming controllers provide precision control with customizable buttons such as haptic feedback triggers integrated into the design.
The best mobile gaming controllers in 2023 offer comfort during long play sessions, multi-function button layouts, secure Bluetooth connections, and compatibility across multiple platforms.
Some of the top mobile game controller brands to look out for in 2023 include Sony DualSense, 8BitDo Ultimate, Razer Raiju Mobile, and Xbox Core Controller.
The Best Mobile Gaming Controllers for 2023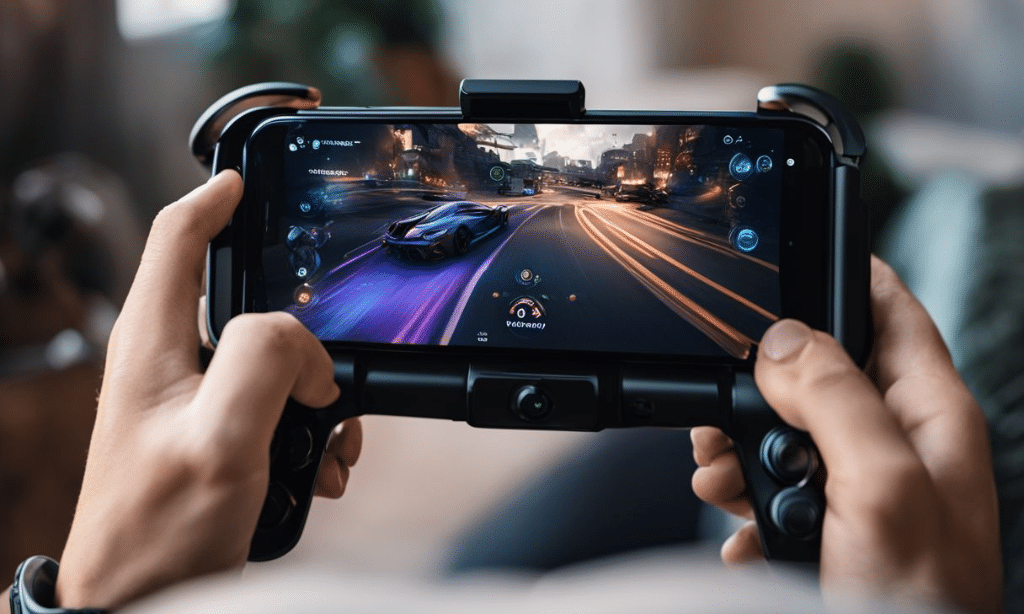 We'll be taking a look at some of the top mobile gaming controllers for 2023, which include the Backbone One, SteelSeries Stratus+, Razer Kishi V2, Gamevice Flex, Sony DualSense 8BitDo Ultimate and more.
| | | | |
| --- | --- | --- | --- |
| Controller Model | Compatibility | Ergonomics | Connectivity |
| Backbone One | iPhone/Android | Great | Lightning Port/USB-C |
| SteelSeries Stratus+ | Android | Good | Bluetooth |
| Razer Kishi V2 | iPhone/Android | Good | USB-C |
| Gamevice Flex | Android | Good | USB-C |
| Sony DualSense | iPhone/Android | Excellent | Bluetooth |
| 8BitDo Ultimate | Various | Good | Bluetooth |
| Razer Raiju Mobile | Android | Excellent | Bluetooth |
| Xbox Core Controller | iOS/Android/macOS/PC | Excellent | Bluetooth |
| PowerA MOGA XP5-X Plus | Android/iOS/PC | Good | Bluetooth/USB |
| HyperX Clutch | Android/iOS | Good | Bluetooth |
| Hori Mobile Gaming | Android | Good | Wired |
| GameSir X2 Type-C | Android | Good | USB-C |
| Saitake STK-7003 | Android | Good | Wired |
| Roccat Kain 200 AIMO | Android | Excellent | Bluetooth |
| MOGA XP5-A Plus | Android | Good | Bluetooth/USB |
| Roccat Elo 7.1 Air | Android | Excellent | Bluetooth |
| Satechi Wireless Gamepad | Android/iOS | Good | Bluetooth |
| 8BitDo Lite | Android/Windows | Good | Bluetooth |
| Anker PowerCore Play 6K | Android | Good | USB-C |
| Mad Catz C.T.R.L.R | Android/iOS/Windows | Good | Bluetooth |
Backbone One
The Backbone One is a state-of-the-art mobile gaming controller designed to take your gaming experience on the go. With an extra lightning port/USB-C port, it's designed to work with both iPhone and Android devices, making it one of the top controllers for 2023.
Not only does its design offer great ergonomics for a comfortable grip and playability but also offers compatibility with streaming PlayStation or Xbox games as well as Windows PCs.
It helps give your phone the feel of a portable console by providing full button mapping and individualized triggers that you would find in most popular consoles today. You can even customize each button layout within the app, allowing you to create unique setups specifically tailored to fit any game or genre preference that you have.
SteelSeries Stratus+
The SteelSeries Stratus++ is the perfect choice for gamers on a budget looking to get their hands on a great mobile gaming controller. This upgraded version of the popular Stratus Duo controller boasts upgraded ergonomics, and full button customization options, and is widely compatible with any Android device.
It has an instantly recognizable Xbox-style design that features familiar media controls, buttons, and sticks. With its Bluetooth connectivity support, you can easily establish secure connections between your phone or tablet and the controller to play your favorite games without any lag issues.
The seamless performance along with enhanced low latency rendering makes this one of the best controller's versatility in 2023, perfect for casual gamers as well as hardcore ones alike!
Razer Kishi V2
is considered one of the best mobile controllers for gaming in 2023. This universal controller provides gamers with an innovative way to level up their gameplay, as it works across both iPhone and Android devices.
The Razer Kishi V2 features a stable and extendable bridge that securely holds all modern smartphone models while allowing comfortable access to all its controls. Furthermore, it has been designed perfectly for long gaming sessions with buttons precisely placed on each side; trigger buttons at the base provide options for additional input configurations.
Compatible with many popular touchscreen games like Call of Duty: Mobile, Asphalt 9 Legends, and Mario Kart Tour, this newcomer revolutionized the market contributing to offering easy and enjoyable gaming experiences from either your phone or tablet device.
Gamevice Flex
The Gamevice Flex is a standout choice for gamers in search of the perfect mobile gaming controller. With an ergonomic frame and well-placed buttons, it offers superior comfort to reduce fatigue and improve user experience throughout long play sessions.
Its collapsible design makes it easy to store and travel with, allowing gamers to easily take their favorite games on the go. Not only that but its compatibility with Android devices expands its accessibility amongst a wide range of users, while also allowing support for different smartphone cases.
Most importantly however, the innovative design includes a flexible bridge that can be used according to how big or small your device may be – giving you plenty of options when it comes to taking control over your gaming experiences!
Sony DualSense
The Sony DualSense is one of the most popular and highly-rated mobile gaming controllers for 2023. This state-of-the-art controller offers a new design that delivers ergonomic functionality while providing an immersive experience for gamers.
With its unique haptic feedback, adjustable triggers, and built-in microphone for online gameplay or communication, the DualSense provides superior precision control over your gaming experience.
Not only can it be used with the PS5 console but also seamlessly integrates with additional devices such as smartphones resulting in a rich gaming environment. Highlighting these features in addition to ease of use due to its versatility makes it clear why this controller is considered among the best on the market right now and will continue to be fierce competition moving forward into 2023.
8BitDo Ultimate
The 8BitDo Ultimate Bluetooth Controller is an innovative and affordable mobile gaming controller designed for a wide range of gaming platforms. It is compatible with Windows, macOS, Nintendo Switch, and even mobile phones.
This controller features an Xbox-style design with comfortable grips as well as a trimmed down SNES-style D-pad that offers improved flexibility compared to traditional four norrow style designs.
For convenience in charging and storage, the 8BitDo Ultimate also comes supplied with a sleek charging dock – this makes it easy to keep the device charged while not in use. The controller has been praised for its performance and versatility making it ideal choice for anyone looking to elevate their mobile gaming experience in 2023.
Razer Raiju Mobile
is a top-of-the-line mobile gaming controller designed specifically for Android devices. It features Razer Mecha-Tactile Action Buttons that provide precision control and extensive customization options, allowing gamers to tailor the buttons' behavior to their exact preferences.
The ergonomic design fits comfortably in hand with a multi-function button layout including hair trigger mode and 3 dials for adjusting click strength, vibration intensity, and tension resistance values respectively.
These features combine to make the Razer Raiju Mobile one of the best controllers available on the market today – perfect for enhancing your Android gaming experience!
Xbox Core Controller
The Xbox Core Controller is one of the leading mobile gaming controllers for 2023. This wireless controller has a sleek and ergonomic design that fits comfortably in the hands, making it perfect for extended playtime with no fatigue.
It features full compatibility with all iOS, Android, macOS, and Windows devices as well as consoles like the Xbox One family and PlayStation systems. In addition to its long-term battery life best suited for marathon multiplayer sessions, the device also includes customizable button mapping options for an improved gaming experience on any platform.
The Core Controller is highly recommended by gamers looking to take their Xbox Cloud Gaming setup to the next level thanks to its optimized gaming controls combined with some advanced modern features such as adjustable trigger stops and hair triggers.
PowerA MOGA XP5-X Plus
The PowerA MOGA XP5-X Plus is an advanced mobile gaming controller designed for both Android/PC and iOS mobile devices. It offers gamers great flexibility with the ability to play wired or wirelessly, enabling them to extend their gaming sessions at home or on the go.
The controller has a built-in Power Bank function making it especially convenient when playing games away from home as players only have to take one device with them. Furthermore, users can enhance their gaming experience even further by attaching phones directly onto the controller using its detachable gaming clip feature.
Last but not least its features also include competitive pricing since it retails at around $70 – making it an affordable choice for gamers seeking a great response time and additonal battery life during those long sessions spent playing your favorite game on your phone!
HyperX Clutch Wireless Controller
The HyperX Clutch Wireless Controller is one of the top controllers for mobile gaming in 2023. This controller has a unique convertible clip that allows users to attach their phones while playing games.
It's designed with comfort and ergonomics in mind, offering a directional pad, buttons, and analog controls that give gamers superior control over their gameplay. The battery life ensures long gaming sessions without needing to recharge as well.
Its compatibility with Android and iPhone devices makes it suitable for different types of gamers who prefer either system platform. This controller features a detachable handle so gamers can easily carry it around on the go or anytime they want to change up their gaming session location.
Hori Mobile Gaming Controller
The Hori Mobile Gaming Controller is known for its simplicity and durability. Designed for Android devices, it offers a no-nonsense gaming experience. It's perfect for gamers who prefer the familiarity of a traditional controller design. The responsive buttons and ergonomic grip make it comfortable for long gaming sessions, and its wide compatibility ensures it works seamlessly with a variety of Android smartphones.
GameSir X2 Type-C
GameSir X2 Type-C is a telescopic controller designed for Android smartphones. It securely holds your device, instantly transforming your phone into a handheld gaming console. With customizable buttons and responsive joysticks, it provides precise control for a wide range of games. Its portability makes it a great choice for gaming on the go, ensuring you can enjoy console-quality gaming experiences wherever you are.
Saitake STK-7003
The Saitake STK-7003 is an affordable option for Android gamers seeking a compact and portable controller. Despite its small size, it doesn't compromise on performance. The responsive controls and comfortable grip ensure an enjoyable gaming experience. Its budget-friendly price point makes it an attractive choice for gamers looking for a simple and effective gaming controller.
Roccat Kain 200 AIMO
The Roccat Kain 200 AIMO is a premium mobile gaming controller with a sleek and sophisticated design. While it's compatible with Android devices, its premium build quality and precise controls make it stand out. The customizable button layout and responsive joysticks provide gamers with a high level of control and precision. It's an ideal choice for those who want a top-tier gaming experience on their Android smartphone.
MOGA XP5-A Plus
The MOGA XP5-A Plus is a versatile mobile gaming controller designed for Android devices. It offers a comfortable grip and a built-in phone holder, allowing you to securely attach your smartphone. This controller stands out with its Bluetooth connectivity and a rechargeable 3000mAh battery, which not only powers the controller but can also charge your phone while you play. With customizable buttons and a reliable performance, it's a great choice for Android gamers.
Roccat Elo 7.1 Air
The Roccat Elo 7.1 Air is a wireless gaming headset that also functions as a mobile gaming controller. It's compatible with Android devices, providing immersive audio and precise controls. With its 7.1 surround sound and adjustable microphone, it enhances both your gaming experience and communication with teammates. The controller's ergonomic design ensures comfort during extended gaming sessions.
Satechi Wireless Gamepad
The Satechi Wireless Gamepad is a compact and stylish mobile gaming controller compatible with both Android and iOS devices. Its sleek design and responsive buttons make it a great choice for mobile gaming enthusiasts. This controller offers excellent portability, making it easy to carry with you. Whether you're playing on your phone or tablet, it provides a reliable and enjoyable gaming experience.
8BitDo Lite
The 8BitDo Lite is a pocket-sized mobile gaming controller that resembles a classic Game Boy. It's designed for gamers who appreciate a retro aesthetic and want a simple yet functional controller. Compatible with Android and Windows devices, it features a D-pad, face buttons, and shoulder buttons, allowing you to enjoy a wide range of games with a touch of nostalgia.
Anker PowerCore Play 6K
The Anker PowerCore Play 6K combines a mobile gaming controller with a power bank. Designed for Android smartphones, it offers ergonomic grips and responsive controls. What sets it apart is its built-in 6700mAh battery, which can charge your device while you game. This controller is an excellent choice for those who want extended gaming sessions without worrying about battery life.
Mad Catz C.T.R.L.R Mobile Gamepad
The Mad Catz C.T.R.L.R Mobile Gamepad is a versatile controller compatible with Android, iOS, and Windows devices. It features a familiar button layout and ergonomic design. With a variety of modes for different devices, it adapts seamlessly to your gaming platform of choice. This controller's precision and compatibility make it a solid option for mobile gamers looking for a reliable and adaptable controller. If you're interested also read on – Upcoming games in September 2023
Best Phone Controllers for Different Platforms
Choose the right controller for your preferred gaming platforms and grab a distinct mobile gaming experience.
iPhone Controllers (Backbone One, Razer Kishi V2)
For iPhone gamers looking for an enhanced gaming experience, the Backbone One and Razer Kishi V2 controllers are top contenders. Backbone One has been designed with 3D-printed shells to make a perfect fit for iPhones.
It is expandable so it can easily be stored in your pocket or bag and comes with joysticks, buttons, and triggers that guarantee precision control over iOS mobile games. There's also integrated cloud saves and wireless compatibility allowing pairs multiple Advanced Gaming Buttons (AGB) as well as integration of analog sticks allowing players to game seamlessly on their iPhones.
The Razer Kishi V2 similarly offers console-level gaming controls resistant to dust, dirt, and water damage due to its protected ports. It snaps onto either side of the phone transforming it into a Switch or Steam controller-like device and supports pass-through charging while you play the latest AAA titles such as Forza Horizon 4 with great ease from across different platforms such as Xbox PC battle royales like PUBG Mobile on Android devices with amazing accuracy using two ultra-low latency clickable thumbsticks along YABS/XADS capacitive shoulder buttons respond immediately when pressed bringing best out of each gameplay session on one's iPhone device.
Android Controllers (SteelSeries Stratus+, Gamevice Flex, Razer Raiju Mobile)
offer Android gamers a superior user experience, thanks to their streamlined designs and multiple connectivity options. The SteelSeries Stratus+ is optimized for portable gaming on Android and Chromebook devices, pairing quickly using Bluetooth Low Energy.
Meanwhile, the Gamevice Flex offers an extremely durable and lightweight design as well as a detachable USB-C adapter for charging compatible phones or tablets while playing. Finally, the Razer Raiju Mobile has become a popular mobile gaming controller available in different editions that are compatible with various platforms including Android.
With its high-precision analog sticks, programmable buttons, two-shoulder trigger locks, and other special features such as Razer HyperShift mode it provides users with enhanced control customization in order to fully optimize gameplay sessions.
Multiplatform Controllers (8BitDo Ultimate, Xbox Core Controller)
The 8BitDo Ultimate and Xbox Core Controller are two of the best multiplatform controllers for mobile gaming in 2023. These controllers are compatible with both iPhone and Android devices, offering an enhanced gaming experience to players on all platforms.
The 8BitDo Ultimate provides great customization options such as button mapping, stick sensitivity, trigger sensitivity, vibration control, and more. Its wired connection also ensures stable performance for avid gamers who demand ultimate accuracy during their gameplay sessions.
Meanwhile, the Xbox Core controller offers excellent control over movements due to its extra-wide triggers designed specifically for precise aim making it perfect for First Person Shooter games.
Factors to Consider When Choosing a Mobile Gaming Controller
To find the best controller for your gaming needs, you must consider its compatibility with your device, design and ergonomics, wireless connectivity options, additional features and customization options as well as price range.
Controller Compatibility With Your Device
When selecting a mobile gaming controller, it's important to check the compatibility of both your device and gaming system. A single controller may support multiple platforms such as iOS, Android, or Windows across different types of games on each platform.
For example, the Switch Pro controller offers versatile compatibility with Windows and Android devices for PC gamers who love playing online battle royale or racing games. Similarly, iPhone users can pair their Joy-Cons via Bluetooth to get an authentic Nintendo experience in Mario Kart Tour or Animal Crossing Pocket Camp.
Furthermore, Razer Kishi is a highly recommended universal gamepad designed for both Android and iPhones which supports popular titles like Call Of Duty Mobile and Asphalt 9 Legends amongst others.
Controller Design and Ergonomics
Good controller design and ergonomics play an important role in improving the mobile gaming experience. Well-crafted controllers have been designed with comfort, control, and accuracy in mind – allowing players to become immersed more deeply in their games.
Ergonomic features such as adjustable analog sticks to tailored button placement can help gamers feel closer connected with their game's action essays and better responsiveness for critical actions.
A good ergonomic setup also ensures that a player's hands will remain comfortable during long gaming sessions. Moreover, physical buttons are considered more responsive when compared to touch-based virtual controls which enables a smoother gameplay experience overall.
Wireless Connectivity Options
Mobile gaming controllers in 2023 are equipped with a variety of wireless connectivity options such as Bluetooth LE 4.1 and wireless 2.4GHz connections that make it easier to connect to mobile devices like phones or Chromebooks, and PC gaming devices via USB-C ports.
With these wide-ranging connection options, gamers can take their game everywhere they go and have an uninterrupted gaming session on the move or at home without worrying about inconvenient cable connections.
The Turtle Beach Atom Mobile Gaming Controller is one such controller with Bluetooth LE 4.1 connectivity that allows for quick setup across any device including mobile phones and tablets running Android 8 or higher OS versions.
Another great option is the HyperX Cloud Flight S–which offers a stable connection with low latency using its 2.4GHz technology which is ideal for multiplayer games while also giving players reliable control over long distances (up to 160ft).
Additional Features and Customization Options
More advanced mobile gaming controllers offer a range of customization options to enhance user experience. Features such as in-depth customization options, special design elements, RGB backlighting, and compatibility with specific platforms can make playing on mobile devices more enjoyable.
The PDP Victrix Controller, for example, allows users to customize the controller's button layout while tailored designs are available from SteelSeries Stratus+ Android Controller and Microsoft's Xbox Core Controller.
8BitDo has even created the Ultimate Gamepad that offers remappable buttons and patented mounting clips to attach it to both iOS devices like iPhones/iPads or Android devices with ease.
Price Range
When it comes to buying a mobile gaming controller, one must consider the price range of different controllers. With so many options available—from low-cost solutions to higher-end models with more features—the price range of mobile gaming controllers is broad enough to accommodate almost any budget.
Budget-friendly choices such as the 8BitDo Ultimate and PowerA MOGA XP5-X Plus provide all essential functionality for basic gaming needs while mid-range offerings such as the HyperX Clutch Wireless Controller or Sony DualSense offer greater sophistication and personalization.
For users looking for higher-end solutions, Razer offers an elite tier of controllers that include their Kishi V2 and Raiju Mobile platforms, both built with esports performance in mind.
Read also: Best gaming keyboard
We answer some of the most common questions about mobile gaming controllers, such as which controller is best overall or how to choose the right one for your device.
Which Mobile Controller is Considered the Best Overall?
The Backbone One is considered to be the best mobile gaming controller of 2023. Its ergonomic design and impressive features make it a top pick for gamers looking to enhance their mobile experience.
The controller is compatible with both iOS and Android devices, so no matter what phone you use, this device will work for you. It also offers wireless connectivity with other controllers as well as fully customizable buttons and sticks that illuminate when in use.
Plus, its sleek design makes it comfortable to hold during extended gameplay sessions. All these features combine to give gamers an immersing gaming experience that's sure to improve any game on the go!
Is Call of Duty Mobile Better With a Controller?
Yes, Call of Duty Mobile is definitely better with a controller. The advantage that playing on a controller gives players should not be overlooked as it allows for more precise inputs while still being comfortable to play.
Using the right type of controller can give players an edge over their opponents by allowing faster reflexes and movement which are harder to achieve when playing handheld. Additionally, even if a particular mobile gaming controller has not been officially supported by Call Of Duty Mobile, there's a chance it may still work unofficially depending on your device.
In any case, if you plan to join in the fun of the official Call Of Duty Mobile World Championship then bear in mind some tournaments have strict regulations regarding controllers so checking out those rules might help you make your decision beforehand!
Which Controller is Recommended for PUBG Mobile?
The HyperX Clutch Wireless Controller is one of the best mobile gaming controllers on offer for PUBG Mobile in 2023, providing wire-free convenience and responsive performance. Highly recommended by gamers on both iOS and Android devices, this controller features a dedicated app that lets players customize their controls according to the game they're playing.
It also offers Bluetooth connectivity offering a stable connection for uninterrupted gaming sessions with no delays or input lags. Moreover, its ergonomically designed layout ensures comfortable handling even after hours of sustained gameplay, and players can easily switch between different control configurations within seconds without having to navigate through menus.
With all these features combined together, the HyperX Clush Wireless Controller has become one of the most popular options available when it comes to controllers suitable for the PUBG Mobile gaming experience in 2023.
Comparison: PlayStation-style Controllers vs. Xbox-style Controllers
Compare the pros and cons of each type to see which style is better for your gaming experience.
Pros and Cons of PlayStation-style Controllers
One of the most popular types of controllers for use with mobile games is the PlayStation-style controller. These controllers typically feature a symmetrical form factor and layout familiar to PlayStation players, including a center joystick and two separate triggers or shoulder buttons.
While they may not have all the bells and whistles of hyper-featured phone compatibility like an Xbox Core Controller, these retainers are often perfectly fine as standalone gaming peripherals.
The symmetrical design allows them to be comfortable in both hands equally which makes for less fatigue during extended play sessions. Similarly, these controllers feature more "reach" than some competitors featuring four face action buttons on each side making commands easy to execute no matter where your hand placement might be at any given time in the game you're playing.
However, there is one major downside – many PlayStation Style Controllers lack direct smartphone connections limiting their versatility outside of being wired directly into your device (if even compatible).
Pros and Cons of Xbox-style Controllers
Xbox-style controllers are specifically designed for mobile gaming, and they are popular for their ergonomic design and comfortable grip. The symmetrical button layout of the Xbox controller makes them easy to use as well as familiar to those using an Xbox console.
In terms of pricing, users can expect to pay around $59.99 on average which makes them more affordable than PlayStation-style controllers. While considering a wireless Xbox controller, important factors such as customization options, price range, and compatibility should all be taken into account; fortunately, there are budget-friendly solutions available such as PowerA's Fusion Pro 3 that offer the same comfort but at a fraction of the cost compared with premium options like Elite Series 2.
Frequently Asked Questions (FAQs)
Now it's time for some common Faqs on this topic.
1. What are the best mobile gaming controllers for 2023?
The best mobile gaming controllers for 2023 are designed to provide gamers with a more immersive experience when playing games on their devices. These controllers feature new technologies such as motion controls, analog sticks, vibration feedback, and pause-start buttons that can help elevate your gameplay.
2. What features should I look for in a controller?
Users should look for controllers that offer ergonomic design; buttons with tactile feedback, robust wireless connectivity, and multiple system compatibility. Additionally, consider battery life as well since many hours of gameplay require quick charging time and long-lasting battery life
3. Are there any special considerations needed when purchasing an E Ink tablet?
Yes! When selecting an E Ink tablet make sure it is compatible with your specific device or platform such as Android or iOS and read reviews online about the product before making your purchase decision if possible to ensure you get what you value most from the device purchased
4. How does using a mobile gaming controller enhance my gameplay experience?
Using a dedicated mobile gaming controller provides haptic feedback which gives users improved accuracy on button inputs while playing their favorite games at higher difficulty levels leading to better user control over Using 8 in-game movements resulting in increased performance during extended session gameplay
Takeaway
As mobile gaming continues to be on the rise, having a good controller is essential for gamers who want an optimal experience. In 2023, there will be plenty of great controllers available to choose from – from sleek and stylish Android- and iPhone-compatible Bluetooth controllers to Xbox- or PlayStation-style boards.
HyperX Clutch, 8BitDo Pro 2, SteelSeries Stratus+, Razer Kishi V2, Backbone One, and GameSir T4 Mini are arguably the best options when it comes to ultimate performance in playing your favorite titles this year.
Keep in mind that factors such as compatibility with your device model, design & ergonomics of the controller, wireless connectivity options along with other features should also be considered before making a purchase decision.
Ultimately choosing the right product allows you to elevate your gaming sessions so you can make the most out of desktop or mobile experiences alike.