25 Best Gaming Keyboards in 2023: Unlock The Next-Level Gaming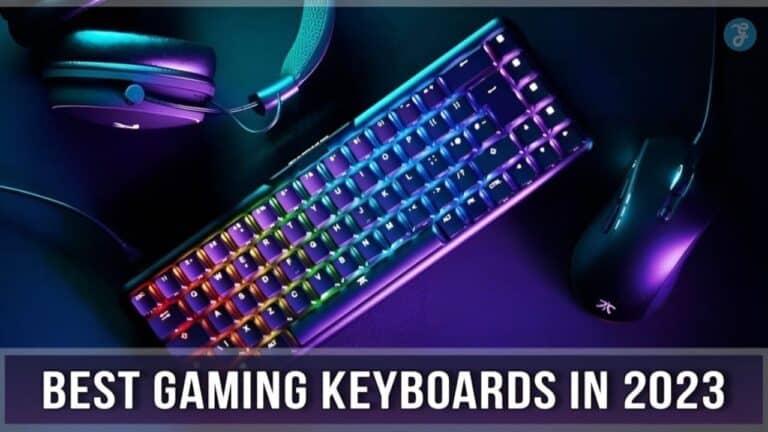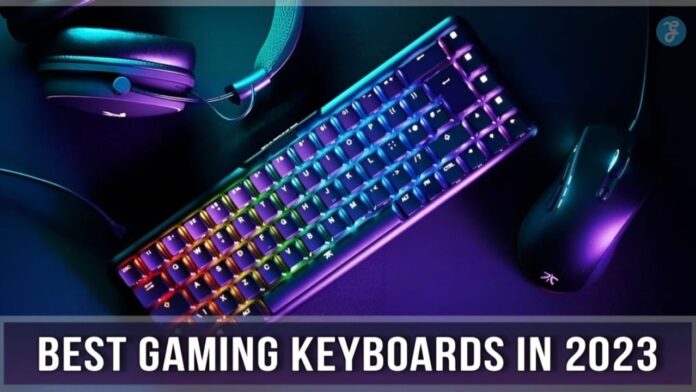 Listen to the Podcast:
Are you searching for the ultimate gaming experience? Look no further than the best gaming keyboards in 2023. In the year 2023, where gaming keyboards have evolved to new heights, enhancing your gameplay and taking your skills to the next level.
In this article, we've explored the 20 best gaming keyboards in 2023. Just read on and learn everything about it. 
Normal Keyboard Vs Gaming Keyboard
The main difference between a gaming keyboard and a normal keyboard lies in the additional features and design considerations tailored for gaming purposes. Gaming keyboards are specifically built with gamers in mind, offering features such as RGB backlighting, programmable keys, and mechanical switches that provide improved durability and responsiveness compared to membrane switches commonly found in normal keyboards.
Gaming keyboards often utilize mechanical switches, which offer a more satisfying and precise typing experience. These switches come in various types, each with its own unique characteristics, such as linear, tactile, or clicky feedback. Mechanical switches also provide advantages for gaming, including faster response times, N-key rollover for accurate simultaneous key presses, consistent key actuation, stability during intense gaming sessions, and the ability to customize switch types based on personal preferences.
Programmable keys or macros are another feature commonly found in gaming keyboards. These keys allow users to assign complex command sequences to a single key, providing convenience and efficiency during gameplay, especially in games with multiple skills or abilities.
Additionally, gaming keyboards often feature backlighting options, including multi-colored RGB lighting. This not only enhances the aesthetics but also allows gamers to easily locate keys in low-light environments. Some gaming keyboards even offer synchronization of RGB lighting with other gaming peripherals, creating a visually cohesive setup.
Proprietary software accompanying gaming keyboards enables customization and optimization of keyboard settings, including key bindings, macros, and lighting effects. This software provides a higher level of control and allows users to save and share profiles, making it easier to switch between different game settings or synchronize settings across multiple devices.
Comfort and functionality are also key considerations in gaming keyboards, with features like padded wrist rests, ergonomic designs, and dedicated media control buttons providing enhanced comfort and ease of use during long gaming sessions.
In summary, gaming keyboards offer a range of features and design elements optimized for gaming, including mechanical switches, programmable keys, RGB backlighting, proprietary software, and improved ergonomics. These features aim to enhance performance, precision, and overall gaming experience for enthusiasts and professional gamers alike.
20 Best Gaming Keyboards in 2023
Below we'll be discussing about 20 best gaming keyboards in 2023. So, let's explore the products. 
1. Razer Huntsman v2 Analog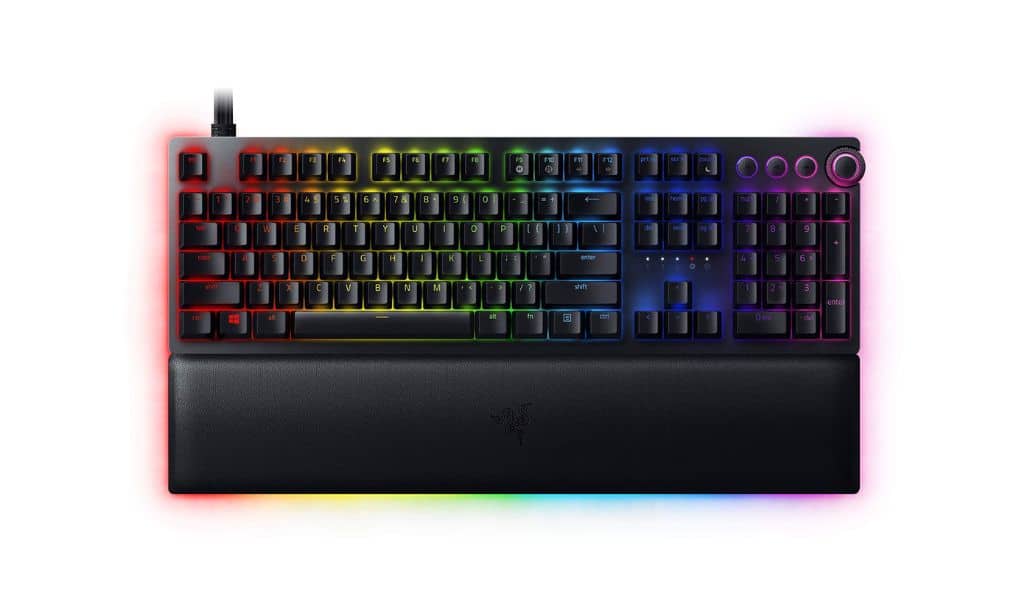 The Razer Huntsman v2 Analog is the ultimate gaming keyboard, offering an exceptional typing and gaming experience. With its advanced optical technology and Razer's analog mechanical key switches, it stands out as a top contender in the market. The keyboard allows for fully customizable key actuation, giving gamers the ability to adjust the actuation point between 1.5mm and 3.6mm. This feature is especially advantageous for competitive players. Additionally, the keyboard offers a delightful tactile feedback and comes with a comfortable wrist rest, designed to enhance gaming sessions. While the Razer Huntsman v2 Analog comes with a higher price tag, its outstanding performance and features make it well worth the investment.
Pros
Fully customizable key actuation

Exceptional tactile feedback

Comfortable wrist rest
Cons
2. Roccat Magma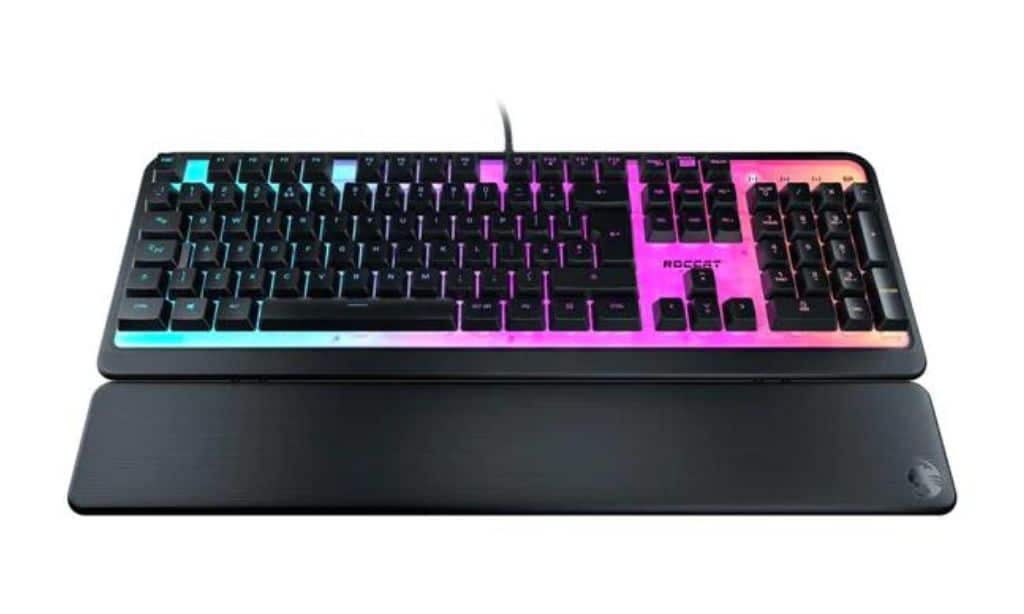 The Roccat Magma is an excellent budget gaming keyboard that delivers surprising performance. Despite its lower price, it offers fast and accurate key responses, making it a great choice for gamers on a tight budget. The membrane keys provide impressive quiet keystrokes, ensuring a pleasant gaming experience without disturbing others. The keyboard features RGB lighting with five zones underneath the semi-transparent top plate, adding a touch of style. The affordability of the Roccat Magma makes it the best gaming keyboard for gamers looking for value without compromising performance.
Pros
Fast and accurate keys

Quiet keystrokes

Affordable price
Cons
Relatively lacking in features
Read Also: 20 Best Gaming Mouse in 2023: Precision in Your Hands 
3. Corsair K100 Air Wireless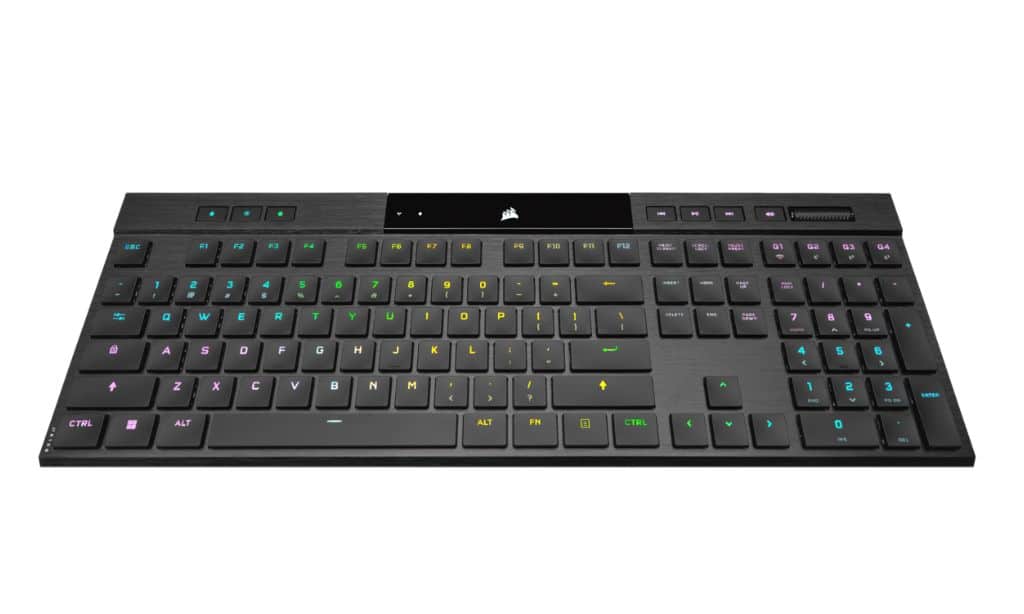 The Corsair K100 Air Wireless is a premium gaming keyboard packed with an array of features. It offers an extremely satisfying typing experience, thanks to its low-profile design and 8,000Hz polling rate, making it ideal for esports. The keyboard includes media keys, hotkeys, and dedicated macro buttons, allowing for advanced customization. The Corsair K100 Air Wireless also boasts impressive RGB lighting effects that can be easily customized through the iCue software. While it comes at a higher price compared to competitors, the Corsair K100 Air Wireless offers exceptional performance and a wealth of features, catering to both casual gamers and professionals.
Pros
Satisfying typing experience

8,000Hz polling rate

Abundance of features
Cons
Higher price than rivals

Not the quietest keyboard
4. Razer Deathstalker V2 Pro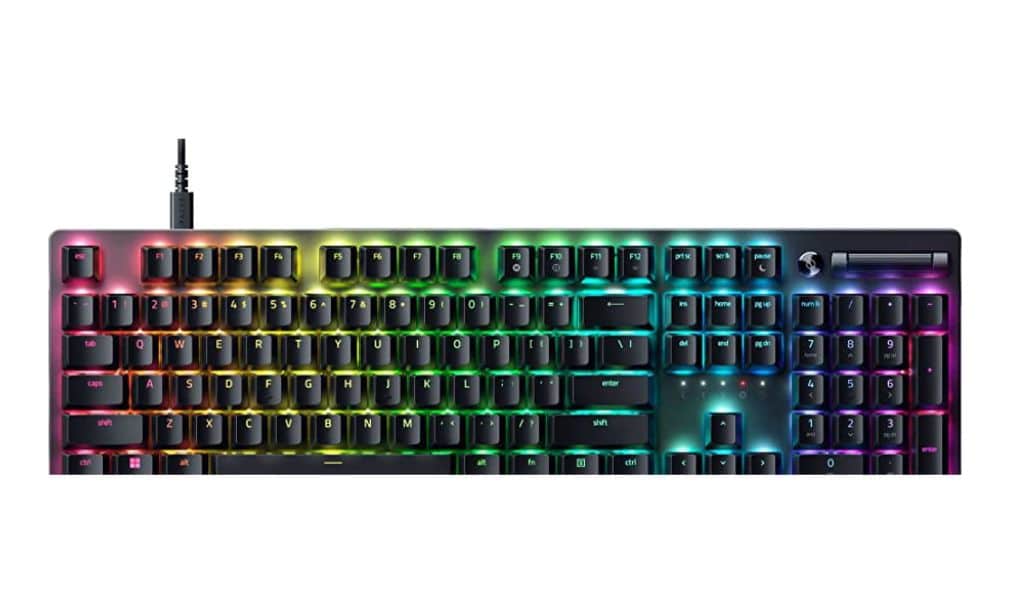 The Razer Deathstalker V2 Pro is an impressive wireless gaming keyboard that combines sleek design with high performance. It features a slim profile and offers shorter actuation distance, making it a step up from its predecessor. The keyboard provides three connectivity options: HyperSpeed 2.4GHz, Bluetooth 5.0, and wired USB, offering versatility in usage. The Razer Deathstalker V2 Pro also comes with quick-access buttons, full-key programmability, and customizable Chrome RGB lighting. While it comes at a higher price point, the keyboard delivers comfort, versatility, and outstanding performance, making it an excellent choice for both gaming and productivity.
Pros
Sleek and slim profile

Shorter actuation distance

Versatile connectivity options
Cons
Higher price

Expensive compared to competitors
5.  MSI Vigor GK71 Sonic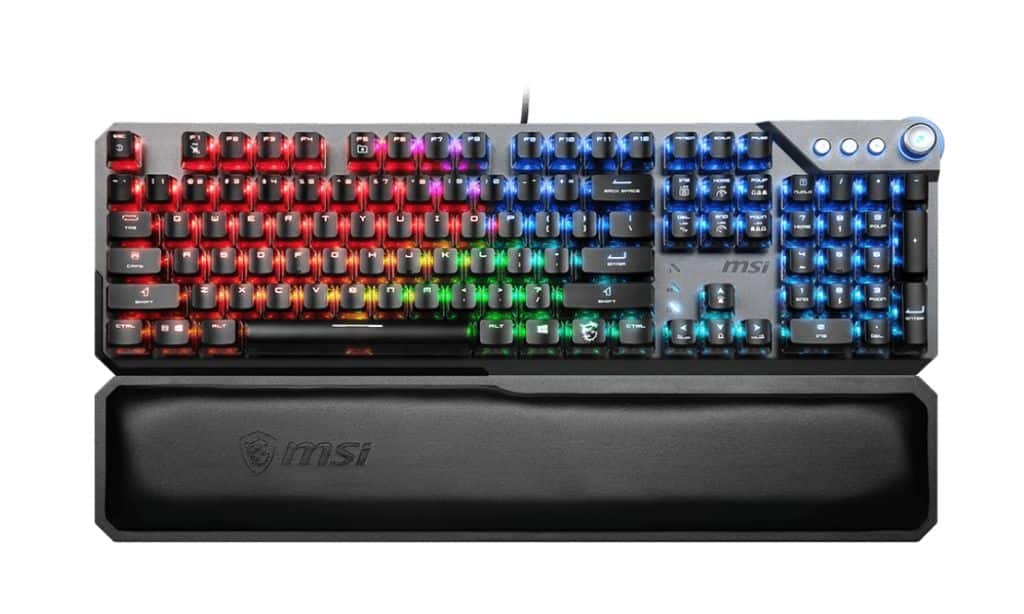 The MSI Vigor GK71 Sonic is a robust mechanical gaming keyboard designed for speed and fast-paced gaming. It offers MSI Sonic Blue mechanical switches with a short actuation distance of 1.4mm, making it highly responsive. The keyboard features a dual-touch volume wheel for convenient audio control and comes with a plush wrist rest for added comfort. While the full-sized design may not be space-saving, the MSI Vigor GK71 Sonic excels in performance and features, making it an excellent choice for gamers seeking a fast and reliable keyboard.
Pros
Robust design with nice features

Fast and responsive performance

Dual-touch volume wheel
Cons
Full size, not space-saving

Fast actuation can lead to accidental key activations
6. Corsair K100 RGB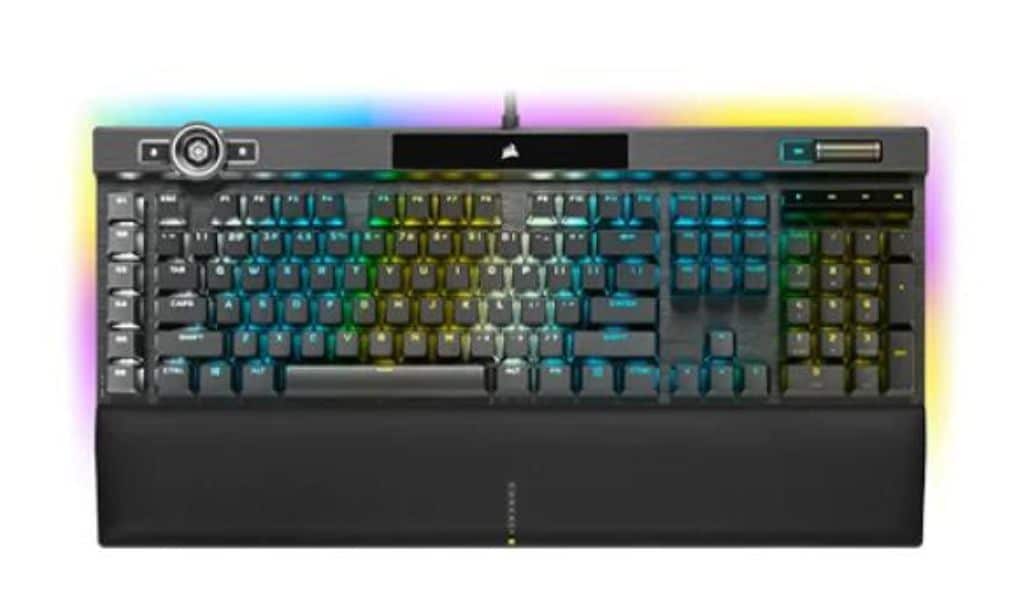 The Corsair K100 RGB stands out as a top choice for gaming keyboards with its optical-mechanical keys. It combines the longevity of optical switches with the tactile feedback of mechanical keys, delivering an exceptional gaming experience. The keyboard offers a high actuation point, consistent keypresses, and a 4,000Hz polling rate, making it ideal for fast-paced gameplay. It comes loaded with features, including USB passthrough, dedicated macro keys, and a multi-function iCUE control wheel. The Corsair K100 RGB is a premium option with a higher price tag, but its performance, features, and stable keycaps make it a worthwhile investment for gamers, particularly streamers.
Pros
Maxed out features

Stable keycaps

High-performance optical-mechanical keys
Cons
Expensive price point

Potential issues with iCUE software
7. SteelSeries Apex Pro TKL (2023)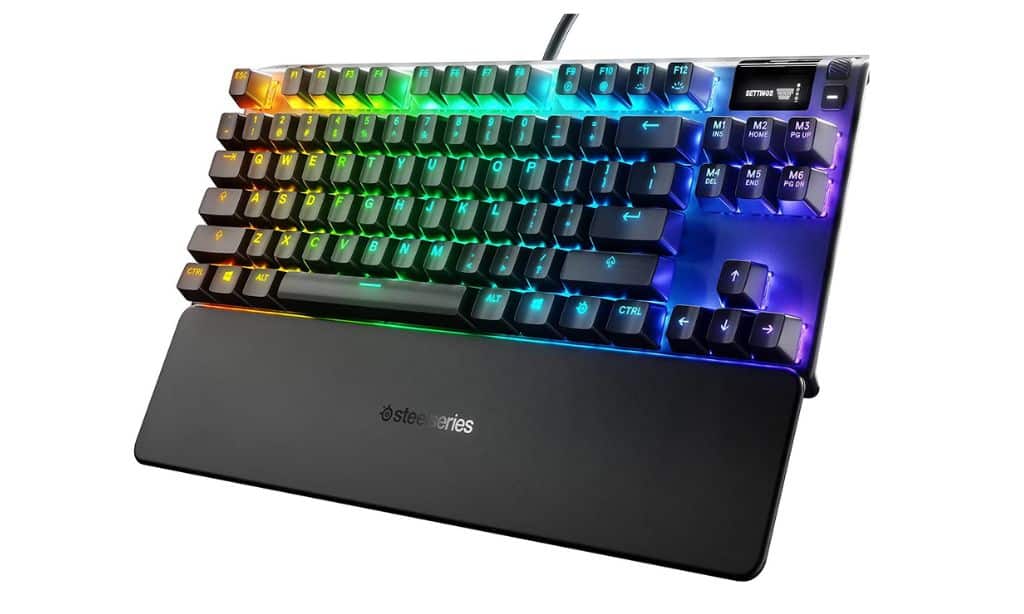 The SteelSeries Apex Pro TKL (2023) stands out as the ultimate gaming keyboard for customizations. It offers an impressive array of features and customization options, making it highly versatile for gamers. The keyboard features OmniPoint 2.0 mechanical switches, which are faster and more durable than their predecessors. With adjustable actuation ranging from 0.2mm to 3.8mm and the ability to program dual actuations per key, this keyboard delivers exceptional speed and responsiveness. While the software may have some minor bugs, the SteelSeries Apex Pro TKL (2023) excels in gaming performance and customization possibilities. However, it should be noted that it comes with a higher price tag.
Pros
Incredibly customizable

Great gaming performance

Offers nice features
Cons
Slightly buggy software

Expensive
Read More: Clevo NH70: The Best Gaming Laptop for Gamers 
8. Roccat Vulcan TKL Pro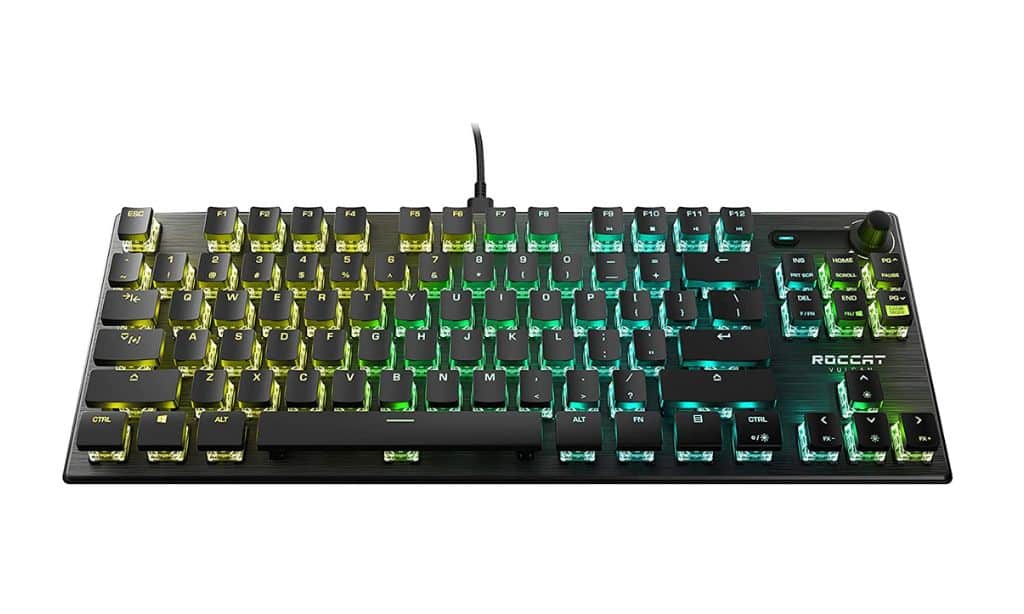 The Roccat Vulcan TKL Pro is an outstanding optical gaming keyboard with a compact TKL (Tenkeyless) design. It combines excellent performance, comfort, and aesthetics, featuring a brushed gunmetal finish and floating keys that showcase customizable RGB lighting. The keyboard utilizes Roccat's Titan optical switches, which provide both speed and accuracy while delivering a satisfying yet quiet operation. The performance of the Vulcan TKL Pro is top-notch, with rapid responsiveness and a short actuation distance of 1.4mm. The keyboard's optical switch longevity, rated at 100 million keystrokes, ensures long-lasting durability. While the plethora of shortcuts may have a learning curve, the Roccat Vulcan TKL Pro offers exceptional performance and customization options at a higher price point.
Pros
Fast and accurate performance

Satisfying and quiet operation

Durable optical switches
Cons
Steep learning curve for shortcuts

Higher price
9. Corsair K70 Pro Mini Wireless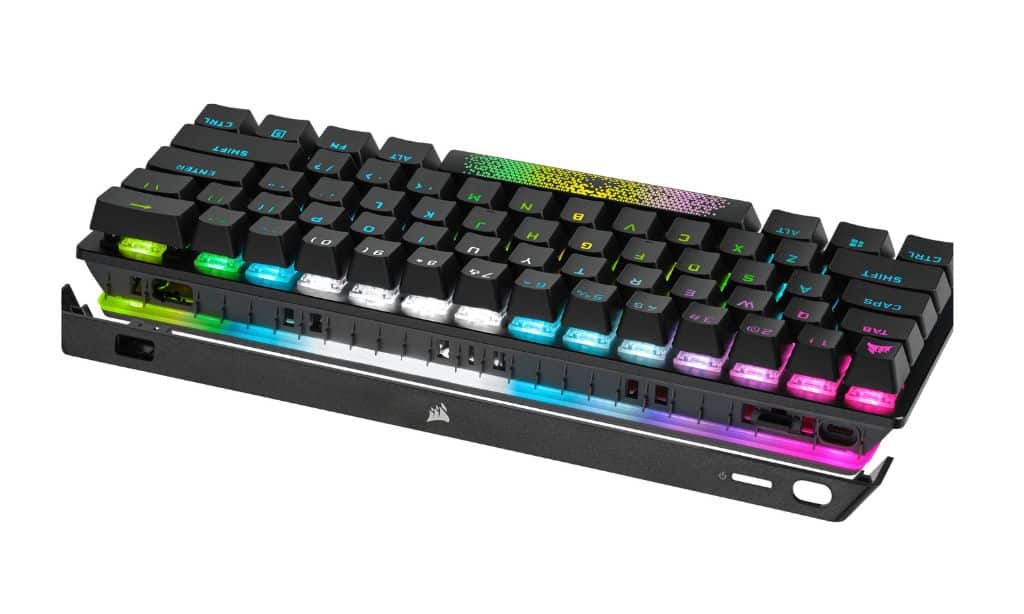 The Corsair K70 Pro Mini Wireless is the best 60% gaming keyboard available, offering great performance and incredible customization options. Despite its compact size, it provides a multitude of personalized customizability options, making it a compelling choice. With features like swappable switches, up to 50 programmable profiles, and compatibility with current-gen consoles, this keyboard offers versatility and convenience. It boasts a battery life of up to 200 hours, depending on the connection type, and performs excellently with its 8,000Hz polling rate. The Corsair K70 Pro Mini Wireless is an expensive keyboard, but its performance and customization options make it worth the investment.
Pros
Great performance on all fronts

Impressive customization options
Cons
Expensive price tag

No dedicated macro buttons
10. Logitech G915 TKL Lightspeed Gaming Keyboard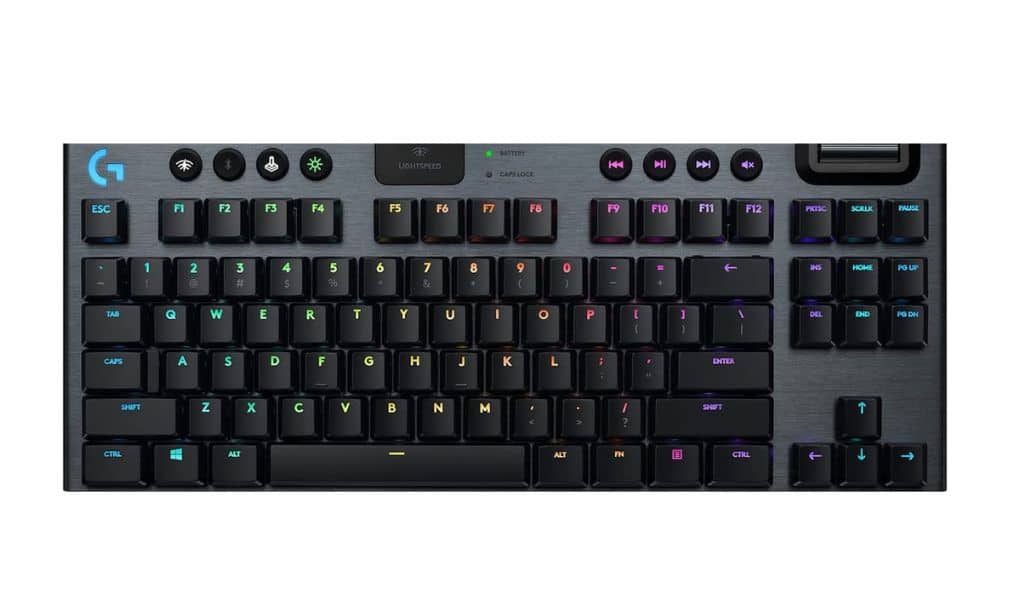 The Logitech G915 TKL Lightspeed is the best low-profile gaming keyboard available. With its wireless capabilities and impressive tactile feedback, it offers a fantastic gaming experience. The keyboard features a 1,000Hz polling rate and a 1.5mm actuation distance, delivering fast and responsive performance. It excels in wireless multi-device connectivity, making it convenient for seamless switching between devices. The G915 TKL Lightspeed's sleek design, low-profile keys, and brushed aluminum deck contribute to its premium aesthetic. While it lacks full remapping/macro capabilities, this keyboard delivers outstanding performance and an enjoyable typing experience.
Pros
Amazing tactile feedback and typing experience

Wireless multi-device connectivity

Sleek and premium design
Cons
No full remapping/macro capabilities
11. Asus ROG Azoth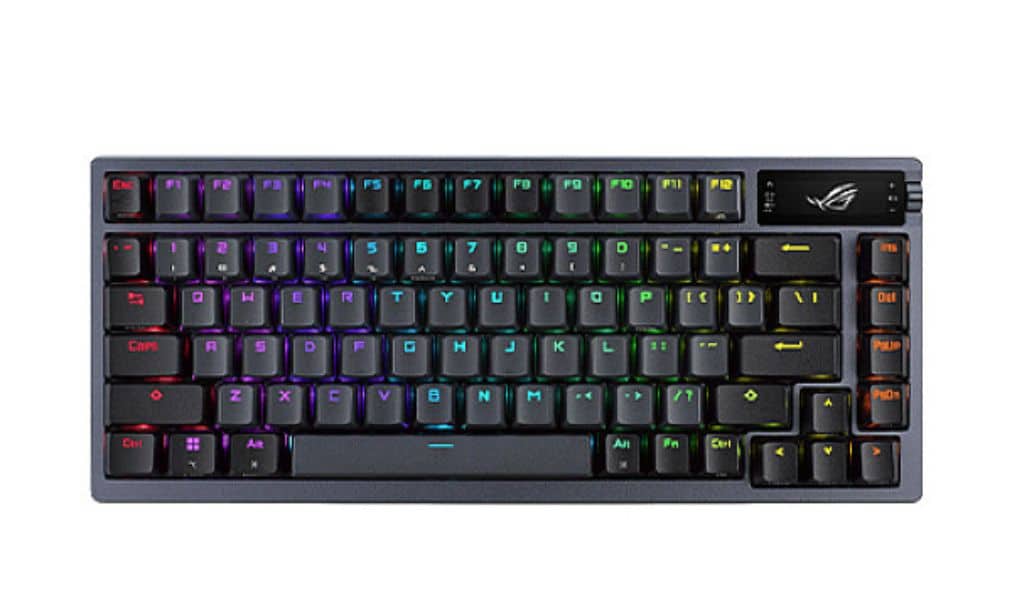 The Asus ROG Azoth is a brilliant compact gaming keyboard known for its ease of upgradeability. It offers excellent build quality, great performance, and a range of features. The keyboard showcases a classy brushed gunmetal finish and floating keys with customizable RGB lighting. It utilizes custom ROG NX switches, providing fast, quiet, and robust key responses. The performance of the ROG Azoth is impressive, delivering responsiveness and accuracy. While it comes with a high price tag, it offers personalized customizability options and long-lasting durability, making it a worthwhile investment for gamers seeking a compact and upgradable keyboard.
Pros
Excellent build quality

Great performance

Easy to upgrade
Cons
Very expensive

No dedicated macro buttons
12. Razer Huntsman V2 TKL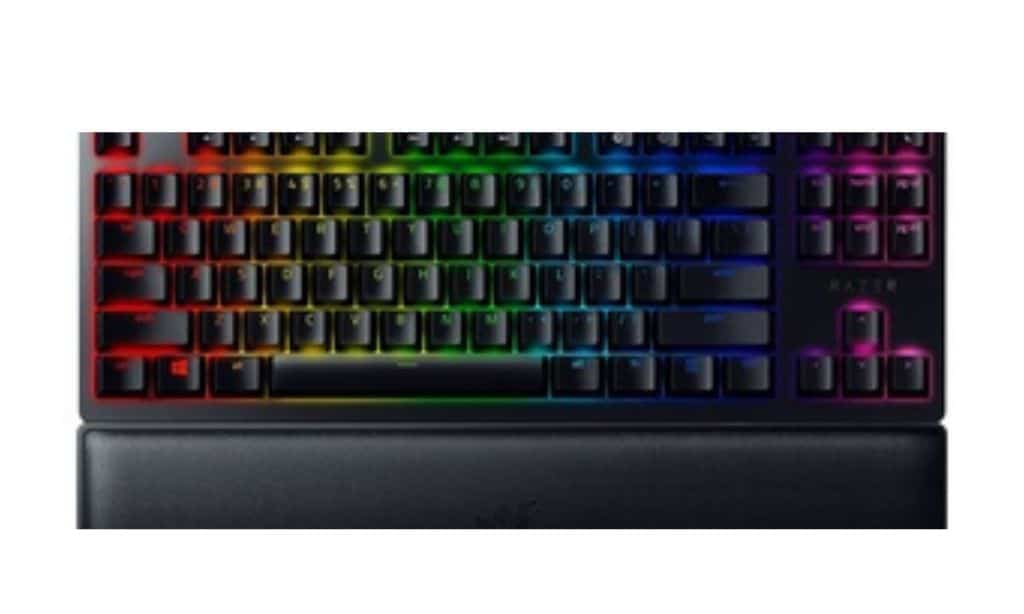 The Razer Huntsman V2 TKL is the best TKL (Tenkeyless) gaming keyboard available, offering a compact yet high-performance gaming experience. It features Razer's Optical switches, delivering fast and responsive performance with a satisfying mechanical feel. The keyboard's keys are highly customizable, providing a personalized gaming experience. Despite its smaller size, the Huntsman V2 TKL maintains reliability and speed. It comes with a removable cable, adding to its convenience and portability. While it lacks additional features compared to full-sized keyboards, the Razer Huntsman V2 TKL excels in performance and offers great value.
Pros
Fast and responsive optical switches

Removable cable for convenience

Compact and portable design
Cons
Limited additional features

Relatively higher price point
13. SteelSeries Apex Pro Mini Wireless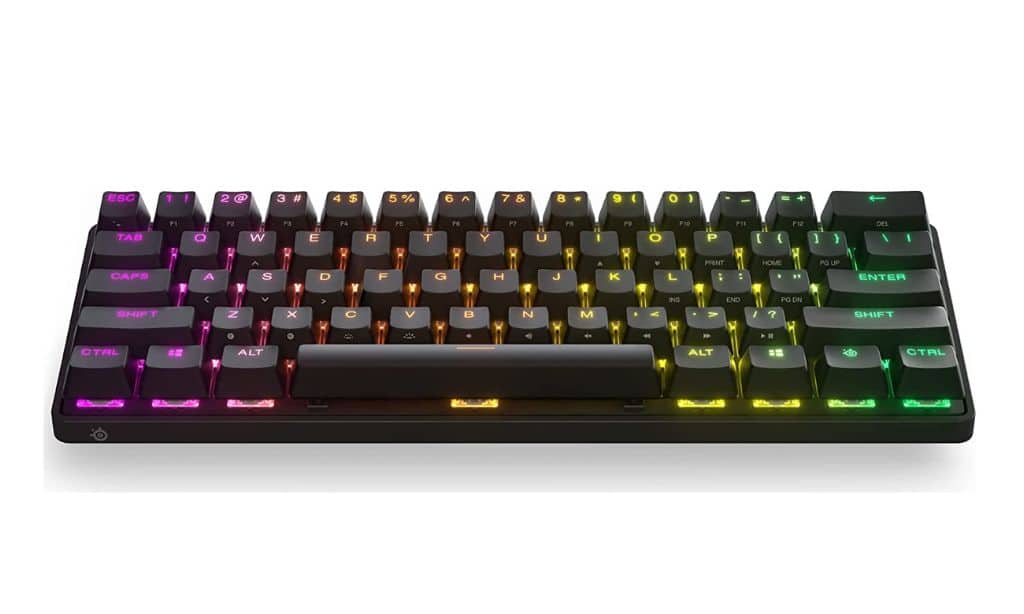 The SteelSeries Apex Pro Mini Wireless is hailed as the most customizable gaming keyboard available. It offers a plethora of customizations and features, making it a versatile choice for gamers. The keyboard features adjustable analog mechanical switches, allowing users to customize actuation points according to their preferences. The dual actuation feature, enabling two actions at different actuation points per key, further enhances its versatility. The gaming performance of the Apex Pro Mini Wireless is truly impressive, delivering rapid responsiveness and precise control. With its sleek design, customizable RGB lighting, and compact form factor, it stands out visually as well. While the keyboard may be slower to wake and comes with a higher price tag, its extensive customizability and overall performance make it a standout option.
Pros
Lots of customizations and features

Excellent overall performance

Great design and RGB lighting
Cons
Slow to wake

Expensive price tag
14. Roccat Vulcan II Mini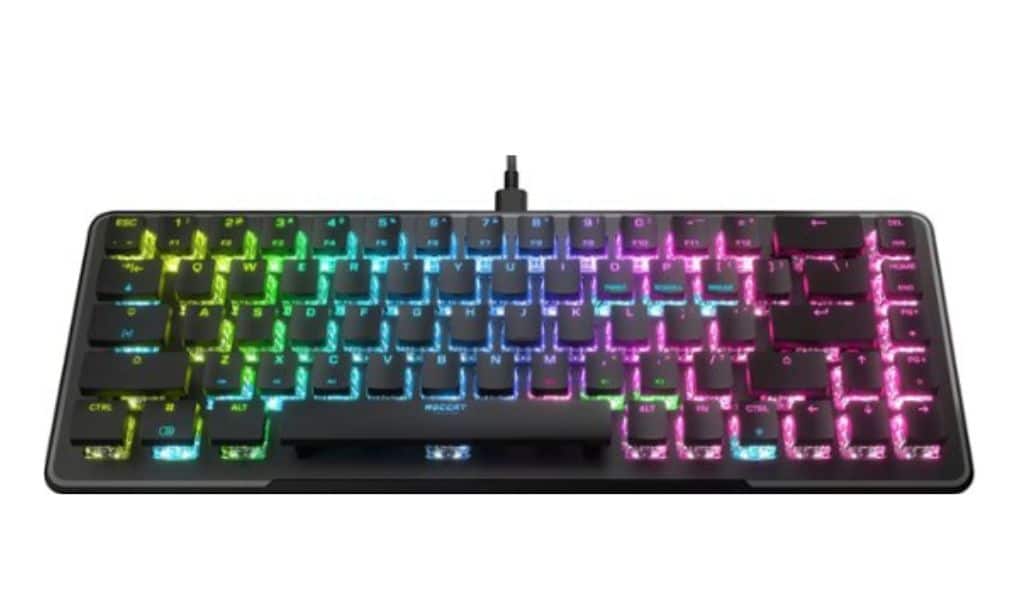 The Roccat Vulcan II Mini is a mod-friendly gaming keyboard packed with features. It embraces the world of keyboard enthusiasts while delivering exceptional performance. The compact 65% form factor of the Vulcan II Mini is complemented by Roccat's Titan II Optical Red switches, which offer fast and responsive performance. The keyboard includes Roccat's Smart Keys and Easy-Shift functions, adding versatility and customization possibilities. Its bright RGB lighting adds a touch of visual flair. While the software may have some drawbacks, the Vulcan II Mini impresses with its compact and lightweight design, making it ideal for travel or gaming on the go.
Pros
Fast optical switches

Easy-Shift function

Bright RGB lighting

Compact and lightweight design
Cons
The software has usability issues

Keycaps are on the smaller side
15. HyperX Alloy Origins 60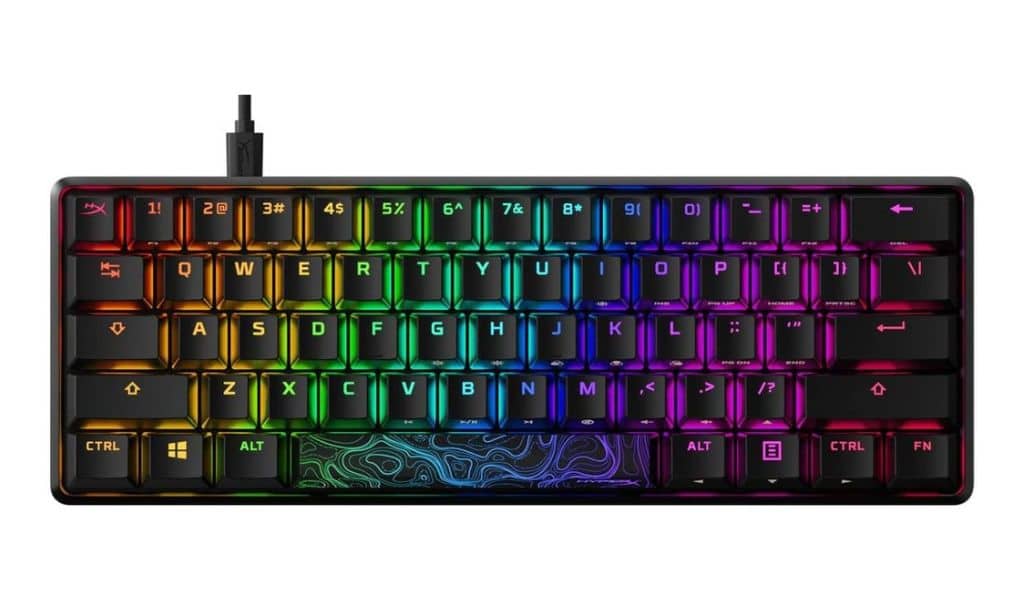 The HyperX Alloy Origins 60 is the best affordable mini gaming keyboard available. It strikes a balance between affordability and premium build quality, making it an excellent choice for budget-conscious gamers. The keyboard utilizes HyperX Red mechanical switches, delivering speedy and responsive performance. With a low actuation force and short actuation point, it offers an edge in quick successive key presses. The aircraft-grade aluminum body and durable PBT keycaps ensure long-lasting durability. While the Alloy Origins 60 lacks dedicated macro keys, it compensates with a well-implemented RGB lighting system and ample key customizations. Overall, this keyboard provides great value for gamers looking to transition to a mini keyboard.
Pros
Affordable with premium build quality

Speedy and responsive HyperX Red switches

Well-implemented RGB lighting
Cons
No dedicated macro keys

Limited customization options compared to higher-end models
Read Also: Pros and Cons of Using Wireless Keyboard and Mouse
16. Logitech G815 Lightsync RGB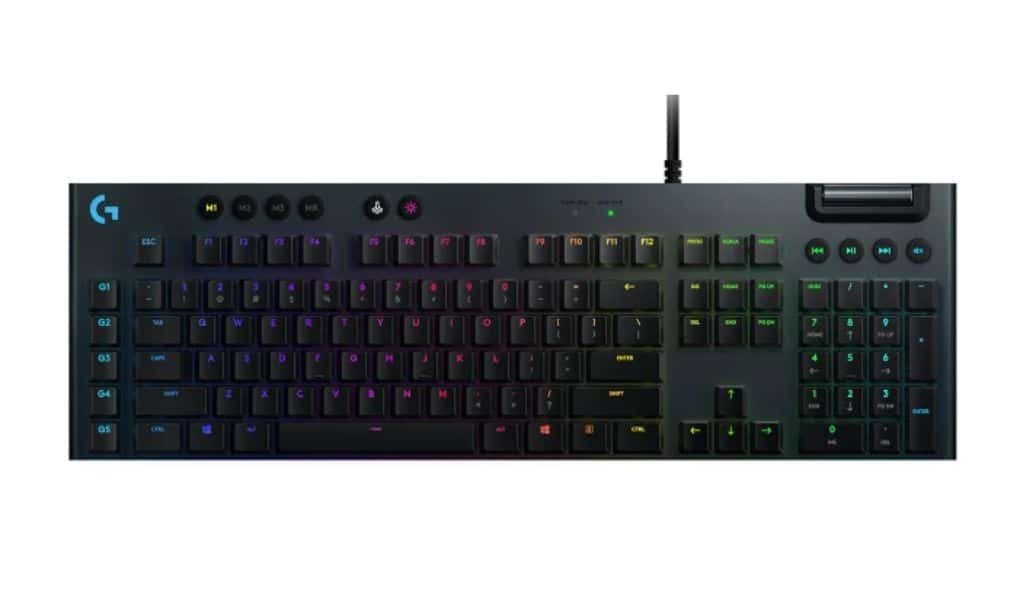 The Logitech G815 Lightsync RGB is a premium wired gaming keyboard that combines style, comfort, and advanced features. With its low-profile mechanical switches, the G815 provides a satisfying typing experience while maintaining a sleek and modern design. The customizable RGB lighting allows you to personalize your gaming setup with a wide range of vibrant colors and effects. Additionally, the G815 features programmable macros and dedicated media controls for convenient access to multimedia functions. Although it comes with a higher price tag, the Logitech G815 is a top choice for gamers and enthusiasts seeking a high-quality keyboard.
Pros
Low-profile mechanical switches provide a comfortable typing experience.

Stylish and modern design adds a touch of elegance to your gaming setup.

Customizable RGB lighting allows for personalization and customization.

Programmable macros and dedicated media controls enhance convenience during gaming sessions.
Cons
The higher price point may be a deterrent for budget-conscious buyers.

Lacks dedicated macro keys for additional customization.
17. Ducky One 2 Mini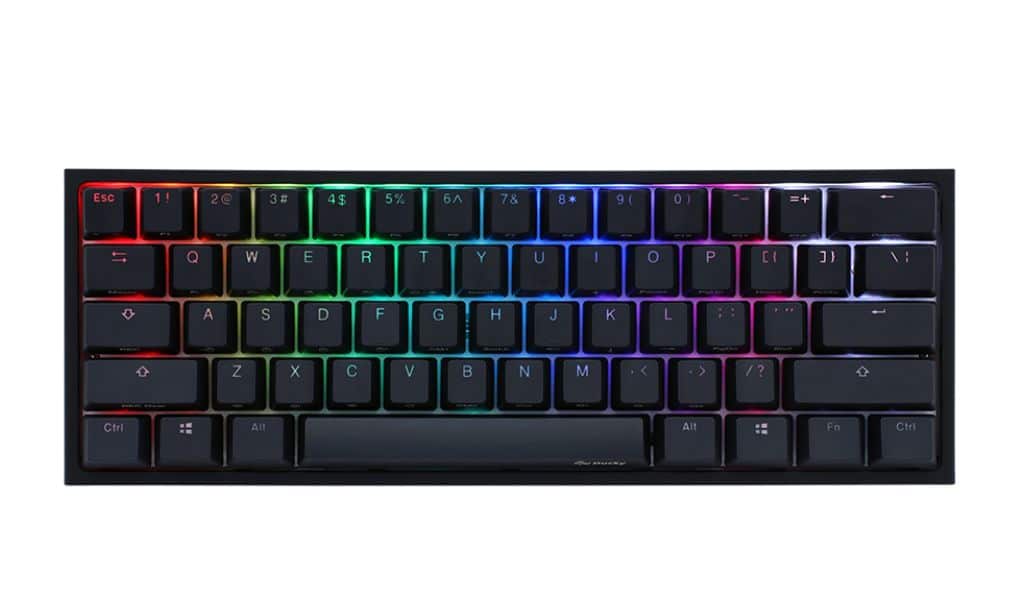 The Ducky One 2 Mini is a compact mechanical gaming keyboard that has gained a loyal following among gaming enthusiasts. Its compact 60% layout reduces clutter on your desk while still providing a satisfying typing experience. Built with durability in mind, the Ducky One 2 Mini features a solid construction that can withstand intense gaming sessions. The keyboard offers customizable RGB lighting effects, allowing you to create your desired ambiance. However, note that the absence of dedicated arrow keys and function row may take some adjustment if you heavily rely on these features.
Pros
The compact and portable design saves desk space and enhances portability.

Excellent build quality ensures durability and longevity.

Customizable RGB lighting options offer a visually appealing experience.
Cons
The lack of dedicated arrow keys and function rows may require adaptation.

Limited programmability compared to larger keyboards.
18. HyperX Alloy Elite 2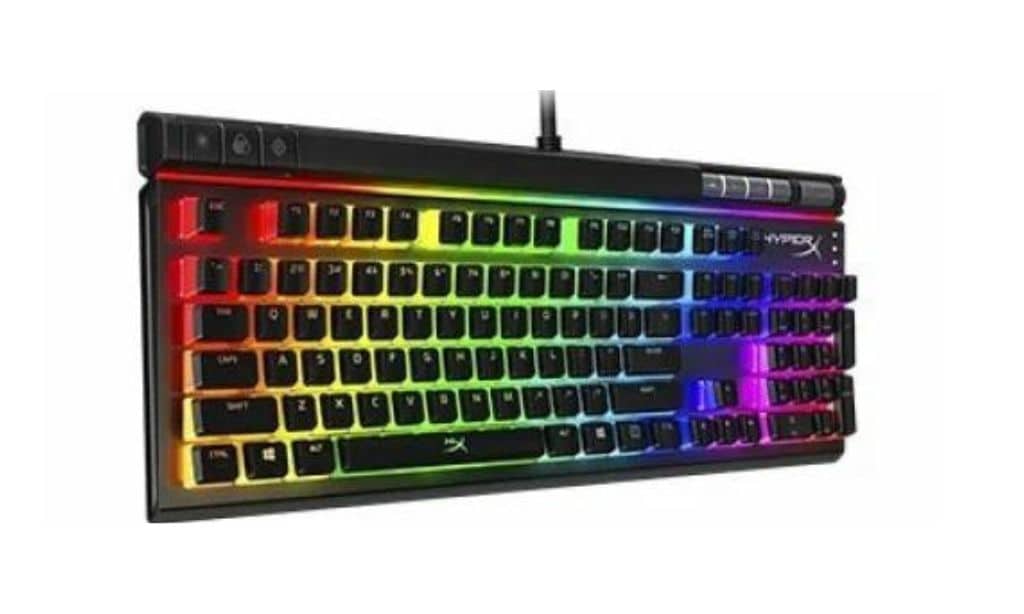 The HyperX Alloy Elite 2 is a full-sized gaming keyboard designed to deliver a premium typing and gaming experience. Built with a sturdy metal frame, it exudes durability and stability. The HyperX mechanical switches provide tactile feedback and a satisfying keystroke feel. The dedicated media controls enable quick and easy access to multimedia functions, enhancing convenience during gaming and content consumption. The Alloy Elite 2 also comes with a detachable wrist rest for added comfort during long gaming sessions. While the customization options for RGB lighting are not as extensive as some other models, the keyboard's solid construction and performance make it a reliable choice.
Pros
Solid build quality with a robust metal frame for long-lasting durability.

Comfortable and tactile HyperX mechanical switches improve typing and gaming experiences.

Dedicated media controls ensure easy access to multimedia functions.

The detachable wrist rest provides ergonomic support for extended gaming sessions.
Cons
RGB lighting customization options are relatively limited.

The keyboard's larger footprint may not suit all desk setups.
Read More: Top 7 Effective Ways to Clean a Mousepad
19. SteelSeries Apex 7 TKL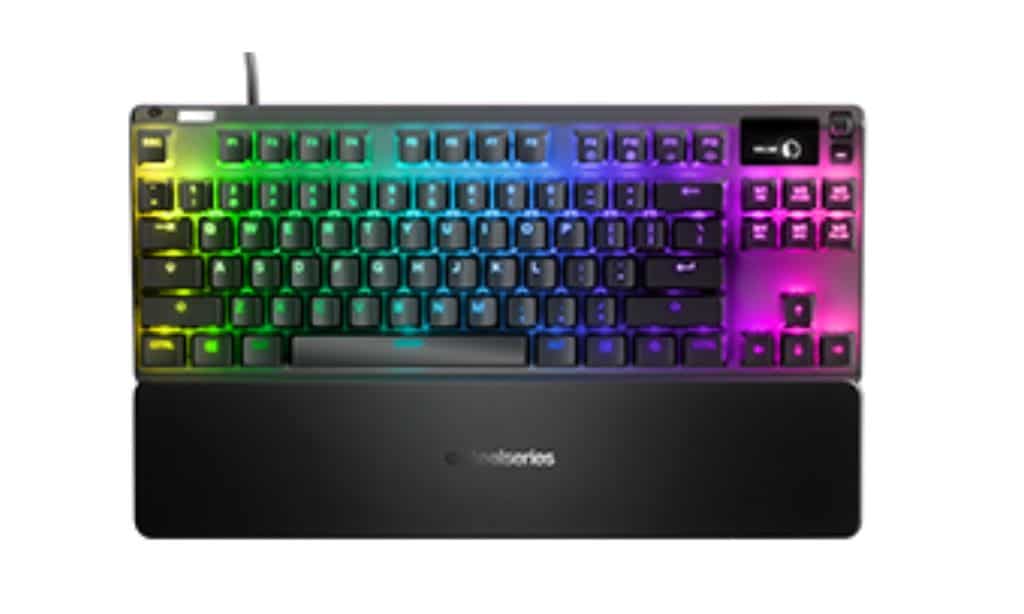 Description: The SteelSeries Apex 7 TKL is a tenkeyless mechanical gaming keyboard that seamlessly combines performance and style. Its compact design saves space on your desk without sacrificing functionality. The keyboard features an OLED Smart Display that can be customized to show useful information or even GIFs, enhancing your gaming experience. With dynamic per-key RGB lighting, you can create stunning visual effects and personalize your setup to match your style. The Apex 7 TKL also offers programmable macros, allowing you to execute complex commands with ease. However, the software interface might have a learning curve for newcomers.
Pros
A compact and space-saving design is ideal for smaller desk setups.

OLED Smart Display adds a unique touch by displaying useful information and customized visuals.

Extensive RGB lighting options provide a visually immersive experience.

Programmable macros enhance convenience and efficiency during gaming.
Cons
The software interface may be overwhelming for users unfamiliar with SteelSeries products.

The higher price point compared to other tenkeyless keyboards.
20. Keychron K6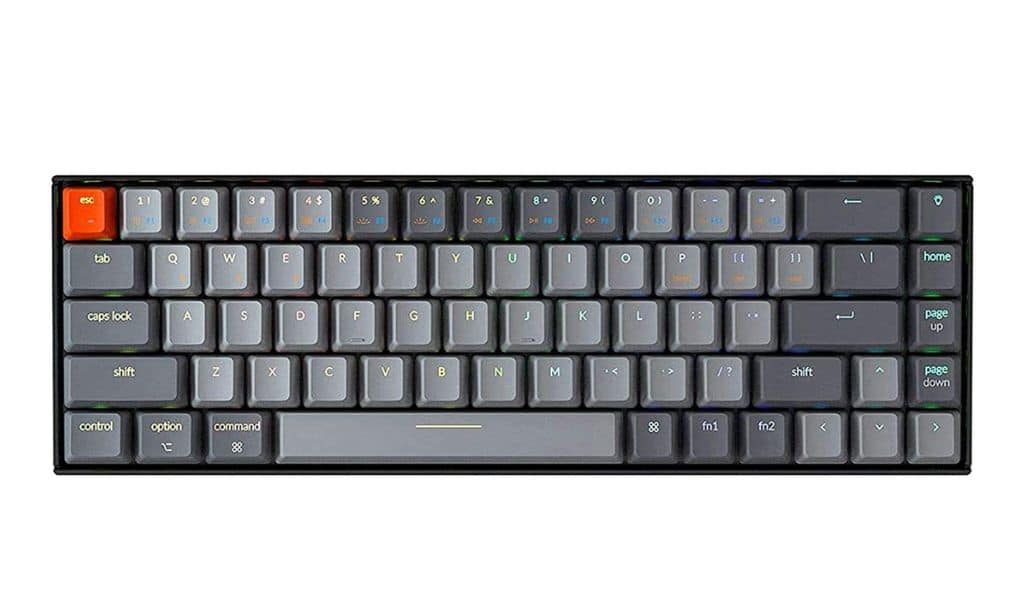 Description: The Keychron K6 is a wireless mechanical keyboard that offers a versatile and convenient typing experience. Its compact 65% layout strikes a balance between functionality and portability, making it suitable for both gaming and work purposes. The K6 features hot-swappable switches, allowing you to customize the keyboard's feel and sound without soldering. With Bluetooth connectivity, you can easily switch between multiple devices, making it a great choice for users with diverse setups. While the RGB lighting options are more limited compared to other keyboards, the Keychron K6's compact design and wireless capabilities make it a popular choice among users seeking flexibility.
Pros
Hot-swappable switches enable customization without the need for soldering.

Wireless Bluetooth connectivity offers seamless switching between multiple devices.

The compact and portable design enhances convenience for on-the-go users.
Cons
Limited RGB lighting options compared to other keyboards in the market.

The quality of keycaps could be improved for long-term durability.
Considerations for Choosing a Gaming Keyboard
When searching for a gaming keyboard, it's important to understand the key features and factors that can impact your overall experience. One of the primary considerations is the type of key switch used in the keyboard, as it directly affects the feel and performance of each keystroke.
There are two main types of key switches: membrane and mechanical. Membrane keyboards utilize rubber or silicon domes beneath each key to register keystrokes. While they are generally more affordable, they tend to have less tactile feedback and may wear out faster compared to mechanical switches.
Mechanical key switches, on the other hand, offer a more robust and satisfying typing experience. They consist of various components, including a stem, spring, and metal contact leaves, which register keystrokes with precision. One popular and widely available brand for mechanical key switches is Cherry MX, which offers different variants:
Cherry MX Red:

Provides a linear action with fast actuation and minimal tactile feedback.

Cherry MX Black

: Similar to Cherry MX Red but with slightly higher resistance.

Cherry MX Silver (Speed):

Offers linear action with a shorter actuation height and lower resistance than Cherry MX Red.

Cherry MX Brown:

Features a tactile bump for noticeable force feedback.

Cherry MX Blue:

Provides a greater amount of tactile feedback with an audible click.
Major gaming hardware manufacturers, including Razer, Logitech, SteelSeries, Cooler Master, and Roccat, have also developed their own proprietary key switches specifically designed for gaming. These switches offer varying actuation forces, actuation points, and travel distances. They often exhibit characteristics similar to Cherry MX switches but may have faster debounce rates to enhance responsiveness.
Another factor to consider is the height of the keycaps. Full-sized or regular-height keycaps require your fingers to curl over the keys, while mid-height keycaps offer a slightly more relaxed typing experience. Low-profile keycaps are ideal for users who prefer to hover their fingers over the keys, similar to the feel of a gaming laptop. Aside from gaming keyboards, you can also read on – 15 Best Gaming Routers
Frequently Asked Questions (FAQs)
Now let's learn some common FAQs on this topic.
What are the advantages of using a gaming keyboard over a regular keyboard?
Gaming keyboards offer several advantages, including mechanical switches that provide better tactile feedback and durability compared to membrane switches. They often come with features like programmable keys, RGB backlighting, and dedicated media controls, which enhance convenience and customization for gaming. Additionally, gaming keyboards often have faster response times, N-key rollover for simultaneous key presses, and proprietary software for optimizing settings and profiles.
Do I need a mechanical keyboard for gaming?
While mechanical keyboards are popular among gamers, they are not a strict requirement. Many gamers prefer mechanical keyboards for their improved responsiveness and tactile feel, but it ultimately comes down to personal preference.
What type of key switch should I choose for gaming?
The choice of key switch depends on individual preference. Mechanical keyboards offer a variety of switches with different characteristics, such as linear, tactile, or clicky feedback. Linear switches like Cherry MX Red provide a smooth keystroke, while tactile switches like Cherry MX Brown offer a tactile bump. Clicky switches like Cherry MX Blue provide both tactile feedback and an audible click. 
Are gaming keyboards only for professional gamers?
Gaming keyboards are not limited to professional gamers. They are designed to enhance the gaming experience for all levels of gamers, from casual to competitive. The additional features and customization options offered by gaming keyboards can benefit gamers of any skill level, allowing for greater convenience, comfort, and personalization.
Are gaming keyboards compatible with consoles?
Yes, gaming keyboards are often compatible with gaming consoles such as PlayStation and Xbox. However, it's essential to check the keyboard's compatibility with the specific console model and whether any additional adapters or firmware updates are required. Some gaming keyboards may also offer dedicated console modes or specific key configurations for seamless console gaming.
Bottomline
That's all we got on the best gaming keyboards in 2023. 
In conclusion, gaming keyboards offer a range of features and benefits that enhance the gaming experience. With their mechanical switches, they provide improved responsiveness, durability, and tactile feedback compared to regular membrane keyboards. The ability to customize key bindings, assign macros, and utilize programmable keys allows gamers to optimize their gameplay and increase efficiency.
Subscribe to Our Latest Newsletter
To Read Our Exclusive Content, Sign up Now.
$5/Monthly, $50/Yearly