Macube Cleaner: Best Mac Cleaner to Optimize Your Mac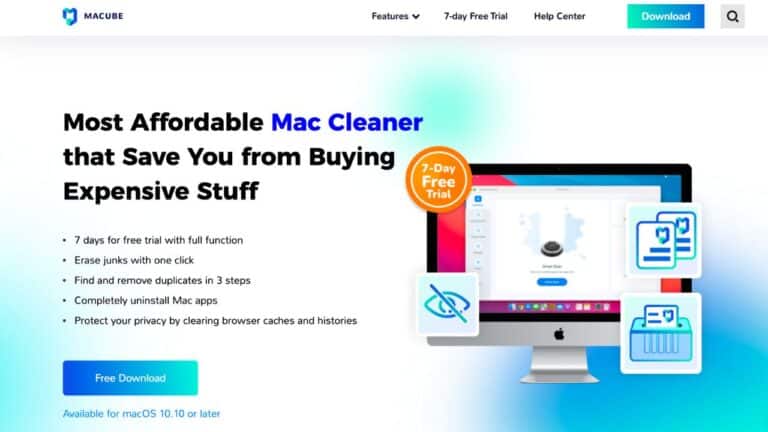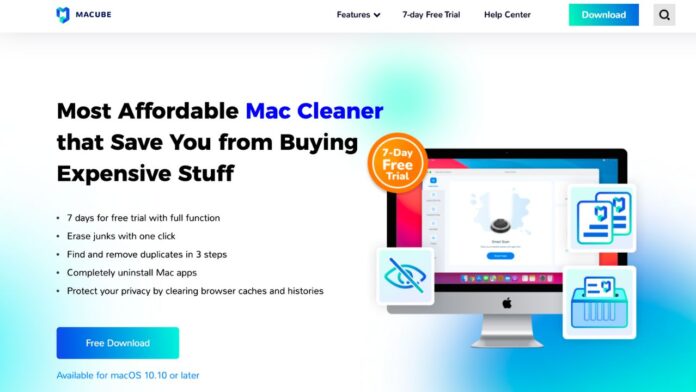 For people who use a Mac computer on a high frequency, like working from home or studying online daily, maintaining the device at the best status should be on a regular basis. Macube Cleaner, a well-designed and lightweight application oriented for Mac optimization, is a must-have program if you consider keeping your Mac function with great stability and fast reaction speed.
 Here's everything you should know about Macube Cleaner.
 Introduction to Macube Cleaner
Macube Cleaner is a handy application that is oriented for processing all sorts of Mac cleaning jobs. It can detect your Mac computer in-depth and smartly sort the data, files, and apps into different categories, such as system junk, large and old files, cache data, and so forth. By checking up with them in groups, people would find Mac cleaning a simple job to proceed. Also equipped with the Smart Scan function, it even provides a path for people to clean up disk space and free up Mac with only one shot. By keeping your Mac tidy and optimized regularly, the performance of your Mac can be maintained or even optimized to provide you stable and smooth Mac utilizing experience.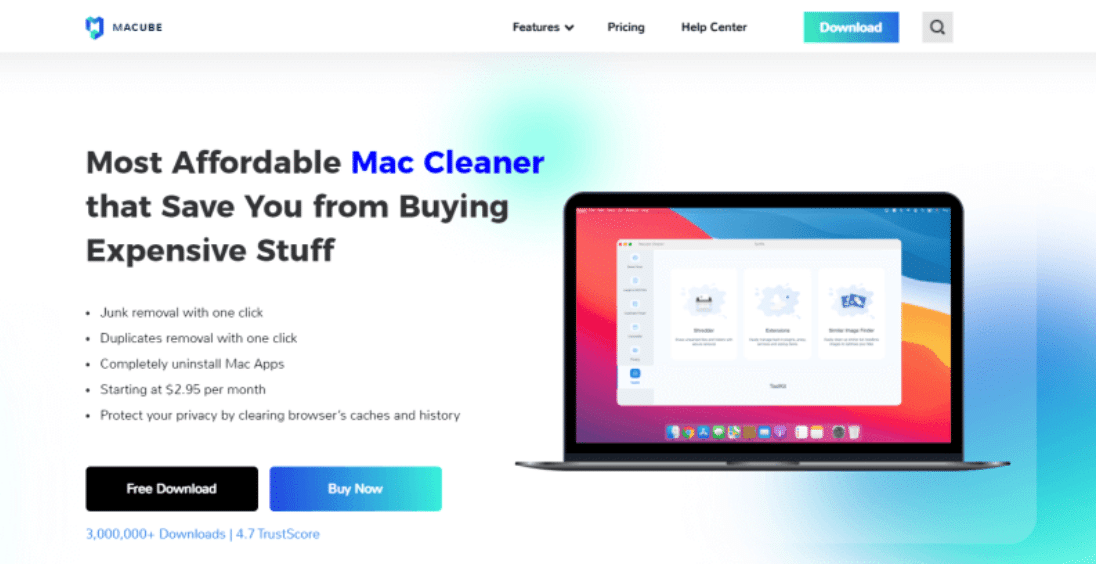 Supported OS: macOS 10.10 or later
Pricing: Free in the first 7 days ($8.95 for the monthly plan; $69.95 for the lifetime plan)
Rating: 4.5/5
Macube Cleaner: Features & Highlights
What can Macube Cleaner do for you in detail? With 7 core cleaning functions provided, Macube Cleaner can resolve most sorts of files, data, and apps cleanup to return an optimized Mac computer to you again. Here are the details of its highlight features:
Smart Scan – for people who wish to clean up Mac automatically to replace the manual manipulation, Smart Scan mode only requires one click to scan through the whole device in-depth, then sort out the items like system junk and application cache to proceed with cleanup in one go.
Large & Old Files – by tidying up the files based on the size and created date, people can easily sort out the outdated large files to regain tons of storage once again.
Duplicate Finder – the program can also smartly detect the duplicated files, folders, images, and other items to provide you access to remove such duplicates and free up much space.
App Uninstaller – all the apps installed on Mac can be easily uninstalled, with all related files and data removed with the Uninstaller feature provided by Macube Cleaner. It also works to uninstall the malware and improve the security of your Mac greatly.
Privacy Protector – clean up all your browsing data from the device, including the cookies, browsing, and download history from browsers to protect your privacy security.
File Shredder – when discovering any file that is hard to remove, the File Shredder can give you a favour to remove the malicious files within one shot.
Extension Manager – to get rid of some malicious browser extensions that may do harm to your computer, check and manage them within Macube Cleaner to safeguard your device's privacy.
All functions provided in Macube Cleaner can be easily accessed on the left navigation panel, and the intuitive design also guarantees the easy manipulation to process Mac optimization. You won't find it hard to control Macube Cleaner no matter what functions you are about to use in it.
Pros & Cons of Macube Cleaner
From both the advantages and downsides, this part will walk you through the details of the Macube Cleaner that it can bring. Please take a look.
 Pros
Comprehensive Mac cleaning functions: the program has divided its cleanup functions covering people of all needs to maintain the Mac devices lightly. From those large and old files, duplicated items, unused apps, and more, you can proceed with the convenient cleanup within this single application.
Simple layout to manipulate easily: the simple UI is also a highlight of the program, as people won't need to spend much time getting familiar with it. All its functions can be easily found on the navigation panel, greatly facilitating efficiency.
Powerful Smart Scan to proceed in one shot: the program also equips the smart scan function to auto-detect and sort files on Mac to regain storage and high productivity in a flash.
Privacy protection tool available: to guarantee the security of your personal data on Mac, the program offers corresponding options to protect privacy from being leaked.
Speedy Mac cleanup: from the scanning to the cleaning process, Macube can perform with the least effort and swift speed to make Mac optimization an effortless job.
 Cons
Only free for the first 7 days: Macube Cleaner offers a free period for the first 7 days to access the full features without any restriction.
Lack of antivirus tools: though this program provides comprehensive features for Mac cleaning, it does not integrate with antivirus features to scan malware or virus from your Mac.
 How to Optimize Your Mac with Macube Cleaner
The operations are similar when you use different features of Macube Cleaner, and you can easily manipulate the Mac optimization by following the guide step-by-step. Let's take the Smart Scan function as an example.
 Step 1. Install Macube Cleaner and Select Smart Scan
First, install Macube Cleaner on your Mac computer. Once completed, open the program and you will be on the main feed of the Smart Scan function by default.
 Step 2. Proceed Scanning Your Mac Thoroughly 
Tap the Smart Scan button right in the middle. Subsequently, Macube Cleaner will initiate the scanning function and sort the data as well as files on Mac thoroughly for you.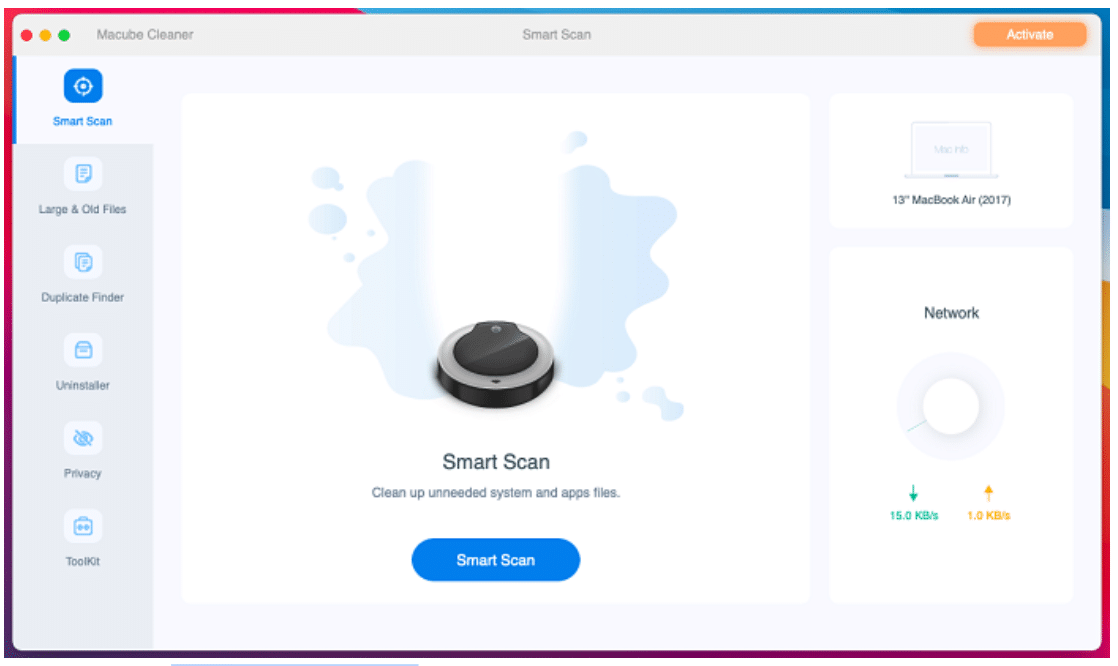 Step 3. Select Data Category or Files to Delete
Once Macube Cleaner completes the scanning process, all the data and file categories will be listed in the program. Now, please select those you wish to clean up and optimize your Mac.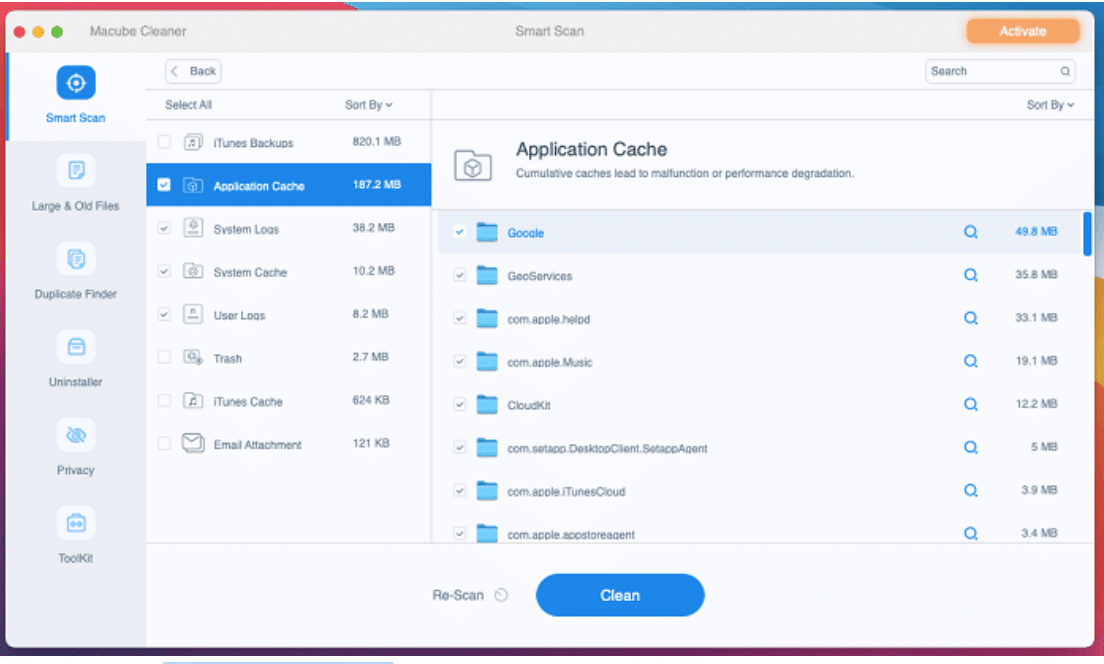 Step 4. Confirm to Clean Your Mac
Eventually, tap the Clean button to initiate the cleanup process. Once the useless data and files are removed from your Mac, its performance can be optimized in no time.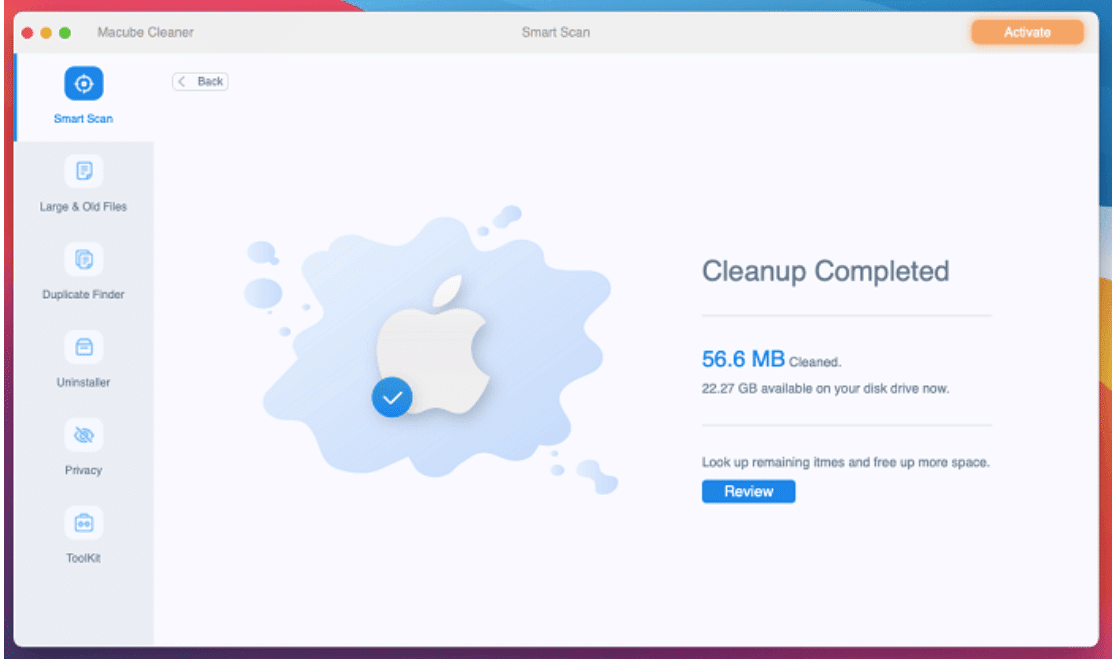 Verdict
Macube Cleaner is a comparatively niche but powerful program to prepare on Mac as the helper to process daily optimization. Its diverse functions are all helpful to retain a tidy Mac, in that keeping the device running with a higher speed and more stable performance. For people who don't want complicated operations at all, Smart Scan is definitely a nice function to optimize the Mac automatically. Why not get Macube Cleaner and start with the 7-day free trial from now on?
Subscribe to Our Latest Newsletter
To Read Our Exclusive Content, Sign up Now.
$5/Monthly, $50/Yearly