Experience AnaChart: The Definitive TipRanks Alternative for Comprehensive Stock Analysis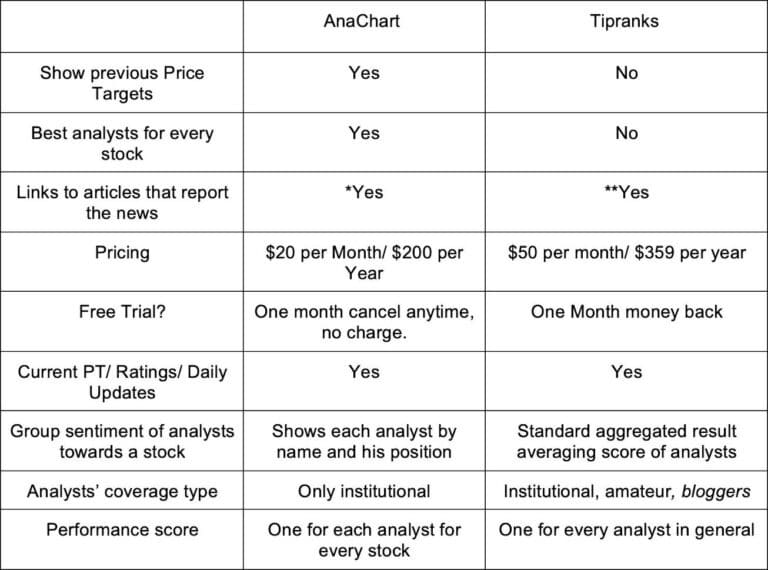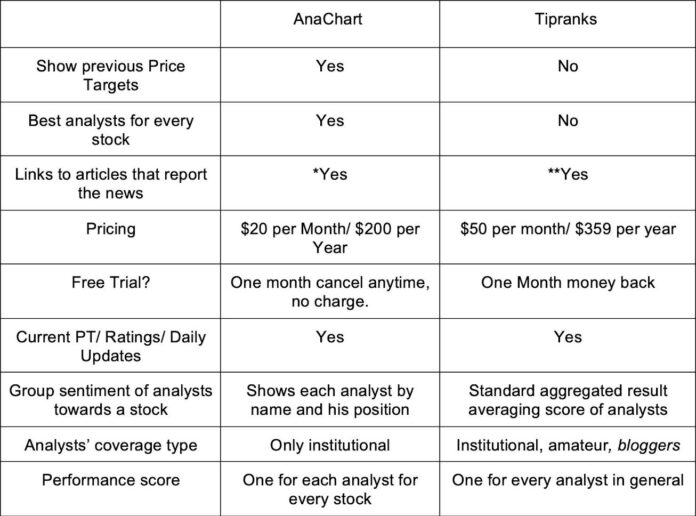 Introducing AnaChart, a cutting-edge investment research platform designed to deliver unparalleled detail in stock market analysis. Setting itself apart as top options for TipRanks alternatives, AnaChart goes beyond the norm by providing individual performance scores for each stock an analyst covers, empowering investors with precise insights for more informed decision-making.
AnaChart's Unique Advantage: Previous Price Targets Display
In the dynamic world of stock market investing, the ability to view previous target prices from analysts can provide key insights into their stock-picking reliability. This is where AnaChart steps in as a premier TipRanks alternative. Unlike TipRanks, AnaChart allows investors to view previous target prices from each analyst, offering a broader perspective that can be crucial in making informed investment decisions.
By having access to previous price targets investors can see how well the analysts stock forecasts were practical, consistent, and timely. AnaChart advanced artificial intelligence allows it to do so by going over financial articles of major media outlets as a service for its users to naviagte through such a large amounts of data. 
Transparency at its Best: The AnaChart Promise
Transparency and accuracy are at the heart of AnaChart. As a top-notch TipRanks alternative, we display every recommendation used to calculate an analyst's score. This allows investors to scrutinize the data themselves, ensuring they have all the necessary information to make confident investment decisions.
See the Bigger Picture: Visual Comparison on AnaChart
AnaChart takes data visualization to a new level. Unlike TipRanks, which offers a visual display of only one analyst stock ratings at a time, AnaChart facilitates a comparison between two or more analysts and their interactions (both price target and ratings) with a specific stock. The adage "A picture is worth a thousand words" rings true when it comes to our approach to financial data analysis.
Take AnaChart for a Spin: Your Investment Game-Changer
We warmly invite you to trial AnaChart for 30 days, completely free of charge. Experience firsthand why AnaChart is hailed as the definitive TipRanks alternative, offering transparent, evidence-based, and detailed stock analysis. Become a smarter investor, one chart at a time. Step into the future of stock market analysis with AnaChart.