Womens 70s Outfits: All You Need To Know In 2023 [With Latest Updates]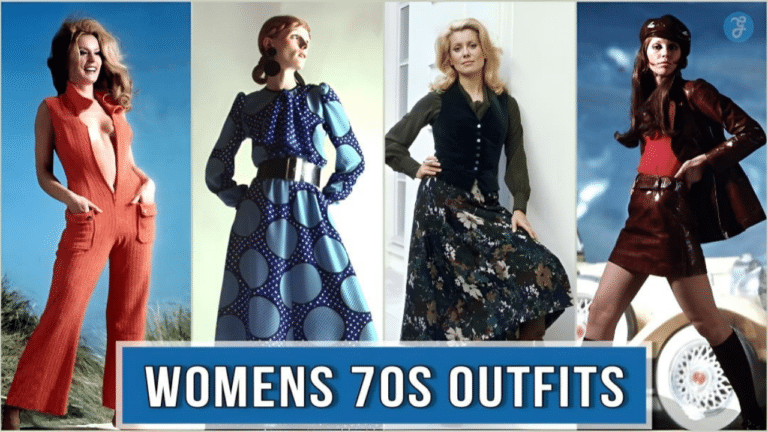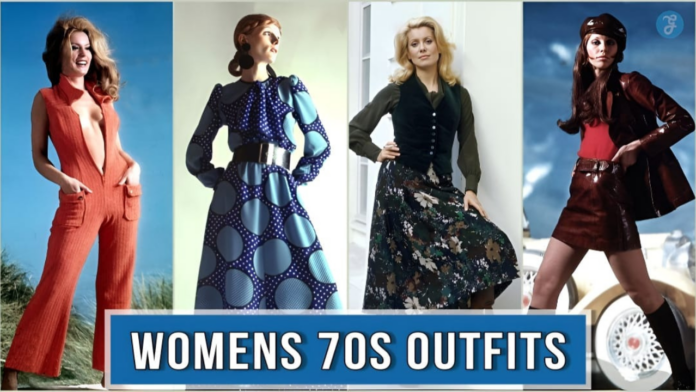 Feeling nostalgic for the iconic styles of the 1970s but unsure how to bring them into an updated modern wardrobe? You're not alone. The latest resurgence in fashion trends reveals a deep admiration for the eclectic and expressive style seen throughout that revolutionary decade.
This guide will be your one-stop-shop to navigate all things related to women's 70s outfits – from popular trends and where to buy vintage pieces to styling tips and celebrity inspiration.
Dive in; let's time travel together!
Content Highlights
Flares and platform boots are popular fashion trends from the 1970s that have come back in 2023, offering a retro-inspired look.

Wrap dresses and crochet clothing were iconic pieces in women's 70s outfits and are now being reinvented with modern designs for a fresh twist.

Breezy florals, fun graphic tees, head scarves, safari jackets, boho chic dresses, and A-line skirts were popular trends of the era that can be incorporated into your wardrobe for a stylish 70s flair.
Popular 1970s Fashion Trends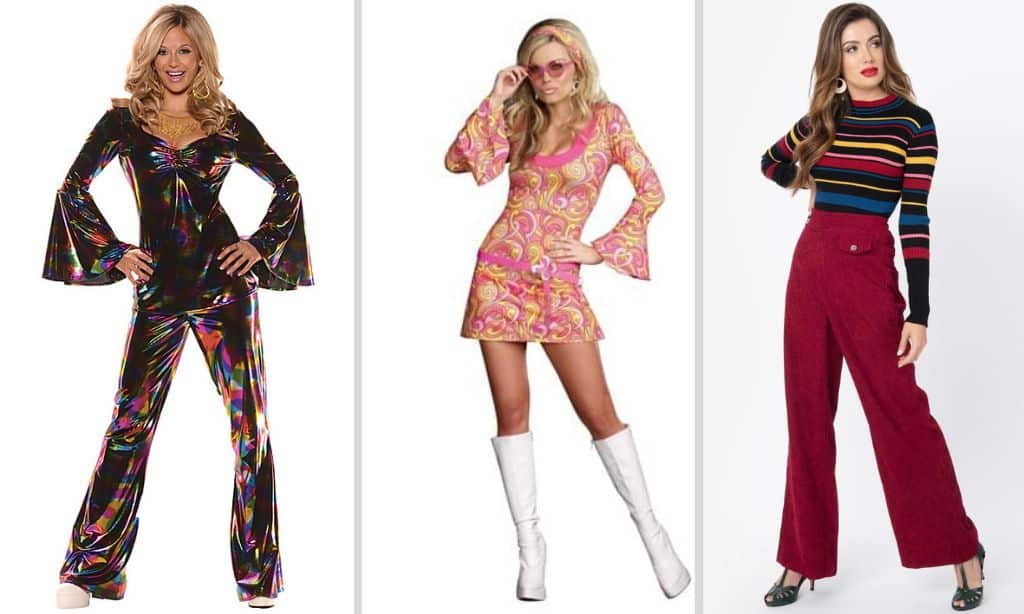 Flares, platform boots, wrap dresses, crochet clothing, breezy florals, fun graphic tees, head scarves, safari jackets, boho chic dresses, and A-line skirts were all popular fashion trends of the 1970s.
Flares
Flares have made an epic comeback in the fashion world. In the 70s, these wide-legged trousers offered a glamorous alternative to traditional pants, turning regular outfits into eye-catching ensembles.
Their popularity skyrocketed again recently, with celebrities such as Dua Lipa and Claudia Winkleman spotted flaunting them on various occasions. They are not just for special events; flares can be integrated into everyday attire for a retro-inspired look.
Whether you pair them with your favorite tee or dress them up with platform boots or heels, flares embody a timeless style that defines the free-spirited vibes of 70s-era fashion.
Platform Boots
Platform boots took the fashion world by storm in the 1970s. Known for their style and comfort, these boots became a wardrobe staple for women seeking to make bold fashion statements.
The impressive height that platform boots provided gave an edge over other footwear trends of the decade.
Various colors and materials were available, making them adaptable to virtually any outfit. Leather proved particularly popular due to its durability and timeless appeal.
Knee-high variations of platform boots paired with flared trousers redefined 'groovy' style during this era, perfectly encapsulating what Womens 70s Outfits were all about. Fast forward half a century later; these iconic staples continue influencing contemporary fashion trends, charming vintage admirers, and modern trendsetters alike.
Wrap Dresses
Renowned designer Diane von Fürstenberg introduced wrap dresses in the 1970s, sparking a revolution in women's fashion. These chic and classy outfits quickly became popular among stylish women of that era.
The jersey wrap dress and satin style were trendy options, adding a distinct elegance to any woman's wardrobe. With their unique design and astounding versatility, wrap dresses soon secured their space as an integral part of womens 70s outfits – a testament to their timeless appeal, which remains influential even today.
Crochet Clothing
Crochet clothing was a popular fashion trend in the 1970s and is now back in 2023. Designers and boutiques are reinventing crochet with fresh new designs and offerings, giving it a modern twist.
Crochet tops, dresses, and accessories can add texture and a handmade touch to your outfit, creating a unique look that stands out. Incorporating crochet clothing into contemporary fashion trends allows for the perfect mix of vintage style with modern flair.
Breezy Florals
Breezy florals are currently popular in 2023 and are associated with the fashion trends of the 1970s. These floral prints, often paired with ballooning bell sleeves, show a subtle reference to cottagecore and fairycore trends.
The key to achieving the breezy floral look is choosing sheer, layered designs that exude a carefree and romantic vibe. Light-wash flare jeans are suggested to complete the outfit, creating a perfect balance between femininity and retro style.
Fun Graphic Tees
Fun graphic tees are a key component of popular 1970s fashion trends in women's outfits for 2023. These versatile and trendy tops can be paired with simple tanks, silk blouses, oxford shirts, or camisoles to create a fashionable look inspired by the 70s.
Incorporating fun graphic tees into your wardrobe is a stylish and trendy choice recommended by the 2023 fashion trends guide for grown women. They add a touch of personality to any outfit and are perfect for expressing your unique style.
So, embrace the nostalgia of the 70s with fun graphic tees as part of your modern-day fashion choices.
Influenced by books like "Daisy Jones & The Six," which brought back the boho vibe, the resurgence of 70s fashion has made fun graphic tees more popular than ever. Whether rocking a retro design or sporting an updated twist on vintage graphics, these tees offer endless possibilities for creating stylish outfits that pay homage to this iconic era in fashion history.
Head Scarves
Head scarves were a popular accessory in 1970s fashion trends for women's outfits. Tie-dye and bandana prints were common patterns used on headscarves in the 70s, reflecting the bohemian style of the era.
They were often worn with early 70s Hippie outfits to add a fashionable touch. Head scarves were versatile and could be tied in various styles, such as a turban or a bow, allowing women to experiment with different looks.
Colorful tie-dye and bandana patterns added vibrancy to any outfit, making head scarves a must-have accessory during this period.
Safari Jackets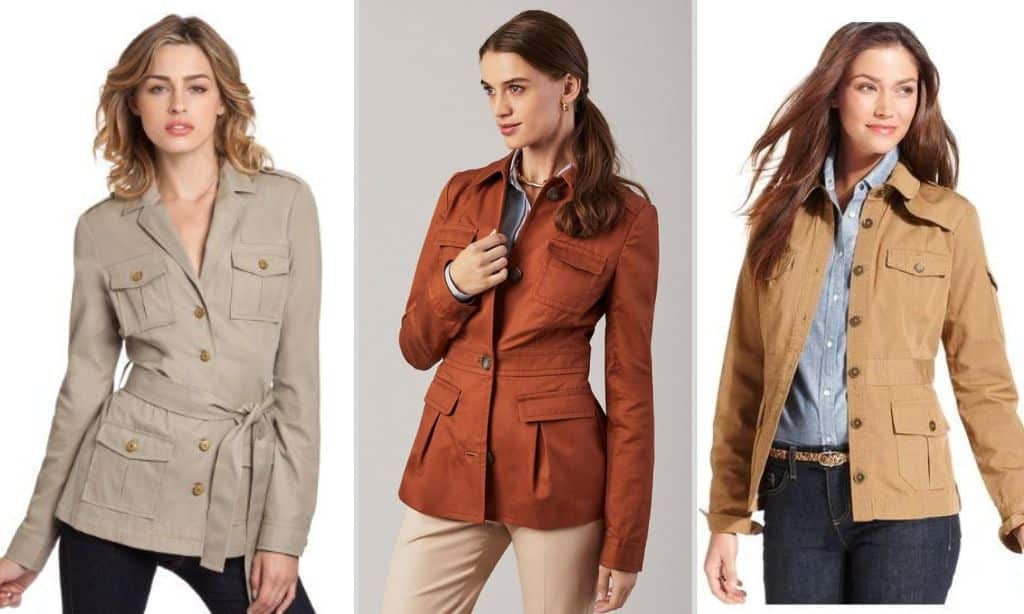 Safari jackets were all the rage in the 1960s and 1970s, and they continue to be a key trend in women's 70s outfits in 2023. Celebrities popularized these jackets, becoming synonymous with the hippie and bohemian fashion of the era.
Today, safari jackets can be styled to create different looks–from a sports-chic ensemble to a glam rock outfit. Whether going for a casual everyday look or dressing up for a special occasion, incorporating a safari jacket into your wardrobe is an excellent way to add retro flair to your style.
Boho Chic Dresses
Boho chic dresses were a defining fashion trend of the 1960s and 1970s. They exuded a free-spirited, carefree vibe that perfectly captured the era's essence. Maxi dresses were particularly popular, offering a boho look with long and flowing designs.
As the 70s progressed, boho chic dresses evolved to include more refined elements, such as luxurious fabrics and intricate details. This style remains timeless and continues to be beloved by many for its ability to convey individuality, nonconformity, and a sense of freedom.
Whether attending a music festival or simply wanting to add vintage flair to your wardrobe, boho chic dresses are always an excellent choice.
A-Line Skirts
The A-line skirt, a popular fashion trend in the 1970s, is returning for the summer of 2023. This classic silhouette features a narrow waist that gradually flares towards the hemline, creating an "A" shape.
A-line skirts can be mini and midi-length, giving you options to suit your style. For an authentic 70s look, try pairing your A-line skirt with buttons down the front.
It's a stylish way to pay homage to this iconic era while keeping up with modern trends. The revival of A-line skirts allows individuals to create unique outfits that showcase their love for vintage fashion.
Read Also: The Y2K Fashion Trends Still Going Strong in 2023!
How to Incorporate 70s Style into Your Wardrobe
Mix vintage and modern pieces, add retro accessories, incorporate retro prints and patterns, and embrace bohemian fashion to give your wardrobe a stylish 70s flair. Read on for more tips!
Mixing Vintage and Modern Pieces
Mixing vintage and modern pieces is a popular way to incorporate 70s style into your wardrobe. Try pairing a vintage floral blouse with high-waisted jeans and ankle boots to achieve this look. Layer a modern leather jacket over a retro-inspired dress for a cool juxtaposition of old and new.
Accessorize with statement jewelry, such as oversized hoop earrings or chunky bracelets. Experiment with mixing textures, like pairing a vintage crochet top with sleek leather pants. Don't be afraid to play around with different combinations to create a unique and stylish outfit that channels the spirit of the 70s.
Adding Retro Accessories
Adding retro accessories is a great way to incorporate the 70s style into your wardrobe. Here are some ideas on how to do this:
Chunky jewelry: Statement necklaces, oversized hoop earrings, and stackable bangles can instantly add a retro vibe to any outfit.
Fringed bags: Choose a crossbody or shoulder bag with fringe details for a bohemian touch.
Wide belts: Cinch in your waist with a wide belt featuring metal buckles for a touch of vintage flair.
Round sunglasses: Opt for oversized round sunglasses with colored lenses to complete your 70s-inspired look.
Headbands and scarves: Tie a colorful printed scarf around your head for a hippie-inspired hairstyle, or opt for a wide headband adorned with beads or feathers.
Platform shoes: Embrace the disco era with chunky platform heels or wedges in bold colors or metallic finishes.
Wide-brimmed hats: Protect yourself from the sun while adding a touch of sophistication with floppy hats or structured fedoras.
Statement handbags: Look for bags with bold prints, patchwork designs, or vibrant colors to make a statement.
Incorporating Retro Prints and Patterns
Embrace the vibrant spirit of the 70s by incorporating retro prints and patterns into your outfits. Let your fashion choices reflect the eclectic nature of the era with these ideas:
Opt for floral prints: Choose dresses, blouses, or skirts featuring bold and colorful floral patterns. Embrace the freedom and femininity associated with these prints.
Try paisley: Incorporate this intricate teardrop-shaped pattern into your wardrobe. Look for paisley blouses, scarves, or even pants to add a touch of bohemian flair.
Go geometric: Experiment with geometric patterns like stripes, checks, or zigzags. These eye-catching designs can be found on dresses, tops, or accessories like bags and headbands.
Mix and match: Don't be afraid to combine different prints for a fun and unique look. Pair a floral top with striped pants or mix polka dots with paisley for a playful outfit.
Accessorize with retro patterns: Add retro flair to your ensemble by accessorizing with printed scarves, headbands, or vintage-inspired belts. These small touches can make a big impact on your overall outfit.
Patchwork details: Take inspiration from the 70s patchwork trend by incorporating pieces featuring contrasting fabrics and patterns stitched together. Look for patchwork jeans, skirts, or jackets to add an effortlessly cool element to your outfit.
Embracing Bohemian and Hippie Fashion
Bohemian and hippie fashion was a significant trend in the 70s, and it continues to come back in today's fashion scene. This laid-back, free-spirited style embraces natural fabrics, flowy silhouettes, and eclectic prints.
From maxi dresses with floral patterns to peasant blouses paired with denim shorts, there are plenty of ways to incorporate boho-chic elements into your wardrobe. Don't be afraid to layer on accessories like floppy hats, fringed bags, and suede boots for that ultimate bohemian vibe.
So channel your inner flower child and embrace the carefree spirit of boho fashion!
Where to Buy 70s Fashion
You can find 70s fashion at vintage stores, online marketplaces, retro-inspired fashion brands, and thrift stores.
Vintage Stores
If you want to add authentic 70s fashion to your wardrobe, vintage stores are a great place to start. One recommended store is the Brooklyn Vintage Company, located in Bushwick.
They offer a wide selection of retro clothing and accessories that capture the era's essence. Not only can you find unique pieces from the 70s, but shopping at vintage stores also allows you to embrace sustainability by giving new life to pre-loved items.
So whether you're searching for flares, boho dresses, or funky graphic tees, vintage stores are a treasure trove of nostalgic fashion finds.
Online Marketplaces
Online marketplaces have revolutionized the way we shop for 70s fashion. With just a few clicks, you can access a wide range of vintage and retro-inspired pieces from the comfort of your own home.
These online platforms offer a convenient and extensive selection, making finding that perfect 70s outfit easier. From popular e-commerce giants to specialized niche websites, endless options are available.
So whether you're searching for platform boots or boho chic dresses, online marketplaces provide an accessible and hassle-free shopping experience for all your 70s fashion needs.
In addition to convenience, online marketplaces also offer competitive pricing. Many sellers on these platforms offer affordable prices, allowing shoppers to find budget-friendly options without compromising style or quality.
Retro-Inspired Fashion Brands
Retro-inspired fashion brands are a treasure trove for those seeking 70s-inspired clothing and accessories. These brands offer a wide range of options that pay homage to the iconic styles of the era.
Places like Unique Vintage have become popular destinations for vintage enthusiasts and modern fashionistas, providing an array of retro-inspired apparel, shoes, and accessories.
Whether looking for flares, platform boots, or boho chic dresses, these brands have covered you with nostalgic designs. So if you want to channel your inner 70s diva or add a touch of retro flair to your wardrobe, check out these fantastic retro-inspired fashion brands.
Thrift Stores
Thrift stores are a great place to find unique and affordable 70s fashion pieces. Whether you're looking for flares, platform boots, or boho chic dresses, thrift stores often have a wide selection of vintage clothing from this era.
If you're in Omaha, check out Thrift World, which offers a variety of 70s fashion items. And if you're in New York City, particularly Brooklyn, there are also numerous thrift shops to explore.
Remember that organizations like The Salvation Army and Goodwill have helped change the perception of buying used clothes through thrift stores in America. So why not embrace the Golden Age of Thrifting and discover hidden gems for your 70s-inspired wardrobe?
70s Fashion for Different Body Types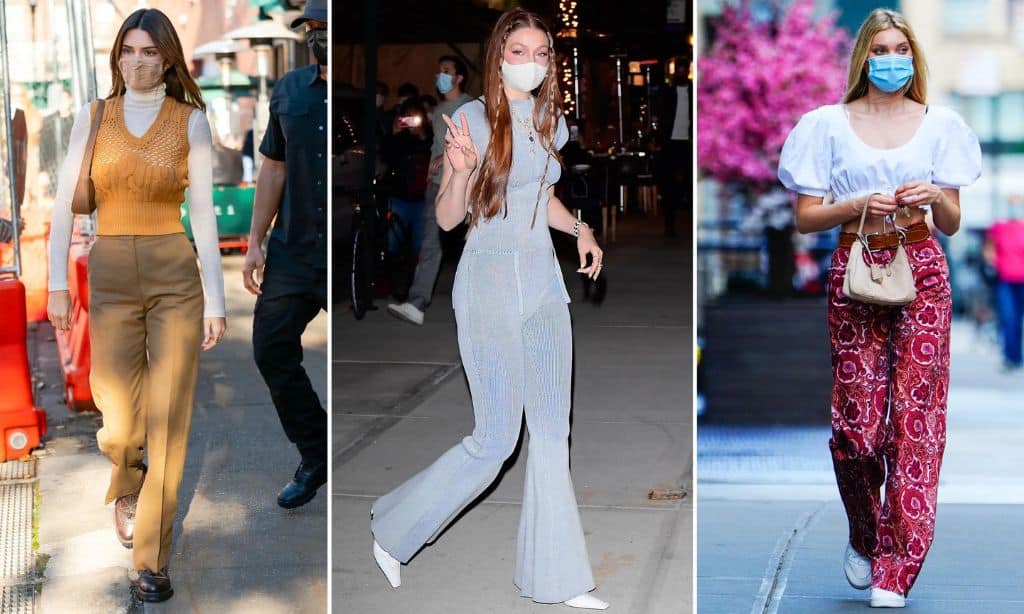 Choose flattering silhouettes for your body shape, style tips for petite, curvy, and tall women, and accessorize to enhance your figure.
Flattering Silhouettes for Different Body Shapes
Form-fitting silhouettes were a key element of 70s fashion, but they weren't the only option. The fashion of that era celebrated diversity and inclusivity, so there were flattering styles for every body shape.
Wrap dresses were particularly popular because they accentuated the waist and flattered various figures. Whether you had an hourglass shape or wanted to create the illusion of curves, wrap dresses provided a stylish solution.
Additionally, A-line skirts and boho chic dresses were favored as they could highlight your best features while offering comfort and versatility. By embracing these flattering silhouettes from the 70s, women of all shapes and sizes could confidently express their styles.
Styling Tips for Petite, Curvy, and Tall Women
Petite, curvy, and tall women can all rock 70s fashion with these styling tips:
Highlight your curves with high-waisted bottoms for a flattering silhouette that accentuates your waistline.

Choose dresses and tops with a defined waist to create an hourglass shape.

Opt for skirts and dresses with vertical stripes or patterns to elongate your figure.

Play with proportions by pairing tailored pieces with flowy ones, like a fitted blazer with wide-leg pants or a cropped top with an A-line skirt.

Use belts to cinch in your waist and create a definition.

Experiment with different hemlines to find what works best for your height – try mini skirts for Petites, midi lengths for curves, and maxi dresses for tall ladies.

Emphasize your best features by drawing attention to them – wear V-necks or statement jewelry around the face, or choose dresses that show off your legs or décolletage.

Don't be afraid of color! Bold hues can make a statement and add vibrancy to any outfit.

Wear tailored pieces that fit you properly – alterations can make a difference in how clothes flatter your body shape.
Accessorizing to Enhance Your Figure
In 70s fashion, accessorizing is key to enhancing your figure. The right accessories can flatter your shape and complete your 1970s chic look, whether you have a petite, curvy, or tall body type.
For curvy figures, opt for slightly A-line or gathered dresses that highlight your waist. Add a wide belt to cinch in at the waist and create an hourglass silhouette. Statement jewelry like chunky bracelets or long pendant necklaces can draw attention upwards and elongate your torso.
Read More: Secrets of Iconic Women's 00s Outfits
Styling 70s Fashion for Special Occasions
Dress to impress with 70s-inspired wedding guest outfits, beachwear ideas, summer work outfits, and Coachella festival fashion.
Wedding Guest Outfits
Looking for chic wedding guest outfits? Here are some trendy ideas for women over 70 in 2023:
Classic wrap dresses: Opt for a timeless wrap dress in a vibrant color or floral print to make a statement at the wedding.
Flowy maxi dresses: Embrace the boho vibe with a flowy maxi dress in a soft, breezy fabric like chiffon or silk.
Elegant pantsuits: For a sophisticated and modern look, consider wearing a tailored pantsuit in a bold color or pattern.
Midi skirts paired with blouses: Create an elegant ensemble by pairing a midi skirt with a matching blouse or a contrasting top.
Lace dresses: Choose a lace dress in pastel shades or metallic hues for a feminine and romantic appearance.
Jumpsuits: Make a fashion-forward statement by choosing a chic jumpsuit in bold colors or playful patterns.
Floral print dresses: Embrace the '70s vibe with floral dresses that exude femininity and charm.
Statement accessories: Complete your wedding guest outfit with oversized hats, chunky jewelry, or colorful scarves.
Wedge heels or block sandals: Opt for comfortable yet stylish footwear options such as wedge heels or block sandals to dance the night away.
Stylish handbags: Carry an eye-catching clutch or small handbag that complements your outfit and adds elegance.
Light jackets or shawls: Wear a light jacket, cardigan, or shawl to layer over your dress for fluctuating temperatures.
Bold prints and patterns: Experiment with bold prints and patterns like animal prints, geometric designs, or abstract motifs to showcase your unique style.
Beachwear Ideas
Regarding beachwear ideas, there are plenty of ways to incorporate 70s fashion into your look. Here are some trendy options to consider:
Upside-down bikinis: This unique twist on the traditional bikini is a popular choice for those looking to embrace the 70s style. The top worn upside down, creates a fashionable and eye-catching look.
Flared pants: Flares were a staple of 70s fashion, and they can also be a great beachwear option. Pair them with a flowy bohemian top or a graphic tee for a retro-inspired outfit.
Crochet clothing: Crochet clothing was all the rage in the 70s, and it's making a comeback in beachwear fashion today. Opt for crochet swimsuits or cover-ups for a stylish and nostalgic look.
Breezy florals: Embrace the bohemian vibe of the 70s with breezy floral prints in your beachwear. Choose maxi dresses, rompers, or bikinis in vibrant floral patterns for a feminine and vintage-inspired look.
Fun graphic tees: Graphic tees with retro designs are another great option for beachwear. Pair them with high-waisted shorts or skirts for a casual yet fashionable ensemble.
Summer Work Outfits
Summer work outfits in the 1970s featured high waists, wide-legged pants, midi-length skirts, and fabrics like suede, denim, and crochet. Women sought clothing like trousers and wrap dresses for comfort and flexibility in the workplace.
Today, fashion influencers and celebrities still embrace 70s trends regarding summer work outfits. Platform shoes and boho dresses, popular in the 70s, remain fashionable for modern office attire.
Coachella Festival Fashion
Coachella festival fashion in 2023 showcased variations on the eternal-summer "festival style" genre. The top 10 Coachella outfit trends in 2023 included influences from specific decades, highlighting the impact of different eras on festival fashion. Festival fashion returned in 2023 after the pandemic canceled music festivals, with outfits inspired by shows like "Daisy Jones." Coachella fashion has evolved from casual styles to sparkles, vivid colors, and bold prints.
In 2023, Coachella fashion was more relaxed, diverse, and fresh compared to previous years. Blackpink ruled as the first K-Pop act at the Coachella festival in 2023. Some popular trends at Coachella this year were boho chic dresses, breezy florals, crochet clothing, and head scarves.
People also incorporated retro prints and patterns into their outfits and accessorized them to enhance their figures. Mixing vintage and modern pieces was another popular way to incorporate a 70s vibe into festival attire.
Colors and Prints in 70s Fashion
The 70s fashion era was known for its vibrant and bold color palettes, with hues such as mustard yellow, burnt orange, olive green, and rich browns being popular choices.
Popular Color Palettes
Bright, saturated hues like mustard, burgundy, and forest green were popular color palettes in 70s fashion. Designers in 2023 are drawing inspiration from the calm and cool color palette of the '70s, including earthy browns, avocado greens, mustard yellows, and harvest golds.
The colors in 70s fashion could be bold with vibrant patterns or neutral in a calming palette. Mustard, burgundy, and forest green are popular colors in 70s fashion for women. The 70s fashion trends offer a wide range of color options and patterns.
Bold Prints and Patterns
Bold prints and patterns took center stage in 70s fashion for women. Flowy dresses, blouses, and skirts were adorned with vibrant and colorful florals, creating a striking visual impact.
Inspired by Pop Art, Op Art, and psychedelia, the early 1970s saw bold prints in bright colors and geometric designs. Women of the era embraced these eye-catching patterns to express their individuality and showcase their sense of style.
Bold prints added vibrancy and personality to outfits, allowing women to make a statement wherever they went. Whether it was a floral maxi dress or a geometric-printed pantsuit, bold prints were essential in capturing the essence of 70s fashion.
Read Also: The Ultimate Guide to Women's 80s Outfits in 2023!
Mixing and Matching Colors and Prints
70s fashion was about creative and experimental choices, especially when mixing and matching colors and prints. Whether you want to make a bold statement or create a more subtle look, here are some tips for rocking this trend:
Pair a vibrant floral top with high-waisted jeans in a contrasting color for a fun and playful outfit.

Mix different geometric patterns, like stripes and polka dots, to add visual interest to your ensemble.

Don't be afraid to clash colors! Experiment with combining unexpected shades, such as pairing a bright orange blouse with electric blue pants.

Try layering different prints together for a unique and eye-catching look. For example, pair a striped blazer with a floral dress underneath.

When choosing accessories, choose pieces that pick up the colors or patterns in your outfit. This will help tie everything together.
Current Celebrities Embracing 70s Style
Many current celebrities are embracing the 70s style, including influential fashion icons and red-carpet looks with a 70s twist.
Influential Fashion Icons
Style icons from the 70s, including Diana Ross, Grace Kelly, Olivia Newton-John, and Jane Birkin, played a significant role in shaping fashion. Their unique sense of style and iconic looks influenced trends that are still celebrated today.
These fashion icons were known for their glamorous red carpet-ensembles and everyday outfits that exuded elegance and sophistication. From Bianca Jagger's power suits to Jane Birkin's bohemian chic aesthetic, these influential women set the stage for 70s fashion and continue to inspire modern-day interpretations of this timeless style.
Celebrity-inspired 70s Outfits
Celebrities in 2023 are embracing the style of the 70s and rocking some amazing outfits. Get inspired by their retro looks with these celebrity-inspired 70s outfits:
Kendall Jenner: She was spotted wearing flared jeans paired with a bohemian blouse and platform sandals.
Gigi Hadid: Gigi rocked a stylish suede jumpsuit, accessorized with oversized sunglasses and a floppy hat for a true 70s vibe.
Elsa Hosk: Elsa opted for a disco diva look in a sequin mini dress and chunky platform boots, perfect for a night out.
Red Carpet Looks With a 70s Twist
Celebrities are bringing the '70s style to the red carpet with their fashion choices. They are incorporating elements from this era into their glamorous outfits, creating a unique and trendy look. Here are some red carpet looks inspired by the 70s:
Bell-bottom pants paired with flowing blouses or statement tops

Maxi dresses with bold prints and vibrant colors

Fringe jackets or vests layered over chic dresses

High-waisted skirts or pants styled with crop tops or fitted blouses

Wide-brimmed hats and oversized sunglasses for a retro touch
Updating 70s Fashion for the Modern Era
Incorporate contemporary elements and add a modern twist to retro outfits for a fresh take on 70s fashion. Discover how to style 70s-inspired pieces for everyday wear and keep your look effortlessly chic in 2023.
Incorporating Contemporary Elements
Mix vintage 70s pieces with modern clothing for a fresh and updated look.

Pair a retro shirt with high-waisted jeans for a trendy outfit.

Layer a boho-inspired vest over a basic t-shirt for a modern twist on the 70s style.

Add contemporary accessories like statement earrings or a chunky belt to complete your look.

Choose fabrics like velvet or leather in modern cuts to bring a modern edge to your 70s-inspired outfit.

Experiment with different prints and patterns, such as animal prints or geometric designs, to give your outfit a modern flair.

Opt for minimalist footwear like ankle boots or sleek sneakers instead of traditional 70s platform shoes.

Play with proportions by pairing loose-fitting tops with slim-fit bottoms, or vice versa, to create a more contemporary silhouette.

Embrace current makeup trends while wearing your 70s-inspired outfits, such as bold eyeliner or nude lipstick.
Styling 70s-Inspired Pieces for Everyday Wear
Embrace the vintage vibe by pairing a flowy boho blouse with high-waisted flared jeans.

Add a touch of retro flair to your outfit with platform shoes or chunky heels.

Layer a fringed suede jacket over a graphic tee for a stylish and casual look.

Mix and match prints and patterns, such as pairing a floral skirt with a striped top.

Accessorize your outfit with oversized sunglasses, wide-brimmed hats, or statement belts.

Opt for earthy tones and warm colors like mustard yellow, burnt orange, and deep brown.

Choose fabrics like denim, corduroy, velvet, or suede for an authentic 70s feel.

Experiment with different silhouettes, such as A-line dresses or wide-leg pants.

Don't forget to embrace the power of accessories like long pendant necklaces and stacked bangles.

Finish off your look with a retro-inspired hairstyle like loose waves or a messy updo.
Remember to have fun mixing and matching pieces from the 70s era to create your unique everyday style!
Adding a Modern Twist to Retro Outfits
To give your retro outfits a contemporary edge, consider these 7 tips:
Experiment with accessories: Add modern accessories like statement earrings, layered necklaces, or a sleek belt to update your vintage ensemble.
Mix and match: Combine vintage pieces with modern items from your wardrobe. Pair a 70s-style blouse with high-waisted jeans or a floral maxi dress with trendy sneakers.
Play with textures: Mix different fabrics to create an interesting contrast. Pair a velvet blazer with a denim skirt, or wear a leather jacket over a printed jumpsuit.
Modernize the hairstyle: Opt for modern hairstyles to complement your retro look. Try loose waves, braids, or a sleek ponytail instead of strictly following 70s hair trends.
Choose contemporary footwear: Swap out traditional platform boots for stylish ankle boots, chunky heels, or even sneakers to add a modern twist to your outfit.
Go for minimal makeup: Embrace fresh-faced beauty by opting for natural-looking makeup rather than heavy eyeliner and bold lips commonly associated with the 70s.
Update color choices: While bold colors were popular in the 70s, you can choose more subdued shades or incorporate trendy colors of the season to keep your look current.
Frequently Asked Questions (FAQs)
Check some commonly asked questions on the womens 70s outfits.
1. What are some popular trends in women's 70s outfits for 2023?
Popular trends in women's 70s outfits for 2023 include wide-leg pants, floral prints, maxi dresses, bold colors, platform shoes, and statement accessories such as oversized sunglasses and chunky jewelry.
2. How can I incorporate a 70s vibe into my wardrobe without looking outdated?
Opt for modern interpretations of retro styles to incorporate a 70s vibe into your wardrobe without looking outdated. Mix vintage-inspired pieces with contemporary items to create a balanced and fashion-forward look.
3. Are jumpsuits still trendy in the 70s fashion revival?
Yes, jumpsuits continue to be popular in the revival of 70s fashion. They offer a stylish and effortless one-piece outfit option that can be dressed up or down depending on the occasion.
4. Where can I find affordable vintage-inspired clothing for a 70s look?
You can find affordable vintage-inspired clothing for a 70s look at thrift stores, online vintage boutiques, consignment shops, or online marketplaces where individuals sell their preloved items like Etsy or Depop. Many mainstream retailers also offer contemporary pieces with retro influences at various price points.
Subscribe to Our Latest Newsletter
To Read Our Exclusive Content, Sign up Now.
$5/Monthly, $50/Yearly