Secrets of Iconic Women's 00s Outfits: Bring Back the Glamour of the Millennium!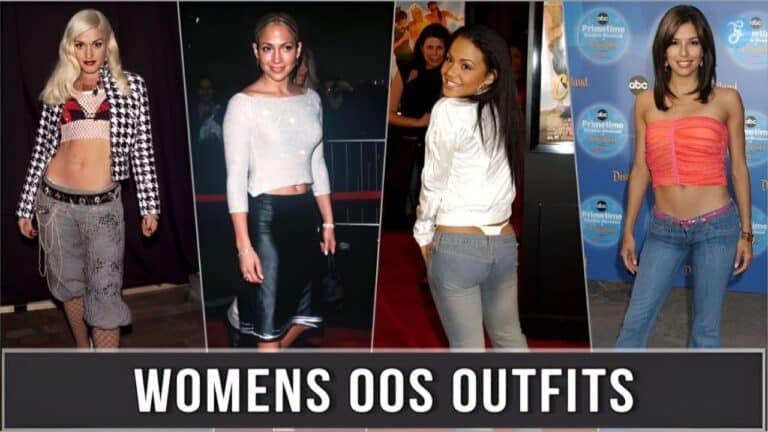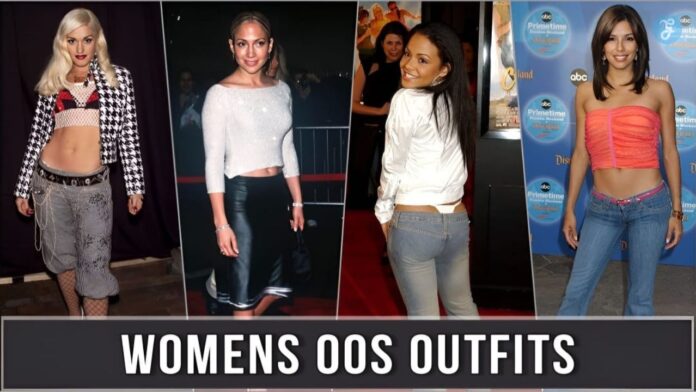 Exploring the fashion world can be daunting, especially when trends from decades past make their unexpected comeback. Did you know that Y2K-inspired fashion is making waves again in 2023? Our comprehensive guide offers a deep dive into Womens 00s Outfits and provides stylish ways to incorporate these retro styles with a modern twist.
Stick around to discover how to level up your wardrobe game with our latest updates!
Content Highlights
Y2K fashion trends from the early 2000s are coming back in 2023, offering a mix of nostalgia and modernity.

Popular Y2K outfits like velvet track pants, bedazzled denim jackets, low-rise denim skirts, bootcut jeans, chunky heels, crochet outfits, butterfly clips, platform shoes, and metallic puffer jackets are back in style.

The dress-over-pants trend is back for 2023; style a flowy dress over wide-leg trousers for a cool and modern look.

Celebrities like Katie Holmes, Rihanna, Zendaya, and Gigi Hadid have embraced the dress-over-pants trend.
The Y2K Aesthetic: What It Is and Why It's Back
The Y2K aesthetic, a fashion trend inspired by the early 2000s, has recently returned. It embraces bold and striking styles with a futuristic twist, reflecting the optimism and vibrancy of the turn of the millennium.
With its nostalgic appeal and unique blend of nostalgia and modernity, the Y2K aesthetic has captured the attention of fashion enthusiasts worldwide.
Y2K Fashion Trends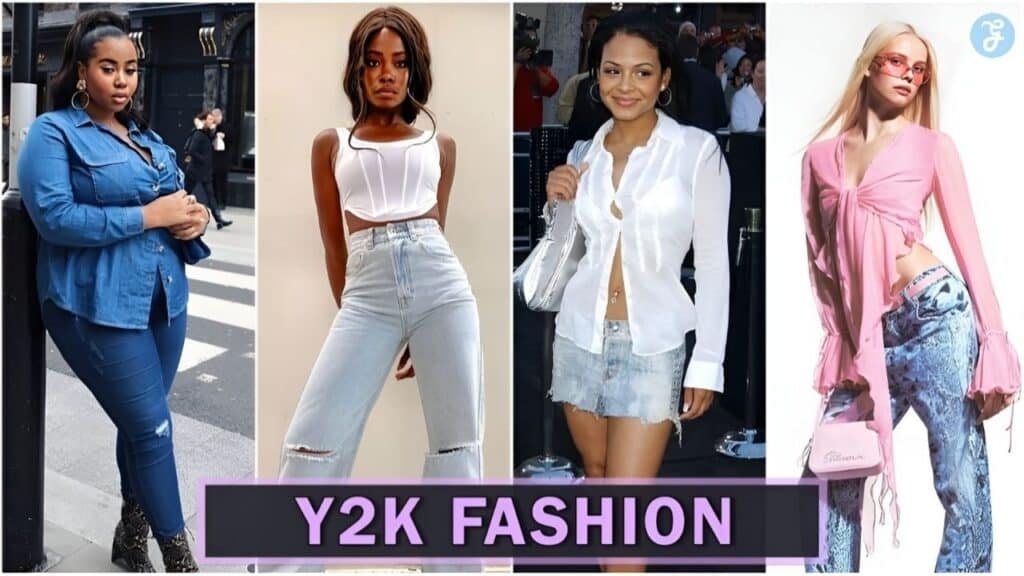 Y2K fashion trends dominated the late 90s and early 2000s, leaving an unforgettable mark on our style history. Bold, bright colors combined with a blend of pop culture elements characterized these exciting times.
Diverse textures like velvet found their way onto track pants, while denim made its statement through low-rise skirts and bootcut jeans. A sparkle was added to everyday outfits with bedazzled jackets, creating a dazzling millennium vibe that's hard to forget.
Another cherished Y2K trend is crochet; timeless in its appeal, it can jazz up any outfit effortlessly. Today these iconic styles are making a comeback, and they're even slated to redefine fashion in 2023!
Popular Y2K Outfits
Trendsetters are bringing back popular Y2K outfits with refreshing modern twists. Here are a few standouts:
Velvet Track Pants: Soft, comfortable, and infinitely stylish velvet track pants made waves in the Y2K era. Worn by celebrities and fashion lovers, they're returning in 2023.
Bedazzled Denim Jackets: Add sparkle to your outfit with bedazzled denim jackets. These jackets were an absolute hit during the Y2K period, again catching people's attention.
Low-Rise Denim Skirts: The classic low-rise denim skirt is another popular outfit from the Y2K era. Pair it with a bright top for an ultimate '00s look.
Bootcut Jeans: They may have been questioned in recent years, but bootcut jeans defined the early 2000s fashion scene, now returning as one of the favorite trends.
Chunky Heels: Unlike stilettos or pumps, chunky heels offer stability without sacrificing style, perfect for those who love vintage aesthetics.
Crochet Outfits: The crochet trend is a classic Y2K style that still looks great today. Whether on tops, skirts, or dresses, crochet adds a feminine touch to any ensemble.
Butterfly Clips and Platform Shoes: Sometimes, the accessories make the outfit! Don't be afraid to tie your hair up with colorful butterfly clips or stride confidently in platform shoes – yes, these iconic pieces are back!
Metallic Puffer Jackets: For colder days or styling streetwear looks, metallic puffer jackets can add an edgy feel to any Women's 00s Outfits.
The '00s Dress Over Pants Trend
To rock the '00s dress-over-pants trend in 2023, style a flowy dress over wide-leg trousers for an effortlessly cool modern look.
Tips for Styling Dress-Over-Pants Looks
Dressing in 00s outfits can be a fun throwback, and there are several ways to style the dress-over-pants look.
First, you must select a balance between your dress and pants. If your dress is flowy and full of patterns, pair it with solid-colored skinny jeans or leggings.

Wear wide-leg pants if your dress is fitted or straight-cut to create a harmonious silhouette.

Wear heels with this style to highlight the elongation created by this fashion combo.

Be bold with colors, but consider classic monochrome looks for an elegant approach.

Katie Holmes unintentionally revived the dress-over-jeans look by pairing her dresses with bootcut denim.

Keep accessories minimalistic; let your layered clothes make the statement.

Try tucking in portions of your dress into the waistband of your pants for an edgy update on this trend.
Celebrities Rocking the Dress-Over-Pants Trend
Celebrities Rocking the Dress-Over-Pants Trend:
Katie Holmes: She has been credited with returning the dress-over-jeans look and has been seen rocking this trend several times.
Rihanna: Known for her bold fashion choices, Rihanna has been spotted wearing dresses over pants, adding her unique twist to the trend.
Zendaya: This talented actress and style icon has embraced the dress-over-pants trend, often opting for sleek and stylish ensembles that combine both pieces effortlessly.
Gigi Hadid: The supermodel is no stranger to experimenting with fashion trends. She has been photographed wearing dresses over pants, showcasing her ability to pull off even the most daring looks.
Hailey Bieber: Hailey Bieber has joined the dress-over-pants bandwagon, showing off her fashion-forward style by pairing chic dresses with trendy trousers for a modern twist.
Dua Lipa: Dua Lipa is known for her eclectic sense of style, and she has been spotted rocking the dress-over-pants trend at various events and performances.
Kendall Jenner: As one of the biggest names in the fashion industry, Kendall Jenner is not afraid to take risks regarding her style choices. She has been seen wearing dresses over pants in unique and eye-catching ways.
Bella Hadid: Bella Hadid consistently pushes boundaries with her fashion choices and is no stranger to embracing unconventional trends like dresses over pants.
Rihanna: Known for her bold fashion choices, Rihanna has been spotted wearing dresses over pants, adding her unique twist to the trend.
Kylie Jenner: Always one step ahead of fashion trends, Kylie Jenner has also embraced the dress-over-pants look in her street-style outfits, making a statement wherever she goes.
Taylor Swift: Taylor Swift's signature feminine style takes on a new dimension with this trend. She has been seen wearing dresses over pants in her music videos and public appearances, showcasing her versatility as a fashion icon.
Emma Watson: Known for her timeless and elegant style, Emma Watson has been spotted donning dresses over pants, effortlessly blending classic and contemporary elements.
Selena Gomez: Selena Gomez has embraced the dress-over-pants trend with her unique flair, often pairing flowing dresses with tailored trousers for an unexpected twist.
Cara Delevingne: This British model and actress never dissuades from experimenting with fashion. She has been seen rocking dresses over pants in edgy and unconventional ways, cementing her status as a style icon.
Olivia Wilde: Olivia Wilde's effortless cool girl style extends to embracing the dress-over-pants trend. She often pairs oversized dresses with wide-leg pants for a modern, relaxed look.
Lucy Hale: The actress is known for her trendy yet approachable style and is no stranger to the dress-over-pants trend. Lucy Hale has confidently incorporated this look into her red carpet ensembles.
Emily Ratajkowski: Emily Ratajkowski's bold and sultry sense of style effortlessly translates into the dress-over-pants trend. She adds a touch of glamour to this look by opting for form-fitting dresses paired with sleek trousers.
Bella Thorne: Bella Thorne is not afraid to make a statement through her fashion choices, including wearing dresses over pants on several occasions. She embraces this trend while adding her personal touch of
The Latest Updates in Y2K Fashion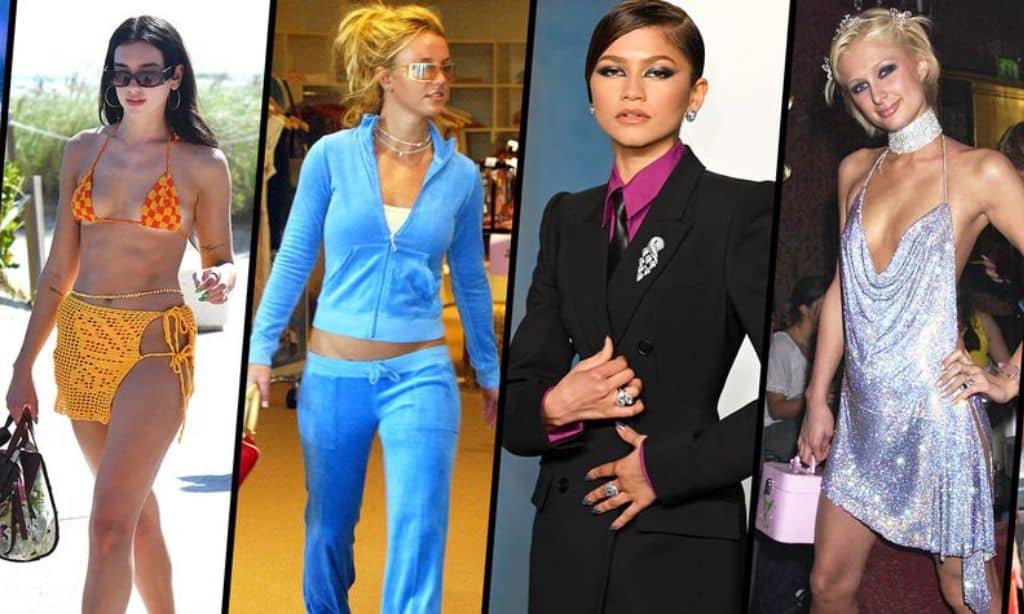 New Y2K-Inspired Clothing and Accessories for Spring 2023 are hitting the shelves, offering fresh options for those looking to indulge in this nostalgic trend.
New Y2K-Inspired Clothing and Accessories for Spring 2023
Get ready to embrace the Y2K fashion trend with these new clothing and accessories for Spring 2023:
Shiny Vinyl Jackets: Add a futuristic touch to your outfits with a vinyl jacket in bold colors like silver or pink.
Chunky Sneakers: Elevate your street-style game with chunky sneakers that pay homage to the 2000s. Opt for bright and vibrant hues to make a statement.
Rhinestone Hair Clips: Sparkle and shine with rhinestone hair clips that instantly add a touch of glamour to any hairstyle.
Mini Shoulder Bags: Complete your Y2K-inspired look with mini shoulder bags in metallic finishes or unique shapes like hearts or butterflies.
Tie-Dye Everything: Embrace the playful and colorful side of the 2000s with tie-dye tops, dresses, and even matching sets for a fun and carefree vibe.
Butterfly Sunglasses: Channel your inner diva with oversized butterfly-shaped sunglasses that combine vintage vibes with modern flair.
Must-Have Y2K Trends for 2023
Y2K fashion is making a comeback in 2023 with some must-have trends. Get ready to rock these Y2K-inspired looks:
Tie front tops: These tops, popular in the 2000s, are backed with pastel tones for a trendy and feminine look in 2023.
Square sunglasses: Channel your inner Y2K icon with these retro sunglasses that add a touch of cool to any outfit.
Flared and baggy jeans: Embrace the Y2K denim trend with flared or baggy jeans that give off a laid-back, effortlessly stylish vibe.
Floor-length cardigans: Stay cozy and fashionable with floor-length cardigans, perfect for layering over any outfit for added warmth and style.
Metallic puffer jackets: Make a statement with a metallic jacket that combines Y2K style with modern flair.
Bright colors and accessories: Embrace the vibrant spirit of Y2K fashion by incorporating bold colors into your wardrobe and adding fun accessories like trendy purses and sunglasses.
Read Also: How To Express Yourself Using Fashion
Unforgettable 2000s Fashion Trends
The early 2000s brought us many memorable fashion trends that are now making a comeback. Celebrities have embraced the nostalgic style, and we can't help but reminisce about questionable trends from the era.
Famous Celebrities Embracing Early 2000s Style
Celebrities have embraced the early 2000s style. Here are some of the stars who are rocking this throwback fashion trend:
Dua Lipa: The pop sensation has been spotted wearing low-rise jeans, cropped tops, and chunky sneakers, channeling the iconic Y2K look.
Rihanna: Known for her bold fashion choices, Rihanna has been seen sporting velour tracksuits, oversized sunglasses, and statement jewelry reminiscent of the early 2000s.
Jennifer Lopez: J.Lo is no stranger to early 2000s fashion. She continues to rock crop tops, Juicy Couture tracksuits, and blinged-out accessories with confidence.
Bella Hadid: This model has mastered the art of Y2K fashion with her love for baggy jeans, spaghetti strap tops, and tiny shoulder bags.
Paris Hilton: As a fashion icon of the early 2000s, Paris Hilton still embraces her signature style. She often wears mini skirts, rhinestone-encrusted everything, and baby doll dresses.
Britney Spears: Britney's iconic outfits from the 2000s are etched in our memories. From low-rise jeans to schoolgirl-inspired ensembles, she epitomized Y2K fashion.
Beyoncé: Queen Bey has also delved into the early 2000s trend. She has been seen wearing metallic clothing, bedazzled phone cases, and midriff-baring tops.
Questionable Style Trends from the Early Aughts
The early 2000s brought forth style trends that left us scratching our heads. Here are some fashion fads from that era that are best left in the past:
Low-rise jeans: These hip-hugging pants may have been popular but also led to unfortunate moments of exposed underwear.
Trucker hats: These mesh caps became a must-have accessory thanks to celebrities like Ashton Kutcher. However, their popularity quickly faded.
Velour tracksuits: Made famous by Juicy Couture, these matching sweatsuits were all the rage. But let's face it, and they weren't the most sophisticated choice.
Belly chains: This jewelry trend involves wearing chains around your waist to draw attention to your midriff. It's safe to say this trend hasn't stood the test of time.
Uggs with skirts: While Ugg boots were undeniably comfortable, pairing them with skirts was a questionable style choice many opted for in the early 2000s.
Babydoll dresses over jeans: This layered look involves wearing a short dress over jeans or leggings. It may have been popular back then, but it's not timeless.
Logomania: In the early 2000s, logos were everywhere, from designer bags plastered with brand names to clothing in conspicuous logos.
Butterfly hair clips: These colorful hair accessories adorned many hairstyles during this era, adding a touch of whimsy but perhaps not the most sophisticated option.
2023 Style Trends: What to Shop for Now
Get ready to refresh your wardrobe with the hottest style trends for 2023. There's something for everyone, from oversized everything to corsets, sheer fabrics to cutouts, and minidresses and skirts to Y2K revival.
Embrace military-inspired looks or embrace your inner cowgirl with cowboy cosplay. Don't forget about ballerinas, the revenge heel, Wednesday Addams vibes, '90s revival, disco diva glamor, and maximalism.
Start shopping now to stay ahead of the fashion game in 2023!
Oversized Everything
Oversized clothing is set to take over the fashion scene in 2023. From blazers to shirts, everything is going big this year. This trend has gained popularity thanks to platforms like TikTok, where oversized pieces frequently appear on the For You page.
Expect to see cargo pants, oversized pantsuits, wide-leg trousers, maxi skirts, combat boots, clogs, shoulder pads, and ruching as part of this larger-than-life style. The fashion trends for 2023 are leaning toward utilitarian looks with a touch of comfort and ease.
So embrace the oversized trend and make a bold statement with your fashion choices!
Corsets, Corsets, Corsets
Corsets are taking the fashion world by storm in 2023. Whether it's a corset top, bustier top, or corset dress, these pieces have become must-haves in everyone's wardrobe. Designers have embraced the corset trend, incorporating them into their fall collections.
The Victorian-era corset is particularly popular, adding a touch of historical elegance to any outfit. Fashion brand Farm Rio co-founder Katia Barros confirms that corsets are a significant trend for this year.
So if you want to stay on-trend and make a statement with your style, don't forget about the power of corsets.
Sheer Fabrics
Sheer fabrics are set to be a major trend in 2023 fashion. Stylists and editors recommend incorporating sheer dresses, tops, skirts, and accessories into your wardrobe.
This lightweight and delicate fabric adds a touch of elegance and femininity to any outfit. Whether you opt for a sheer blouse paired with jeans or a flowy sheer maxi dress for those warm summer days, embracing this trend will keep you on top of the fashion game.
So don't hesitate to shop for stunning sheer pieces to elevate your spring/summer 2023 style.
Cutouts
Cutouts are set to be a popular trend in women's fashion in 2023. Vogue editors have already started incorporating cutouts into their wardrobes as part of the spring 2023 trends. The Gen Z generation favors this style choice, as it adds a youthful and fashionable touch to any outfit.
Cutouts can bring a modern and edgy feel to your look, making them a versatile choice for fashion enthusiasts. With various styles and designs available, you can choose the cutouts that best match your style and preferences.
Minidresses and Skirts
Minidresses and skirts are set to take center stage in women's fashion in 2023. This throwback trend from the 2000s is making a major comeback, with fashionistas opting for shorter hemlines and flirty silhouettes.
Tailored minidresses are perfect for a chic and sophisticated look, while skirts with cutouts add an edgy twist to any outfit. Whether heading out for a night on the town or attending a daytime event, these versatile pieces can be easily dressed up or down, depending on the occasion.
Get ready to show off those legs and embrace the feminine power of minidresses and skirts in your wardrobe this year!
Y2K Revival
The Y2K fashion trend is making a fierce comeback in 2023. This revival is all about bringing back sexy in statement-making ways. From square sunglasses to flared and baggy jeans, the Y2K revival offers plenty of options for those looking to embrace this iconic era.
Choker necklaces are also back in style, adding an edgy touch to any outfit. Low-cost fashion chains like H&M and Zara are capitalizing on the popularity of Y2K-inspired clothing, offering affordable options that cater to Gen Z's love for this nostalgic trend.
So get ready to turn heads with your bold and confident Y2K look!
Military-Inspired Looks
Military-inspired looks are set to be a major fashion trend in 2023. This style has become a staple in modern wardrobes, with its edgy and confident vibe. The spring 2023 ready-to-wear season showcased cameo appearances and celebrity controversy, creating viral moments in the fashion industry.
Experts and runway shows have identified military-inspired fashion as one of the best trends to shop for this summer. So, if you're looking to add some boldness and power to your wardrobe, military-inspired looks should be on your radar.
Don't miss out on this fashionable trend that will turn heads wherever you go!
Cowboy Cosplay
Cowboy cosplay is set to make a big splash in 2023 as Western fashion trends continue to gain popularity. This trend has been fueled by the emergence of the "coastal cowgirl" trend on TikTok, which has sparked interest in cowboy boots, straw hats, and statement-buckle belts.
It's no wonder Google Trends showed a significant increase in searches for cowboy boots last year. Cowboys and bunnies were among the top trending Halloween costume ideas in 2022.
So get ready to embrace your inner cowgirl with some fun and stylish cowboy cosplay looks this year!
Read More: 6 Fashion Accessories Every Woman Must Have
Ballerinas
Ballerinas are a must-have fashion trend for 2023. These elegant and comfortable shoes have become incredibly popular, adding a touch of grace to any outfit. Whether you're dressing up for a special occasion or want to elevate your everyday style, ballerina flats are the perfect choice.
Paired with jeans, dresses, or skirts, they effortlessly add a feminine and chic touch to your look. Embrace the ballet core trend by incorporating ballerinas into your wardrobe this year.
The Revenge Heel
The revenge heel, also known as the platform heel, is a trending style for 2023. Celebrities like Charli have already been seen wearing this bold footwear trend. Unlike the declining popularity of kitten heels, the revenge heel offers a more elevated, statement-making look.
It's expected to be a key fashion trend for women in 2023, providing an edgy and powerful touch to any outfit. So, if you want to elevate your shoe game this year, consider stepping into the spotlight with the eye-catching and confidence-boosting revenge heel.
Wednesday Addams
Wednesday Addams, the iconic character from "The Addams Family," has significantly influenced 2023 style trends. Her gothic and edgy style has inspired many fashion enthusiasts to embrace the dark side with a touch of glam.
Actress Jenny Ortega's portrayal of Wednesday in the popular Netflix series further ignited this trend, bringing goth fashion into the spotlight. With chunky boots, leather pieces, and an all-black color palette being her signature choice, Wednesday Addams is showing us how to rock a gothic look with confidence in 2023.
'90s Revival
The fashion industry is experiencing a major '90s revival in 2023. This nostalgic trend has brought back four popular styles of pants, including baggy jeans and flared trousers. Both women and men embrace the influence of the '90s in their outfits, with celebrities leading the way.
From column dresses to skirts, '90s silhouettes are predicted to return this year. Whether it's oversized everything, corsets, or sheer fabrics, the style trends for 2023 are all about channeling that iconic '90s look.
So embrace nostalgia and bring back those funky fashion statements from two decades ago!
Disco Diva
Disco diva style is making a comeback in 2023 fashion trends. This iconic look, popularized in the 1980s, is characterized by bold outfits and statement accessories. Think polka dots, denim, bubble hem dresses, drop waist dresses, metallics, and florals.
It's all about embracing the glitz and glamour of the disco era with a modern twist. So get ready to shine on the dance floor with your disco diva-inspired attire!
Maximalism
Maximalism is the fashion trend to embrace in 2023. It's all about bold prints, bright colors, and a more-is-more approach. Forget minimalism – maximalism allows you to express yourself freely with fun and unpredictable style choices.
This trend is associated with cluttercore, where you mix and match different patterns and prints for an eclectic look. In 2023, both maximalism and minimalism can peacefully coexist, so don't be afraid to go all out with your outfits!
Best Womens 00s Outfits Trend to Try for 2023
Get ready to update your wardrobe with floor-length cardigans, square sunglasses, flared and baggy jeans, metallic puffer jackets, and bright colors and accessories.
Floor-Length Cardigans
Floor-length cardigans have become a popular trend in 2023, taking inspiration from the Y2K fashion era. They provide a stylish, comfortable layering option that can easily elevate any outfit.
Whether you opt for cropped cardigans, ribbed cardigans, or longer versions in soft colors like cream or peach, these versatile pieces can be dressed up or down to suit any occasion.
The floor-length cardigan trend offers an effortless way to add warmth and chicness to your ensemble while staying on-trend with the latest fashion revival.
Square Sunglasses
Square sunglasses are a trendy accessory for women's 00s outfits in 2023. They add a touch of glamour and are a must-try trend for those looking to embrace Y2K-inspired fashion.
Rectangular frames and wraparound sunglasses have been chosen by Harper's Bazaar editor as part of the biggest sunglasses trends this year. With flared and baggy jeans, square sunglasses are considered key accessories for spring 2023 fashion.
Aviator sunglasses may also be in style, making it an exciting time for ladies to experiment with different styles and find their perfect pair.
Flared and Baggy Jeans
Flared and baggy jeans are some of the best Y2K trends 2023 for women's 00s outfits. These jeans have made a comeback and are considered fashionable for those looking to embrace the Y2K aesthetic.
Baggy denim jeans, in particular, are expected to be cool again, offering a trendy and nostalgic look. As part of glamour shopping, flared and baggy jeans can be paired with other Y2K fashion essentials like velour track sets or wide-leg jeans.
With Y2K fashion gaining popularity again, there is a growing interest in returning to outdated fashion trends from that era.
Metallic Puffer Jackets
Metallic puffer jackets are a must-have fashion trend for 2023. These shiny jackets in silver or pearlescent shades add glamour and make any outfit pop. They bring a touch of nostalgia from the Y2K era, making them even more fashionable.
Whether dressing up for a night out or adding flair to your everyday look, metallic puffer jackets are the perfect choice. So embrace this trendy piece to elevate your style game in 2023!
Additionally, you can also read about- The Ultimate Guide to Women's 80s Outfits in 2023!
Bright Colors and Accessories
Bright and vibrant neon colors were all the rage in the Y2K era and are coming back in 2023. This trend is perfect for those who want to add some excitement to their outfits.
Think bold shades of pink, green, yellow, and blue that can instantly elevate any look. To complete your Y2K-inspired ensemble, don't forget about playful accessories. Chunky plastic bracelets, statement belts, and oversized sunglasses will help you achieve that nostalgic vibe while adding fun to your outfit.
So embrace the bright colors and stock up on accessories for a stylish tribute to the '00s fashion scene.
How to Nail the Y2K Style in 2023
Rock the Y2K style in 2023 with wide-leg denim jeans, denim-on-denim looks, metallics, pleated skirts, ribbed cardigans, mini skirts, and kitsch accessories.
Wide-Leg Denim Jeans
Wide-leg denim jeans are a must-have item for achieving the Y2K aesthetic in 2023. With their wide and relaxed fit, these jeans add a touch of nostalgia to your outfit while still being on-trend.
They can be paired with shiny jackets, baby tees, and velour tracksuits to complete the Y2K look. Vintage Von Dutch Trucker hats and fitted babydoll t-shirts are popular styles with wide-leg jeans for the Y2K fashion.
Celebrities like Missy Elliot have been seen wearing wide-leg denim jeans, contributing to their popularity in the Y2K trend.
Wide-leg denim is one of the biggest trends in jeans for spring 2023. Whether you prefer ankle-length or full-length, these jeans offer comfort and style. Their wider silhouette creates a relaxed yet fashionable look that is perfect for any casual occasion.
Denim on Denim
Denim on Denim is a major trend in Y2K fashion for 2023. This style involves wearing denim clothing items together to create a nostalgic and stylish look. To achieve the Denim on Denim aesthetic, many people are turning to Diesel jeans, which are highly sought after for their quality and versatility.
In the early 2000s, denim miniskirts were popular when creating the perfect Denim on Denim outfit. This trend has made a comeback and is expected to be one of the significant denim trends for spring 2023.
The idea behind this trend is to embrace the nostalgic Y2K sentiment in fashion while still looking modern and chic.
Metallics
Shiny materials in silver or pearlescent shades are coming back in Y2K fashion for 2023. Thanks to the technological advancements of the era, metallics are considered cool again.
Faux leather with a pearlized finish and metallic, silver, and gold clothes are popular choices for Y2K outfits. And it's not just limited to evening wear anymore – you can find metallic tones in various fashion items like silver totes, showy shoes, foiled coats, and shiny pants.
Complete your Y2K look with eye-catching metallic jewelry and shiny, reflective motifs that will make you stand out.
Pleated Skirts
Pleated skirts are a timeless and classic piece in 2023. They are an essential part of the Y2K fashion trend, which is about embracing the styles from the early 2000s. From mini to maxi lengths, pleated skirts are a major trend this year.
The great thing about pleated skirts is their versatility – they can be styled in various ways to create different looks. Pairing them with the dress-over-pants trend from the 2000s is a fashionable way to embrace both trends and create a unique outfit.
So whether you prefer a shorter or longer length, pleated skirts are worth adding to your wardrobe this year.
Ribbed Cardigans
Ribbed cardigans are all the rage in 2023. This popular fashion trend can be paired with various outfits, including baggy jeans, super-short skirts, and silky summer slip dresses.
Ribbed cardigans create a feminine and figure-hugging silhouette when paired with flares or wide-leg jeans. They are considered a more form-fitting and elegant option than denim or puffer jackets.
Sweater jackets inspired by Chanel designs are particularly trendy this year as well. So if you're looking for a versatile and stylish addition to your wardrobe, don't miss out on the ribbed cardigan trend!
Mini Skirts
Mini skirts are a popular choice for achieving the Y2K style in 2023. These short skirts were a staple of the era and are a fashionable option today. Whether you prefer minimalist utility styles or denim and slinky satin slips, there are plenty of mini skirt trends.
By pairing them with teeny tiny t-shirts, swaggy sweatshirts, or dark denim jeans, you can create an authentic Y2K stylish and nostalgic look. Embrace the tacky side of Y2K fashion by adding oversized belts to your outfit for that extra flair.
Get ready to rock the mini skirt trend and channel your inner early 2000s fashionista!
Kitsch Accessories
Kitsch accessories are making a comeback in Y2K fashion trends. These bold and playful accessories may have once been considered garish and bad taste, but now they're seen as silly fun.
Y2K fashion embraces elements of nostalgia and introduces a modern twist to kitsch accessories. From funky sunglasses with unusual shapes to colorful statement jewelry, these eye-catching pieces add a touch of whimsy to any outfit.
So if you're looking to embrace the Y2K aesthetic, don't be afraid to incorporate some kitsch accessories into your wardrobe!
Y2K Fashion FAQs
Get answers to your burning questions about the Y2K fashion trend, including what defines the era, where to find Y2K clothing, and if it's really making a comeback. Read on for all the details you need to know!
What defines the Y2K era?
The Y2K era is defined by its unique and bold fashion choices. It reflects a mix of futuristic and nostalgic influences, combining modern technology and retro styles. This era brought us low-rise jeans, crop tops, cargo pants, and platform shoes that became iconic symbols of the time.
Y2K fashion includes sassy graphic T-shirts, double denim outfits, sparkles, and bright colors. It's all about embracing the new millennium with vibrant, daring looks that capture the era's spirit.
Where Can You Find Y2K Clothing?
You can find Y2K clothing at various retailers that cater to the Gen Z demographic. Look for trendy online stores like ASOS, Dolls Kill, and Nasty Gal, which offer a wide range of Y2K-inspired pieces.
Don't forget to check out thrift stores or vintage boutiques for authentic 2000s fashion finds. Popular social media platforms like Depop and Instagram can also be great sources for discovering unique sellers specializing in Y2K clothing.
Remember to watch for tops with quirky quotes, cute characters, patterns, or graphics of iconic Y2K brands like Fiorucci or Juicy – they're all part of this nostalgic trend making a comeback in 2023!
Is Y2K Fashion Coming Back?
Y2K fashion is indeed making a comeback in 2023. Gen Z shoppers are embracing the style, thanks to social media platforms like TikTok that have helped popularize the trend. Many Y2K fashion trends from the early 2000s are still considered stylish and wearable.
From low-rise jeans to midriff-baring scarf tops, gaudy Y2K styles are also making a resurgence. Fashion brands are capitalizing on this trend by releasing collections inspired by the era, ensuring that Y2K fashion remains relevant and trendy in 2023.
Frequently Asked Questions (FAQs)
You can check the answers below if you have queries on women's 00s outfits.
1. What are some popular 00s outfit trends for women in 2023?
Some popular 00s outfit trends for women in 2023 include low-rise jeans, spaghetti strap tops, mini skirts, chunky platform shoes, and velour tracksuits.
2. How can I incorporate 00s fashion into my wardrobe?
You can incorporate 00s fashion into your wardrobe by adding key pieces such as crop tops, denim jackets, hoop earrings, butterfly clips, and neon-colored accessories. Mixing these items with contemporary styles will give your outfits a nostalgic vibe.
3. Are any specific colors or patterns popular in the 00s?
Yes, some specific colors and patterns that were popular in the 00s include bold prints like animal prints and camouflage and vibrant colors like hot pink and lime green.
4. Can I still wear my old 00s clothes or do I need to buy new ones?
You can still wear your old 00s clothes if they are in good condition and fit well. However, if you want to update your look or add more variety to your outfits, you may consider buying new pieces inspired by the 00s fashion trends of today.
Subscribe to Our Latest Newsletter
To Read Our Exclusive Content, Sign up Now.
$5/Monthly, $50/Yearly