TransUnion Review – Improve Your Credit Score and Financial Health
Listen to the Podcast:
If you're looking for a reliable way to stay informed about your credit score, look no further. TransUnion has proven to be a reliable solution to all your worries. This TransUnion review provides comprehensive details about the credit bureau, its range of products, and its services.
TransUnion is a highly reputable credit reporting agency with a wealth of experience spanning over 50 years. They offer a comprehensive range of credit solutions to cater to the needs of individuals, businesses, and institutions worldwide.
In this review, we will delve into the services offered by TransUnion and how they can be advantageous for you. After reading this article, you'll have all the necessary information to determine if TransUnion is the right choice for your credit requirements.
What is TransUnion?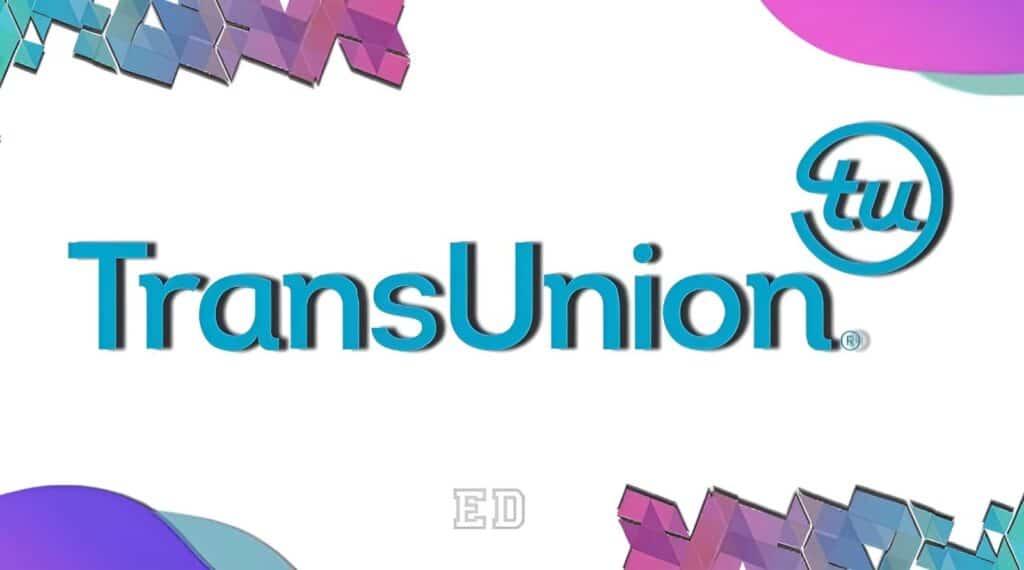 TransUnion is a highly regarded credit reference agency in the UK, ranking among the top three. This credit reporting service compiles a comprehensive overview of an individual's financial history and credit agreements, culminating in a detailed report that includes an overall credit score. This report is a crucial tool for lenders to assess the creditworthiness of loan, mortgage, credit card, and other financial product applicants.

TransUnion's acquisition of Callcredit in 2018 has significantly expanded the global company's credit reference services. Credit Karma (formerly Noddle) and TotallyMoney are two platforms that provide users with free access to their credit scores. TotallyMoney is the company's main business, and it has remained committed to this service. MSM Credit Monitor* allows users to access their TransUnion credit report at no cost. TransUnion is a promising contender in the market. However, it has yet to gain the same level of utilization by lenders as its competitors, Experian and Equifax.
What is a TransUnion Credit Score?
TransUnion is a reliable source for maintaining a comprehensive database of consumer data and providing credit scores to individuals based on their credit history. The Fair and Accurate Credit Transactions Act (FACTA) allows individuals to obtain a free annual credit report from Transunion upon request. This company's credit monitoring services are a great option for those who value up-to-date information. With daily credit-score updates, credit recommendations, and online credit controls, you can easily stay on top of your credit situation.
TransUnion gives free monitoring services and protection against identity theft, financial calculators, and credit offers. Its consumer assistance staff can assist with credit-related issues, such as disputed items, credit freezes, fraud alerts, and assistance for active-duty military personnel. In TransUnion's credit education section, consumers can learn more about debt, credit bureaus, mortgages, and other topics.
How to Register for TransUnion?
The process of registering for a TransUnion account online is quite straightforward. To verify your identity, providing identifying information and payment details is necessary.
The website offers a complimentary TransUnion Consumer Disclosure and basic information upon access. Unfortunately, access to credit details and reports, which provide your current credit score, is only available for a fee.
TransUnion Features
TransUnion offers a variety of features to help individuals manage and monitor their credit scores. Here is the feature that can help you.
Credit Monitoring
TransUnion Credit Monitoring is an excellent tool for keeping track of your credit bureau reports. You'll receive timely alerts on any significant changes, and you can access your free VantageScore® 3.0 credit score and TransUnion credit file. Additionally, you'll learn how to analyze your credit file, making it easier to understand your financial standing.
This service offers a comprehensive suite of identity protection features, including safeguarding your TransUnion and Equifax credit reports and providing generous identity theft coverage of up to $1 million. Additionally, you'll be alerted via email whenever there's an inquiry on your credit report and have unlimited access to expert identity theft assistance.
Unlimited Access to Credit Score
TransUnion offers a comprehensive suite of services that includes credit evaluations, reporting, and safeguarding against identity theft. The email alerts regularly sent to users provide valuable insights on enhancing their credit scores. Users can also access a credit score simulation feature that helps them estimate the impact of their financial decisions on their credit score. This is a great tool for those who want to stay on top of their credit game.

Credit Check Alerts
When someone checks your credit score, you will be told immediately if the check is real. This will let you take the right steps. For example, if you give an app permission to see your credit score, you should get an email about it.
Also, any inquiries into your credit record that weren't planned may be fake, and TransUnion will look into them. By stopping unauthorized use of your credit information, this function protects you from fraud and damage to your credit score.
As long as you are on active duty, Active Duty Credit Monitoring gives you unlimited access to your TransUnion credit report and emails you when there are important changes to your credit file.
Credit Simulator
Using the simulator, you can determine how applying for a new loan or closing a credit card will affect your credit score so that you can make an informed decision.
Credit Compass
Credit Compass is a unique TransUnion subscription service that gives you personalized choices and suggestions for improving your credit score. This can help you reach financial goals like getting a mortgage, car loan, or student loan in the future. This review of TransUnion says that this function will help you reach your future goals.
True Identity
With True Identity, theft insurance coverage is included at no additional cost with the credit monitoring service, which promises to protect your credit report so that you can rest assured that your data is secure and that any unauthorized use or access will be detected and investigated.
Letters
In the event of certain financial transactions, one may experience a credit denial and subsequently receive a complimentary credit report. The letter you receive after being denied a loan or credit is commonly called an "adverse action" notice. The inclusion of an explanation for the denial is imperative in the letter. This feature is particularly helpful as it provides insight into the lender's decision-making process and offers guidance on obtaining a free credit report from the relevant bureau.
Upon receipt of the adverse action letter, customers can request a complimentary credit report within a 60-day window. It is worth noting that the information in question can only be obtained from the credit bureau specified in the letter.
How Does TransUnion Work?
TransUnion gathers information from lenders and the electoral roll, among others, to evaluate borrowers' credit histories and the risk they present to lenders in the future. It looks at the user's past payback record, the number of active credit agreements, and the percentage of the available credit used. A credit report will include this data and information about any major infractions, such as County Court Judgments or bankruptcies, that occurred within the last six years.
When an individual applies for a credit product, TransUnion generates a credit report, credit score and rating based on a 7-point scale. A global credit score does not exist; this is only the TransUnion credit score. Lenders and credit rating agencies base their creditworthiness evaluations on the details detailed in your credit report.
TransUnion Credit Score 
The scoring system is widely used models, like VantageScore 3.0, which spans 300 to 850. VantageScore 3.0 not only rates as "good," but also classifies various categories. Scores between 300 and 600 indicate a very poor credit rating, while those ranging from 601 to 660 are deemed substandard.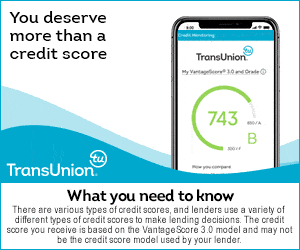 An acceptable credit score falls within the range of 661 to 720. A superb outcome is achieved within the range of 781 to 850. These rankings and ranges should be viewed as helpful guidelines rather than strict benchmarks for achieving excellent credit.
| | | |
| --- | --- | --- |
| TransUnion credit score  | TransUnion credit rating | What This Means for You |
| 300-600 | Very poor | Most credit products are unlikely to be approved for you except by a few specialized lenders. |
| 601-660 | Poor | You may be approved for some products but will likely be charged a higher interest rate. |
| 661-720 | Fair | You will likely be authorized for credit products, but your credit limit will probably be lower. |
| 721-780 | Good | You should qualify for all but the most competitive offers. |
| 781-850 | Excellent | You are likely to be authorized for the vast majority of credit products. |
Transunion Cost and Pricing Plans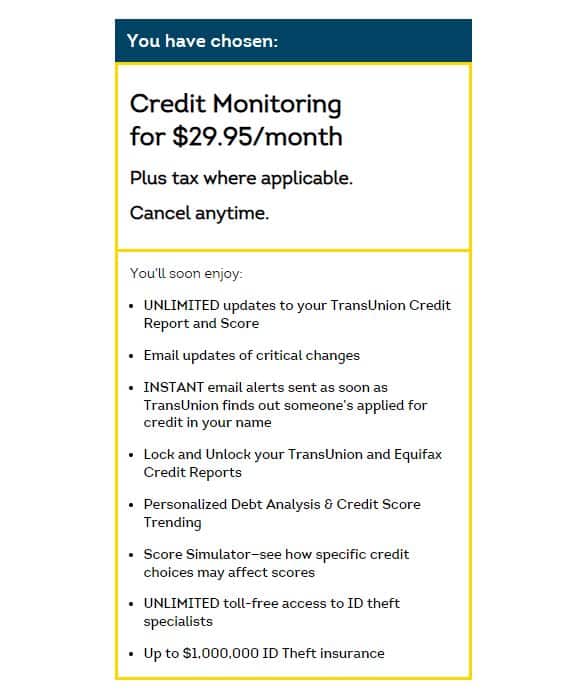 TransUnion offers a credit monitoring service that grants you access to your credit score and records for a monthly fee of $29.95. Users can expect to receive frequent updates regarding any fluctuations in their credit score and personalized recommendations for improving it. These suggestions may include paying off outstanding debts and modifying payment methods for bills. The $50,000 ID theft coverage offered by this monthly subscription is perfect for those seeking enhanced security and account protection.
However, under US law, you are entitled to one free credit report from the three main credit bureaus: TransUnion, Experian, and Equifax.
Pros and Cons of TransUnion 
Like most things, obtaining a TransUnion credit score has advantages and disadvantages:
| | |
| --- | --- |
| Pros | Cons |
| Info directly from the central credit bureau. | Monthly service fees. |
| Unlimited access to your credit score. | Difficulty Removing Credit Mistakes. |
| ID Theft Prevention Tools. | Poor management needs to change. |
| Personalized credit analysis. | TransUnion has engaged in deceptive marketing tactics. |
| Free Report Every Year for US Residents. | Expensive from other competitors. |
| TransUnion offers a wide range of credit monitoring products. |   |
| Work-life balance is good. |   |
| Pay is good, and you can work remotely forever. |   |
Why Should You Use TransUnion?
TransUnion is a reliable credit reporting company offering valuable credit information to lenders and consumers. TransUnion can be a valuable resource for individuals seeking to enhance their financial well-being and boost their credit scores. TransUnion's credit monitoring services are a great option for those who want to closely monitor their credit reports for precision and identify any deceitful behavior.
TransUnion's credit reports may also be useful for those looking to apply for credit, such as a loan or credit card, as they provide lenders with an overview of their credit history. Additionally, TransUnion's credit scores can track credit changes over time. Anyone who wants to be proactive about their credit and financial health may consider utilizing TransUnion's services.
Benefits of TransUnion Credit Monitoring
You must know its advantages if you are interested in TransUnion's credit monitoring program. Let's examine the unique benefits of TransUnion's credit monitoring program:
Track Credit Improvements: TransUnion's credit score monitoring service is an excellent tool for those looking to establish or repair their credit.

Avoid Fraud: By conducting regular credit checks, one can reduce the potential risks of fraudulent activities. This credit reporting feature is highly beneficial as it helps detect any fraudulent activity that may occur in your name or with your Social Security number.

Fix Mistakes: Errors can be made by both credit reporting agencies and lenders. Regularly monitoring your credit can prove to be beneficial in identifying errors that can be disputed.

Understand How Credit Works: By keeping a close eye on your credit score, you can gain valuable insights into the workings of credit. This informative piece sheds light on how timely payments, credit utilization ratio and various other factors can impact your credit score in the long run.

Remain Prepared for Applications: You will always be prepared to apply for a loan, credit card, or other forms of financing if you monitor your credit.

Is TransUnion Accurate?
The distinct reports each credit reference agency generates result from their access to information from various lenders. Moreover, the credit rating is evaluated using multiple scales, making it arduous to make straightforward comparisons.
The three major credit bureaus, TransUnion, Experian, and Equifax, are known for their rigorous standards regarding ensuring the accuracy of credit reports. It is imperative to verify your credit reports with all three bureaus and notify them of any errors to enhance your chances of future credit approval, as errors may occur.
Is TransUnion legit?
One of the three major credit reporting agencies, TransUnion is widely trusted for its precise and dependable credit scores. To help individuals improve their credit scores, it provides services such as credit monitoring, fraud alerts, and identity theft protection. Focusing on one's TransUnion credit score is one way to better one's status with potential landlords, employers, and creditors.
Final Words
The credit monitoring service provided by TransUnion is a valuable tool for individuals seeking to safeguard themselves against identity theft while keeping a close eye on their credit scores. At just $29.95 per month, users can enjoy unrestricted access to their credit reports and timely email notifications and updates. The service offers impressive ID theft insurance coverage of up to $50,000.
TransUnion's CreditCompass is a great element of its credit monitoring service because it offers individualized recommendations to help you raise your credit score. Users can use the credit score simulator to learn how financial decisions will affect their credit rating. TransUnion's service notifies you immediately of any fraudulent credit checks.
Frequently Asked Questions (FAQs)
Let's discuss some commonly asked questions on the TransUnion review here.
What is a credit report versus a credit score?
A consumer's credit report contains information about their credit and loan accounts, payment history, and available credit. Lenders utilize a borrower's credit score, a numeric representation of their assessment of that borrower's creditworthiness, to make lending decisions. Credit scores can vary depending on the model used.

How long do negative details remain on my credit report?
The standard time for negative information to remain on a credit report is seven years from the date of the initial account default. However, depending on the type of bankruptcy, the material may be kept for a shorter period. A good credit history might stay on your credit report indefinitely.
How often can I check my credit report without affecting my credit score?
Credit report checks are considered soft inquiries and have no bearing on credit scores. One free credit report per year from each of the three major credit reporting agencies is provided by the FACT Act, and you may get your credit score for free on several different websites.
What affects my credit score the most?
The most important component in establishing your credit score is your payment history, demonstrating your commitment level as a borrower. The amount owing, the percentage of available credit being used, the age of the account, the number of recent queries, and the type of credit being used are further considerations.
How do I dispute inaccurate credit report information?
You can dispute errors on your credit report with the reporting agency electronically or in the mail if you uncover late payments or accounts that don't belong to you. After reviewing the dispute, the credit reporting agency will erase or update the affected record.
Can I freeze my credit information with TransUnion?
Protect yourself from identity theft by placing a credit freeze with TransUnion. If you freeze your credit, no one, including you, can open any new accounts or credit cards in your name. If you want to apply for new credit or a loan, you must unfreeze your credit.
Utilizes each credit bureau the same assessment system?
The credit scoring formulas used by the various credit reporting agencies are not uniform, and your credit score may also change depending on the sort of credit you're seeking and the date it was calculated. VantageScore® 3.0 is the credit scoring model utilized by TransUnion.
Where can I get a free copy of my credit report?
Thanks to the Fair and Accurate Credit Transactions Act, each customer is allowed one free credit report from the three major credit reporting agencies once every 12 months. AnnualCreditReport.com and 1-877-322-8228 both provide access to free credit reports once every year. TransUnion also offers free weekly credit reports online during the COVID-19 epidemic.
Subscribe to Our Latest Newsletter
To Read Our Exclusive Content, Sign up Now.
$5/Monthly, $50/Yearly