Switchy Review – All in One Link Customization and Tracking Tool
Listen to Podcast:
Hello and welcome to our Switchy review. If you're a blogger or run a small website and share links to your blog or products on social media sites to bring in visitors and make money for your business.
Then you might sometimes want to keep track of every link you share, which is almost impossible to do by hand. Then switchy is a tool for your business that you should think about
Switchy lets you change URLs to make them stand out and lets you track them right away. You need to know where that traffic is coming from and how to get back in touch with them. In this Switchy review, we'll take a look at the features and benefits of this powerful tool so you can make an informed decision about whether it's right for you.
What is Switchy?
Switchy is an all-in-one link customization and tracking tool that helps marketers generate higher conversions from their links. With Switchy review, you can customize, shorten, and track your smart links to ensure your visitors are directed to the right page. With its advanced features, you can do more than just shorten URLs.
You can also password-protect links, capture leads, retarget visitors, and A/B test for maximum performance. Plus, you can integrate with a range of marketing tools and platforms to ensure your links work seamlessly with the rest of your campaigns. Switchy is the ultimate link customization tool for marketers looking to get more out of their links and increase their conversion rate.
Switchy's Benefits
Switchy's benefits are numerous and far-reaching. It allows users to shorten, customize, and re-target their links in order to increase engagement and conversions. Switchy review also provides a comprehensive view of link clicks and conversions, making it easy to track the success of campaigns and make adjustments as needed. Additionally, the A/B testing and retargeting features help users to optimize their campaigns for the best possible results.
The integration capabilities make it easy to connect with popular analytics and marketing solutions, as well as social media platforms. Finally, the pixel feature allows users to track user behavior on their websites for better targeting. With all these features, Switchy is an ideal solution for businesses looking to maximize their link engagement and ROI.
Read More: Suitedash Review
Switchy Review: Best Features
Switchy review- comes with a number of features to help you customize and track your links. You can use the platform to shorten URLs, set passwords for your links, track clicks, and engage with users using retargeting pixels. You can also use the A/B testing feature to test different versions of a link before deciding which one works best.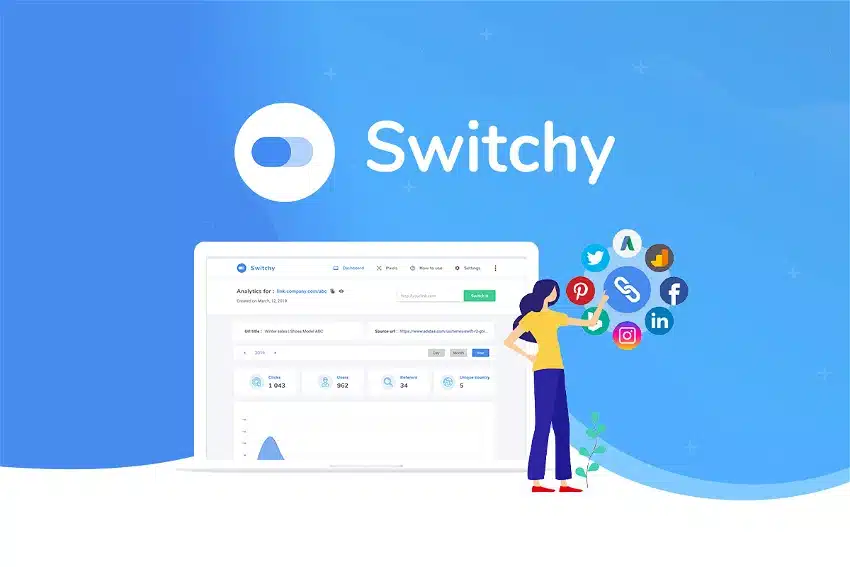 Plus, Switchy integrates with popular social media platforms and web analytics tools, so you can monitor the performance of your campaigns from one place. All of these features make Switchy a powerful link customization tool that can be used to create targeted ad campaigns and boost conversion rates.
Link Shortening
Your website could be hurt by URLs that are too long. Not only are they hard to remember, but they are also bad for SEO.
With Switchy review, you can "switch the URL" of a link and make short links for your blogs, articles, affiliate products, etc.
It lets you add your own domain name or choose from two generic domain URLs of Switchy if you don't have your own.
Link Analytics
Link analytics is a great way to keep track of how your links are doing and which ones bring in the most customers. You get link filters that let you see detailed metrics for today, this week, this month, or all time.
It shows you graphs with real-time information about clicks, users, referrers, countries, devices, UTM tags, browsers, operating systems, and Retargeting pixels.
Link Customisation
Here, you can change your links so that they work on a certain platform. For example, you can change how your blog post looks to your viewers before you share it on your Facebook feed.
Re-Targeting
Retargeting is a way to market to people who have already clicked on one of your links by showing them ads on their social media or other websites.
Integrations
Integrations are a key part of the Switchy platform. With the pixel integration tool, users can easily integrate pixels into any link engagement platform, helping to optimize their conversions. This tool also allows companies to add their name and website, and integrate policies for opting in and out of retargeting links.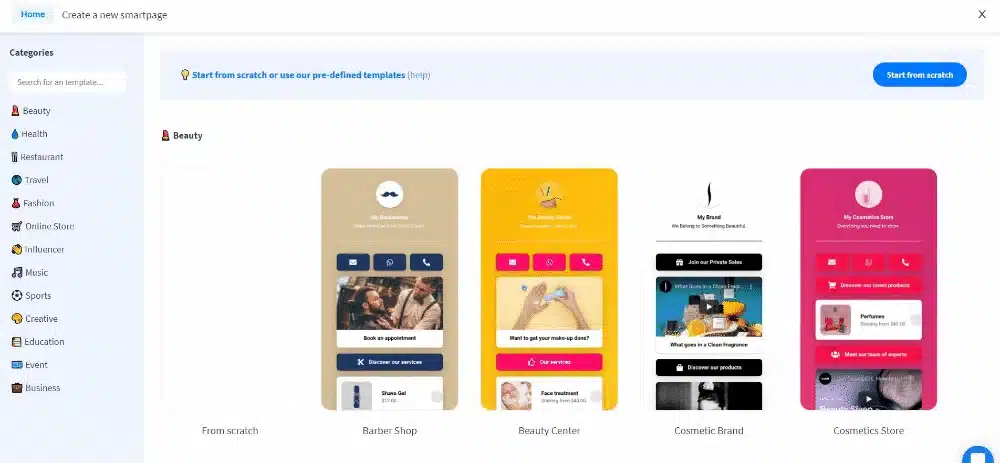 Switchy review- also offers a variety of other integrations, such as A/B testing and Retargeting, to help users track their links in a more efficient way. GDPR and CCPA compliance is also supported, giving users the peace of mind that their data is secure. With all these features, Switchy has become the go-to link engagement platform for businesses looking to get more from their links and boost conversion rates.
Switchy Advanced QR Code Builder
Switchy just put out a brand new QR Code Builder that lets you turn your links into QR codes in just a few minutes. All you have to do is click on the QR code button next to the link you want to change.
A/B Testing
Switchy's A/B testing feature is a great way to test out different web pages to see which one will get the most engagement. With A/B testing, you can assign two different web pages to the same URL and see which page results in more clicks. By running an A/B test, you can quickly identify which page performs better, allowing you to optimize your links for maximum engagement. 
Embed Widget
You can put your own links on other websites by using the Embed Widget.
Not all websites let you embed things, but if they do, you can add your video, article, post, etc. as Javascript or HTML code and tell it where to go on the screen. This is about how the end result would look.
This is a great way to give your audience useful information and promote your own products, services, etc. It can help you get more people to buy from you.
Read Also: Nichesss Review
How to Use Switchy
Using Switchy is easy and straightforward. All you need to do is create a CNAME record in your domain settings and set up your Smart Links in the dashboard. From there, you can customize, shorten, and track your links for higher conversions.
With the retargeting feature, you can also follow up with your audience on other platforms like Facebook, Twitter, LinkedIn, and Instagram. Finally, you can use Pixels to get even more data about how your links are performing. With Switchy review, you have all the tools you need to make the most out of your link engagement.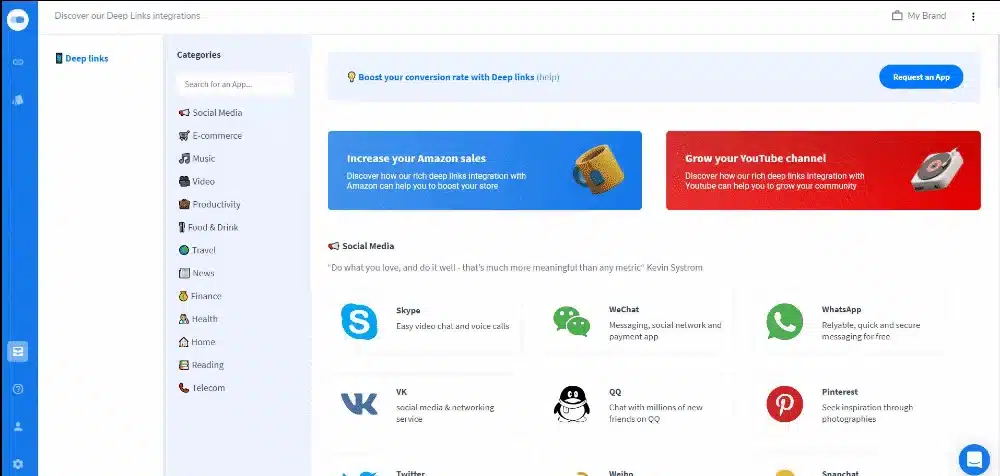 Switchy Review: Pricing and Plan
Switchy provides affordable pricing plans, with the Essentials plan starting at $39 per month and the Pro plan starting at $89 per month. For those who want to test out the features before committing to a plan, there is a 14-day free trial available with no credit card required. The Business plan is priced at $99 per month and includes up to 100,000 clicks, unlimited links, and 15 custom domains. All plans come with access to detailed metrics such as click numbers, referrers, and audience sources.
Single $39
All of the features above were included

30,000 clicks a month 

30,000 clicks per month 

8 Custom domain (s)

Unlimited links

Links can be made to look different (title, description, picture)

Link revision and redirection

Custom slugs

UTMs builder 

Files manager

Unlimited Retargeting Pixels: Google Ads, Facebook, Twitter, Linkedin, Quora, Pinterest, AdRoll, Nexus, Snapchat, and Google QR code

2 Smartpages (with logo)

10 Team members
Double $78
All of the above things are included

60,000 clicks a month 

60,000 clicks a month 

Unlimited links

Change the look of links (title, description, picture)

Changes to links and redirections

Custom slugs

UTMs builder 

Files manager

Unlimited Google Ads, Facebook, Twitter, Linkedin, Quora, Pinterest, AdRoll, Nexus, Snapchat, and Google QR codes all have retargeting pixels.

10 Smartpages

20 Team members
Multiple $117
All of the above things are included

90,000 clicks a month 

Custom domain (s)

Unlimited links

Change the look of links (title, description, picture)

Changes to links and redirections

Custom slugs

UTMs builder 

UTMs builder 

Unlimited Google Ads, Facebook, Twitter, Linkedin, Quora, Pinterest, AdRoll, Nexus, Snapchat, and Google QR codes all have retargeting pixels.

15 Smartpages

30 Team members
Link Engagement with Switchy
Link engagement with Switchy is made easy with the platform's clean and organized user interface. Using A/B testing, retargeting pixels, and more, users can customize and track their links. This helps to boost conversions and get the most out of each link. With Switchy's easy-to-use features, users can quickly create redirect links, add social media pixels, and track engagement with the links. With its intuitive user interface and advanced features, Switchy provides a great way to manage link engagement and increase conversions.
Also Read: Contentpace Review
Customizing Links with Switchy
Customizing links with Switchy is a great way to engage with your audience and create personalized experiences. With Switchy review, you can easily customize your links to make them more appealing and memorable to your visitors. From automatically generating link previews to adding retargeting pixels, Switchy makes it easy to create the perfect link for your audience. Furthermore, Switchy's A/B testing feature allows you to test different versions of your links and determine which one will be most effective in driving conversions. With Switchy review, you can build stronger relationships with your customers while driving more traffic and sales.
Retargeting with Switchy
Switchy makes it easy to retarget campaigns and create personalized ads for all of your customers. With Switchy review, you can track, capture and retarget any person who clicks on your links via Facebook, Instagram, Twitter, LinkedIn, Google Ads, Quora, and Pinterest. This way, you can ensure that people who have clicked on a link are able to see follow-up ads tailored to them. As a result, you can increase your conversion rate and get more out of your links. Additionally, you can use Switchy to create super-targeted campaigns on all of your favorite platforms so that you can reach the right people.
Switchy Review: Your Smart Link Manager
Switchy is your all-in-one link engagement solution. With the ability to shorten, customize, and track your links with A/B testing, retargeting, and pixels, you can easily boost conversions and engagement. Switchy makes it easy to manage your links and maximize their potential. With lifetime access to Switchy, you can unlock the full potential of your links and ensure that every link you create is optimized for maximum engagement.
Analytics and Reporting Features
Switchy provides users with comprehensive analytics and reporting features. The analytics dashboard displays detailed metrics such as audience sources, referrers and click numbers. This real-time data can help users quickly identify which sources of traffic are currently the best performers. Additionally, Switchy allows users to run smart ads, AB testing, and efficient campaigns. Users can also export reports for deeper analysis. All of these features make Switchy a powerful tool for tracking and re-targeting your audience, enabling you to optimize your campaigns for maximum efficiency.
Who Might Want to Use Switchy?
Switchy would be the perfect tool to:
Switchy can be used to promote content on different platforms by bloggers, influencers, content teams, and managers.

It can be used by advertisers and affiliate marketing to get more people to interact with their links and click on them.
It can be used by eCommerce store owners and marketing agencies to get more people interested in their products.
Basically, this tool is perfect for you if you use links or share them in any way.
User Reviews
Users Review has been overwhelmingly positive for Switchy, with customers praising its ease of use, comprehensive features, and great user interface. Customers appreciate being able to shorten links in their own domains, as well as being able to track link clicks and conversions. Frogun is also highly rated for its fun visuals and varied levels of challenge. People have also been impressed with the hybrid console's exceptional level of handheld graphical quality, which transitions seamlessly into console mode. Overall, customer reviews of Switchy have been highly positive, making it a great choice for anyone looking for a smart link manager.
To Know More: Secret of Evading Security
Alternatives to Switchy
If you are looking for a branded link solution, but don't want to use Switchy, then Linkjoy is a great alternative. It offers the same features as Switchy, such as link in bio, link retargeting, and Instagram bio link, but with added value. It also has a user interface that is clean and beginner friendly. Furthermore, it is a great choice for those who want to implement branded links without the need for complex tools. Additionally, Linkjoy provides more value than Rebrandly and other similar services.
Pros and Cons of Switchy Review
Pros
Affordable Lifetime Deal
With the AppSumo Lifetime deal, you can get Switchy for just $39. This is a great price for all the advanced features it has.
Use-Friendly
Switchy's user interface is one of the best because it is clean, well-organized, and easy to use. The whole platform seems easy for beginners to use.
Feature-Packed Tool
You get a lot of great features in one place, like the ability to customize links, track and retarget your audience through Pixels, link analytics, deep linking, A/B testing, and Smartpages.
Smartpages for Mobile
I liked their Smartpage tool a lot. It has more than 100 well-designed templates that you can use to make a landing page for your services quickly.
GDPR and CCPA Compliant
Switchy follows the rules for privacy in both Europe and California. So, if your users are from these countries, you can show a privacy pop-up.
Cons
Uptime can be Improved
The Switchy sub-domains have a low uptime, which could mean that people don't stick around and the company makes less money. When used with a custom domain, it works much better.
Average Link Analytics 
Switchy's analysis of links could have been more in-depth. I liked the analytics in LinkWhisper, which is a tool for building links.
Blog Image Issues
If you turn on an RSS feed for your blog on the Smartpage, the featured images are not shown right now. They need to look into the technical problems and fix this as soon as possible.
Slow Service
Their Chat Support takes a long time to answer questions. Simple questions take them hours to answer, which is a little disappointing. I hope they try to speed up the way they help people.
You can Read: Importance of SEO
Conclusion
In conclusion, Switchy is an all-in-one marketing URL shortener that provides great value for money. Not only is the one-time investment affordable, but it also comes with a range of features and integrations that makes it easy to create, track, optimize, and measure your link performance. Plus, the A/B testing and retargeting capabilities allow you to maximize the impact of your campaigns and get the most out of your links. Switchy is a must-have tool for anyone looking to get the most out of their online marketing efforts.
Frequently Asked Questions (FAQs) about Switchy Review
What kinds of users and organization types does Switchy work with?
Switchy works with these users and organization types: Mid Size Businesses, Small Businesses, Enterprises, Freelance, Nonprofit, and Government.
What other applications or services does Switchy integrate with?
Switchy integrates with Easyflow, Facebook, Google Ads, Instagram, Integrated, Konnect IT, LinkedIn, Pinterest, Quora, and SocialBee.
What type of training does Switchy provide?
Switchy has documentation that can be used for training.
What does Switchy IO do?
Switchy.io lets you customize, manage, and track retargeting links so you can increase conversions. Your posts are important, and they deserve more than long URLs and bad graphics. Switchy.io does a lot more than just shorten links.
What is a switchy link?
With this integration, every time you post a new video on YouTube, a Switchy link will be made for you automatically. Switchy's deep linking feature makes it easy to make short links on the go and redirect anyone who clicks on the YouTube app on a mobile phone.
Subscribe to Our Latest Newsletter
To Read Our Exclusive Content, Sign up Now.
$5/Monthly, $50/Yearly