Start Enjoying Life in the Slow Lane… by Chartering a Yacht in Greece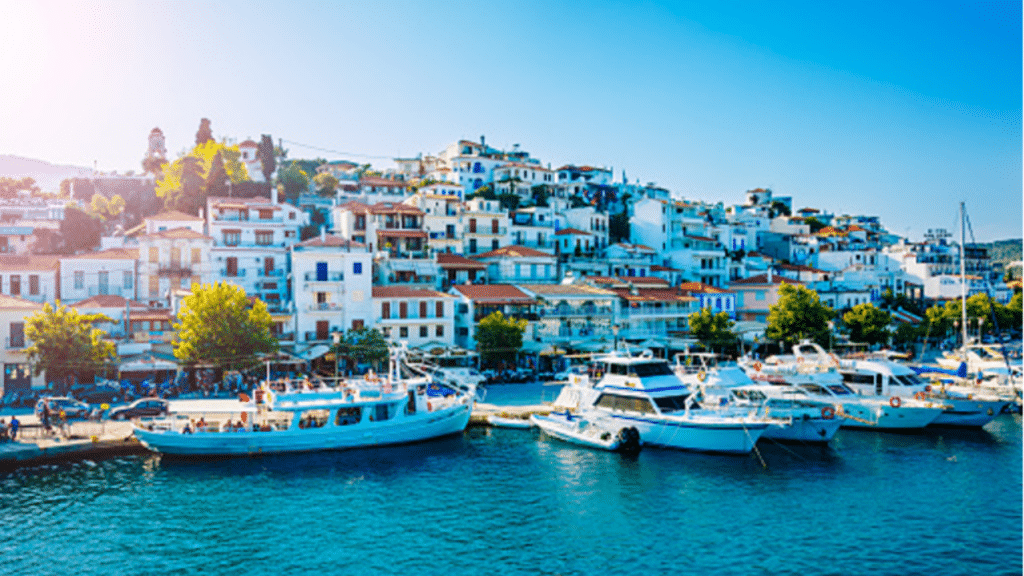 Stressful job? Troubled relationships? Health worries? Many people in today's modern world are finding that the simple business of living can cause them more and more headaches.
At some time in our lives, the vast majority of us will be looking for a way to escape stress. That's why the recent decades have seen such a boom in traveling.
More and more of us are looking for a change of scene, a change of pace, and a change of weather. A holiday in a different environment could be all it takes to rejuvenate our minds and bodies.
Few people just take a single week's holiday anymore. We take long breaks, short breaks, sabbaticals, and gap years. We use travel as a way of de-stressing. Travel has become one of the main ways towards modern wellbeing.
Of course, the whole business of traveling has become easier, compared to previous generations. We can now hop on a budget flight to the Mediterranean at short notice.
It has become easier to take time out from our busy lives. Travel has become quick, easy, and affordable.
Greece is perhaps the best example of how modern travel has become so much more accessible to all of us. In previous generations, a trip to Greece could have been a major undertaking.
For today's travelers, it's a booming travel destination. It's easy to reach, has reliable weather and friendly people. Flights are plentiful and available from all over the UK.
The food is wonderful and the coastal scenery is among the best in the world. You may be struggling with a surprise tax bill, a difficult time at work, or a family problem but Greece's mix of culture and climate could be the perfect antidote.
Whether your preference is exploring ancient treasures or relaxing in its contemporary style and food, one of the best ways to enjoy the charms of Greece is by chartering a boat. Thankfully, it has never been easier to borrow a boat and arrange a memorable de-stressing holiday in the waters of Greece.
How can you do this?
If you consult the world's leading charter boat broker BorrowABoat, you'll find it can offer a huge range of almost 5,000 boats available for holidays in and around Greece.
You could enjoy slow travel by investigating a small area with frequent stops – or set sail for a major experience, using the intriguing geography of this area for an engrossing island-hopping adventure.
Why choose them?
The vessels available from BorrowABoat cover a vast array of sizes and types. In Greece they can range from amazingly affordable options like a simple bareboat 37ft cruiser moored in Corfu from just €78 a day… right up to fabulous motor yachts hosting 12 guests in comfortable luxury (at up to €35,714 a day!).
If you're trying to get away from stress and worries, there's no point agonizing about your booking arrangements and prices. So, it's a major plus that it's such a simple process and all your choices and requirements can be found at one site.
What they offer:
For a start, their range includes all the popular types of vessels: catamarans, sailing yachts, motorboats, and sumptuous floating palaces for that once-in-a-lifetime luxury floating holiday.
Those seeking to escape the hassles of business for the sake of their wellbeing will thankfully find their whole boat borrowing process is really easy. The website offers a simple and quick digital booking process.
That's why its customer reviews include comments like: "We arrived, jumped on board, received a quick induction and safety overview, and set sail, good fun, no hassle!"
And: "The choice of yachts, even as a last-minute booking, was exactly what we were looking for… I could honestly not fault any aspect of the transaction, great crewed yacht charter with a lovely crew."
Of course, customers can rest assured that all the boats meet the latest stringent safety and insurance requirements, standards, and codes for nautical chartering in Greece… or whatever location you choose.
Acting as a yacht broker means that BorrowABoat can offer you the best prices and widest choice to suit your needs. It makes the job of choosing your venue and boat a relaxing pleasure rather than a stressful hassle.
As a broker, they only work with boat owners and charter companies that meet a strict criterion of eligibility. The aim is always to provide peace of mind for anyone who is considering booking a boating trip or a simple floating holiday.
As a company, they were launched in 2017 by a group of boat enthusiasts. The formula was clearly correct because it has quickly grown to become the leading marketplace for boat rental and yacht charter in the world.
It's simply the best way to book a boat. Prospective customers can browse more than 35,000 boat listings across more than 65 countries. These available vessels range from a humble canal narrowboat in the UK to some of the world's most fabulous superyachts moored in exotic tropical harbors.
Whichever end of this market you are interested in, the company's mission is to make the whole process of boating more accessible for everyone. BorrowABoat aims to help the boating industry, boat owners, marinas, and all of us who want to go boating.
The way it does that is simple. It offers a safe, easy-to-use system that will surely increase participation in boating right across the globe.
Subscribe to Our Latest Newsletter
To Read Our Exclusive Content, Sign up Now.
$5/Monthly, $50/Yearly