Spanish Soccer Star Files Complaint Against Federation President for Unwanted Kiss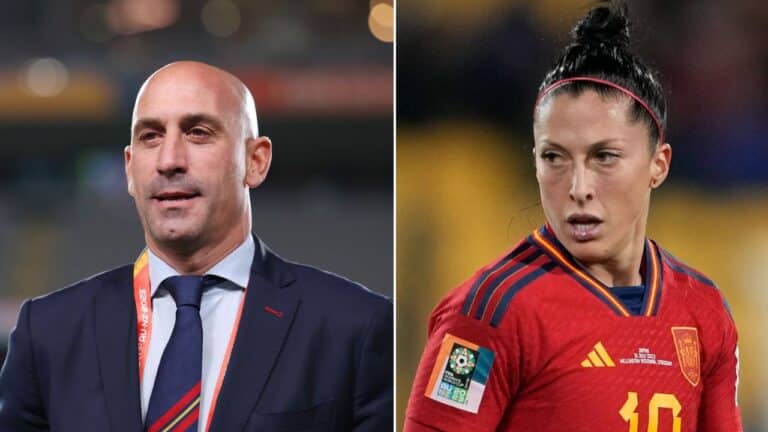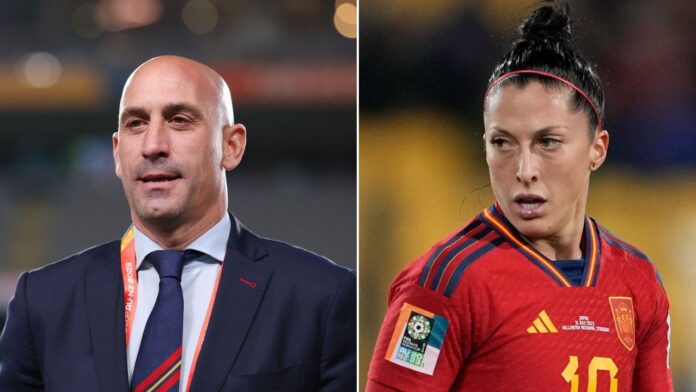 Jennifer Hermoso, a Spanish top player, has filed an official complaint with authorities against Luis Rubiales, the president of the country's soccer organization, over an unwelcome kiss after the Women's World Cup final.
The case was submitted on Tuesday, according to a representative for the Spanish prosecutor's office. "The statement was made at the state attorney general's office to protect the victim's privacy," a representative stated.
On August 28, Spanish prosecutors said they will contact Rubiales within two weeks to "inform her of her rights as a victim of an alleged crime of sexual aggression."
Hermoso's legal complaint is the next phase in the Spanish justice system's investigation into Rubiales, who has refused to resign as president of the Royal Spanish Football Federation (RFEF).
Rubiales apologized and described the kiss after Spain's World Cup final triumph on August 20 as "mutual," a claim Hermoso rejected, adding she was not appreciated. FIFA, the world's governing body of soccer, has suspended Rubiales for 90 days while disciplinary processes are being conducted.
The Spanish Court of Arbitration in Sport (TAD) decided to launch a case against Rubiales last week, but rejected the government's claim that his infractions were "very serious," barring his immediate suspension and forcing ministers to request it instead.
The unwanted kiss has caused a big upheaval in Spanish soccer, with the government pressuring Rubiales to leave and the RFEF replacing Jorge Vilda as coach of the women's national team. Montse Tomé took his place, becoming the first woman in Spanish national team history to do so.
'I didn't like it'
Hermoso's legal lawsuit is the latest twist in a saga that began on August 20 when video from the World Cup medal presentation showed Rubiales embracing Spain's star, then putting both hands on her head and forcibly kissing her. As she went away, he patted her on the back.
Later, Hermoso stated of the kiss, "Hey, I didn't like it, eh," in an Instagram live video from a joyous locker room.
Hermoso would speak out again on social media several days later, on August 25, after Rubiales adamantly refused to stand down as RFEF president, saying, "I felt defenseless and a victim of an impulse-driven, sexist, out of place act without any consent on my part… Simply put, I was mistreated."
More than 80 Spanish soccer players then signed a declaration in support of Hermoso, stating that they would not return to the national team "if the current leaders continue" in their positions.
Interim RFEF president Pedro Rocha then began to make moves as part of his "regeneration" of the organization, dismissing unpopular coach Vilda despite his extraordinary World Cup victory and hiring Tomé as his deputy. Rocha then promised to make more "structural changes" in RFEF during a meeting with the head of the High Council of Sport, Victor Francos.
It's uncertain whether the measures taken so far – including Rubiales' suspension and Vilda's dismissal – would persuade the players to return to the national squad, which faces Sweden in a Women's Nations League match on September 22.
However, in an interview with Cadena COPE radio station on Tuesday, former Spain captain – and one of the 80 signatories to the letter – Verónica Boquete stated that replacing Vilda as head coach of the squad was insufficient.
"The change we're talking about isn't about changing one president for another, or one coach for another; it's about making a much deeper change," said Boquete. "And, well, this 'patch job' leads us to believe that they [the federation] still don't understand the underlying problem." … [but] I believe [the players] will return."
Subscribe to Our Latest Newsletter
To Read Our Exclusive Content, Sign up Now.
$5/Monthly, $50/Yearly