Samsung Galaxy S24 Ultra vs Google Pixel 8 Pro: The Best Comparison Ever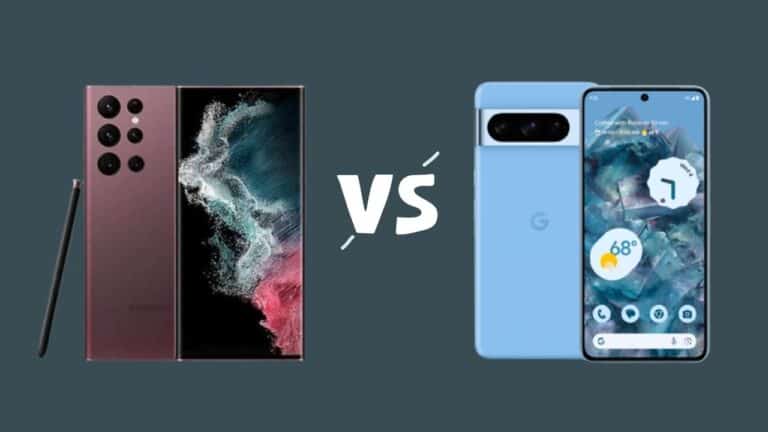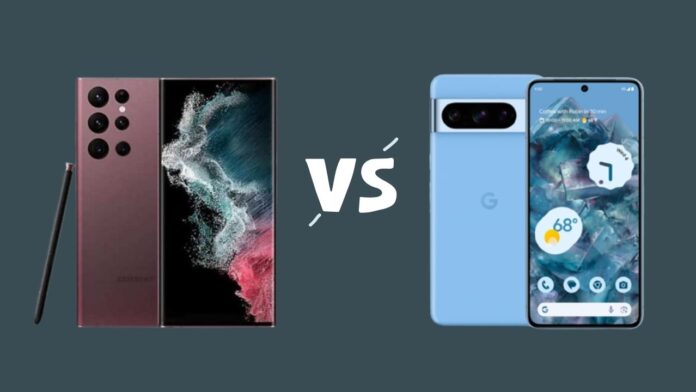 Are you having a tough time deciding between the Samsung Galaxy S24 Ultra and Google Pixel 8 Pro? You're not alone! Trying to figure out which smartphone is right for you can be overwhelming at times, thanks to all of the great features, specs, and price points these two devices offer.
Fortunately, we have done in-depth research on Samsung Galaxy S24 Ultra vs Google Pixel 8 Pro so that we can help make your choice easier. In this article, you will gain insights on what makes each phone unique as well as how they compare based on performance and specs comparison information, battery life & charging capabilities, software/special features availability, and price comparisons.
We wish to give you useful tips before buying either device—so keep reading!
Content Highlights
The Samsung Galaxy S24 Ultra has an AMOLED display with a resolution of 3088 x 1440 pixels and a peak brightness of 2,500 nits compared to the Google Pixel 8 Pro's OLED screen with 2992 x 1344 pixels resolution and a peak brightness of 2,400 nits.

Both devices come equipped with 120Hz refresh rates which make for smoother visuals when scrolling or playing games on either device.

The Google Pixel 8 Pro utilizes 4 cameras on its rear featuring an ultra-wide 12MP lens alongside higher megapixels that shoot from 50 to 16 MP while the Samsung Galaxy S24 Ultra's camera setup is limited to a 40 MP front shooting lens accompanied by 3 lenses set 26/13/12 pixel all capable 4K recordings @60 fps as well offering HDR 10+quality outcomes.

The Samsung Galaxy S24 Ultra offers more powerful specs than the Pixel including larger battery capacity and quicker charging speed howeverPixel still maintains the advantage due to always deploying the 'on' feature allowing notifications without unlocking the phone alternative expenditure.
Design and Display Comparison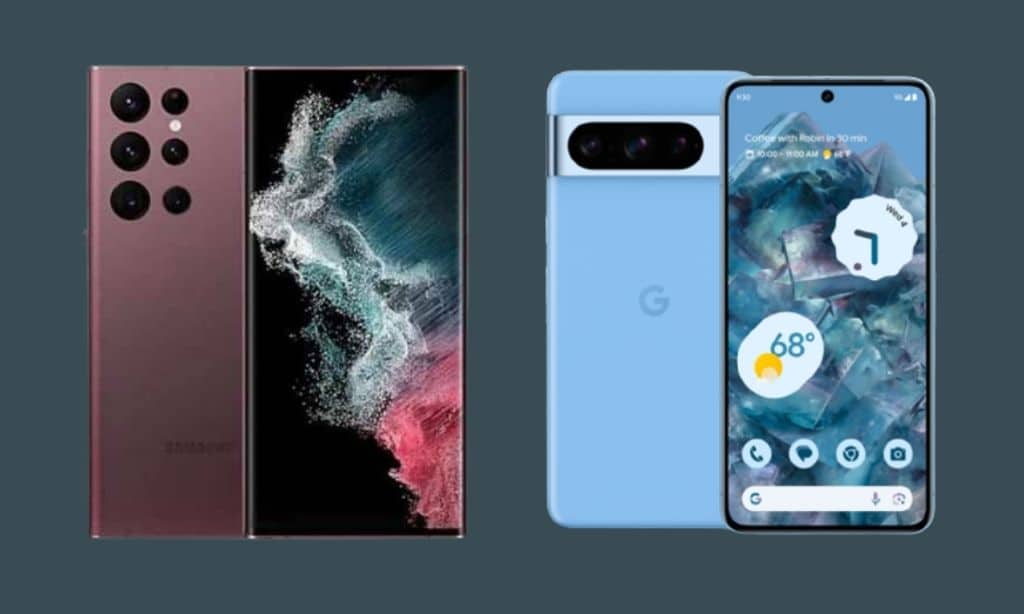 The Samsung Galaxy S24 Ultra and Google Pixel 8 Pro offer a unique design with sharp, high-resolution displays that use a variety of technologies to create an immersive viewing experience.
Size and dimensions
The Samsung Galaxy S24 Ultra is a larger device with dimensions of 6.39 x 3.11 x 0.34 inches (162.3 x 79 x 8.6 mm). On the other hand, the Google Pixel 8 Pro has slightly smaller proportions measuring 6.40×3.01×0.30in (162x76mm).
Because of its design and size, it offers an effortless grip experience for users who prefer large phones that are easier to hold and operate with one hand without having to strain their palm or fingers unlike some small-screened devices which tend to slip off hands easily due to their compact nature and difficulty leveraging them singlehandedly for typing or navigation purposes on touchscreens moreover they make ideal companions for media consumption related activities such as streaming videos on Youtube or playing games since they offer bigger screen real estate compared considering Pixels cozier viewing area equivalent of uses intimate display in comparison.
In addition, you can also read an article on- iPhone 15 Pro vs Google Pixel 8 Pro: Which Phone Is Right for You?
Resolution
When it comes to resolution, both the Samsung Galaxy S24 Ultra and the Google Pixel 8 Pro feature impressive displays. The Samsung flagship offers an impressive 3088 x 1440 pixels with a pixel density of 501 PPI while the Google model features a resolution of 2992 x 1344 pixels with a pixel density of 490 PPI.
Higher pixel densities result in sharper images, making high-resolution screens very desirable for consuming media such as movies or TV shows. Both phones also support HDR10+ content ensuring you can get great visuals from compatible apps and streaming services.
This difference in resolution may be negligible to some, but if you're interested in getting the best possible image quality within a 2K range phone, then Samsung's option could provide just that edge over Pixel 8 Pro.
Technology (AMOLED vs OLED)
The Samsung Galaxy S24 Ultra features an AMOLED 2X display, while the Google Pixel 8 Pro features an OLED display. While both technologies offer bright and vibrant visuals, they are far from identical.
In fact, there are several key differences between them that users should be aware of. For starters, AMOLED displays offer higher contrast with deeper blacks than those offered by OLED displays.
Additionally, colors on AMOLED panels appear more vivid and saturated due to their increased color depth compared to their OLED counterparts. Furthermore, AMOLED tech typically has better-viewing angles—making it less prone to ghosting during long sessions of gaming or media consumption—while also delivering a wider range of peak brightness levels for outdoor use cases such as video streaming (the Samsung Galaxy S24 Ultra is certified HDR10+).
On the other hand, OLED screens' lack of backlighting allows for even thinner design options in devices like phones as well as improved battery life over its rival technology—though at a slightly decreased level when you compare the two together side-by-side.
Refresh rate
The refresh rate is a key feature to consider when evaluating the performance of smartphones. Refresh rate refers to how many times per second an image on a display is refreshed.
The refresh rate in modern smartphones differentiates from 60Hz up to 120Hz, where a higher Hz number means smoother visuals and reduced motion blur. In this comparison update between Samsung Galaxy S24 Ultra and Google Pixel 8 Pro, both phones have almost the same specifications for their displays with both having 120Hz refresh rates meaning that there will be no visible difference in experience while scrolling or playing games on either device due its smoothness and nearly zero motion blur.
Additionally, there are unique features like Always-on displays which enable dynamic 1-120Hz refresh rates as per the content being displayed resulting in fluid animations and running fewer resources over time – thus making it highly energy efficient compared to slower refresh rate panels.
Screen-to-body ratio
The screen-to-body ratio is one of the key factors in modern smartphone design, indicating the amount of real estate that is taken up by a phone's bezels or chin. Generally, the higher a smartphone's screen-to-body ratio, the more immersive visual experience it provides for users.
The Samsung Galaxy S24 Ultra, which is rumored to feature an 88% screen-to-body ratio, may provide owners with a heightened viewing experience due to its decreased bezel size. This may also mean that devices like this will require less effort when using protective screens as compared to curvier and more traditional alternative designs.
Additionally, flatter displays make touch controls easier on fingers and thumbs as well. With a higher peak brightness level than its predecessors – The Samsung Galaxy S24 Ultra looks set to bring pleasurable viewing experiences long into nighttime use cases such as playing games or consuming video content.
Peak brightness
The peak brightness of a phone's display significantly impacts users' viewing experience, particularly in brighter outdoor settings. While previous Pixel models have been reported to reach a peak brightness of up to 2,000 nits, the Google Pixel 8 Pro is said to push this rating even higher at an impressive 2,400 nits.
On the other hand, Samsung's upcoming flagship device – Galaxy S24 Ultra will apparently boast an incredible maximum peak brightness as high as 2,500 nits. This makes it one of the brightest phones ever produced by Samsung and could make all the difference when it comes to visibility outdoors or during nighttime usage.
Considering this critical factor alone (peak brightness), both devices stand out over their predecessors due to their higher levels of illumination which would be great for those who enjoy watching movies or gaming even during daylight hours – especially if they will take part in activities outside such as camping trips or hikes where increased light is essential to use these devices comfortably without any issue with visibility.
Camera Comparison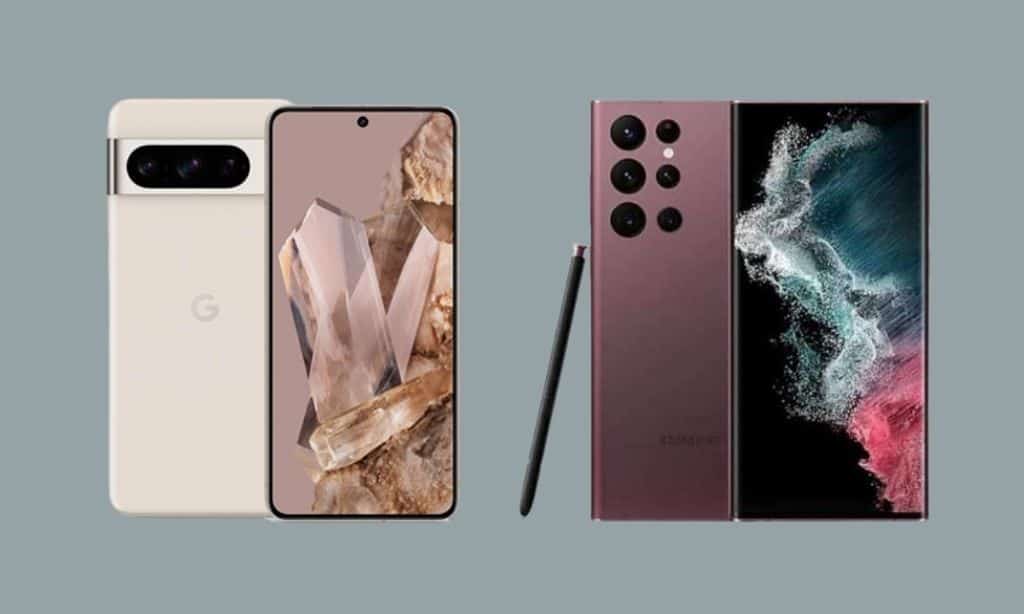 Both the Samsung Galaxy S24 Ultra and Google Pixel 8 Pro feature powerful cameras for capturing high-quality images and video. However, the latter has fewer camera sensors than the former.
| Specs | Samsung Galaxy S24 Ultra | Google Pixel 8 Pro |
| --- | --- | --- |
| Release Date | February 2024 (Expected) | 12 October 2023 |
| Display | 6.8″ QHD+ Dynamic AMOLED, 120Hz refresh rate | 6.7″ QHD+ OLED, 120Hz refresh rate |
| Processor | Snapdragon 8 Gen 3 | Google Tensor G3 |
| RAM | 12GB | 12GB |
| Storage | 256GB/512GB/1TB | 128GB/256GB/512GB |
| Rear Camera | 200MP main + 10MP periscope telephoto + 12MP ultrawide + 10MP telephoto | 50MP main + 48MP telephoto + 12MP ultrawide |
| Front Camera | 40MP | 12.2MP |
| Battery | 5000 mAh | 5000 mAh |
| Charging | 45W wired, 15W wireless | 30W wired, 23W wireless |
| Water Resistance | IP68 | IP68 |
| Biometrics | Ultrasonic in-display fingerprint scanner | In-display fingerprint scanner |
| S Pen | Yes | No |
| 5G | Yes | Yes |
| Price | $1199+ | $899+ |
Table: Comparison Table Between Samsung Galaxy S24 Ultra and Google Pixel 8 Pro
The Galaxy S24 Ultra is Samsung's upcoming flagship with a 200MP main camera and built-in S Pen. The Pixel 8 Pro has Google's own Tensor chip and a 50MP main camera. Both have large batteries and high refresh rate OLED displays.
The S24 Ultra likely has better camera zoom capabilities with its periscope lens. The Pixel may offer better software processing from its Tensor chip. The Galaxy has more RAM and likely higher storage options. The Pixel could be the more affordable choice.
Rear cameras (main camera, second camera, third camera, and fourth camera)
The Google Pixel 8 Pro takes high-end smartphone photography offerings to the next level by implementing a four-camera system at the rear. One of the upgrades over its predecessor is that it offers an ultra-wide 12MP lens and also higher megapixels for main, second, and third cameras, with 50MP as its primary shooter.
Furthermore, video recording capabilities are available on the fourth camera which makes capturing videos more convenient and efficient. This upgraded rear setup guarantees superior-quality photos with astonishing detailing in each shot, making users stand out from others who own older versions or devices that don't have this feature. Additionally, you can also read about- the iPhone 15 Plus vs iPhone 15 Pro: The Key Differences
Video recording capabilities
The Samsung Galaxy S24 Ultra and Google Pixel 8 Pro both boast impressive video recording capabilities. The Samsung Galaxy S24 Ultra offers 4K UHD resolution at up to 60 frames per second, with advanced features such as HDR 10+ for better colors and contrast.
It also has a unique cinema stabilization system that makes videos smooth and stable while on the move. Meanwhile, the Google Pixel 8 Pro supports up to 4K resolution recordings at 30 or 60 frames per second, supported by its dedicated dual-pixel auto-focus system for sharper images when shooting in motion.
Both phones offer adjustable frame rates and settings for manual control over exposure levels and image capture freedom as well as other post-processing options like hyperlapse time lapses available directly from within their camera applications.
Front Camera
The front camera capabilities of the Samsung Galaxy S24 Ultra and Google Pixel 8 Pro vary greatly. The Pixel 8 Pro features a single 16-megapixel main front camera with an aperture of f/2.2, allowing it to take detailed selfies with good color accuracy and low-light performance.
On the other hand, the S24 Ultra's 40-megapixel selfie cam offers better detail resolution in daylight photos, albeit at the expense of slight overexposure for better brightness levels.
However, when it comes to shooting video through both devices' front cameras, neither device excels in terms of quality; although the S24 Ultra boasts 4k video capture (vs 1080p on P8P), its frame rate is limited to 30fps.
Additionally, if you're looking for portrait mode or wide-angle shots from your phone's front face camera lens, opt for the Pixel 8 Pro as it is equipped with those special features while lacking on the Samsung Galaxy S24 Ultra counterpart.
Video capture
When looking at the video capabilities of both devices, one can quickly determine that they have multiple differing features. Samsung's Galaxy S24 Ultra comes with 8K resolution recording and can capture videos up to 24fps for both 4K and 1080p.
It also has a super steady betas feature which reduces shakiness, rolling shutter effects, and other shake factors when recording movies or photos. On the other hand, Google Pixel 8 Pro records in 4k with 30fps support.
It also offers cinematic stabilization which smoothly keeps recorded footage stable while capturing moving objects clearly alongside smooth transitions between scenes making it great for producing professional-looking content conveniently from your smartphone device.
Performance and Specs Comparison
An analysis of the performance and specs comparison between the Samsung Galaxy S24 Ultra and Google Pixel 8 Pro will be conducted, with a focus on System chip, Processor, GPU, RAM as well as Internal storage.
System chip
The Pixel 8 Pro and Galaxy S24 Ultra both feature the latest in processor technology. At the heart of the Pixel 8 Pro is the Tensor G3 chipset, a powerful octa-core processor paired with an Adreno 640 GPU.
The Samsung Galaxy S24 Ultra packs Qualcomm's Snapdragon 8 Gen 3 chipset, also featuring an octa-core processor as well as a powerful dedicated graphics unit. Both systems offer top performance for mobile devices, but each has its own unique features and capabilities.
The Tensor G3 chipset supports AI techniques like machine learning to improve responsiveness and battery life while gaming or multitasking. It also comes with FastCV, an open-source computer vision library that enables low latency camera standards such as 4K HDR video capture at 30fps, dual 14-bit ISP image fusion 10:1 zoom support, autofocus, and more advanced imaging capabilities not available on other systems chipsets today.
Processor
The Samsung Galaxy S24 Ultra and Google Pixel 8 Pro both feature octa-core processors, which are among the most powerful in the market. The power behind these devices is evident when you compare their processor score on Geekbench: 1,669 for single-core and 3,666 for multi-core.
However, while they share a common processor configuration – octa cores – each phone has its own unique system chip powering it along.
The Samsung Galaxy S24 Ultra makes use of the Qualcomm Snapdragon 8 Gen 3 chipset that delivers an impressive performance level with demanding tasks like gaming or streaming media content; this chipset features 4 ARM Cortex A73 2GHz cores that can boost up to 2.84 GHz speeds and 4 ARM Cortex A53 1.8GHz heavy task cells as well as 10nm FinFET technology efficiency improvements needed for battery life optimization
GPU
The Samsung Galaxy S24 Ultra and Google Pixel 8 Pro both feature impressive graphics performance powered by the latest processors. The Google Pixel 8 Pro features a powerful Tensor G3 processor designed to offer smooth graphics without sacrificing battery life.
On the other hand, the new Samsung Galaxy S23 Ultra packs a Qualcomm Snapdragon 8 Gen 2 Processor with an Adreno 660 GPU. This combination allows for greater rendering power while consuming less energy than before.
In terms of resolution and refresh rate capabilities, both devices have something to offer; however the Pixel 8 Pro is truly in its own league when it comes to visuals and gaming experience. If you want, you can also read- Google Mocks iPhone: Pixel 8 Ad Mocks iPhone 15 Pro Max's Lack of Innovation
RAM
The amount of RAM in a phone helps decide the overall speed and performance of both day-to-day operations and more intensive tasks. The gaining popularity of multitasking on smartphones has made it necessary for phones to have a good chunk of Random Access Memory (RAM).
Without enough RAM, no device would be able to open apps swiftly or quickly switch between them. Having plenty of RAM can also allow users to play graphic-intensive games without experiencing lag or slowdowns.
Processors inside phones are designed according to their primary use case, but if there is not enough memory available, then it will be unable to make use of their full capabilities.
Internal storage
When it comes to internal storage, the Samsung Galaxy S24 Ultra is ahead of its rival. It offers 256GB, 512GB, and 1TB variants while the Google Pixel 8 only offers a base variant with 128Gb UFS3.1 storage which cannot be expanded further.
Additionally, as per rumors, it is expected that the Galaxy S24 Ultra might have options for up to 1TB of internal flash memory coming in different variants compared to just one offered by the Pixel 8 Pro.
With this capability, users will get plenty of space for their photos and videos as well as apps and games without having to worry about running out quickly or needing additional microSD card slots.
Device type
The flagship Samsung Galaxy S24 Ultra sports the latest and most powerful Qualcomm Snapdragon 888 chipset. This is an Octa-core processor that can reach speeds of up to 2.84 GHz, plus it has a new Adreno 660 GPU for rendering ultra-high-quality graphics.
The Google Pixel 8 Pro also comes with a top-tier system chip, the Snapdragon 870, which features octa-core technology capable of delivering speeds of up to 3.2GHz with an integrated Adreno 650 GPU for great performance as well.
Both devices offer 5G capabilities, making them future-proof options in terms of connectivity and speed. In terms of device type, they both fall into the flagship category—the highest tier available—which makes their specs comparable but designs and display may vary slightly, such as peak brightness levels or resolution types (e.g., AMOLED vs OLED).
Battery Life and Charging
Both devices feature a Li-Ion battery of impressive capacity, with the Pixel 8 Pro providing 4500 mAh and the Galaxy S24 Ultra offering 4800 mAh. Each device also supports fast-charging capabilities as well as wireless charging options.
Battery capacity
The battery capacity of the two devices significantly varies—the Samsung Galaxy S24 Ultra is rumored to feature a 4,000 mAh cell while Google's Pixel 8 Pro comes with a hefty 5,050 mAh one.
With each new model in the Samsung lineup, its battery capacity has been increasing. In this case,, the S24 Ultra also features an increased capacity of 100mAh from its predecessor, the S23 Ultra.
Such an increase can bring about longer-lasting power and further improved charging experience for users without having them worry about running out of juice every few hours. The sheer 2000mAh gap between these two phones also speaks volumes on how much better MediaTek-power sourced Pixel 8 Pro feels over the battery life department compared to Exynos-powered Galaxy devices.
Battery type
The Samsung Galaxy S24 Ultra is rumored to feature a 4,000mAh battery with fast-charging capabilities up to 25W. The Google Pixel 8 Pro will have a larger 5,050mAh battery and can be charged up to 18W.
Both batteries use Li-ion chemistry, but the major difference comes from the technology used for protection and safety.
The Samsung Galaxy S24 Ultra has a new advanced lithium polymer (ALP) layer, which increases resistance against changes in temperature, making it better for high-drain situations like gaming or multitasking tasks that consume more power than average usage scenarios.
Charging capabilities
When it comes to charging capabilities, there are some pretty big differences between the Samsung Galaxy S24 Ultra and Google Pixel 8 Pro. The Galaxy S24 Ultra is rumored to have a 4,000mAh battery, which offers up to 100mAh of additional power over its predecessor.
It also supports fast-charging speeds of up to 45W via the USB Type-C port or 15W with wireless charging. This makes it one of the fastest phones on the market for charging your device quickly without having to be near an outlet.
Google's latest flagship phone, the Pixel 8 Pro has an impressive 3,520mAh battery capacity that can be charged using either wwired 30W charging or 12W wireless charge speeds. It can easily meet your all-day-long needs in terms of having enough juice left over once you're done with your activities in a single full charge and beyond even after multiple days being away from any access points or outlets. Thanks go again for keeping those great wired & wireless charge rates per standard protocols available out there!
Max charge speed
The maximum charging speed of a smartphone refers to the highest rate at which it can accept power from an external source. It is one of the most important specs when it comes to a phone's battery and performance, as faster charging speeds mean shorter wait times for device power-ups and less time spent away from beloved gadgets.
The Samsung Galaxy S24 Ultra is rumored to have an incredible 65W maximum charge speed, meaning that if you plug in your USB-C charger, it'll be able to recharge much faster than its predecessor.
In comparison with this rumored speed, the Google Pixel 8 Pro has only 45W wired max charging capabilities – but still enough juice to meet consumer needs over extended periods of use without needing frequent recharges.
Software and Special Features
Both the Samsung Galaxy S24 Ultra and the Google Pixel 8 Pro come with special features like an in-depth operating system, unique features such as an Always-on display, and dynamic refresh rate for enhanced user experience.
Operating system
One of the major differences between Google's Pixel 8 Pro and Samsung's Galaxy S24 Ultra is in their operating systems. The Pixel 8 Pro runs on Android 14, while the upcoming Galaxy S24 Ultra will be running on One UI 6.1 based on Android 14.
While both OSs are built upon the same foundation, they differ greatly in design aesthetics and feature sets. With regards to the feature set, Google usually has a major advantage here due to access to all of its own services (Google Play Store, Maps, etc) as well as integration with newly released services such as Wear OS support out of the box.
The software features of the Galaxy S24 Ultra are anticipated to be quite impressive if previous releases from Samsung can be used for guidance. Features like Always-on display let you always keep an eye out for notifications without needing to unlock your device, and dynamic refresh rates help save battery power when you need it most by lowering resolution or framerate as needed are just some examples that contribute towards making a great user experience overall.
Unique features (e.g. Always-on display, dynamic refresh rates)
The Samsung Galaxy S24 Ultra and Google Pixel 8 Pro are packed with all the latest features to ensure a smooth user experience. The two phones boast of an always-on display for greater convenience, similar to modern smartwatches.
This feature keeps the screen active in low power mode even when the device is not being used, allowing users to quickly access notifications or functions without having to unlock the phone or activate it from sleep mode.
Both devices also incorporate a dynamic refresh rate system that adjusts depending on what app you're using or if your content changes suddenly. For example, while streaming movies on Netflix, it lowers its refresh rate automatically as dynamic pictures rarely require more than 60 frames per second.
However, gaming performance will be significantly improved as this adaptive technique can respond faster and constantly adjust assuring that games remain at their peak performance capability regardless of whatever task is thrown at them.
Price and Availability
Google Pixel 8 Pro was released on October 12, 2023. Samsung Galaxy S24 Ultra is expected to be released in January 2024.
Officially announced date
The announcement dates for the Samsung Galaxy S24 Ultra and Google Pixel 8 Pro seem to be generating a lot of excitement. Samsung is expected to formally announce its latest Ultra series flagship, the S24, on January 18th, 2024.
With Galaxy S24 Ultra set for launch early next year, fans around the world are already looking forward to seeing what advancements have to offer over its predecessors.
While this article does not provide any specific pricing details or release date information ahead of official announcements from Samsung, it should spark anticipation among consumers on which features could potentially separate the flagship once it makes their way into the market eventually.
Expected release date
The Samsung Galaxy S24 Ultra is rumored to be launching on January 18, 2024, making it earlier than the S23 release starting in February 2021. Reliable leaker Ice Universe shared this date, and it has been considered a valid timeframe.
It's likely that the device will be part of a series launch along with other models in the S24 lineup. If all goes according to plan, fans should be able to buy this device in stores shortly after its announcement expected for sometime in February/March 2024.
Price comparison
The Samsung Galaxy S24 Ultra is expected to have a starting price of $1,199 whereas the Google Pixel 8 Pro is currently available for purchase starting at $899. This means that the Samsung device will be slightly more expensive than its counterpart.
However, it still remains to be seen how much difference in price exists between them closer to their launch date, as many factors such as taxes and discounts could potentially play a role.
It's also important to keep in mind that each phone's specifications may vary by region. Even though you might end up paying slightly extra for the Galaxy S24 Ultra compared to what you'd pay for a Google Pixel 8 Pro upfront, if it offers more features or better performance then either money spent may well prove worthwhile in the long run.
Should You Buy the Pixel 8 or Wait for the Galaxy S24?
Both devices offer a wide range of modern features, and depending on personal preference for design, performance, or battery life, either device could be more suitable as the primary phone.
Ultimately, it's up to you to decide which phone best fits your needs.
Pros and cons of each device
When it comes to comparing the Google Pixel 8 Pro and the Samsung Galaxy S24 Ultra, there are pros and cons associated with both devices. The Pixel 8 Pro has a sleek, modern design featuring vibrant colors like Just Black and Barely Blue while offering an OLED display with a 1440 x 3200 resolution and 90Hz refresh rate.
It also features four rear cameras offering impressive video capabilities up to 4K60fps in HDR and an excellent front camera for selfies. On the other hand, the rumored Galaxy S24 Ultra offers a mini-LED display that is brighter than OLED displays with its peak brightness of 1700 nits; plus it features not four but five rear cameras on its back.
Moreover, it is powered by Qualcomm's Snapdragon 875 chipset supported by 12GB RAM for improved multitasking speeds, making it suitable even for heavy gaming—all these specs wrapped up in a unibody metal frame construction make Samsung's latest flagship hard to ignore.
Performance and specs comparison
As we compare the new Google Pixel 8 Pro and the upcoming Samsung Galaxy S24 Ultra, it's evident that both phones have some impressive specs. Starting with their system chips, the Samsung device uses the Exynos 2100 while the Google phone is using the Qualcomm Snapdragon 888 processor.
The GPU of each phone also differs; while they both use a cutting-edge Adreno GPU for better gaming performance, the Galaxy S24 has an updated version of this which offers slightly more power than its Google counterpart.
In addition to these core components, both phones feature ample internal storage space ranging from 128GB up to 512GB for increased versatility. As far as RAM goes, they are reasonably well matched with 8GB – 12G being available on both devices depending on your needs and budget considerations.
Camera comparison
When it comes to camera performance, the Samsung Galaxy S24 Ultra and Google Pixel 8 Pro are very evenly matched. The main cameras on both devices feature 12.9MP lenses with OIS – Optical Image Stabilization, PDAF – Phase Detection AutoFocus, and support for 4K Video capture up to UHD 2160p resolution at 60fps.
For the second camera, the Pixel 8 features an additional 13MP lens that supports 2x optical zoom and 5x hybrid optical zoom whereas the S24 has a 64 MP telephoto lens with 3x hybrid optical zoom capabilities for ultra-wide shots.
Both also have third 16MP ultra wide angle lenses as well as a fourth 0.3 macro lens on their rear sides capable of producing detailed photos even from far distances. For video recording capabilities, both phones support Dolby Vision HDR or HDR10+ formats while capturing up to 4k quality videos at a 60 FPS rate in high dynamic range (HDR).
Battery life and charging
When it comes to the battle between the Samsung Galaxy S24 Ultra and the Google Pixel 8 Pro, battery life may end up being a deciding factor. The Pixel 8 Pro has a slightly smaller 4,575mAh battery capacity compared to its predecessor (the Pixel 7 Pro).
However, in comparison tests performed by trusted sources, this actually resulted in better overall battery life–up to 10 hours and 3 minutes on a single charge. The upcoming Samsung Galaxy S24 Ultra is expected to come with an even larger 5,000mAh battery which should offer improved performance over both of these devices.
Both phones support fast charging as well as Qi wireless charging so that it's easy to boost your energy levels when needed quickly. All things considered, however, if you need a phone with excellent power management capabilities, then either of these two new flagships will more than suffice thanks to their advanced features and solid specs sheet.
Anticipated price difference
The Samsung Galaxy S24 Ultra and Google Pixel 8 Pro offer a range of high-performance features, from powerful processors to advanced camera technology. However, price is a key factor that will determine which device consumers select.
The Samsung Galaxy S24 Ultra is currently expected to be released in 2024. While the Google Pixel 8 Pro can be purchased for just $899 – making it an excellent value option considering its impressive specs and features.
This means consumers looking for more power but on a tight budget will prefer the Pixel 8 over the pricier S24 Ultra, saving them up to $200. Both devices come with powerful hardware such as 6GB RAM or more, expandable storage capabilities through microSD card slots (in the case of the S24), and flagship-level cameras so users won't have to compromise too much on their feature requirements if they opt for either device.
Samsung Galaxy S24 Ultra vs Google Pixel 8 Pro Discussion
Here we discuss key differences between the Samsung Galaxy S24 Ultra and Google Pixel 8 Pro, with a particular focus on specs and features.
General comparison of the devices
When it comes to comparing the Samsung Galaxy S24 Ultra and the Google Pixel 8 Pro, there's a lot to consider. Starting with design and display, both devices feature a sleek form factor that's sure to please customers.
The Galaxy S24 Ultra has an expansive 6.9-inch Super AMOLED screen while the Pixel 8 Pro offers up its huge 6.8-inch OLED panel—giving you plenty of visual real estate for content consumption or media playback sessions.
Both phones can get pretty bright too, but the Ultra takes things one step further by offering an ultra-high refresh rate of 120Hz that will make scrolling through web pages anything but tedious!
Need some more visual power? No worries—both handsets come stocked with additional camera hardware perfect for capturing stunning shots in any situation imaginable. The Galaxy S24 Ultra is equipped with a quad rear-camera system featuring four distinct lenses as well as 4K HQ video capture capabilities; meanwhile, the Pixel 8 Pro boasts two main cameras plus its own set of powerful photo editing tools on top of shooting 4K UHD videos at 30 frames per second (FPS).
Memory and connectivity
The Google Pixel 8 Pro and Samsung Galaxy S24 Ultra offer powerful specs, with each device having pros and cons. In terms of memory and connectivity, the Google Pixel 8 Pro has 12GB LPDDR5X RAM, while the Samsung Galaxy S24 Ultra has 8GB.
Additionally, in terms of internal storage, The Google Pixel 8 provides 128 GB (UFS 3.1), while the Samsung Galaxy S24 Ultra offers 256GB of non-expandable storage. Both phones offer no specific details regarding their GPUs – although both are supposed to be well-suited for gaming as well as general performance tasks like multitasking or streaming media content.
Alongside this users will also find both phones offering good network support such as Wi-Fi 6+, Bluetooth 5.2, NFC (Near Field Communication) technology, etc., ensuring fast connections even when away from a stable internet connection source.
Extra features
The Samsung Galaxy S24 Ultra and the Google Pixel 8 Pro are two of the most advanced mobile devices available today. Both phones boast a wide range of features to make them stand out from competitors, including stunning displays, powerful processors, versatile cameras, and more.
When it comes to extra features that help enhance user experience, both phones offer unique capabilities. The Samsung Galaxy S24 offers an Always-on display that keeps important notifications in view at all times while helping your battery save power when needed — perfect for busy people always on the go.
It also boasts dynamic refresh rates that can be adjusted depending on what type of app or game you're using with up to 120 Hz support so you get buttery smooth visuals wherever possible too! This is great if you enjoy gaming or watching movies on your device as it will provide exceptional viewing experiences without any lag time involved whatsoever.
Technical comparison
When it comes to technical comparison, the Samsung Galaxy S24 Ultra and Google Pixel 8 Pro offer a range of different specifications for users. The Samsung Galaxy S24 Ultra boasts an advanced system chip, making them more capable than their predecessors and ensuring they can handle advanced tasks with ease.
It has a 64-bit CPU (Exynos 2200) plus a Mali-G78 MP14 GPU for gaming and heavy multitasking activities. With regards to RAM, the phone offers either 12GB or 16GB variants as well as up to 1TB internal storage, which is expandable via microSD up to 512GB UI depending on the model you buy.
On the other hand, the Google Pixel 8 Pro also features an impressive 7nm Qualcomm Snapdragon processor plus Adreno 650 graphics for smooth navigation across apps and games while its 6/8 GB RAM ensures that tasks are completed quickly without lags or delays even when multitasking.
Discussion on the potential winner
The biggest question that prospective buyers have when deciding whether to get the Samsung Galaxy S24 Ultra or wait for the Google Pixel 8 Pro is which one holds greater potential.
Each phone has unique advantages, so ultimately it comes down to personal preference and budget.
When evaluating products on both technology metrics and user experience, there tends to be a clear winner between two powerful contenders like these smartphones. In terms of hardware specifications, the Samsung Galaxy S24 Ultra is expected to feature an advanced AMOLED display with higher peak brightness output than its counterpart's OLED screen.
Additionally, rumors point towards 5 rear cameras—chosen from 40 megapixels (primary) up to 108MP (telephoto)—while a three-camera setup will likely limit the Pixel 8 Pro in comparison.
On the performance side, Sony's newest Snapdragon processor chip is tipped for inclusion in the upcoming Samsung Galaxy S24 as well as options of 12GB RAM along with dual storage capabilities of 128/256GB according to UFS3 storage system compared to Google's 7nm Snapdragon 875 chipset coupled 6/8 GB RAM with 128 GB gulf storage solutions; certainly offer more power efficiency over Pixel 8 pro but reliabilty figures are yet unknown here though historical trends can give us initial clues about stability and productivity factors benchmarks; nevertheless final verdict still remain out considering no official release date has been announced yet.