Nissan Ariya Review: Exploring Performance, Specs & Pricing in 2023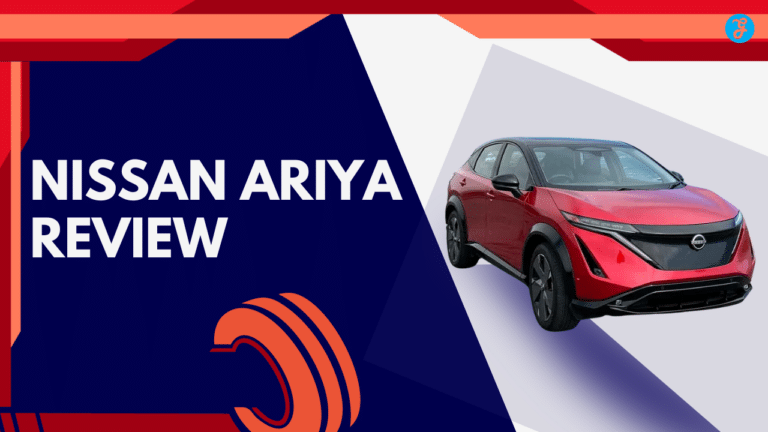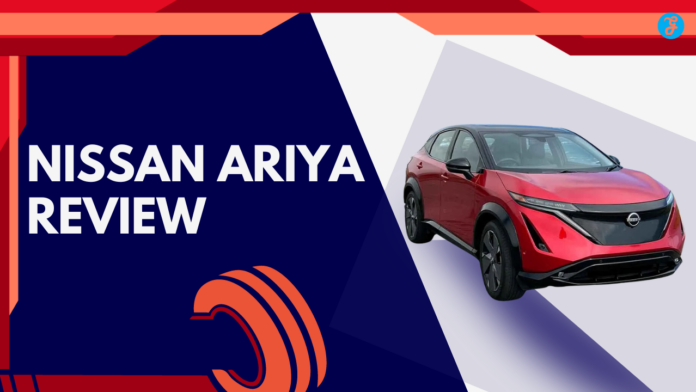 Are you thinking about investing in the 2023 Nissan Ariya review? If so, you might have concerns about finding the perfect electric SUV with all the latest features. Look no further! We recently went through this process and have done extensive research to provide you with up-to-date information on what to expect from the new 2023 Nissan Ariya.
In this post, we will review its design and performance, compare it to other models in its class, and discuss interior features & technology as well as pricing & add-ons. Additionally, we'll touch base on safety features and updates related to pricing & reservation dates for this model.
That said, if you want an inside look at everything there is to know before buying the 2023 Nissan Ariya, then keep reading – This review has got you covered!
Content Highlights
The 2023 Nissan Ariya offers an impressive electric SUV with cutting-edge technology and many exciting features, including a dual electric motor drivetrain producing up to 389 horsepower.
Two battery pack options are available: 63 kWh – for extended range and a higher capacity 87 kWh version for longer trips; both feature liquid cooling systems that conserve energy and help charge faster.
The interior of the 2023 Nissan Ariya features double dashboard displays, ergonomic design, mobile app integration, lane centering, adaptive cruise control, and braking assist functions inside a spacious cabin, providing plenty of room for passengers.
Review of the 2023 Nissan Ariya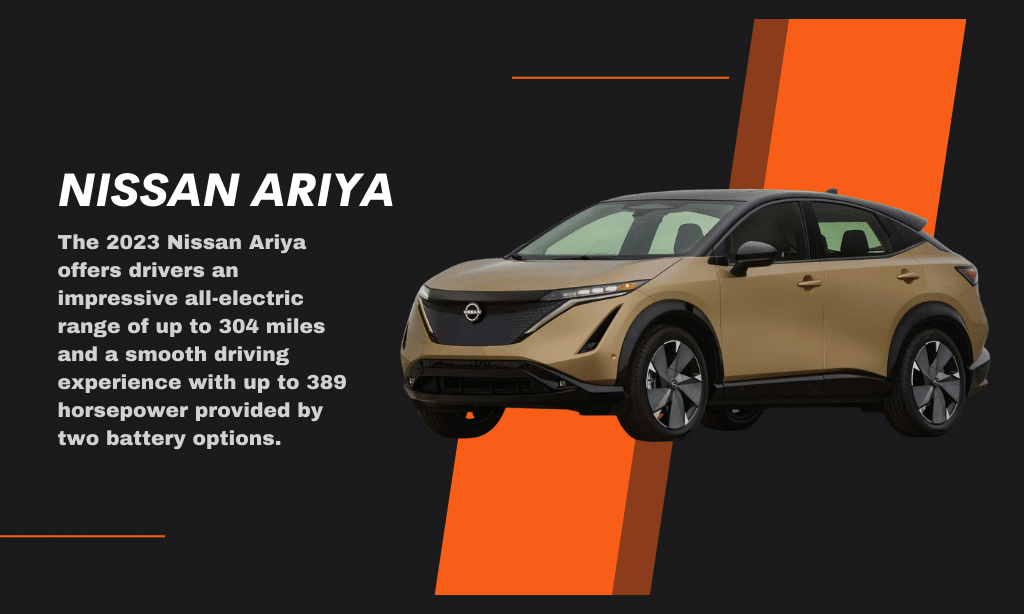 The Nissan Ariya is a high-end electric SUV boasting cutting-edge technology and a modern design. It offers great power with up to 389 horsepower and the ability to switch between front or all-wheel drive.
Electric SUV With Cutting-Edge Technology
The Nissan Ariya is an electric crossover SUV with cutting-edge technology. It features advanced driver assistance systems and cabin technologies to make driving straightforward and enjoyable.
The Ariya is powered by a dual electric motor drivetrain, which produces up to 304 horsepower, making it one of the most powerful SUVs in its segment. Additionally, with its liquid-cooled battery system, you can charge much faster than similar vehicles on the market.
As for interior features, this model comes with double dashboard displays and convenient smartphone integration capabilities using Android Auto and Apple CarPlay compatibility.
It also has great handling during cornering thanks to impressive technological features like braking assist functions, adaptive cruise control, and lane-centering functionalities for confident travel on highways or city roads.
Innovative Interior and Conventional Exterior Design
The 2023 Nissan Ariya offers a perfect blend of style, technology, and convenience. It features an exterior design based on the Japanese automaker's "Timeless Japanese Futurism" philosophy, which combines modern elements with iconic touches.
It is visually striking and highly functional inside, offering passengers plenty of space to stretch out, enjoying all the latest car tech from Nissan. The interior has also been recognized by the Ward 10 Best Interiors list for its standout design and spaciousness, which provides one more inch than any other crossover in its class.
Not only does this electric SUV look great but you can be sure it works efficiently too! With cutting-edge technological advancements and enough room for up to five people – this could be your ideal vehicle choice if you're looking for something stylishly futuristic but still comfortable enough for everyday driving!
Available in Front- or All-Wheel Drive
The 2023 Nissan Ariya offers drivers two distinct powertrain options: front-wheel drive or all-wheel drive. The front-wheel drive model has an impressive 87.0 kWh battery pack for extended range and delivers up to 389 horsepower and 442 lb.-ft.
Of torque on the Venture+ trim level. With this configuration, you'll experience smooth acceleration as your car glides down the road while making everyday commutes convenient and efficient.
On the other hand, if you're looking for more performance, opt for all-wheel drive, which provides additional grip and a combined system output of 389 horsepower plus 442 lb.-ft. Additionally, you can also read the 2024 KIA Carens Review.
Nissan Ariya Review: Performance and Range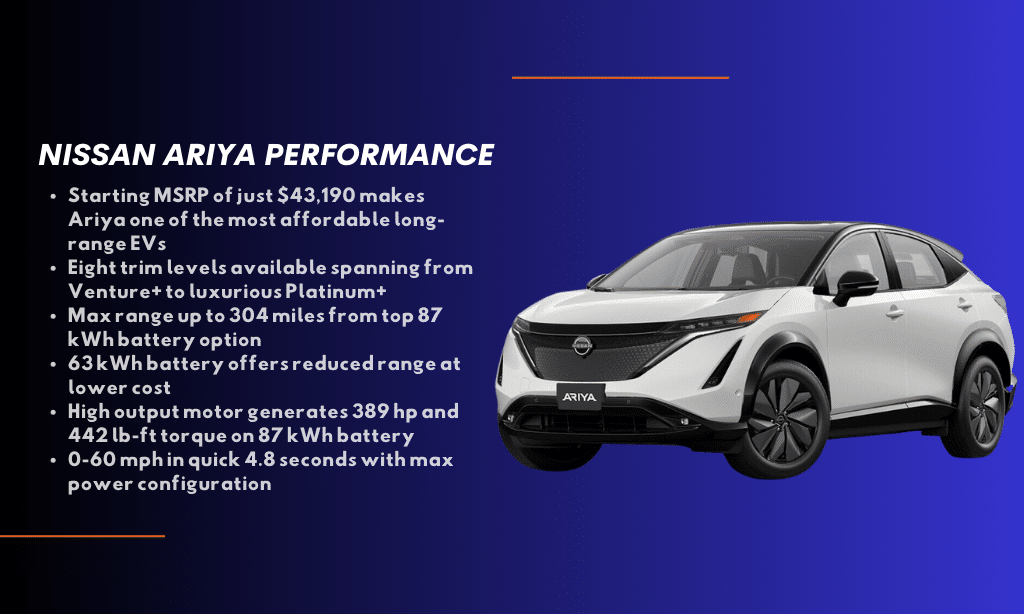 | Spec | Detail |
| --- | --- |
| Starting MSRP | $43,190 |
| Available Trims | Venture+, Evolve+, Premiere, Platinum+ |
| Max Range | Up to 304 miles (87 kWh battery) |
| Battery Options | 87 kWh or 63 kWh |
| Max Horsepower | 389 hp (87 kWh battery) |
| Max Torque | 442 lb-ft (87 kWh battery) |
| 0-60 mph Time | 4.8 seconds (389 hp trim) |
| Top Speed | 124 mph |
| Charging Time | 45 min for 80% charge (130 kW DC fast charging) |
| Driver Assist Tech | Nissan ProPilot 2.0, ProPilot Park |
| Infotainment | 12.3″ touchscreen, wireless Apple CarPlay/Android Auto |
| On Sale Date | Fall 2022 |
The 2023 Nissan Ariya offers drivers an impressive all-electric range of up to 304 miles and a smooth driving experience with up to 389 horsepower provided by two battery options. Additionally, the advanced liquid cooling system helps improve charging times.
Smooth Driving Experience With up to 389 Horsepower
The Nissan Ariya is designed to provide the ultimate smooth driving experience. Its electric powertrain delivers 389 horsepower and 442 lb-ft of torque, providing fast acceleration with its 0-60 mph time of 4.8 seconds for the all-wheel drive version.
The instant torque off the line provides a responsive performance that makes even tight corners feel easy and manageable while staying perfectly balanced on winding roads – all without sacrificing comfort or noise reduction in the cabin.
Furthermore, drivers can enjoy peace and quietness with each turn due to its high-efficiency powertrain technology combined with minimal engine noise produced by traditional combustion engines – perfect for those looking for an enjoyable yet silent ride every time they take their car out on the road!
Two Battery Pack Options
The 2023 Nissan Ariya electric crossover offers two distinct battery pack choices. The standard option has a capacity of 63 kilowatt-hours (kWh) and offers a range of 216 miles on a single charge with front-wheel drive.
For drivers seeking more range, the optional larger battery pack has an increased capacity of 87 kWh and is expected to offer greater distances for even longer trips. Both packs feature liquid cooling systems that conserve energy during charging, helping them power up at optimum speed while keeping temperatures low and allowing you to enjoy your vehicle's performance benefits for longer than conventional models.
Consumers should consider their lifestyle needs when selecting their battery pack – those who wish to take long interstate drives may benefit from the higher capacity offered by the 87-kWh model. In contrast, city dwellers are likely better served by considering the standard 63-kWh version due to its more efficient use in slower-moving short commutes.
Liquid Cooling for Faster Charging
The Nissan Ariya boasts an advanced liquid-cooled battery pack, which offers significant advantages when powering up. This system ensures that regardless of how large the energy draw or high temperature, charging speed remains consistent and undiminished – meaning a full charge in much fewer hours than average electric vehicles.
The liquid cooling also ensures an extended lifespan for the battery since it prevents overheating and other forms of wear and tear by maintaining optimal operating temperatures at all times.
Not only does this help keep drivers safe with reliable performance over longer distances – but it could also save them money down the line due to less frequent need for expensive repairs or replacement parts. If you are interested, you can also read the 2024 KIA Carnival Review.
Interior Features and Technology
The 2023 Nissan Ariya interior is equipped with two generous displays on the dashboard, offering extended smartphone integration, comfortable cornering, and smooth rides with limited hands-off driving mode.
Double Dashboard Displays
The Nissan Ariya features a unique dual 12.3-inch dashboard display, divided by a central console to enhance the driver's experience and accessibility of crucial information. The large touchscreen enables access to all of Nissan's car functions while also delivering impressive swipeability so drivers can make quick adjustments.
The horizontal design system allows the central display and driver gauge screen to expand outwards, creating one grand unit essential for viewing navigation, audio accessibility, as setting temperature control.
Adding to this is the head-up display also found in the Ariya, which projects key visual data onto your windshield, eliminating distracting glances away from driving direction or road hazards.
Smartphone Integration
The 2023 Nissan ARIYA allows drivers to seamlessly connect their smartphones via Apple CarPlay and Android Auto to easily access navigation, music, communication apps, and more. This makes life on the road enjoyable with effortless multimedia control.
Enjoy voice-command responsiveness with natural language recognition technology for effectively controlling media from connected devices. With wireless charging options available in the ARIYA, you can fuel your phone as you take off on car trips without having to hunt around for an outlet at a station! On top of that, it also integrates Alexa functionality, allowing users to enjoy easy access by just uttering a few simple words – ideal for hands-free commands during long drives!
Confident Cornering and Smoothness
The 2023 Nissan Ariya is designed for a confident, smooth ride. Its e-4ORCE technology enhances steering, braking, cornering performance, motion control, and comfort.
The minimalist instrument panel seamlessly blends with the shape of the cabin, creating an optimally aerodynamic driving experience, aiding in confident cornering. This contributes to a smoother ride on winding roads due to superior handling.
The 2023 model also offers up to 389 horsepower from its two battery pack options. It relegates its acceleration capabilities above the rest while ensuring smooth operation without compromising power or agility when navigating sharp corners or steep slopes, providing the driver ultimate confidence during their journey.
Limited Hands-Off Driving
The 2023 Nissan Ariya provides a smooth, calming, thrilling driving experience with its limited hands-off driving feature. As part of the advanced driver assist technologies included in the Ariya, this feature allows for automatic acceleration, steering, and braking.
With these features in place, it will allow drivers to remain confident when cornering on highways or climbing up hilly roads. It is also integrated with the ProPILOT Assist system, giving seamless yet secure assistance as you navigate unfamiliar streets or heavy traffic situations.
The combination of a modern, classic exterior design and cutting-edge technology from the inside creates an amazing car that is perfect for those everyday errands and long trips away.
Pricing and Value
The 2023 Nissan Ariya will be available in eight trim levels spanning from the base Engage model to the top-of-the-line Platinum+ e-4ORCE. Pricing starts at $44,555 for the front-wheel drive Engage, while the all-wheel drive Engage e-4ORCE costs $48,525.
Moving up the range, the Venture+ is priced at $48,555, Evolve+ at $51,555, Evolve+ e-4ORCE at $55,525, and Empower+ at $55,055. The more luxurious Premiere trim has an MSRP of $56,055, while the flagship Platinum+ e-4ORCE tops the lineup at $61,555.
With this wide range of trims available, Nissan hopes to have an Ariya model that appeals to a broad range of electric vehicle buyers when it goes on sale later this year.
Potential Savings With Edmunds
Edmunds.com is a great way to save money when purchasing the 2023 Nissan Ariya. Edmunds.com provides information on deals, incentives, and rebates available for the new Nissan Ariya, which can result in significant savings for customers who do their homework.
For example, Edmunds' out-the-door estimated price of $42,398 and $2,316 in taxes and fees for the 2023 Nissan Ariya Engage trim with options shows clear potential savings compared to MSRP. Additionally, it's important to note that special offers and discounted financing are also offered from time to time through the site, which will further reduce overall cost – helping customers move one step closer to driving away with an affordable model of their choice.
Safety Features
Nissan Ariya has expert-recommended safety features like ABS, blind spot monitoring, lane keep assist, and more.
Expert-Recommended Safety Features
The 2023 Nissan Ariya provides a suite of comprehensive safety measures to offer superior protection while on the road. Featuring advanced driver-assist technologies, such as ProPILOT Assist and Assist 2.0, the Ariya helps drivers stay alert on the road, aiding with acceleration, braking, and keeping the car in its lane.
It also has automatic emergency braking with pedestrian detection capabilities for added assurance that an accident will be averted if needed. Other features like blind-spot monitoring, lane departure warning technology, and rear cross-traffic alert provide more confidence when navigating in tight situations around other cars or pedestrians.
With rear automatic braking for reversing maneuvering to avoid obstacles, there's less chance of damage or danger on your journey – a reassuring factor for all drivers who prefer peace of mind over risking an incident without cautionary steps beforehand!
Consumer Reviews and Ratings
Get the best insights into user experience by learning from real owner reviews and ratings about the 2023 Nissan Ariya.
Real Owner Opinions
Real owners of the 2023 Nissan Ariya have praised its smooth performance, great features, and enhanced interior design. Many report they are comfortable driving the car in tight corners due to its handling and stability in low-speed maneuvers.
It has also received high marks for its double dashboard display with smartphone integration, which offers a good visual experience. Owners have mentioned that although it lacks certain advanced features like hands-off driving other electric mid-size SUVs offer, they are satisfied with their purchase compared to similar models.
One reviewer described their Ariya experience: "I am so happy I took the plunge – I'm getting a fun ride in a beautiful piece of machinery." Another review from an experienced driver said: "It doesn't feel or look cheap – this is an outstanding rounded vehicle at a reasonable price."
Latest News and Updates
Stay up to date on the latest news and updates regarding the Nissan Ariya, including pricing and reservations, comparison reviews, as well as first impressions.
2023 Nissan Ariya Pricing and Reservations
The 2023 Nissan Ariya is an electric SUV, starting at  $43,190 for the base Engage trim with a standard battery and front-wheel drive (FWD). You can also purchase models that include all-wheel drive (AWD) and dual motor by paying a little extra.
If you're looking for something that has a longer range, then the pricing starts at just under $45,000. The reservation period for the highly anticipated 2023 Nissan Ariya is now open! Customers interested in this cutting-edge electric car are encouraged to reserve their place in line through participating dealers as soon as possible to access exclusive incentives.
Models of the Nissan Ariya will begin arriving at dealerships sometime in mid-2022 or autumn 2022 – depending on where you live – giving potential customers plenty of time before deciding whether they'd like one.
Comparison to Other Popular Electric SUVs
The 2023 Nissan Ariya is proving to be a strong competitor in the electric SUV segment. Its impressive range and cutting-edge features make it a great option for those looking for an eco-friendly commute without having to compromise on power.
Compared to other popular electric SUVs, such as the 2022 Tesla Model Y, 2022 Hyundai Ioniq 5, and Ford F-150 Lightning, the Ariya stands out in terms of its performance and design.
With up to 389 horsepower from two battery packages available – standard or long-range – the Ariya can go farther than ever with liquid cooling technology providing faster charging times that rival its competitors' models.
The clever interior layout also means you have plenty of room for cargo even while sitting five passengers comfortably. In addition, safety features like autonomous emergency braking (AEB), lane departure warning (LDW), and automatic high beams come standard on all trims for added peace of mind.
2023 Nissan Ariya First Impressions
The 2023 Nissan Ariya's driving experience is nothing short of remarkable. It features smooth acceleration thanks to the two motor options, all-wheel drive layout, and comfortable cornering that keeps passengers feeling secure no matter how quickly it takes turns.
The interior has been designed with utmost clarity, featuring a dual dashboard setup for better visibility while on the road and smartphone integration capability that offers quick access to your favorite music or other media.
Safety features are also top-notch, with various sensors and systems available, like lane keeping assist, blind spot warning, and automatic emergency braking across various trim levels.
Frequently Asked Questions (FAQs)
Let's find out some usual questions about the Nissan Ariya.
1. What is the Nissan Ariya?
The Nissan Ariya is an all-electric crossover vehicle that runs on advanced technologies such as ProPILOT 2.0 Driver Assistance and e-4ORCE dual motor drive system. It was first released in 2023 along with its latest features.
2. What are the features of the latest version of Nissan Ariya?
The 2023 model offers a sleek design, 360 surround view technology, upgraded ProPILOT 2.0 driver assistance, AI assistant for personalization options, wireless charging compatibility, and more modern safety features compared to previous models.
3. How much does it cost to own a new Nissan Ariya?
The starting price for the new Nissan Ariya can range between $43,190 on which model you opt for and extra add-ons added onto your purchase if desired.
4. Does financing exist for buying a Nissan Ariya?
Yes! Financing options have been made available from many lenders if you wish to pay out in installments or utilize a loan option when purchasing the vehicle or any extras attached at the time of purchase.
Takeaway
In conclusion, the 2023 Nissan Ariya is an impressive electric SUV with cutting-edge technology and many exciting features. It has a sleek exterior design, comfortable interior layout, double dashboard displays for smartphone integration, excellent range options, and decent performance features such as 389 horsepower.
Unfortunately, some experienced drivers described their driving experience as disappointing due to its light steering system. Its pricing details remain unannounced now, though customers who take advantage of Edmunds's suggestions could receive great value from their purchase.
While there may be better alternatives on the market currently or emerging soon – such as the Tesla Model 3/Y and Ford F-150 Lightning –the Nissan Ariya provides an affordable solution that comes backed up with high safety ratings that should make it a good choice for those interested in buying an electric SUV in 2023.