MINI Electric Hardtop Review: Explore the Performance, Range, and Features [Detail Guide]
Are you considering adopting an electric car and trying to determine if the 2024 Mini Electric Hardtop is a viable choice? We understand – this is a significant decision, and it can be challenging to make. Let's learn about the MINI Electric Hardtop review to help you.
That's why we're here to give you all the details on the MINI Electric Hardtop review, We'll outline its specs, safety ratings, interior design features, and future prospects so you can make an informed choice.
So, buckle up for a journey into green motoring with our take on the Mini Cooper SE – it's sure to be quite the ride!
Content Highlights
The 2024 MINI Electric Hardtop is an innovative electric car with a range of up to 114 miles, 181 horsepower, and 199 lb-ft of torque.
This sleek and efficient EV has ample storage capacity, a comfortable interior, advanced technology features, and great value for money when compared to competitors.
It offers savings from tax credits and rebates if purchased electronically, plus added safety systems such as automatic brakes or lane-keeping assist technologies.
Overview of 2024 MINI Electric Hardtop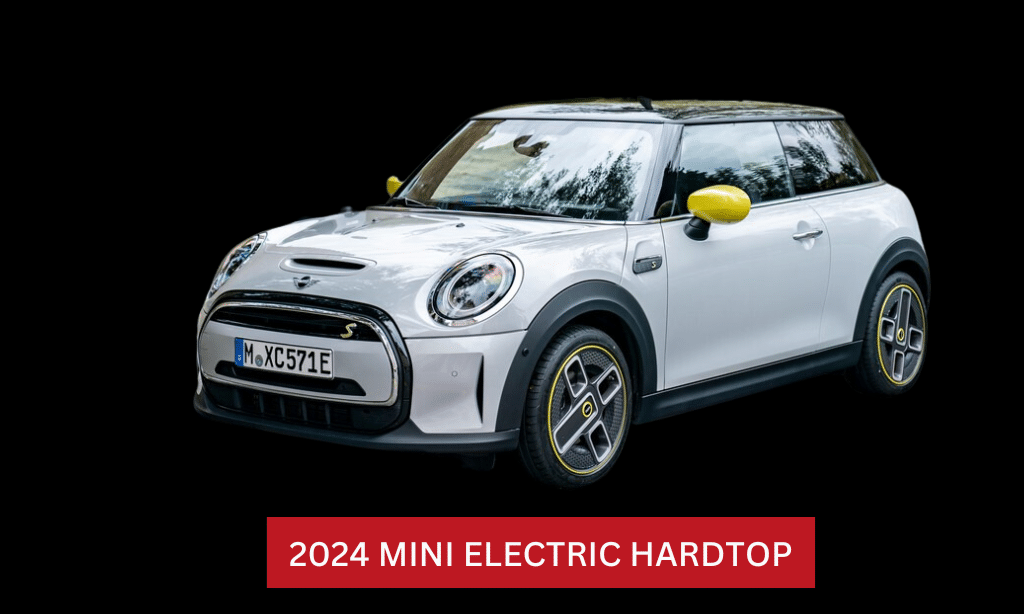 The 2024 MINI Electric Hardtop is an innovative electric vehicle, coming with features like a high-tech interior system and an improved battery range of 114 miles that sets it apart from the competition.
Features and Specs
The 2024 MINI Electric Hardtop is a truly distinctive and graceful car powered by an efficient single electric motor. It packs 181 horsepower and 199 lb-ft of torque to allow for quick acceleration from 0 to 60 mph. The MINI Hardtop measures approximately 151.7 inches in length and 68 inches in width and stands at a height of 56.4 inches, featuring LED headlights, bumper, tailpipe finisher, and striped Union Jack taillights.
As far as efficiency goes, this model achieves around 119 MPGe during city driving, about 100 MPGe on the highway, and an average of 110 MPGe in combined city and highway conditions, aligning closely with typical electric car efficiency estimates-slightly lower than the Chevy Bolt EV or Nissan Leaf EVs on the market today.
Inside you'll find a cleanly laid out interior design with intuitive controls that are well placed within reach. Comfort comes in droves here, too – ample storage capacity ensures that there's enough space for all your cargo needs no matter the journey ahead.
In addition to its sleek design features both inside and out, this car offers great value for money as well as savings from tax credits and rebates if purchased electronically.
Interior and Technology Features of the MINI Electric Hardtop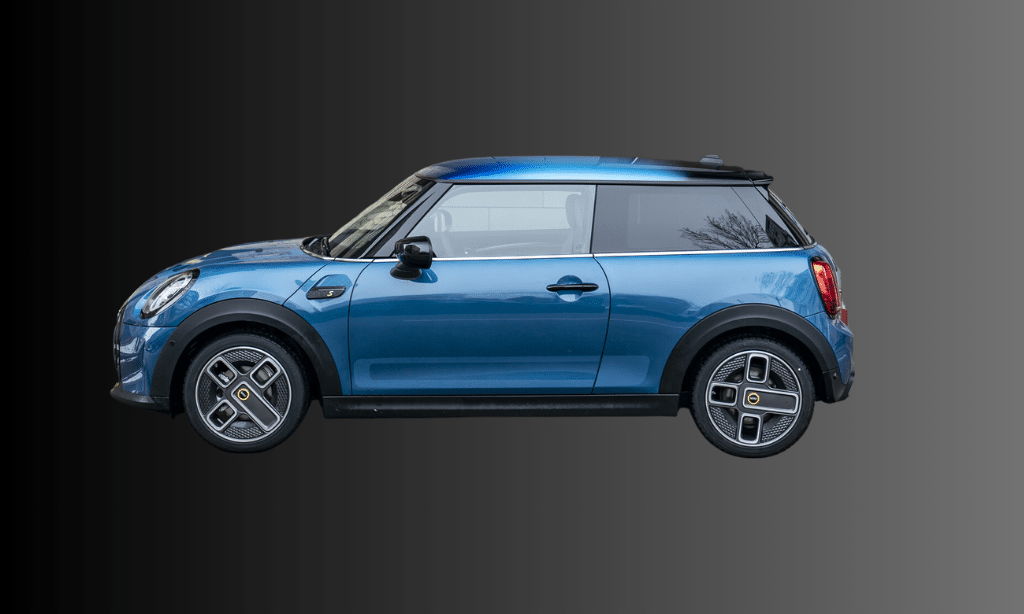 Enjoy the comfort of the EV's spacious interior with high-quality materials and updated technology for convenience, plus long-range and efficient performance to save on gas.
Comfort and Storage
The 2024 Mini Electric Hardtop is engineered to provide a comfortable, connected, and secure driving experience. The front seats offer 41.4 inches of generous head room and the interior features creature comforts like climate control that allow for tailored comfort while on the go.
Additionally, safety features are abundant, including automatic brakes, lane-keeping assist technology, and driver-assistance systems that make sure drivers go where they need to safely without any extra worry or distraction.
Although there is no specified storage boot space offered, this model does have a plentiful amount of cubbies for keeping belongings organized during drives without adding too much clutter inside the cabin itself.
Range and Efficiency
The MINI Electric Hardtop is a great choice for those looking to make the switch to electric driving. The Mini Electric Hardtop offers an electric range of 114 miles, which is less than the range achieved by almost all other electric vehicles. When charging using a standard household outlet, it requires approximately 24 hours to reach a full charge.
The dedicated electric platform also helps in making it more efficient and able to maximize space within the car. This means that drivers can travel longer distances without worrying about recharging too frequently – perfect for daily commutes or long drives away from home.
Efficiency-wise, not only does the vehicle offer excellent fuel economy and performance, but with additional advancements such as regenerative braking featured under its hood, it's sure to give the driver a much smoother drive than traditional gas cars could ever envisage.
Value for Money
For drivers looking to make the switch to an electric vehicle without breaking the bank, the 2024 MINI Electric Hardtop provides great value for money. The base model of the car has an MSRP of $31,895 and is among the most affordable EVs in its class.
The MINI Electric Hardtop also offers more vehicle value than many comparable options in terms of standard tech features and comfort elements like keyless entry/start, dual climate control option, and Bluetooth integration.
Additionally, this EV is packed with performance capabilities such as a top speed of 150 km/h (93 mph)  along with fast acceleration off an electric motor that is paired with a single-speed transmission system – making it fun to drive yet efficient at higher speeds.
Price and Cost to Own the MINI Electric Hardtop
Find out the recommended pricing from Edmunds, and learn about available tax credits and rebates that can help you save money.
Edmunds Recommended Pricing
The price of the 2024 MINI Hardtop 2 Door Cooper SE Signature Electric is determined by Edmunds based on recent prices paid in your area, recommending a price of $23,192 for the base trim.
This information can be extremely helpful for prospective buyers, as it can often save them money up to $2,120 compared to MSRP (Manufacturer's Suggested Retail Price). On top of that, there are also additional savings potential through various state and Federal tax credits and rebates related to electric cars.
All this combines together, making purchasing an EV from MINI an even better bargain than before! Related searches, such as the 2023 Mini SE series Hardtop pricing and range, may also help you make an informed decision when selecting or shopping for your new vehicle.
Savings From Tax Credits and Rebates
The MINI Electric Hardtop offers significant savings through various tax credits and rebates. These incentives not only lower the initial purchase price but also increase the overall cost-effectiveness of this electric car compared to others in its class.
| Type of Incentive | Amount | Description |
| --- | --- | --- |
| Federal EV Tax Credit | $7,500 | As of the current writing, the MINI Electric Hardtop still qualifies for the $7,500 federal EV tax credit.  |
| Additional Rebates | Up to $3,000 | Depending on your location and eligibility, you could be entitled to up to $3,000 in additional rebates for the MINI Hardtop 2 Door, further reducing the purchase price. |
| Overall Savings | Up to $10,500 | Combined, these incentives could potentially slash your purchase price by a whopping $10,500.  |
In summary, the MINI Electric Hardtop's competitive price, coupled with generous tax credits and rebates, makes it a highly cost-effective choice for anyone considering switching to an electric vehicle.
Is It Worth Upgrading to an EV?
Upgrading to an EV like the 2024 MINI Electric Hardtop offers drivers many advantages. Not only can driving electric reduce emissions and help promote environmental sustainability, but most EVs are more efficient than combustion engines.
With government incentives currently available for producing and purchasing electric vehicles, you could save thousands of dollars in purchase costs over traditional gasoline-powered vehicles.
Plus, the improved performance of EV motors delivers powerful torque and rapid acceleration without sacrificing roominess or comfort – making the switch well worth it for many drivers looking for a reliable yet fun ride with good range capabilities.
Performance and Comfort of the MINI Electric Hardtop
Take advantage of advanced engineering for an exhilarating drive with a smooth and comfortable ride experience – find out more!
Acceleration and Handling
With its 135 kW/184 hp electric motor and torque of 290 Nm, the 2024 MINI Electric Hardtop is a nimble performer. It offers peppy acceleration times from 0 to 60 mph in just 7 seconds thanks to its single-speed transmission system, a pace that can easily keep up with other conventionally powered Mini models.
The car also has sharp cornering capabilities, allowing you to have great control over your speed and direction even when turning quickly through tight bends or maneuvering around obstacles on the road–allowing for an enjoyable driving experience overall.
Ride Quality and Noise Level
The MINI Electric Hardtop offers a smooth and comfortable ride quality that is easy to adapt to. The seating arrangement, suspension, steering, and overall control of the car are all designed with comfort in mind.
It has excellent grip on various terrains, which can provide an even smoother experience.
Noise level information has not been specifically provided for this vehicle from its manufacturer, but reviews indicate that it may run rather quietly compared to traditional gasoline-powered cars due to its electric motor design and lightweight body structure.
Safety and Reliability of the MINI Electric Hardtop
Learn more about the top-notch crash test ratings, dependability index, and maintenance costs of this incredible MINI Electric Hardtop.
Crash Test Ratings
Crash test ratings are an important factor to consider when shopping for a new car, and the MINI Electric Hardtop is no exception. The regular hardtop received an overall rating of four stars from the National Highway Traffic Safety Administration (NHTSA) in their New Car Assessment Program, though testing on the electric version is not yet available.
In addition, Good scores in every crashworthiness category from the Insurance Institute for Highway Safety (IIHS) were earned by 2021 MINI Cooper models equipped with autonomous emergency braking technology.
As more tests become available, drivers can count on having reliable safety data to inform their purchase decisions when it comes to this popular EV model.
Dependability and Maintenance Costs
The MINI Electric Hardtop is designed with a strong focus on dependability and reliability. It features a drivetrain lifetime warranty, which ensures that owners can count on secure performance for the life of their vehicle.
Additionally, it comes equipped with advanced BMW technologies like Active Driving Assistant Pro and Emergency Call Service – both essential to keeping drivers safe on the road and offering peace of mind in emergency situations.
Furthermore, MINI's optional Connected Drive Services package provides access to real-time information about any potential maintenance requirements or service needs for the car at an affordable cost.
Maintenance costs are typically reasonable for electric cars due to fewer moving parts than traditional gasoline-powered vehicles, so repair prices should be lower than normal gas car maintenance costs if any untoward issues do arise over time.
Design and Dimensions of the MINI Electric Hardtop
From its unique style to its surprisingly spacious interior, the MINI Electric Hardtop has something for everyone – check out our review to learn more.
Exterior and Interior Design
The 2024 MINI Electric Hardtop is one of the most stylish and unique cars on the market, offering a combination of retro design elements and modern technology. With its inventive interior style, this vehicle offers comfort, connectivity, and security for riders.
It's shorter than other Mini models by length and height but still packs plenty of features that rival other electric car models in performance efficiency as well. Its exterior features a traditional body shape with bold colors as well, including sophisticated contours for aerodynamics, while its interior has been designed to maximize driver convenience with adjustable seating configurations tailored to your needs through intuitive ergonomic controls.
In addition to these comforts, it also provides up-to-date infotainment options such as Navigation system integration and advanced safety innovations like pedestrian detection systems meaning you get great value out for your money when purchasing this model.
Size and Weight Specifications
The 2024 MINI Electric Hardtop is a compact electric car offering versatility and agility on the roads. The vehicle measures 12.6 feet in length, making it easy to navigate through tight city spots with ease.
Additionally, the curb weight of 3,143 pounds gives the MINI Electric Hardtop impressive maneuverability even at higher speeds without affecting performance or stability during quick lane changes or curves.
This makes it ideal for agile urban vehicles as well as offering excellent range due to its lightweight design that also aids fuel economy and emissions efficiency over long distances.
Future of the MINI Electric Hardtop
With cutting-edge updates expected to debut in 2024, the MINI Electric Hardtop will be worth considering when shopping for an electric car.
Updates and Improvements in 2024
The 2024 Mini Cooper Electric is equipped with faster-charging technology, allowing for up to 80 percent charge in under an hour.
It also features a longer range of up to 114 miles on a single charge.
It has been upgraded with the latest infotainment systems and offers voice command capabilities.
It now comes standard with heated front seats, a keyless entry/start function, and rain-sensing wipers.
The styling has been refreshed with larger wheels and tires, improved suspension tuning as well and more efficient aerodynamics, resulting in a lower drag coefficient of 0.25Cd (3% improvement).
Anticipated Models and Trims
The upcoming year is expected to bring some exciting new developments for the MINI Electric Hardtop. The lineup will likely receive two trims, the E and SE, with an improved battery pack of 40.7-kWh, offering increased range efficiency. Mini has plans for a bevy of new models by 2024 and 2025, including a Mini Countryman, a Mini Cooper hatchback, and an all-new Aceman SUV.
Additionally, consumers should also expect to see improvements in comfort features, such as more adjustable seating options across their electric lineups as well as better pricing incentives which could include tax credits or rebates – something Edmunds highlighted when discussing recommended prices.
Frequently Asked Questions (FAQs)
Now let's learn about some common questions about MINI Electric Hardtop.
1. What is the MINI Electric Hardtop?
The MINI Electric Hardtop is an all-electric variation of the classic Mini Cooper model, first released in 2021 to provide drivers with efficient and sustainable performance.
2. What features do the latest version of MINI Electric Hardtop offer?
The 2024 release features even more efficient battery performance, improved exterior design elements for better aerodynamics as well and an advanced suite of driver-assist technologies to create a safer driving experience on the roads.
3. How does it compare to other electric vehicles on the market?
The new MINI Electric Hardtop offers highly competitive efficiency rates when compared to other electric vehicle models available in 2024, all while maintaining the superior performance for which its petrol predecessors are renowned.
4. Is a test drive available before purchasing?   
 Yes! You can visit your nearest dealer or contact them online to organize a test drive so you can experience firsthand why this EV has become one of the most sought-after cars equipped with the latest tech features in 2024.
Takeaway
The MINI Electric Hardtop is a great option if you're looking for an affordable EV. Despite its limited range, it offers a fun and unique driving experience that will remain dependable for many years to come.
The quietness of the vehicle, along with improved technologies like increased range in 2024, make the Mini Cooper SE worth considering when shopping around for electric cars. Also, thanks to tax credits and rebates available through Edmunds, potential buyers should see additional savings when purchasing this car.
So, while there is some trade-off due to its short range, the Mini Cooper Electric provides unbeatable value for money given its other features – and could be just what you're looking for!