When Will Locke and Key Season 4 Coming? [With Latest Updates]
Locke and Key season 4 is one of Netflix's most popular fantasy horror movies. It just got its third season. The show is based on a comic book series by Joe Hill and Gabriel Rodrguez with the same name. It first aired on Netflix in February 2020. The first two seasons were shown during the three-year break between seasons one and two of Stranger Things. Now it's back for a third season, but one of the biggest questions fans have is, "Will there be a Locke and Key Season 4?"
The Locke family is played by Darby Stanchfield, Emilia Jones, Connor Jessup, and Jackson Robert Scott. They all find strange keys in their new home, which is called the Keyhouse. They soon find out that a demonic being is also looking for the keys for its own evil purposes. These keys can be used to open doors in supernatural ways. Check out what we know about whether or not there will be a Locke and Key Season 4.
Will there be Locke and Key Season 4?
But it looks like this was the last trip we could have taken with the Lockes. Netflix announced that this will be the last season of the show when it showed the first look at the third season. But we've seen how shows like "Stranger Things" and "Elite" come out one after the other, so the cancellation of Locke and Key Season 4 seems a little strange.
It also means that not all of the source material will be used, since Hill and Rodriguez's comic book series has several issues spread out over five years. Even though the news that there won't be a Locke and Key season 4 is sad, we can always count on the other seasons to give us magical keys to enjoy at any time.
Why isn't Netflix Releasing Locke and Key Season 4?
The new keys from Locke and Key season 2 are destroyed in season 3, which means the story has come to an end. It's a good ending because the Lockes have learned again how dangerous these keys could be if they got into the wrong hands, and that destroying them is the only way to keep demons from taking over reality. In reality, this story could only go on for so long. Part of the charm of Locke and Key season 4 is its young cast, but the actors are getting older. It's almost a given that every comic book and every movie based on a comic book must stick to its main idea. In Locke & Key, the clock was always going because the innocence of youth is a big part of the show's main idea.
Netflix often cancels shows after three seasons. This is likely because the shows don't bring in new subscribers, which is one of the streaming giant's main goals. Even though it's unlikely that Locke and Key season 3 brought in any new subscribers, the show must have been popular enough for Netflix to agree to make one more season so that the story could end. Unless they become huge hits like Stranger Things and The Crown, few Netflix Originals shows last more than three seasons. Locke & Key is one of Netflix's best shows, but not as good as those rare titles because it doesn't appeal to a wide enough audience.
Locke and Key Season 4 Quick Info
| | |
| --- | --- |
| Season:  | Locke & Key |
| No. of Seasons: | 3 |
| No Of Episode: | 28 (seasons 1-3) |
| Status: | Pending |
| Script Writer:  | Meredith Averill |
| Director: | Mark Tonderai |
| Genre:  | Fantasy, drama, Supernatural horror |
| Production:  | IDW Entertainment |
| Producer: | Kevin Lafferty |
| Music: | Torin Borrowdale |
| Cast: | Darby Stanchfield, Connor Jessup, Emilia Jones |
| Country of Origin: | United States |
| Origin Language:  | English |
| Available Languages:  | English, Hindi |
| Next Season Release Date: | Not Yet Confirmed |
| Available On: | Netflix |
Locke and Key Season 4 Release Date
Locke and Key season 4 hasn't been officially on Netflix yet. As of November 2022, there is no date set for when the new season will come out. This does not mean that the show is over. It's possible that the show is taking a break, and the next season hasn't been planned or announced yet. We will add more information to this post as soon as it is available. If you want to know when the new season starts, sign up for updates below and join the discussion in our forums.
What did the Producers of this Locke & Key Show Say?
But the people who make the show say. They decided to end Locke and Key season 3. He says that there won't be any more seasons. When Netflix said it was canceling the show, co-showrunners Carlton Cuse. Meredith Avril also said in a statement, "Once we started working on the show, we decided that three seasons was the right amount of time to tell the story of the Locke family." And their adventures with the key house came to a satisfying end.
"As storytellers, we are thrilled to be able to tell how we see the great story of Joe Hill. And Gabriel Rodriguez however think is best.
But, as Meredith Avril said, we're going to keep the magic keys for ourselves. This is still the case, even though they might choose to adopt other comic book series. During the first five years, there were 37 issues. There were six different "series arcs" in the Joe Hill/Gabriel Rodriguez comic. But it looks like these stories will always be there. In reality, the cast has been gone from the show for a long time. Season three stopped filming in the fall of 2021.
The Plot of Locke and Key season 4 Show
The American drama and fantasy TV show Locke and Key were made by Meredith Averill and Aron Eli Coleite. A book with the same name inspired the show. The first episode of Locke and Key aired on Netflix on February 7, 2020. So far, there have been three seasons. The first season of the show was a big hit all over the world and had a lot of fans. Because of this, Netflix and the people who make the show brought the second and third seasons.
Locke and Key Season 4 have a unique fantasy story, which helped them get a lot of viewers and keep them interested in every episode. At the beginning of the show, a family named Locke moves from Seattle to Matheson, Massachusetts. A former student killed Rendell Locke, so his wife and three children moved to Matheson. Soon, one of the kids finds a mysterious key that helps him open magical doors and gives different people different powers. So, the woman who wants to steal those keys for bad and reckless reasons soon comes in.
Who Could Star in Locke and Key Season 4?
If they had given the show a Locke and Key Season 4, most of the main cast could have come back at the right time to end the show (with a fourth season, I mean). Strangely, I'm talking about a made-up season of a show that has already been canceled. But let's talk about who else could have been in Locke and Key Season 4.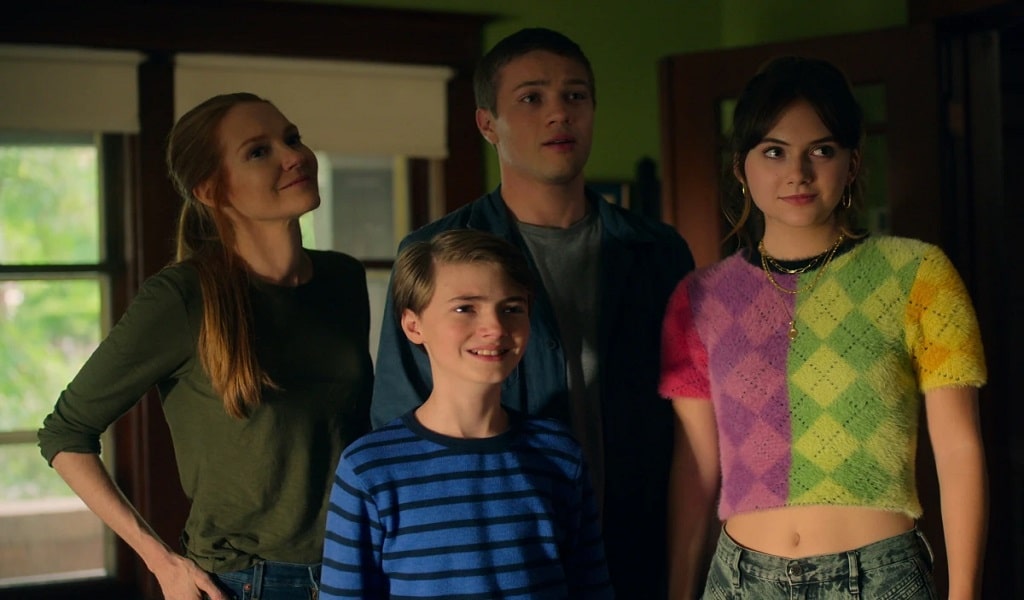 That is hard to figure out. I think that for Season 4, all of the Locke children would have come back. I think that their mother would have come back for a fourth season as well. So, Darby Stanchfield, Connor Jessup, Emilia Jones, and Jackson Robert Scott could have all been on the fourth season of the Netflix show.
We'll let you know about Locke and Key Season 4 as soon as something changes or is announced. They might bring it back if a lot of people want it and someone starts a "renew Locke and Key" petition on Change.org.
Is It Ending with Locke and Key Season 4?
Yes, Locke and Key Season 3 of the popular Netflix show Locke & Key is the last one. The story of the Locke family and Keyhouse comes to an end with the last set of episodes, which are shorter than the last two seasons. Of course, it starts by making things more dangerous by pitting the Lockes against a brand-new bad guy and bringing back Dodge (Layla De Oliveira) for good measure.
In April, Deadline said that Locke & Key would end after the third season. And since Stranger Things and The Umbrella Academy have been on for longer, fans may be disappointed that Locke and Key season 4 won't be coming out. But there is one good thing to say about the end of the show: it seems to have ended exactly how the creators wanted it to.
Where are Locke and Key Season 3 Filmed?
Locke and Key take place in the real state of Massachusetts, in the made-up town of Matheson. However, the show is filmed in Canada.
The town itself is a small port town in Nova Scotia called Lunenburg. Most of the scenes that take place outside of the town are shot in Toronto, Ontario, Canada.
The Keyhouse is almost entirely made with computer-generated imagery (CGI), which is based on a front facade that was put together in the Canadian countryside.
Is Locke and Key Worth Watching?
Even though the reviews for Locke and Key season 3 haven't come out yet, the show usually gets good reviews. Locke and Key is not the best adaptation of a comic book, but it is still a good show. For example, The Sandman, which came out recently, is a better example. On Rotten Tomatoes, the first season has a score of 66%, and Locke and Key season 2, which has an average score of 83%, has better reviews.
The reviews for Locke and Key Season 3 are a bit mixed. Some critics didn't like how the show ended, but others said it was a good way to end. We think you should give it a chance and start watching Season 1 to see if you like the world that Locke and Key create.
Locke and Key Season 3 Rating & Reviews
Rating
The show Locke & Key has a 7.4/10 rating on IMDb and a 74% rating on Rotten Tomatoes. Based on the show rating, the average audience score is 66%. You can be sure that the show is worth your time.
Reviews
This show is very strange. The idea and setup are interesting, but the work is all over the place. The story is easy to follow and seems to be written for kids, but there are way too many deaths for it to be a children's book. It's way too silly and boring for adults. It also spends too much time talking about how the kids get along with each other and is still too young justice for teens.
As a result, I have no idea who the message is meant for. It looks great and has potential, but the plot is messy, doesn't explain or reveal anything, and is boring and hard to follow. In general, I feel disappointed. So much could be done better!
Locke and Key Season 3 Age Rating
The TV-14 rating is the official age range for this show. This show is like a PG-13 movie on TV, which means that it is good for teens. It makes sense since the series has always been about teenagers and has nothing to do with Euphoria.
Other countries have different age ratings than the United States, but most of them are the same. We're looking at countries like Germany, which gave it a 12, Canada, which gave it a PG, and the UK, which gave it a 15.
The violence and blood are the main reasons why it's rated TV-14. There are fight scenes, and we expect more of the same in the third and final seasons. But there isn't a lot of graphic nakedness or bad language. Aside from the demons and magic around the keys, this series is mostly about teenagers being teenagers.
Locke and Key Season 4 Parental Guide
Based on the Age Rating, parents are in the best position to decide whether or not their child is old enough to watch a movie, TV show, book, video game, or TV series. And it's not for kids if there is blood and gore, sexual content, mature themes, or explicit language.
Check out the rating above to see if Locke and Key are good for your kids. If you have already seen this series, it would be helpful if you could give us advice on how to be a good parent. With your help, we can give everyone a more accurate picture.
Conclusion
We want to give our users the most accurate information, so all of the information in this article about Locke and Key season 4 has been updated. We hope that you can find all the information you need.
Soon, Netflix will say when all of the new Locke and Key season 4 episodes will be out. We will write about all of these changes in the future, so check our website often to know everything there is to know about your favorite show, Locke and Key.
Frequently Asked Questions (FAQs) about Locke and Key Season 4
When Could Lock And Key Season 4 Be Released?
Since this is the case, there is no date for Locke and Key Season 4 because it won't happen. I could stop writing the article right here. But I think Netflix should have kept the show going for one more season.
Will there be Locke and Key season 4?
Locke and Key will not have a season 4, because when it was picked up for a third season, it was said that season 3 would be the last one.
How many seasons Locke and Key will have?
It was announced in April 2022 that season 3 would be the last. The show has a total of three seasons.
How and where to watch Locke and Key Season 3?
Locke & Key was made by Netflix, so it is only available on their streaming service. On August 10, 2022, you'll be able to watch the whole season.
Are Locke And Key A True Story?
A series of comic books inspired the Netflix show Locke and Key. The comics came out between 2008 and 2013. Joe Hill wrote them, and Gabriel Rodriguez drew them. The TV show is based on comics, so the characters and plots are the same. However, some details have been changed.
Why Is Locke And Key For Adults Only?
Locke & Key is based on a series of horror-themed comic books with the same name. Parents should know this. Every episode has parts that are violent.
How many seasons will Locke and Key have?
The third season of Locke and Key will be the last one.
What age group are Locke and Key for?
The TV-14 rating is the official age range for this show. This show is like a PG-13 movie on TV, which means that it is good for teens.
Do Locke and Key have romance?
The story of the Locke family comes to an end with the last season, which has eight episodes. In the 28 episodes of the show, we've seen a lot of romantic moments, some of which ended badly and some of which left us spellbound and swooning.
How old is Bode in Locke and Key?
Bode Locke is six years old and the son of Rendell and Nina Locke. He is also the younger brother of Tyler and Kinsey Locke and the nephew of Duncan Locke. He is the Locke child who, as the house "shows" him, finds almost all of the Keys.
If you are interested
You can also read Entertainment, Numerology, Tech, and Health-related articles here: Disney Plus November 2022 Schedule, Hannah Kepple net worth, Red Bali Kratom, Holding season 2, Halloween 2022, iOS 16.1 Features, Netflix November 2022 Schedule, Virat Kohli Net Worth, Reaper 2 Trello, JoinPD, Seasonal Holidays, SQM Club, The Crown Season 5, Motorola Moto Edge 30 Ultra Review, Mismatched Season 2 Netflix Release Date, Solar Eclipse 2022, Best Movies on Star Plus, Best Free VR Games in 2022, Xbox Game Pass October 2022, Riverdale Season 7, NASA to Create a 3D Printed Moon Base, Optimus human robot, Andrew Tate Net Worth, Dua Lipa net worth, Disney Plus October 2022 Schedule, Google 24th Birthday, OnePlus 10R Review, OnePlus 9RT Review, Netflix October 2022 Schedule,
 Summer Podcasts on Movistar, Best Cycling Simulator Games, MyShopify, Ben Affleck Net Worth, Filmymeet, 5Movies, September 8 Zodiac, Kengan Ashura Season 3, iPhone 14 Plus Release Date, High School DxD Season 5, How Gautam Adani Emerged World's Third Richest Man, Jeezy Net Worth, Historical Series on HBO Max, F2Movies, Best Travel Movies of All Time, Vikings Season 7, How to Watch Artemis I Launch Attempt, Best Kitchen Gadgets for Home Cooks, September 2 Zodiac, Hubble's Law and Age of Universe, New Movies on Disney Plus September 2022, Amazon Prime Release Date September 2022, Steps for Casual Look, Daredevil Season 4, Tinyzone, Elon Musk Mother sleeps in Garage, Lady Gaga All movies, Virgo,
Does TikTok Spy on You
, 
Thank You in Spanish
, 
Openload
, 
Invention of Antibiotics
,  
Subnautica
, 
Knives Out 2
, 
Best Basketball Anime
, 
13 Regions for Astronauts to Land on the Moon
, 
Red Bottom Shoes
, 
StoriesDown
, 
Meaningful Learning
, 
E-learning 2022
, 
She-Hulk release date
, 
Overlord Season 5
, 
Samsung Galaxy Z Fold 4 Review
, 
Feogi
, 
Laal Singh Chaddha Review
, 
Baki Season 5
, 
Bflix
, 
Leonardo DiCaprio Sneakers
, 
Hurawatch
, 
Salman Rushdie
,
Apart from the above articles, you can read more
Accessibility Apps for Android, Best Jobs in the Metaverse, QueenslandMax, Shower Standing Handle, August 11 Zodiac, How to pass a drug test, How to Roll a Joint, iFun, Emerald Chat, How to Play Mancala, August 8 Zodiac, OnePlus 10T Review, Jilo Virals, August 4 Zodiac, Findsnap, Tomb Raider Anime, Netflix August 2022 Schedule, Animixplay, Upcoming Marvel Movies 2022, July 31 Zodiac, Best Lily Collins Movies, Notepadqq, Flaxseeds with Milk Benefits, Imginn, Snaptik, Picuki, Alexis Clark Net Worth, Black Panther 2,
Marvel Echo Release Date, Frozen Fruit Recipes, Black Tourmaline, Webtoon XYZ, Fastest VPN for Android, IFVOD, XXXX Dry Review, Highest Grossing Indian Movies of all Time, Highest Grossing Movies of All Time, Rush Limbaugh net worth. Gotham Season 7, Parag Agrawal Net Worth, Tara Reid Net Worth, Blonde Trailer, Fastest VPN for PC, Highest Paid CEO in India 2022, Highest paid athletes 2022, My5 TV Activate, Kissmanga, Highest Paid CEO 2022, Grey's Anatomy Season 19, Alexa.com Alternatives, The Resident Season 6, Kraven The Hunter, One Punch Man season 3, The Resident Season 5, Yellowstone season 5, Ozark season 4 part 2, How to Remove Bookmarks on Mac, 
Outer Banks Season 4, How to watch NFL games for free, DesireMovies, 6streams, 4Anime, Moviesflix, 123MKV, MasterAnime, Buffstreams, GoMovies, VIPLeague, How to Play Music in Discord,  Vampires Diaries Season 9, Homeland Season 9, Brent Rivera Net Worth,  PDFDrive, SmallPDF, Knightfall Season 3, Crackstream, Kung Fu Panda 4, 1616 Angel Number, 333 Angel Number, 666 Angel Number, 777 Angel Number, 444 angel number,  Bruno Mars net worth, KissAnime, Jim Carrey net worth, Bollyshare,  Afdah, Prabhas Wife Name, Project Free TV, Kissasian, Kickassanime, Moviezwap, Jio Rockers,  Dramacool,  M4uHD, Hip Dips, M4ufree, Fiverr English Test Answers, Fiverr SEO Skill Test,  NBAstreamsXYZ, Highest Paid CEO, The 100 season 8, and F95Zone. 
Thanks for reading. Stay tuned!
Subscribe to Our Latest Newsletter
To Read Our Exclusive Content, Sign up Now.
$5/Monthly, $50/Yearly