Jaw Droppers: A List of Lionel Messi's Top 10 Goals
Listen to the Podcast:
Lionel Messi, widely regarded as one of the greatest footballers ever, has mesmerized fans and critics with his extraordinary skill, agility, and unrivaled ability to find the back of the net. Throughout his illustrious career, Messi has scored many breathtaking goals, leaving spectators in awe.
From solo runs that defy logic to audacious free kicks and pinpoint finishes, Messi's top 10 goals are a testament to his genius on the football pitch. Each goal represents a moment of brilliance that encapsulates his unrivaled talent and unparalleled impact on the game.
Join us as we journey through Messi's finest moments, reliving the magic and marveling at the brilliance of his top 10 goals for Barcelona and Argentina.
Lionel Messi's Top 10 Goals for Barcelona
Here we have made a list of the top 10 goals of Lionel Messi.
1. Against Arsenal (2011)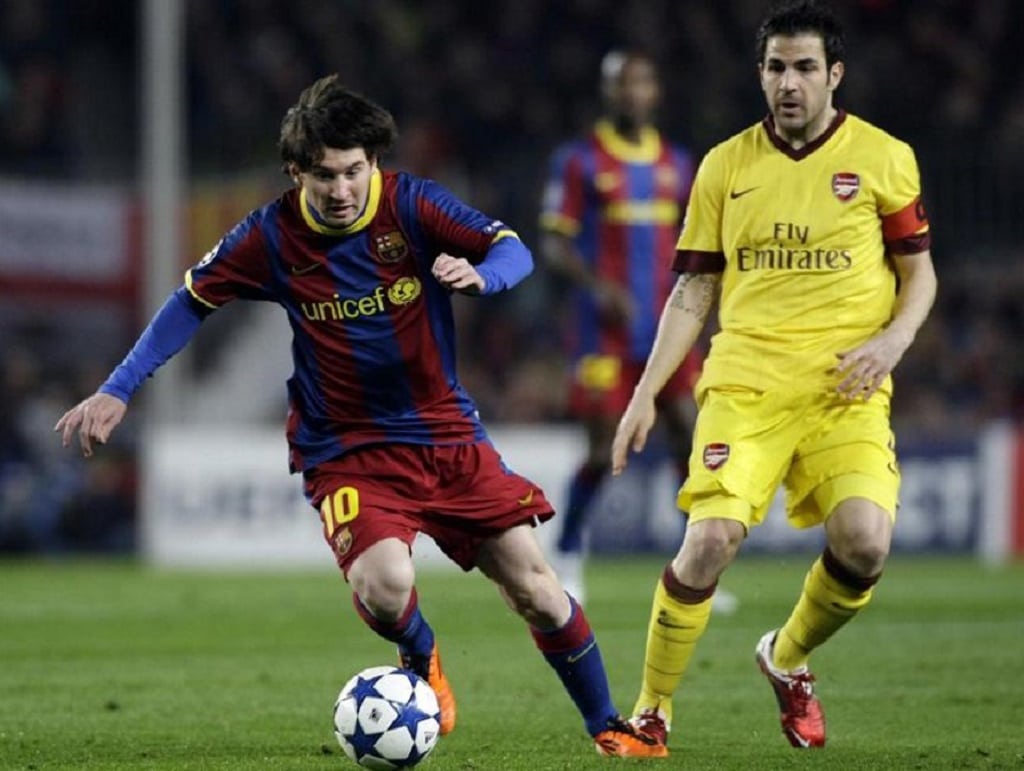 When talking about Lionel Messi, words are an exciting thing to think about. Most of the time, it's because there aren't enough words to describe him. This incredible goal against Arsenal in the second game of their Champions League quarterfinal 2011 is one of Europe's best goals ever scored.
At first, it looks like when Messi gets close to the goal, Manuel Almunia steps on the ball and lifts it for the Argentine to score.
But when you look more closely, you can see that Messi can move quickly enough to lob the ball over the goalkeeper and then put it in the net with his second touch. It didn't even touch the ground. Just incredible and the best goal the Barcelona legend has scored so far.
2. Against Manchester United ( 2009)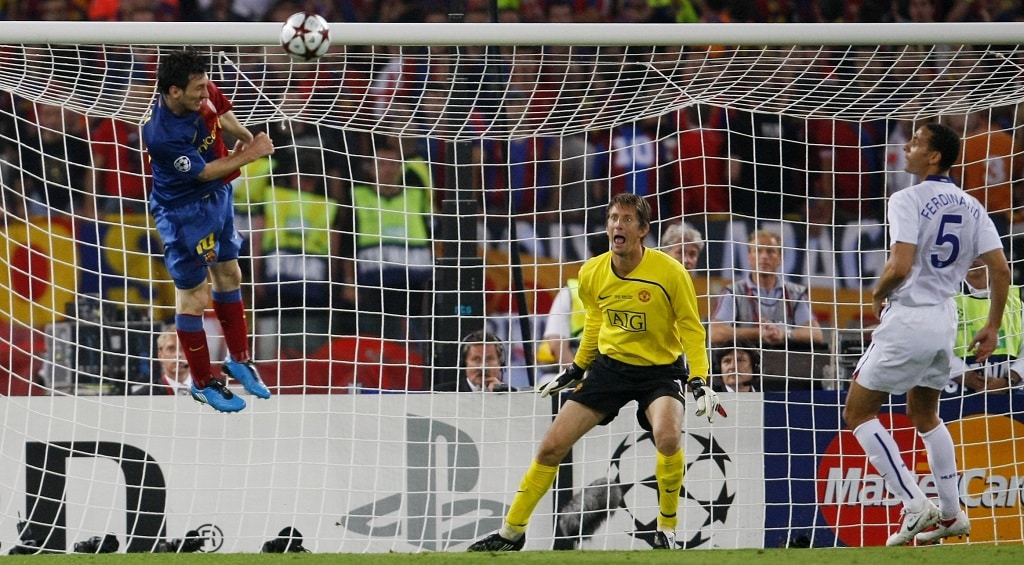 Messi hangs in the air to meet Xavi Hernández's cross and sends his header over Manchester United goalie Edwin van der Sar to seal Barcelona's 2-0 win in the Champions League final. Messi's right shoe falls off when he falls, so he picks it up and runs to hug Thierry Henry before the rest of his team gets there.
3. Against Albacete (2005)
Messi's first goal for Barcelona should have indicated more incredible things to come. At 17, he received a pass from his mentor Ronaldinho and scored an outrageous chip over the Albacete custodian to put his team up 2-0 against the minnows.
Throughout his career, the diminutive Argentine has produced similar chipped goals. However, his lack of experience and the confidence he possessed at the time to attempt such a skilled shot merit its inclusion on this list.
4. Against Getafe (2007)
Lionel Messi's stock began soaring during the 2006/07 season. His reputation surged following his jaw-dropping goal against Getafe in La Liga. Messi fought himself onto the ball and went on a run reminiscent of Maradona's in his prime. In an instant, he was past the entire Getafe team and one-on-one with the keeper.
A fast transfer of the ball to the right revealed an empty net. Lionel Messi, the enigma, was introduced to the world.
5. Against Real Madrid (2011)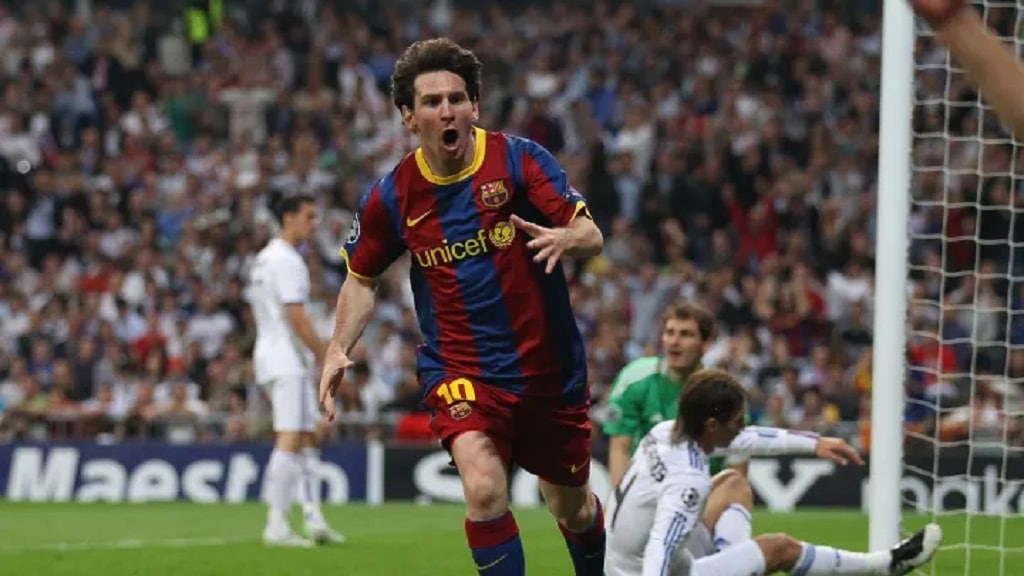 El Clasico is one of the most crucial club rivalries in the world and was arguably the most important when Lionel Messi and Cristiano Ronaldo played in it. In the 2010-11 El Clasico, Messi received the ball 40 yards from the goal and made one of his signature swerving dashes into the Madrid defense. He dribbled past no less than five defenders to score a spectacular solo goal against their fiercest rivals.
6. Against Real Zaragoza (2010)
Lionel Messi is well-known in the game for his long, defense-breaking runs. He battles four players on his path to a goal in this match against Real Zaragoza. After leaving them all in his wake, he hammers the ball hard and low into the net to put Barcelona up 2-0.
While many players his size are derided for being weak and quickly pushed off the ball, Messi demonstrates his power by dispossessing a Zaragoza midfielder and letting his opponents know that, despite his size, he will do everything it takes to obtain the ball at his feet.
This effort unequivocally demonstrates that Barcelona's number 10 is dangerous even when not in possession, which is terrifying for anyone called in to guard the Argentine.
7. Against Real Betis (2012)
If any of Messi's playing years can be characterized as "his year," it was 2012, when he seemed to shatter every record under the sun. The goal that established a Guinness World Record was his second against Real Betis in December; it was his 86th of the year. It was a typical Messi goal, as he smashed the ball into the far corner after receiving a pass from Andres Iniesta to surpass Gerd Muller's record of 85 goals in a calendar year.
8. Against Sevilla (2012)
During the 2011-12 campaign, Messi again wowed the crowd with a breathtaking nutmeg against Sevilla to keep Barcelona in title contention.
While Messi prefers to chip an onrushing custodian, the nutmeg against the Sevilla defender makes this goal memorable.
At the speed at which Messi is sprinting when he receives the ball from Iniesta, it is incredible to see him turn in time to beat the defender and then lead the goalkeeper into the corner, where he can easily pass the ball.
9. Against Bayern Munich (2015)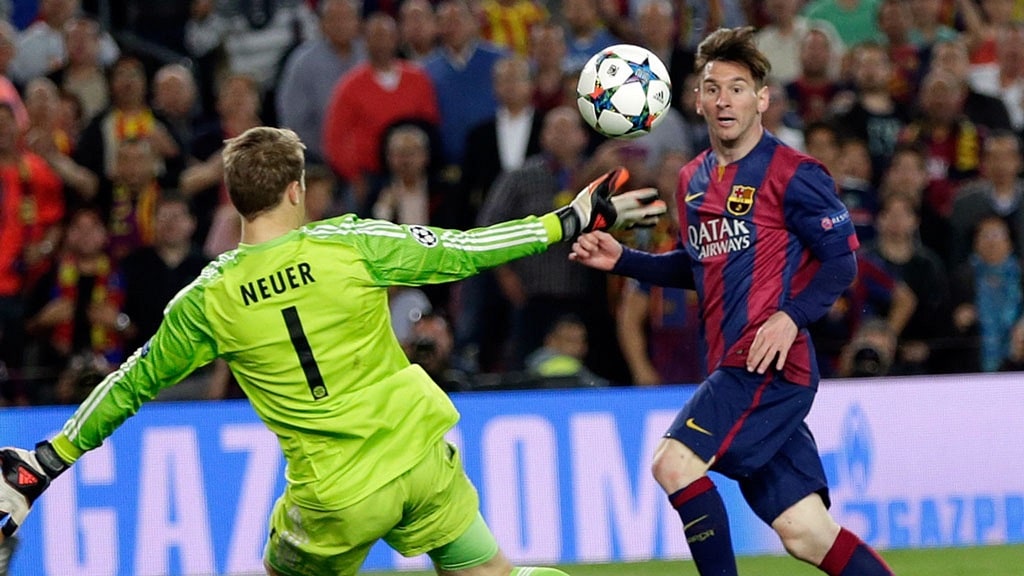 Messi doubled his tally after opening the scoring three minutes earlier to give Barcelona a 1-0 lead against Bayern Munich in the Champions League semi-final. Messi was sent on his way by Ivan Rakitic's pass before the little maestro's deception placed Jerome Boateng on his behind and allowed the Argentine to lift the ball over the onrushing Manuel Neuer nonchalantly.
10. Against Atletico Madrid (2012)
Messi has undoubtedly scored every conceivable type of goal. However, he is arguably not as well-known for his free-kick ability as other famous players. This is undoubtedly the most spectacular free-kick goal ever scored by the Barcelona playmaker, and it occurred in a memorable away match against Atletico Madrid last season.
As with most of Messi's incredible goals, Madrid's goalkeeper Thibaut Courtois is helpless to stop the cheeky shot that is precisely angled into the upper right corner of the goal.
Lionel Messi's 10 Best Goals for Argentina
We already got the top 10 goals of Lionel Messi in Club football. Now we will look further to bring you the top Lionel Messi goals for Argentina.
1. Argentina 2-0 Mexico, World Cup (2022)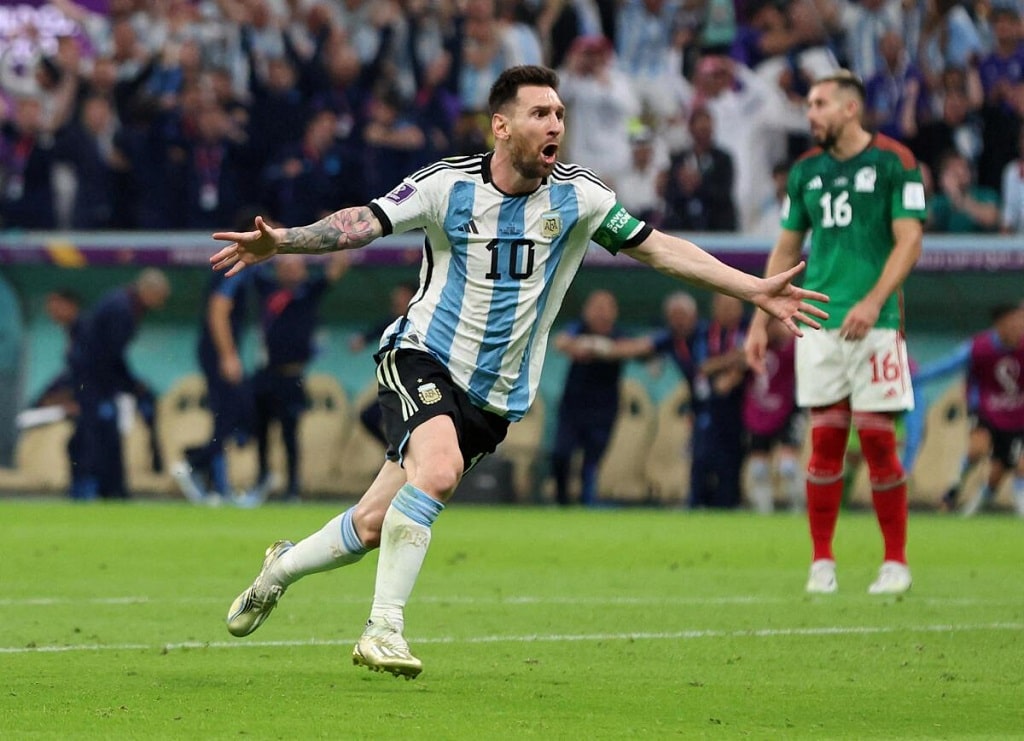 There is an argument that Messi's goal against Mexico in the group stage of the World Cup 2022 was the most significant of his entire career, even though he scored multiple goals in the actual championship game.
Having suffered a shocking loss to Saudi Arabia in the inaugural match, Argentina needed a spark against Mexico. Messi scored the game's first goal at the 64-minute mark, ignited his compatriots, and the rest, as they say, is era-defining history as they went on to win the championship.
2. Argentina 3-0 Colombia, World Cup qualification (2016)
Needing a win to revitalize Argentina's flagging World Cup qualification campaign, Messi required just nine minutes to open the score in San Juan with a superb straight free kick, which eventually helped bring Argentina's four-match winless streak to an end.
3. Argentina 4-3 Brazil, Friendly (2012)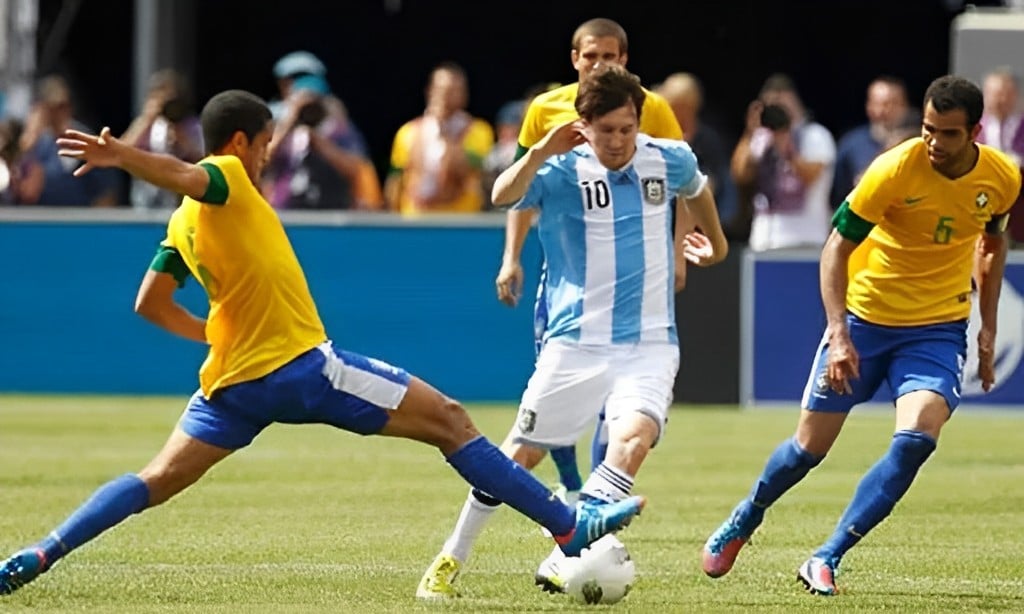 Lionel Messi showcased his unrivaled passion and talent in a fiercely contested friendly match between Argentina and Brazil. In a game that felt like a cup final, with 80,000 passionate fans in attendance, Messi's heroic hat trick delivered a sucker punch to his renowned rivals.
The standout goal was his third, a magnificent lob from outside the box after an unstoppable run through Brazilian territory. This superb strike sealed the victory for Argentina and granted them the ultimate bragging rights. The intensity escalated as the match concluded, with Marcelo and Ezequiel Lavezzi receiving red cards for their involvement in a heated altercation during injury time.
4. Ecuador 1-3 Argentina, World Cup qualification (2017)
Argentina came perilously close to missing the World Cup for the first time since 1970 when they trailed Ecuador in a vital qualifier in Quito. Thankfully, calamity was avoided when Messi performed magnificently to save an entire nation from despair. They were in the draw for Russia 2018 after their captain delivered a clutch hat trick.
5. Argentina 1-0 Brazil, Friendly (2010)
Messi's first international goal against Brazil came on the fifth try and proved the difference between the two teams as they met in Doha, Qatar, for an exhibition friendly. The game-winning goal came in the 92nd minute when the Barcelona attacker slalomed from the midway line, cut past five players, and rolled a superb finish past goalkeeper Victor.
6. Argentina 3-0 Mexico, Copa America (2007)
Argentina made it to the final of the 2007 Copa America thanks partly to a brilliant goal from their talented 20-year-old winger. The goal was an audacious lob from 18 yards out that was scored on the hour mark. However, the Albiceleste didn't keep up the pace and lost to Brazil in the final.
7. United States 0-4 Argentina, Copa America (2016)
Lionel Messi had a remarkable performance in the semifinal match of the Copa America Centenario held in Houston. He scored one goal and provided two assists in Argentina's dominant 4-0 victory over the United States. Messi's goal, which came as Argentina's second of the night, was a thing of beauty.
He effortlessly curled a stunning free kick from 25 yards into the top corner of the net. This goal contributed to Argentina's win and marked a significant milestone for Messi himself. By surpassing Batistuta's record, Messi became his national team's all-time leading goal scorer. However, there has been some debate and confusion regarding Batistuta's official goal tally.
8. Argentina 1-0 Nigeria, World Cup (2018)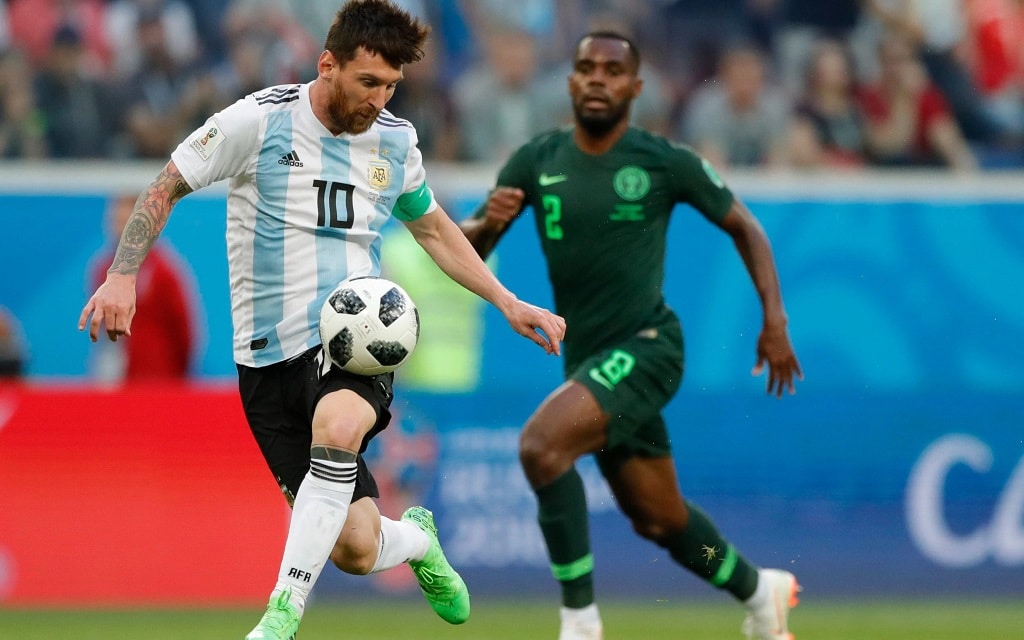 In a crucial World Cup match against Nigeria, Lionel Messi delivered a moment of brilliance that left fans in awe. With the game tightly contested, Messi showcased his exceptional control as he deftly brought down a daring 50-yard pass from Ever Banega on the edge of the Nigerian box.
With precision and composure, he unleashed a shot that sailed past a helpless Francis Uzoho, breaking the deadlock and propelling Argentina to the knockout rounds. This magnificent goal received global acclaim and rightfully earned a nomination for Goal of the Tournament, solidifying Messi's status as a true maestro of the game.
9. Argentina 1-0 Iran, World Cup (2014)
Messi couldn't quite carry his team to victory at the 2014 World Cup, but there's no question that his goals and creativity propelled Argentina through the group stages and into the knockout round. This last-minute goal gave South America a 1-0 victory over Iran, who had repelled everything the South Americans had hurled at them until then.
10. Croatia 3-2 Argentina, Friendly (2006)
The first goal of Messi's senior international career came on his sixth appearance and served as a precursor to what was to come. The young Barcelona winger pounced on a loose pass, sprinted upfield, cut inside, and curled a clipped shot inside the far post, a finish that has since become highly familiar to fans.
Final Words 
Lionel Messi has given football fans many unique goals throughout his illustrious career with Barcelona and the Argentina national teams. Whether it's his mesmerizing dribbles, precise finishes, or audacious long-range strikes, Messi has consistently demonstrated his exceptional skill and sheer brilliance on the pitch.
From his remarkable solo efforts to his crucial goals in high-stakes matches, Messi's top 10 goals showcase his unrivaled talent and ability to change the course of a game single-handedly. Each goal represents a testament to Messi's unwavering dedication, extraordinary technique, and remarkable vision, solidifying his status as one of the greatest footballers of all time.
Subscribe to Our Latest Newsletter
To Read Our Exclusive Content, Sign up Now.
$5/Monthly, $50/Yearly