Is Ronaldo Better than Messi? Twitter Fans Weigh In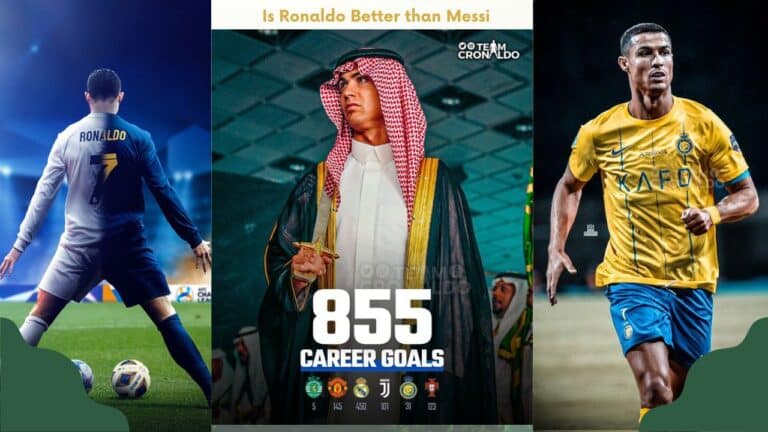 Cristiano Ronaldo continued his impressive season with Al-Aalami by scoring in Al-Nassr's 3-1 victory over FC Istiklol. This remarkable performance came just days after Lionel Messi missed the chance to play in the US Open Cup final.
Ronaldo's goal-scoring streak shows no sign of stopping, and in their AFC Champions League Group E clash, Istiklol surprisingly took the lead in the 44th minute with a goal from Senin Sebai.
Al-Nassr found themselves trailing 1-0 at halftime, which was quite unexpected given that they were heavily favored to win. However, things took a turn in the 66th minute when Ronaldo made his mark at the KSU Football Field.
The top scorer in the Saudi Pro League demonstrated his persistence by scoring his first AFC Champions League goal. It took him two attempts, but he finally managed to lift the ball over Russian goalkeeper Rustam Yatimov, securing a crucial equalizer.
Anderson Talisca then scored twice at the 72nd and 77th minutes as Luis Castro's team made a spirited comeback, maintaining their flawless record in the AFC Champions League campaign. They currently lead Group E with two wins in as many games.
Cristiano Ronaldo's outstanding form continues, with the Portuguese superstar now boasting an impressive tally of 11 goals and six assists in just 10 games across various competitions this season. He's proving that age is merely a number with yet another mesmerizing performance for Al-Nassr.
This remarkable display by the iconic Portuguese player comes shortly after his long-time rival, Lionel Messi, had to miss Inter Miami's 2-1 defeat to Houston Dynamo in the US Open Cup final due to injury. Even though these two legendary attackers have ventured beyond Europe to ply their trade, there's still an undeniable sense of rivalry as they compete on different sides of the globe.
Notably, Ronaldo's delightful chip goal, which he executed with his left foot, prompted one fan to draw a comparison with Messi's skills.
"Ronaldo is the GOAT for a reason. His Left foot is bigger than Messi."
Another fan thinks the Al-Nassr star will win his sixth Ballon d'Or next year:
"Agenda aside Cristiano Ronaldo is winning next year Ballon d'Or."
Fans on X (previously Twitter) responded after Al-Aalami won two straight in Group E of the AFC Champions League:
No one has scored more UEFA Champions League goals than Cristiano Ronaldo.

Now he's got his first goal in the AFC Champions League 🌟 pic.twitter.com/R7lF6kUExz

— B/R Football (@brfootball) October 2, 2023
CRISTIANO RONALDO GOAL !

THE GREATEST THERE IS, THE GREATEST THERE WAS, THE GREATEST THERE WILL EVER BE

— Janty (@CFC_Janty) October 2, 2023
🚨 RONALDOOOOOO get his FIRST ever AFC Champions League GOAL!

855 career goals for the GOAT. ⚽🐐 pic.twitter.com/vW3lwUrURD

— TCR. (@TeamCRonaldo) October 2, 2023
Agenda aside Cristiano Ronaldo is winning next year balond'or pic.twitter.com/AmujOZtFqo

— Tony Grey 🀄️ (@uncle_greyy) October 2, 2023
CRISTIANO RONALDO'S FIRST AFC CHAMPIONS LEAGUE GOAL. 😤 pic.twitter.com/AwI3D6lK5l

— CBS Sports Golazo ⚽️ (@CBSSportsGolazo) October 2, 2023
Ronaldo will win the Champions League with Al Nassr pic.twitter.com/z7YcArM1Lq

— Twilight (@the_marcoli_boy) October 2, 2023
Ronaldo is the GOAT for a reason. His Left foot is bigger than Messi pic.twitter.com/FHmYLsGE9i

— Twilight (@the_marcoli_boy) October 2, 2023
Only ballon D'or favourite Erling Halland has more goals scored (37) than Cristiano Ronaldo (36) this year.

Just a reminder that Cristiano Ronaldo is 38 years of age 🐐 pic.twitter.com/XG3JdRy83E

— Preeti (@MadridPreeti) October 2, 2023
Ronaldo scores every game week but no one is talking about it o

He has a bad game and they will suddenly remember he still plays football

— Mayowah (@Mayowahh) October 2, 2023
Ronaldo has now scored in all international club tournaments that he participated in.

• Champions League ✅
• Europa League ✅
• European Supercup ✅
• Club World Cup ✅
• AFC Champions League 🆕 pic.twitter.com/dEHFIR1xMZ

— TCR. (@TeamCRonaldo) October 2, 2023