How to Forgive Yourself for Cheating? – Revealed 20 Ways!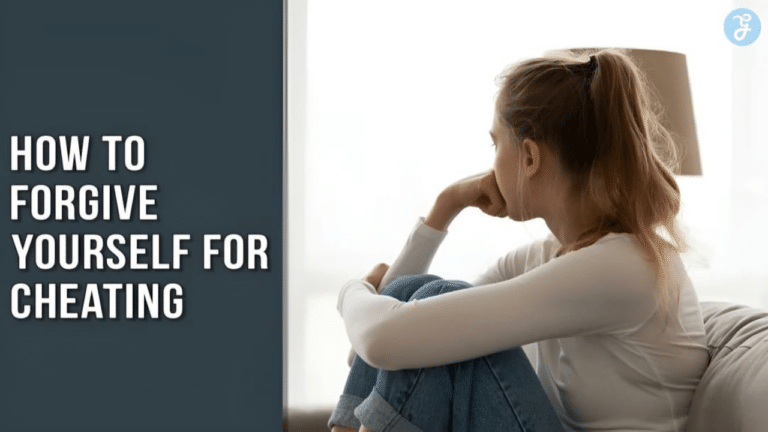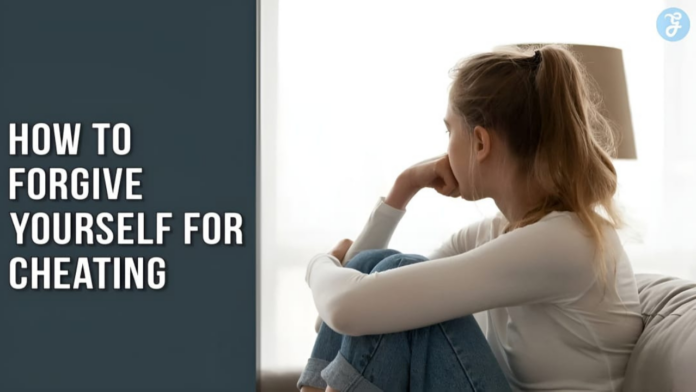 Cheating on a partner can cause a lot of pain and confusion, leaving you feeling guilty and lost. But there is hope for healing and moving forward through self-forgiveness. It may not be easy, but by taking small steps and being kind to yourself, you can start the journey toward forgiving yourself for your actions.
So how to forgive yourself for cheating?
There are a lot of ways and you'll have to try so many things to understand which one clicks for you. It can be confessing the truth, maintaining a positive self-image, seeking professional help, and others.
In this guide, you'll learn about 20 such ways. So, keep on reading till the end. 
Is It Okay to Cheat & Not Tell?
The acceptability of cheating and not telling your partner can vary depending on the circumstances and the specific dynamics of the relationship. Cheating can take different forms, such as physical or emotional affairs, micro-cheating, or various types of online infidelity. However, what constitutes cheating and whether it is necessary to disclose it may depend on the boundaries and agreements established within your relationship.
There are situations where some individuals may choose not to disclose their infidelity:
Safety concerns:

If your partner has a history of violence or displays abusive behavior, not revealing infidelity might be a matter of personal safety. In such cases, disclosing the cheating could potentially escalate into domestic violence.

Emotional abuse:

If you are in an emotionally abusive relationship characterized by gaslighting, stonewalling, or controlling behaviors, disclosing infidelity may lead to further harmful conflict or manipulation.

Relationship ambiguity: When a relationship lacks clear communication or has unclear boundaries, some people may cheat as a way to test whether the relationship is truly over. In these cases, the individual may not feel obligated to disclose the infidelity since the relationship is already in a state of uncertainty.
One-time mistake:

In certain situations, such as a one-night stand, individuals may fear that disclosing the cheating would automatically lead to the end of the relationship. Depending on the level of commitment and prior agreements within the relationship, disclosing a one-time mistake may not be deemed necessary. However, it is essential to have honest conversations and establish clear boundaries regarding fidelity and expectations.
Possible Keys to Protecting Your Relationship From Cheating
If your relationship has not experienced infidelity, you may be interested in discovering ways to minimize the risk of such occurrences in the future. A study examining couples who successfully maintained monogamy highlighted several protective factors that appeared to decrease the likelihood of cheating:
Establishing Healthy Boundaries:

This encompasses setting clear expectations and limits regarding behavior, relationships, and thoughts. Healthy boundaries contribute to a sense of trust, respect, and security within the relationship.

Nurturing Romantic Intimacy:

Cultivating and maintaining a deep emotional and physical connection with your partner promotes fulfillment and satisfaction within the relationship. Prioritizing open communication, affection, and shared experiences can strengthen the bond between you and your partner.

Enhancing Compatibility:

Shared values, interests, and goals contribute to compatibility and strengthen the foundation of your relationship. Building upon commonalities and maintaining a sense of shared purpose fosters mutual understanding and a deeper connection.

Embracing Monogamy:

A shared belief in and commitment to monogamy reinforces the exclusivity and fidelity of your relationship. Aligning values and beliefs regarding commitment and loyalty helps establish a strong foundation for trust and faithfulness.

Developing Healthy Coping Skills:

Both individually and as a couple, cultivating effective coping strategies promotes resilience and emotional well-being. By managing stress, conflicts, and challenges in a healthy manner, you can reduce the likelihood of seeking solace or escape through infidelity.
20 Ways to Forgive Yourself for Cheating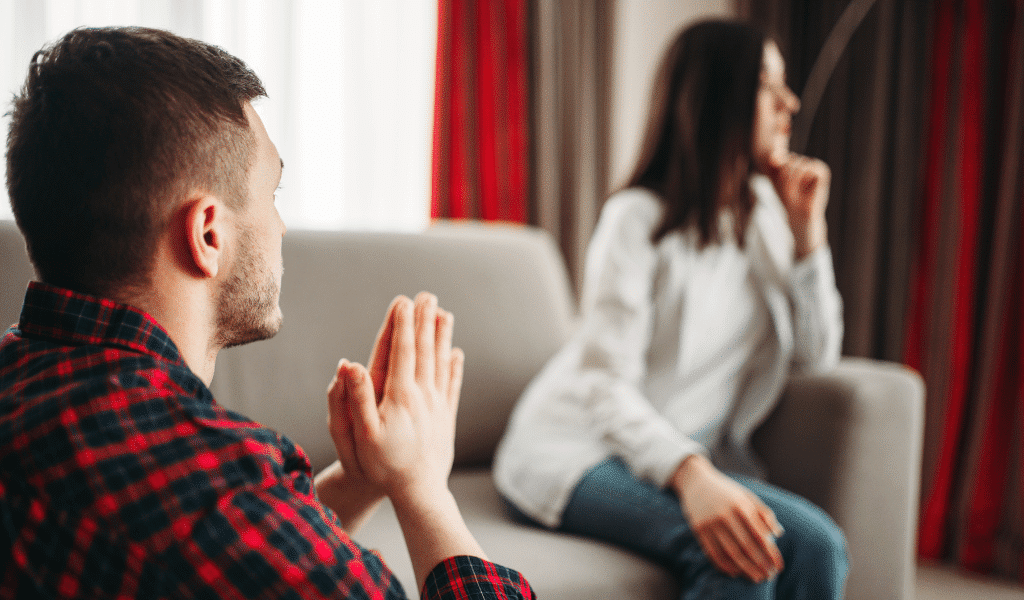 Below I'll be discussing 20 methods on how you can forgive yourself for cheating and not telling.
Acknowledging and Accepting the Cheating
To begin the process of forgiving yourself for cheating, it is essential to take ownership of your actions and recognize that every choice has consequences. Accepting your mistakes and acknowledging that you did something wrong is the first step toward self-forgiveness.
Taking Steps to Prevent Future Cheating
To avoid finding yourself in a similar situation again, take proactive steps to resist temptations. Cut ties with the person you cheated with, avoid specific triggers or situations, limit social media usage, and establish personal boundaries. Demonstrating trustworthiness through consistent actions is crucial in rebuilding trust with your partner.
Moving Forward
Forgive yourself by embracing the present and continuing to live your life. While it is necessary to acknowledge and learn from past mistakes, it is equally important not to dwell on them. Your past actions do not have to define you as long as you are committed to making amends and personal growth. Remember that healing and self-forgiveness take time, so be patient and kind to yourself as you envision a positive future.
Understanding the Motivations
It is crucial to ask yourself why you cheated in order to resolve internal and external conflicts. Reflect on your motivations and try to understand what led you to cheat on your partner. This introspection can help you gain insights into yourself and your needs.
Consider questions such as whether the relationship feels right, if you compare your relationship with others, if you are emotionally and physically fulfilled, what you want in life and a relationship, what tempts you, if you imagine yourself with someone else, and how confident you are in yourself.
Working Through Your Feelings
Take the time to process your emotions and work through your feelings related to the cheating. Reflect on how the act of cheating made you feel and explore the emotions that arise when questioning your relationship and faithfulness. Self-reflection and emotional analysis can help you gain self-awareness and clarity. Writing your thoughts in a journal or practicing meditation can assist in processing your feelings.
Considering Disclosure to Your Partner
If you haven't already done so, consider being honest with your partner about your infidelity. Admitting that you cheated can help alleviate guilt and relieve the burden of dishonesty. Sit down with your partner face-to-face and communicate openly and honestly about what happened.
Take responsibility for your actions and sincerely apologize, avoiding shifting the blame. Remember that forgiveness takes time, and your partner may not be obligated to forgive you, even after an apology. Respect their feelings, give them space, and be prepared for the possibility of the relationship ending.
Maintaining a Positive Self-Image
Rather than punishing yourself, it is important to think of yourself in a positive light. Self-hate and negative thoughts can hinder personal growth and prevent positive changes. Remind yourself that you are human and capable of learning from mistakes. Replace self-directed negativity with positive and compassionate thoughts. While cheating may have consequences for your relationship, it does not define your entire being. Take each day as an opportunity for growth and learning.
Seeking Professional Help
If you are still struggling with guilt and finding it difficult to forgive yourself, consider seeking professional help. Reach out to a therapist or marriage counselor who can guide you through the process of forgiveness.
Involving your partner in therapy sessions can be beneficial, especially if both of you are working on rebuilding the relationship. Online counseling services like BetterHelp and Talkspace offer virtual individual and couples counseling for added convenience.
Cultivate Self-Compassion
Approaching yourself with empathy is an important aspect of healing and forgiving yourself. Instead of judging yourself for your actions, try to understand the reasons behind your behavior without harsh self-criticism. Embracing self-compassion allows you to acknowledge your flaws and mistakes while still recognizing your inherent worth. This mindset shift can support your journey toward self-forgiveness.
Engage in Journaling
Keeping a journal can be a helpful tool for processing your emotions and tracking your personal growth throughout the healing process. Use your journal as a safe space to express yourself without judgment.
Write down your thoughts, reflections, and experiences related to infidelity. Over time, you can look back on your journal entries and observe how you have evolved and gained a deeper understanding of yourself. Journaling can provide a sense of closure and allow you to move forward.
Embrace Mindfulness
Practicing mindfulness techniques can assist in managing the intense emotions that arise following infidelity. Mindfulness can take various forms, so it's important to explore different techniques and choose the ones that resonate with you. Some examples include:
Meditation:

Dedicate time to sit quietly, focusing on your breath or a specific point of focus, allowing thoughts and emotions to come and go without judgment.

Yoga:

Engage in

yoga poses

and movements while cultivating awareness of your breath and sensations in your body.

Progressive Muscle Relaxation:

Systematically tense and relax different muscle groups in your body to release tension and promote relaxation.

Grounding Techniques:

Use your senses to anchor yourself in the present moment by focusing on specific sights, sounds, smells, tastes, or textures.

Breathwork:

Practice intentional breathing exercises to calm your mind and body, such as deep belly breathing or alternate nostril breathing.
Explore Your Triggers
Taking the time to examine the triggers that lead to certain emotional reactions or behaviors is crucial for personal growth and healing. By identifying these triggers, you can better understand the underlying causes and develop effective coping strategies.
The "4 W's" technique can be helpful in this process. Reflect on what specifically triggers you, where it originates from, when it tends to occur, and why it elicits a particular response. This exploration allows you to delve into the emotions associated with your triggers and establish connections between these feelings, thoughts, and subsequent events.
Avoid Making Excuses
Taking responsibility for your actions is a vital part of the journey towards self-forgiveness after infidelity. Making excuses can hinder personal growth and impede the process of healing. While it is important for both you and your partner to acknowledge your respective roles in the infidelity, it is primarily the responsibility of the person who cheated to hold themselves accountable for their actions.
This accountability becomes even more crucial if you aim to salvage your relationship or marriage after an affair. By refraining from making excuses, you can focus on self-reflection, growth, and the necessary steps to rebuild trust and move forward.
Practice Patience
Patience is a crucial element in the process of forgiveness and healing. It is natural to desire a faster resolution or a quicker path to healing, but it's important to acknowledge that the journey takes time. Recognize that healing from infidelity can be overwhelming, and be patient with yourself as you navigate through the motions and challenges that arise. By accepting that the healing process has its own timeline, you can bridge the gap between your expectations and the reality of the situation.
Make Adjustments to Your Routine
To achieve self-forgiveness after cheating, it is important to make changes to aspects of your lifestyle. This is because certain elements of your life may have contributed to the infidelity. Take the time to identify any triggers that may have led to your cheating behavior.
For instance, you might need to shift your perspective on your partner and the relationship itself. Additionally, it may be necessary to reevaluate your self-perception, appreciating yourself more, and cultivating a mindset that discourages cheating. Even if your partner is hesitant to continue the relationship, making positive changes in your life can help you move forward.
Be Prepared to Accept the Outcome
If feelings of guilt surrounding your infidelity are hindering your progress, it is possible that you have been unwilling to accept the potential consequences of your actions. When a partner cheats, there are two possible outcomes: the relationship either ends or it survives. If it appears that your relationship is heading towards a breakup, it is crucial to mentally prepare yourself for this outcome.
Ultimately, the final decision rests with your partner, who is processing their emotions and assessing whether they can tolerate the breach of trust. It is important to understand that if your partner is still hurting, they have every right to their feelings. Therefore, be prepared for whatever decision they make and strive to cooperate with them.
Cultivate Support Systems
Building a strong support system is invaluable when moving forward after infidelity. Surrounding yourself with supportive individuals can provide guidance, strength during difficult times, and a sense of security. Your support system may include friends, family members, spiritual leaders, or professionals such as therapists or counselors.
The key is to have a network of people who can be there for you when needed. Remember that you have the autonomy to choose when and how to utilize your support system, based on your own comfort and needs.
Sever Connections with the Person You Cheated With
To facilitate self-forgiveness and alleviate the guilt associated with cheating, it is crucial to end the affair and completely cut ties with the individual involved. Continuing to communicate or maintain contact with the person you cheated with can increase the likelihood of repeating the infidelity, leading to ongoing guilt and hindering your ability to move forward.
Commit to Self-Improvement
Engage in introspection to understand the underlying factors that led to your infidelity. By honestly examining yourself, you can identify areas in which personal growth and development are needed.
It's possible that fear of commitment drove you to sabotage your relationship, or you may have sought a sense of freedom without fully comprehending the emotional toll of an affair. Regardless of the reasons, make a conscious decision to raise your personal standards and strive to become a better individual.
Will Therapy Help in Forgiving yourself for Cheating
If you are grappling with feelings of shame and guilt, therapy can be a valuable resource in navigating the path to self-forgiveness. Approaches such as cognitive-behavioral therapy (CBT), dialectical behavioral therapy (DBT), and eclectic therapy can help you delve into the reasons behind your actions, develop healthier coping strategies, and improve your relationship with yourself.
Marriage and couples therapy can also be beneficial after infidelity. It provides a safe and structured environment for couples to address their individual emotions, establish expectations regarding forgiveness and recovery from infidelity, and redefine relationship boundaries.
Couples counseling can assist in the process of forgiving your partner, working through the aftermath of infidelity, and rebuilding trust. To find the right therapist for your needs, consider using an online therapist directory, which allows you to filter by insurance, location, specialization, and more.
What to Do After Self-Forgiveness?
Now you already know how to forgive yourself for cheating when drunk. However, you need to know something more for the future. 
Once you have forgiven yourself, it is important to continue checking in with yourself and actively apply what you have learned from the experience. This includes effectively communicating your expectations, needs, and boundaries in relationships.
Consistency in expressing your needs and utilizing healthy coping mechanisms will help prevent future instances of infidelity and ensure that the growth and forgiveness you have achieved are maintained in the long run. Remember that a mistake does not define you; it is how you move forward and learn from it that truly reflects your character.
How to Stop Yourself from Cheating Again?
We don't want you to regret it again after cheating and that's why we're here with this topic. So, read on.
Making a Clear Decision
When it comes to your relationship, it's important to make a firm decision instead of resorting to cheating. Take the time to reflect on whether you want to stay in the relationship or not. Cheating and then expressing your dissatisfaction is hurtful and unnecessary. So, before making any foolish choices, make sure you make the right decision for yourself.
Considering the Worth
Before engaging in infidelity, ask yourself if it's really worth it. Think about the promises you made to each other and the future plans you envisioned together. Is giving up something so valuable for a fleeting temptation truly worth it?
Investing in Your Relationship
If your relationship has been struggling and you find yourself tempted by others, try investing more in your current relationship. Putting in extra effort and showing appreciation towards your partner can help mend the broken bonds. If, despite your efforts, things don't work out, you have the option to end the relationship without resorting to cheating.
Avoiding Comparisons
Every individual is unique, and comparing your partner to others will only lead to dissatisfaction. While someone else may seem more attractive, they may lack the qualities that your partner possesses. It's crucial to stop comparing your partner to others, as this can contribute to infidelity.
Resisting Love Confessions
If you are committed to someone, it's important to reject love confessions from others. Engaging in flirtatious behavior and entertaining advances from random individuals can easily lead to an extramarital affair. Stay true to your commitment and avoid situations that may jeopardize your relationship. If you're interested also read on Male and female cheating statistics. 
Final Words
We've reached almost the end of the article and hopefully, you've now a better idea of – how to forgive yourself for cheating.
I think you should read all the ways again and try to understand which way you feel most comfortable the most. And in serious cases, I suggest taking medical treatment. Thank you!
Subscribe to Our Latest Newsletter
To Read Our Exclusive Content, Sign up Now.
$5/Monthly, $50/Yearly