Google Pixel Watch 2 Review: A Smartwatch for Everyone [Release Date Updates]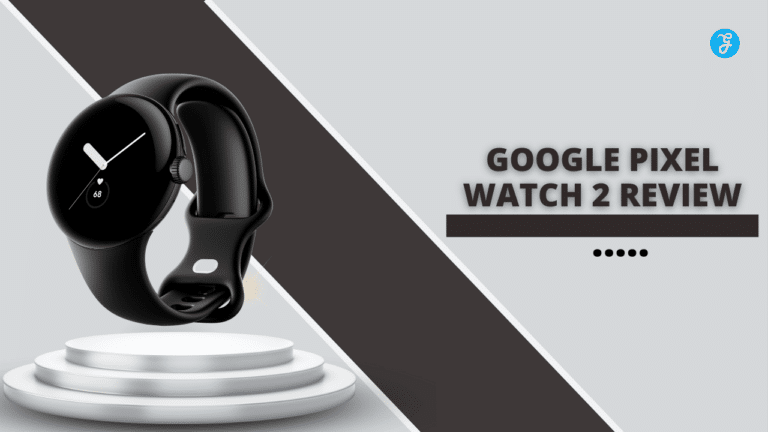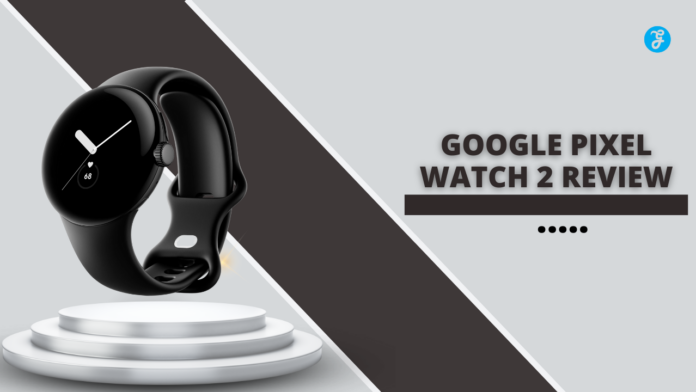 Are you considering buying the Google Pixel Watch 2? Do you want to stay updated on all its details before its release? I understand, and I've been in a similar spot! After delving deep into countless rumors, researching specs, and getting insights from industry veterans, I have everything that you need to know about this eagerly-awaited smartwatch. 
In this review, I'll break down the Google Pixel Watch 2 Review. Also, I'll break down the latest information surrounding its launch – such as date and price – plus hardware specs, including battery life and Qi wireless charging support.
Additionally, take a look at upgrades compared to predecessor; user expectations & wishlist for improvements; pros & cons comparison; value proposition analysis, plus much more. So stick around and dive into what the new Google Pixel Watch 2 has in store for us!
Content Highlights
The Google Pixel Watch 2 is expected to be unveiled on October 4, 2023, with prices suggested to start at $349.99.

It is set to have a variety of watch faces, including digital and analog styles that are customizable with complications such as calendar events, weather forecasts, or activity tracking.

The device will feature a Qualcomm Snapdragon W5 Gen 1 chip, offering improved processor performance and battery life, plus Qi wireless charging supports for greater ease of use while on the go.

Rumors surrounding its release suggest it could have enhanced sensors for accurate health and activity tracking alongside Fitbit's rich features merged into its core framework – giving users more practicality benefits than ever before!
Google Pixel Watch 2 Release Information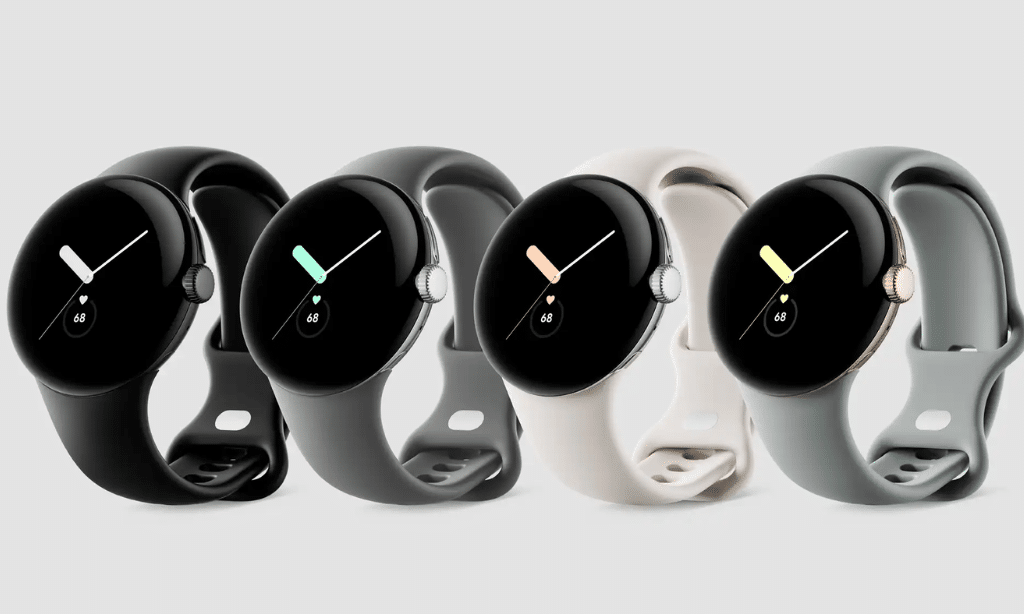 The anticipated release of the new Google Pixel Watch 2 is expected to be on October 4, 2023, with speculation around pricing and available colors, bands, design, and size.
Release Date and Price
I've researched a lot and figured out the right date. The Google Pixel Watch 2 is anticipated to be unveiled during the Made by Google event on October 4th, 2023 at, at 10:00 AM ET. – and available for pre-order that day. It's expected to have a price of $349 – though this is not confirmed yet, so keep an eye out for updates before committing to purchase.
I think this cost would make it competitive with its predecessor, as the original version sported a $349 market value when released in 2018. That said, some rumors have suggested there may be an additional fee associated with any LTE versions released on launch day.
It could also vary between countries depending on tax rates or specific retailer discounts offered closer to the launch date – important details of which are likely to remain unconfirmed until just before release!
Colors, Bands, Design, and Size
The new Google Pixel Watch 2 is sure to stand out from the crowd: available in vibrant Gold, sleek Black, and modern Silver colors. I found all of them attractive. Each color variant offers a different band option that perfectly matches the watch's casing for a truly personalized experience.
As for design, rumors point towards an overall aesthetic similar to that of its predecessor- however, with some minor improvements. It is said to have an easily swappable wristband as well as easy access to Qi wireless charging support.
In terms of dimensions and size, no official information has been released yet. However, it's likely this smartwatch will be aesthetically pleasing for any occasion, whether you're running errands or hitting up brunch with friends!
Watch Faces
The Google Pixel Watch 2 is rumored to have a variety of stylish digital and analog watch faces for users to choose from. Leaked images suggest that the watch will feature both digital styles, such as "Bold Digital," as well as classic analog designs, like "Analog Bold."
Both types will offer customizable features, with users able to add complications depending on their preferences. For example, some smartwatches allow additions such as calendar events, weather forecasts, or activity tracking.
In addition to settings (such as brightness adjustment), the user can also personalize the style and color of their wearable with choices ranging from more muted tones like black and gray right up to bolder shades like red and yellow.
Google Pixel Watch 2 Review: Specs and Features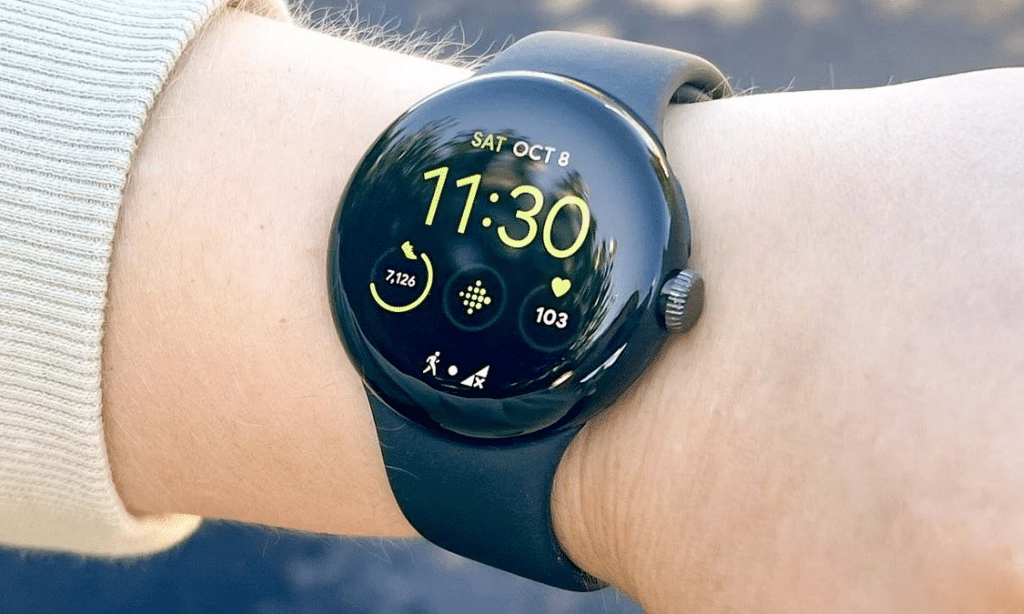 Offering a beefy battery life of up to 3 days, it comes with Qi wireless charging support and improved tracking for fitness-related activities to help you stay on your goals.
Battery life
I was excited about the battery life, and it came out as a worthy one. The Google Pixel Watch 2 is expected to have a significantly longer battery life than its predecessor. Although the original Pixel Watch had an impressive 24 hours of battery life with AOD turned off, moderate usage brought that down to about 12-15 hours, requiring charging twice per day.
The rumored 306mAh battery on the Pixel Watch 2 is an increase of 4% over the 294mAh of its forerunner and could offer even better power efficiency for potentially extended periods of use.
Multiday battery life may also be possible as users hope for improved stamina in terms of long-term user experience.
Qi Wireless Charging Support
The Google Pixel Watch 2 is rumored to have wireless charging, the latest inductive charging technology. With this feature, users can rest assured that their watch battery will always get a full charge without ever having to fuss with cables or wires.
Through inductive charging, power is transferred from an external device, such as a compatible charger, to the battery of the device. This provides more efficient and convenient recharge than traditional wired options and means you'll never have to worry about leaving your USB cable behind when on the go.
Furthermore, most Qi-enabled chargers also offer reverse charges for improvement, which I found really great convenience – allowing other small devices, such as smartphones or accessories in your bag/pocket, to get recharged without cords! All in all, wireless charging support makes the user experience even more enjoyable, so it's no wonder that everyone is eagerly awaiting its release on the Pixel Watch 2.
Fitness Tracking Improvements
The Google Pixel Watch 2 is expected to revolutionize the standard of fitness tracking excellence. With its rumored heart rate sensor, plus ECG and blood oxygen level monitoring, users will be able to more precisely track their overall health and well-being while exercising or on the go.
The growing array of smartwatches incorporating advanced gadgetry such as built-in GPS and optical heart rate monitoring are always a plus with any enhanced watch model. On top of that, my special thanks go to Qualcomm's Snapdragon W5 chipset featured in this device; battery life should see significant improvements, which is key when trying for long days without recharging.
Furthermore, according to the latest rumors from reliable sources, it is thought that merging Fitbit's rich features into its core framework could add even more practical benefits for users greatly looking forward to this next iteration's release.
Processor and Hardware Specifications
Rumors suggest that the Google Pixel Watch 2 will feature a Qualcomm Snapdragon W5 Gen 1 chipset. I think this would upgrade from the two-year-old chips used in the previous model and act as a significant boost for both battery life and performance.
It is believed that this processor can offer up to 30% more power than its predecessor, meaning improved program execution speed, multitasking efficiency, and enhanced gaming experience.
Additionally, it includes four larger cores with a 50% higher frequency range which enables quick access to applications while being energy efficient at the same time. Furthermore, it provides support for wireless charging Qi protocol which further increases convenience during frequent use throughout the day.
Latest News and Rumors about Google Pixel Watch 2
Stay updated on the latest news and rumors surrounding Google Pixel Watch 2's release date, price, and potential new features.
Release Date Updates
The launch date of the much-anticipated Google Pixel Watch 2 is officially set. On October 4th, 2023, 10:00 AM ET, spectators tuned in to the virtual Made by Google event will not only be treated with the unveiling of this new device but also able to secure their pre-orders right away.
This big news has caused a stir among tech enthusiasts who have been eagerly awaiting its release since rumors began floating around about the product earlier this year. Not only is it expected that more details such as color and design options for the watch face will become available on launch day – but it's believed that various hardware and software specifications may also come with impressive upgrades from its predecessor.
For those looking forward to grabbing their hands on one of these slick watches, start setting your alarms for October 4th!
Price Rumors
In regards to the upcoming Google Pixel Watch 2, there are a few price rumors floating around. According to these rumors, the prices of both the base model and LTE versions of the watch could be similar to those of its predecessor.
That means that users may expect an initial cost for basic models at $349.99 (which was also the pricing frame for older models). However, it's been speculated that since this will include an LTE version as well – buyers could potentially pay up to $50 more for that feature than they would have done with previous generation watches.
Additionally, there is a rumor circulating suggesting that if one purchases a Pixel 8 Pro phone, then you may just get a complimentary Pixel Watch 2 too! Something else worth noting is that based on leaked information, Google might provide a year's support period for this particular watch, making it quite an attractive proposition in terms of longevity and dependability factor.
New Features Speculation
I have heard about numerous new features speculated for the Pixel Watch 2, with many improvements and advancements mentioned compared to its predecessor. Rumors suggest that it could feature a Qualcomm Snapdragon W5 chipset instead of the Exynos 9110 chip used in the first-generation watch, adding more power and efficiency to the device.
Additionally, there are likely to be four exclusive watch faces designed specifically for this model. Fitness tracking should also see enhancements through improved sensors monitoring activity levels and health metrics like heart rate.
A Qi wireless charging support could also be included as part of the upgrade package on board. Other rumored upgrades include increased memory storage capacity, newer software updates giving access to date applications, and better integration with Fitbit products.
Read also: World Most Prestigious Watchmakers
Comparison with Previous Pixel Watch Model
The Google Pixel Watch 2 offers notable improvements when compared to its predecessors, such as upgrades and advancements in health and activity tracking.
| Feature | Google Pixel Watch 2 | Google Pixel Watch |
| --- | --- | --- |
| Display | 1.2-inch AMOLED, 384 x 384 pixels, 320 PPI | 1.2-inch AMOLED, 360 x 360 pixels, 320 PPI |
| Processor | Qualcomm Snapdragon W5 Gen 1 | Exynos 9110 |
| RAM | 2GB | 1GB |
| Storage | 32GB | 32GB |
| Battery | 306mAh | 294mAh |
| Operating system | Wear OS 4 | Wear OS 3 |
| Sensors | Heart rate, ECG, blood oxygen, GPS, gyroscope, accelerometer, altimeter | Heart rate, GPS, gyroscope, accelerometer, altimeter |
| Other features | Fitbit integration, NFC, Wi-Fi, Bluetooth, water resistance to 50 meters | Fitbit integration, NFC, Wi-Fi, Bluetooth, water resistance to 50 meters |
Table: Google Pixel Watch 2 vs. Google Pixel Watch
Upgrades and Advancements
The Google Pixel Watch 2 is set to feature numerous improvements over its predecessor. The processor has been ramped up with a Qualcomm Snapdragon W5 Gen 1 chip – an upgrade from the two-year-old Exynos seen in the original model.
This improved processor is said to deliver better performance and increased battery life, allowing for more efficient usage and extended periods of activity tracking. The rumored 306mAh battery is a 4% increase from the previous model's 295mAh capacity.
Paired with Google's Ultra-wideband support, users can expect enhanced connectivity that ensures no loss in transmission quality within short ranges. These technical advances will help address some of the issues seen before, such as poor connection stability and quickly drained batteries, so that users can enjoy their smartwatch device without disruption or limitation.
Improved Health and Activity Tracking
The Google Pixel Watch 2 is expected to have significant upgrades in its health and activity tracking compared to the previous model. The watch will accurately track a wide range of basic stats such as Active Zone Minutes (AZM), steps, floors, distance, calories burnt, and heart rate monitoring.
Additionally, it has been speculated that this smartwatch may use advanced sensors partnered with Google or Fitbit technology to allow for comprehensive fitness monitoring within a single device.
With the accelerated heartbeat alerts and auto monitor mode features on AZM, users can track their active time more efficiently while providing more personalized alerts with improved accuracy compared to conventional activity monitors.
Competitor Analysis
This time I'll discuss a competitor analysis. The Google Pixel Watch 2 is pitted against the Galaxy Watch 5, its closest competitor in wearables. The main difference between the two is that while the Pixel Watch runs on Wear OS with a 1 UIWatch 4.5 software, Samsung's flagship comes preloaded with its own Tizen OS.
In terms of health and activity tracking features, there are significant differences as well. With integrated accelerometers and sensors being more frequently seen in budget models, mid-range trackers tend to provide an optimal combination of performance and battery life for all-day use — making them much more effective when it comes to picking up vitals like heart rate or step count with greater accuracy than their cheaper peers over a considerable period of time.
When compared to the Apple Watch Series 6 – boasting competitive pricing points – and better overall integration, setting it apart from its competitors remains one of the big factors when it comes to deciding which one meets your needs best since Android users are limited by certain restrictions where even high-end products fall short; forcing people looking for these kinds of integrations into using iOS instead.
It's clear that although both watches share some initial similarities, such as sleek design and good battery life, they also offer significantly different levels of implementation owing mostly to software support capabilities not yet feasible for Android users.
User Expectations and Wishlist for Google Pixel Watch 2
[Video Credits @Made by Google]
With new features now expected of a smartwatch like the Google Pixel Watch 2, users are looking for improvements in comfort and functionality to make their experience even better. Read further to find out what they're hoping for!
Multiple Sizes Option
Understanding the importance of offering multiple sizes to users is key when it comes to smartwatches. Different users have different preferences and needs when it comes to size, whether they are looking for a bigger screen that is more readable or a more compact device that offers convenience and comfort.
As such, having multiple sizes available will help cater to different user needs.
The Pixel Watch 2's teaser video showcased a new crown design along with an improved sensor array; these features, however could be inhibited by not offering different sizes due to its specific construction characteristics.
Additionally, Samsung has already announced their Galaxy Watch 6 in two distinct case sizes – 46mm and 41mm – which allows them a competitive advantage over Google's single-size option is available on the Pixel Watch 2, which will be released soon.
Easier Band Switching
One of the most intriguing features of the upcoming Google Pixel Watch 2 is the unique band attach mechanism that makes it a breeze to change bands. I think it'll be easy for users to switch out their current band for something more stylish, such as a mesh metal or leather strap that can completely transform its look and feel.
With this revolutionary new feature, people are able to quickly and easily customize their watch's appearance without having to worry about complicated mechanisms or dropping screws everywhere when trying to reattach them each time.
Plus, users have an option of various styles – from default silicone straps right up to classic leather designs – allowing them to pair every outfit choice with a matching accessory!
Sleeker Bezel Design
The Google Pixel Watch 2 is expected to have a sleeker bezel design, offering an enhanced visual look as well as improved user usability. I personally love this feature. This could include narrower and thinner bezels compared to the first edition, along with more streamlined aesthetics.
The improvements may also extend to easier band switching, which can provide practical advantages for those looking for comfort or fashion statements from their watchband choices. Furthermore, the reduced width and profile of the bezel will translate into better integration with health-tracking features such as sleep monitoring.
All in all, a sleeker bezel design on the Google Pixel Watch 2 can offer users a bigger bang for their buck by providing them with improved performance, aesthetic appeal, and flexibility over its predecessor's model or competitors' models.
Enhanced Comfort for Sleep Tracking
The Google Pixel Watch 2 seeks to meet user expectations and wishlist for comfortable sleep tracking with its improved design features. Its breathable band, lightweight body, and sleek bezel all contribute to an overall experience of comfort while the device is being worn.
Furthermore, the watch offers easy adjustment of settings such as brightness on-screen display or adjustments on notification management so that users can easily customize their wear according to their desired level of comfort without having to take off the device every time they need a quick change.
Allowing continuous use in one go increases versatility by providing flexibility when it comes to following through with sleep goals set out by Fitbit which tracks objective data like sleep stages and reminds users when it's time to wind down.
Better Integration with Fitbit
The Google Pixel Watch 2 brings enhanced integration with Fitbit to the Wear OS space, giving customers the best of both worlds and allowing users to benefit from Google's technological prowess as well as Fitbit's wide range of health and fitness tools.
Through this collaboration, data collected by the Pixel Watch 2 will be automatically imported into the Fitbit app, meaning that all activity tracking, workouts, and sleep logs are conveniently stored in one place.
As this ability expands to other non-Google devices, activities such as walking challenges or badges unlocked can now be shared across a variety of platforms. With improved connectivity between applications comes more comprehensive health analysis and advanced tracking features so users can access their vital fitness stats easily. Additionally, you can also read on – Best Smart Scales 
Expert Opinion: Is the Google Pixel Watch 2 Worth It?
In this segment, I'll help you to Find out whether the latest Google Pixel Watch 2 lives up to its hype and is worth your money with our detailed review.
Analysis of Value Proposition
Google Pixel Watch 2 is well-placed to be a major player in the smartwatch market, offering fantastic value for money with its attractive design, extensive app library, and user experience.
It features an elegant round shape with a comfortable fit on the wrist, as well as multiple watch faces and improved battery life compared to its predecessor. Additionally, users can now benefit from Qi wireless charging support for added convenience.
The Google Pixel Watch 2 promises enhanced fitness tracking accuracy and has various health-focused functions, such as sleep monitoring capabilities via built-in sensors. Its rich app ecosystem is stacked full of useful features ensuring that users get the maximum out of their purchase.
Consideration of Price and Features
[Video Credits @Demon's Tech]
When deciding on whether the Google Pixel Watch 2 is worth its price, readers should consider features such as battery life, Qi wireless charging support, and fitness tracking improvements.
The rumored starting price of $350 stands at a great value compared to premium smartwatches like the Apple Watch, which can retail up to $1000. Although some key health and fitness features are lacking from the first-generation Pixel Watch, with significant upgrades in technology and hardware specks for this new model, you could be getting great value for your money.
Comparable products include the Samsung Galaxy Watch 5, which retails just slightly less but offers fewer features than its more expensive counterpart, giving you all the incentives that come along with investing in a trusted brand or opting out for something more affordable yet delivering quality results.
Recommendation Based on User Needs
Before making a recommendation for the Google Pixel Watch 2, I suggest you consider user needs. Previous versions have been plagued by poor build quality and struggling battery life–features that could certainly deter potential buyers.
Thankfully, the upcoming model is expected to be well worth buying if Google addresses all of these concerns with its new hardware specs. The Qualcomm Snapdragon W5 processor offers significant upgrades from earlier models, as does the improved battery performance, which can last up to two full days.
Additionally, changes in design should also help address durability issues found in past watches released under this brand name. All of this combined makes for a watch that's sure to resonate with many fans looking for an updated level of reliability and enhanced functionality in their smartwatch purchase experiences.
Frequently Asked Questions (FAQs)
Let's now delve into some frequently asked questions regarding this subject.
1. What is the Google Pixel Watch 2?
The Google Pixel Watch 2 is an advanced smartwatch with features such as heart rate monitoring, step tracking, secure payment methods, and voice control integrations.
2. Does the Pixel Watch 2 have a wide range of apps?
Yes, it does – there are plenty of apps available for the Pixel Watch 2 from various categories, such as health & fitness, productivity & finance, travel & lifestyle, and many more.
3. Is the battery life of the Pixel watch good?
Yes, it has a long-lasting battery life that can last up to 48 hours on normal use and allows you to recharge in just 15 minutes via wireless charging technology quickly.
Takeaway
I think the Google Pixel Watch 2 looks to be an exciting new product by Google, offering great improvements over its predecessor and providing users with a top-tier experience. The watch offers fitness tracking capabilities, Qi wireless charging support, and the latest Wear OS 4 Operating System.
With such features included alongside its sleek design, it's sure to be a must-have for many people who want quick access to their data on the go.
The Google Pixel Watch 2 is expected to have a range of major upgrades, making it an even more superb smartwatch. Rumors suggest that the Qualcomm Snapdragon W5 chipset would power this watch and improve its battery life significantly.
It could also feature improved build quality, expanded screen size, higher durability, 144 sensors for advanced tracking health activities, Qi wireless charging support, and many innovative software features as well.
Buyers should consider all of these improvements when weighing up whether the new model is worth purchasing or if they'd prefer sticking with the previous version. All potential users should keep in mind the various pros and cons of both models before making their decision.