5 Best Smartwatches for Heart Health Monitoring in 2023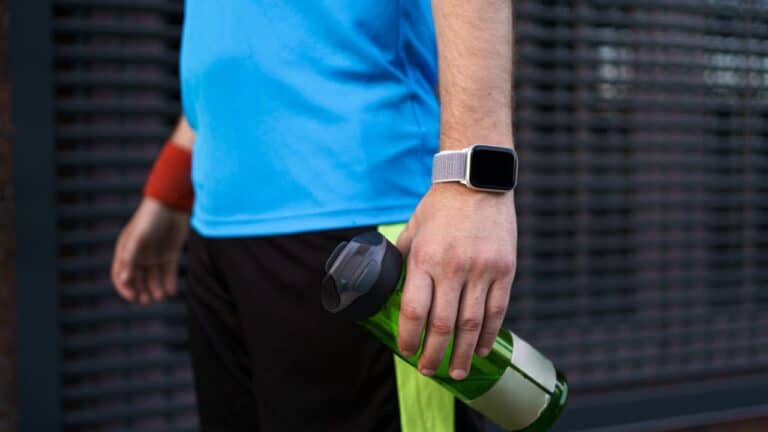 Smartwatches make monitoring your heart rate simple, receiving notifications about unusual cardiac activity and even doing electrocardiograms (ECGs). While you may be familiar with the fitness tracking capabilities available on popular wristwatch models, you may be unaware that many wearables also have more advanced health monitoring tools, such as the ability to notify emergency personnel after a serious health incident. 
If your doctor has instructed you to monitor your heart health, or if you want to boost your exercise and gain health insights, investing in a new smartwatch could be a terrific option. Not all smartwatches are created equal. We found the finest heart health monitoring features in smartwatches from Apple, Samsung, Garmin, Fitbit, and other brands. 
Why is a Smartwatch With Heart Monitoring Necessary?
Keeping an eye on your heart rate is beneficial for various reasons. It can help you track how hard you work out, manage chronic ailments, and even alert you when something is wrong.
Knowing where to begin when looking for a smartwatch for heart health monitoring can be difficult. Numerous new features may appear difficult if you are new to heart monitoring.  We've put up this guide to help you understand what to look for and which smartwatch is ideal for you.
Best Smartwatch for Heart Health Monitoring
These smartwatches include functions for monitoring your heart rate, taking ECGs, and more.
Apple Watch Series 8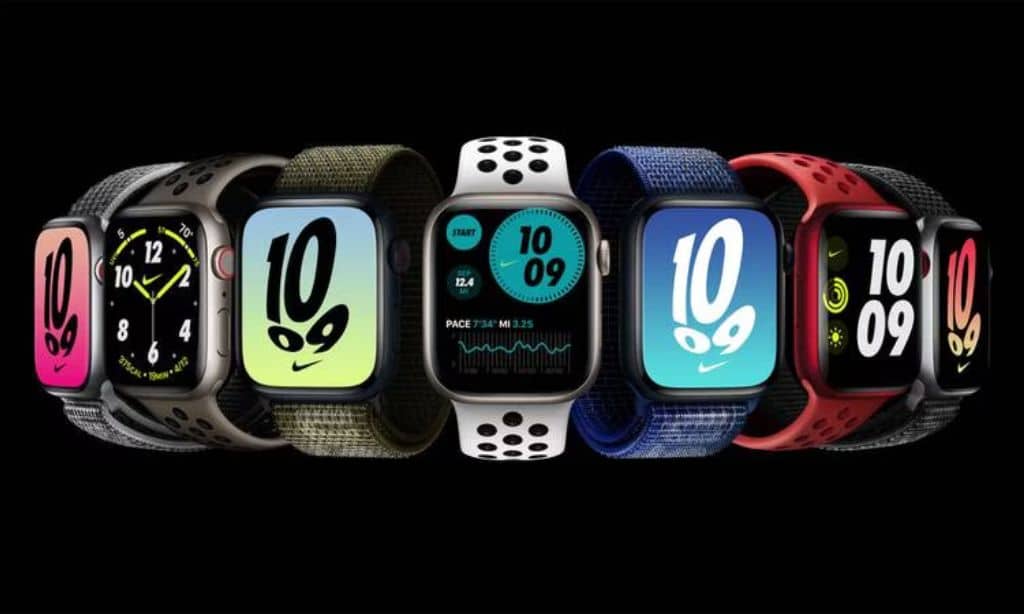 The Apple Watch Series 8 is a tough wristwatch with sophisticated heart monitoring functions that is swim-proof, dust-proof, and crack-resistant. It includes an optical heart sensor, an electrical heart sensor for ECG, a blood oxygen sensor, and a new body temperature sensor, among other health-tracking functions. 
The watch tracks your heart rate continuously and can send notifications when it rises or falls outside a predefined range. Users can also check for aberrant sinus rhythm by pressing their finger on the Apple Watch crown and using the ECG app. The data is subsequently saved in the Apple Health app. 
The Apple Watch includes an Emergency SOS capability. The feature can detect falls and notify local emergency services of your position when activated. It can also be activated by pressing the side button. It also has a novel crash detection capability that detects the wearer's location in a serious car crash and alerts emergency personnel.
Apple Fitness+ provides access to yoga, meditation, and other workout routines. (Apple Fitness+ is a paid service. It costs $9.99 monthly, with the first month free for Apple Watch owners.) 
What we enjoy about the Apple Watch 8: 
The Apple Health app stores heart rate data and ECG information for convenient access.
It can sync with iPhones and other Apple devices to transmit health data, messages, and other information.
It includes a blood oxygen sensor and an application.
Samsung Galaxy Watch 6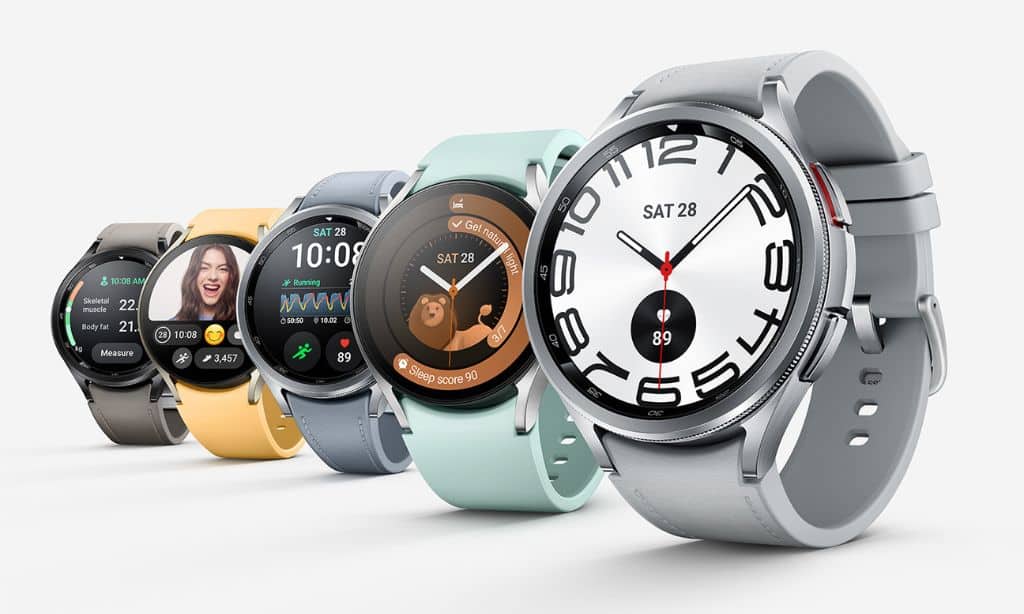 When coupled with a compatible Samsung Galaxy smartphone, the Samsung Galaxy Watch 6 provides ECG capability. You can perform the ECG on your watch and then open the ECG report on your smartphone to analyze the results. 
The Galaxy Watch 6 has a more advanced bioactive sensor that captures more accurate data compared to previous generations. The Samsung Health app allows you to manage and track this data. It also has a sophisticated workout algorithm, heart rate monitoring, and sleep-tracking technologies.
The always-on heart monitoring capabilities continuously scan your heart rate and notify you when an unusual rhythm, such as atrial fibrillation, is detected. 
The Galaxy Watch 6 has display sizes of 40mm and 44mm. 
We like the Samsung Galaxy Watch 6 because:
It can scan your health data and deliver customized heart rate zones for workouts based on your data.
It continuously measures your heart rate, whereas most other smartwatches require the user to start an ECG reading manually.
It is compatible with Samsung cell phones.
Read Also: Apple Watch Series 9 vs. Samsung Galaxy Watch 6: A Detailed Comparison
Google Pixel Watch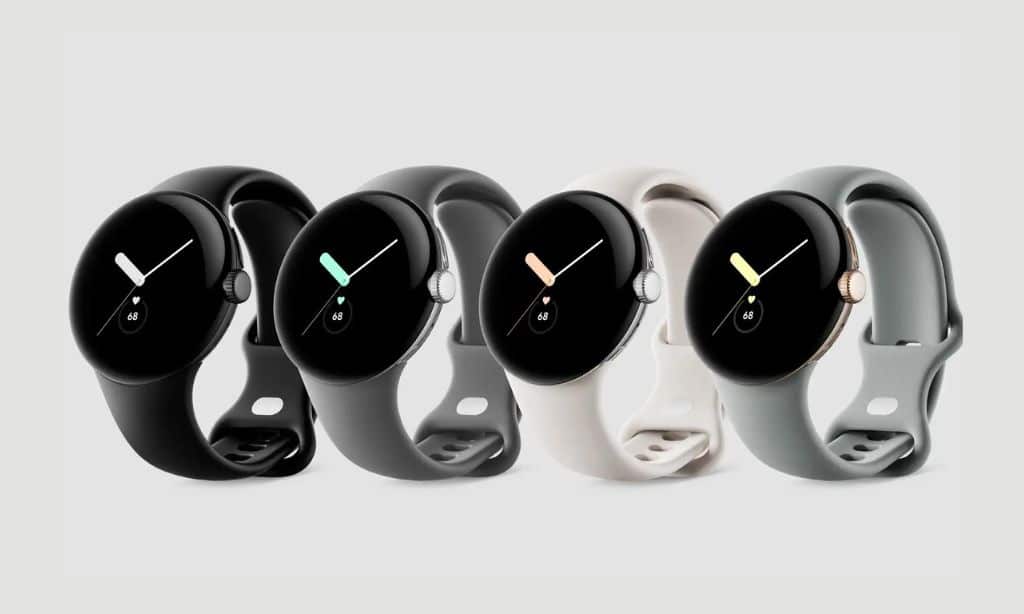 The Google Pixel Watch has a circular face, configurable watch faces, and various band options. It has a long battery life, lasting up to 24 hours on a single charge. The wearable has access to the Google Home App, which allows you to remotely change your thermostat or connect to your smart home devices. Users can listen to music, track their fitness activity, and receive notifications from their linked phones. 
The Google Pixel Watch is the first Android smartwatch to offer Fitbit integration. Heart-rate monitoring, workout tracking, sleep tracking, and other health features are included on the watch. The watch has fall detection. The watch assesses the impact using sensors and machine learning if a fall is detected. If no movement is detected after approximately 30 seconds, you will be notified via vibration, sound, and an on-screen message. Failure to react with 'I'm fine' or 'I need help' causes the watch to dial 911 and play a message asking for assistance at your location.
The watch has a complimentary six-month Fitbit Premium subscription and three months of YouTube Premium. The Watch is available in black, silver, and gold.
We like the Google Pixel Watch because:
Fitbit health tracking functions are built into the smartwatch.
It has an ECG capability that can be used to check your heart rhythm for A-Fib.
The Google Pixel Watch can detect falls and will not only tell you, but will also sound an alarm to alert anyone nearby.
It can contact emergency services.
Garmin Vivoactive 4S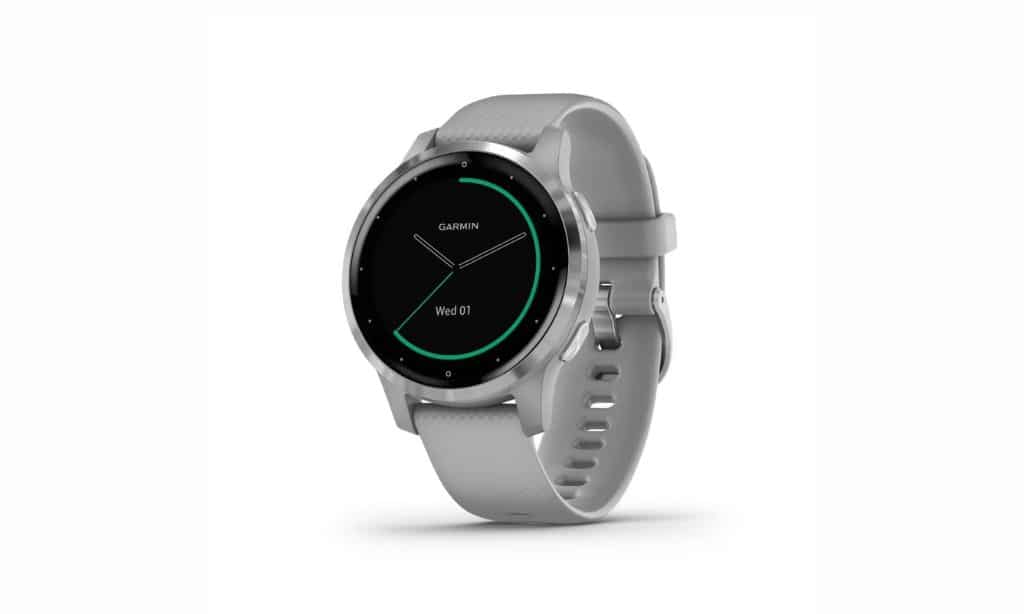 Garmin's Pulse Ox technology is used in the Garmin Vivoactive 4S to track your energy levels, respiration, menstrual cycle, stress, sleep, heart rate, and hydration levels. It can play music from Spotify and Amazon Music that has been downloaded. The watch can receive notifications when synced with your smartphone.
This is a wonderful alternative for folks who only want to track the essentials. The wrist-based heart rate sensor on the smartwatch is also compatible with chest heart rate monitors (sold separately). The heart rate widget displays heart rate data.
This Garmin smartwatch comes with over 20 GPS and indoor sports apps preloaded. Do you want your trainer on your wrist? This watch can display animated workouts on the watch screen.
"Garmin shines in its fitness features, which track nearly every bodily function you have." Steps are only the beginning. Numerous pre-programmed programs are available, as well as heart rate and pulse oxygen monitoring. Garmin annihilates the competition in the fitness arena." wrote one Amazon-verified buyer.
There are several colors to choose from. 
We like the Garmin Vivoactive 4S because:
It has an integrated Pulse Ox oxygen meter, cardiac monitoring and stress-tracking features.
It has a wide range of fitness features that many smartwatches do not. 
It has a battery life of up to seven days.
Fitbit Charge 5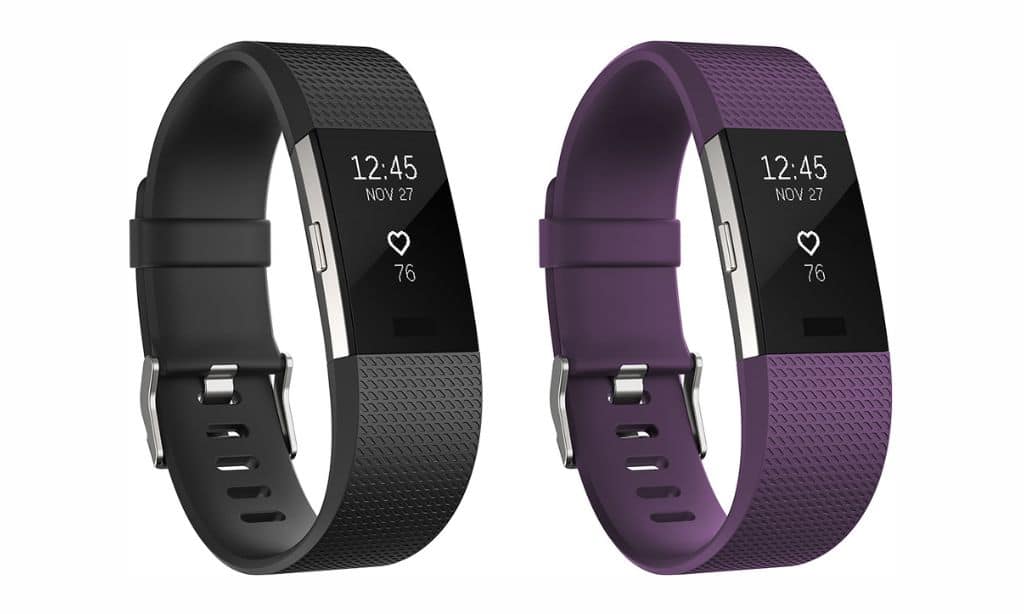 Fitbit's latest Charge series product, this well-equipped activity and health tracker, bundles advanced technologies into a compact device with a color display. The smartphone-enabled smartwatch can help you manage stress while keeping track of your heart health and sleep.
You can receive a notification on your connected device if this Fitbit device detects your heart rate is over or below your personal heart rate threshold. Open the Fitbit app, then touch the notification to learn more about your statistics and complete a survey in which you note any potential variables, drugs, and symptoms. You can use the survey information to follow your heart health trends and share it with your healthcare physician.
"I used the Fitbit to hold myself accountable for my actions, movements, and goals." Did I go for a walk today? How do I sleep? Am I moving enough to get my heart rate up? How is my stress level? "Was I active this week?" one Amazon reviewer asked. The Fitbit Charge 5 answers these queries well while also telling the time."
The Fitbit Charge 5 has a battery life of 7 days on a single charge.
What we enjoy about the Fitbit Charge 5:
It provides high and low heart rate alerts.
Users can use the Fitbit ECG app to take ECG readings.
It can provide a daily readiness score advising whether you're ready for exercise or should focus on recovery.
Top Features to Look for in a Heart-monitoring Smartwatch
Here are some characteristics to look for when comparing heart-monitoring smartwatch options. These capabilities benefit athletes, people with chronic health concerns, and anyone who wishes to check their cardiac measurements. None of these characteristics or readings should be used in place of medical treatment or official cardiological examinations.
Heart rate monitoring
The most fundamental feature to look for is heart rate monitoring. Almost all smartwatches and activity trackers contain heart rate monitoring, although some offer more advanced monitoring features such as heart rate variability monitoring, stress tracking, and heart rate alarms. Heart rate alerts can be set to generate an alert if your heart beats outside of its typical range for an extended period based on your normal resting and active heart rates (what is normal varies from person to person).
When paired with activity tracking, heart rate reading can help you determine how hard you work and how many calories you burn throughout an exercise. This is one of the more common applications for wristwatch heart monitoring.
ECG capabilities
Many people are unaware that smartwatches can capture ECGs. Yet, the Apple Watch has had ECG capabilities for several generations, and Samsung and Google have begun offering the feature. ECG is an abbreviation for electrocardiogram (also known as an EKG). It is a test that determines the frequency and strength of electrical signals produced by your heart as it beats and contracts.
This test aims to look for abnormal cardiac activity, such as atrial fibrillation (a form of irregular heart rhythm that happens when the top and lower chambers of the heart are out of sync). 
This is a useful monitoring tool for people with a history of or at risk of an abnormal sinus rhythm. However, because smartwatches do not screen for heart attacks, you should always go to the ER if you suffer unusual chest pain, as any smartwatch does not identify many cardiac events. Those who receive an atrial fibrillation reading should seek proper medical attention since the watch is intended to be a useful monitoring tool rather than a diagnostic test or a replacement for regular hospital ECGs/EKGs.
Fall Detection
Fall detection transforms your smartwatch into a fashionable, high-tech Life Alert gadget. If the watch detects a fall, it will prompt you to call 911 or a specified emergency contact or to report that you are safe. If you do not clear the notification within a certain time, it will send an alert to emergency services or your emergency contact.  
Fall detection is not a heart health feature. However, it may be useful if you or the person you're shopping for requires a heart-monitoring smartwatch due to a cardiological ailment that can cause falls or fainting.
Health Tracking and Phone Pairing
You'll want a smartwatch that syncs with your phone or has a compatible mobile app to access data. This allows you to access reports on your heart rate, exercise activities, ECG readings, blood oxygen levels, stress levels, and other metrics that have been recorded. If you have an iPhone, an Apple Watch 8 may be preferable for easier pairing. Similarly, owners of Samsung Galaxy smartphones may benefit more from a Samsung Galaxy Watch 6.