Google AI Challenges ChatGPT and Bing with New Everyday Features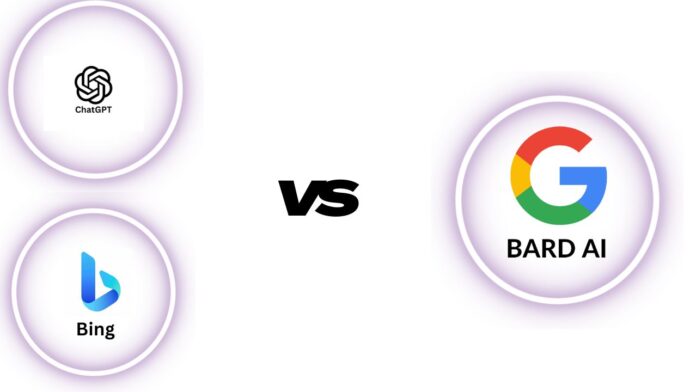 A growing number of individuals are already leveraging the capabilities of tools like OpenAI's ChatGPT, a generative AI chatbot, and Bing, which taps into the internet for up-to-date information in its search results.
These tools are proving to be invaluable for a wide range of tasks, from assisting with essay writing to generating images, and much more.
Google, a major player in the tech industry, is not lagging behind in the realm of generative AI. They have recently made an exciting announcement regarding new generative AI features integrated into Google Workspace. These innovations are set to empower users to create content more efficiently with the assistance of AI technology.
It's a testament to the rapid advancement of AI and its integration into various aspects of our daily lives, enhancing productivity and creativity across different domains. With these tools at our disposal, the possibilities for leveraging AI to simplify and enhance tasks continue to expand.
Ways Google's Duet AI and Google Workspace Can Supercharge Your Efficiency and Innovation
Introducing Google Duet AI: Enhancing Your Gmail, Google Docs, and More
Google has unveiled a new feature, Google Duet AI, designed to streamline various tasks, such as email responses in Gmail, text-to-image creation, and document proofreading in Google Docs. This development is part of Google's effort to keep pace with competitors like Microsoft in providing AI-powered tools that boost productivity.
Google Workspace, a suite of collaborative tools, synergizes seamlessly with Google Cloud and Duet AI. The primary objective of Google Workspace is to empower individuals to achieve their best work, whether it's writing, image creation, or expediting workflows.
So, how can Google Workspace benefit you? Let's explore some of the exciting new features it offers in conjunction with Duet AI:
Google Workspace's Innovative Features Enhanced by Duet AI
Google Workspace, in collaboration with Duet AI, offers a range of cutting-edge features to turbocharge your productivity and creativity:
Smart Compose and Smart Reply in Gmail: These tools are your go-to for quicker and more efficient email composition and response. They harness AI to assist you in crafting and replying to emails with speed and precision.

Smart Canvas in Docs: Here, you have a versatile tool that's perfect for brainstorming, proofreading, and refining documents. AI provides valuable suggestions and feedback, making the writing process smoother and more collaborative.

Auto-generated Media in Slides: Creating captivating presentations becomes effortless with AI-generated images, audio, and video in Slides. This feature empowers you to bring your creative ideas to life without the hassle of manual content creation.
But that's not all—Google is actively working on expanding generative AI functionalities to Sheets, Meet, and Chat. These future enhancements promise to further elevate your efficiency and creativity across the Google Workspace suite.
Accessible New Google Workspace Features for All Chrome Users
Exciting news for Chrome users with a Google account: You now have access to the latest Google Workspace features, and you don't need to be a Google Workspace subscriber to benefit from them.
Here's how to get started:
Sign Up as a Trusted Tester: To begin, sign up as a trusted tester. As part of this process, you'll need to agree to Google Workspace Labs' Privacy Notice and Terms of Service.

Invitation Email: Once you've completed the sign-up form, await an invitation email from Google. This email will contain the key to unlocking the Workspace Labs features.

Activate in Chrome: Upon receiving the invitation, you can enable the Workspace Labs features in your Chrome browser settings.
It's important to note that these features are experimental and may evolve over time. Additionally, Google collects data and metrics from Workspace Labs to enhance and develop its products, services, and machine learning technologies.
So, whether you're a Google Workspace user or simply a Chrome user, you can explore and benefit from these innovative tools with just a few easy steps.
To See if you can use Google Workspace Features
Once you've signed up, it's easy to determine if you have access to Workspace features. Here's how:
Check in Google Docs: Start by opening a document in Google Docs. Look for a circular icon labeled "Help me write (Labs)" situated on the left side of the document.

Verify in Gmail: To confirm your eligibility, head over to Gmail:

a. Open Gmail and begin composing a new email.

b. At the bottom of the email, you should spot a "Help me write" button or icon. Simply click on it and follow the provided prompts.
These quick steps will help you ascertain whether you have access to these helpful Workspace features.
What other AI-driven tools can we anticipate from Google?
During the 2023 I/O developer conference held in May, Google made an exciting announcement regarding a lineup of AI-powered tools in the pipeline for consumers. They are placing a strong emphasis on AI integration and have a slew of innovative features in development, set to be rolled out in the coming months.
Here's a sneak peek at what we can anticipate:
AI Wallpaper and Chatbot for Androids
Google has recently rolled out an exciting addition for Pixel users: AI-powered wallpapers. These innovative wallpapers leverage Google's generative AI technology to take your photos and transform them into dynamic 3D scenes, each infused with unique artistic styles. If you're feeling creative, you can even craft your very own backgrounds using emojis.
For those who appreciate a cohesive look, the Material You feature comes into play, allowing you to harmonize the color palette of your Android system with your chosen wallpaper.
That's not all; Google is also integrating its AI chatbot, Bard, with Android's messaging app. This means you can have a chat with Bard and access valuable information from Google apps and services right within your conversations. And to make it even more personalized, you have the option to customize Bard's tone and style to better suit different contexts and audiences.
Google Search Chatbot Answers
Google has taken a significant leap forward with its Bard AI chatbot. This expansion opens up a world of possibilities as Bard can now seamlessly link with a range of Google apps and services, promising more tailored and useful responses to your queries.
To engage with Bard, you can simply access it from the Google search homepage or visit the Bard website. Ask away, and Bard, with its extensive language model, will generate natural, conversational responses while presenting relevant information.
The integration of built-in AI into the search experience adds an intriguing dimension, and it will be fascinating to observe just how accurate and effective these results become.
Will AI be so Useful as to Replace Humans?
The introduction of this technology holds the potential to streamline daily tasks for workers, ultimately allowing employees to optimize their productivity. Furthermore, it has the capability to enhance the overall quality of work produced, given that AI assistants are specifically designed to aid humans in achieving better results. Let's face it, if your boss can find an AI system that excels at your job, it could potentially lead to a significant impact on employment in the United States.
As we witness rapid advancements in this field, Google has made it clear that any suggestions proposed by your AI assistant while you work can be either accepted, edited, or altered, granting you full control over your creative process. Additionally, Google has emphasized its commitment to providing administrative controls, ensuring that organizations can establish and enforce their preferred guidelines for utilizing this innovative technology.
Google has been actively advocating the perspective that this development is a positive addition to workspaces. They firmly emphasize that "AI is no substitute for the ingenuity, creativity, and intelligence of real individuals." As Google VP Johanna Voolich aptly puts it, AI can occasionally make mistakes, surprise you with unexpected outcomes, and frequently needs human guidance.
With these aspects in mind, the journey ahead remains to be seen, and it's a matter of placing trust in the potential for this technology to ultimately benefit us in the workplace.
Key Kurt Takeaways
Google is steadily advancing in the realm of generative AI tools, aiming to assist you in better communication and the creation of exceptional content. This marks a substantial embrace of generative AI technology, with AI taking on the heavy lifting to support your endeavors.
If you're curious about trying out these tools, you have the opportunity to sign up as a trusted tester. Furthermore, Google values your feedback, so you can have a say in shaping the future of these AI-driven solutions.
It's important to exercise caution when using AI, as there are potential risks and challenges. Always verify the accuracy and quality of content generated by AI. Take the time to thoroughly review the privacy notice and terms of service before using or signing up for these tools.
When it comes to utilizing AI for daily tasks, how do you personally feel about it? Do you believe AI has the potential to enhance your productivity and creativity, or do you hold concerns regarding its impact on your privacy and autonomy?