The Latest Information of Ginny and Georgia Season 3
Listen to the Podcast:
With its second season, "Ginny and Georgia" has just made it into the Top Ten of Netflix's most-watched shows in the past few months. Fans are already wondering: Will there be a Ginny and Georgia season 3? The shocking ending is still fresh in their minds.
In the following lines, we'll tell you everything we know about "Ginny and Georgia" and some amazing facts to help you enjoy the show even more. "Ginny and Georgia" is a show that shows that sometimes daughters are more mature than their mothers.
Synopsis of Ginny and Georgia
At the start of the series, Ginny Miller is only 15 years old, but she seems more grown up than her mother, Georgia, who is 30. Georgia and her daughter move to a small town in New England so that she can give her daughter the stability she never had. But life is not always straightforward. Even more so when lightning from storms in the past sometimes strikes in the present.
So, "Ginny and Georgia" combines the story of the mother and daughter in the present with "flashbacks" to Georgia's past. These "flashbacks" show how dangerous it was for Georgia to give birth to Ginny and how her sins still weigh on her like a stone in the present. The tone is both funny and serious. What people in the US call "drama." A good TV marathon always follows this formula: "Ginny and Georgia" has an excellent ending and a great cast.
Ginny and Georgia: Quick Info
| Title | Ginny and Georgia |
| --- | --- |
| Genre | Drama/Comedy |
| Creator | Sarah Lampert |
| Starring | Brianne Howey, Antonia Gentry |
| Language | English |
| No. of seasons | 2 (as of March 2023) |
| No. of episodes | 20 |
| Original network | Netflix |
| Release date | February 24, 2021 |
| Plot | A mother and daughter move to a new town and try to start a new life while dealing with their past secrets and challenges that come with adolescence and adulthood. |
| Reception | Mixed reviews, but popular on Netflix |
Ginny and Georgia Season 2: How It Ended?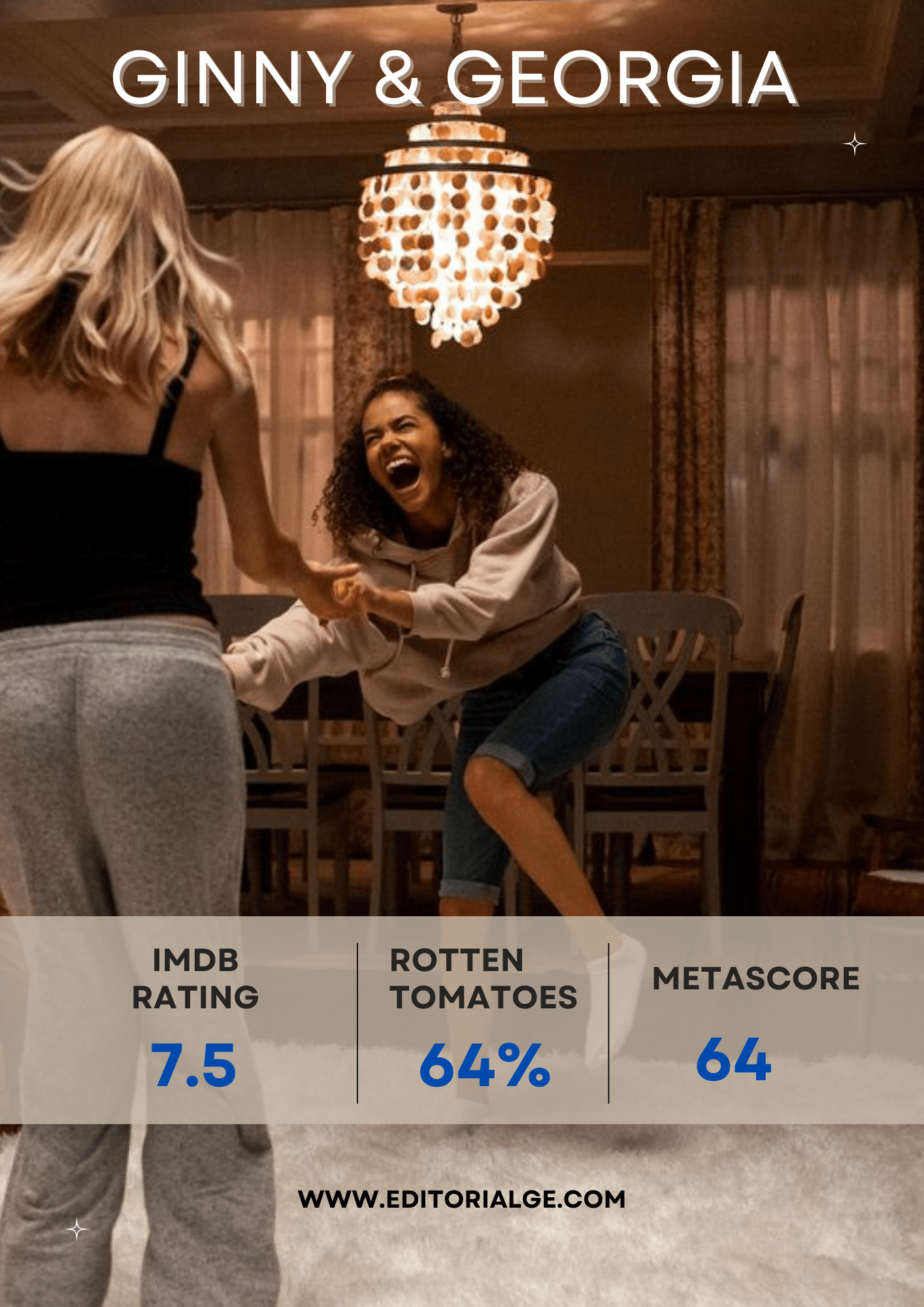 Season 2 has a lot going on. But a lot, a lot! And the last two chapters are a total madhouse. In them, a sad Marcus apologizes to Padma, Abby, and Press start to get closer, Paul fights with his parents about his wedding to Georgia, and she has an idea to help the town and the school.
You May Feel Interested: Oscar-Winning Movies on Netflix to Watch in 2023
With a wedding and a crime, things are moving quickly. Gabriel discovers that Georgia was with Tom when he died, so he tells the police that a murder may have happened. In flashbacks, we see Georgia getting ready to leave, but right before she leaves, she finds out she is pregnant. So, everything is ready for season 3, which hasn't been officially announced yet.
Ginny and Georgia Season 3 Latest Update
Netflix hasn't said anything about the future of the series written by Erin Deck, Susan Shipton, and Jonathan Egan. Still, based on what we saw in the last chapter, it's almost certain that the streaming giant will give the show a new set of episodes.
The end of the second season cleared the way for a third one, so now all that's left to do is wait for the official response from the popular streaming platform, which usually takes a few weeks to figure out how the audience reacted.
All that's left to do is wait for Netflix's official response. It usually takes Netflix a few weeks to figure out how the audience reacts, and even though it doesn't share these numbers, it can help decide whether a show will be renewed or canceled.
What Netflix Says About Season 3
Netflix hasn't decided yet if there will be a third season of "Ginny and Georgia." For better or worse, it hasn't given the go-ahead for a third season yet, and it hasn't said that the show is over for good. But how Georgia's wedding ended makes it hard to think the series would end there. At this point, it would be wrong to end "Ginny and Georgia."
Even better than we hoped, the show's future looks bright because its second season debuted as Netflix's most-watched show, beating out popular shows like "Dahmer" and "The Bridgertons." Even better, "Ginny and Georgia" knocked "Wednesday" off the top spot; it takes a titan to do that.
Related Read: The Patient Season 2 Release Date on Hulu
Ginny and Georgia Season 3 Release Date
Once season 3 is approved, its deadlines will, in theory, be more like those of season 2 than of season 1. So, if it gets light once in February 2023, we should plan on at least two months for writing the script, six months for filming, and nine more months for editing, which means the series will come out in July 2024 if all goes well! It was a bit of a long wait, but not too long for something like "Ginny and Georgia."
Ginny and Georgia Season 3 Plot (Estimated)
At the end of "Ginny and Georgia's" second season, Georgia tells Paul about a part of her past, and they work together to get rid of Gil. Even though her fiancé has secrets, the mayor of Wellsbury decides to go through with the engagement. Georgia has her dream wedding and lets herself dream of a better future for her family.
But the ceremony is stopped when the police and Gabriel Cordova, a private investigator, arrest Georgia for killing Cynthia Fuller's husband. Will Georgia's freedom be returned? Will Ginny be there for her mom? Will Ginny and Marcus get back together? Will Joe and Georgia tell each other how they feel? Will Max and Silver become a couple? Will Zion and Simone move in together?
Ginny and Georgia Season 3 Trailer
Now, all that's left is for Netflix to see it as clearly as we do and confirm that "Ginny and Georgia" will have a third season. Let's keep our fingers crossed, and in the meantime, let's watch the trailer for Season 2 again.
Ginny and Georgia Season 3 Cast
The final cast of season 3 is yet not confirmed. However, our best guess is the following.
Brianne Howey as Georgia Miller
Antonia Gentry as Ginny Miller
Diesel La Torraca as Austin Miller
Jennifer Robertson as Ellen
Felix Mallard as Marcus
Sara Waisglass as Maxine
Scott Porter as Mayor Paul Randolph
Raymond Ablack as Joe
Mason Temple as Hunter Chen
Aaron Ashmore as Gil Timmins
Katie Douglas as Abby
Chelsea Clark as Nora
Dan Beirne as Nick
Nathan Mitchell as Zion Miller
Alex Mallari Jr. as Gabriel Cordova/ Jesse
Sabrina Grdevich as Cynthia Fuller
Related Story: Latest Update on Peaky Blinders Season 7
Ginny and Georgia: Lesser Known Facts
Here are some lesser-known facts about the Netflix series "Ginny & Georgia":
Inspired by creator's life: The show's creator, Sarah Lampert, drew inspiration from her own life and experiences when creating the characters and storylines. Many of the themes and situations in the series are based on her personal experiences growing up.

Filming location: Although the story is set in the fictional town of Wellsbury, Massachusetts, the series was primarily filmed in and around Toronto, Ontario, Canada. Various Canadian locations were used to represent the picturesque New England town.

The character Joe: The character Joe, played by actor Raymond Ablack, was initially intended to be a one-episode guest star. However, the show's creators were impressed by Ablack's performance and decided to make Joe a recurring character in the series.

Cast input on scripts: The show's creators encouraged the cast to provide script feedback, ensuring that the dialogue felt natural and accurate to the characters. The actors were allowed to suggest changes and improvise, contributing to the development of their characters.

Antonia Gentry's first significant role: Antonia Gentry, who plays Ginny Miller, had only a few small roles in short films and television series before landing her breakout role in "Ginny & Georgia." This role has since launched her acting career and gained significant recognition.

Sign language: In the show, Maxine (played by Sara Waisglass) has a deaf best friend named Sophie, portrayed by Humberly González. To prepare for the role, Waisglass learned American Sign Language (ASL) to authentically communicate with her on-screen friend.

Music and playlist: The series features an eclectic mix of music, ranging from indie pop and classic rock to hip hop and R&B. The show's creators curated a Spotify playlist that includes many of the songs featured in the series, allowing fans to enjoy the music outside the show.
Final Words
At this point, it is impossible to offer even the most optimistic estimate for when Ginny & Georgia season 3 premieres. Although all signs indeed point to a renewal, Netflix has not made an official statement; therefore, we will update this post as soon as more information is known about the situation.