Ford Mustang Mach-E Review: Is It Worth the Hype in 2023?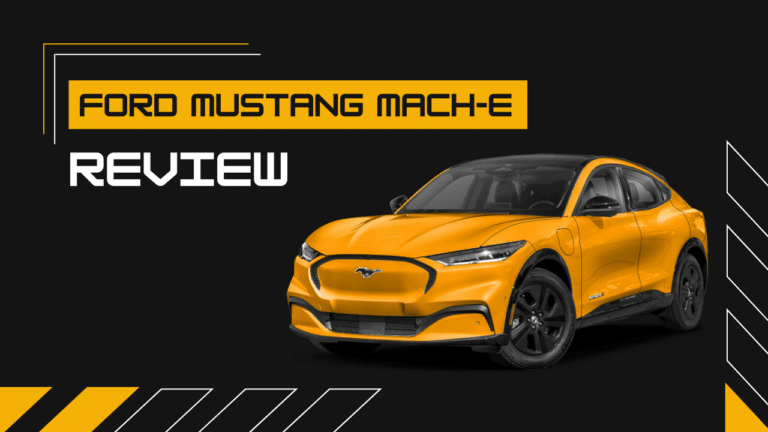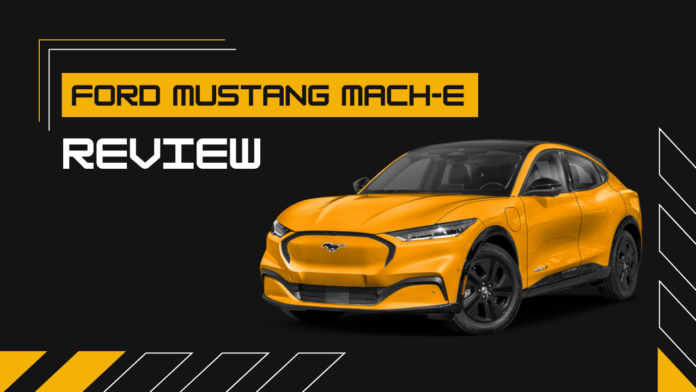 The Ford Mustang Mach-E has completely changed the electric SUV game with its unmistakable classic pony car look and extensive array of features. This distinctive all-electric drivetrain unleashes an unparalleled driving experience that you won't soon forget. If you're interested in finding out more about what's new for the 2023 Ford Mustang Mach-E review, then our blog post is perfect for you!
We'll be delving into details on range expansion, improved performance levels, and technological upgrades – so you can make wise decisions when searching for your next ride.
Get all the information on design modifications, power shoulder safety features, and much more – all within this helpful breakdown!
Content Highlights
The 2023 Ford Mustang Mach-E has a starting price of $44,795 and comes in Standard Range and Extended Range configurations.
It features improved engine performance levels with 480 horsepower and 634 lb.-ft of torque for maximum thrust.
Advanced driver assistance technology like adaptive cruise control, SYNC4 navigation system, wireless CarPlay & Android Auto capabilities are available for added convenience.
With rapid charging time, 312 miles total range on an extended battery version, and low maintenance costs the car provides great value for money compared to its rivals.
Overview of the 2023 Ford Mustang Mach-E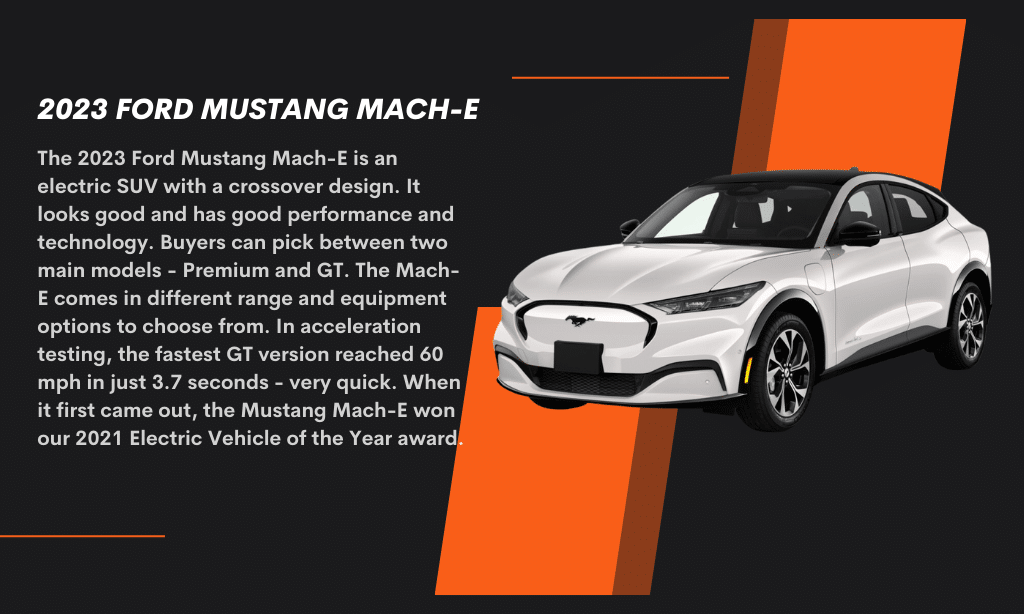 The 2023 Ford Mustang Mach-E arrives in Standard Range and Extended Range configurations, with respective starting prices of $44,795.
Starting Price of $44,795
The 2023 Ford Mustang Mach-E is an all-electric SUV designed to marry style, performance, and sustainability. Starting at the grand price of $44,795 it offers drivers a range of features that make it stand out from other electric cars on the market today.
The base model includes standard safety features such as active park assist and post-collision braking system, luxury materials like leather seating surfaces and Alcantara trim accents, infotainment systems featuring SYNC4 navigation with voice recognition, and wireless Apple Carplay & Android Auto capabilities.
The Ford Mach-E has an impressive 480 horsepower from its dual-motor setup. This gives drivers an exhilarating, fast ride. The Mach-E has a high-tech digital suspension control system with 5 different drive modes to choose from. There is a Whisper mode for comfortable everyday driving, an Engage Sport mode for quicker acceleration, Unbridled mode for maximum performance, Slippery and Trail modes for off-road driving, and a Dragstrip mode that allows the fastest acceleration in seconds.
These different drive modes let drivers customize the ride to their needs. When comparing the thrill and advanced tech of the Mach-E to rival electric vehicles, it provides great value for the money. The Mach-E gives an electrifying ride with its powerful motors and adjustable digital suspension.
Comparison With Other Electric SUVs (Hyundai Ioniq 5, Kia EV6, Volkswagen ID.4, Nissan Ariya, Chevrolet Bolt EUV)
When it comes to the world of electric SUVs, there are several competitors that the 2023 Ford Mustang Mach-E needs to be compared against. These include the Hyundai Ioniq 5, Kia EV6, and Volkswagen ID.4, Nissan Ariya, and Chevrolet Bolt EUV.
Model
Price
Charging Speed
 Range
2023 Ford Mustang Mach-E
Starting at $44,795
10% to 80% battery charge in 45 minutes
Estimated range between 226 and 312 miles
Hyundai Ioniq 5
Starting at $42,985
350 kW charging in 18 minutes
7.4-kWh pack gets 266 miles dual motor, 303 miles single
Kia EV6
Starting at $43,925
An 11 kW AC charger takes around 8 hours
With rear-wheel drive and the 77.4 kWh battery, the range is 328 miles
Volkswagen ID.4
Starting at $40,290
 50 hours of charging time to go from 0 to 100% charge
245–280 mi (394–451 km)
Nissan Ariya
Starting at $53,690
The ARIYA can charge at 130 kW (130 kilowatts)
Fast charging gives ARIYA up to a 300-mile maximum range
Chevrolet Bolt EUV
Starting at $28,795
120V: 4 miles per hour
240V: Full charge in 7 hours
This 29 kWh/100-mile energy usage enables a 247-mile range
These electric SUVs bring their unique strengths to the table. Therefore, customers need to consider their individual needs and preferences when deciding which model is the best fit for them. Additionally, you can also read on 2024 KIA Carens Review.
What's New for 2023?
The 2023 Ford Mustang Mach-E offers an impressive range of updates and improvements, such as a boosted motor for improved performance, advanced driver assistance technology like adaptive cruise control, and interior features including luxury fabrics and finishes.
Updates for the 2023 Model Year Mach-E
For the 2023 model year, Ford has made some nice improvements to the Mustang Mach-E electric SUV. The Premium trim level sees its estimated driving range go up slightly to 290 miles on a full charge, an increase of 13 miles over the previous year. Ford has also made more of their advanced driver assistance technology, called Co-Pilot360, standard across all Mach-E models for 2023.
Additionally, a new exterior package called the Mustang Nite Pony is now available as an option for certain Premium and GT Performance Edition versions of the Mach-E. The Nite Pony package includes black accents on the front and rear bumpers, black door cladding, and new glossy black 19-inch or 20-inch wheels depending on the trim.
On top-level GT and GT Performance Edition trims, the Mach-E now comes standard with a large panoramic glass roof for 2023. Ford has also added two new metallic exterior color choices: Carbonized Gray and Vapor Blue.
New Batteries for Standard Range Models
For the 2023 model year, Ford has made some nice upgrades to the Mustang Mach-E electric SUV. The Premium trim now has a 290-mile range, up from 277 miles. More driver-assist technology is standard on all models. New options include a Nite Pony package with black accents and wheels and a panoramic glass roof on high-end trims. Two new metallic color choices were added as well.
In the second half of 2023, Ford started equipping standard range Mach-E's with new lithium iron phosphate batteries. While maintaining 70.0-kWh capacity, these batteries increase EPA's estimated range. Rear-wheel drive models now get 250 miles, up from 230.
All-wheel drive increases from 210 to 226 miles. The new batteries also add more horsepower for standard-range all-wheel drive versions. Extended-range Mach-E models are unaffected by the battery update. If you're interested, you can also read on 2024 KIA Niro EV Review.
Ford Mustang Mach-E Review: Performance and Power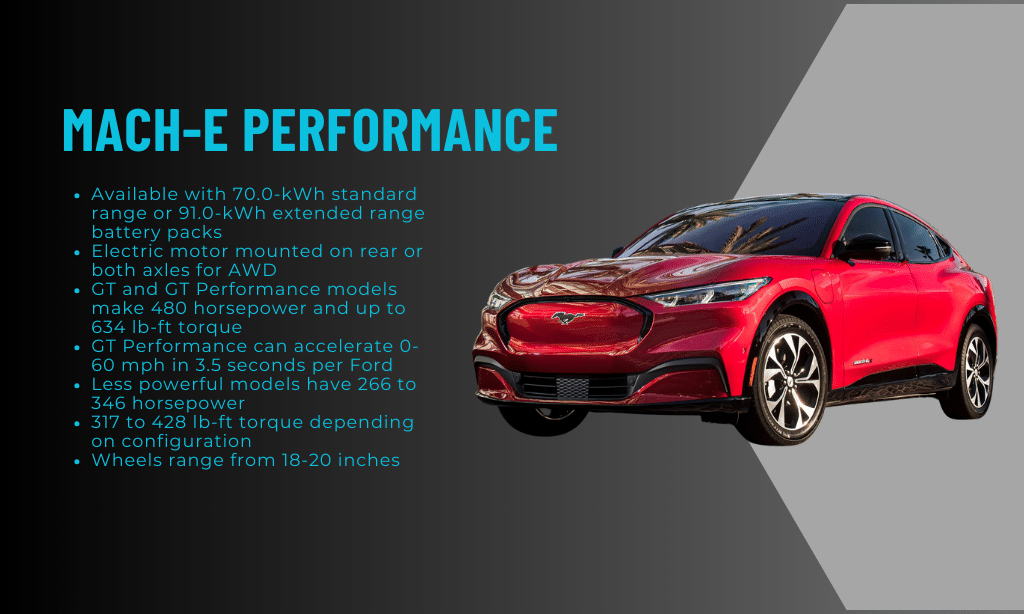 The 2023 Ford Mustang Mach-E features an electric motor that delivers up to 480 horsepower and 634 lb-ft of torque, ensuring you have plenty of power when accelerating and navigating tight turns.
EV Motor and Power
The 2023 Ford Mustang Mach-E is an all-electric SUV equipped with two electric motors to power you from point A to point B. The Maximum Saloon trim has a power output of 266 horsepower and 317 lb.-ft. Of torque, while the GT offers more than double this amount at 480 horsepower and 634 lb.-ft. Of torque thanks to its secondary motor.
Its performance includes rapid acceleration through 0–60 mph times as quick as 3.5 seconds for the GT Performance Edition (4.8s for non-Perf Ed). Its innovative eAWD system further improves traction in slippery situations or on rugged off-road terrain by providing power equally to both front and rear axles, whether accelerating or braking via independent control between each wheel hub motor, a first for EVs like this one!
Acceleration and Handling
The 2023 Ford Mustang Mach-E is a true performance machine, and it shows with up to 480 horsepower and 634 lb.-ft. Of torque generated by its electric motor, the Mach-E can accelerate from 0-60 mph in as little as 3.5 seconds, making this one of the fastest SUVs on the market today.
The GT and GT Performance Edition models even offer an impressive 0-60 time of 3.5 seconds, respectively – putting these among some of the quickest cars around! Thanks to this instant torque and incredible acceleration capabilities, drivers will surely have a thrill no matter where they're driving!
Furthermore, agile handling helps contribute to an excellent driving experience expected from any vehicle wearing the Mustang badge – delivering something truly special for each journey undertaken in the Mach-E!
Range, Charging, and Battery Life
An EV motor powers the Mach-E with great range, charging options, battery life, and low maintenance requirements to ensure a smooth ride every time.
Wide Range
The 2023 Ford Mustang Mach-E has an EPA-rated driving range that varies considerably depending on the model. Entry-level versions with standard-range batteries and all-wheel drive can only manage 226 miles on a full charge.
However, when you choose the extended-range battery option and rear-wheel drive, the Mach-E can have an impressive maximum range of up to 312 miles on a single full charge. Although decent, the Mach-E still falls short of the ultra-long 400+ mile ranges the highest-end Tesla EV models can achieve.
Fast Charging Stations
Fast charging capability is a very handy feature included as standard across all Mustang Mach-E trims. By plugging into DC fast charging stations, Mach-E drivers can rapidly restore a significant amount of range in a fairly short charging session.
Fast charging makes road trips much more feasible by minimizing the number of charging stops required and the length of time needed to charge at each stop. Mach-E owners won't need to waste as much time waiting around for their vehicle to recharge, thanks to fast charging.
Home Charging Options
Ford includes their handy mobile charger with every new Mach-E sold. Using a basic 120-volt household outlet, this mobile charger can provide approximately 30 additional miles of range after charging overnight. With a higher 240-volt outlet, owners can charge their Mach-E up to 80% full from empty overnight using the mobile charger.
Ford offers a dedicated charge station for even faster home charging that can be professionally installed in your garage. This charge station can add an estimated 32 miles of range per hour and can typically charge most Mach-E models from 0% to 100% charge overnight while you sleep. 
Read Also: MINI Electric Hardtop Review.
Interior Features and Comfort
The Ford Mustang Mach-E in 2023 features a luxurious interior with fine craftsmanship, premium materials, and high-quality finishes, providing plenty of comfort and convenience for all passengers.
Design and Materials
The 2023 Ford Mustang Mach-E features a mesmerizing and sleek exterior design that will draw admiring looks everywhere. Its sharp styling provides an alluring look, further enhanced by modern LED lighting to help the car stand out from conventional EVs.
Carbon fibre accents give off a sporty aesthetic, while the quad exhaust tips provide visual presence and breathtaking performance to the vehicle's profile. Inside this electric SUV, you'll find long curves and high-quality materials tailored for comfort and style.
The top trims of this model feature lush leather upholstery paired with stylish surfaces as well as ambient cabin lighting, adding a pleasant touch in darkness. Such combined elements create automotive luxury down to every detail without compromising on engineering prowess, something which is expected of Ford Mustangs no matter their origin power source.
Seating and Cargo Space
The 2023 Ford Mustang Mach-E offers generous seating and cargo space. The car is capable of accommodating five people in total, making it the perfect ride for families or groups heading out on an adventure.
The Ford Mustang Mach-E has 29 cubic feet of cargo space behind the back seats. When the rear seats are folded down, the cargo space increases to 60 cubic feet. So, decent storage space can expand by folding the back seats. This allows you to fit more items when needed.
Infotainment and Connectivity
The Ford Mustang Mach-E has Ford's newest Sync infotainment system. It uses machine learning to customize the experience for each driver. Right now, it supports 3 driver profiles and 1 guest profile. The system is displayed on a large 15.5-inch vertical touchscreen that is easy to see and use.
A benefit is that Ford can update the system over the internet over time. This allows them to improve the system and add new features constantly. Some top features are Apple CarPlay, Android Auto, Wi-Fi hotspot, and a Bang & Olufsen sound system. The machine learning and over-the-air updates help make the Sync system smarter and better over time.
Safety and Driver-Assistance Features
The 2023 Ford Mustang Mach-E has advanced safety features to keep you secure, so look and find out more for yourself.
Standard and Optional Safety Features
Standard safety features on the 2023 Ford Mustang Mach-E are automated emergency braking, forward-collision warning, blind spot monitoring, rear cross-traffic alert, and Ford Co-Pilot360 collection of advanced driving assistance systems. Additional safety features include optional driver's seat memory settings, heated front seats, and a surround-view camera system as part of the Ford Safe & Smart Package.
You can get even more protection with adaptive cruise control and voice-activated technology, all included with this premium package. Experience the ultimate convenience with automatic emergency braking, rear parking sensors, blindspot monitoring, and rear cross-traffic alerts, helping you stay safe during your drives in the Mustang Mach-E.
Driver Assistance Technology
The 2023 Ford Mustang Mach-E has impressive driver assistance technology features to keep you safe and make driving easier. These advanced safety features include the Ford Co-Pilot360, which includes BLIS (Blind Spot Information System) and Pre-Collision Assist as standard on all models.
This system uses radar sensing combined with your car's location in space to detect and react quickly to any upcoming obstacles or hazardous conditions detected ahead of the vehicle.
Additionally, you can opt for Active Park Assist in certain trims, which utilize ultrasonic sensors to steer you into a parallel parking spot with ease automatically. There's no need to worry about tricky urban/suburban manoeuvring either – relax and let the Automated Braking system do its thing. During those tight turns, it will slow down the car according to traffic lights or crosswalks! Finally, if luxury is more your comfort zone, higher trim levels also offer Adaptive Cruise Control (ACC).
ACC allows you to stay safely at a specified speed without braking manually every few seconds by utilizing a combination of GPS navigation information along with laser range finders for accurate distance measurement from other vehicles.
Warranty and Maintenance Coverage
Get the assurance you need with Ford's warranty and maintenance coverage options on the Mustang Mach-E. So you can enjoy it worry-free!
Coverage Details
The 2023 Ford Mustang Mach-E comes with extensive warranty options, providing the vehicle's owners confidence and peace of mind. The New Vehicle Limited Warranty offers 8 years or 100,000 miles coverage on unique electric components from the date of purchase.
This is comprehensive coverage for many major components and systems of the car, such as the powertrain, brakes, audio/electrical system, suspension/steering, and more. Additionally, there is a standard warranty that lasts 3 years or 36000 miles that extends retrieve minor repairs and replacements during this period.
Moreover, Ford also offers a Certified Pre-Owned Comprehensive Limited Warranty for CPO Mustang Mach-Es that comes with even more extensive coverage than the New Vehicle Limited Warranty.
It extends to 12 months or 12000 miles (whichever occurs first) after expiration of the 4-year/50K mile NEW VEHICLE LIMITED WARRANTY FOR PASSENGER CARS AND TRUCKS to provide further cover against defects in material workmanship under normal use conditions.
Maintenance Requirements
The Ford Mustang Mach-E has a New Vehicle Limited Warranty covering bumper-to-bumper for 3 years or 36,000 miles. This warranty is transferrable in case of a vehicle sale and also includes Electric Unique Component coverage for 8 years or 100,000 miles.
Ford offers scheduled maintenance via its dealership service centres to keep the vehicle running properly and ensure smooth driving performance. The Mustang Mach-E requires oil changes at least once every year or 12,000 miles to help protect the motor from damage and maximize fuel economy.
Additionally, other services such as wheel alignment and tire rotation should be done regularly according to the evaluated manufacturer's recommended schedule; failure to do so can lead to decreased handling capabilities downhill or when turning corners due to uneven distribution of force on the tires over time.
Frequently Asked Questions (FAQs)
Now, let's find out some common questions about the Ford Mustang Mach-E.
1. What is the Ford Mustang Mach-E?
The Ford Mustang Mach-E is an electric SUV built and released by Ford Motor Company in 2023 with a range of new features.
2. What are some features of the 2023 Mach-E?
A MAGNETIC suspension system, partially automated driving option, panoramic roof, advanced safety systems, and connected navigation services are some of the latest features of the 2023 model year.
3. How efficient is it in terms of energy consumption?
The 2021 Mustang Mach-E's EPA estimated range allows for up to 250 miles on a single charge and promises to reduce CO2 emission levels significantly from other SUVs.
4. Is there any possibility for customization options?
Yes, customers can customize their car when they order online or choose additional accessories like personalized license plates or alloys after purchase at dealerships that offer such services.
Takeaway
The 2023 Ford Mustang Mach-E is an impressive electric SUV that packs much punch. It combines its predecessor's irresistible performance and powertrain options while providing drivers with modern tech features like Wi-Fi, Sync 3 infotainment system, wireless charging pad, digital instrument cluster display, and more.
From exciting exterior styling to an inviting interior experience that provides comfort for up to five passengers – plus ample cargo space, the Mach-E will impress all who take it out on the open roads.
Furthermore, this reliable EV comes at value prices – you get plenty from your money here! With its advanced tech features and sheer driving pleasure, there's every reason why people should consider getting their hands on this fantastic electric vehicle from Ford.