EdbMails OST Converter Review – Simple and Reliable Conversion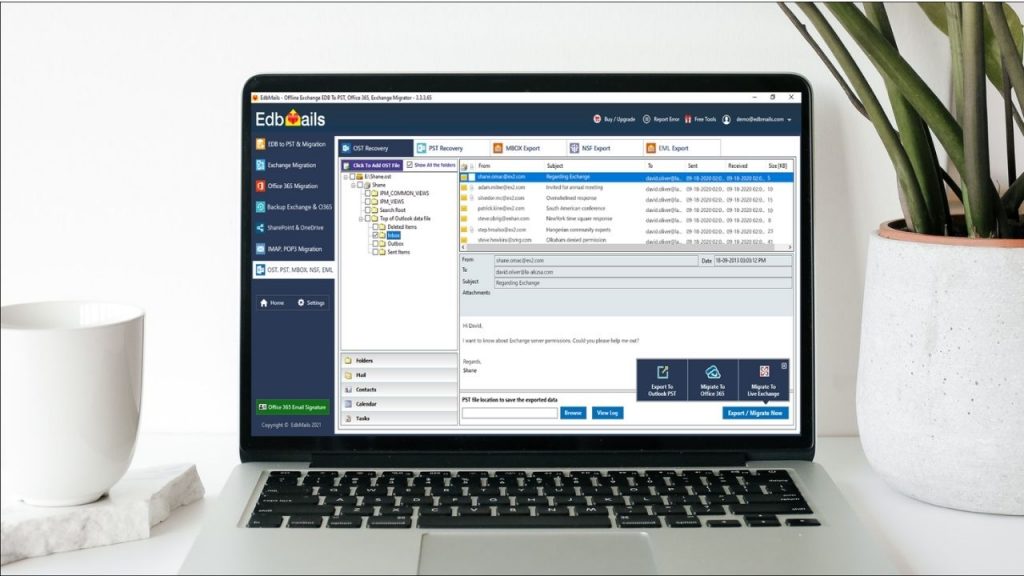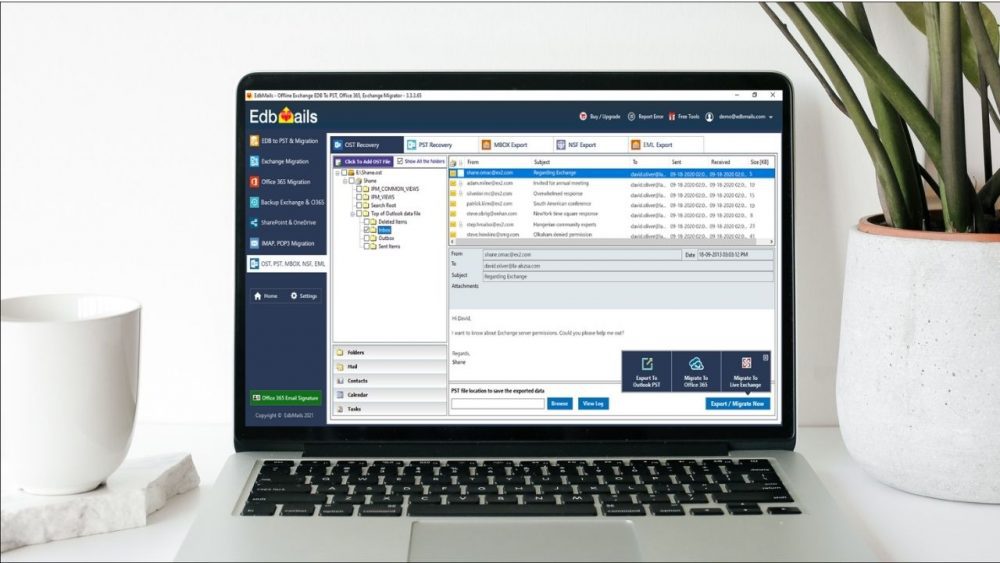 Outlook is a fantastic email client with a plethora of useful features. It is commonly used for personal use and business environments for day-to-day communication and exchange of emails and attachments. Outlook stores all these mail items from the online accounts in the form of a .ost file. This OST is stored locally on your desktop or laptop depending on where you access your Outlook client and continuously synchronized with an Exchange or IMAP online account. In the event that something goes wrong with the .ost file and you need to restore it from your local copy, what do you do? Microsoft Outlook supports both PST and OST files.

Although the two sound identical, the subtle difference between them is that a PST file is a portable file that can be moved to any PC that has an Outlook client installed, whereas an OST file cannot be directly copied and it is only utilized with the account that has been set up. You can't recover anything from your OST file if something goes wrong with your Outlook. All offline changes are lost if the connection or OST becomes corrupted before the local copy has synchronized with Exchange/Office 365 or any IMAP server.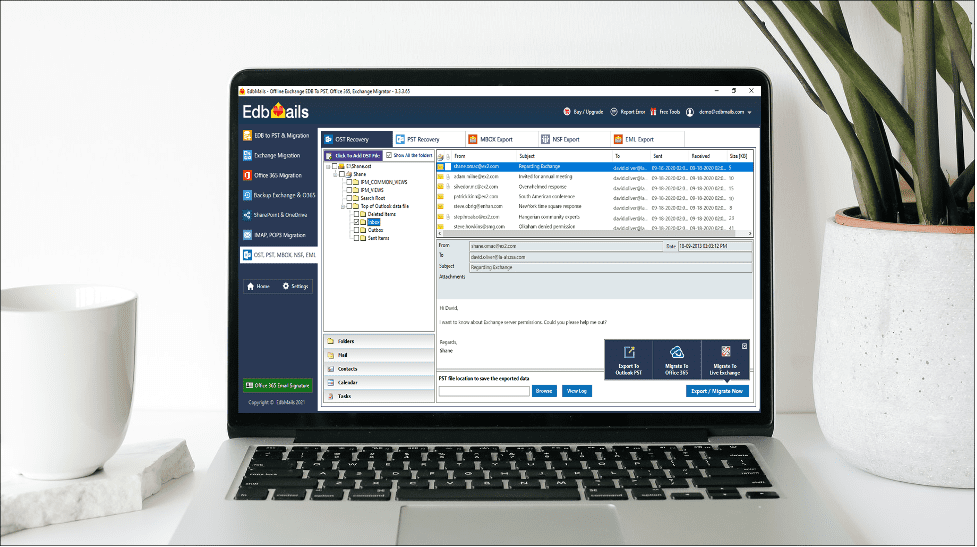 Use Case Scenario for OST file recovery and conversion
Let's look at a real-world example of why an OST file recovery would be necessary. A user has created a backup of all of their emails, calendar events, and contact information. He is disconnected from his Exchange Server while on the trip. Due to the lack of a connection to the server, all of his saved data in the OST file is on the device (personal laptop). Meanwhile, the Exchange server crashes or becomes unreachable, preventing him from opening Outlook as usual. As a last option, his Outlook mail profile must be wiped and recreated. He will have a second copy of the data on his computer if he uses this method, but he will lose all of the data he created locally while traveling (offline).
Consider another use case situation in which you need to restore data from an OST file of a person who has left the organization and his online mailbox has been removed, but his workstation remains accessible. For certain reasons, you must restore some data from his mailbox and the OST file contains the only copy of his emails. Keep in mind that the data cannot be extracted directly from an OST file since it is a Microsoft proprietary format and encrypted with the online profile. Unless you use a third-party OST to PST converter tool, such as EdbMails OST to PST converter, you're out of luck.
If your IMAP mailbox is removed by the service provider, you will lose all of your emails because the latest version of Outlook uses OST and not PST for IMAP accounts.
EdbMails OST to PST converter software brief overview
Opening, browsing, and recovering data from an OST file is a breeze, thanks to EdbMails OST converter software. With this tool, you can directly convert OST to PST or import it into an Exchange Server or an Office 365 tenant.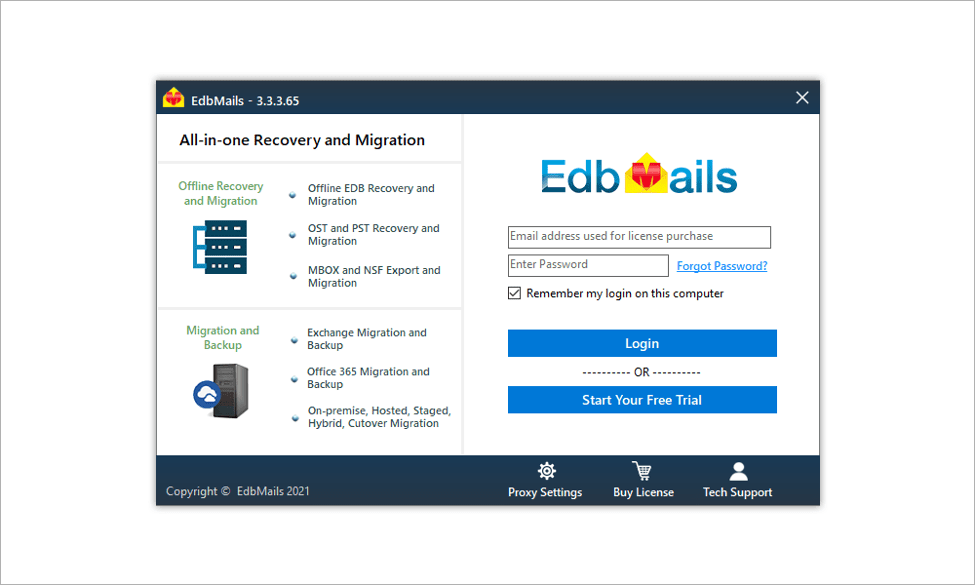 Prominent features of the software
Let's have a look at the different capabilities that EdbMails OST program has to offer before we go into the specifics of each function.
      1. Convert any OST files to PST without size restrictions
      2. Import into destination Office 365 and Exchange server
Export in a variety of file types and formats
Filtering and User-friendliness
Affordability and Utility
Convert any OST files to PST without size restrictions
EdbMails OST Converter utility can convert any OST file (from an Exchange or IMAP account) on your computer or network. All you need is a desktop Windows with the application installed to convert the OST to PST in a matter of minutes. There are no file size restrictions, and the process is straightforward. Both large and small OST files can be converted. You can also use the utility to convert encrypted OST files from an older version of Outlook. When you open an OST file using EdbMails, all of the Exchange or Office 365 public folders and Deleted Items are displayed in addition to the mailbox folders, allowing you to recover them all.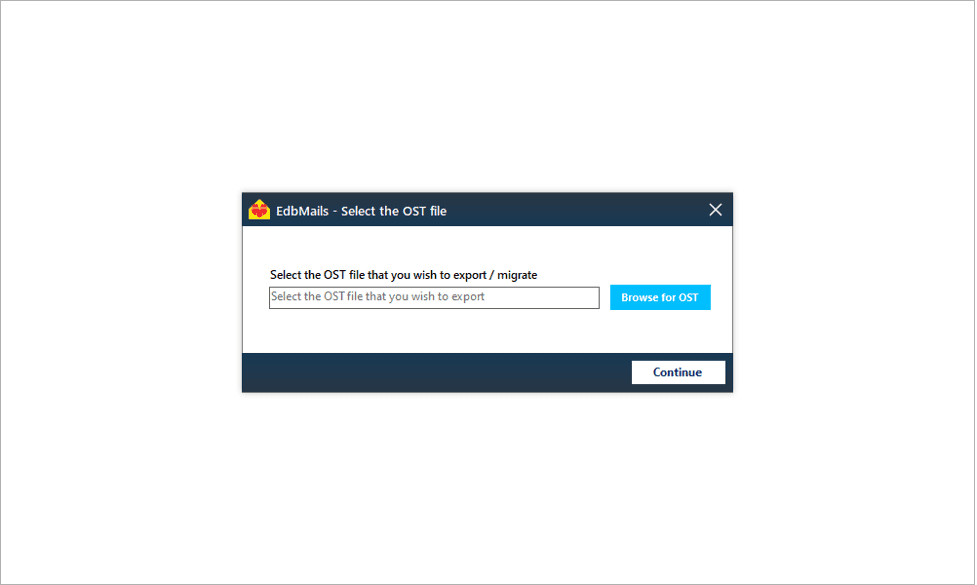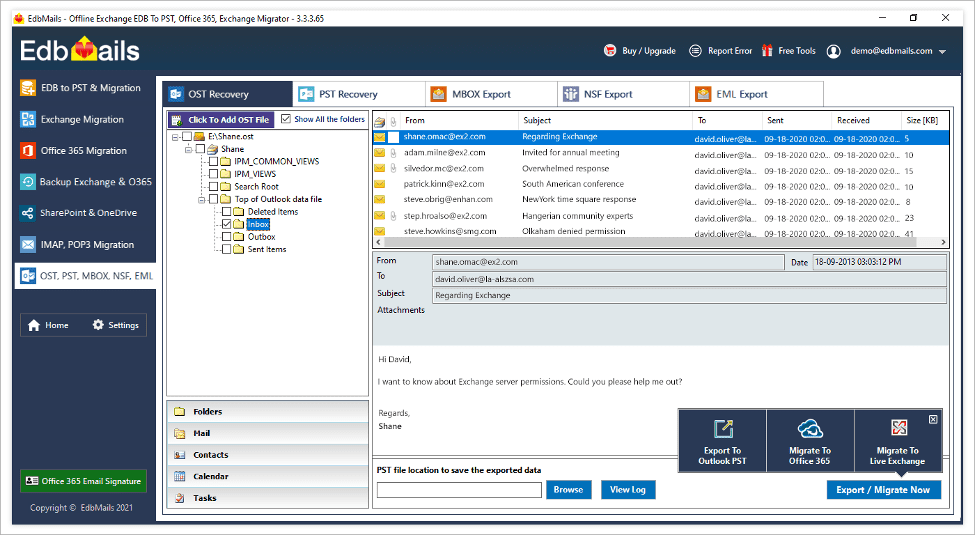 Import into destination Office 365 and an Exchange server
EdbMails supports direct import into Office 365, Exchange Server on-premises, or cloud-based Exchange server. If you want to migrate to any of these services, you don't have to do any additional procedures. All that is necessary is a simple Exchange Server connection and the import of the OST file into the correct mailboxes. That is also true for Office 365 mailboxes! This functionality will substantially speed up any import workflow by avoiding unneeded intermediate hops.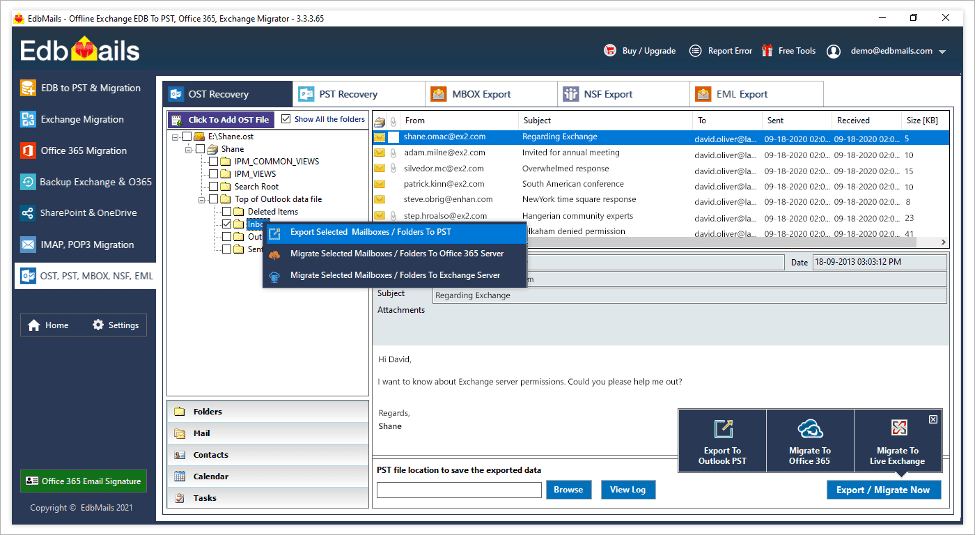 Export in a variety of file types and formats
EdbMails allows you to export the OST file into different formats such as HTML, MHT, EML which is quite practical if you would like to open mail items without Outlook dependency. Simply right-click on the items in your OST file and choose the format to which you want to export them, and you'll be done in no time.
Filtering and User-friendliness
To avoid having to browse through a massive PST file while exporting an OST file, you should just export what you need. It's up to you how much and how much filtering you want to do using EdbMails OST Converter software. When you open a folder, you'll see everything in it. The filter options allow you to select emails based on different parameters such as Subject, Date, To, From, and so on.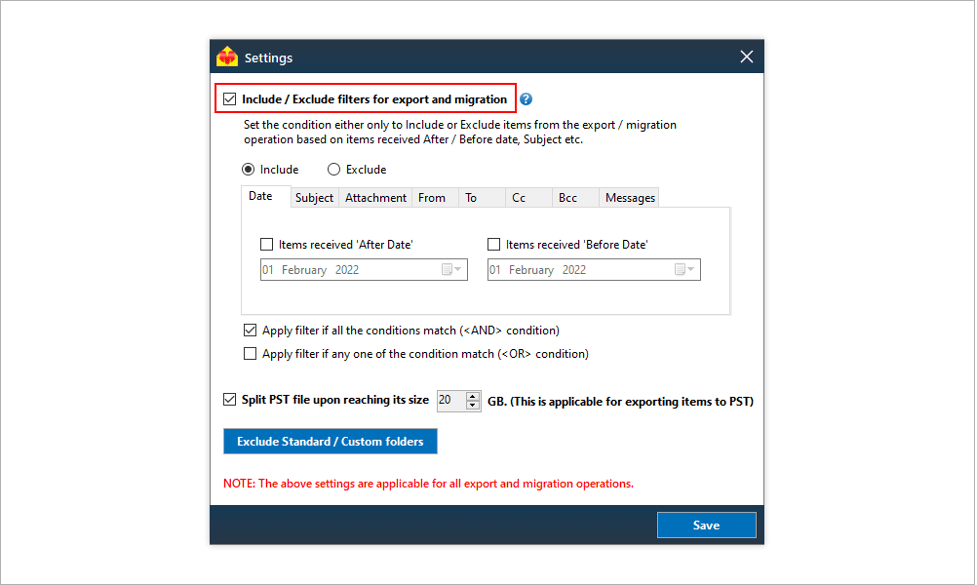 An additional option is the Exclude Standard/Custom folders where you can select only specific folders to be exported and exclude Junk or other unwanted folders. Pick the relevant folder, then select PST as the file type to be converted to. Deleted items aren't included by default, but you can check the box to include them and then click Save.
In terms of usability, EdbMails puts all of the options at your fingers and makes them easily accessible. The steps are well-defined, and there is no ambiguity at any point. You are only taken to the following step when you have completed a specified step, so there is nothing to miss.
Affordability and Utility
When compared to its competitors, EdbMails is the most affordable tool on the market. It has three distinct pricing plans to suit different users: Personal, Corporate, and Technical. The Personal Edition starts at 39$, which we found to be very fair for a file converting software. Additionally, it delivers all of the capabilities at the same price as other competitors, which is a tempting point to highlight. To be honest, anyone can utilize this software in terms of utility. The different screens are easy to navigate, and the user interface looks and feels similar to Outlook. It can convert any OST file from any version of Outlook, from 2000 to 2019. The Recovery and conversion are two-step processes, with all options available in a single interface for simple access.
There is also a free trial version accessible to download if you want to try out all of the features before purchasing it. If you require extra assistance or want to learn more about the tool's features, we highly recommend requesting a free live demo from EdbMails superb 24×7 support team to receive a thorough walkthrough explanation of the product and its functioning.
Final Words
We tested EdbMails OST to PST conversion tool, which is an excellent product that can save you a great amount of time and effort when dealing with OST file issues. When a user's Outlook profile has been corrupted and you need to recover those lengthy drafts or offline updates from the OST file, Exchange administrators and corporates can completely rely on this solution. If you want to sidestep the OST file issue by creating a new Outlook profile, this appears to be easier said than done because any drafts, calendar entries, or modifications performed offline would be lost as a result. EdbMails can simply recover such changes and transform them into portable and functional PST files, which you can then import back into Outlook. It also allows you to save time by importing your files, folders, and mail items directly into an Office 365 account (OST to Office 365 migration). This application is a must-have for everyone who works with Microsoft Outlook due to its extensive feature set, ease of use, and reasonable pricing.
We'd like to introduce Sigsync Office 365 email signatures as another excellent product for Exchange and Office 365 users. It is a full-featured signature manager for your entire company. Sigsync's most appealing features include a full-fledged signature generator, hundreds of professionally designed templates for readymade customization, and free signature design service for your entire team. It enables you to schedule email signatures for specific campaigns or promote the brand of your product by including eye-catching banners and signature elements. If this is something you're interested in, you can find out more by going to the official website.
Subscribe to Our Latest Newsletter
To Read Our Exclusive Content, Sign up Now.
$5/Monthly, $50/Yearly