Earthquake in Morocco: Thousands Injured, Homes Destroyed, What's Next?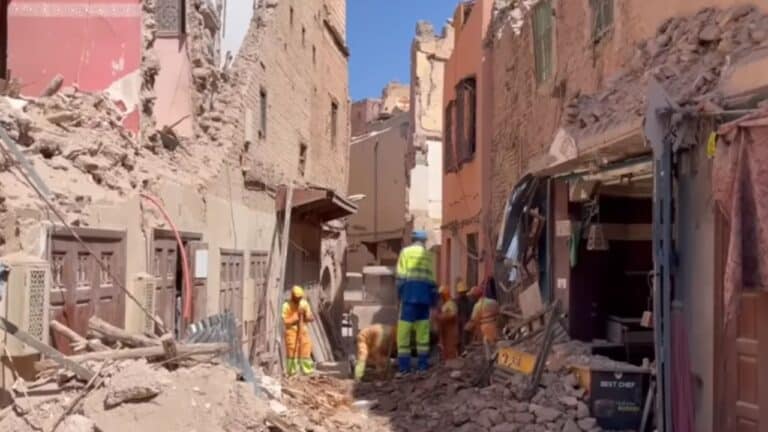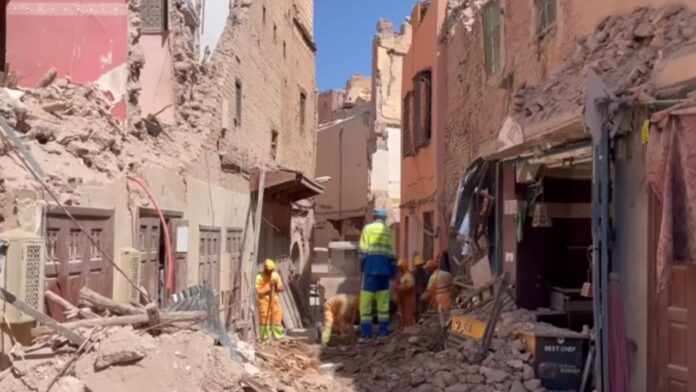 A devastating earthquake, registering at least 6.8 on the Richter scale, struck near the city of Marrakesh in Morocco on Friday night, resulting in a tragic death toll exceeding 2,100 individuals. Among the victims were four French nationals.
This powerful quake is considered one of the most significant to impact Morocco in many decades. Adding to the turmoil, a 3.9-magnitude aftershock occurred on Sunday morning, as reported by the US Geological Survey.
Rescue workers are tirelessly searching the areas surrounding the epicenter in the High Atlas Mountains and combing through the rubble in Marrakesh's old city, which is situated approximately 70 kilometers to the north. The death toll is expected to rise as more victims are discovered. Al Aoula, the state broadcaster, has reported that over 1,404 people are in critical condition.
In response to the disaster, King Mohammed VI has mobilized the military to spearhead search and rescue operations. Several nations, including France, the United Arab Emirates, and Turkey, have pledged their support for these efforts. However, some rescue teams have expressed frustration over the slow government approval process, which is impeding their ability to reach survivors in a timely manner, according to the New York Times.
Spain's government has received official approval from Morocco to provide assistance and has dispatched a plane carrying 86 emergency personnel and six search dogs to the affected region. Meanwhile, Britain and Qatar have also sent teams to aid in the rescue operation.
Regrettably, King Mohammed's limited involvement in stabilizing the situation and providing guidance is starting to hinder search and rescue efforts. An Italian volunteer, Marco Abate, who arrived with a small team on Saturday, expressed concern about the lack of essential resources and support for those affected. He noted that in Italy, there would typically be reception centers, food and beverages, and field hospitals set up promptly after an earthquake. In contrast, many individuals in Morocco are left without shelter and assistance, with some forced to sleep on the streets.
The region surrounding the earthquake's epicenter is renowned for its picturesque, mountain-clinging villages, while Marrakesh stands as a prominent international tourist destination with a rich history dating back to the Middle Ages. The earthquake, however, has left its mark on this historic city. The famous red walls delineating the boundaries of the old city, along with the iconic Kutubiyya mosque within, have sustained damage, though the full extent of the destruction remains unknown.
Many of the buildings in Marrakesh's old city are centuries old, with the Kutubiyya mosque tracing its roots back to the 12th century. Given that earthquakes are infrequent in Morocco, structures in the area are not typically designed to withstand seismic shocks as those in earthquake-prone cities like San Francisco or Tokyo might be. Adding to the severity, the earthquake was relatively shallow, occurring just 18 kilometers below the surface, according to the United States Geological Survey. This depth likely exacerbated the damage and foreshadows a substantial death toll. Bill McGuire, a professor emeritus specializing in geophysical and climate hazards at University College London, noted that the final death toll could potentially climb into the thousands as more information emerges. He also cautioned that aftershocks are likely, posing further risks to both search and rescue efforts and the affected population.
Both Marrakesh and the adjacent areas grapple with high population density, a factor that is anticipated to impact the casualty count significantly. While the region surrounding the epicenter is home to approximately 1.8 million people, certain parts of Marrakesh exhibit population densities even surpassing those of Manhattan. This insight, gleaned from an analysis of WorldPop data by the University of Southampton in Britain, underscores the magnitude of the challenge in responding to this devastating earthquake.
In recent decades, advancements in earthquake science have provided us with a clearer understanding of fault lines and potential earthquake-prone areas. This improved knowledge has been invaluable in shaping policies and enhancing preparedness measures. However, it's essential to emphasize that despite these scientific strides, predicting the exact timing of earthquakes remains an impossibility. This inherent uncertainty underscores the critical importance of ensuring that vulnerable regions are well-prepared to withstand the impact of such disasters.
The Moroccan Government's Crisis Response
Morocco operates under a constitutional framework where there is indeed a Prime Minister, Aziz Akhannouch, but it's important to note that the king, King Mohammed VI, holds the ultimate authority in matters of state. Any international aid provided to Morocco in times of crisis requires an invitation from the king himself.
The monarchy plays a pivotal role in Morocco's national identity and has a historical lineage dating back to the 8th century. King Mohammed's father, Hassan II, ruled for 38 years during a period of post-colonial transition for Morocco and the broader African continent. While Hassan II had a complex legacy, he was a significant figure on the global stage and fostered relationships with the United States and Israel.
However, King Mohammed VI is often observed to be absent from the country, not primarily for diplomatic missions. His recent return to Morocco followed extended trips abroad, notably to France and Gabon. He is frequently seen in the company of Moroccan-born Ultimate Fighting Championship fighter Abu Bakr Azaitar and his brothers, although their visibility has decreased since Mohammed's return. Moroccan media outlets have raised concerns about the influence of these individuals on the monarch, as reported by the Financial Times last month.
In response to the earthquake, Morocco's Royal Armed Forces have mobilized helicopters, drones, and airplanes for search and rescue operations. Due to traffic and debris resulting from the quake, travel by land to affected areas has become extremely challenging. Organizations like Médecins Sans Frontières have announced plans to send teams to assist, and the United Nations is prepared to support rescue efforts. However, as of Saturday night, the Moroccan government is primarily managing the response.
Moroccan citizens have shown solidarity by lining up to donate blood, but King Mohammed himself has not made public appearances or statements during this time. Even his directive to deploy forces for search and rescue was communicated through the Moroccan Army. While several countries and regions, including Japan, Israel, Turkey, and three French regions, have offered support and relief aid, it remains uncertain whether the king has accepted this assistance. Nevertheless, King Mohammed has called for funeral prayers for the earthquake victims to be held in mosques across the country at noon on Sunday, as reported by CNN.
Morocco, though relatively stable compared to neighboring countries like Libya and Tunisia, faces significant economic challenges, including a drought-affected agricultural sector, a tourism industry recovering from the COVID-19 pandemic, and inflation due to the war in Ukraine.
The recent earthquake in Morocco is reminiscent of a similar event in southern Turkey and parts of northern Syria in February. Insufficient infrastructure and building resilience contributed to a high casualty count and delayed search and rescue efforts. While earthquake-resistant building reforms were introduced in Morocco in 2011, their adoption has not been consistent across all earthquake-prone regions, particularly in poorer and rural areas where quality checks are infrequent, as reported by the New York Times.
Subscribe to Our Latest Newsletter
To Read Our Exclusive Content, Sign up Now.
$5/Monthly, $50/Yearly