How Dhaka Airport's Third Terminal Can Change Bangladesh's Economy? [Analysis]
The third terminal of Hazrat Shahjalal International Airport in Dhaka, Bangladesh – is one of Southeast Asia's largest airports. The new terminal is said to triple its export cargo handling and offer modern amenities for an improved traveler experience. So, are you now considering the economic benefits of Dhaka Airport Third Terminal?
This editorial-type article will look into how this development can change the country's economy, infrastructure development, and tourism industry.
So, if you want to understand how a single airport project could revolutionize Bangladesh, read on!
Content Highlights
The Third Terminal development at Hazrat Shahjalal International Airport in Dhaka, Bangladesh, could revolutionize the nation's economy, infrastructure, and tourism industry.
Expansion plans include a third international passenger terminal as well as two cargo terminals which will triple handling capacity compared to previous levels.
Passengers traveling through this state-of-the-art airport facility enjoy modern amenities such as duty-free stores, restaurants, lounge areas, and VIP terminal services.
The additional runway has also improved operational flexibility accommodating larger aircraft while reducing takeoff wait times and providing efficient movement of aircraft on the tarmac with faster cargo turnarounds.
Background on Hazrat Shahjalal International Airport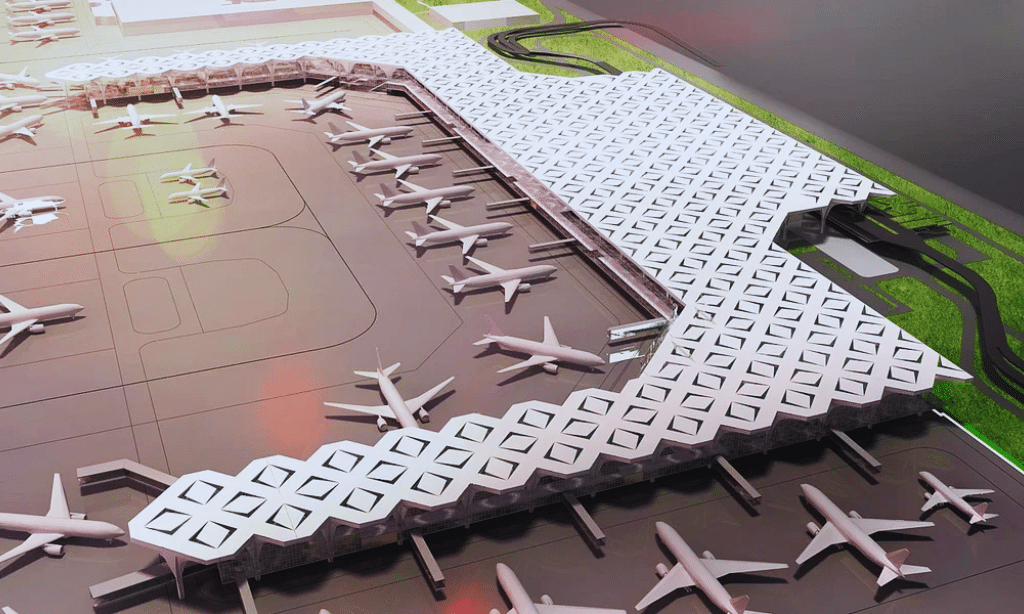 Located in Dhaka, Bangladesh, Hazrat Shahjalal International Airport is the busiest international airport and serves as an important gateway for travelers.
Location and Connectivity
Hazrat Shahjalal International Airport is the largest and busiest airport in Bangladesh. It is conveniently located 17km from Dhaka city center, providing easy access for domestic and international passengers coming to or leaving the country.
The airport serves as a base for both military and civilian purposes and an important hub of transportation connecting various parts of Bangladesh with other cities in South Asia, such as Kathmandu and Delhi.
With its close proximity to major transportation networks like highways, railway stations, bus stops, metro lines, etc., travelers going to Hazrat Shahjalal International Airport are assured quick commutes no matter their mode of transport.
History
Hazrat Shahjalal International Airport, located in Dhaka, is Bangladesh's major and potentially biggest international airport. It was first established by the Pakistan Government in 1966 as an alternate facility for Chittagong Airport and received its current name after the independence of Bangladesh.
Since then, it has gone through various expansion projects, including constructing a second runway in 2006 which helped double its capacity. Over the years, it continues to be subjected to extensive development work done by both private real estate companies and government bodies alike that has almost engulfed it with Dhaka city, forcing further power intake stations such as runways outside of area limits.
The Third Terminal has currently undergoing construction since 2015, according to the tendering process, which constitutes part of a staggering multi-billion infrastructure project launched towards making the airport a hub within South Asia.
Development and Expansion
Hazrat Shahjalal International Airport is the largest international airport in Bangladesh and has seen major expansions over the years to meet increasing passenger demands. In 2009, it underwent a full renovation, constructing a new runway, taxiways, modern navigation aids, and state-of-the-art usage for aircraft and passengers.
This provided an increase in capacity from 5 million to 10 million passengers annually. To further address the need for increased air travel within Bangladesh, expansion plans began for a third terminal at the airport that was partially completed on October 7, 2023.
The addition includes a third international passenger terminal as well as cargo terminals which combined will increase handling threefold compared to previous levels. These upgrades are intended not only to accommodate an upsurge in demand within Bangladesh but also to spur economic growth by enabling exports through improved cargo processing times and smoother export processes while attracting more tourists into the country due to increased airline connections available via Dhaka Airport's extensive route network.
Second Runway
The construction of the second runway at Hazrat Shahjalal International Airport aims to address the projected increase in air traffic with improved facilities and infrastructure. The expansion will help accommodate larger aircraft while also improving efficiency and safety for passengers traveling through Dhaka.
With an extended length, the new runway will provide a smoother take-off and landing process, making it more comfortable for passengers. Moreover, its design supports greater operational flexibility, which is beneficial when managing variable weather conditions and airspace control requirements.
Furthermore, better utilization of nearby space is possible by having two runways instead of just one. This will significantly reduce takeoff wait times while still allowing efficient movement of aircraft on the tarmac, reducing cargo turnarounds as well as passenger delays.
Development of the Third Terminal
[Video Credits @Unique Bangladesh]
The third terminal of Hazrat Shahjalal International Airport in Dhaka was partially inaugurated on October 7, 2023. It is expected to be fully operational by the end of 2024. The new terminal will have the capacity to handle 24 million passengers and 500,000 tonnes of cargo per year, significantly increasing the airport's capacity and capabilities. The
Third Terminal at Dhaka Airport
will pave the way to modern aviation and economic revolution in Bangladesh.
Terminals 1, 2, and Domestic Terminal
Hazrat Shahjalal International Airport currently consists of three terminals in total. Terminal 1 is the main international terminal which can accommodate around 7 million passengers annually and serves almost all international airlines arriving in Bangladesh.
In addition, it contains several high-end facilities such as duty-free stores, restaurants, lounges, banks, ATMs, and currency exchange offices for passenger convenience. Terminal 2 only handles air cargo operations, while the Domestic Terminal operates exclusively domestic flights within Bangladesh.
This terminal has two touchdown points for airplanes alongside additional features such as a restaurant and shopping area and provides an efficient way to travel between cities inside Bangladeshi borders.
Terminal 3
The Third Terminal at Dhaka Airport is a massive infrastructure project that has been in the works since December 2019 and was partially inaugurated by Prime Minister Sheikh Hasina on October 7, 2023. This ambitious undertaking comes with a substantial initial cost estimate of Tk 21,300 crores, reflecting the significant investment being made to upgrade the airport's facilities.
The interior design of this impressive terminal was entrusted to architect Rohani Bahrain, who is known for creating both aesthetically pleasing and functional spaces. With a sprawling terminal area covering 5,42,000 square meters, it is set to become a pivotal hub for air travel in the region. To enhance passenger convenience, the terminal is equipped with 26 boarding bridges, with 12 of them slated to open in October.
Additionally, there are 115 check-in counters, including 15 self-service check-in counters, ensuring efficient passenger processing. Furthermore, the terminal offers 10 self-service passport control counters and 66 external immigration counters to facilitate swift immigration procedures. There are 5 self-service check-in counters for arriving passengers, making the Third Terminal a modern and efficient addition to Dhaka Airport's infrastructure.
VIP Terminal
Located near the international terminals of Dhaka Airport, the VIP terminal is designed to provide exclusive services for passengers traveling in luxury. This purpose-built facility marks an important part of the overall expansion project of Hazrat Shahjalal International Airport.
The facility features world-class amenities and passenger services that are meant to change Bangladesh's image as a premier destination with its modern infrastructure and high-end services.
Its excellent location offers direct access to global networks for travelers from all around the world; this, coupled with exclusive lounge areas in addition to security checkpoints, makes it possible for passengers who choose this optionable terminal to have access to a hassle-free premium experience at no additional cost than regular check-in fees such as assigned seating assignments, extra baggage allowance and more priority boarding privileges than ticket holders on commercial flights.
The VIP terminal includes separate check-in counters optimized for lower waiting times, rest areas overlooking stunning views from the airport's rooftop gardens, massaging rooms with private showers, and internet cafe capabilities enabling business travelers can have quick coffee while they get ready for their flight.
Cargo Terminal
The Cargo Terminal at Dhaka Airport's Third Terminal is a crucial component of the project, which has been designed to support Bangladesh's export opportunities and its aviation infrastructure.
The cargo terminal includes improved cargo storage facilities, extended cold storage capabilities, and an advanced multimodal transport system to ensure the efficient movement of goods between airports in the region.
This system will help increase trade by providing air-to-ground connections while offering shorter delivery times for government organizations as well as private domestic and international parties.
The terminal is also important in boosting tourism by allowing more destinations to be flown directly from Hazrat Shahjalal International Airport than ever before, making it much easier for people to travel domestically and abroad.
Airlines and Destinations
The opening of the Third Terminal of Dhaka Hazrat Shahjalal International Airport has the potential to attract global airlines and destinations into Bangladesh. With an additional terminal, there will be more capacity for incoming flights and allow international carriers access to operate in the state, thereby increasing air connectivity within the country.
This expansion is seen to make a significant impact on improving domestic access from domestic airports so that travelers may experience convenience in their travels within Bangladesh.
Additionally, increased accessibility can also move travelers between cities quickly and without disruption while opening up new options for further travel. Furthermore, with additional routes being offered from this new terminal, tourists will have far greater opportunities to explore different countries around the world with ease, which could potentially boost tourism numbers significantly once normalcy prevails again after the pandemic crisis across the globe due to COVID-19.
Passenger and Cargo
The third terminal at the Hazrat Shahjalal International Airport will greatly benefit both passengers and cargo traffic in Bangladesh. The development of the expanded facility, with its modern technological upgrades, is designed to increase capacity and create an efficient system for passenger check-in.
This has enabled Bangladeshi travelers to enjoy a more pleasant airport experience by completely avoiding queues at security points – which during peak hours can become very long – as well as reducing waiting time for baggage handling.
Cargo transport at Dhaka airport also stands to benefit from the new terminal facilities due to improved storage systems along with additional advanced equipment that allows large flights' on-ground movement operations needs easy managing within shorter turnaround times than before. Additionally, you can also read about Padma Bridge. 
Dhaka Airport Third Terminal Economic Benefits
[Video Credit: @Channel 24]
With an increase in export opportunities, boosted tourism, and improved employment prospects, the Third Terminal of Dhaka Airport promises to bring positive changes to Bangladesh's economy. According to our research, here is a table showing how Dhaka Airport's third terminal can change Bangladesh's economy. 
| | | |
| --- | --- | --- |
| Area | Impact | Evidence |
| Trade | Increase exports and imports | The third terminal will have a dedicated cargo village with state-of-the-art facilities, which will help boost Bangladesh's export and import trade. The airport's annual cargo handling capacity is expected to increase from 200,000 tonnes to 500,000 tonnes. |
| Tourism | Attract more tourists | The third terminal will also help to attract more tourists to Bangladesh. The new terminal will be more modern and efficient and will offer a better passenger experience. The airport's annual passenger handling capacity is expected to increase from 8 million to 24 million. |
| Job creation | Create new jobs | The construction and operation of the third terminal is expected to create thousands of new jobs. The new terminal will also support the growth of related industries, such as tourism and logistics. |
| GDP growth | Boost GDP growth | The third terminal is expected to boost Bangladesh's GDP growth by 1-2%. This is due to the increased trade, tourism, and investment that the new terminal will attract. |
Increased Export Opportunities
In 2021-22, The Government earned 1597 Crores (BDT) from the Shahjalal International Airport, according to the Civil Aviation Authority of Bangladesh (CAAB). The new third terminal is expected further to increase the earnings from the Dhaka International Airport. The new terminal will have the capacity to handle more passengers and cargo, which will lead to increased revenue from landing and takeoff fees, passenger service charges, and cargo handling charges. With the enhanced cargo handling capacity, expected to be three times greater than before, exporters will be able to transport a wide array of products quicker than ever before.
This improved capability opens up numerous possibilities for new and promising export items such as jute goods, leather products, ready-made garments (RMGs), IT services & so on that could yield great economic benefits for Bangladesh.
Not only would these exports generate income, but they also create more employment opportunities domestically by encouraging direct foreign investments from other countries. According to a recent study conducted by the Export Promotion Bureau (EPB) Bangladesh's exports witnessed 20% growth after becoming part of the Common Effective Preferential Tariff (CEPT) scheme due to this increased trade efficiency at airports like Dhaka with estimated revenue increase being around $3billion annually.
Therefore, an efficient air travel infrastructure is essential for driving profitable returns through commerce and building an economy that can withstand future shocks.
Boost in Tourism
The opening of the third terminal at Hazrat Shahjalal International Airport is expected to boost tourism in Bangladesh significantly. Improved international connections and high-quality services will increase foreign tourists' visits, adding great economic value to Bangladesh's tourism industry.
The modern transportation facilities available through the new terminal will make it easier and more convenient for visitors to explore different parts of the country. Enhancing air travel experience with reliable facilities is a key aspect behind boosting the number of visitors across national boundaries as well as within the Muktijuddoh and Sundarbans area, which remains critically underexplored due to a lack of flight connections and limited road networks.
Additionally, a jump from 5MCU cargo movement per year to 15 Million combined with 30% growth in passenger traffic annually would ensure increased revenue generation for different government authorities responsible for airport operations, ultimately leading to improved overall connectivity infrastructure.
Employment Opportunities
The construction and development of the third terminal at Dhaka Airport is expected to result in a wide range of new employment opportunities across the aviation sector. The improved infrastructure will allow for more airlines, route expansions, increased passenger intake, and cargo processing services.
This will create many jobs in various sectors, such as airport operations, hospitality services, ground handling personnel, aircraft maintenance workers, etc. It is also likely to boost economic growth by enabling Bangladesh's exports with access to foreign markets.
With better connectivity, newly established businesses are expected to expand into the global economy, which could further contribute towards creating additional employment within specialized fields like software engineering firms and research laboratories associated with the burgeoning aeronautical industry.
Improvements in Infrastructure Development
The Third Terminal expansion offers several infrastructure improvements, such as the addition of high-speed taxiways, a cargo village, and a power intake station.
High-Speed Taxiways
The third terminal project at Dhaka Airport includes the installation of high-speed taxiways for aircraft. These are optimized paths on the ground specifically designed to improve efficiency and ensure that aircraft can move quickly and safely between runways, stands, gates, or other parking areas.
The faster taxiing times will reduce getting aircraft in and out as quickly as possible, saving time; these high-speed taxiways can also address congestion during peak hours.
Aircraft movements are more accurate due to departure/arrival sequencing achieved by optimally controlling up to four planes per minute instead of just one plane every two minutes via conventional routes.
Cargo Village
The new third terminal of the Hazrat Shahjalal International Airport in Dhaka will feature a dedicated cargo village to improve transportation and foster better infrastructure. The concept for this facility was developed by integrating airport-centric activities such as cargo handling, storage, transport connections, and logistics services under one single roof.
The containerized holding areas are equipped with temperature-controlled shenanigans, ensuring smooth operations while minimizing losses due to climate variations. The operators do not need to go anywhere else for enough up or dispatching of the loaded containers as they can easily access them from within the cargo village environment.
Apart from contributing significantly towards an efficient loading & unloading of goods, it will provide added value to other airport processes such as supply chain management, aviation security, and baggage handling.
In addition, it encourages efficient trading among businesses in Bangladesh through its interactive trading model, thus improving economic activity between nations in the South Asia Region.
Power Intake Station
The power intake station being developed as part of the third terminal at Hazrat Shahjalal International Airport in Dhaka is a crucial component for making significant improvements to passenger and cargo handling.
It is seen as a transformative leap forward both for the airport and Bangladesh's infrastructure, significantly increasing export cargo handling capacity. The project is part of the plans being implemented by the Civil Aviation Authority of Bangladesh (CAAB) with an aim to make this one of the region's most technologically advanced airports.
With improved passenger facilitation measures also taking place alongside, it will be beneficial for many more airlines to enter Bangladeshi airspace while providing enhanced services towards existing carriers—ultimately leading to further economic growth within Bangladesh for generations to come.
Potential for Dhaka Airport to Become a Regional Aviation Hub
With its advanced infrastructure and regional airline partnerships, Dhaka Airport has immense potential to become a major aviation hub for the region.
| | |
| --- | --- |
| Benefit | Description |
| Increased Export Opportunities | Threefold increase in cargo handling capacity. – Boosted export potential for various products. |
| Boost in Tourism | Improved international connections for more foreign tourists. Enhanced exploration of Bangladesh. |
| Employment Opportunities | Job creation across aviation sectors and specialized fields. – Facilitates access to global markets. |
| Infrastructure Development | High-speed taxiways, dedicated cargo village, and power intake station. |
| Potential for Aviation Hub | Dhaka Airport's potential as a regional aviation hub. – Open sky policy benefits and competition. |
Benefits of Open Sky Policy
An open sky policy can present numerous advantages for Bangladesh's aviation sector and passengers. By allowing unrestricted flights and routes, this policy will promote healthy competition among airlines to provide better services as well as lower airfares for passengers.
It can also enhance connectivity and accessibility for travelers both domestically and internationally. Not only that, but an open sky policy is also expected to contribute to the country's overall economic growth by improving trade efficiency while significantly increasing export opportunities via enhanced mobility of goods across borders.
Moreover, an open sky policy can increase tourism activities in Bangladesh through improved access to waterways, which in turn leads to more revenue generation from domestic or foreign tourists.
Attracting More Airlines and Destinations
The third terminal at the Hazrat Shahjalal International Airport in Dhaka, Bangladesh, is expected to attract more airlines and destinations for both domestic and international travelers.
The development of this new terminal will increase the airport's handling capabilities by accommodating larger aircraft, increasing its appeal to a wide range of airliners from across the globe.
Additionally, it will improve connectivity with direct flights to some of Asia's busiest cities, such as Bangkok, Shanghai, and Singapore providing further opportunities for Bangladeshi exports & imports.
Not only that but travellers visiting Bangladesh can also enjoy faster connections due to shorter walking distances between gates within this modern facility which offers greater comfort & convenience.
Competing With Other Regional Hubs
Dhaka Airport has the potential to become a regional aviation hub, but it will need to compete with other established regional hubs, such as Singapore, Dubai, and Hong Kong. To do so, Bangladesh must focus on attracting more airlines and destinations to Dhaka Airport through the open sky policy that encourages market liberalization.
This means allowing any airline registered in an agreement state to operate without restrictions within a given region or even worldwide. Moreover, maintaining high-quality services is also key to a successful passenger experience at the airport.
Therefore, proper training for personnel must be implemented along with strategies that ensure passengers enjoy their experience traveling through Dhaka Airport while uncovering the beauty of this nation's cities and regions where hotels offer excellent hospitality and food products vary from world-class caliber.
Challenges and Solutions for Successful Implementation
Developing a successful Third Terminal requires integrated systems and calibrations, quality services, and proper training for airport personnel. Discover more about this important milestone in Bangladesh's infrastructure development!
System Integration and Calibration
Ensures smooth operations and efficient communication by connecting various systems and equipment.
Helps to create an optimal environment for the safe and secure execution of modern aerial navigation processes.
Allows departments such as flight control, runway clearance, taxiing, clearance towers, etc, to work together in harmony.
Contributes toward a seamless coordination between ground/air traffic controllers & the air traffic management system.
Accurate calibration is essential for all aircraft entering or leaving the premises as well as during take-off/landing procedures in order to prevent any accidents from occurring.
Dynamic scheduling with less congested runways can be achieved only after thorough integration of available resources combined with timely calibrations on aviation infrastructure, such as revamping existing lanes or creating new ones so that proper navigation instructions can be laid out for pilots while they are airborne, making it possible them safely navigate through Dhaka airspace with minimum hassle.
Ensuring High-Quality Services
To ensure that the services provided at Dhaka Airport Third Terminal are of high standards, multiple measures have been taken by the Civil Aviation Authority, Bangladesh (CAAB) Ministry.
Technology plays a key role in this regard, as automated processes and systems help to streamline operations. Additionally, staff training is important as it helps them understand customer service protocols and handle complaints or any other issues efficiently.
Quality control processes such as regular maintenance schedules are also crucial for ensuring safety standards and efficient operations. The project has received funds from JICA (Japan International Cooperation Agency), with cooperation from local partners and airlines involved; this contributes significantly to immense success in delivering quality service to passengers regularly.
Proper Training for Airport Personnel
is crucial to ensure an airport's safe, secure, efficient, and professional operation.
helps staff become familiar with their duties and responsibilities as well as aviation and customer service best practices.
covers a wide range of topics such as safety & security protocols, airline operations, passenger handling & services, etc.
also prepares personnel for any emergency situations that may arise at the airport.
will help deliver high-quality customer service in line with international standards making passengers feel comfortable while flying.
Impact on the Tourism Industry
With improved passenger experience and increased international connections, the Third Terminal is expected to attract more tourists significantly.
Improved Passenger Experience
The Dhaka Airport Third Terminal will offer world-class amenities and services to travelers, enabling them to have a comfortable journey at the airport. The new terminal is expected to include modern facilities that are designed for passenger convenience, such as faster security checks with advanced technology and improved baggage claim areas.
It will also feature several restaurants, lounges, shops, and VIP terminals, making the flight experience even more enjoyable. Passengers can benefit from these world-class amenities as they allow them easy access throughout their journey at the airport.
Additionally, better service standards provided by staff members across different sections, like ticketing counters or check-in counters, ensure customers have an enjoyable experience during their stay before boarding their flights.
Increased International Connections
The new third terminal at Dhaka Airport has the potential to increase international connections for Bangladesh by attracting more airlines and destinations. This increased connectivity is expected to benefit Bangladesh's economy, primarily through boosting its aviation sector.
The airport offers access to airports around the globe, such as Abu Dhabi, Doha, Dubai, Muscat & Riyadh, on international routes, which can create greater opportunities for inter-regional trade and commerce.
Furthermore, travelers from different countries can also take flights directly into/or out of Dhaka International Airport, which could lead to improvements in tourism industry revenues.
Attraction of More Tourists
The development of the third terminal at Hazrat Shahjalal International Airport offers a great opportunity to promote tourism in Bangladesh. With its connectivity, international airlines, and passenger and cargo services, DHIA will become an attractive destination for both domestic and foreign travelers.
The airport's numerous facilities, such as VIP Terminal, Cargo Village & Power Intake Station, help facilitate efficient operation while also improving service excellence for passengers and staff alike.
Coupled with the open sky policy, it ensures airports' access to more destinations by allowing airlines to operate directly from Dhaka without having to transit from elsewhere – thus helping spur further growth in the tourism industry through increased visitor numbers.
Moreover, improved infrastructure developments create employment opportunities leading to significant economic benefits such as increased export opportunities, boosting tourist expenditure within local economies that rely heavily on it for their income (Bangladesh earned USD 1157 million from the sector).
With more tourists visiting Bangladesh every year, there is potential for horizon-broadening experiences tied up with adventure activities exploring key tourist sites such as amazing cultural heritage like Mosque & Sufi Shrines, providing unique learning environment or expansion of job prospects in hospitality sectors like hotels & transportation, etc., which are often neglected fields economically yet important employments sources especially beneficial for women who traditionally have had lower labor force participation rate than men but could excel here given they get proper training needed.
Government Initiatives to Support the Third Terminal
The Prime Minister of Bangladesh Sheikh Hasina opened the Third Terminal at Hazrat Shahjalal International Airport and has been actively working to advance the aviation industry in the country.
PM's Role in Opening the Terminal
PM Sheikh Hasina has been instrumental in opening the third terminal at Hazrat Shahjalal International Airport in Dhaka. She was highly involved in the planning, design, and execution of the project aimed at modernizing and expanding Bangladesh's aviation infrastructure.
Her vision to make Bangladesh an aviation hub is embodied in this state-of-the-art new facility which outshines any other airports in South Asia, making it one of the best airports worldwide.
As a part of her initiative to support infrastructure development, she allocated funds for the construction of high-speed taxiways and a cargo village for increasing export opportunities, as well as an advanced power intake station for boosting services provided by airlines.
The Prime Minister also made sure that proper training was provided to airport personnel such as ground crew members, engineers, service staff, etc., necessary to ensure successful operation when the terminal opens fully by 2024.
Advancements in the Aviation Industry
The third terminal at Hazrat Shahjalal International Airport is set to bring forth several advancements in the aviation industry. The new terminal will increase air traffic and passenger capacity and introduce newer technologies, such as a sophisticated integrated system for Great Britain's Paro airport.
This includes automated baggage handling systems, technologically advanced safety measures, improved aircraft parking facilities, and streamlined services that can handle larger numbers of passengers more efficiently.
The government has also taken steps to ensure uninterrupted power supply through dedicated substations and other state-of-the-art backup resources. As such, the airport will be able to better manage international arrivals and departures without any hiccups or delays.
Read Also: Dhaka Elevated Expressway
Dhaka Airport Third Terminal: Benefits at a Glance
Increased passenger capacity: The third terminal will have the capacity to handle 24 million passengers per year, significantly increasing the airport's capacity to meet the growing demand for air travel in Bangladesh.
Improved cargo handling: The third terminal will have a dedicated cargo village with state-of-the-art facilities, which will help boost Bangladesh's export and import trade. The airport's annual cargo handling capacity is expected to increase from 200,000 tonnes to 500,000 tonnes.
Reduced congestion: The third terminal will help to reduce congestion at the existing terminals, making the airport experience more pleasant for passengers.
Improved passenger experience: The third terminal will be more modern and efficient than the existing terminals and will offer a better passenger experience. This will include features such as:
Self-service check-in kiosks
Automated baggage handling system
More spacious departure and arrival lounges
More retail and dining options
Job creation: The construction and operation of the third terminal is expected to create thousands of new jobs. The new terminal will also support the growth of related industries, such as tourism and logistics.
GDP growth: The third terminal is expected to boost Bangladesh's GDP growth by 1-2%. This is due to the increased trade, tourism, and investment that the new terminal will attract.
Improved connectivity: The third terminal will make it easier for people to travel to and from Bangladesh, which will boost the country's economy and global standing.
Attracting more tourists: The new terminal will make Dhaka a more attractive destination for tourists, which will boost the country's tourism industry.
Supporting trade and investment: The third terminal will help to support Bangladesh's trade and investment agenda. The new terminal will make it easier for businesses to operate in Bangladesh and to export their goods and services to the world.
Enhancing Bangladesh's image: The third terminal will enhance Bangladesh's image as a modern and progressive country. This will make the country more attractive to tourists, investors, and businesses.
Opinions and Expectations
Perspectives from aviation experts, opinions on anticipated changes in air travel experience, and the government's vision for the airport's future will provide insights into its potential success.
Perspectives From Aviation Experts
The construction of the third terminal at Dhaka Airport is expected to bring positive economic and environmental benefits, including better air services, increased trade and investment opportunities, and improved connectivity with other regional hubs.
Aviation experts believe that this project can open up export opportunities by boosting access to global markets for Bangladesh-based firms, especially in the garment industry, which has already seen significant gains with new international flights in recent years.
They also agree that it could create an influx of tourists from all over Asia as well as encourage more foreign direct investments into the country's booming economy.
Additionally, they emphasize its potential to drive improvements in infrastructure development, such as developing high-speed taxiways and a cargo village which would be beneficial for both passenger and freight operations at Dhaka airport, respectively.
Along with this, multiple regulation upgrades are required to ensure efficient operations i.e., setting up system integration required for monitoring tasks like calibration, etc, according to Wang Wenbiao president of China National Aviation Holding Co Ltd (CNAHC).
Anticipated Changes in Air Travel Experience
The third terminal at Dhaka Airport has the potential to revolutionize air travel for domestic and international passengers. Passengers can expect high-tech facilities and better services provided by the timely integration of new technologies such as automated board gates, advanced security scanners, and RFID baggage tracking.
Increased amenities throughout the terminal, including restaurants, retail outlets, lounges, and elixirs, are also expected to be available for public use. Moreover, with its four independent bridges connecting directly to aircraft, travelers can enjoy smooth transfers between their flights without facing long queue times or passing through crowded areas when boarding planes.
The introduction of airport express, which is a premium rail service from Hazrat Shahjalal International Airport, will reduce journey duration time significantly, allowing travelers more convenience while traveling in comfort and style as well as saving valuable time getting into the city center or any other destinations that it covers.
Government's Vision for the Airport's Future
The government of Bangladesh has set ambitious goals for the future of Dhaka Airport and its potential to be a regional aviation hub. They aim to leverage the existing infrastructure as well as enable new development in collaboration with international partners, such as increasing export cargo handling three times, which will promote agri exports.
The government also plans to further invest in creating high-speed taxiways for efficient aircraft movement on the ground and establishing a Cargo Village adjacent to two retail outlets with bonded warehouse facilities.
Additionally, they have laid out plans for technical upgrades, such as installing a power intake station at the third terminal and carrying out major expansions along with proper training opportunities for airport personnel.
As part of their advancement initiatives, the Bangladesh Government seeks Northern countries' support in implementing an open sky policy upscaling flights between European & North American hubs and the Asia Pacific region through Hazrat Shahjalal International Airport due to its strategic location since it connects India, Southeast Asia& Middle Eastern destinations like UAE.
These measures are expected to turn Dhaka into a preferred transit destination for passengers flying long-haul airlines and local tourists alike, leading to an exponential growth & development of Greater Dhaka's vicinity regions via increased economic activities.
General Queries (GQ) At a Glance: 
Next, we'll delve into frequently asked questions regarding the Dhaka Airport Third Terminal.
1. How can the third terminal benefit Bangladesh's economy?
The new terminal can boost Bangladesh's trade, business, and foreign investment. It will create jobs for locals, helping to reduce unemployment. It may attract more overseas businesses and tourists to the country due to its improved infrastructure.
2. What kind of infrastructure development does this project involve?
The Dhaka Airport Third Terminal project involves constructing a full-service international airport with modern amenities like VIP lounges, retail stores, additional runways and taxiways, and parking space. Furthermore, five brand-new bridges across the Rokeya Sarani expressway have also been planned for smoother travel connectivity in the area.
3. How could it improve Bangladesh's tourism industry?
Tourism industry development is another topic that is not much related to the availability of airport numbers. With improved infrastructure and services expected from the new airport, travelers' experience should be enhanced significantly. More airstrips would increase domestic flight connections throughout Bangladesh, enhancing tourism within the country's borders. The potential expansion of wider interconnectivity between Bangladeshi cities through air travel might spur economic benefits such as more job opportunities or lower transport costs for local citizens.
4. Will there be any impacts on nearby neighborhoods due to this project?
Yes, nearby residents may encounter noise pollution and traffic congestion caused by construction activities. Appropriate dust management measures, such as water spraying systems, shall be implemented to mitigate these impact categories during construction.
Takeaway
In conclusion, the third terminal of Hazrat Shahjalal International Airport in Dhaka will open endless possibilities for Bangladesh to become an international aviation hub. The construction of the new terminal is expected to enhance air transportation and contribute significantly to the economic and social development of the country by increasing export opportunities, boosting tourism, and improving infrastructure.
The government has also taken various steps, such as initiating the open sky policy supporting this project to ensure successful implementation. While experts have expressed optimism regarding how this expansion will revolutionize the air travel experience and improve connectivity within South Asia, they caution that careful system integration would be key for its success.
With innovative design and amenities, improved passenger safety standards, and efficient cargo services, Bangladesh's airport industry could soon reach a new level with this step towards progress!