ChatGPT Mac Apps: A New Way to Be Productive and Creative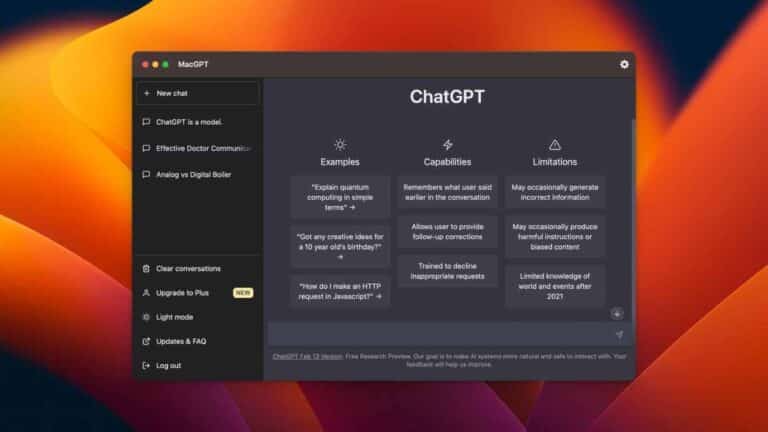 Have you ever wished that ChatGPT, the wildly popular AI chatbot, was just a tad more accessible on your Mac? Well, thanks to a few innovative developers, that wish has been granted. These Mac apps supercharge the ChatGPT experience right on your desktop. Let's dive into some of the best ones available.
1. Typing Mind
Price: $39
Overview: Typing Mind is like the Swiss Army knife of ChatGPT apps. It's all about personalization, letting you play around with ChatGPT's model configuration, chat experience, and UI.
What's Cool: Toggle between precise and creative modes, use the parallel conversations feature, or integrate with web search. The prompt library is a fun addition, and features like text-to-speech and AI characters take the experience up a notch.
Downsides: You won't access the Mac app in the free trial, and you'll need an OpenAI API key.
2. MacGPT
Price: €9+
Overview: If you're all about simplicity, MacGPT is a handy little tool that brings ChatGPT to your fingertips. It streamlines the whole process, making interactions quick and fuss-free.
What's Cool: Love voice commands? MacGPT lets you voice-type. Plus, its installation is straightforward.
Downsides: It's essentially a fancier way to access the original ChatGPT, without much enhancement.
3. WriteMage
Price: $12/month
Overview: WriteMage is the assistant you didn't know you needed. It fine-tunes your queries, has useful prompt presets, and even saves your chat history.
What's Cool: It's user-friendly, great for coders, and integrates smoothly with MacOS.
Downsides: The honeymoon phase might end once the beta period is over and the price tag is introduced.
4. IntelliBar
Overview: This is like having a ChatGPT spotlight on your Mac. IntelliBar has a bag of tricks, from auto-completing prompts to file uploads.
What's Cool: The file upload feature is a gem. And future updates might even allow training local models!
Downsides: Once the beta phase is over, you'll have to pay up.
5. SwiftGPT
Overview: SwiftGPT is the straightforward, no-frills option. While it might not win awards for innovation, it's dependable and gets the job done.
What's Cool: The expense tracking feature is great for keeping an eye on your budget, and the design is clean.
Downsides: If you're looking for bells and whistles, this might not be the app for you.
6. QuickGPT
Overview: QuickGPT is like a shortcut to ChatGPT, with the added perk of conversation sharing.
What's Cool: Sharing long conversations becomes a breeze.
Downsides: Don't expect a slew of advanced features.
The Verdict: Do You Need a ChatGPT Mac App?
While the native ChatGPT experience is quite powerful, these apps add that extra layer of accessibility and functionality. Apps like Typing Mind and IntelliBar pack a punch with features, while MacGPT and WriteMage shine in the usability department.
When it boils down to it, your choice of app will depend on what you value more: feature-richness or straightforwardness. But whatever you decide, it's clear that the ChatGPT experience on Mac just got a whole lot better.
Read Also: Best ChatGPT Chrome Extensions in 2023