When will be Black Clover Season 5 Renewed? [With Latest Updates]
Listen to the Podcast:
Black Clover's anime concluded on March 30, 2021, and despite the news of a film, fans are clamoring for a Black Clover season 5 continuation. Since its debut in 2015, Yki Tabata's beautifully crafted world of magic and mayhem has won the affection of many.
The anime had become a type of weekly ritual, and now that it is on hiatus, everyone is wondering when Black Clover season 5 will premiere.
Black Clover's path to success was arduous, as it was initially met with negative reviews. Some saw it as a generic shnen, while others saw it as a failed attempt at something grand. All of that changed when the Royal Knights Arc began, the anime gained momentum, and the jaw-dropping action sequences caused the franchise to explode globally overnight. Therefore, we will delve into our expectations for the Black Clover Season 5 release date and share everything we know thus far.
Is Black Clover Season 5 Renewed?
The status of Black Clover season 5 is currently unclear. The manga's final arc is still ongoing. However, the release date for the fifth season may be delayed until the manga reaches its conclusion. However, another possibility is that Netflix will declare Black Clover season 5 after the end credits scene.
The film, "Black Clover: Sword of the Wizard King" will be available on Netflix on June 16, 2023, after the streaming behemoth pushed back the March release date. This film's narrative will be more of a subplot, as Asta, Yuno, the Black Bulls, and all the magic knights of the Clover Kingdom will band together to oppose Conrad Leto, the former Wizard King.
New characters such as Princia Humorous Bunny, Milly Maxwell, and Edward Aberache will appear in the film. It is unlikely that any of these new characters will ever appear in the anime's primary plot. As the film's release date nears, however, many new updates regarding these characters will emerge.
Read More: Manifest Season 5
Black Clover Season 5 Quick Info
| | |
| --- | --- |
| Season:  | My Hero Academia |
| No. of Seasons: | 4 |
| No Of Episode: | 170 (seasons 1-4) |
| Status: | Pending |
| Script Writer:  | Yōsuke Kuroda |
| Director: | Tatsuya Yoshihara, Ayataka Tanemura |
| Genre:  | Animation, Action, Adventure, Comedy |
| Cast: | Dallas Reid, Jill Harris, Cris George |
| Production:  | Pierrot |
| Music: | Minako Seki |
| Country of Origin: | Japan |
| Origin Language:  | Japanese |
| Available Languages:  | English |
| Next Season Release Date: | Not Yet Confirmed |
| Available On: | TV Tokyo |
Black Clover Season 5 Release Date
The final episode of Black Clover aired on October 10, 2021, and Black Clover season 4 concluded with only 16 episodes, the shortest to date. It is highly unusual for Pierrot Studio to distribute consecutive seasons of a show, as Season 3 contains 52 episodes. Since then, the series has been on indefinite hiatus.
There have been numerous false rumors circulating that the series has been canceled. These rumors have angered many fans who have avidly anticipated Black Clover season 5. Let's provide definitive answers to these pressing concerns and separate the true from the false.
Firstly, these rumors have been debunked, as the show's creators have verified that pre-production for Black Clover season 5 is currently underway, with a mid-2023 completion date anticipated. Second, the new season is anticipated to premiere in 2023.
Read More: Loot Season 2
Black Clover Storyline
In Yuki Tabata's Black Clover, Asta is a young orphan boy without magical abilities in a world where virtually everyone has them. Yuno, a boy from Asta's orphanage with a remarkable aptitude for wind magic, is a lifelong companion of Asta.
Their homeland is referred to as the Clover Kingdom. The Wizard King is the second-most powerful figure in the kingdom, second only to the actual ruler. Asta and Yuno become rivals as they both aspire to become the next Wizard Monarch.
Until he uncovers a mysterious five-leaf grimoire that grants him the ability to employ potent "anti-magic," Asta lacks the necessary magical abilities to assume the position. Asta and Yuno transform into Magic Knights, and their journey to Wizard King commences!
The ongoing Black Clover manga is serialized in Weekly Shonen Jump in Japan. Currently, thirty-two volumes are available, and the series is licensed in North America by Viz Media. The anime adaptation was announced in 2016, and Studio Pierrot is producing it. Pierrot is renowned for generating popular series such as Yu Yu Hakusho, Bleach, and Naruto.
The preponderance of the anime is directed by Tatsuya Yoshihara, whose previous works include AnoHana and Chainsaw Man. The series has spawned numerous spin-offs and crossover video games, including the combat game Jump Force.
Read More: Moon Knight Season 2
Black Clover Season 5 Cast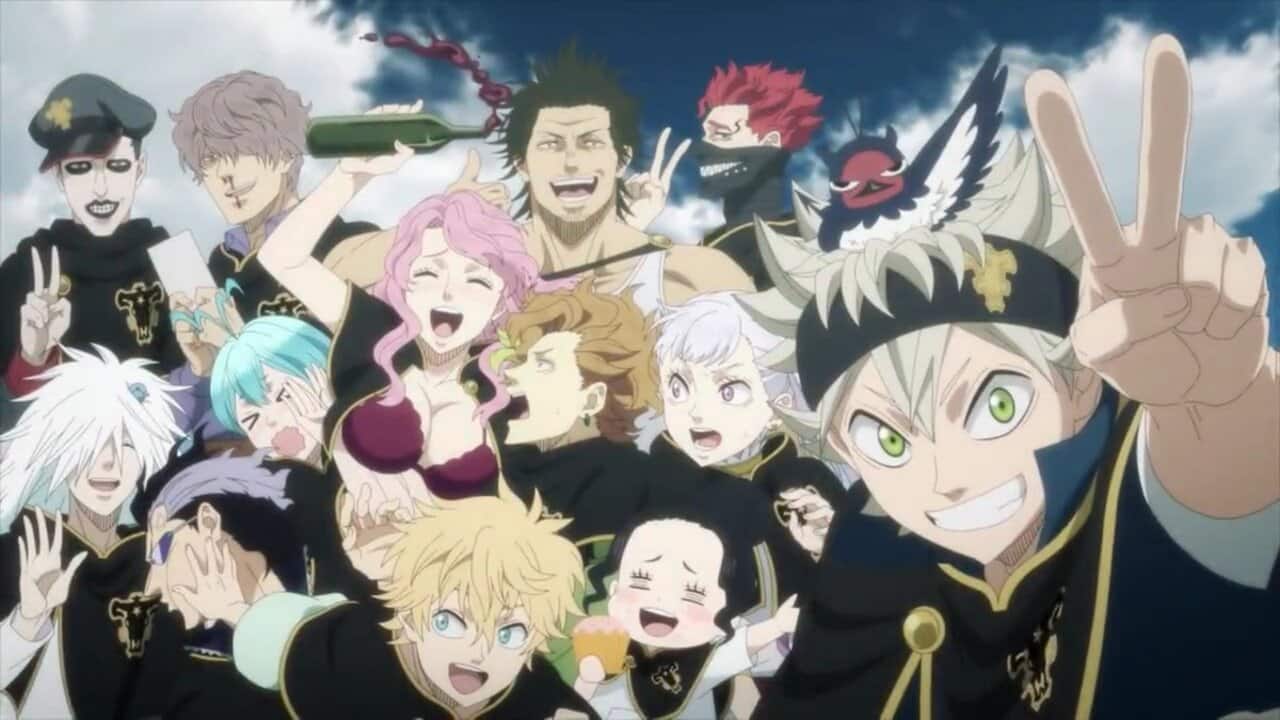 There is no official announcement regarding the Black Clover season 5 production personnel. However, they may follow the same characters from the preceding series, which are as follows:
If Black Clover season 5, the main cast will be back. This is the voice-acting cast:
Gakuto Kajiwara as Asta

Nobunaga Shimazaki as Yuno Grinberryall

Kana Yūki as Noelle Silva

Junichi Suwabe as Yami Sukehiro

Toshiyuki Morikawa as Julius Novachrono

Nobuhiko Okamoto as Liebe

Tatsuhisa Suzuki as Zenon Zogratis

Rikiya Koyama as Dante Zogratis

Yui Ogura as Vanica Zogratis
However, the following additional voice actors for the forthcoming Black Clover film have been officially announced:
Toshihiko Seki as Conrad Leto

Hōchū Ōtsuka as Edward Avalaché

Miyuki Sawashiro as Princia Funnybunny

Fumiya Takahashi as Jester Garandaros

Marie Iitoyo as Millie Maxwell
What Is Black Clover Season 5 About? (Spoiler Alert)
The continuation of Black Clover season 5 will depend on the conclusion of the impending film. The film will presumably adopt a dozen or so chapters from the Spade Kingdom Raid Arc, with the Black Bulls and Magic Knights attempting to prevent the Dark Triad from ushering in the Age of Devils.
The film will depict the fateful encounter between Asta and the Dark Triad, in which the life of Captain Yami is at stake. However, if the movie condenses more than a few chapters, Black Clover season 5 may begin with the time jump that results from the battle's conclusion.
It will be intriguing to see what future narrative twists Tabata has planned for the anime. This article will be updated if Studio Pierrot announces a specific release date for the anime.
Read More: Taboo Season 2
What Happened At The End of Black Clover Season 4?
Yami and William's kidnapping by the evil Dark Triad left Black Clover season 4 on a significant cliffhanger. All of the Clover Kingdom's knights engaged in intensive training in preparation for an enormous confrontation with the Dark Triad and the Spade Kingdom.
Select Magic Knights and Squad Captains then prepare an assault on the Spade Kingdom to prevent all devils from entering the human domain.
Final Thoughts
Considering the various factors, Black Clover should soon have sufficient source material, their sales are booming, and a film is in the works, so the future of Black Clover appears more promising than ever. Therefore, it is likely that the release date for Black Clover season 5 will be announced after the film.
If you cannot wait for Black Clover season 5, you can now peruse the manga since the hiatus has ended. In the meantime, keep a watch out for any announcements regarding the new season on the official Twitter account, as they may end up surprising us.
Related Read: Moon Knight Episode 4
Frequently Asked Questions (FAQs) about Black Clover Season 5
Check out some commonly asked questions on Black Clover season 5 here.
How Many Episodes Did Black Clover Season 4 Have?
There were 16 episodes in Black Clover season 4, but there have been 170 episodes so far. The first season aired in 2017 and the last one in 2021. As each season goes on, Asta becomes a more important character. As the anime goes on, so do the important things that happen.
Will the Black Clover anime come to Netflix globally?
At the time of writing, nothing has been confirmed. However, since not all anime fans on Netflix will be familiar with Black Clover, it would be in Netflix's best interest to get at least the first season of the anime. This way, subscribers can learn more about the series and the movie can get more people to see it.
How Many Manga Volumes Did 4 Seasons Of Black Clover Cover?
In its 170 episodes, the Black Clover anime has shown up to manga chapter 272. To be exact, the anime series has only made changes up to volume 27 of the manga.
Where Can You Watch Black Clover Series?
All 170 episodes are currently available on Netflix, and the latest film adaptation will be available on the same OTT service on June 16, 2023. In various regions of the world, Hulu, Amazon Prime, Crunchyroll, and Funimation have streaming rights.