Apple Watch Series 9 vs Samsung Galaxy Watch 6: A Detailed Comparison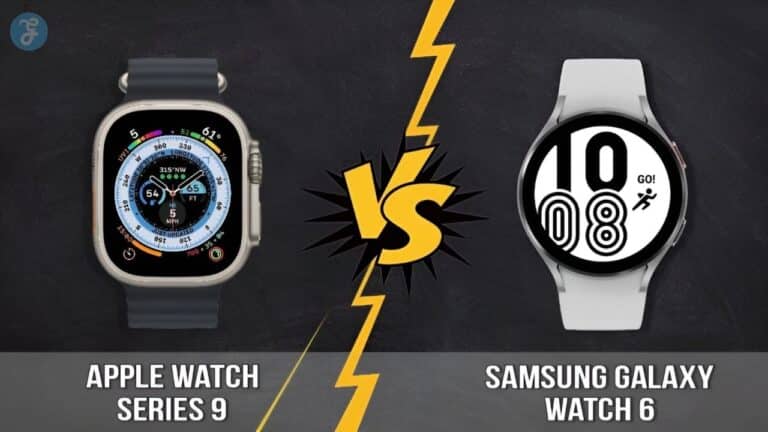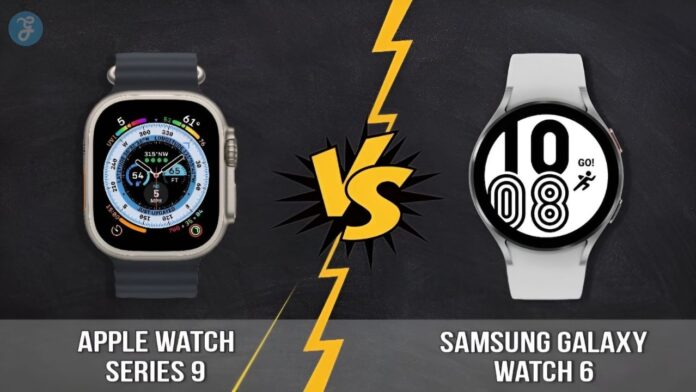 Which smartwatch is superior: the Apple Watch Series 9 or the Samsung Galaxy Watch 6?
Many people would argue that this is a theoretical argument because the Galaxy Watch does not function with iPhones and Apple Watches do not work on Android, limiting your choice of smartwatch to the smartphone you use.
But whether you just want to know which smartwatch is the best right now, or if you're thinking about converting from Android to iPhone, or vice versa, you should know. So, let's see which one is the superior watch!
Differences Between the Apple Watch Series 9 and the Samsung Galaxy Watch 6
The Apple Watch is square, while the Samsung Watch is round.
Both are available in small and large sizes.
Both have quick swap bands.
More apps are available for the Apple Watch.
Apple Watch is expected to have more precise sensors.
Apple Watch is projected to be slightly more costly.
Design and Dimensions
These two are easily distinguished: the Apple Watch Series 9 is rectangular, whereas the Galaxy Watch 6 is spherical.
One similarity is how little they vary between generations: the Apple Watch Series 9 looks the same as previous generations, and the Galaxy Watch is also fairly identical to previous Samsung watches (albeit it is a bit slimmer now).
Both are expected to come in two sizes: a smaller (41mm for the Apple Watch, 40mm for the Galaxy) and a larger (45mm for Apple, 44mm for the Galaxy).
The Apple Watch Series 9 base aluminum model is rumored to use normal toughened glass, which can scratch, whereas sapphire is only available on the $800 stainless steel Apple Watch. In comparison, the Galaxy Watch 6's base and only model includes sapphire glass on both the front and bottom, which is fantastic. Sapphire is substantially more durable, with some estimates claiming that it is 60% more resistant to scratches.
Bands
The Apple Watch Series 9 is believed to retain the same band swap technology as the original model, with the addition of one new fabric band with a magnetic clasp. Samsung, on the other hand, introduces new one-click bands for the Watch 6, a welcome update from the spring bar bands that were previously used. You might still use them, but they are backwards compatible.
Software & Features
In terms of software, Apple employs watchOS, whereas Samsung employs Google's Wear OS platform.
WatchOS is certainly the more sophisticated platform with more apps after ten versions, but WearOS is also growing, particularly in the last two years that Samsung has been using it.
Both platforms are used in a similar manner: you swipe and tap around, and both contain all key functions:
heart rate monitoring
workout tracking
sleep tracking
blood oxygen measurements
ECG function
Which Is Better for Sleep Tracking: The Galaxy Watch 6 or the Apple Watch Series 9?
We will evaluate the accuracy of sleep tracking on these two devices once the Apple Watch S9 is released in late September.
The Galaxy Watch can track naps, whereas Apple Watches do not.
Galaxy Watch 6 vs Apple Watch Series 8: Which One Has More Accurate Heart Rate Tracking?
Battery and Charging
Want a smartwatch that can last more than a day on a single charge? These two, however, are not it.
Both of these should have roughly 30 hours of real-world battery life, but none of them will last two days between charges.
If you're curious about the actual battery sizes, here's what we're expecting to see:
Galaxy Watch 6 40mm battery size: 300 mAh
Apple Watch Series 9 41mm battery size: 282 mAh
Galaxy Watch 6 44mm battery size: 425 mAh
Apple Watch Series 9 45mm battery size: 308 mAh
As you can see, the larger Galaxy Watch model has an almost 30% larger battery, which is a significant difference, so you should expect that model to last longer than the others.
Both the Apple Watch Series 9 and the Galaxy Watch 6 employ a wireless magnetic puck with some type of "fast charging" for charging. A half-hour top-up should offer you roughly 40% more juice on the Galaxy Watch and 50% more on the Apple Watch.
Models and Prices
So there are small and large sizes on both Apple Watches and Galaxy Watches, but there is still a significant price difference.
The Apple Watch Series 9 is rumored to offer a base Aluminum model starting at $400, as well as a Stainless Steel variant with sapphire glass starting at $700. The Galaxy is certainly the less expensive option, with prices starting at $300.
Read More: 15 Best Apple Watch Alternatives for Android and iOS Users in 2023
Specs
Here is a quick comparison of the Galaxy Watch 6 vs Apple Watch Series 9 specifications:
Specs
Samsung Galaxy Watch 6
Apple Watch Series 9
Models (Size, Weight, Prices)
40mm (38.8 x 40.4 x 9.0 mm)
44mm (42.8 x 44.4 x 9.0 mm)

28.7g weight for 40mm
33.3g weight for 44mm

from $300

41mm (41 x 35 x 10.7 mm)
45mm (45 x 38 x 10.7 mm)

32g weight for 41mm
38.8g weight for 45mm

from $400

Materials
Aluminum body
Sapphire display
Sapphire bottom
Aluminum / Stainless Steel / Ceramic body
Glass or Sapphire display
Sapphire bottom glass
Processor, RAM, Storage
Samsung Exynos W930
Apple S9
Software
WearOS 4
watchOS 9
Battery and Charging
300mAh for 40mm
425mAh for 44mm
282mAh for 41mm
308mAh for 45mm
Sensors
HR, blood oxygen, altimeter, ECG

HR, blood oxygen, altimeter, ECG
Summary
So, which is the superior watch?
We'll find out in late September when we get to compare these, especially the accuracy of heart rate tracking and sleep tracking.
However, we already know that these are your two most advanced possibilities in the world of smartwatches. You'd just have to wait a little longer for the specifics.